Win a copy of 'Highs, Lows & Bakayokos'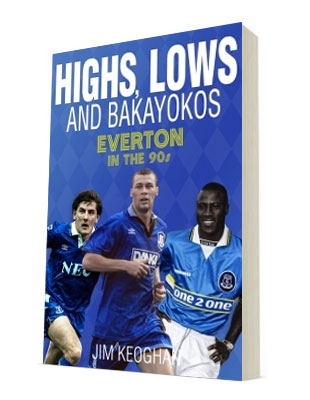 We have two copies to give away – one here and one via Twitter and Facebook – of Jim Keoghan's book chronicling Everton's rollercoaster ride in the 1990s,
Highs, Lows & Bakayokos:Everton in the 90s
.
In the book, Jim explores this transformative time for our grand old team. It searches for the causes of Everton's troubles, looking for reasons why peers raced away, grasping the opportunities presented by the dawning of the Sky era.
But it seeks to redefine this often maligned decade too. Memorable games, silverware and moments of unadulterated elation; the 1990s was a time of emotional intensity, an era that moved fans in ways that have been all-too absent at Goodison Park during the stable years of the past decade.
NOTE: Jim will be signing copies of the book in partnership with the EFC Heritage Society at St Luke's before the derby on Monday 19 October between 5:30 and 7:30.
---
What they're saying about Highs Lows & Bakayokos
"A book about Everton in the 90s and it's great." – Football 365
"It really is a great book, with Jim's independence as a writer allowing him to go down corridors of intrigue that more official Everton books would never allow" – When Skies Are Grey
"As a fan who grew up and first started watching Everton in the 90s this is a wonderful nostalgia trip and will be for any fan who watched the team during that era. But High, Lows and Bakayokos is more than just a highlights reel. It's a refreshing take on an era that delivered little tangible success but whose legacy is still felt today." – Tom Mallows, Royal Blue Mersey
"Jim Keoghan's book is a better experience in prose form than those ten years at Goodison Park were in soap-opera form. And therein lies the beauty of memory: you do not need success to provide a good story. You just need a good storyteller, and Keoghan more than produces the goods." – Soccerama
"If you don't know how the 'modern' Everton was shaped, this is a fitting way to fill in the gaps." – The Football Pink
---
Simply answer the question below to enter one of the copies.
The second is being given away on solcial media via our Twitter and Facebook accounts.