IN-DEPTH NEWS
Gravesen back at Goodison
By Lyndon Lloyd : 30 Aug 2007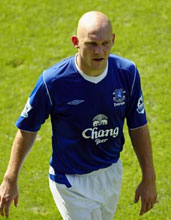 Thomas Gravesen:
Returns for a second spell at Everton
Thomas Gravesen is an Everton player once again after agreeing terms on a season-long loan from Celtic.
The mercurial Dane has yet to feature for the Scottish champions so far this season and was deemed surplus to requirements at Parkhead by Gordon Strachan.
With David Moyes scrambling in the wake of Manuel Fernandes' shock volte-face on Sunday, he turned to Gravesen to help bolster a midfield that has been hit by injury to Tim Cahill and is in dire need of a creative injection.
Not that Gravesen will necessarily fill that void of flair but the 31 year-old was always better going forward than playing the role of "midfield enforcer" that Real Madrid thought they were getting when they spent £2.5m on him in January 2005.
At that stage, the Danish international was the driving force of the Blues' midfield as they pushed towards a surprise fourth-placed finish. His loss to Spain seemed at the time to be catastrophic but Everton did indeed secure fourth place — helped in no small part by Gravesen's replacement, Mikel Areta — and the man they nicknamed "Gravedigger" went on endure a frustrating time at the Bernebau.
His move to Scotland was seen as the chance to see out his career with a title-winning side and although he did earn an SPL winners' medal with the Bhouys, Gravesen was not the central figure he might have hoped he would have been as the big fish in a relatively small pond.
Rumours began circulating this morning that he could be on the verge of a surprise return to Merseyside and they were seemingly confirmed by the Echo when Dominic King announced, with the sensationalist and misleading headline of "Everton to sign Galactico", that Tommy would be coming home. The loan acquisition was eventually confirmed by Everton on the Official site.
Gravesen's arrival will be greeted by a mixed reaction from Evertonians still smarting from the collapse of the Fernandes deal. Certainly, a 31 year-old Celtic cast-off won't be getting many fans' juices flowing but the Blues at least know what he is capable of, even if he only showed it in the final few months of his first spell with the club.
And if, as is looking increasingly unlikely, Gravesen can be followed with a more mouth-watering midfield addition before the transfer deadline tomorrow, then few fans could have many complaints about the summer's business.
©2007 ToffeeWeb