FAN ARTICLES
And If You Know Your History
By
Ian Macdonald
: 16/12/2008 :

Comments
(0) :
Well, if you didn't, last Tuesday night in the People's Club lounge in the Park End, you would know so much more now. That night, we learned more about our history, how it was formed and the people involved. It was a great insight. The Evertonian Further Education was courtesy of the Shareholders Association but in the main organized and researched lovingly by Paul Wharton, our new William Cuff.
Paul introduced his format of the night and event went as follows:

Thank God for Football

First teacher to the class present was Peter Lupton, author of the best selling book 'Thank God for Football' — a painstaking work on the origins of famous football clubs, much of which was previously unknown, even to the clubs themselves. Highly recommend for Xmas. Of the early 37 football clubs, 12 came from church origins. We, as we now know, came from St Domingo's church team... but who really started our football voyage?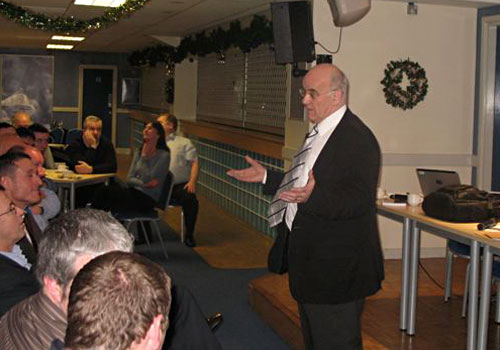 Peter Lupton
Peter told us that, in 1868, a decision was made to build St Domingo's Methodist church, born from the need of an amalgamation of three other Methodist churches.
Local benefactor and newly appointed trustee of the church to be built, Joseph Wade laid the foundation stone on the 12th of September 1870; a year later, the first mass was held. The mounted silver trowel and mallet given to Joseph Wade at a later date can be seen in the main reception in Goodison Road. Joseph worked tirelessly to get the new church up and running, he was involved in the land deal and built a house in Queens Road for the minister of the church. He was well respected in the area although he came from Halifax and was not a local made good.
His youngest son Alfred went on to play for the first known Everton team though sadly his Dad never lived to see it. The Wades would become entwined with Everton at all levels at a later date. But how did the football team get started?
Well, this is where the new minister of St Domingo's comes in. His name was Ben Swift Chambers who came from Stocksmoor near Huddersfield and took up his new post in 1877. He was described as a great preacher, a motivator of men, and was well respected and loved by his parish. He had great values and a particular concern for the wellbeing of the youth in his parish. He had a passion for cricket — well, he was from Yorkshire, and took up the initiative to form a cricket team for the local lads in the summer. In order to keep them fit, Ben thought they should play football in the winter months.
So the St Domingo football team was born in 1878. The first step had been taken to lead our club to fame and glory.
As they played cricket in the nearby Stanley Park, it suited them to play their football games there as it was near where they lived. They started playing amongst themselves. As they played, passers by would stand and watch. One of them was Will Cuff, the son of one of the trustees of St Domingo.
Soon they organized games against local parishes and the rest you can guess. Peter's book gives so much more detail it would be unfair to give too much away but it is enthralling to read.
Ben believe in a kindred spirit for his team, instilling courage, fair play and self control. If young people could instill in themselves these traits, they would not go far wrong.
Such was the honesty brought into the game by these church teams, the Corinthians would not take penalties as they saw it as cheating. Someone tell Franny Lee and Gerrard. Not until the Royal Engineers broke the ice would penalty-taking become the accepted norm.
You know, Peter is the reason for a few new headstones befitting these past founders. The man who formed Spurs, John Ripsher, was laid to rest in an unmarked paupers grave in Dover. When the Spurs fans found this out from Peter, they jammed the switchboards offering help to rectify this sad end to the person they owed so much too. It was the same with Ben Swift Chambers. Peter also set out to find his grave in Shepply near Leeds. When he found his grave, it was overgrown and in disrepair. It was not right. Immediately, Peter sent letters out to Rick Parry and Bill Kenwright, for without this man's vision there would not be an Everton or a Liverpool Football Club. On the 2nd of July, a new headstone was installed and a service organised, performed by the Reverend Harry Corbett, plus three members of each club in attendance (including Graeme Sharp and Brian Hall), as was at John Goulding's at the turn of the last century.
Looking into our past history, Peter could not believe the reading of the programme before the Arsenal game when Dixie became immortal. It just read "and Mr Dean is just two short of Mr Camsells record of 59 goals". Even the following programme after Dixie's herculean deed of the magic 60, it read: "Mr Dean accomplished a new record of 60 goals in one season". Imagine what the great God Sky would make of that event these days, box office records.
Another Everton chaplain
Then into our classroom came our club's training ground chaplain, Rev Harry Corbett from St Peters, to give us a brief view on his works with Everton. Harry Ross is another man of the cloth for Everton with St Lukes (the corner church at Goodison), as his parish. Harry is the club's chaplain and does an awful lot of work for the Former Players Foundation. So we are well blessed it seems... except on match days. Also present on the night was the Bishop of Liverpool so maybe God is starting to move towards us again with the devil's work so evident across the park.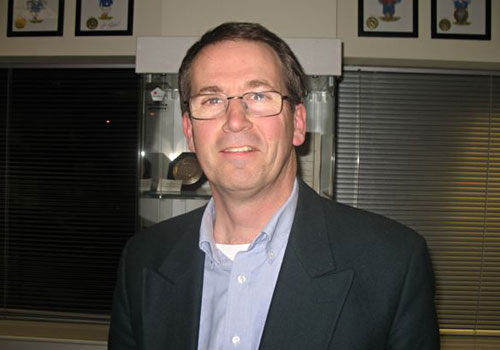 Rev Harry Corbett
Harry told us that in the past he would watch Everton one week then Liverpool the next... well he is originally from Malta. His kids are firmly Evertonians. It was at his church of St Peters where George Mahon was married. Harry lists his five favourite Everton games over the years:
The 3-2 Wimbledon game, about 32 thousand prayers worked there!
The 1-1 Coventry game... again 40,000 prayers worked here.
The 5-2 away at Sheff Wed, the Kanchelskis spiritual game
The 2-0 Florentina home game when God was asleep or on holiday
And the 4-1 Spurs FA Cup game where God and his family watched Everton in awe.
Harry met Howard Kendall at Bellfield years ago and offered his services. Howard said it was a great idea as troubled players would not always come to him. It would be a confidential chat with these young men in their workplace. Remembering the awful time when young YTS trainee John Marshall, fresh from Lilleshall, had a heart problem and died on the pitch, Harry was a great help not only to John's teammates but his family. This tragedy made Everton proactive in testing heart conditions of our players. The first club to do so.
In 1992 there was only one club with a chaplain; now over half the league has one. Maybe Leeds have a devil worshiper with their luck of late.
Harry's parish is as I said St Peters who were also Everton's first opponents, winning both games 6-0 and 4-0.
Just as your grey matter was starting to fill up with all the new information at hand, along comes fellow Blue Steve Flanagan to tell us about that remarkable corner stone of our club, George Mahon, on the 100th anniversary of his death.
The Life and Times of George Mahon

The following is a fuller version of the speech given at the Everton Shareholders' Forum on 9 December 2008.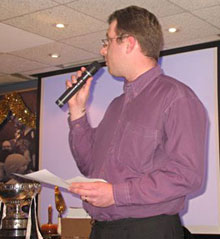 Everton statistician and historian, Steve Flanagan
It seems ironic that we're gathered here in the 'Grand Old Lady' of Goodison Park under the cloud of a public inquiry as the current board look to move to a new stadium, in the centennial anniversary of the death of the man who was instrumental in, probably, the most famous ground move in the history of football — Mr George Mahon.
George was born in Liverpool in around 1854 (Note: After speaking to members of George's family on the night, we have subsequently found out that George was born in Liverpool on 7 July 1853 and sadly passed away on 9 December 1908), but whilst he was still a child, his family moved over to Ireland. It was in the Emerald Isle that George was educated, however, he returned to his native Liverpool and became a senior partner in Roose, Mahon & Howard, a leading accountancy firm at the time, who were based in North John Street. In fact, such was George's prowess with ledgers and balance sheets that he was often selected as the court's accountant by various Liverpool courthouses to settle debts to creditors in numerous bankruptcy cases.
As well as being quite adept with figures, George was also a proud church-going man, and was a member of the congregation of the church, who's Sunday School football team, which was originally started by Reverend Ben Swift Chambers, would eventually transform itself to become one of the most famous names in British, and World, football — that church being, of course, St Domingo's.
George Mahon was the church organist at St Domingo, and also a member of the Great Homer Street Wesleyan Choir. He often accompanied the choir at concerts given by them using an American organ — which was a slightly unusual instrument to use at the time, with most accompanists preferring a standard piano or church organ.
However, it wasn't just George's accountancy and musical skills that were in demand. He often gave lectures to various Wesleyan groups around the region. One in particular was given to the Anfield Wesleyan Literary Society entitled "An hour with nature's little things" and dealt with the insects and such other life that could be seen around the ponds of the local parks. This lecture received very high praise in the local press, and also saw one of the earliest uses of a hydrogen microscope, which projected samples of the small creatures George was talking about, onto a screen for the benefit of the audience — who must have stared in wonder at 10-foot long dragonflies and the like on the wall in front of them.
So, George Mahon was an accountant, an organist and a lecturer. And remember, this was before he even became interested in football. But George had another string to his bow, he was a leading member in local politics and this would see him cross paths with a man who would become an adversary in another matter later in his busy social life — Mr John Houlding.
In the late 1800s, the political landscape in Liverpool was completely different to that of today as Liverpool was ruled by the Conservative party; however, things were starting to change as voters became more aware of the wide-scale drink problem throughout Britain at the time, and the Liberals were starting to make inroads into the core Tory vote — George Mahon was one of those Liberals.
One of the main policies of the Liberal party at the time was a strong anti-drinking stance and they continually reinforced the close ties between the demon drink, via the brewing industry, and the Conservatives, as well as the links between alcohol, the levels of crime and the poor housing in the city at the time — in fact, the level of crime in Liverpool accounted for one tenth of all crime reported in the country as a whole, whilst the population was only one fortieth of the country's population.
This anti-social, and anti-drinking stance of the Liberals, sought to reinforce that the local Conservative party hierarchy included such brewers as Archibald Salvidge and John Houlding as well as one of the most famous of Liverpool's brewers John Cain. And it seemed to work, as in 1892 Liverpool saw the end of the Conservative hold on the Council — which had lasted for 34 years previously.
And it was these local politics that saw John Houlding and George Mahon sparring for the first time, and it didn't make Houlding a happy man.
In 1887, George Mahon had stood as the Liberal candidate in the elections to the Walton Local Board, and had narrowly defeated the Tory councilor Dr John Utting, who was John Houlding's protégé at the time. Two years later, in 1889, George Mahon was fulfilling the capacity of returning officer for the Walton division of the Lancashire County Council, and further enraged Houlding by rejecting the nomination of Sir David Radcliffe on a technicality. At the time, Houlding was Radcliffe's election agent and made all kinds of accusations that Mahon and the Liberals had thwarted Radcliffe's election drive — all of them unsubstantiated.
But enough of local politics and back to what we know and love — football. It is known that George was not a great fan of the hustle and bustle of Victorian football, but apparently that all changed on a bright and windy Monday in May 1886, when the up and coming Everton team played against a very strong side from Lancashire by the name of Preston North End. Whilst the Preston team ran out 2-1 winners that day, George had seen something that he liked — maybe it was the way Everton kept plugging away after going 2-0 down in the first half, especially when Preston cleared several shots off the goal line or when other attempts by the Everton forwards just grazed the woodwork. In fact, Everton were unlucky not to come away with a draw or even an historic victory — things never appear to change. Anyway, it seems that George Mahon had apparently felt the same thing that the Golden Vision had felt when he signed for Everton in 1960, and maybe he would echo Alex Young's sentiments that "Once Everton has touched you, things will never be the same".
Whatever it was that touched George, he became one of Everton's members—a move that would see him become one of the main players in the boardroom struggles of Everton and eventually to gain, what must be the highest honour for any member of the Everton staff—a place in the Gwladys Street Hall of Fame.
It all started with one of George Mahon's earlier political adversaries — John Houlding. As Evertonians, we've all read, or know about the story of the battle between Houlding and Mahon — indeed it was top-billing not just within the sports sections of the local press at the time, but also in the news and politics sections — in fact, looking at the split in more detail shows up that the two factions in the 1892 dispute were aligned very closely with the political landscape at the time. On one side we have John Houlding, Simon Jude and Edwin Berry — all of whom had links to the Conservative party as well as the various committees and associations related to the drinks trade. The other side, led by George Mahon, were all members of various Liberal associations — including Dr James Clement Baxter, William Clayton and a certain William C Cuff.
So, with the club being split from what appears to be a political standpoint, there appears to be some suggestion that Houlding and George Mahon were resuming the petty squabbles that had earlier dogged both of them in the political arena, and had now arrived at the doorstep of Everton.
To explain in full the feud between John Houlding and the other Everton members at the time would probably take a whole night in itself, but the basics are that, from 1892 onwards Everton were being asked by John Houlding and John Orrell, a fellow brewer, to pay a combined total of £370 per year in rent — which was something the rebels, as they became known at the time, were not prepared to accept.
In 1891, on 12 October, at a meeting in the lecture hall of the College based in Shaw Street, John Houlding relayed the terms that John Orrell and himself were prepared to accept, which remained at £370 per year — and let it be known that no deviation from this figure would be entertained.
At this point, things became more interesting as John Houlding and George Mahon both announced that the club should be set up as a Limited Company — almost unheard of in those days. Football clubs were seen to be run under the guise of "Sports Clubs" with members paying a fee each year; however, the plans of both George Mahon and John Houlding would see a change in the way football clubs were run in the future. Despite having similar radical ideas, both men differed wildly as to the manner in which the capital of the company would be allocated.
When he became manager in March 2002, David Moyes uttered a single three word phrase that has now become something of a second motto for Everton — that phrase was, of course, "The People's Club". However, if we delve into the history of Everton, and the move from Anfield to Goodison Park, we see that it was George Mahon who could claim to be the man who started the whole "People's Club" ethos.
John Houlding's proposal was that each member of the company would get 1 share each, with the remainder being bought out by those who could afford it. Naturally, as with most things — money could buy you power, especially as that the proposal also stated that no more than 500 members would be allowed to have any of the 12,000 shares. In other words, 11,500 shares would be "up for grabs" to those who could afford to pay for them.
When this was first proposed to the membership, George Mahon was, seemingly, outraged and let the current president know of his displeasure, stating that each member should get "7 or 8 shares each at least" with another member wryly noting that "those with longest purses would hold the power".
The counter proposal from George, clearly showing his "People's Club" ethic, stated that there would be only 500 shares in the club, with no member holding more than 10 shares each. To quote George Mahon himself, this was done on the basis that "we would rather have a large number of individual applications so that there will be more supporters of the club."
Figures show how wildly different the values of Mahon and Houlding apparently were. George Mahon's proposal, which leaned more towards the shared power ethos, spread the power amongst the members as following the move to Goodison Park in 1892, the 10 original directors owned just 6% if the shares in the club, which rose to 7% in 1902. Contrast this with John Houlding's Liverpool and his apparent power motive, where, in 1892, the original 8 directors owned 52% of the club, which rose to 54% during the same 10-year period.
But moving back to 1892, a special general meeting was convened in Shaw Street, and the articulate George Mahon let it be known that Houlding's power-hungry proposal would not be entertained and, having worked tirelessly behind the scenes, he stated that if Houlding wasn't prepared to negotiate then Everton would have to move to a new ground. One wag shouted out "yer can't find one". George Mahon then retorted with the phrase, "I've got one in my pocket". What was in his pocket was an option to lease some land by the name of Mere Green Field. Less than 2 months later, in March 1892, John Houlding was expelled as President of Everton at another special general meeting, and George Mahon was installed as Chairman.
In actual fact, the rebels had caused reverberations in the local news, with Liverpool Review producing the famous "kicking of King John" drawing, and the Liverpool Echo praising George Mahon and his followers for getting rid of Houlding who was described as "essentially a one-man government at Everton Football Club". However, things didn't get easier for George, as he and the rest of Everton's members then started on the unenviable task of converting the waste ground of Mere Green into a football stadium.
Mere Green was actually owned by Christopher Leyland, and Everton rented the land from him until they were in a position to buy it. However, the most pressing task was to turn Mere Green Field into a football stadium within 6 months! A local man by the name of Mr Barton agreed to clear the debris, install a basic drainage system and re-sod the field. Another local, Mr Prescott, was then approached to provide his services as an architect and surveyor, whilst the Walton builders, Kelly Brothers, were employed to build two enclosures at the end of the pitch and other building works on the site.
Thanks to an interest-free loan from his friend, Dr Baxter, George Mahon and his cohorts had managed to turn a desolate desert, as it was originally described, into one of the country's top football stadium within the 6 months they had originally set themselves; and so, on 24 August 1892, George presided over a celebratory dinner at the Adelphi Hotel which preceded the official opening of the stadium at which 12,000 people were present — and was conducted by the President of the Football Association, Lord Kinnaird.
"Behold Goodison Park! No single picture could take in the entire scene the ground presents. It is so magnificently large, that it rivals the greater American baseball pitches". These were the opening words of a piece describing this great ground in the 'Out of Doors' publication in October 1892. However, 2 months earlier, the Liverpool Echo provided a rough sketch of how the ground looked, with the following words — "The place has been transformed from a morass into one of the best enclosures it is possible to clap eyes on" — high praise indeed for George and his followers.
One of the questions us Evertonians are often asked is why the ground is called Goodison Park. Unfortunately, the club's minute books — which, thanks to Dr David France, have been saved for the future generations of Evertonians — only give us the following:
"Resolved the Football Ground be called Goodison Park" — that's it! Just a single line detailing the naming of one of the most famous grounds in football. No mention is made as to why this name was chosen — but we can glean the reason why by delving into local history.
As Goodison Road was already in place, there appears to be no mystery as to why we ended up with the name Goodison Park. However, there is some mystery as to how Goodison Road ended up with it's title. Ken Rogers's Centenary History on Goodison Park tells us that the most probable reason was that it was named after a Leeds born civil engineer, George Goodison, who provided a sewage report to the Walton Local Board in the mid 1800s, the same board who would later see George Mahon elected as one of its members.
George Mahon's legacy, Goodison Park, was so far ahead of it's time in those days, that it was chosen to host the 1894 FA Cup Final. This was the first time that the FA Cup Final had been held at a League ground, and also it was the first time that a Second Division club had won the trophy — with Notts County beating Bolton Wanderers 4-1 thanks to a hat-trick from Jimmy Logan — only the second ever hat-trick in a Cup Final after Bill Townley's three goals in the 1890 Final — and, since then, only matched by Stan Mortensen's hat-trick in the "Matthews Final" of 1953.
In fact, it remained as one of the country's top football grounds for over 70 years, and was awarded one of the greatest accolades in football when it was chosen to host a World Cup Semi final — an honour which had been bestowed on Viña del Mar, the home of our Chilean counterparts, CD Everton, 4 years previously.
On 22 March 1895, at a general meeting, George Mahon told the assembled shareholders that the club could finally buy Goodison Park. Relying on his accountancy skills and his articulate debating skills, George Mahon argued the case to buy the ground with the utmost professionalism, even referring to the fact that, at Goodison Park, the club would be purchasing a site which was 25% bigger, but at a lesser cost than Anfield was in 1892. In fact, Everton were buying Goodison Park at £650 less than Anfield was offered to them three years previously. The result was that the motion to purchase Goodison Park was passed — unanimously.
However, the purchase of the ground and the subsequent improvements did cause some problems at Everton — so much so, that in June 1895, George Mahon resigned as chairman of Everton, a post taken up by his friend Dr Clement James Baxter. The reason for his departure was cited as due to administrative problems. However, George was so highly thought of by the other officers, and the shareholders of the club that he was persuaded to remain on the Board of Directors.
Another problem that led to his departure as Chairman appeared to be that George's busy social life had an adverse effect on his health. In fact in 1896, we know that Mahon tried to recuperate by taking a holiday in Tenerife. Despite a reduction in his busy schedules, just 12 years later, in 1908, George Mahon sadly passed away.
However, George Mahon's final days at the club should be remembered with much fondness by Evertonians as one of the last things he did for Everton as Chairman was to promote to the Board of Directors one William C Cuff — a fellow congregational member at St Domingo's all those years ago.
In 1908, Everton and Liverpool got together to form a new senior League within the Liverpool area. Previously, most teams played in the various leagues that had sprung up in Lancashire, however, despite the North West being the primary source of these leagues, there were a number of clubs from the Midlands and the North East that also took part. As a result of this, a number of Liverpool's more senior clubs were finding it difficult to fund their travels to these 'far-flung' destinations.
The new League was called the Liverpool County Football Combination, and the League championship trophy was kindly provided by Frederick Stanley, the 16th Earl of Derby, who, in 1892 presented a trophy to be presented annually to Canada's Champion Hockey Club, and is still presented today to the winners of North America's National Hockey League—but you may know it as The Stanley Cup, the oldest professional sports award in North America.
Everton kindly provided a trophy for a knockout competition, and it was, appropriately, named after the man who had sadly passed away not long before the League was created. That trophy sits here tonight, the George Mahon Cup.
This trophy has been contested for since 1909, and has either been shared or awarded to the winners on 94 occasions. Perhaps fittingly, the first team to successfully defend the trophy was Everton's A team who won the 1934 competition, emulating their success the previous season. In fact, Everton's A team had won the trophy more times than anyone else until 1964, when Guinness Exports matched Everton's total with their fifth cup victory. And it wasn't until 1991 when Waterloo Dock won the competition for the sixth time that Everton's record was finally eclipsed.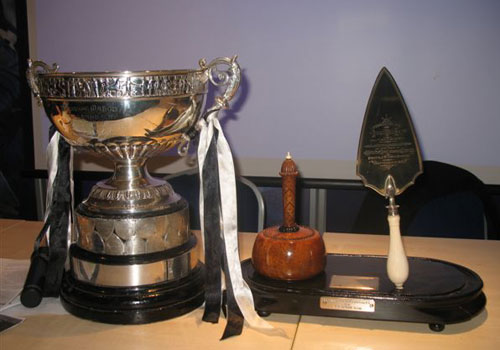 The George Mahon Cup and Joseph Wades Maul and Trowel
However, whilst the recent winners of the George Mahon Cup are a myriad of amateur teams based in the Liverpool area, the earlier winners boast more well-known non-League names, with the likes of Skelmersdale United, Marine, Burscough and South Liverpool proudly boasting of their achievements in this competition in their honours lists.
It is, perhaps, fittingly that in what many call Everton's greatest ever season, 1984-85, the George Mahon Cup was won by Littlewoods Athletic — a team drawn from the company founded by another great Everton chairman — Sir John Moores.
A number of Everton historians, myself included, say that Will Cuff was the father of Everton, and if that is true then George Mahon can claim to be the grandfather. However, at times there are some people who say that if George Mahon and his cohorts had a little foresight when dealing with John Houlding in 1891, then maybe the world would be Kopite free — usually uttered after a derby defeat. However, I like to think that George Mahon had a lot of foresight and saw the kind of glory hunters associated with our neighbours across the park, and decided to bail us out while he could — no "Badgeman" for Everton.
In short, George Mahon was an intellectual, an accountant of high standing, an accomplished organist, an active member of the local church, a political activist, maybe even a radical but perhaps most importantly of all — like us — he was an Evertonian.
Footnote; The secretary of the county FA Premier League, Pat Farrell, brought the George Mahon cup into the room and when asked said we could keep the cup in between Cup finals. He would love the century game next year to be played at Goodison, which Robert Elstone eagerly agreed too.
The bell went and we had a break; during the interval Peter Lupson and David France sold their new books. Peter said that David's book is the best footballing book ever written. It's called 'Dr Everton's Magnificent Obsession' — what else could it be called? What a fantastic book for Evertonians... you won't put it down. I had to laugh at the picture of the first Everton committee in 1881; they looked like gunslingers all with cigars and pipes in their mouths. The proceeds of David's book sold on the night where going to a fund to paint new portraits of our founders, Dr Clement Baxter, William Cuff and of course George Mahon.
I also think that our 'new found' founder Ben Swift Chambers should be considered and Joseph Wade. The only original painting of George Mahon was at Goodison Park but has gone, no one knows where. Have you got it?
Everton in South America
Next up to the blackboard were Tony Heslop and John Shearon of the Everton Ruleteros Society. In the early ledgers found by David France, it was noted that, early in the 20th century, Everton would undertake trips abroad. It was at the time William Cuff was the chairman of Everton and renowned architect Archibald Leech had an office in Liverpool.
One summer, Everton where to undertake an end-of-season game in Haarlem, Holland but before they finalised it, they where approached by some South American business men to come to their part of the world, inviting Spurs also. They had smaller clubs like Southampton visit but never clubs as big as Everton and Spurs so there was much excitement from the locals in Argentina and Uruguay.
Now getting to South America was not an easy task in those days and the entire trip would take eight weeks, including six weeks of travel by boat each way. The players would have no money in the summer so they all decided to go to this football mad part of the world for a princely sum of four shillings a week.
There was a hitch just before they sailed, they could not get insurance. Lloyds of London stepped in at 14 schillings a man. This cost ate into their fee from the South Americans and the players had to downgrade to second class, the directors staying in first.
So, in May 1909, they set off, pioneers to South America followed by Spurs, they where welcomed to a tumultuous reception in Buenos Aires.
So prestigious where these games that the President of Argentina was in attendance, watched by huge crowds. Everton played Spurs twice, drawing one game 2-2 and winning the other 4-0. Local side Alumini where thrashed 4-0... inter
Reader Comments
Note: the following content is not moderated or vetted by the site owners at the time of submission. Comments are the responsibility of the poster. Disclaimer
There are no responses so far to this article. Be the first to offer a comment using the form below.
Add Your Comments
In order to post a comment to Fan Articles, you need to be logged in as a registered user of the site.

Log in now
Or Sign up as a ToffeeWeb Member — it's free, takes just a few minutes and will allow you to post your comments on articles and MailBag submissions across the site.
© ToffeeWeb