Small Steps when we needed Giant Strides
by

Comments [Jump to last]
| 17/02/2016
Following on from my previous article (The Fine Balance, 17th November 2015) we have made progress in the last 14 games compared to the same fixtures in 2014-5 but no where near enough.
We are now 8 points better off than the performance last season, gaining 6 points more in the last 14 games than the equivalent fixtures last year. This has taken us to a projected 55 points and 8th place in the league. We are actually the 4th most improved team in terms of points this season and 3rd most improved in terms of the middle third of the season. Progress? Somehow if a projection of 55 points is considered progress, it is more a mark of how low we had sunk last season.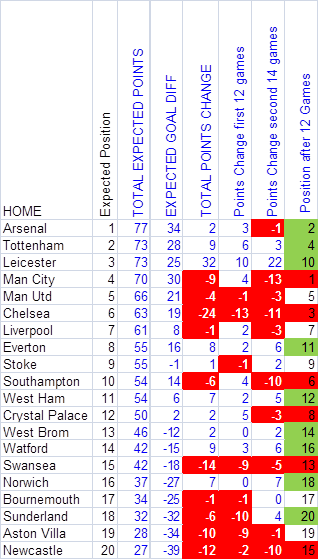 This table takes the results of last season for the remaining 12 fixtures and adds them to the results so far this season. As simple as that.
The battle for the top 4, both on projections and current status does seem now settled. It is just the order with City having a very noticeable dip in the last 3 months (down 13 points).
Europa League places are also seeming to go to the Sky 3 who have lost their way so that should be fun on Thursday nights. The question is will one of the chasing pack really move up a gear and catch one of them. I would possible risk a fiver on Chelsea being in the top 7.
Then we have 8 clubs, including us, who will be thankful of the money, not seeming to be in any danger of relegation and not making the Europa League with the associated costs in terms of squad numbers. Southampton dipped over Christmas but have improved by 5 points in the last 5 games so have more than arrested the slide. All of these clubs are showing improvement, albeit only marginally apart from Swansea who also have picked up recently after a brief flirtation with a projection of under 40 points.
And so who is going down? Villa and Barcodes look certain. Or do they? Newcastle took just 3 points last year from the remaining 12 fixtures. Tough fixtures or they were just lousy last year as well as this? Bournemouth (playing as Hull) took just 6 points. The ones who will probably not improve are Norwich (QPR took 13 points), Villa took 12 and Sunderland with 9 and so we could see the 3 promoted sides stay up, but I suspect one will not make it.
So back to our grand team. 12 fixtures to go. 5 at home. Wins over Norwich, Saints and West Ham and draws with Arsenal and Bournemouth? 7 away. Wins at Watford and Palace, draws at Liverpool, Leicester and Sunderland and defeats at Villa and United? 55 Points? So Bruce, Higher or Lower?

Return to Talking Points index : Add your Comments »
---
---
© ToffeeWeb