Report
Defeat for Allardyce after Gueye levels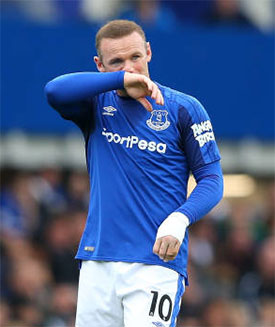 Wayne Rooney returned after overcoming a virus
Bournemouth 2 - 1 Everton
James McCarthy made a surprise comeback for Everton only to gift Bournemouth a goal in another dreadful first half but Gueye pulled back an equalizer only for Bournemouth to snatch the win with a deflected late goal.
Wayne Rooney started on the bench while Gueye and Schneiderlin were paired together, and Lennon, Calvert-Lewin, Sigurdsson meant to provide the attacking intent.
The football was very scrappy from the start, and Schneiderlin gave away a silly free-kick that was hit deep and went behind off Cook. In possession, Everton were bereft any real ideas going forward, a pass through the middle to Gueye immediately turned over.
Sigurdsson got a chance too deliver from a set-piece but it fell to Lennon whose shot came to nothing. The home side won the first corner but the ensuing cross was over-hit. Lennon got behind the Bournemouth defence but was unable to shoot.
In the build-up from midfield, The Blues continued to be painfully slow and unable to create much, backing off after loosing the ball and allowing the Bournemouth players to run at them until encountering a reasonably solid blue wall in the Everton penalty area.
The hosts had another decent chance, Jordon Ibe twisting and turning before firing a fierce low effort at goal which the Everton keeper pushed behind.
Callum Wilson raced through on goal and got a shot off but it was too close to Jordan Pickford who saved it well. Everton paid the penalty for their cautious approach on 33 minutes after some terrible play from McCarthy toward his own goal allowed Bournemouth to surge forward and Fraser volleyed home King's cross to put the Cherries into the lead. King then had to go off a few minutes later, with Afobe replacing him.
A shockingly poor half for Everton, the lack of energy, lack of movement, continued poor passing is frankly unbelievable, with the Blues second to nearly every ball, the players strolling at a snail's pace in possession, while Bournemouth although poor were at least showing some intent to get forward in numbers.
Wayne Rooney replaced McCarthy after the break but, despite the change, all the attacking invention and desire continued to come from the home side.
Oumar Niasse replaced Calvert-Lewin before the hour-mark and had an instant impact in a rare Everton attack against the run of play after Steve Cook had gifted the ball to Sigurdsson, Niasse slipping his pass out smartly with a deft flick into the the path of in-rushing Idrissa Gana Gueye who fired home unerringly into the far side of the goal beyond the decidedly under-worked Begovic.
A great move from Bournemouth sliced through the Everton defence and it was well worthy of a goal but Pickford got down superbly to stop Callum Wilson's shot.
Yannick Bolasie was Sam Allardyce's final change, replacing Gueye as the Everton manager looked to go for a win with a more attacking formation for the last quarter of the game. Fraser looped a poor free kick well past Pickford's goal.
Bolasie was immediately involved in a much more promising attack, feeding the ball wide in the Bournemouth box, then getting the return form Niasse but firing his shot over as he struggled to keep his balance.
Another horrible giveaway at the back almost let Afobe in but for the Bournemouth player's heavy first touch. Schneiderlin was next to gift the ball to the home side who went forward and got off another shot at Pickford.
Sigurdsson should have sown the game up for Everton with a glorious chance that he somehow contrived to miss. Meanwhile, Bournemouth kept probing as the Everton defence looked to remain solid and preserve Sam Allardyc'e remarkable unbeaten record into an unprecedented 8th game.
But 3 minutes from time and another Bournemouth attack saw Ryan Fraser's shot deflected off Keane past Pickford and into the Everton net just inside the post to give Eddie Howe the win, despite 5 mins of added time.
Scorers: Fraser (33', 88'); Gueye (56')
Kick-off: 3pm, Saturday 30 December 2017
Bournemouth: Begovic, Francis, Steve Cook, Ake, A Smith, Ibe, Lewis Cook (78' Arter), Gosling, Fraser, King (39' Afobe), Callum Wilson (85' Mousset).
Subs not Used: Boruc, Pugh, Daniels, Simpson.
Everton: Pickford, Kenny, Keane, Jagielka, Martina, Gueye (72' Bolasie), Schneiderlin, McCarthy (46' Rooney), Lennon, Calvert-Lewin (54' Niasse), Sigurdsson.
Subs not Used: Williams, Davies, Holgate, Robles.
Referee: Lee Probert
Attendance: 10,497
---
Reader Comments (200)
Note: the following content is not moderated or vetted by the site owners at the time of submission. Comments are the responsibility of the poster. Disclaimer
Chris Keightley
1
Posted 30/12/2017 at 14:31:50
What the Fuck??! Why so many defensive midfielders???
Mike Keating
2
Posted 30/12/2017 at 14:42:15
Gueye, McCarthy AND Schneiderlin in the same side?
That's according to SportsMole
Glad I never made the trip!

Mark Rimmer
3
Posted 30/12/2017 at 14:55:20
Yep looks that way Mike, 8 defensive players on the pitch for us,
0 - 0 it is, big shout out to those that have made the trip.
Keith Monaghan
4
Posted 30/12/2017 at 14:59:56
What odds on this being "sicknote's" one & only start his season?
Colin Malone
5
Posted 30/12/2017 at 15:00:51
Vlasic not even on the bench.
Matthew Williams
6
Posted 30/12/2017 at 15:04:12
3 holding Midfielders ???...
Draw then...sigh.
Andy Crooks
8
Posted 30/12/2017 at 15:26:14
In more than fifty years of watching Everton that is the most negative lineup I have ever seen. We are away to the mighty Bournemouth, so I can see what Sam is doing.
Truly sad and lamentable stuff. Uttery demoralising.
Ciarán McGlone
9
Posted 30/12/2017 at 15:30:40
Being programmed to avoid defeat as opposed to trying to win sure produces dull football.
Ciarán McGlone
10
Posted 30/12/2017 at 15:35:47
Surely now the approach must change.
Christy Ring
11
Posted 30/12/2017 at 15:43:07
Why can't he play Rooney behind Calvert-Lewin, 3 defensive midfielders against B'mouth, he has to change it now.
Carl Allan
12
Posted 30/12/2017 at 15:43:59
We are in a false position in the league from what I have watched in the premier league this season. If it had not been a tale of fortunate penalty decisions and missed penalties then we would be far nearer the bottom 3.
I have yet to witness a good performance since Allardyce took charge.
Tony Hill
13
Posted 30/12/2017 at 15:45:58
This half-time will be a marker of Allardyce's management. I expect us to go on and win the game despite a woeful performance so far.
Philip Jeffries
14
Posted 30/12/2017 at 15:46:01
We are playing gash football again. End of story. Hate watching this dross.
Max Murphy
16
Posted 30/12/2017 at 15:54:27
Absolute crap! They can't pass, they won't challenge for headers, they get caught in possession, persistent ball-watching, no man-marking, and What The Fuck was McCarthy doing giving away the ball which led to their goal?!? Under no pressure.
Have these players lost all their ability?
It's painfully obvious that we have been very lucky in our last couple of games – but luck runs out, and we're now back to ground zero.
Jay Wood
[BRZ]
17
Posted 30/12/2017 at 15:57:04
Nice to see James McCarthy back in the side, playing defence splitting passes.
John Davies
18
Posted 30/12/2017 at 15:58:48
Fuck off Allardyce. Why on earth have I made the trip down?
Fucking appalling.
Pete Clarke
19
Posted 30/12/2017 at 15:59:00
I said that our patience with this way of playing containing football woold wear thin quickly and if this turns into a defeat then big Sam is on a rapid descent.
Truly awful football with not one single player looking comfortable on that pitch apart from Pickford.
Matthew Williams
20
Posted 30/12/2017 at 15:59:10
How come Ben Pearson of Preston plays better than our Midfield holding trio combined !?.
Bill Gall
21
Posted 30/12/2017 at 16:01:55
When you have a manager who,s philosophy is well known as playing not to loose with a win as a bonus you are always going to get these types of performances.
Colin Malone
22
Posted 30/12/2017 at 16:06:43
What's happened to Vlasic?
Mike Keating
23
Posted 30/12/2017 at 16:08:20
Ronnie Goodlass just revealed that Begovic's first touch did not occur until the 38th minute.
John G Davies
24
Posted 30/12/2017 at 16:20:20
His second touch was to pick it out of the onion bag.
David Connor
26
Posted 30/12/2017 at 16:54:19
That result has been coming for a while. Piss-poor yet again up front. Big concern for us.
We are desperate for a good striker and a forward-thinking midfielder. It is awful watching us this season. I really think we will get tonked by both Man Utd and Liverpool. We are fuckin' shite.
Philip Jeffries
27
Posted 30/12/2017 at 16:57:04
What a pathetic result and performance. We demand better than this. I don't care about the luck of the winner, it's the piss poor team selection and chasing a game we should have been trying to win from the off. Get out of our football club Allardyce.
Rob Dolby
28
Posted 30/12/2017 at 16:57:30
Williams and Holdgate should be the 1st choice pair at the back. Jags and Keane are like the keystone cops.
This defeat has been coming for weeks. We need new players. I take back my comments about Nzoni, We need to offload Schneiderlin.
John G Davies
29
Posted 30/12/2017 at 16:58:00
Who Phillip?
Clive Rogers
30
Posted 30/12/2017 at 16:58:15
Poor team selection caused that defeat today. The starting team was never going to score a goal with three DM's, one only half fit.
Ciarán McGlone
31
Posted 30/12/2017 at 16:58:27
I'm not going to comment on the game. It's all too obvious.. but I will mention Michael Keane and Sigurdsson.
What has happened to the player of last season. He wanders about the pitch like a drunk guppy. I'm beginning to think we need to replace him. Turning his back on an opposing player really is school boy stuff.
As for Sigurdsson. I'd sell him back to Swansea for 10 mill. As bang average a player as you'll likely ever see.
Jay Wood
[BRZ]
32
Posted 30/12/2017 at 17:05:05
Brought that defeat on ourselves.
Pretty much every midfielder woefully misplaced very simple passes today which exposed our defence.
Jags and Keane, as they have all season, do not look a solid pairing at the heart of our defence.
Praise to Niasse when he came on. Showed good touch and awareness to lay on Gana's goal, then set up Sigurdson for what could have been our winner, but the Ice Man took a poor 1st touch which allowed the defender to get in a block.
A team with ambition should not be losing to Bournemouth, all the more so given the winless run they were on.
Philip Jeffries
33
Posted 30/12/2017 at 17:06:04
John #29 - The pub manager. Selection was awful and another crap performance. I watched it and for large chunks it was the same as WBA and Chelsea. Totally blunt. Before anyone defends Big Sam, this is Bournemouth we are talking about. And they just beat us 2-1. Disgrace.
Roman Sidey
34
Posted 30/12/2017 at 17:06:28
I'm not trying to feed the debate as to whether the manager was at fault or the players, but in the 15 years I've been watching Everton I have never seen our players dominate loose ball. Every time there is a 50-50 for possession, the Everton players end up chasing the opposition with very little fight. That and standing off the player with the ball. I know tackling isn't always the correct option, but our players hardly ever tackle.
And if I have to see Jagielka put in any more of those half arsed blocks he does behind his back, I am going to lose it. He should be drafting a very long apology letter to Pickford for that goal. A player of his experience and he still carries on with that crap.
George Cumiskey
35
Posted 30/12/2017 at 17:08:17
In the words of that great football man Bill Kenwright: What a manager!
And is the 㿙 million spent on Sigurdsson the worst deal in the history of the Premier League? And should Schneiderlin ever put on an blue shirt again?
Robert Jones
36
Posted 30/12/2017 at 17:08:23
We weren't unlucky. This is the end result of picking progressively more defensive sides, culminating in picking three defensive midfielders against a side who have done VERY little this season, and who were bereft of their best striker.
If Allardyce is ever going to show himself as anything more than a defensive manager, this was the kind of game where he needed to loosen the shackles. Some people will say that the odd defeat is the price of doing business with Allardyce - sorry, the flaccid, barely endurable football is the price. The results simply made it tolerable. If we're now going to play like this AND lose, then people are going to run out of patience very fast.
He's been paid six million a year for THIS?
Si Cooper
37
Posted 30/12/2017 at 17:10:02
Ciaràn, the question I would raise over Sigurdsson is whether neither Lookman or Vlasic can make a case for being played in that wide left position instead of him?
Should we now assume that Vlasic has been identified as one who doesn't want to fight for his future at Goodison?
Christy Ring
38
Posted 30/12/2017 at 17:10:58
A dismal performance, two errors summed up our day. No shape and nothing in attack. Taking off Gueye and leaving Rooney and Sigurdsson in midfield, left us totally exposed.
Hope Tosun deal goes through, badly needed.

Steve Brown
39
Posted 30/12/2017 at 17:11:42
Let's see the apologists for Allardyce finesse away another dismal, negative team selection. Three central defenders away to a relegation team after playing a back five against West Brom. He has had to tear up his gameplan at half time in most of his games as Everton manager.

Roman Sidey
40
Posted 30/12/2017 at 17:11:44
Side note, having two centre-halves on the bench pretty much sums the manager up.
Tony Twist
41
Posted 30/12/2017 at 17:12:53
That's been coming and I would imagine not too much of a surprise to anyone. This is big Sam all over, his team's draw a great deal and if they don't do that they tend to lose meekly. It is all about how we respond to this defeat and I am sure tiredness will start to be used in big Sam's chats with press a lot more. Plain and simple, with the present manager it will be how quickly or slowly we can crawl to 40 points. I think big Sam, his posse and mate Walsh's time will be up by summer. How much money will be left in the kitty for the new guy is anyone's guess. Koeman has a lot to answer for.
Dan Davies
42
Posted 30/12/2017 at 17:14:13
Allardyce shot himself in the foot with that selection to my mind. As soon as I saw Gana, Schneiderlin AND McCarthy I immediately thought NO!
What was Allardyce thinking? I know Bournemouth are capable of playing good football but that was telegraphing them exactly how we were going to play!
Unforgivable I'm sorry to say. I've been fairly impressed with the new manager up until now but today I'm stumped.
What was he trying to achieve playing Mcarthy? Is he trying to put him in the shop window or something??
Kevin Tully
43
Posted 30/12/2017 at 17:14:38
If your main tactic is to lump it forward, then you end up with what we have witnessed for the past 3 games - one shot on target in each. Our luck ran out, and they still could have won by three or four - this against one of the worst sides in the P.L.
Allardyce isn't to blame for the misplaced passes, or the hundreds of millions pissed away on dross, but on the latest showings, he won't be here beyond the end of this season.
If I were Moshiri, I would be looking at the absolute shambles of our recruitment policy. Koeman has paid the price, others need to as well. From the CEO down, the club is in ruins. I can honestly say we are still one of the worst 5 sides in the League, after matching the spending of the top 4. Says it all.
John G Davies
45
Posted 30/12/2017 at 17:16:26
Robert 36,
Their best striker played.

Tony Hill
47
Posted 30/12/2017 at 17:18:00
So much for my dim prediction but don't panic. This result alters nothing and will, I think, cause Allardyce to change tack because if he doesn't he will not last beyond May. We need new, higher quality players in January and again in Summer. We will not be relegated which was the main objective as far as I am concerned.
Allardyce faces a massive task: to dispel an ingrained culture of failure. In order to succeed he will have to throw off his own defensive instincts but he will be best placed to do so when we have filled gaps which we could all see back in August and indeed well before that. I believe he will succeed.
The pious Enemies of Allardyce will be out in force tonight, after his first defeat. So be it.
Les Martin
48
Posted 30/12/2017 at 17:18:49
I don't mind playing two defensive midfielders if we have an outlet, why not have Vlasic and Lookman on either flanks ?
I am sure that Sam has now had the time to see who the waisters are and will sort it via the transfer window.
Mondays game against Utd is going to be very interesting as the faithful will only stand so much negative football despite Sam getting us up the table.
I will wait until the end of Feb with the view that hopefully fresh blood and approach has had time to settle
John G Davies
49
Posted 30/12/2017 at 17:19:18
He's a c**t.
He's a twat.
He's fucking useless
He's a coward
He's a Shithouse.
Feel free to fill in the name spaces.
See you later chaps.
Dan Parker
50
Posted 30/12/2017 at 17:20:13
Armchair managers galore, such is the forum
John Pierce
51
Posted 30/12/2017 at 17:21:01
Unsurprisingly if you pick a team which choc full of piss poor passers then you just end up having to defend all the time.
Not one of our back four can pass, Kenny is now pre programmed to just punt down the line.
McCarthy and Gana are both limited distributiors and Schniederlin is a lost cause.
One might argue of that XI after Sigurdssson, Pickford was the next best passer.
It is as many foretold. If you set up defensively, thats okay, but you MUST be clinical to sustain the results that nourish such an approach. Once the results go you have nothing.
To approach the last two games in the manner we did was deplorable.
Allardyce can complain about ball retention all he wants, he picked a poor side today, he might look at his approach to answer the problem.
Desperate stuff.
Pete Clarke
52
Posted 30/12/2017 at 17:21:33
The whole team is infected with a fear of the ball and not knowing what to do with it. Even Rooney when he came on was lost but as for Schneiderlin, Keane and Siggy, what a waste that is. We are a better team with Davies in it that's for sure.
We were very lucky not to have conceded 4 today and with the big games coming up we are unlikely to see any football from our team any time soon if at all this season.
Kenwright out, Walsh out, Little and large Sam out and many more. Sick of this brainless approach to games...
George Cumiskey
53
Posted 30/12/2017 at 17:23:52
Si@37 do you actually think Siggy is doing a good job on the left . And Lookman and Vlasic wouldn't do it better ?.
Steve Brown
54
Posted 30/12/2017 at 17:26:34
The reality was that these were games to win before we face top four opponents in our next three games. But the gameplan and selection handed the initiative over to two relegation haunted teams.
I can safely predict the gameplan for Man U, Liberpool and Spurs. Park. The. Bus.
John Keating
56
Posted 30/12/2017 at 17:29:31
Tony 47
unfortunately there won't be any higher quality players available in January. Although there may be an argument that nobody is better than some of them.
I reckon the only time we will have to get rid of the crap Allardyce inherited will be at the end of the season.
Regarding the pious Enemies of Allardyce . well there'll be a few on here made up with that result, until the next defeat, so they can tell everyone how right they were.
We lost a game against Bournemouth, yes Bournemouth, a bloody disgrace considering we were hammering everyone since pre season.
Allardyce out it's all his fault !!!
George Cumiskey
57
Posted 30/12/2017 at 17:29:59
Does anyone know if we have enough defenders and defensive midfielders at the club for the United game ?.
Steve Brown
58
Posted 30/12/2017 at 17:33:12
John, pious Enemies of Allardyce or Apologist for Dross?
Steve Brown
59
Posted 30/12/2017 at 17:35:06
George 57, I think we do. It will be 5-5-0 formation.
Darren Murphy
60
Posted 30/12/2017 at 17:36:05
Slow, confused, dire, dour backwards passing utter crap. Set up to defend against this rubbish... then lose. This bloke is as exciting as watching paint dry except no end product. His Bullshit philosophy is to draw all 38 games if possible as long as we don't attack. Never mind eh?!.
Jamie Crowley
61
Posted 30/12/2017 at 17:36:25
Big Sam definitely reverted to type. Three defensive, ball-winning midfielders who couldn't create a cutting pass if they tried. None of them are bad footballers.
But when you put all three in the side you definitely get a bad performance and show.
That was awful.
It's bad enough to watch week in and week out, but at least we were getting points. It's getting progressively more negative and worse.
Seriously - McCarthy, Gueye, and Schneiderlin all in the same midfield against Bournemouth?? It's a recipe for boredom and shit football.
There's no joy watching Everton at the moment.
Honest question - would you rather watch, week in and week out, a Martinez side winning some, blowing leads and losing some we shouldn't, and finishing 9th-11th, or would you rather watch this mind-numbing shit every week and finishing 9th-11th?
It's just terrible.
Bill Gienapp
62
Posted 30/12/2017 at 17:36:42
As just about everyone has said, I'm not sure how Big Sam can start Schneiderlin, Gueye and McCarthy, then bemoan our inability to score goals with a straight face.
The frustrating thing is, it doesn't have to be this way. Being pragmatic against the likes of Chelsea is one thing. But Lookman and Vlasic tore it up against Apollon Limassol - you're telling me they couldn't do some serious damage against a shaky Bournemouth back line? But they don't even make the bench.
Unfortunately, these past two matches go down as a staggeringly blown opportunity to pick up a chunk of points, as the schedule over the next month has some significant teeth.
Dan Davies
63
Posted 30/12/2017 at 17:38:29
John @ 49, I get what you are trying to put over in your post and yes some posters are OTT... but criticism where it's deserved is fair.
Up until now Allardyce has had my backing but today he messed up and should have a collective kick up the arse from the fans.
If he does well I will praise him if he does shite I won't.
I'm just hoping and praying today was about sending the board a message about the upcoming transfer window...!
George Cumiskey
64
Posted 30/12/2017 at 17:40:39
John @ 56 yes it will all be sorted when Sam has this window and the summer window to sign all those attacking players he so likes.
Tony Hill
65
Posted 30/12/2017 at 17:41:32
No wonder the team melts at the first whiff of a challenge. So do we. Allardyce has been in charge for a month. Yes, a whole month.
That hit you get, though, with miserabilist vindication. Nothing beats it. I should know, I rather enjoy it myself.
I think we should be scrutinising the players actually, some of whom perform when and how they like, and I have no doubt that Sam has indeed been having a little look.
Pickford, excellent.
Steve Brown
66
Posted 30/12/2017 at 17:41:39
Allardyce signed 18 strikers for WHU as manager. One every 9 weeks. The lack of goals will be remedied in January and we are safe in his hands.
Mark Murphy
67
Posted 30/12/2017 at 17:47:44
At the risk of repeating myself I did NOT want Allardyce in but I cannot for the life of me think of any other available manager at the time who would have got us away from the bottom three that fast!
Some wanted Silva, others Benitez, Eddie Howe was mentioned- and Even Chris Hughton.
So come on - who is the next great blue hope?
F@cked if I know but I do know that until Allardyce has had the chance to rip up this shambles and put his mark on the squad I will give him a chance.
I'm gutted we lost today - seems I'm in the minority on here!
Jim Bennings
68
Posted 30/12/2017 at 17:47:52
Is Tosun the answer?
On his own , no he isn't , we need at least three new quality attacking footballers with some kind of ability to change the dynamics of how ponderous and slow our attack is.

Andy Dempsey
69
Posted 30/12/2017 at 17:48:20
How long can the 'Apologists for Dross' keep this up? It will be quite interesting.
Yes, more interesting than the games. I watched the derby but I haven't seen one since; reading TW tells me everything I need to know. I guarantee it was more exciting just keeping an eye on the result like I did today.
When we scored, I was buzzing, and then distraught near the end. But I bet watching it, it was a just a kind of resigned sigh, like 'we deserve this'.
It's funny that he's got another derby game in the FA Cup coming so soon after the last one. We'll see the same shithouse tactics again, and we'll see what the apologists for dross say then.
I don't want Allardyce to lose games, and I don't enjoy it; I just want him gone at the end of the season, because he has no chance of being a successful Everton manager.
Steve Brown
70
Posted 30/12/2017 at 17:49:08
Until Sam has had a chance to plunder the transfer market and shape this team into West Ham during his glory years, can we all agree to blame a) the players b) Koeman c) Kenwright d) Walsh e) The legacy of Martinez f) anyone but Allardyce?
It will make arguments much less frequent on the site and we can all happily ignore the evidence in front of our eyes.
Andrew Clare
71
Posted 30/12/2017 at 17:49:31
We really are a broken machine. We have been clapped out for a long time and it seems that no matter who we get in to do the repairs they are unable to fix the machine. The parts are all old and rusty or they have been replaced by over priced fake components.
The whole thing needs scrapping.
No I'm not talking about the state of the UK under Theresa May, I'm talking about a once great football club called Everton that started to fall apart 20+ years ago.
Mark Murphy
72
Posted 30/12/2017 at 17:51:44
So Steve, are you saying this squad is good enough?
Si Cooper
73
Posted 30/12/2017 at 17:53:45
George (53) - the point I'm making is that the manager obviously doesn't think so, so we have to ponder why that is?
Personally, I think Vlasic has been one of our all too few bright sparks in a dismal season and I can only assume (lacking any other information) that the reason he has had so little game time is that he has been identified as unlikely to stay.
Incidentally, it was the potentially poor reaction of naively idealistic young prospects to the appointment of a renowned conservative manager that was my main concern over his appointment. Of course we need grafters in the team, but we also need plenty of flair and creativity around, and unfortunately such attributes may not necessarily be coupled to the greatest concentration levels in the players we can afford. (When) Will Sam Allardyce be brave enough to risk a significant sprinkling of such Mavericks throughout the team?
George Cumiskey
74
Posted 30/12/2017 at 17:55:23
Andrew @ 71 love it.
Liam Reilly
75
Posted 30/12/2017 at 17:57:22
Sam set expectations before this game by saying 8th or thereabouts would be a good result.
Seems the players agree
Jim Bennings
76
Posted 30/12/2017 at 17:57:44
How many of the following would get into any of the sides above us??
Calvert-Lewin- no
Niasse- no
Schneiderlin- no
McCarthy- no
Lennon - no
Martina- no
Kenny - future maybe but not yet
Keane - no based on what we see
Jagielka- no
Williams- no
Sandro- no
Rooney- arguably yes on this seasons form
Sigurdsson- honest answer, no.
Gueye- no
Davies- nowhere near ready
Frankly it's a really bang average looking squad.
Frankly the squad is
Steavey Buckley
77
Posted 30/12/2017 at 18:01:05
This is the day when SA got it all wrong big time. First, with his team selection, tactics and with his substitutions. Holgate and Williams have been playing well together, so why change a good defensive formation? Jags was miles off the pace and Keane was not much better?
If the idea of SA is to get the ball forward as quickly as possible, why wasn't Niasse partnering DCL from the beginning, who looked lost, bereft of ideas and isolated. Sigurdsson had another dreadful game to prove again he is not worth 45 million pounds.
When Everton went 1:1 why on earth bring Gueye off and bring on Bolasie when still not match fit? Everton were in the ascendency with Rooney playing further forward. When he dropped back to accommodate Bolasie, he was awful and kept giving the ball away.
Paul A Smith
78
Posted 30/12/2017 at 18:01:09
Steve 70 great shout.
I am taking this as an eductaion. I knew we had at least 7 players not good enough for Everton or most top half teams.
I hate us losing but its interesting to see us sort gaps at the back and look through game after game where nearly everything but the defence is wrong.
A manager who inherits a squad can only make small steps until he can spend.
Now the defence looks more drilled its going to be more of an education seeing how we link the midfield to attack. Where pace is better utilised, where we can look to counter teams, where we can take the game to teams and what we need to step up in quality.
Steve Brown
79
Posted 30/12/2017 at 18:02:02
Mark, 72. This squad finished 7th last season, since when it had been bolstered for a Europa League campaign by eight signings.
It is definitely an unbalanced squad, but the absence of Lukaku apart it is pretty much the same set of players that got us into Europe. In reality, the absence of a replacement for Romelu was more keenly felt under Koeman as he actually tried to use a more progressive gameplan. With three shots in three games and no attacking threat it doesnt matter who plays up front under Allardyce.
We have now had three terrible managerial hires in a row with Martinez, Koeman and Allardyce. That plus institutional mis-management over two decades under Kenwright. But I honestly think we have hit rock bottom hiring Allardyce and it sickens me to see his brand of football praised.
Michael Lynch
80
Posted 30/12/2017 at 18:02:21
That was rubbish. The only good thing to come out of it is that I'm made up the anti-Sam brigade have FINALLY got their Christmas present of a defeat for Everton. I was starting to feel a bit sorry for them to be honest.
Ciarán McGlone
81
Posted 30/12/2017 at 18:04:02
Spot on Si.
There is a decent team in our squad somewhere. They are not all crap as the convenient excuse goes. The managers job is to find that team and win matches.
For some reason Vlasic and Lookman, who would give us natural width and pace, are being sent to Coventry.
Paul A Smith
82
Posted 30/12/2017 at 18:06:10
Jim 76 I have said the same for ages mate and tried to engage with fans as to why some of these players are so adored?
You used to have to win a medal to get the praise Schneiderlin was getting until it dawned on lovers.
So many of that squad are average.
God we only have to look at Rooney. Who compliments his class?
Nobody?
Andy Crooks
83
Posted 30/12/2017 at 18:06:59
John G, # 49, a very negative post, totally disengaging with debate.
It was an appallingly negative lineup. No imagination or ambition. Looking for another point to crawl us to 40. That is what Allardyce does; it was why he was hired.
However, it is not acceptable to me. Today should not be acceptable to any Evertonian. We have a coach who, gets us safe, get the bonus, will do what he has to. imagine SAM fucking Allardyce as Everton manager. Some can.
In my view he us unfit to manage our club. Would Liverpool supporters take it? By fuck they wouldn't.
Jeff Armstrong
84
Posted 30/12/2017 at 18:07:07
For me , Allardyce's job is now done, he's done brilliantly for 6 weeks and we're probably safe, pay up the remaining 17 months of his contract, say thanks very much but 1 point and terrible selection and performances against the bottom 2 in your last 2 games is utterly diabolical, and then go and get Tuchal..
Roman Sidey
85
Posted 30/12/2017 at 18:07:41
Jim Bennings, you left Pickford out of the list. I'd say with one of our other two keepers in the side for the past few weeks we'd be 4-5 points worse off than we are with him.
Steve Brown
86
Posted 30/12/2017 at 18:09:36
Michael 80, stop talking shite. Every one on this site wants Everton to win every game.
George Cumiskey
87
Posted 30/12/2017 at 18:09:43
The only thing all Evertonians should worry about is we've just been slaughtered by a team that was in the bottom three.
What do you think that tells us about the club from the chairman to the manager to the players ?.
Paul A Smith
88
Posted 30/12/2017 at 18:11:53
Andy, Would Liverpool fans take it?
Lets see how they react when their looking up at most of the league like we were. Lets see if their board can entice a top manager when they are sitting 3 points above the relegation with all their best players out.
Why don't we go back a few weeks and make fools of ourselves trying to play football with poor footballers
Simon Dalzell
89
Posted 30/12/2017 at 18:14:48
Shockingly negative selection and tactics. After steadying the ship, the last two games have been an obvious opportunity to be positive against moderate teams. Alarmingly similar to Koeman and Unsworth.
Basically, ending the game with the team that should have started, and often forced changes having gone behind.
Paul A Smith
90
Posted 30/12/2017 at 18:15:36
This boring "brand of football" tag is getting milked to death.
These people must think Allardyce would make Barcelona play deep.
We wouldn't even need Allardyce if that incompetent board didn't allow a non interested Koeman and a PE teacher to waste millions on making the team slower.
Tony Hill
91
Posted 30/12/2017 at 18:16:57
Pity we didn't go for maestro Silva. Dreamers dream.
Andy Crooks
92
Posted 30/12/2017 at 18:17:21
Michael # 80, utterly miserable post. You actually think that some Everonians are happy with today. I would happily be proved wrong. So that us your consolation, that people who think Sam is Shite, despite all the trophies he has won, will be gloating?
Take a neck, Michael.
John Pierce
93
Posted 30/12/2017 at 18:20:16
Why makes excuses for a manager who has played two relegation candidates, gained 1 while point and patently got it wrong?
The same manager dispatched West ham, Huddersfield, Newcastle & Swansea who are no better with the same set of players.
In isolation that was unacceptable, in context of what Allardyce had already achieved, equally unacceptable and in an historical context just as bad.
Its not unfair nor unjust to disect that performance such as it was and lambast it for a negative game plan, conservative selection including playing two half for midfielders and a complete lack of execution in defence and attack.
When you allow anything to go unchecked without regular way points it smacks of carelessness. Everton's board are past masters of it.
But when your bezzy mate is DoF, the floor is yours Sam.

John G Davies
94
Posted 30/12/2017 at 18:20:22
Did you think so Andy?
Cut the middle man out and cut to the chase was my school of thought.

Mark Murphy
95
Posted 30/12/2017 at 18:20:38
I hear you Steve but I don't agree with all of it - not only Lukaku is missing - Barkley and Coleman also made a difference. It's shocking how the club has seemingly given up on Barkley.
But as I said - I'm no Allardyce fan myself but neither have I seen anyone praising his brand of football. It's dire - but a necessary evil.
Brian Hennessy
96
Posted 30/12/2017 at 18:20:55
Looks like Lukaku will miss the game on Monday - has been stretchered off after a clash of heads. Not sure if that's a good or bad thing for us given his recent form?
Colin Malone
97
Posted 30/12/2017 at 18:21:34
As soon as I seen three holding midfielders, none with any guile, playing in the starting eleven, there was no way we were going to win this game. We all know that they are very good holding midfielders but would you play three left or right wingers, three centre-forwards in the same team?
Big Sam fucked up. What's happened to the energetic Vlasic?
Dave Abrahams
98
Posted 30/12/2017 at 18:22:15
Jim (76), you reckon only Rooney is good enough on this season's form, well he has scored the most goals and if he continues to score them then he will keep his place, it is his goals that will keep him in the team not the way he is playing, his all round game is as poor as most of the players this season.
John G Davies
99
Posted 30/12/2017 at 18:23:21
He will play Brian.
He's a fanny who would be knocked over by an angry nun.
David Barks
100
Posted 30/12/2017 at 18:28:07
If you put a team out with no intent to attack, the opposition know they don't have to worry about you and can just focus on attacking. That's what he's done and we ran out of luck today and were deservedly beaten. There was nothing that Bournemouth had to worry about other than trying to work toward our goal. All we do is seemingly worry about what the opposition is going to do to us.
It's not about the "style of football", it's about the overwhelmingly negative tactics being employed. Being willing to pose an attacking threat isn't a "style", it's fucking football!!! This game is not about holding out for fucking nil nil draws. In case you didn't notice, it was those initial few wins that had us move up the table. I'll do the maths for you, a win is worth three times as much as a fucking draw.

Tony Everan
101
Posted 30/12/2017 at 18:28:56
No attacking threat again. We have had none this season.
Nothing will improve until we have some quality in attack, something to scare the opposition .
We are never in possession long enough in the final 3rdfor our midfield to have any composure.
2 top quality frontmen will transform us. It needs to be sooner rather than later. We need to rectify Koeman's diabolical transfer window fast.
Colin Glassar
103
Posted 30/12/2017 at 18:33:57
I've said it since day one and I'll say it again, Big Sam will only be in charge until May.
His remit was to save us from relegation and he will achieve this comfortably. Moshiri will give him his £6m golden handshake and Sam will ride off into the sunset like some old cowboy.
With Sam we get what it says on the tin ie survival at any cost. He's not going to have us playing Samba football, that's not his style. We'll be hard to beat but it will also be hard to win with his negative philosophy.
Next summer, if Chelsea don't get them, we'll have Ancellotti and Clement in charge. Sam will have done his job and can retire to Spain (or Portugal) and enjoy his golf. Only a few more months to suffer this spineless, boring, negative shite.
Bill Gall
104
Posted 30/12/2017 at 18:37:46
You cant expect this manager to change his tactics and philosophy when he has been praised, by both the media and some supporters on the job he has done in moving Everton away from the relegation zone.
Jeff Armstrong
105
Posted 30/12/2017 at 18:40:35
Dave (#98), spot on about Rooney – he has been as bad as anyone, his sloppiness is awful to watch. Top earner at the club, scored a few... so gets a pass, but missed a few pens too, oh and he managed to wangle Christmas off... nice!
Can we just say "Thanks, Sam, you've done a great job, but here's 17 months contract pay-off, bye..."
Barry Williams
106
Posted 30/12/2017 at 18:40:52
Everton and Bournemouth should be charged and done under the trade's description act today, that was not football. I feel sorry for the supporters who traveled, it is a pretty long journey that.
Allardyce has steadied the ship, he got the team selection wrong today in my humble opinion, there was zero creativity in that midfield. However, this is neither a pro or anti Allardyce statement, just facts as I see them. He has inherited a team low on confidence and very low on results. He has had no pre-season, no real time between games to train the team and a lot of injuries. The players couldn't do the basics right today, and haven't been able to for a long time now. Players are not showing for passes. At the end of the first half I noticed Kenny berating someone, or maybe the entire midfield, for not giving him an option when he had possession. Short passes are going to the opposition, when we do have the ball, play goes backwards and a laborious build-up starts, more often than not ending in a long ball down the flanks due to lack of options. We just seem incapable of keeping possession, something Allardyce also lamented in his interview.
Niasse made the difference. I have been championing his cause for a while now and arguing with my close Evertonian friends as to his merit, merit compared to what other options we have at least. He did more attacking today in his first 5 minutes on the pitch than the entire team in the entire 50 minutes before. He laid on the goal with intelligent running and a real deft flick with the outside of his boot. He set up Sigurdsson with his running, hold-up play and decent awareness, plus he also played in Bolasie with decent and skillful play. Against WBA he had more shots on target in his brief cameo than the entire team put together. He scores against the big boys, causes havoc and is a must to start against Man Utd for me. He has his faults no doubt, but we are a better team when he is on the pitch!
Hey ho, at least it wasn't a tonking ala Southampton, Atlanta, Arsenal etc etc!
Steve Barr
107
Posted 30/12/2017 at 18:42:47
Steve's final paragraph @79 accurately sums up our predicament as far as I'm concerned.
We've been on a downward spiral over the past 3 decades at least, with only a few bright periods tricking us into dreams of a return to the glory days!
Until we get an owner(s) with drive, determination and a positive vision of a way forward we must expect this dross to continue. It will take more than just money I'm afraid.
It really is depressing watching the inept football dished up by these so called professional footballers, regardless of who or how these poor excuses for managers set up the team.
There is no leadership, ownership or accountability being shown by anyone concerned with the club!
Absolute dross.
John Charles
108
Posted 30/12/2017 at 18:42:51
Micheal @80, thanks , I too feel sorry for everonians having to put up with this shite every week.
Shite against the shite, Newcastle, West Brom , Chelsea - all of which we easily could have lost - and now Bournemouth.
Not to worry you can cheer from the rafters if we hold united to nil nil
What a result!!
Si Cooper
110
Posted 30/12/2017 at 18:44:20
Mark Murphy (95), the crux of the recent arguments have been about whether it is a 'necessary evil' or not, with those saying aye relying heavily on the 'proof' of the results the managers approach has garnered. Many 'nay sayers' have simply disputed whether the results were assured by the conservative approach, and today's result only bolsters that opinion.
John Charles
111
Posted 30/12/2017 at 18:44:27
It feels like the period before Moyes. With a succession of poor managers and the club going nowhere fast.
Kevin Tully
112
Posted 30/12/2017 at 18:44:32
Southampton having a right go at Man Utd just now, who look very, very ordinary. Nothing special about the way Southampton are playing, just putting men into the Man Utd half, who have to be marked. Amazing, eh?
Andy Crooks
113
Posted 30/12/2017 at 18:47:17
Good post, David Barks.
Michael Lynch
114
Posted 30/12/2017 at 18:52:58
If you can hear me from up there on your high horse, yes I genuinely do believe there are those who are happier today than they have been since Sam arrived. Happier than when we drew with the Shite, happier than when we beat Huddersfield, because they want Sam out of the club more than they want success. Why is that such an outrageous thing to say? If you're such a purist, then why would you want Sam to succeed, when you are convinced that he can only succeed by playing anti-football? The only way Sam goes is if we start losing games, so yes, I do believe that's the only way for you to be happy.
If Sam wins every game 1-0 playing "this brand of shite", and we win every trophy going, the anti-Sam brigade will, quite rightly, not be happy because it's not what they want to see. I understand that. So wind your necks in, take ownership of your feelings, and don't be so defensive.
Brent Stephens
115
Posted 30/12/2017 at 18:56:08
Couldn't get to today's game. Watching the live feed, I felt empty. A defence that had been tightened happened to slacken this afternoon. And I despair of any prospect of an attacking edge to this side, given the players we have who are making mistakes all over the pitch as we (try to) go forward. A poor squad of players, I'm ashamed to admit.
George Cumiskey
116
Posted 30/12/2017 at 18:56:41
Colin @ 103 – only one problem with your post: we weren't so hard to beat today, were we?
Jer Kiernan
117
Posted 30/12/2017 at 18:59:59
@Michael
I think you are missing the point, We wont progress as a club with "this brand of shite" nor should we. If we havent got the courage to get the ball down and "play" against a side that is in freefall then we should lose (imho)
Todays first half setup should dispell any misgivings from the Pro-FS brigade who believe the leopard will change his spots at age 68 ,,not going to happen I am afraid
FS and only FS can take the slack for todays shameful display , Honeymoon is over lets see where we are in a months time
Roman Sidey
118
Posted 30/12/2017 at 19:00:07
Brian Hennessy, 96, I'd say with Lukaku's recent form I'd hope to God he isn't available to play on Monday because you know which team is best at allowing a player to break a scoring drought (or a team to break a winless run)...
John Keating
119
Posted 30/12/2017 at 19:09:57
Apart from Pickford and the injured Coleman on various recent threads the following for again for various reasons shouldn't play
Kenny, Holgate, Williams, Keane, Jags, Martina, the injured Baines and Mori, Davies, Schneids, Sigi, Rooney, Lookman, Vlasic, Klassen, Bolasie, Lennon. Sandro, Niase DCL.
I may have left a few out, Sorry.
So according to those experts, it seems the manager that shouldn't be here might have difficulty picking an acceptable team against United in order to keep said experts happy
Tony Hill
120
Posted 30/12/2017 at 19:19:04
Yes, John Keating, we have an obviously shit manager who should never have been appointed and who should either be dismissed now or in 6 months. And most of our players are fucking awful too. Let's kill ourselves: it's the only rational solution. Short, that is, of playing the sort of expansive, fluent and winning football we'd all been enjoying in the decades prior to Dreary Sam's arrival.

John Pierce
121
Posted 30/12/2017 at 19:19:34
Sams' still has yet to have a visit from the ghost of football future. Only then will he changes his ways.
He will look out the transfer window find a small boy, aka JJK and send him to buy a Turkey, aka Cenk Tosun and all will be right with the world.
John Charles
122
Posted 30/12/2017 at 19:26:34
FS is doing what FS does, it is no surprise. The surprise would be if we did anything different. IMHO the football is as poor as Martinez at the end and Koeman year two.
The big difference is FS purposefully sets us up to play like this.
Nigel Munford
123
Posted 30/12/2017 at 19:36:16
John K, we don't have a team then, we'll done. Hands up all that thought we'd continue to be unbeaten, I didn't, I knew it would come to an end eventually. The thing is, how are the team going to react.
Dermot Byrne
124
Posted 30/12/2017 at 19:48:28
I will sadly or happily repeat my belief. I reckon Moshiri has a strategy. It is to make us big with the new ground. The big spending will come close to then with new investors.
Until then we suffer.
But then we will be like those gobsmacked Citey fans. And moan we only won 5-0!
The worst thing will be is RS appointment of some guy who used to manage Manchester RS, who beats us at Anfield in our Premier League Championship season in our new ground.
Hope my friends and happy new 2021!
Peter Lee
125
Posted 30/12/2017 at 19:53:16
I blame everybody but McCarthy for the first goal. Not under direct pressure himself but with the oppo pressing high and one of our own down, he chose not to put the ball in touch but to play a through ball for them.
Sack the manager.
With the opposition tiring and with some momentum, not much admittedly, we play a needless cross field ball, we then make two stupid attempts at tackles and concede from a deflection.
Another catastrophe for the management's tactics. We would have won 3-0 if we had played Vlasic Lookman, Rooney, etc. from the start. Not.
Anyone listening to the last two press conferences would not have been surprised at the team selection or the tactics if they had watched Bournemouth's recent games.
Managing a football team is about maximising what you have available to get the most from the game you are about to play and, in this case, the one in two days time.
Relax folks. We will be going gung ho against Maureen's usual sit-in tight and get one on the break. Not. Thank heavens.
We have a squad not fit for purpose with one fit left footed player, the goalkeeper, and a shed load of of average midfielders, none of whom is a proper defensive player, and with only a youngster and an unpredictable trier up front.
The current team management are blameless for this. We can argue until the cows come home about why we ended up this way, nobody on here knows as opposed to speculates and slanders. It will take some time and cash to address the staffing issues. In the meantime it's all about damage limitation. If you don't see that you're not looking. If you're looking you're not understanding.
Jeff Armstrong
126
Posted 30/12/2017 at 19:55:48
Nigel (#123), err the same as they have reacted over the last few games... no reaction... same-same; sideways... backwards – emphasis on not conceding.
Hoof, chase that one Dom,... hoof out of play, defend, hoof – go on, Aaron do something with that hoof.
Absolute shite, zombie anti-football. Thanks, Sam, but I've had enough already .
Andy Crooks
127
Posted 30/12/2017 at 19:59:44
Michael, 114, you actually believe that I want Sam out of the club more than I want success? You actually believe that I would accept todays defeat to suit my ant- Allardyce agenda?
I think that Sam Allardyce is utterly unfit to manage our club. Not on moral grounds, because he WAS appallingly treated by the FA, but because we have aspirations that go beyond treating WBA and Bourbemouth like Barcelona.
Ian Hollingworth
128
Posted 30/12/2017 at 20:01:26
So the football has been shit under the last 3 managers and it wasn't that great under Moyes.
So what does that tell you? We generally have poor players and a complete lack of ambition by the club.
To blame it all on Sam is a joke.
We need better quality players to play better football. Our midfield is abysmal in terms of attacking play and the modern football fan is happy to accept lots of running and tackling makes a good midfielder.
Then there is the obvious lack of strikers. Our fullbacks Offer zero going forward.
Yet the manager is already hinting that he needs to get rid of midfielders before he can bring in his choices. Now I agree we need to get rid of some but to have the restraint is a complete lack of ambition and/or funds that tell you all you need to know about our ability to compete financially.
Clive Mitchell
129
Posted 30/12/2017 at 20:04:44
Colin, 103 - hats off to you if all that pans out as you say!
Joe McMahon
130
Posted 30/12/2017 at 20:09:14
I hope this isn't a here we go again?
Besiktas administration has declined transfer offer of #Everton for #CenkTosun for 25 million pounds. Negotiations are expected to continue.
Colin Malone
131
Posted 30/12/2017 at 20:26:47
Fireman Sam has put the fire out early doors. Transfer window opens 1 January.... so let's see what you got, Sam.
Eric Paul
132
Posted 30/12/2017 at 20:38:04
Colin @103
If that is the case and I hope you are right surely he could achieve that with the squad we have. If they let him spend money he is here for at least 18 months
Bill Gall
133
Posted 30/12/2017 at 20:39:08
Lets not criticize the manager who when you read the statistics there was a higher percentage of supporters who did not want him than those who did, the people to criticize are those who hired him.
There was plenty of information to show the philosophy of .S.A. before he was hired and he is not changing his tactics of getting a result, with the added bonus being if we manage a win, regardless who you play.
Did the club panic on the position we were in ? should Koeman been given more time ? we will never know, but what we do know is we have a manager that a large percentage of supporters did not want, and you would think that somewhere in that group they have a fair knowledge of football.
Regardless of who we buy or the monies spent S.A. is not going to change his philosophy that he has followed from his beginning in management.
People talk about the successful period he had with Bolton but that is 1 club out of the 7 teams he has managed in the premier and old first division. We have a manager who is an example of the saying, a leopard will not change his spots.
We would all like to see Everton higher up the league fighting for honors, but with this manager do not hold your breath. He will not change, and displays like today will become the norm.
Steve Harris
134
Posted 30/12/2017 at 20:46:37
How can playing three defensive midfielders against a team in the bottom 3 not be Allardyce's fault?? Lookman and Vlasic might not be world beaters yet but how can do any worse? At least they might give us a bit of pace and creativity which is embarrassingly lacking. Think all this defensive mindset rubs off on the players mentally as well, if you set up with a defensive attitude, it's hard to break out of that, especially with no pace and no creative players, hard to get any momentum and it just keeps coming straight back! Saying he's got no choice but to play this way even against the bottom 3 is just admitting that the likes of Bournemouth and West Brom must have better players than us!
Paul Tran
135
Posted 30/12/2017 at 20:52:27
There's a thin line between steadying a ship and attaching an anchor the size of small country to it. That line was crossed today.
Jeff Armstrong
136
Posted 30/12/2017 at 20:58:37
Formation of 9-3... sorry, Allardyce got what he deserved today, a defeat from a bottom 3 side that didn't have to do much homework to work him out.
West Brom did the same the other day but didn't score; this "keep what we start with" philosophy only goes so far in this league. Fireman Sam has run his race with us I believe.
Sam Hoare
137
Posted 30/12/2017 at 21:00:10
Luck was bound to run out.
We will still finish 7th-9th. If we do so playing football like we have done so far then Allardyce will be gone this Summer. Hopefully he can get us playing better and in doing so earn himself some more time. Not much sign of the latter yet though.
Alan McGuffog
138
Posted 30/12/2017 at 21:08:16
I'll be a blue until the day I die. Well you don't get an option of jumping ship do you ? But really, do I give a flying f:&- anymore ? With a brief respite in the mid eighties we have been hopeless since 1972. Will things change ? Well what do you lot think ?
Eric Paul
139
Posted 30/12/2017 at 21:18:36
There are times to shut up shop totally and there are only two sides to do it against this season for different reasons but against our last 2 opponents attack is definitely the best form of defence and Big Sam fucked it up
Max Murphy
140
Posted 30/12/2017 at 21:38:13
Eric, is it Big Sam's fault that players cannot pass the ball to a fellow team mate? The players made too many errors, as simple as that. The more errors that are made, the more goals they will concede.
No manager can prevent a player from playing shite. It's the players that need to fucking address their own pathetic form.
Alasdair Mackay
141
Posted 30/12/2017 at 21:49:16
Absolute trudgery for the last 3 games. Awful football. I actually started playing a crossword on my phone today, while the game was going on. That is how uninteresting our performance was.
Allardyce has the right intentions for our football club, which is more than I can say for clueless Koeman, but the club should refund all season tickets for this awful season of diabolical football.
Simply atrocious!
Chris Allen
142
Posted 30/12/2017 at 21:50:22
So 8 defensive players against a bottom 3 team. I was shocked to see the team sheet. We're not in a relegation battle, are we?
I was very lucky to get invited to the Bournemouth Directors Box today and what an incredibly nice gentleman Jeff Mostyn is. This gave me access to Shakespeare and Co. The look on Lookman's face when he walked out summed it up – majorly fucked off.
I couldn't help but chase Shakespeare out of the stand and ask why we didn't start with any attackers: I got a twist of the head and that was it.
As an admittedly South-based Evertonian of 40 years, I'm shocked to see how poor we've become. It was like watching a five-a-side match. No space for anyone.
What do these guys in charge get paid for?? Clearly today was the day for an attacking 4-4-2?? We're starting to get from Sam what I expected. Playing every game like a cup tie and trying to win on the break.
Really shocked from what I saw... thank god there are a load of other crap sides out there in the league. We couldn't be further away from the likes of Man City, Man Utd, Liverpool... so so far behind them. I'll be interested to see how long the players stick with Sam because that was just dire.
Dick Fearon
143
Posted 30/12/2017 at 21:52:35
Alan, 138, Not until match going fans grow some balls.
Kim Vivian
144
Posted 30/12/2017 at 22:04:55
Back from the match now. First thoughts after the drive home.

> Pickford - Does his job.
> Kenny - Got promise but not showing us much of it today. Sprayed plenty of ball around - mainly into touch and to them
> Keane - A nervous wreck. Cant play with Jags.
> Jags - Did what Jags does efficiently.
> Martina - Generally anonymous but that is good in a way because he did nothing to show himself up. Worked away. Continues to be my surprise package of the season.
> Schneiderlin. Just poor. Absolute pants. Wouldn't make the Wolves side, Send him abroad somewhere.
> Gana - MOM for me. Scored a goal and does what he does but should stick to that because when he tries to be creative it falls apart.
> Siggurdsson - Don't think he is going to get much better particularly with these around him. A bit more pace and he would have scored today. STILL not a 㿙m player.
> McCarthy - Was he there?
> Lennon - close run for our MOM today for me for his work ethic. Can't tackle but covers back well is a nuisance and racked up the most kms today I'd say, if not DC-L
> DC-L - Looks a lonely figure. Covers loads of ground chasing lost causes. Must be knackered. Needs a rest. Start Niasse on Monday.
> Niasse - Transformed the away atmosphere. Infectious enthusiasm lifted the attack. Set up Gana for his goal. Set up Siggy for a goal which he failed to convert. Sometimes not sure how much control he has over his legs but it kind of works for him. Technically challenged player but boy, do we benefit from having him on the pitch.
Rooney - An enigma. Hugely influential presence and always looking for the offensive play but ceded possession too often. Vital inclusion though imo.
That's the players.
One has to question the intelligence or sanity of these so called football geniuses for setting out that team to face a poor Bournemouth who, as with W Brom. we've made look good. The result today was a fair reflection of the balance of play and respective intent.
Insulting to the fans, Sam, is all I can say. Sorry pal.
If he thought smash and grab tactics were the best plan today then he needs to up his meds. Against these teams we should be out of the blocks and at them, not fart-arseing around for 45mins and then trying something.
Embarrassing. I have friends in Bournemouth who support them and they simply cannot believe us.
I relish the day we scrape our 40points together so we can start the Sam farewell. Job done, For richer or richer!
Jon Withey
145
Posted 30/12/2017 at 22:05:02
Pretty dreadful team Koeman and Walsh built - neither one thing nor the other.
Can we really not mount attacks without conceding ? And can we not try a bit more pace and trickery with Lookman and Vlasic ?
Paul A Smith
146
Posted 30/12/2017 at 22:27:05
We had more possession than Bournemouth today according to stats.. You wouldn't have thought so if you watched it but we gave it away so often. You certainly wouldn't think so if you read this thread.
Not many sides can do that with the way Bournemouth play.
And not that this is anything to be happy about but its another piece of evidence of how shit we are at passing a football.
Jay Harris
147
Posted 30/12/2017 at 22:28:33
When we were keeping the same team we started to look less like strangers and more like a team.
With all the recent chopping and changing we look like weve never seen a football again.
Its essential that Holgate and Williams are reinstated on Monday, Schneiderlin goes on "official" vacation instead of the one hes been atking for the last 6 months and Lookman and Vlasic get a chance to keep us on the front foot.
Mike Price
148
Posted 30/12/2017 at 22:32:15
Make no mistake we are a very poor outfit and still in trouble. I'd take 17th right now because a lot of teams below us are better than us. The only advantage we really have is our home crowd which will always come through for us.
I'm worried because unusually, we've been very lucky this season and that suddenly ran out today.
Mark Murphy
149
Posted 30/12/2017 at 22:44:38
So, hands up who think we should have persevered with our pursuit of Silva?
Or given Unsy to the end of the season?
For my part - until the Anfield Derby I was of the latter opinion.
But I now think we would have gone down the way we were listing.
I was at the Palace away game and we were an eleven blokes on the pitch without a manager or a plan.
We needed an Alardyce
Sorry, hate it too, but he's what we need(ed)
James Stewart
150
Posted 30/12/2017 at 23:02:53
@149 Didn't want Allardyce and disagree that we needed him. We were never going to go down. Silly talk.
Dyche would have been the correct choice. Mean defence but plays good football that they don't get enough credit for.
David Israel
152
Posted 30/12/2017 at 23:13:13
The most unbelievable thing about this team is how poor first touch and ball control - basic stuff - are. One would expect a great deal more from people such as Schneiderlin, Sigurdsson et al. The team's set-up was as farcical as the one at WBA, only today fortune ran out.
I watched the Man Utd. v Southampton game. How refreshing it was to watch the Saints, full of composure, knowing their places on the pitch, and venturing forward. A much better team than ours, and with a few regulars sitting on the bench.
Chris Leyland
153
Posted 30/12/2017 at 23:17:22
And yet David Israel, despite them apparently being "full of composure, knowing their places on the pitch, and venturing forward. A much better team than ours" , there Southampton are, seven points behind us in the league.
Jerome Shields
154
Posted 30/12/2017 at 23:37:49
Big Sam has a new name squealing pig Sam after one defeat. He knows he has been found out tactically, pushing the boat out to next season and blaming the players.
His defensive system is in shreds and what little in the way of offensive system he had and forward play is easily neutralised by the opposition, so much so we are as slow as a cart horse and our forwards are non-existent. Unsworth was better, he should have been told he had the job to the end of season, but Moshiri was panicked into getting Big Sam.
Big Sam will get the payout he missed out on with his back-door England deals. Everton are going nowhere with Big Sam. Who was the brainless wonder who thought he could manage England? At least Barcelona never mentioned Koeman.
John Boon
155
Posted 30/12/2017 at 23:41:40
After watching another boring and dismal display by our not so good Premier league team it is at least refreshing to go on ToffeeWeb and realize that as much as we agree about the crap that is being served up, there are always things to laugh at and be confused.
Allan McGuffog ( 138).. You stated that we haven't had a decent team since 1972, other than a brief spell in the eighties.
1 We really did have a good team in the eighties, and it was more than a brief spell.
2 You are obviously a long time fan, and I am sure a fine supporter, but for the life of me I cannot remember what we did so special in 1972. Please anyone let me know.
3 I am also a long time Evertonian, who was at the Oldham game in 1954 when we won promotion. Not a great team, but great times, particularly because RS were relegated.
4 The sixties team of Young, Vernon et al were superb.
But I still rack my "Blue" brains to find out what happened in 1972. HELP
Paul Birmingham
156
Posted 30/12/2017 at 00:04:31
Past spirit, and good reality and now. Sams inherited a crock, but today in consideration of all circumstances impacting first team selection, the wrong starting 11, in my view was picked.
Now for a level of belief and defiance , needed to stop the Manure and RS. We can't keep making . what ever word(s) feeds the mind, but the team needs a leader and a game plan, as we are looking like like lost soles and an ale house team..
It's as if we are cursed but the curse must be lifted Rodney's finest hour is due but also is the impact of Sigg, and hopefully Vlasic and Lookman, as they have pace but perhaps dimminishing confidence, due to lack of game time, but next week, I'd rather go down fighting and loose fighting than, loose having not had a shot or tested their GK...
Phillip Warrington
157
Posted 30/12/2017 at 00:11:03
The luck ran out. Everton players and especially the back four are so slow at passing the ball to another player, which then puts that player under pressure hence the crap we are seeing. It's like they want to stroke the ball along the ground, instead of hitting the ball with pace so the opposition start chasing shadows then they start to back off and Everton players get more time on the ball.
Bournemouth chased every pass today and when they didn't intercept they put the player receiving the ball under so much pressure they gave it away. How Schneiderlin continually is picked is beyond me young Baningime is twice the player and his passing of the ball is superb, Kenny good fullback but every ball he hits is long and high, Bolasie needs games in the U23 he is not at this level yet.
To me, sell all the midfield players except for Gueye, Davies and Baningime and with that money buy two quality attacking midfield players. Get rid of Williams, Jagielka (both have been great players and deserve a lot of respect) buy two quality central defenders.
Buy two quality strikers and not has-beens, Sandro, Lookman and Vlasic send out on loan to teams where they would be first pick, sell Niasse and Lennon there ball control and passing completion is not premier league standard.
But the trouble will be any player watching Everton play now, will be thinking "Do I really want to go to a team that plays that brand of football?" So, as usual, will we end up with over-priced players who can't make it in the team they are currently playing in?
David Israel
158
Posted 31/12/2017 at 00:13:06
Chris, #153, I was referring to the game at Old Trafford today.
Mike Gaynes
160
Posted 31/12/2017 at 00:36:30
Well said, Todd.
George Stuart
161
Posted 31/12/2017 at 00:50:37
I have been on record as saying I hate Allardyce, everything he does and everything he stands for. But honestly, this result was coming. Its so Everton.
Losing to a poor side, drawing with the now second placed Chelsea.
So, don't worry, Allardyce has done his job so far.
Mcarthy ? I can only think he was having a look at him and seeing how he went in a supportive defensive midfield. Won't make that mistake again.
If I don't wake up to a new striker Monday morning your time, I'll be spitting chips (wooden ones).
Prediction, great wall of Allardyce against the RS and the new guy to nick a spawny 1-0 winner. RS supporters and Klopp spewing.
Kevin Prytherch
162
Posted 31/12/2017 at 00:59:37
It seems that a few matches ago we hit on something of a good formula...
Gueye Davies and Rooney in the centre gave us energy, directness and some creativity.
Williams and Holgate at the back seemed to be a decent pairing.
We've now broke up both of these and have slumbered back into our previous ways. This is surely no coincidence that it's happened when Schneiderlin is back. Credit to Unsworth, he could see that Schneiderlin slowed us down and didn't play him.
Another point...
Allardyce came with a reputation of not playing young players, well from his first couple of games until now, Davies and Holgate seem to be out of favour with a striker being mooted to replace DCL. That will take us down to 1 homegrown player who will be straight out of the team once Coleman is back. Not to mention Vlasic and Lookman getting no where near the team. This doesn't bode well for the talented crop that we have that need games under their belt.
Todd Watkins
163
Posted 31/12/2017 at 01:01:27
Do you think we will get Dembele?
James Flynn
164
Posted 31/12/2017 at 01:57:02
We saw today what we see every game. Every manager has his players pressing forward because our defenders aren't skilled, just like our mid-fielders.
We're so weak in mid-field, not sure what anyone expects it to produce.
We just watched James McCarthy sent out first-11. I hope that was a showcase of his fitness, so we can dump him.
As long as we keep fighting, I can live with it. Have no choice anyway.
Soren Moyer
165
Posted 31/12/2017 at 02:33:11
We are everything that a good football team should never be!
Mohamad Haryan
166
Posted 31/12/2017 at 04:49:40
Ok we need Sam to steady the ship. It has been done. Moving on seriously we need 2 attacking midfielders who can (1) move forward (2) pass the ball (3) run pass defenders. Plus two strikers who can what else scores !!! Seriously guys can we get these players this season ??? A BIG NO !!! At least now we hope to get on the average 3 shots on target minimum every match.. can Sam at least do that??? I sincerely hope we can get the players we need this transfer window. Why are we always getting players who are slow and cannot pass the ball ?? Millions spent on mediocrity. Oh yeah lastly the next three games will be ultra defensive and dour... I can only hope not . COYB... and yes GET RID OF SCHNEIDERLIN.
Fenny Fensta
167
Posted 31/12/2017 at 05:20:58
And we thought Moyes was negative . 3 defensive midfielders ? would almost rather be relegated than watch this shite week in week out. Rather lose while playing good football than lose / win / draw playing like we are. This is not Everton !
James Watts
168
Posted 31/12/2017 at 05:23:47
Playing 3 defensive midfielders aside (although that includes Schneirdlin so that is a VERY loose term), I actually felt sorry for McCarthy yesterday. He's been out for weeks/months yet the lunacy of starting him was right up there with Koeman playing Siggi just after he signed without a pre-season.
Absolute madness from Allardyce. You would think someone with his 'experience' would know better. But shows exactly why he shouldn't be Everton manager.
We've gone from Koeman's 'brand' of football to Allardyce's 'brand' of football. Much of a muchness. But I guess what can you expect for 6m a year on hang on!!
Roll on May when hopefully 'Big Sam' and 'Everton' are never mentioned in the same sentence again.
Steavey Buckley
169
Posted 31/12/2017 at 05:25:13
The match yesterday could have matched the tripe what Koeman used to serve up as football. If the idea of playing Calvert- Lewin as a lone striker (who looked more like a lost ropey tall teenager) to hold up the ball with the on rushing calvarly to help, were in for a big shock. No one except for one or 2 attempts by Lennon, who is not the winger anymore, who laid on crosses for Jermaine Defoe to score at Spurs. Those days have long gone. So have Everton's days finding wingers. It does appear Lookman and Vlasic are not up to scratch, that's why Lennon starts a match for no apparent reason than looking after Kenny, who had not one of his better games this season alongside Keane.
Brian Porter
170
Posted 31/12/2017 at 06:51:11
Allardyce has been saying for two weeks that DCL is basically knackered and can't be expected to lead the attack every week so what does he do? The only player who showed a spark of life today, when he came on was Oumar Niasse, who helped create our goal and set up Sigurdsson for another, that he fluffed.
And THREE defensive midfielders? This was bloody Bournemouth, not Barcelona, though Sam seemed to treat it like a game at the Camp Nou. Rooney looked like he was still suffering from the after effects of tye flu so I can excuse his performance. The others had no such excuse. Keane was awful again, looked like a rabbit in headlights and Jagielka was simply terrible. Why does he keep turning his back and sticking a leg out in hopes of deflecting shots, that could actually go anywhere? Kenny had his worst game for us by far and the only other player who showed any hint of creativity was Aaron Lennon.
Sam definitely got his selection woefully wrong today against a Bournemouth team who were there for the taking. A win could have taken us to 8th and having watched the game , I can't see anything in the Bournemouth performance that was to be afraid of. It was an ideal game to give Vlasic a good run out, or to give Lookman a chance to show what he can do. If he wants to win games, Sam has to be a bit more adventurous. Negativity simply breeds more negativity as the last three games have shown.
All in all, a gutless, spineless, walking dead performance, Niasse and Lennon excepted. Even Gueye couldn't pass more than five yards successfully. Woeful!
Fenny Fensta
171
Posted 31/12/2017 at 07:12:07
Rather get beat 10-0 while trying to play proper football than watch this woeful stuff. 3 defensive midfielders against Bournemouth ? Really ? How Schneiderlin gets a game is beyond me. Zero chance of any entertainment as it stands. This is possibly the worst Everton side since Walter Smith.
Eric Myles
172
Posted 31/12/2017 at 08:28:08
Really Fenny? Lot's of teams have tried to play attractive football and got relegated. Remember Blackpool? Where are they now?
A few short weeks ago we were in a relegation situation. That would destroy any hope we have for the Club progressing in terms of stadium and investment in, and attracting better players.
So let's just ride the storm and see how it comes out. It's not like we've been playing attractive footy for the last 20 years and just gone bad. It's just the same shit different day.
Michael Mcloughlin
173
Posted 31/12/2017 at 08:59:12
Have to say I was disappointed with the team Sam put out to face Bournemouth yesterday. But even with that team you can't blame Sam for the lack of passing accuracy, or the lack movement off the ball or negligence in tracking and picking up players.
I agree that Koeman left us with a shit unbalanced team but I'm not sure why Vlasic is being left out and why he wasn't in front of Bolasie who cleat isn't fit or able to put a foot in a tackle.
Schneiderlin, Keane, Martina and Siggy were woeful and Dcl looks tired and forlorn a team cannot sustain that. I wonder what the set up will be against Utd.
When I die I'm going to ask the Everton players to lower me into the grave so they can let me down one last time
Rob Baker
174
Posted 31/12/2017 at 09:17:33
Jeff @ 136
"Formation of 9-3" Even with 12 on the pitch we would of lost. The 8 defensively minded players reminded me of one of Walter Smith's formations when Stevie Watson ended up front. We may of had 9 defenders on the pitch that day
Don't get me wrong, I am pleased Sam has got us picking up points but we are in danger of going back to the Koeman/Unsworth results anytime soon. Supporting Everton has never been so tough
John Williams
175
Posted 31/12/2017 at 09:36:05
The need for rotation this time of year is clear, but how the hell can an experienced manager get the last two team selections so badly wrong?
These games were the opportunity to play with more attacking intent and beat two bog standard teams and yet he has failed miserably. Five at the back against the mighty West Brom with two full backs who offer nothing going forward and here a midfield three devoid of invention.
The only light at the end of this dark tunnel of a season is that Allardyce will be gone in May. We were led to believe he was offered a 6-month contract initially and walked only to be then to get 18 months due to desperation.
Short term fix is Big Sam but my concern going forward is are we going to be able to attract a high calibre manager in the Summer? In order to do so, Moshiri is going to have to dangle a very large carrot and I am still to be convinced to has the wherewithal to do so.

Ian Hollingworth
176
Posted 31/12/2017 at 09:44:13
Andrew (71) nail on head.
James Marshall
177
Posted 31/12/2017 at 09:51:31
We're still 9th, 9 points off the relegation zone. Lukaku won't play tomorrow either which is nice, since he went off with a head injury yesterday.
We were always going to lose one at some point so I'm not going to lose my shit over one defeat, I'll wait until we're back in the bottom three for that.
Stupid team selection first half. We really need some attacking threat in midfield to support the striker. That's our obvious problem. Still, Bolasie is working back to fitness and we're buying a striker so it ain't all bad.
Derek Knox
178
Posted 31/12/2017 at 10:05:17
James '177, while I totally agree it is by no means the end of the world, it is the manner in which way have played in the last two games.
Let's face it a lucky draw against a poor side in West Brom; and Bournemouth are struggling for Prem survival; okay they will fight that little bit harder; but these are the teams we should be beating relatively easily.
If it had been Man City or Chelsea; a defeat would have been understandable; but to play the way they did, is not acceptable.
I don't totally blame Allardyce for this one; well not wholly, but I do believe his team selection from the off was wrong.
Apart from anything else; the defeat has probably knocked the confidence back that was building up nicely; there is talk of a couple of reinforcements in the January Window: but based on the last couple of displays, we need more than that.
Kim Vivian
179
Posted 31/12/2017 at 10:09:47
Cold light of day now and had a night to sleep on that game yesterday.
I said before the match that this would be a quite defining moment for us. Win this game fair and square without the luck we have enjoyed the past few weeks, a solid 2-0 or 2-1 win and I would say we were ready to build and consolidate our 8/9th place slot for the season. Draw badly or lose and it will serve to underpin my view that we are sitting way above our realistic status in the league.
As it turned out we did the latter - lost meekly to a below average team in Bournemouth - and all credit to the Cherries for that. They played better than us and with the intention of winning.
We have for the most part decent players. We have a squad that without Lukaku's goals last season (I'm not saying without his influence and I'm well aware of the flaws in the argument) that scored enough goals between them to still finish 7th, and Sam's soundbites about having to set up defensively because we cannot score goals is beginning to annoy me thoroughly. If we do not set out to win, we will not win - simple as that. If Sam wants to see out the season drawing every match nil-nil then he might as well just fuck off now.
I was always against the Allardyce appointment but have been quite happy to get behind him now he is one of us, and felt that he might recognise the opportunity he has with Everton. However, he seems to be talking us down, not up. If the words I am reading are verbatim then he has started undermining the moral of the lads just as much as Koeman.
What is going on with Lookman, Sandro, Vlasic and Davies is a mystery, and what he sees in Schneiderlin is beyond computation in my mind. I think Lookman will be gone - Summertime if not in January, Sandro and Vlasic have to be given game time with the U23s if Sam is not going to use them and Davies I guess will remain unfairly on the fringes. In the meantime we await a past Sam stalwart and a Turkish Top Gun to transform our season. Hope remains eternal...!
I initially thought at the start of yesterday's game he had one eye on Monday evening but it soon became clear that there appeared to be no game plan that would result in a win. The shot on MOTD of Shakespeare sitting in the stands looking as clueless as anyone summed it up for me, and no headsets yesterday either which was strange.
January sees us playing ManU, Liverpool (cup), Spurs, West Brom and Leicester and then a trip to the Emirates. I hope I am wrong but by my birthday on 5th Feb I can see us out of the FA Cup, collecting maybe 2 more points, sitting fuck knows where in the league and the threat of relegation panic setting in again.
I do not, in all honesty, expect to see a major transformation resulting from any January signings despite the blind optimism of most views I am reading and hearing, but what I do hope to see is a team that can be set up and perform from the FIRST MINUTE with the intent of winning.
As I said - Bournemouth was a defining game for me. Take away the luck we have without doubt been enjoying (I guess luck swung the other way maybe with that deflection at the death yesterday), no controversial decisions from the officials and near perfect playing conditions and we simply weren't able to step up. I am now, of course, looking forward to ManU on Monday in the hope that we will pull something out of the bag but totally with hope not expectation.
Looking at the fixture list for the rest of the season I can seriously only see about 15 points coming our way by the close, which SHOULD see us safe, but in the meantime Sam's circus rolls on, and the sooner it rolls out to another town, the better for me - unless he and the rest of them can pull their collective socks up.
Just where has our fight gone?
Kim Vivian
180
Posted 31/12/2017 at 10:42:49
PS - I have a spare ticket for Man U tomorrow - see Tickets and travel, Liverpool (Cup) thread on general forum.
Paul Kelly
181
Posted 31/12/2017 at 10:56:52
I'm lost for words, but I'll try, pathetic, awful, shite.
Paul Kelly
182
Posted 31/12/2017 at 11:02:53
There was times yesterday when we made their 'bulldog tizer advert looking twat' look like Maradonna running through our midfield, plus why do all our players look like they're running through treacle? Lead boots? Absolute joke.
James Marshall
183
Posted 31/12/2017 at 11:14:02
Derek@178
We all know Allardyce was papering over the cracks - isn't that EXACTLY what he was brought in to do? This shouldn't really be A) a surprise to anyone, and B) it isn't really his fault in some ways.
Allardyce is a firefighter, and 6 weeks ago we were ablaze. He's put the fire out to a degree, but we still have a squad lacking in the attacking department - this isn't Big Sam's fault, it's the boards (we all know this ad infinitum).
The thing we as supporters need to do, is be patient, just a bit longer. Yes Sam Allardyce is a defensive manager, yes he's a pragmatist, and yes history tells us he won't change. The issue right now is that Everton CAN'T change (managers) again at the moment so we have to suck it up.
January brings fresh faces with any luck, and Bolasie, possibly Barkley (yeah I know) and maybe Coleman, as well as a new left-back. There are reasons to be cheerful comparatively speaking from 6 weeks ago, despite our last 3 obviously slightly rubbish games.
It isn't ALL doom & gloom. At least we don't support Swansea or West Ham!
Adam Baig
186
Posted 31/12/2017 at 11:48:22
I just didn't see the necessity to replace Williams and Holgate with Jagielka and Keane.
Allardyce basically kept the same team in his first 5 games and got results and then made multiple changes a la Koeman and Unsworth which resulted in a downturn.
I don't think it's coincidence that the run of results was at the same time as the lack of changes.
Paul Kelly
187
Posted 31/12/2017 at 12:23:35
Well said Adam, why change a winning side or more to the point, why change a solid defence, results speak for themselves, centre halves/backs don't need to be rested ala midfielders or strikers who run themselves into the ground! You don't get that worn out in that position (and yes, I used to play at the back and I'm a fat bastard, point proven) so why change? But Fat Sam made a lot of stupid decisions yesterday and we payed the price!
Was he trying to be a clever c**t against the leagues worst? Paddy jock fella and Bolasie? Central defence? Or was he just clueless/shithouse ala three defensive midfielders?
I'll go with clueless shithouse which is strange given our previous results!

And just to add, he wasn't up on his feet barking orders as I remember him previously, or I'd just fell asleep and hadn't noticed.
Colin Malone
188
Posted 31/12/2017 at 12:25:02
January 1st, the fires out and now allowed to spend money on the show house.
George Cumiskey
189
Posted 31/12/2017 at 12:30:27
Dembele of Celtic is being mentioned as a possible signing, watched him in the old firm derby yesterday against a poor Rangers side, he never got a kick ! .
Michael Mcloughlin
190
Posted 31/12/2017 at 12:57:50
The squad list:
1 – Jordan Pickford: Great acquisition.
2 – Morgan Schneiderlin: Not showing his class which I think he has.
3 – Leighton Baines: on the wrong side of his career and needs to be replaced.
4 – Michael Keane: I'm afraid we bought the wrong one, should have bought McGuire. His head goes down far too quickly.
5 – Ashley Williams: Mmmm... ponderous one. When on song, he is a great centre back but wrong side of 30.
6 – Phil Jagielka: good as a replacement but his legs have gone and he needs to be replaced.
7 – Yannick Bolasie: obviously a quality player and needs to get fit to show what he can do. Average against Bournemouth.
8 – Ross Barkley: off-ski
9 – Sandro Ramirez: for me, he tries too hard and should be given time to adapt.
10 – Wayne Rooney: frustrates the fuck out of me with the amount of ball he gives away. Yes, he may come up with the incisive passes but FFS.
11 – Kevin Mirallas: time to go, not shown anything for a while.
12 – Aaron Lennon: born again here
16 – James McCarthy: needs time.
17 – Idrissa Gueye: great player, needs to improve his passing:
18 – Gareth Barry: gone
20 – Davy Klaassen: I think this lad could be real quality for us. Needs to be given time to adapt.
21 – Muhamed Besic: not good enough for Everton.
22 – Maarten Stekelenburg: decent goalie.
23 – Seamus Coleman: no words needed.
25 – Ramiro Funes Mori: needs to get back in; I like him.
26 – Tom Davies: great player and prospect.
29 – Dominic Calvert-Lewin: needs help but quality.
30 – Mason Holgate: great prospect but keep him on.
31 – Ademola Lookman: great player ,needs to get the ball across more.
33 – Joel Robles: good goalie but probably needs to move on.
34 – Oumar Niasse: not sure but should be kept as a wild card.
38 – Matthew Pennington: ???
43 – Jonjoe Kenny: brill.
46 – Joe Williams: looks good in the Under-23s.
Not sure ho
Kim Vivian
191
Posted 31/12/2017 at 13:00:27
I swear Palace are playing better against Man City than we did against Bournemouth. Says it all.
Pretty much agree with most of that, Michael.
Morgan though? Might have class but don't know what class. Seems like cabin to me. Has had his chances and comes up short every time.
Adam Baig
192
Posted 31/12/2017 at 13:02:43
Kim - Palace have better front players than us, to be fair.
Imagine the comments on here if Woy was our manager 😂
Kim Vivian
193
Posted 31/12/2017 at 13:08:00
Adam – As do Bournemouth to be honest.
If Woy was our manager and we were playing like we do it would be outrage. Sam gets away with it because it's Sam.
If Woy (or anyone) was our manager and we played liked Palace we would be doing better.
For crying out loud – what's it coming to – comparing us with Palace. I'm gonna have a lie down.
Adam Baig
194
Posted 31/12/2017 at 13:15:46
Kim – I'm pinning all my hopes on Colin Glassar being right and we've only got this for 6 months.
I do think some real progress on the stadium front might get some more exciting managers interested in us...
Kim Vivian
195
Posted 31/12/2017 at 13:28:54
Somethings got to happen, Adam.
I honestly think that by the season's end we will just about safe but Sam ain't going to be the most popular boy on here.
I still hope to be on here on Tuesday blowing a fkn celebration trumpet for Sam, though!
Adam Baig
196
Posted 31/12/2017 at 13:30:20
It's gonna be a rollercoaster!!
Jay Wood
[BRZ]
197
Posted 31/12/2017 at 13:52:42
Not defending or justifying yesterday's starting line up in any way, but those questioning why certain players didn't play and others did, that was our 8th game in 29 days in December. We have 2 more games in addition to that in the next 5 days.
Two things:
1) every manager rotates his team at this time of year, to reduce the risk of injury from fatigue. It's good sense.
2) it seems contradictory to me to bewail the selection of players returning from long-term injury because they are not 'match fit'. How can they get 'match fit' if they...erhm...don't play matches?
That said, as I've already mentioned in this thread, Jags and Keane together do not look like a solid pairing at the heart of our defence.
Keane flattered to deceive on first arriving at the club. He was 'OK' in his previous 2 games, but again yesterday he displayed a common feature of his game we have seen all season: having feet stuck in cement as players glide past him on either side, as well as poor positional play as an attack rapidly develops.
Holgate and Williams will be restored for the games against Manure and the 'poo, I'm sure.
Kim Vivian
198
Posted 31/12/2017 at 14:02:16
Well if Palace can keep Man City out (and should have nicked it at the end) we can keep Man Utd out.
COYB tomorrow.
Adam Baig
199
Posted 31/12/2017 at 14:10:07
It's partially up to us at the ground tomorrow, I'm hoping that the old lady will be at it's intimidating best
COYB
James Marshall
200
Posted 31/12/2017 at 14:23:11
He changed the team because he wants to rotate the squad – like every other manager. We play Man Utd tomorrow so I guess he was saving certain players for that on the premise that we should have enough to get a result against Bournemouth.
It's not really rocket science as to why he's using different players!
Barry Williams
201
Posted 31/12/2017 at 14:27:42
Jay Wood [BRZ]
I agree with a lot of what you say, Jay. This time of year rotation is a necessity, in every position I feel, including the centre backs, especially when two of them are well over 30 and there has been a lot of emphasis on defensive play. We have had 8 games in December already, plus West Ham at the end of November and Man Utd tomorrow! That is an awful lot of games in a month, when is there time to implement strategy? Hence, this lack of time and the need to get back to fundamentals has resulted in the type of football we are seeing. Allardyce has mentioned on more than one occasion that he is still getting to know his players.
Ideally the injured players would have a bit more of a run in the under 23s but, with cancelled fixtures etc, this hasn't been possible, plus it is no substitute for the premier league.
However, saying all this, I still think the line-up left a bit to be desired yesterday, even given all that I have said, of course it is just an opinion and I am no expert. Before we kicked off, I just couldn't see where the goals were coming from. Calvert-Lewin needs a complete break and I think Niasse was the answer. He set up the assist for the goal and created 2 more excellent chances, considering our paucity in these areas recently, no mean feat. Plus we could have utilised some of our fringe players with a point to prove. Lookman and Vlasic spring to mind, this would have allowed Sigurdsson to go central and play his more natural role (so I am lead to believe). But there you go!
Allardyce so far has dragged us out of the mire (Unsworth to an extent too) this was one we shouldn't have lost. It shows how unbalanced the squadand we were bound to lose one sooner or later; I just feel that is when we can't really give Kenny or Martina a rest. Possibly play Davies or Holgate as a right back, but who can come in at left back?
One telling thing from this period so far is that, despite the fixture congestion, Mirallas and Klaassen have't even been given a sniff, and we have seen very little of Sandro, this has surprised me a little and maybe tells a story.
I think tomorrow we'll revert back to the team of a few games ago!
Dave Abrahams
202
Posted 31/12/2017 at 14:36:51
Fair comment Jay (197) except to say it doesn't look like Yannick is anywhere near match fitness and it seems Allardyce doesn't trust either Lookman or Vlasic, even for twenty minutes.
While I am glad that Yannick is nearing fitness after a terrible year and two big operations, it was obvious he isn't ready yet and I think many of us would prefer one of the other two for those last 20 minutes in an effort to secure another valuable three points, especially against a team that hadn't won for nine games. I honestly thought Sam was shrewder than that.
John Pierce
205
Posted 31/12/2017 at 15:35:11
One major issue for me is that the long-term injured were straight in the team in front of the younger players.
One of my many objections to Allardyce was his preferred use of senior players over youth. Initially I thought he recognised this, and keeping them in the side would ultimately pay dividends next season.
But Bolasie, McCarthy, Keane, Schneiderlin all straight in over Holgate, Vlasic, Lookman, Davies.
Obviously Kenny & Calvert-Lewin have kept their place by default. Options very limited, but it very much feels the centre-forward we get will go straight in over Calvert-Lewin.
Not withstanding rotation, something that has to happen but nowhere to the extent it has, several posters have highlighted that point.
Tony Abrahams
206
Posted 31/12/2017 at 15:43:10
Still getting to know his players, and yet he keeps playing Schneiderlin? Who knows what will happen over the next few weeks but, on the eve of the transfer window, I find it quite telling that the cost of the new ground has already risen significantly?
A Catch-22 for the people at the top really because, if the football doesn't improve, we won't even fill Goodison, in a similar way that it was imperative to stay in the Premier League, if we were ever to build a new ground.
A New Year begins tomorrow, but it's probably a time to take stock for the powers that be because football doesn't stand still unless you want to go backwards, and we have got to do something because; if we don't, then it won't be long before empty spaces appear at Goodison, even though people have already paid for their seats!
Kevin Tully
207
Posted 31/12/2017 at 15:50:37
Surprised it wasn't given a thread of its own, but Allardyce said Klaassen & Sandro "have to stop blaming everyone else and stop sulking."
That is a fairly damning statement for any manager to make in public. Also, can we make it clear who was responsible for the wasted millions? Walsh is on record as saying both him & Koeman had to agree on any transfer target, and if one or the other didn't want said player, it was called off.
Why he still has a job here is beyond me. But that's us all over. A club that embraces failure like a multi-million pound charity case. Nothing has changed – it's gotten much, much worse.
Phil Walling
208
Posted 31/12/2017 at 16:44:55
Given his previous statement, I imagine Moshiri has written off the possibility of beating Manchester United, seeing it as one of those games we are 'budgeted' to lose!
If that is still the overall strategy then victories against West Brom and Bournemouth were imperative. So why did Allardyce bugger around with team selection and send his weird selections out to stifle the opposition rather than press for a win?
I have always thought professional managers were blessed with an intimate knowledge of their players and were thus able to bring the best out of their charges. Clearly, our manager needs time to reach that situation and we should be prepared to give him until the end of January to show what he is made of.
I just wish I had more confidence in his meeting that deadline!
Mike Dixon
209
Posted 31/12/2017 at 17:48:25
I first watched a young Royle bang two in at GP in 70. Since then I have watched all our strikers. Some good some bad. More bad than good.
Try hard that he does, DCL is not going to solve our goal drought. Rom apart it is a long time since we have had a good striker.
Anichebe played 150 times if you need evidence!
Until we get one life is going to frustrating.
This squad is not great, Pep would struggle with them.
Give Sam time, he's a better Manager than most believe. He took Bolton to Europe and played football to get there.
He gets given the shit jobs, and always succeeds. You don't do that if you are not good at getting the best out of a bad lot. Like it or not this job is similar to his others, get us out of the mire jobs. !
The moaners on here would have moaned when we didn't beat Bayern away in the CWC!
If we want to genuinely support our beloved club, let's get behind the team, it will make a difference to the players. Ask them?
Monday, let's all be the 12th man and demonstrate that we are genuinely #Chosen and proud.
Success is not created in 8 games particularly not from whence we came. Patience, although hard, will bear fruit if we support Sam not if we vilify him.
As for the 'I'd rather see football and lose than this and draw' you need to look at yourself in the mirror. Football is and always will be a results game.

Fred Charters
210
Posted 31/12/2017 at 17:58:19
Just watching a masterclass in wing half play by guess who - Gareth Barry, WBA
Todd Watkins
213
Posted 31/12/2017 at 23:07:52
Tosun has arrived in London. Mmmmm.
Paul Kelly
214
Posted 01/01/2018 at 03:39:21
Just watched their second goal again, the enigma that is Schneiderlin gave the ball away with another trade mark floated cross field pass which went straight to their player which started the attack. The icing on the cake would be Jags turning his back on the shot, absolute shithousery of the highest order, tells you all you need to know about some of these players.
Phil Walling
215
Posted 01/01/2018 at 13:50:56
Good to see someone is happy with Big Sam, Mike !
I suspect he has discounted today's opponents as a team we are unlikely to score against -let alone garner a point- and is drilling the lads (all of them ) in all-out defence.
My sympathy is with those who've paid to watch us 'climb towards safety'.
Colin Glassar
216
Posted 01/01/2018 at 13:58:29
As our owner, and eternal chairman, don't think we should expect to win this type of game I'd go with the following team:
Robles
Cuco
Holgate
Feeney
Lookman
Besic
Beni
McCarthy
Vlasic
Ramirez
Niasse
3-5-2. I'd bet we'd win as well.
---
Add Your Comments
In order to post a comment, you need to be logged in as a registered user of the site.
Or Sign up as a ToffeeWeb Member — it's free, takes just a few minutes and will allow you to post your comments on articles and Talking Points submissions across the site.
© ToffeeWeb