Who was the greatest Premier League era Number 9?
by

35 Comments [Jump to last]
| 04/07/2017
It's been nice to see Kevin Campbell in the media a lot more in recent weeks, particularly talking about Everton. He also made a return to Goodison earlier this year, where he was quite rightly welcomed back like a true hero.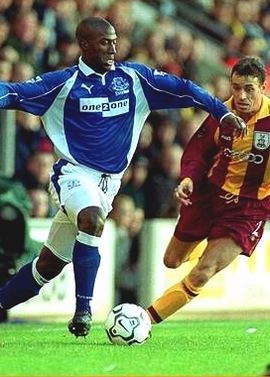 For me, Kevin Campbell seemed to have been somewhat forgotten. He'd slipped into the shadows and only seemed to be talked about whenever there was an Anfield derby.
In contrast, Duncan Ferguson remains as popular as ever. He seems to revel in his status as a legend of the club. Legend for me is a word too often used and I believe a word too often misunderstood. However, in the truest sense of the word, it fits Ferguson more than any other. In football parlance, legend just means great. Whereas the dictionary definition has a mythical element to it, think more King Arthur than William the Conqueror.
William Ralph Dean is a legend as some much time has passed, that the numerous stories about him on and off the pitch can no longer be substantiated and some of the facts are more akin to legend now. Such as the motorcycle crash, the metal plate, the loss of a testicle during a game, the climbing trees in hospital, the jumping into the crowd to "sort out" a fan, and so on.
Ferguson was always stalked by rumours of his off-the-field antics. He also played in an era when the TV cameras where not so prevalent on the pitch as now. I recall him laying out an (Aston Villa?) centre-half in front of the Gwladys Street End whilst all the action was taking place in our own penalty area in front of the Park End.
Stuff like this can no longer be properly substantiated and so all these stories of Duncan fighting with players, fighting with policemen, trashing hotels, and all the other unsubstantiated rumours from the time, now pass into his legend.
There appears to be no sign that Duncan's star will ever wane, certainly not in the next decade or so, and perhaps his legend may even grow.
For me, Ferguson was a bright light in dark times; he scored some crucial goals. When all looked lost he carried us on his back and delivered the unimaginable. Ferguson's legend is really built on the fact that he delivered in the biggest games: in the derby, against Man Utd, and against other top sides. He was never one for scoring a couple of tap-ins against Bournemouth when we're already three-up.
I always felt let down by Ferguson, though. For me his career highlights, such as the goals against Liverpool, the double against Man Utd, and all those great headers hinted at what could be. But for me, it did not happen enough. For a player called "unplayable" by Alan Hansen – the first time I ever heard a commentator say that, although it seems to be said about everyone having a good game or good run of form now – he just did not deliver any sustained period of form.
Ferguson was brought back to Everton on a bumper contract and earned £8.5m on that contract alone. He scored 23 league goals in 5½seasons, and started just 52 games, although he made a whopping 71 substitute appearances, particularly as David Moyes found a new way to use him.
But was this enough? 60 league goals in 239 games, spanning 10 seasons. Does he really deserve the status as the biggest Everton hero this century?
Kevin Campbell played in a similar era, and their careers overlapped. Campbell came in the season Ferguson left for Newcastle and he rescued us from relegation with 9 goals in 7 games, and after that we pushed up the table with some increased stability. Campbell's stats are slightly better than Ferguson, scoring 45 league goals in 125 starts, with 20 substitute appearances.
So, of the two, who do you think is the greatest Everton Number 9 of the premier league era? [And please let's leave the big Belgian out of it, as he deliberately wore Number 10 anyway!]

Return to Talking Points index : Add your Comments »
---
Reader Comments (35)
Note: the following content is not moderated or vetted by the site owners at the time of submission. Comments are the responsibility of the poster. Disclaimer
John Smith
1
Posted 04/07/2017 at 09:51:54
Everton Legend Kevin Campbell is now on Twitter. He's good value. His latest tweet rubs it into to liverpool since Keane preferred us lol.
Bobby Mallon
2
Posted 04/07/2017 at 15:34:58
For me its Kev, he saved our bacon that season and never put a foot wrong for me.
Dave Abrahams
3
Posted 04/07/2017 at 16:12:12
We are talking about twenty five years here, so it shows we have had plenty of average and not so good centre forwards, I can't go better than Duncan and Kevin, I don't think either of them were outstanding on a consistant level, but agree Campbell did a great job in helping to keep us up that year.
The best without a doubt was Saha, in terms of skill and pure ability but he was never fit enough, mind you if he was we wouldn't have got him.
Jay Wood
4
Posted 04/07/2017 at 16:51:12
This is quite an interesting topic.
One I've recently researched myself when looking back at our top goalscorers, not just in the PL era, but way back to our title winning years in the mid-80s.
My research was motivated by claims made by some that 'Lukaku's goals won't be missed, 'cos like when Lineker was sold, the shortfall will be made up by others in the team.'
The data doesn't back that up. In the mid-80s we had players with proven goal scoring ability already at the club. The current squad in terms of goal scoring ability doesn't come close to them.
In the title winning team of 1984-85 we had five players who got double figures... and Andy Gray wasn't even among them! He got 9. Top scorers were Sharp, Steven 12, Heath & Sheedy 11, Mountfield 10.
The next season when we were pipped to the double by 'them', double digit scorers were Lineker 30, Sharp 19, Heath 10. In 1986-87 (Lineker-less) we won the title with these top scorers: Steven, 14, Sheedy 13, Heath 11. Sharp and Wayne Clarke returned a pitiful 5 each, but were top scorers in 1987-88 with 13 and 10 respectively.
Since then, we have rarely had more than one player per season getting double digits.
Indeed, you have to go back 14 seasons to 2002-03 to last find when two Everton players both scored double digits in the league - Radzinski 11, Campbell 10.
The only other season in 29 years we had two players both getting double figures in the league was 1992-93 - Cottee 12, Beardsley 10. That's happened just twice in the PL era then.
Lukaku in his 4 seasons with the Blues has hit double digit league goals every season - 15, 10, 18 and 25.
The only player to come close to that (in Everton's more recent history) was Tony Cottee when in 3 seasons from 1988 to 1994 he got double digits in 5 out of 6 seasons - 13, 13, 10 (then failed to get more than 10 - Beardsley got 15 that season), then 12 and 16.
To close, in reference to the opening post, Campbell with his 9 goals in 8 games on his arrival in the 1998-99 most definitely saved us from relegation that season IMO. I loved him as a player, but like so many before and since, he wasn't that prolific, which isn't surprising given the teams we have turned out in the PL era.
He only twice got double figures - 12 in 1999-2000 and 10 in 2002-03. Ferguson also only twice got double digits - 10 in 1996-97 and 11 in 1997-98.
I think many would be shocked at just how low a return we have had from our strikers down the years when, on more than one occasion, a total of 6 goals was enough to make you our top league scorer.
James Hughes
5
Posted 04/07/2017 at 17:10:36
Steve -
I always felt let down by Ferguson
I know what you mean and always thought he could have scored more goals. Then again some of the service he got was just hoofball. He could have claimed RSI as he spent most of the game looking skywards.
There was an article I read (maybe on TW) that said he could play football but didn't love it.
Pete Laffey
6
Posted 04/07/2017 at 18:55:10
Big Dunc for me when he turned up against the redshite and mancs but unfortunately didn't do it consistently against the lesser teams and due to injuries.
I'll always have time for Campbell as well saving our bacon.
A little shout out as well for our last cup winning scorer hero, Paul Rideout. I know he wasn't an official number 9 and he wasn't fast but he was a good hold up player and had a good touch and scored some important goals that season.
Steve Ferns
7
Posted 04/07/2017 at 19:01:08
I think to discribe Sharpy's return in '87/88 as pitiful is a bit harsh. If I recall correctly, and I was only young at the time, we had an injury crisis up front and Sharpy was missing for most of the season. I think we relied on Wayne Clarke and Ian wilkinson as our main strikers, which makes it all the more amazing we won the league.
Steve Ferns
8
Posted 04/07/2017 at 19:06:35
James, Duncan certainly could play football. That turn against United before he slams it past a stationary schmeichel was a world class goal whoever scored it, Rooney, Owen, whoever. The fact he was 6'4" and spun on a sixpence was all the more remarkable.
He also could pass, had quick feet and made good runs. His only weakness physically was his chronic lack of pace.
I remember Tommy Lawton talking about Duncan in '95 and he said he was impressed by his leap for a modern player, but remarked that he couldn't get off the ground as well as Dixie, and that Dixie would outjump him! That always stuck with me. If I remember correctly it was on a BBC documentary called this is football or something like that. It was a chronological history of the professional game from start to the modern day (90s).
Ray Roche
9
Posted 04/07/2017 at 19:22:07
Steve#7
I think you mean the 86-87 season when we won the League! In fact Sharp played more games than Wilkinson and Clarke combined, but his goals (league) return was poor at 5, the same as Clarke and 2 more than Wilkinson. Heath, Sheedy and Steven scored our goals that year.
Dermot Byrne
10
Posted 04/07/2017 at 19:37:30
In context of PL we have not had great strikers. As for big Dunc. He was a legend for being a knob. A legendary knob, but a knob. Great stories and 2 or 3 memorable goals but not that much else in purely footballing terms. Amazed and really chuffed to see he is clearly doing a good job behind the scenes behind the scenes now at Goodison.
Steve Ferns
11
Posted 04/07/2017 at 19:47:21
Ray - yeah, I meant the league winning season, and I stand corrected on his return, my memory is obviously not correct there!
John Pierce
12
Posted 04/07/2017 at 19:49:53
Yeah, the premier league has produced a relative dearth of quality up front for Everton.
From Madar, and Angell to Max-Moore and Bakayoko it trims the candidates down to a few.
Cottee and Beardsley, the latter a personal favourite and single handley powered a poor side.
Campbell scored many important goals, played with energy, a smile and definitely is remembered with a fondness.
It really only leaves Ferguson, and his record has plenty of holes in it.
Too few goals yes, often didn't play with any intensity unless provoked. I was told by one ex-premier league player that his manager repeatedly told him not to 'wake him' up. Ferguson played better angry.
Caple of some amazing stuff, goals v Liverpool and United, hat trick of headers v Bolton
Despite the flaws, a character which Everton fans needed at that point in time, he reciprocated and most I believe will overlook the obvious to say he was the best we've had in the Premier league.

Steve Ferns
13
Posted 04/07/2017 at 19:54:36
Just found the details of the documentary I was referring to, it was called Kicking and Screaming. Narrated by James Bolam. Episode 2 was the golden age and Lawton was talking about himself and Dixie Dean. It was made in 1995. There's a few of the episodes on YouTube type sites, but sadly not that particular episode.
There's an excellent documentary on youtube called the History of Football - the beautiful game - but there's nothing about Dean on that one as it concentrates on the stuff you don't know, going on in Europe and South America. They skip past Dixie Dean in their episode on Suerstars, briefly mention Lawton, and then move onto the more sexy superstars of the 50s and beyond. Still it's an excellent watch: https://www.youtube.com/watch?v=4bCGMVF78js&t=42s
Dick Fearon
14
Posted 04/07/2017 at 20:37:40
I remember Stan Cullis, Joe Mercer and Bill nicholson on BBC Grandstand radio. It was in the sixties and they were choosing their best ever (up to then) English 11.
Before discussing the pros and cons of various deserving candidates each of them said there could be no argument about the number 9 spot belonged to Dixie.
Bobby Thomas
15
Posted 04/07/2017 at 20:39:51
But harsh on Wayne Clarke for the 86/87 season isn't it???? Only joined half way through the season, at most, didn't he? Got some important goals in those 5.
Sharp bagged 20 in all competitions in 87/88 didn't he?
Going on memory here, so ready to be corrected.
Ernie Baywood
16
Posted 04/07/2017 at 21:30:49
I'm pretty sure Ferguson was the better player. In fact he should have been one of the best but injury and discipline were his downfall.
In terms of his legend status, I've no doubt it will drop away pretty quickly. It's a tag for people who were a certain age who had one reason to hope, and that hope came in the form of a bloke who loved the club and could strike fear into the opposition. No matter who the opposition was (or whether they were on the pitch or behind his couch).
But if you take away the way Duncan made Evertonians feel then there isn't that much left of his legend. We won't talk about his exploits on the pitch for years. The kids and teens of the 90s will take his legend status with them.
Andy Crooks
17
Posted 04/07/2017 at 21:40:56
Alan Shearer is, in my view, the best number nine player of the Premier era. We have not had one fit to lace the boots of Lawton, Royle or Dean. Kevin Campbell did a fine job for us but he was never a great striker.I liked Duncan and thoroughly enjoyed watching him. I enjoyed the fear he caused but he was,in my view, a million miles short of being a top class player.
Carl Taylor
18
Posted 04/07/2017 at 21:47:32
Not impressed by the dismissive tone towards Wayne Clarke. He joined towards the end of the 86-87 season, March I think, and scored 5 goals, including a winner at Arsenal (yes, we used to win there) and a hat-trick against Newcastle. He then went on to score some vital goals and had the knack of scoring against the RS. Not a great, but a contribution not to be overlooked.
Back to the original question, Kevin Campbell would be the greatest No.9 of the premier league years, so far. Over to you Sandro?!!!
Jay Wood
19
Posted 04/07/2017 at 21:53:19
To answer a couple of posts on the data I presented.
Sharpe's 5 league goals came in 27 games in 1986-87, none as subs, so that was a pitiful return for the man you would label as Everton's main striker following Lineker's departure.. He got 13 in total from all appearances that season - 37 games.
Clarke merits greater leeway. His 5 goals in 1986-87 came from 10 appearances having joined half way through the season.
My original post was intended to flag up how historically in recent history we have not had a season in, season out goal scorer. And certainly not a pair of consistent double digit scorers.
Yet some on TW claim it would be 'easy peasy' to recruit a couple of players who would guarantee us such a return.
Easy to write, tad more difficult to resource.
Anton Walsh
20
Posted 04/07/2017 at 22:41:27
Ferguson was so unprofessional it's unreal. Getting paid 𧲸,0 to go drinking and smoking then when fitness caught up during a game thought it would be a good idea to give someone a rib tickler and get applauded off the pitch as if he'd just banged his hatrick.

If he was now coaching a younger version of himself at least he could tell him how to get more out of himself.

I also believe if big Duncan had his time again he would be a better less injured and longer serving player. He is a very well rounded man though.

On a another note the stand out player for me in one season was Marcus Bent. Not many goals but tonnes of motm's
Danny Broderick
21
Posted 04/07/2017 at 23:37:50
For me, a striker needs a good goal scoring record (in addition to longevity and rapport with the club/fans) to become a legend - this rules both Campbell and Ferguson out in my book. The only strikers who have consistently scored goals for us in the Premier League era are Cottee and Lukaku, though I wouldn't describe either as Everton legends to be honest. I simply don't think we have had a striking legend in the Premier League era.
For me, legends are few and far between. They have to be among the best of their type. I would say Cahill was a legend. Before that, Watson and Southall. Ferguson let us down too much - too many injuries and suspensions. I also think nostalgia makes some people forget quite how uninterested he was at times. He was a temperamental player - good on his day. But you can't be a legend when you score 70 goals in ten years, not in my book.
Campbell was an honest player who kept us up when he came. But again, he was no legend. He was way past it when he left us.
Robert Leigh
22
Posted 05/07/2017 at 12:00:27
Anton - I agree with you with fond memories of Marcus Bent.
He stretched defenses, held the ball up, and linked play well for what was a fairly slow Everton midfield.
But as others have mentioned a number 9 needs to be a goalscorer, and we've only really had two in the Premier League era; Lukaku and the Yak.
Although I think the Yak was unlucky to be struck down by the type of injury he was, in years to come I think we will look back and realise we had a star in Rom; even though he doesn't seem care much for us.
Craig Walker
23
Posted 05/07/2017 at 13:04:08
I liked Super Kev but Big Dunc was my hero during some pretty barren years. His header in the Gwladys Street end during Joe Royle's first game in charge would be up there with my top memories of being an Evertonian. I know Kev's goals kept us up one year but we shouldn't forget Duncan's hat-trick on Boxing Day against Bolton during Howard's third spell as manager. I think it was a hat-trick of headers if I remember rightly. Bolton were relegated that year instead of us on the last day of the season. Dunc also played in the early rounds when we last won a trophy and made a cameo appearance in the final. I used to argue with my late, great dad all of the time about the Big Yin. My dad believed in the school of science and proper footballers. He appreciated Ferguson's aerial prowess but said that we just looked for him all the time. Maybe he was right but he played in some pretty ordinary Everton teams to put it mildly and he gave this Evertonian a lot of pride. Only when we had Kanchelskis did we ever have a winger capable of supplying him. My dad passed away just before we sold Rooney who he had said for years represented the future for Everton. I think Rooney's transfer to United would have been the last straw for my dad and Everton.
John Pendleton
24
Posted 05/07/2017 at 17:39:16
Both players enjoy an elevated status despite their modest returns.
Big Dunc's legacy will be largely based on his character (1 FA cup winners medal aside). Super Kev's legacy was avoiding relegation.
Imagine life without their respective impacts. One is a lot less interesting. The other is unthinkable.
Super Kev shades it for me.
David Ellis
25
Posted 06/07/2017 at 03:21:52
Campbell vs Ferguson? I would take Campbell but it really is Hobson's choice. I agree that Ferguson just did not deliver enough and when he played the team just couldn't help hoofing the ball up to him – he would win the header but just head it to the opposing defenders.
Our other great striker no one has yet mentioned was of course Rooney, who was clearly far better than either, but didn't hang around enough (although there may be more his Everton story yet).
Joe Clitherow
26
Posted 07/07/2017 at 18:01:26
I have a real soft spot for Big Kev and still occasionally see him around town in Wilmslow. Always, always sharply dressed in a suit and tie and still looks fit enough to play.
But I am really surprised Yakubu doesn't appear in the comments here, especially since I've read in another post that he was apparently in the list of also-rans who have let go from the club.
Yakubu in my opinion was a top PL striker who came to us for big money at the time of £11.25M and a club record signing. He fitted in as the spearhead in a team which played the best football (so far!!) of any Everton Premier League side in my opinion. Maybe that's not a popular sentiment with many posters wanting to re-write every one of Moyes' seasons with us as dull but 2007-08 and the start of 2008-09 saw some great stuff from us.
His horrible Achilles injury was a real blow to us and I really think we could have done something that season had he stayed fit. He was never the same after that.
He is right up there in terms of picking our best Premier League striker for me.
Brian Keating
27
Posted 07/07/2017 at 20:30:31
After Lukaku, who I find it bizarre to leave out, our best striker since Lineker was Yakubu. Slightly behind Yakubu was Campbell.
As Joe(26) says we played some sensational football in 07-08 and 08-09, the narrative that all Moyes teams were boring and one-dimensional is nonsense.
Ferguson was constantly injured.
Dave Abrahams
28
Posted 07/07/2017 at 21:23:39
David Ellis (#25); yes, strange that none of us have mentioned Wayne Rooney,. It must be because he never stayed long enough.
I never even thought of him but, now that you have, he wins it by a mile for me.
Tony Hill
29
Posted 07/07/2017 at 21:27:45
Dave, I didn't include Rooney in my top 10 recently for the same reason. Somehow, it didn't seem right – because he was dazzling and then gone and I've not thought of him as part of the club.
Dave Abrahams
30
Posted 07/07/2017 at 21:41:26
Tony (#29),
Rooney would always be in my top 10 players who have played for Everton, for some reason I just never thought of him for this one, very strange. I entered a competition a few years ago in the Everton programme and it was picked out for the best ten players whoever played for the Blues and Rooney was in my ten, this was after he had left Everton, got a bit of stick off a few Blue fans.
By the way I don't want him back now, because I think Wayne is well past his best, but it looks almost certain that he will sign for us soon, so I will get behind him and hope he is worth the wages we will be paying.
Graham Mockford
31
Posted 07/07/2017 at 21:56:05
1. Ronaldo
2. Henry
3. Shearer
4. Rooney
5. Van Nistelrooy
6. Drogba
7. Bergkamp
8. Owen
9. Wright
10. Stracqualursi
Dave Abrahams
32
Posted 07/07/2017 at 22:02:17
Graham, good selection, but you have left one out.
I'm sure you thought of him... he bites!!!
David McMullen
33
Posted 09/07/2017 at 23:01:26
Ferguson without a doubt. Sadly injuries and suspensions not to mention being locked up wrecked his career from being more prolific. As far as I'm concerned the best modern centre forward we've had.
Lukaku, though he never wore No 9, was a fantastic scorer. His goals will be missed like elsewhere Shearer and Fowler.
Don Alexander
34
Posted 13/07/2017 at 14:08:38
Brian McBride, the one that got away! Scored four in the eight matches he played for us in 2003.
Brian Wilkinson
35
Posted 18/07/2017 at 00:51:43
Not a number nine but played as a type of forward. I'm surprised Landon Donovan is not in some of the lists above. As for scoring goals, you've got to go a long way to better Tim Cahill, who could be classed as the supporting striker.
---
Add Your Comments
In order to post a comment, you need to be logged in as a registered user of the site.

Or Sign up as a ToffeeWeb Member — it's free, takes just a few minutes and will allow you to post your comments on articles and Talking Points submissions across the site.

© ToffeeWeb

<! -- /articleBody -->