80th Birthday Get Together
By John McFarlane [Senior]
08/07/2018

58 Comments [Jump to last]
Share:
Following a seven-week spell in hospital earlier this year, I received many Get Well messages from ToffeeWeb contributors. I expressed the wish to arrange a get together to give me the opportunity to thank as many as possible, in person.
I decided that the ideal date for such a meeting would be on my 80th birthday, 15 July at the Midland Hotel, opposite Central Station, Liverpool. Starting at 12 noon, so a nice warm-up for the World Cup Final!
I had names on my computer of the people who wanted to attend, but unfortunately it gave up the ghost a couple of weeks ago, and I didn't have a memory stick. The names that I can recall are Dave Abrahams, Steve Ferns, Peter Mills, and Bill Griffiths... apologies to anyone I have overlooked.
The reason for this posting is to confirm that the get together is still on, and I look forward to being able to put faces to the names.
---
Courtesy of Pete Mills, here is a couple of photos from the day: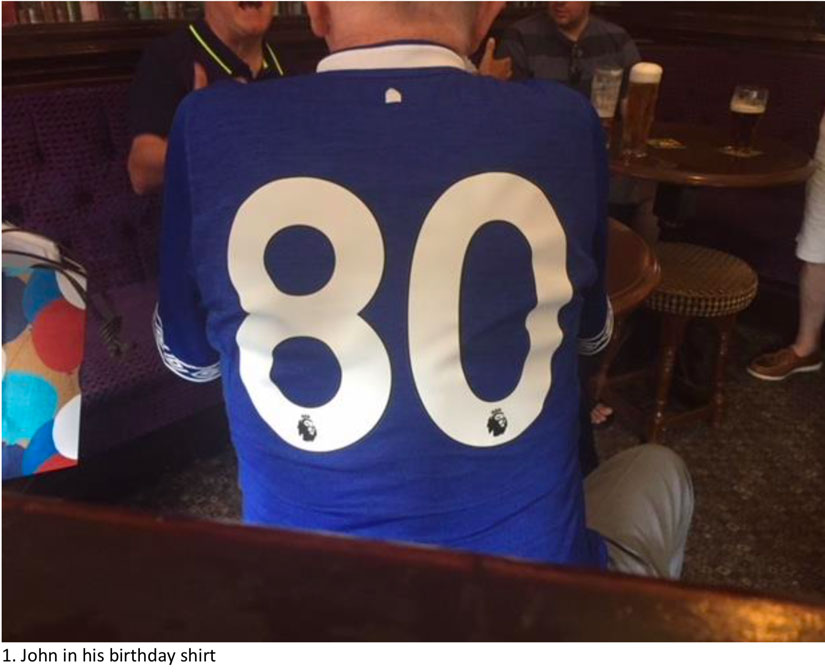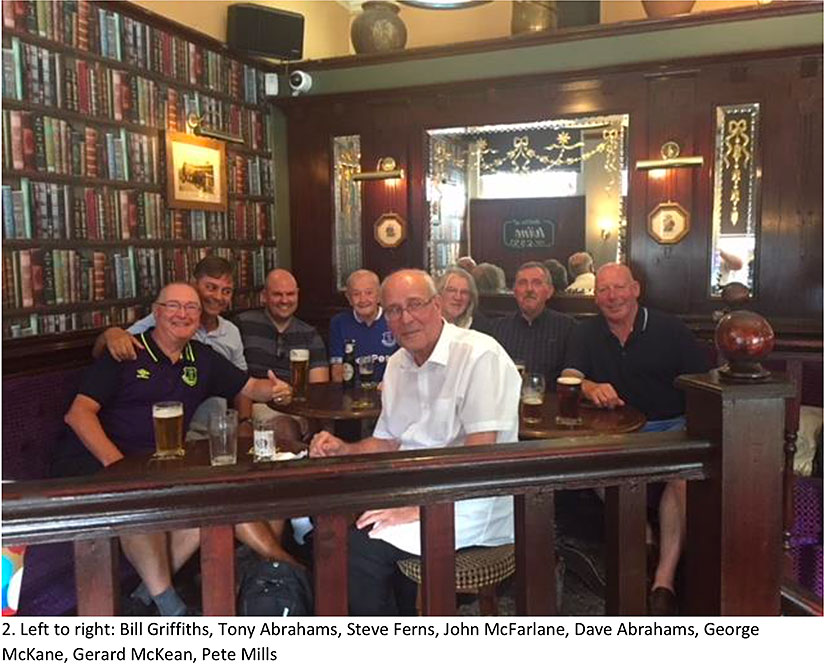 ---
Reader Comments (58)
Note: the following content is not moderated or vetted by the site owners at the time of submission. Comments are the responsibility of the poster. Disclaimer
John McFarlane Snr
1
Posted 08/07/2018 at 16:53:49
It will be scheduled to commence at 12 noon. Anyone who has a couple of hours to spare is welcome to attend, as it would be nice to put faces to names.
When I selected the date, I wasn't aware that it was the day of the World Cup Final, but two or three hours of Everton reminiscing will be ideal preparation for the big game, especially if England are involved. Anyone who lives within an hour of the Midland Hotel can be home in plenty of time for the Final.
Rick Tarleton
2
Posted 08/07/2018 at 19:26:56
Sorry, John, I'd love to be there, but family health problems make it impossible. Have a great day.
Steve Ferns
3
Posted 08/07/2018 at 19:30:11
I'll be there, John. Got a big day the following day, and need to watch the final, so can't stay too long.
John McFarlane Snr
4
Posted 08/07/2018 at 19:50:23
Hi Rick, [2] I'm genuinely disappointed because my uncle Phil was a mate of your uncle Nel, never mind, if this get together is a success there may be opportunities in the future, and I sincerely hope that whoever is experiencing ill health makes a complete and speedy recovery.
George McKane
5
Posted 08/07/2018 at 20:17:46
John – I would like to meet you on Sunday, and bring some cosmic birthday wishes from over The River. Keep cool and see you then.
Rick Tarleton
6
Posted 09/07/2018 at 06:42:47
Sorry too, John. I'd have loved to have made it.

Dave Abrahams
7
Posted 09/07/2018 at 12:17:19
John, I'll be there, might be a bit late, going to mass first. Don't light the candles 'til I get there!!!
John McFarlane Snr
8
Posted 09/07/2018 at 13:41:36
Hi George [5] your cosmic birthday wishes shouldn't go amiss, I've often been accused of being on another planet.
hi Dave [7] I think you would have been a bit later if you had to go to confession, as for the candles I'm afraid I've been burning them at both ends, excess diet coke and orange juice, and staying up until 10 o'clock.
Hi Rick [6] If you still attend the matches, we could maybe meet up before one of the games.
Dave Abrahams
9
Posted 09/07/2018 at 14:43:14
John (8), what is there to confess at my age, wish there was. All I'm guilty of now is pulling tongues behind my wife's back and burning her toast when we're not speakin'.
Jamie Crowley
10
Posted 09/07/2018 at 16:21:34
John Snr,
If I lived there, I'd be there. Enjoy your day sir.
Alas, the plane tickets over the pond are a bit pricey.
Dave Abrahams, First Friday, once a month for those confessions sir. Or if you prefer once a year during Lent just to play by the rules. ;0)
I'll bet money Harold Matthews will be there in spirit.
Happy birthday, John!
Mike Gaynes
11
Posted 09/07/2018 at 16:28:18
Best birthday wishes from all us Yanks, John. I've sent your gift to Pete Mills for personal delivery – it's a special agricultural product grown right here in Oregon and recently legalized for recreational use. Double-wrapped to get it past the dogs at the airport.
Enjoy your day!
John Pierce
12
Posted 09/07/2018 at 16:34:28
Ferns! Stick a go-pro on yerse head and get some footage.
Happy birthday John. UTFT!
John McFarlane Snr
13
Posted 09/07/2018 at 16:57:28
Hi Jamie [10], thank you for your kind words, I think that Harold Matthews, from what I've read of him, was my kind of man.
Regarding the 'Despicable Dave', I'm afraid thatm like his fellow Evertonians, he is serving his penance in advance; we must have been bad people in a previous existence.
I will ensure that on Sunday we will raise our glasses to absent friends such as yourself, who find themselves in distant lands, and those who like Harold Matthews are no longer with us.
Dave Abrahams
14
Posted 09/07/2018 at 17:25:34
Jamie (10), not to get too serious over religion but confession is one of the most under used sacraments, I mostly go now to give priests something to do and have a chat to them to keep them occupied.
Dave Williams
15
Posted 09/07/2018 at 18:31:28
Would have loved to be there to meet the ToffeeWebbers but too far away. Have a great day John and keep the articles coming.
John McFarlane Snr
16
Posted 09/07/2018 at 18:32:07
Hi Mike [11] Thank you for good wishes, I hope I'm not speaking ill of the dead, but is the 'John Lennon Airport' the appropriate destination for the present you are kindly sending?
Hi John [12], thank you for your kind words, I think I've almost worked out the acronym, I reckon that three of the words are 'Up the -------Toffees' but I'm struggling on the fourth word. Perhaps someone more street wise may come to my rescue on Sunday.
Peter Gorman
17
Posted 09/07/2018 at 19:25:07
Many happy returns (on the day) and have fun all who can make it.
Amit Vithlani
18
Posted 09/07/2018 at 19:37:55
Many happy returns, John,and hope you have a fantastic weekend capped off by Pickford lifting the trophy after saving the decisive penalty!
John McFarlane Snr
19
Posted 09/07/2018 at 19:40:08
Hi Dave W [15], thank you for your kind words, I don't think I'll have any problem with the 20 posts rule, I was tempted to reply in multiple posts, but on reflection it's only natural that fellow 'Webbers' have more important things to discuss.
I'm glad to learn that you enjoy the articles, I have readily admitted that I collect a great deal of my information from reference books, of which I have one or two, but a fair percentage is from a lifetime of watching Everton. I will call for a toast to all ex-pat Evertonians on Sunday.
John McFarlane Snr
20
Posted 09/07/2018 at 19:57:28
Hi Peter [17] I guess it's what they call 'Sod's law' just when I decided that I could respond to individual comments without worrying about the 20 posts rule, two posts await reply.
Thank you for your kind words and I'm sure that whoever turns up will enjoy the occasion, I know I certainly will, and you never know it may become a regular event.
Hi Amit [18] thank you for your good wishes, and I'm sure it will be a pleasant weekend, putting faces to the names that have become familiar to me in recent times.
I must confess that I am in the 'Club before Country' camp but I think that the England players have done the country proud, and of course it would be great if they could win the competition.
Peter Mills
21
Posted 09/07/2018 at 21:19:15
I'll be there, and am looking forward to meeting everyone who manages to make it.
Dave Williams
22
Posted 11/07/2018 at 18:43:06
Any chance of someone posting some photos of the gathering?
John McFarlane Snr
23
Posted 11/07/2018 at 22:00:21
Hi Dave [22], it's something I have given some thought to and I was going to suggest that we could ask someone in the pub to take a group photo, no doubt whoever turns up on the day will also take a few photos. I'm relying on people who are familiar with the electronic age we live in, to relay them to the 'ToffeeWeb' family.
Paul Ferry
24
Posted 11/07/2018 at 00:01:22
Many happy returns, John, on this milestone. A glass will be raised here in Chicago. Have a great time with the lads and please give my best wishes to Pete Mills.
Peter Mills
25
Posted 12/07/2018 at 08:45:12
Cheers, Paul (#24).
Terry White
26
Posted 13/07/2018 at 16:34:40
I am another, John, who wishes he could be in attendance but distance, in addition to lending enchantment, makes it impossible to be with you on Sunday. So I shall rely on my good friend, Peter Mills the Younger (not Tommy), to act as my representative. Peter can give you the lowdown, if you are interested, on the relationship between the Mills and White Families in Crosby.
So, happy 80th birthday to you, it's a good score in a long innings. I know I tried to get you to 81 earlier in the year! And many more healthy years to come, I hope. A few wins during the season will not come amiss in helping you along the way.
I have always enjoyed your reminiscences, probably because I have seen all of the players you recall during the "Golden Age" of Everton football from 1960-1970. And, as you are aware, I fully support your efforts to discourage the use of any unnecessary foul language.
I know you will have an enjoyable gathering with those who share your unending affection for the "True Religion", those who have supported the team during good days and many a bad day. I'll look forward to the photos.
No need to use up one of your 10 posts on a reply, John. COYB.
Frank Wade
27
Posted 13/07/2018 at 17:39:13
I hope you have a very happy birthday John and no doubt Sunday's get together will be memorable for all. You're an absolute gentleman and ToffeeWeb legend. I won't make this one as I am a poster from the land of Eglington, Farrell, Meagan, Coleman amongst others !! Maybe we can have a big ToffeeWeb knees up to coincide with Mike Gaynes next trip over - assuming he's not arrested at Customs.
John McFarlane Snr
28
Posted 13/07/2018 at 19:49:56
Hi Terry [26] thank you for your good wishes, I honestly feel humble to receive posts such as yours, and it gives me great pleasure to learn that there are some who derive pleasure themselves, from my contributions. I have made no secret of the fact that I glean most of my information from reference books, with a little bit of personal experiences thrown in.
With regard to the use of foul language, I believe that [as your post confirms], these exchanges between 'ToffeeWebbers' are read all over the globe, and I shouldn't like my 'Young Lady' and grandchildren to be exposed to it. I know that there are some who consider me to be a bit of a prude, that's far from the truth, I can mix it with the best of them, but I'm a firm believer in the 'time and place'. Thank you once more for your kind words.
Hi Frank [27] Thank you for kind words, you have set the bar high for me, and as I said to Terry, I do genuinely feel humbled when people compliment me on my articles, but as I've often stated, I am only recycling some other persons words, with a few added personal observations of my own,
I'm a bit excited regarding the present that Mike Gaynes has for me, I don't know if I'm supposed to eat it, drink it, smoke it, or wear it.
Peter Mills
29
Posted 13/07/2018 at 20:57:48
John#28, contain your excitement, l'm afraid nothing has arrived from Gaynes Towers. It was either fake news or it's been intercepted at the airport.
Terry White
30
Posted 13/07/2018 at 21:07:03
Over here, Peter (#29), National Public Radio (NPR) has tried to ban the term "Fake News". "If it's Fake then it ain't News". A lot to be said for that. I guess they must gave Gaynes's gift at JLA still. I did hear reports of the Bomb squad complete with dogs being called out but did think it was just another sighting of someone being drunk and disorderly wearing a Carlsberg shirt.

Peter Mills
31
Posted 15/07/2018 at 15:38:41
It was great to meet up. I have sent a couple of photos to Lyndon in the hope he may be able to post them on this thread.
John, happy birthday again, in my rush to catch the train home I failed to thank you for your very generous loading of the kitty, and hospitality.
Very best wishes to you and everyone there today, Pete.
John G Davies
32
Posted 15/07/2018 at 15:48:20
Happy birthday, John.
All the best, mate.
Bill Griffiths
33
Posted 15/07/2018 at 16:14:00
Great afternoon John, thanks for BBC's the kitty, hope to meet up again soon.
Steve Ferns
34
Posted 15/07/2018 at 19:18:31
Cheers, John. Very nice to you meet you all. It was a very enjoyable afternoon.
Stephen Brown
35
Posted 15/07/2018 at 19:49:52
An annual ToffeeWeb ball with a guest speaker would be a good idea!
Martin Nicholls
36
Posted 15/07/2018 at 20:12:24
Sorry I missed the gathering today, John. I had intended dropping in then family commitments got in the way. Hope you and all the lads had a great time – very best wishes and many happy returns.
ps: I hope to see some photos with names!
Andy Crooks
37
Posted 15/07/2018 at 20:57:11
I hope, John, it was a brilliant day. Happy birthday to a proper Evertonian. Keep the articles coming. I know it is a lot of work but I settle down to a glass of wine and a Double-Decker when I see a new one pop up.
John McFarlane Snr
38
Posted 15/07/2018 at 22:55:21
Hi all, I would like to thank everyone who wished me well, following my recent stay in hospital, with special thanks to Dave and Tony Abrahams, Peter Mills, Bill Griffiths, Steve Ferns, Gerard McKean, and George McKane who sacrificed the opportunity of watching the World Cup Final, to accommodate the whim of an old man. Thanks to them also, for the presents which were greatly appreciated, it restores my faith in what I can only describe as the actions of true football supporters.
Hi Stephen [35], your suggestion is an excellent idea, and when you consider that six of the seven who turned up today, were meeting myself and each other for the first time, it illustrates the power that football has, because in minutes we were in deep discussion as though we were old friends, and though we had a difference of opinion on some issues there wasn't a trace of animosity.
Hi Martin [36], it was a wonderful day to round off a wonderful weekend, having celebrated a day early with my family and friends, with regard to the articles it can be trying, but it's labour of love and well worth the effort, when people like yourself express appreciation, and it keeps me out of mischief.
John McFarlane Snr
39
Posted 15/07/2018 at 23:07:43
Hi Andy [37] the latter part of the previous post was meant for you, I'm afraid that, contrary to Doctors orders, I had one or two bottles of Guinness too many.
Peter Gorman
40
Posted 15/07/2018 at 23:51:15
Glad to hear you and everyone who made it had a good time John, all the very best.
Dave Abrahams
41
Posted 16/07/2018 at 09:40:05
Thanks, John, for an enjoyable afternoon, also the kitty. It was nice to meet and see people I was familiar with through ToffeeWeb and talk about different things as well as football. A special mention to Bill Griffiths who travelled from Wales for the meeting; well done, Bill.
I don't know how the photos will turn out, Peter (Mills) took one and then went into the bar to find someone to take one with all of us on it... In all the bars in all of the world, would you believe, Peter came back with an old mate of mine, a Liverpudlian!!!! You couldn't make it up, so that photo is in the lap of the Gods.
George McKane, you should write your life story, it could be a best seller.
Tony Abrahams
42
Posted 16/07/2018 at 10:19:13
I couldn't believe they let a red nose take the picture but, other than that, everyone seemed to be enjoying themselves, and it was a pleasure to be in "the company of gentlemen".
John was hard work, he would only let you buy a drink with his money, so he was lucky those old footy boots he brought along were too small, or I might have put them on and kicked him!
Great to meet, some sensible Evertonians, especially Steve, who wisely stayed on Diet Coke, because he has got an exam today, I hope you pass it mate.
Peter, Gerard and Bill were all good company, and it was also great to meet George. So thanks once again, John, for a very enjoyable day.
John McFarlane Snr
43
Posted 16/07/2018 at 14:08:51
Hi John G [32], thank you for your kind words.
Hi again, Stephen [35], I would like to attend any future meeting that may be considered, and I'm sure that those who attended my birthday bash yesterday would also be up for it. I suggest that you put it forward on another thread and see what the reaction is.
Hi Peter [40], yes everyone appeared to enjoy the occasion, most of all myself, and as you are no doubt aware, there are some who consider me a bit of a prude, but I think that I well and truly dispelled that image, and as I've always maintained, "There's a time and place."
Dave Abrahams
44
Posted 16/07/2018 at 14:23:47
John (#43), yes some nice polite and authentic swearing,John, you proved you were not an apprentice at it. Mind you, you never swore when that attractive young lady gave you a kiss, she wouldn't believe you were 80!!!
Martin Nicholls
45
Posted 16/07/2018 at 15:18:16
As I said earlier, I couldn't make yesterday's get together but would certainly be up for another TW gathering in the future. Would love to put some faces to names as I suspect I've probably seen, but don't now, some of you lads in pub or at home/away games.
Martin Nicholls
46
Posted 16/07/2018 at 15:19:13
*meant "don't know"!
Bill Griffiths
47
Posted 16/07/2018 at 15:20:50
I had a great day yesterday and it was a pleasure to meet all you guys, well worth the trip from North Wales.
Steve hope your exam went ok and you pass.
It would be good to meet up like this occasionally and I would willingly travel to do so.
Thanks John for setting it up.

Ian Burns
48
Posted 16/07/2018 at 15:25:42
Hi John, I am absolutely delighted you had a great day yesterday and many thanks to those TWer's who put themselves out to meet the "Chairman of the TW Board" Mr McFarlane Snr.!!
Happy 80th John and may there be many more articles and birthdays.
John McFarlane Snr
49
Posted 16/07/2018 at 17:44:41
Hi again Dave [44] I foolishly thought that everyone would wish to leave early, in order to watch the match, and I had informed my Young Lady that I would be home by 4 o'clock, how was I to know that I would be in the company of 'professional drinkers' ?
Yes that young Irish girl was quite attractive wasn't she?, you wouldn't have heard her, but she reversed the usual chat up line by whispering, " I wish I was a little bit older" I must have had a few too many bottles of Guinness, because I told my Young lady of my encounter, I don't know why she's still laughing.
Hi again, Martin [45] I had hoped for a favourable reaction to our get together, and if there are enough people interested, I would suggest the last Sunday of each month, [fixtures permitting]
I know that that it would involve a bit of travelling for some people, but yesterdays venue the Midland Hotel was ideal, I travelled in from Skelmersdale via Ormskirk, Bill Griffiths from North Wales, George McKane from over the water, and Peter Mills from Crosby, we all finished our journey at Central Station, which is immediately opposite the Midland Hotel, however I may be jumping the gun, we'll just have to see how things develop.
Hi Bill [47] I don't think I have to ask you about possible future get togethers, yourself, Steve, George, Gerard, Pete, Dave, and Tony made it the success it was, as Dave has said, to come all the way from North Wales was commendable, thanks once again. Best wishes John.

Hi Ian, [48] you may change your mind about my qualities if you met me, but I would welcome the opportunity for you to do so [if indeed you did]
I'm sure you would enjoy the company of fellow Evertonians, and at the risk of disappointing you, and from a purely selfish point of view, I hope there are more years than articles.

Dermot Byrne
50
Posted 16/07/2018 at 17:50:47
Just great to hear about your meet up John.
If you can keep triggering 22-0 victories that will be nice!
Mike Gaynes
51
Posted 16/07/2018 at 17:55:44
John, warmest congratulations on the success of your special day!
Jamie Crowley
52
Posted 16/07/2018 at 18:03:00
I think this is wonderful. Nice of everyone to attend John Snr's 80th.
This type of kindness and camaraderie is all too absent in today's world.
Special shout-out to all the attendees who made the trip over water, from distance, or across borders. That effort is one of the nicest, selfless acts I've read on these pages in a while.
John Snr., I hope it was a great day for you sir!
John McFarlane Snr
53
Posted 17/07/2018 at 15:29:18
Hi all, I suppose now that you've seen my face, you may well prefer the first photo, [Which shows only the back of my head] this is my 14th posting on this thread, so I'll have to be careful I don't overstep the mark.
The main reason for posting now, is to reiterate my reply to Stephen Brown [35], where I proposed the possibility of arranging a monthly get together, if there was sufficient interest.
I am a great believer in 'striking while the iron's hot', and it really is a simple process, all that it requires is a willingness to participate, and the selection of a date, time, and venue.
The get together on Sunday was remarkable, because I had only met Dave Abrahams on two occasions, and the other six people were complete strangers to me, but in minutes we were conversing as though we were old friends.
So, I suppose that this post constitutes a sounding of the water, but I believe that our love of football in general and Everton in particular, is sufficient to ensure another pleasant gathering, and as it's so often said, 'Hope springs eternal'.
I must confess that I would be disappointed if there was no interest at all.
Ian Burns
55
Posted 17/07/2018 at 17:36:06
What a great piccie guys - great to put faces to names and delighted you all had a great day.
However, I am extremely disappointed the "good looking Irish lady" didn't make the picture!
Stephen Brown
56
Posted 17/07/2018 at 18:11:39
John (53)
I took on your suggestion and posted an item on the general board about an annual get together with guest speaker.
Far away blues such as myself would be able to plan to attend such an event! It would be great !
John McFarlane Snr
57
Posted 17/07/2018 at 19:30:20
Hi Ian [56] the 'Young Irish Lady' wasn't just good looking, she was stunningly beautiful, and if she had been on the photo, it may have wiped the smile off my 'Young Lady's' face. I don't know if there will be another get together, or if you're close enough to attend, but just remember I saw her first.
Hi Stephen [56] don't be disheartened if the response is not immediate, I don't how many people post on the various threads, but I was pleased that seven of them turned up for my 'Birthday Bash'.
I believe that those who have sampled the occasion, and those who would have done if circumstance had allowed, would like to try it out, that's why on reflection I think a monthly get together, would be a better proposition.

You say you live 200 miles away, as a matter of interest do you attend games? if so, it's possible to arrange a pre- match meeting.
Stephen Brown
58
Posted 17/07/2018 at 20:45:01
Hi John, I attend about 6/7 games a season from Swansea. Often on my own so a meet would be most welcome! I'll get in touch early in the season! Great !!
Andy Crooks
59
Posted 17/07/2018 at 21:48:27
John, I hope to get over to a few games this season and I would consider it an honour to meet up with you and the top lads you spent your birthday with.
Add Your Comments
In order to post a comment, you need to be logged in as a registered user of the site.
Or Sign up as a ToffeeWeb Member — it's free, takes just a few minutes and will allow you to post your comments on articles and Talking Points submissions across the site.
© ToffeeWeb