Onyekuru has one more year at Anderlecht
Sunday, 1 July, 2018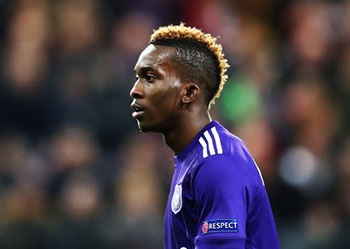 Henry Onyekuru is currently expected to serve out the second half of the 2-year loan deal Everton agreed with RSC Anderlecht despite harsh words after the player missed out on Russia 2018 with Nigeria.
Henry suffered a serious knee injury playing against his old club Eupen, with initial fears that he would require surgery and miss the rest of the season. He returned to Finch Farm for treatment and scans ultimately showed that he would not need an operation but it created uncertainty over his future, both in terms of qualifying for the Nigerian World Cup squad, and gaining enough international appearances to justify a work permit that would allow him to play for Everton in the Premier League in 2018-19.
He had regained his fitness by late April 2018 but didn't make another start for Anderlecht for the remainder of the season. He was duly left out of Nigeria's team for Russia 2018, with some in his native Nigeria speculating that the Belgian club have withheld him from the team on purpose so that he would not be picked and could return to them for another loan the following season.
Anderlecht's hierarchy rejected the insinuation, with Vanhaezebrouck insisting it wasn't Anderlecht's fault that Henry would miss the World Cup. "Everyone sees that he is not ready to play — he is afraid of the duels — and then I cannot pick him to please him. By the way, Henry still has a lot to prove with the national team. He was not a fixed value before his injury either, hey?"
Although Anderlecht had successfully negotiated an agreement with Everton to take him for the 2018-19 season, the player and his representatives were reportedly exploring other opportunities, with Borussia Moenchengladbach a mooted possibility.
Onyekuru's work permit requirements continue to prevent him playing for Everton. A player can secure a work permit through playing the required number of competitive international matches for their country in the two years before the application was made. The exact figure on this varies given where the player's home country stand in FIFA's official rankings — with a player sometimes only needing to appear in 30% of international games.
However, to qualify for a UK work permit, Onyekuru would have needed to appear in 75% of Nigeria's competitive fixtures over the last two years, given their FIFA World ranking of 47. Onyekuru has only ever made two appearances for Nigeria, which falls way short of the amount required.
An alternate pathway to playing in the Premier League could open up for Onyekuru in 2019, however, when he will qualify to apply for a Belgian passport, giving him entry to the UK marketplace — Brexit notwithstanding!
---
Reader Comments (25)
Note: the following content is not moderated or vetted by the site owners at the time of submission. Comments are the responsibility of the poster. Disclaimer
Fran Mitchell
1
Posted 01/07/2018 at 16:53:53
Let's hope he plays, plays very well, scores goals, stays injury free, signs a new contract with the blues and comes here next year ready to take the Premier League by storm.
Robert Leigh
2
Posted 01/07/2018 at 17:06:20
What Fran said
Brian Williams
3
Posted 01/07/2018 at 17:11:37
I get a sneaky feeling we won't see our 'Enery play for the Blues at all!
Ray Roche
4
Posted 01/07/2018 at 17:48:04
I've asked this before but why can he play in Belgium but not for us?
Mike Gaynes
5
Posted 01/07/2018 at 17:50:12
Let's just hope he matures into a grownup. The rest will follow.
Stephen Brown
6
Posted 01/07/2018 at 18:36:07
Could be our new David Henen ! All seems very complicated!
Colin Glassar
7
Posted 01/07/2018 at 18:38:09
We'll probably see Henry Cooper in an Everton shirt before his lad. I've heard he's a Brut of a player
Dave Cook
8
Posted 01/07/2018 at 18:50:20
@Ray Roche#4 It's down to the way work visa's work, I think the UK is alot stricter than Belgium. It also only takes them 3 years to get a European Citizenship, compared to 5 in the UK at the moment.
Brian Williams
9
Posted 01/07/2018 at 18:56:17
Get yer coat Col!
Steve Ferns
10
Posted 01/07/2018 at 19:17:39
Ray, despite what Brexiteers would have you believe, the UK has the toughest rules on entry in Europe. So Henry can get in to Belgium and get a work permit, but not for us.
I was expecting this, as Henry spent a year in Belgium before we signed him, last season at Anderlecht makes two, and this coming season makes three. He can then apply for Belgian citizenship and enter the UK (under current freedom of movement of worker's rules). As to where we (UK and also Everton) will be in 12 months time, we will have to way and see.
Ray Roche
11
Posted 01/07/2018 at 20:54:11
Steve, Dave, thanks for the information. EU rules? Yeah, right. I thought we were all (in Europe) on the same song sheet?
Alan McGuffog
12
Posted 01/07/2018 at 21:07:35
Please please please can we just go back to the days of buying players who are going to play for Everton. Bloody hate this cobblers
Steve Ferns
13
Posted 01/07/2018 at 21:13:16
Ray, it's rights of entry of Non-EU citizens. UK makes them for themselves.
Alan, we were trying to be clever and secure a top young talent who we hoped would get enough caps to come across this summer. Injury and Anderlecht put paid to that, not to mention he might not be good enough yet.
Brent Stephens
14
Posted 01/07/2018 at 21:52:09
Ray, as I understand it, UK chose to allow EU citizens to remain in UK longer than they had to - is it Belgium that says if no job after 6 months, you go home??
Alan McGuffog
15
Posted 01/07/2018 at 21:58:47
Take your point Steve. Maybe I'm getting old and the world has changed. We nabbed Alex Scott when he was on the way to Spurs. Howard when it looked like the RS had him. Ball straight outa the blue. All straight into the side. Just sick of this jam tomorrow..
Maybe
Kevin Naylor
16
Posted 01/07/2018 at 22:00:30
Steve #10 why make the comment about Brexiteers, this is a football site not a political one the last time I looked.
James Flynn
17
Posted 01/07/2018 at 22:39:34
We knew he wasn't coming this season. Just turned 20 a couple weeks ago, we can wait.
Only part in the OP concerned me was this from his manager speaking plain, "he is not ready to play — he is afraid of the duels."
Re-looking at that 10-minute YouTube of Henry, "afraid of the duels" is the last way I'd describe him. I'd describe him as reckless in the attack; sprinting past someone or in traffic.
So get yourself back to health and recklessness, youngster. Looking forward to your arrival in 2019-2020.
Paul Hewitt
18
Posted 01/07/2018 at 22:55:07
Why did we buy him?
Ray Roche
19
Posted 01/07/2018 at 23:05:14
Alan15
Regarding Alan Ball, I think he was "nailed on" for a move to Leeds when Catterick ambushed the deal and brought him to Goodison
Steve Carse
20
Posted 02/07/2018 at 11:20:17
Steve (10), like many, you forget that post-EU the UK would be free to determine its own immigration rules and requirements. In the same way that rules would be designed not to threaten key economic sectors, there's little chance that they'd inhibit the future of the Premier League by restricting entry of top players. As for the rest, the majority are average at best and only end up in the Uk currently on the back of mysterious links between clubs and agents.
Kevin Turner
21
Posted 02/07/2018 at 11:34:32
Steve (#20), post-Brexit immigration? The Premier League won't even be on the radar of the Home Office – it'll be rather busy trying to get doctors, nurses & agricultural workers in and processing Windrush backlog.
Steve Ferns
22
Posted 02/07/2018 at 11:55:48
Steve, with a hard Brexit freedom of movement of workers is gone and so all the foreign players will be subject to the same rules regardless of whether they are in the EU or Africa. Steve you also forget the situation prior to the freedom of movement of workers and how Everton used to struggle to meet the criteria with a few Irish (will count as foreign) and just a couple of Europeans. You need to cast your mind back a bit.
The government may well make a special case for football, but there's been zero talk of it, so I don't know how you jump to that assumption so easily. Brexit is a major threat to the Premier League, we'll just have to wait to see if we make any concessions on freedom of movement of workers.
Victor Yu
24
Posted 03/07/2018 at 03:04:48
This is a 'no win' situation for us.
If he plays well, big teams will buy him from us.
If he struggles, then we will be stuck with him for 3 more years.
Mike Gaynes
25
Posted 03/07/2018 at 03:22:05
This is a 'no lose' situation for us.
If he grows up and plays well, he'll either be ready to play for us or big teams will buy him from us.
If he struggles, he's only 21 and still has time to get it together. And his explosive talent is still ours for 3 more years at a cost of only £7 million.
Paul Mackay
26
Posted 03/07/2018 at 08:46:11
This is so Everton.
Add Your Comments
In order to post a comment, you need to be logged in as a registered user of the site.
Or Sign up as a ToffeeWeb Member — it's free, takes just a few minutes and will allow you to post your comments on articles and Talking Points submissions across the site.