It was a dreary day, even before the game started, the clouds hanging heavily in the sky, threatening rain. The roads to the ground were a little more subdued than normal and the crowds somewhat thinner. From my own point of view I saw this game as a measure of how far we'd come this year, despite the dramas behind the scenes at the club.

Now you may say that, in order to measure our progress, we should measure ourselves against those at the top, but I think it is also good practice to evaluate progress against those who, these days, are perceived, in some quarters, to be at our level. In that respect we were to be involved in one of those famed "six-pointers", even though its still so early in the season.

The dreary atmosphere did not bode well for the game ahead as the mood inside the ground was no better than that outside. Even the usual welcomes for the players as they came on for their pre-match warm-ups were muted. Did everyone have those pre-Christmas blues? Casting a glance at the players on the field there was a notable absentee – Materazzi. A quick flick through the program showed that he'd been receiving treatment for an injury sustained in the Chelsea game, during the week. Obviously he didn't make it off the treatment table.

Then came rumours of a training ground bust-up on Friday and a resulting disciplinary non-selection. What did go on? Walter says he'll be in contention next week, so maybe it'll all blow over – the last time Walter made a similar statement the player involved was gone by Wednesday!

Having been deprived of what I consider to be the "dream" pairing of Bilic and Materazzi, we had an unusual looking back line, and our fourth captain in five games – last week's incumbent, Craig Short, not having recovered from injury. The armband this week resided with John Collins.

First Half

We kicked off with nobody on the field apparently ready, as the ball was despatched cleanly to the Park End for a goal kick to Southampton. This was the trend that the majority of the first half was to follow. True, there was much endeavour, but most of it took place defending our goal rather than going forward.

Too often we were back-pedaling from inside our own half, being outplayed by a poor Southampton side. Despite early harmless attempts from Madar and Bakayoko, we hardly threatened and by the half-hour mark it was plain to see that we just weren't up for this game, at all.

There was plenty of industrious running from Madar, generally away from the ball, and Bakayoko was trying hard to not lose the ball when he received it, but the emphasis I've placed on those descriptions indicates the negativity of the way we were playing: industry off the ball, but nothing when we had it. Only Cleland was able to make a strike worthy of the name in this period, forcing the Saints keeper, Jones, to make a comfortable diving save to his left.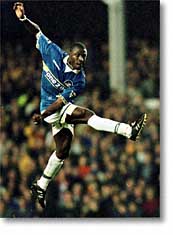 As a result of this early lethargy, we should count ourselves lucky not to have been as many as four goals down when – completely against the run of play – the first goal eventually came. The ball came out of defence and reached Bakayoko in the middle of the Southampton half, in that familiar pose for a Blues striker, back to goal. He controlled it for almost the first time on the day and turned to his right, completely beating his marker. From then on it was head down and on to glory. A sweet right-foot shot and the Park End net bulged – Jones was well beaten.
What a goal! Bakayoko went off to the corner flag at the Goodison Road side and completed his trademark somersault.
After that strike, the whole match turned. Suddenly there was life in the mausoleum that was Goodison Park. Bakayoko was a thing possessed. Now it was a case of beating his man (or men generally, with as many as four on him at any one time) and looking confident, rather than the cautious and contained individual of just a few minutes earlier.
Pity the goal didn't galvanize Madar, too. I was something of a fan of Madar last season, but I have to say that if this was his shop window, then someone should have told the window dresser that the goods were past their sell by date.
He was moaning and grumbling and not really contributing anything constructive to the team at all. At one point, rolling around in agony after a poor challenge from a Saints defender, he was approached by Le Tissier, who spoke some, no doubt, comforting words in his ear. Madar was up as if he'd sat on hot coals, threatening Le Tissier with typical Gallic fire. Le Tissier grinned and after the referee had separated the two, walked away before the fisticuffs could begin. What a drama queen! If I was a visiting manager then I would not have been impressed by Monsieur Madar.
Two players who had impressed, though, during the period of inadequacy and disinterest were Hutchison (again!) and Cleland. Cleland repeatedly got down the line and was involved in good work with Bakayoko and Grant in particular. A much more comfortable wing-back than Dunne ever was, is, or will be.
After the goal, we pressed forward and Southampton were revealed as being the poor outfit that their league position suggested. They were untidy in front of goal, uncertain in defence, but in one of those strangely contradictory ways were quite good in midfield, full of promise, but never delivering. At half time it was plain that, despite the desperate start that we had made, any goals we were going to ship today would be as a result of our own calamitous efforts rather than any guile from Southampton.
Second Half
The second half kicked off and we were treated to a storming first ten minutes. In that time Cleland (over the bar), Bakayoko (saved) and Madar (poor effort) all missed opportunities. The best was yet to come, though.
Just inside the Southampton half, Cleland dispossessed a Saints player, bore down on the Southampton goal and, after a neat one-two with (I think) Grant, unleashed a thunderbolt of a shot which crashed into the cross bar with Jones nowhere near. As is usual in these situations, the Everton front line failed to pick up the pieces and Southampton cleared.
Time and again throughout the half, we had good chances: Cleland again and Bakayoko (twice) brought excellent saves from the keeper. There was still always the chance that Southampton would nick one, especially if we defended as we did on two occasions in a ten-minute spell of dominance which Southampton enjoyed about half way through the half.
In the first incident, Hutchison gave an uncharacteristic pass straight to a Southampton player having just broken up an attack. Still with players up, Southampton threatened to score, but an excellent recovery by Hutchison after good defensive play by Bilic saw the ball cleared. In the second it was Collins, seemingly comfortable on the ball, who was dispossessed just outside the box allowing a clear chance for Southampton which they were unable to take.
This period of Saints dominance also highlighted the fact that maybe our luck has changed a little. After some unimpressive defensive work, we were penned back inside our own penalty area and the ball crashed against our crossbar. As it bounced down it looked (from my (disad)vantage point at the Gwladys Street end) as though it had crossed the line and gone into the Park End goal. Somehow it was cleared and hustled out for a corner. Despite Southampton's protestations no goal was given. At last, a side with less luck than ourselves, I thought at the time. But now, on reflection, I've revisited that opinion. They say that you make your own luck in this game. Maybe we've started to make ours.
Madar was eventually replaced by Dacourt. As one the crowd rose and as the applause reached a crescendo Madar reacted by applauding the crowd and accepting their adulation. On this occasion I think he mistook the rapturous reception reserved for the appearance of Dacourt, for a heartfelt showing of gratitude for his performance. This was reinforced by the chants of "Olly-y-y, Olly, Olly, Olly --- Olly, Olly" which greeted Dacourt as he raced onto the pitch. In his 15 minutes on the pitch he contributed far more than Madar had in his 75.
Bakayoko was now a lone striker. Suddenly we played the through ball as if it was our stock in trade. Bakayoko was a revelation. He reached balls he had no right to reach, beating three defenders in the process. Ball found him in space on the wing on at least three occasions and twice (I say twice because we were awarded two corners – the second one was awarded by Alan Wilkie because the breeze from Jones' gloves must have caused the ball to deflect from its course) he was denied by spectacular saves from Jones. Grant and Cleland were also denied in this period.
Then with 5 minutes to go Grant was withdrawn and we reverted to two up front as Barmby returned to first team action. He'd already been roundly applauded whilst he was warming up earlier and his reception was no less enthusiastic. Even in that 5 minute activity some better fortune could have seen him on the scoresheet.
Needless to say, though, we did leave ourselves open to a last minute fling; not in the usual sitting back and enticing them forward way, but in a new "let's get forward" sort of way. But in the end, we held on for the win. All's well that end well, as some guy from the Black Country once said.
My opening sentiment was one that suggested that a better measure of how far we had come this season would be given by this performance against Southampton, rather than in those performances against the loftier clubs that are, for now, Manchester United and Arsenal.
My assessment is that we have indeed progressed. Despite dropping to their level in the early stages we were clearly the better side in the end, once we decided to play our way. It isn't classic stuff yet, but with the return to fitness of Dacourt, Bilic and Barmby we look as though things are improving. All we need to do now is score – and maybe at some time we could do it at the Gwladys Street end.
Man of the Match: Alex Cleland for an aggressive all action performance of wing-back play that nearly resulted in a couple of fully deserved goals. Commendations: Hutchison, Bakayoko.
Bookings: Ball (foul), Unsworth (the booking came after an innocuous push, but I can't believe that that alone was the cause of the booking, so I'll put it down to persistent offending)
The threatened rain? It duly arrived during the first half, but did nothing to dampen the spirits of those witnessing another home win.