Leeds United 1 - 1 Everton

Half-time: 1 - 0

---

FA Carling Premiership 1999-2000 – Game 37
8pm Monday 8 May 2000
Elland Road, Leeds
Att: 37,713
MATCH SUMMARY
Where would you most like to go when still searching vainly for a few vital points to keep the fantasy of European football alive? How about Elland Road – a place where Everton last won a league match in the dim and distant past... 1 September 1951 – in the old 2nd Division!

We haven't won a top-flight league match there since before World War II... 25 February 1939!

The added twist this season is the potential impact this result may have on the participation of our neighbours in the European League/Cup. And the fact that we have now slipped in to the bottom half of the Premiership for the first time in months... clinging on to 11th place thanks to two key drawn games in Saturday's fixtures.

Francis Jeffers was expected to start but he apparently sustained a groin injury in training... Xavier failed to recover from a damaged calf.

The match started well for Everton, who played almost the entire first 10 mins in the Leeds half – but without a single shot on goal! The lack of penetration into the area was enough to make a whore weep. But by playing 4-5-1 with the 1 being Mr Sparky "Hold-Up" Hughes – what more could we expect?

Every attack was laboriously constructed, with Everton's pretty passing getting them nowhere.

Then, on the ½-hour, Kelly launched a Route-One up-and-under from deep in his own half for Bridges to run on to. Gerrard again bottled, dithering in his 6-yard box instead of rushing Bridges with arms and legs flailing... Goal!

Then, early in the second half, a ridiculous lunge by Dunne caught Bridges'(?) ankle from behind: Red Card (probably deserved!). Then Duberry's innocuous challenge on Pembridge (admittedly from behind) earned him a second yellow to even things up. And from there it was game on!

The high bounce of a deep ball from Hutchison (much like Kelly's) caught out Nigel Martyn, and Barmby was all over him. They both went down, but Barmby was up faster, pulling the ball out wide, turning, and firing past Martyn and two other defenders into the far corner. Nice one, Nick!

But the referee's "control" of what was never a dirty match was becoming farcical as more and more Everton players were booked.

In the last 5 mins, even D'Urso excelled himself. Stephen Hughes makes a great tackle and gets the ball... no, the ref gives a free kick to Leeds and yellow to S Hughes for the "tackle", so Hutch boots the ball away in disgust and – after lots of prompting from the bastard Leeds players – another yellow is issued followed by the inevitable red! Utterly unbelievable!

---
MATCH FACTS
GOALSCORERS
Finalι
Leeds United:
Bridges (30')
EVERTON:
Barmby (60')
Ward
LINEUPS
Subs Not Used
Leeds United:
Martyn, Kelly, Duberry, Woodgate, Mills, Bowyer, Bakke, McPhail, Wilcox, Bridges (81' Huckerby), Kewell.
Haaland, Hopkin, Jones, Robinson.
EVERTON:
Gerrard, Dunne, Unsworth, Weir, Ball, Pembridge (79' Ward), Hughes S, Collins, Barmby, Hutchison, Hughes M (73' Cadamarteri).
Unavailable: Campbell, Cleland, Gough, Jeffers, Moore, Williamson, Xavier (injured); Myhre (on loan).
Jevons, Clarke, Simonsen.
Playing Strips
Formations
Leeds United:
White shirts; white shorts; white socks.
4-3-2-1
EVERTON:
Royal Blue shirts; blue shorts; blue socks.
4-5-1
Yellow Cards
Red Cards
Leeds United:
[Duberry (18', 54')]
Duberry (54')
EVERTON:
Ball (16'), Hughes M (35'), [Hutchison (45', 87')], Unsworth (64'), Barmby (74'), Hughes S (86')
Dunne (49'),
Hutchison (87')

---
In Memoriam
Phil Pellow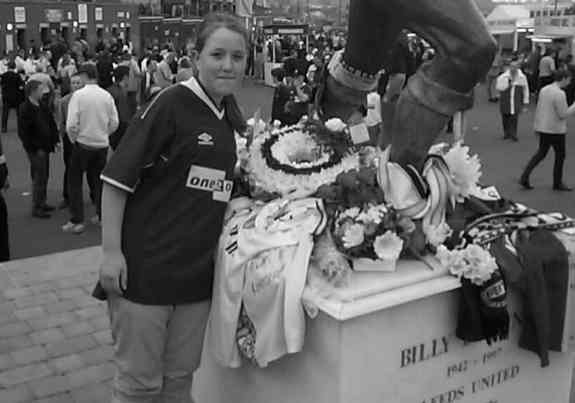 On behalf of the Independent Everton Supporters, Jenny Holloway places a wreath on the Billy Bremner monument at Elland Road in memory of the two Leeds United fans, Christopher Loftus and Kevin Speight, who were brutally stabbed to death by murderous Turkish thugs in Istanbul. The continuing atrocity is the failure of Uefa to punish Galatasary, fans or club, or to ban Turkish clubs from all European competitions as a result of this needless tragedy.
---
Dear Mum
Steve Kirkwood
Dear Mum,

Great news! After much debate, the nice Mr Smith I've been telling you about, well, he told me that I'd be involved in the game, and – true to his word – after 65 minutes he said, 'Danny, run up and down the touchline like a mad thing and try and put the linesman off'. So I did.

I'm really pleased to be be doing such an important job; but it gets better! Because after another 5 minutes, Mr Cox said "Take your sweater off you're going on," as Sparky (that's our new prefect, Mr Hughes) was getting fed up and trying to attack one of the Leeds players. I had to have help as you know, as I normally have a zip, but after a coupe of minutes fiddling, we had it sorted.

By then we'd already lost Dicky O'Micky, as he'd crashed their number nine, so there was lots of space, and my job was to run around like a mad thing and put their centre backs off, but you know, I couldn't believe how slippery it was!! It was like ice, although no-one else seemed to have any trouble...

It might have been little Franny who said that we we'd forgotten the spanner for the studs, and that no-one was therefore wearing studs, and anyway the ground was so hard, we could have worn trainers if we wanted to.

Mr Smith was very nice after, and told me that he was pleased I'd got my shorts dirty as that was something new, and better than the last time.

Anyway, that's all for now, love to everyone, and can you ask Ruudy when I can have my hair back?

Danny
---
The Man is a Fool
Colm Kavanagh
The game started extremely brightly for Everton. Passes from blue shirt to blue shirt zipped across the Elland Road turf. Pleasing on the eye, if a little too distant from the Leeds goal. Such is the lot for a team apparently with little or nothing to play for.

But hang on. One thing instilled into Walter Smith's side this year is Pride. Understand that? Pride with a captal P.

What had we to play for tonight then? A chance to add to Liverpool's woes by laying down and dying before the Sky cameras? A chance to finally, once and for all, assault this unwanted record we hold on our journeys to (H)Elland Road?

Well, battle soon commenced, not long after my favourite referee, a Mr Andrew D'Arsehole, exhaled into his whistle. After approximately 10 minutes my wife, a lifelong Manchester United and Mark Hughes fan, said to me (as she tried to get junior to sleep on her lap) "what are they singing?" The singing, if that is what you could label it, was quote unquote "yer just a shite scum bastard". Eurovision it ain't. And how nice it is to see a set of fans, allegedly in mourning for the death of two of their own, singing their praises of an old adversary. One presumes the Munich song will be aired once more next season on their journey to Trafford, Manchester. Twats.

No more than a few minutes passed; the temperature had been raised, the ref primed on the trigger. A classic confrontation between clubs either side of the Pennines about to be spoilt by a fucking gobshite of an official. Herself, with the child drifting into the Land of Nod (slurring 'Come On Blues' bless him!), remarked - "Look. It's Mr. Bean!". A pass remarkable comment made of an official I have long held in contempt.

The man is a fool.

He is not fit for Sunday League football, never mind the hurly burly world of Premiership football. In a nutshell, he did his utmost to ruin what could have been a sight for sore eyes. The game was set up to be a battle royale. Leeds were up for pushing onwards in their pursuit of European Chumpions League, whilst ourselves were proving the doubters wrong. "Pride Please, Everton" once read a banner from the construction site that was the Park End. Tonight was one of those occasions where you could only feel pride for the eleven who took to the field in the jersey we all love.

Sparky Hughes was awesome leading the line tonight, ably assisted by Don Hutchison, a player who I'm sure appreciates the style of Hughes. The game itself was far from pretty, but never dirty. Few had time to dwell on the ball as challenges came and went before they were noticed. Some refs though enter the spirit of things, and recognise what's going on around them.

Not my mate Mr. Bean, formerly known as Mr. D'Arsehole.

He loves his whistle and by God does he want the entire world to know it. If he had reffed the first half in the same manner in which he officiated the second, Michael Duberry would have been showering after 34 minutes, when he decided to scream "Off with his head!", a moment in which he measured up Mark Hughes' neck size. In football parlance, the boy got lucky.

The goal which put Leeds in front, and brought turncoat Evertonians a brief moment of ecstacy (in wishing our nearest and dearest ill), came totally against the run of play. Bang, bang, pick it out. Offside, surely? Sadly for ourselves, Davey Weir played young Bridges onside. In that moment it clarified the problems we'll have for next season. We have improved, all over the pitch. But we still concede goals with apparent ease. Costly ones too. Errors to be eradicated next year, please God. We can but learn from this season's mistakes.

We continued to dominate play but you sensed the ante had been upped. One or two of our players felt aggrieved to be one down, such had been our dominance of play. Such an atmosphere brings out the very best in a player like Mark Hughes. He thrived on it, using his experience to drive Michael Duberry up the proverbial wall. He fished and fished and, finally, Duberry bit – and was duly yellow carded. On the evidence beforehand, it was not before time.

Whatever set of china David O'Leary bounced off the walls at half time, it had the desired effect on his charges as Leeds set about us right from the restart. We were extremely lucky not to fall two behind. A Harry Kewell volley from a corner would on another day have found the back of the net for yet another Goal of the Season. Thankfully Paul Gerrard was in the right place to claim a superb volleyed effort. Then when Kewell slid a weighted ball across the Everton six yard line we saw 2-0. In football parlance, we got lucky.

The mistimed challenge from Richard Dunne could not be excused. Reckless was the only word that sprung to mind. It merited a red card, no argument about that, but I wonder with a more experienced ref if it would have been reduced to a yellow for the position of play where it occurred. I thought he'd played quite well up to that point. But fact is fact – a bad night at the office for young Master Dunne.

Reduced to 10 men, we saw John Collins become a right-back for the night. On his performance tonight I saw visions of Ian Snodin. A possibility for future reference?

Fate intervened when Nigel Martin made what could only be described as a screw-up. Bang, 1 - 1, and no more than we deserved. "Gerrin there!" I screamed!!!!

I spent the remainder of the game in search for something I could beat the living crap out of. That ref drove me to the edge and beyond. I wanted to get violent. Who would become the recipient of my anger? Barney? BJ? (Okay smartarses, it's a character from Barney!) Winnie the Pooh? No, tonight it was Tinky Winky, left abandoned on the spot on which my young fella entered the Land of Nod (slurring 'Come On Blues' in case you hadn't noticed!).

I couldn't be arsed with the remainder of the game, suffice to say that we were bloody magnificent all over the park tonight. That ref, the same who fucked us over at Pride Park earlier this year, is such a despicable little man that he should be relegated to Subbuteo football, never mind Nationwide football.

And what about the irony tonight of two minutes being added on for 'injuries and stoppages' actually being 2 minutes and 25 seconds. Graham Poll should be told!

Anyway, in summary, the boys in blue done good. The ref was such an incompetent pillock it was unreal.

Proud to be Blue.

Marks out of ten:
Gerrard 7 - Fuck all to do for most of the game. One great save from Kewell.
Dunne 5 - Reckless challenge undoing previous work.
Weir 6 - At fault for Bridges annual goal against us.
Unsworth 6 - defensively faultless but Rivelino he ain't!
Ball 7 - improved as the game wore on. Distribution improved in the second half. Collins 8 - Class is permanent........
Pembridge 8 - Industry. Industry. Industry. Even with a hamstring injury he was first into the wall to face a free kick. And yet he still gets mocked by Blues!
Hughes S 7 - The Quiet Man of the team but oh so effective. I like what I see.
Barmby 7 - Non appearance in the first half but involved for the duratioon of the second.
Hughes M 8 - Age is no barrier. Called the shots whilst on the pitch.
Hutchison 8 - Akin to Sparky. Gave his all in the battle.
Man of the Match: Mark Hughes Still a has been in the eyes of many! (Not my choice of words I have to say)
---
Martyn blunder frustrates Leeds
by Phil Shaw, The Independent
Three sent off as Elland Road club's pursuit of Champions' League place suffers setback against battling Everton
Everton did not manage their first League victory at Elland Road since 1951 last night, but they did Liverpool a substantial favour by restricting Leeds to one point when three would have put a Champions' League place firmly within the reach of David O'Leary's team.
In a fractious contest, marred by the sendings-off of Everton's Richard Dunne and Don Hutchison and the home defender Michael Duberry, a breathtaking goal by Michael Bridges gave Leeds a lead which flattered them. Nick Barmby's riposte after a blunder by Nigel Martyn, left Leeds needing to win at West Ham on Sunday to guarantee a top-three finish.
Leeds finally shook off their April blues with victory at Sheffield Wednesday, following up with a home win against Watford. In both games, however, they were unconvincing defensively. The absence of their injured captain, Lucas Radebe, meant there was no scope for complacency. Everton, by contrast, had nothing to play for but their self-respect, yet they were the brighter side throughout the first half.
The niggling undercurrent within the early exchanges bubbled to the surface midway through the first half. Michael Ball was cautioned for fouling Gary Kelly, with Duberry following suit after one meaty challenge too many on Mark Hughes. Everton worked some intricate moves, built around first-time touches. The best, in the 23rd minute, ended with Mark Pembridge testing Martyn from 25 yards.
Leeds had created nothing from open play before they scored on the half-hour. Lee Bowyer's pass from his own half found Bridges spinning away from David Weir and bursting into the penalty area before volleying his 21st goal of the season. Everton vehemently demanded an offside decision, but Bridges had timed his run to perfection.
Mark Hughes received the third yellow card of the evening, somewhat harshly, after a brush with Bowyer. The Welshman posed a more legitimate threat with a header which flashed over Martyn's crossbar, but the first half ended with more ill-feeling after Hutchison was booked for fouling Duberry.
Harry Kewell, who had belatedly troubled Paul Gerrard with a long-range volley shortly before the break, signalled a more positive approach by Leeds with a fierce hooked shot from a Jason Wilcox corner just after. The Everton keeper's positioning made the save look comfortable.
Wilcox was a spectator on the left flank for most of the opening half. At the start of the second, with Leeds clearly under orders to up the tempo, he was more involved, delivering a cross which Bowyer glanced wide in the 49th minute.
Within 60 seconds, Everton were reduced to 10 men. Bridges, facing his own goal, was cut down from behind by Dunne with a tackle that was as late as it was vicious. The referee reached immediately for his red card.
Leeds' numerical advantage lasted just four minutes. Moments after Wilcox came within inches of converting Bridges' inviting pass across the face of Gerrard's goal, Pembridge fell under Duberry's challenge. The muscular defender appeared to have taken the ball – for once – but the referee deemed it worth a second yellow and dismissal.
Everton equalised on the hour – deservedly so although in peculiar circumstances. Martyn badly misjudged the flight of Hutchison's hopeful long pass, letting the ball bounce over him and rewarding Barmby's pursuit of a seemingly lost cause. From an acute angle, the former England player ended Andrei Kanchelskis' status as the only Everton player to have scored at Leeds in eight years of the Premiership.
Leeds, who had withdrawn Wilcox in favour of a defender, Alf-Inge Haaland, shortly before Everton's goal, returned to the attack with a characteristic surge by Kewell in the 65th minute. David Unsworth took him down, and was cautioned, to be joined soon afterwards by Barmby after an off-the-ball spat with Danny Mills. Hutchison's 87th-minute dismissal, for kicking the ball away after a foul, set the seal on a sour
Report © The Independent
---
Leeds hopes suffer red alert
by Stephen Wood, The Times
LEEDS UNITED could claim superiority in numbers last night, but when the fuss over the refereeing performance had died down, they bemoaned a shortage of goals. Everton's display will be seen as having favoured Liverpool, but their resilience was rooted in pride and thus qualification for the European Cup Champions' League next season remains in the balance. The point that Leeds gained at Elland Road enabled them to usurp Liverpool in third place in the FA Carling Premiership but, if Liverpool can overcome Bradford City on the final day of the season on Sunday, Leeds know that they, too, must beat West Ham United at Upton Park to progress to the qualifying round of the Champions' League.
For the moment, however, the performance of Andy D'Urso, the referee, will occupy people's minds. D'Urso infamously incurred the wrath of certain Manchester United players earlier this season and, in sending off two Everton players and one from the home side last night, it was a surprise that another similarly explosive response was not forthcoming.
The debate over whether D'Urso should have shown a straight red card to Richard Dunne, the Everton defender, early in the second half will be lengthened, just as it will concerning the two yellow cards given to Michael Duberry, the Leeds centre back.
The flurry of events three minutes from time proved more contentious. Stephen Hughes, the Everton midfield player, was adjudged, unfairly it appeared, to have fouled Lee Bowyer and, with frustration boiling over, Don Hutchison kicked the ball away.
Hutchison received a second yellow card and Everton were aghast. "The referee was the only person in the ground to see Hughes's foul," Walter Smith, the Everton manager, said. "We do not have a bad disciplinary record this season, although the problems only seem to appear when he [D'Urso] takes charge of our games."
D'Urso also booked six other players, leaving Mark Hughes, the Everton striker, to lament that it was "a wonder that there was anyone left" at the final whistle, but David O'Leary, the Leeds manager, insisted that he had "no qualms" about Duberry's dismissal.
Having seen Harry Kewell, Jason Wilcox and Eirik Bakke spurn excellent opportunities in the second half, Leeds knew that it was a game they could have won.
Only the fleetness of foot of Michael Bridges presented them with a foothold. So quick was he in ghosting off the shoulder of David Weir, the Everton defender, that he appeared offside to the naked eye. The judgment of the assistant referee was perfect, however, and the Leeds striker ran unopposed on to Bowyer's pass to volley his nineteenth league goal of the season past Paul Gerrard, the goalkeeper.
A similar flash of brilliance from Kewell shortly after half-time was soon overshadowed by Dunne's indiscretion, the referee's interpretation of events and Nigel Martyn's co-ordination. With Bridges receiving a pass inside his own half, the defender committed a reckless, two-footed lunge that would have left a lasting impression on an iron girder, let alone his opponent's ankle. D'Urso showed no hesitation in producing a red card.
An equilibrium in goals was not far away, though. First, the numbers were evened. Duberry had been booked already when he challenged Pembridge after 54 minutes, but the defender can count himself unfortunate that D'Urso deemed it another bookable offence.
It took Everton just six minutes to exploit the undermanned Leeds defence. Hutchison's long pass exposed Martyn, but the goalkeeper misjudged the bounce of the ball and, after he had been wrestled out of the way by Barmby, Everton's midfield player drilled a low shot into the corner of the net.
Everton were down to nine men with Hutchison's dismissal and, although Leeds did not have time to take advantage, O'Leary was unperturbed. "Qualification for the Champions' League is still in our hands and we can get the victory we need at West Ham," he said.
Report © Times Newspapers Ltd
---
Martyn slip keeps Leeds on the edge
Charles Carrick, Electronic Telegraph
Galatasaray cloud hangs over Leeds
WHERE Liverpool had failed to sink Southampton the previous day, Leeds now could do no better against Everton, in a testy encounter in which three were sent off: Richard Dunne and Michael Duberry approaching the hour, and Don Hutchison late in the game for dissent. The Champions League third place remains in the balance.
Fire-power: Michael Bridges scores to put Leeds ahead Next Sunday at West Ham Leeds must gain a result at least the equal of Liverpool at Bradford. Just as Liverpool had failed to find their form, so too did Leeds, showing all the signs of an arduous season against an Everton team competently combining in midfield. Leeds made enough chances to win, but their shooting was inadequate.
So arid was the first quarter of an hour that it seemed only a floodlight failure might provide some interest. In the absence of serious action, the home crowd contented itself with ritual booing of Mark Hughes for no better reason with his former allegiance across the Pennines.
Everton were proceeding to give Leeds a difficult time. John Collins and Stephen Hughes in midfield were out-manoeuvring Eirik Bakke and Stephen McPhail, while on the wings Lee Bowyer and Jason Wilcox could make little ground. It was worrying that if Wilcox is to be a left-sided force in Euro 2000 he was unable to expose as indifferent a full-back as Richard Dunne.
Leeds forced a succession of corners, none of them resulting in any threat to Paul Gerrard in goal. At the other end Duberry, who had been living dangerously in a rather transparent feud with Mark Hughes, got himself booked for a foul on Hutchison, though later Mark Hughes suffered the same fate. At the back, Everton's central defenders, David Weir and Dave Unsworth, were holding firm against anything that Michael Bridges or Harry Kewell could muster.
The ice was broken after half an hour. A raking, diagonal pass from Bowyer from inside his own half found Bridges slicing his way past Weir. Heading straight at goal, he thrashed the ball past Gerrard for his 21st goal of the season, his 19th in the Premiership.
The second half began badly for Everton. Twice in a minute crosses by Wilcox all but brought further goals. First, from his corner kick, Kewell, pivoting through 90 degrees, hooked a volley which Gerrard held under the crossbar, and then Bowyer sent a glancing header wide of the far post from another cross.
In the 50th minute Dunne was dismissed for the wildest of violent tackles on Bridges, swiping both feet from under him with a lunge. He had to go and it was a mindless wasted of breath for Barmby and Hutchison to protest to the referee, Andy D'Urso.
Almost immediately Leeds should have gone two up when Bridges, escaping free on the right, squared the ball across the face of an empty goal and Wilcox, sliding to meet it on the far post, failed by inches to connect.
The tables doubly turned on Leeds. First in the 55th minute, Duberry was sent off for a second yellow card when coming in late from behind on Mark Pembridge, and five minutes later Everton levelled the game in a bizarre move. Hutchison's high, floating pass down the middle seemed easy meat for Nigel Martyn as he advanced off his line, yet he misjudged the flight, the ball went over his head and he lost the ensuing scuffle with Barmby. Turning on the loose ball, Barmby swatted it home and Leeds' ambitions were once more on the line.
Report © The Electronic Telegraph
---