Liverpool 0 - 1 Everton

Half-time: 0 - 1

---

FA Carling Premiership 1999-2000 – Game 9
8pm Monday 27 September 1999
Anfield, Liverpool
Att: 44,802
MATCH SUMMARY
A stunning goal by Kevin Campbell after just 4 minutes left the massed red hordes from the Home Counties reeling and rioting... Liverpool tried every dirty trick in the book to get back into the game. Numerous filthy Liverpool players were yellow-carded in the first half, but it was a travesty that Michael Owen was allowed to remain on the field after his viscous and disgraceful 26th minute lunge on David Weir.

Liverpool huffed and puffed after the break, with a lot of possession, but were unable to make much of an impression on Everton's solid back line. Then after 75 mins Jeffers and Westerveld went at it hammer and tongs, and its red cards for each combatant. Minutes later, Gerrard makes an incredible save from a deflected Simicer shot, and in the closing minutes, Steve Gerrard is sent off for Liverpool after another X-rated challenge. Everton survive 5 more ferocious minutes of added time to claim a deserved and hugely welcome victory.

---
MATCH FACTS
GOALSCORERS
Liverpool:
–
EVERTON:
Campbell (4')
LINEUPS
Subs Not Used
Liverpool:
Westerveld (74' Sent off!), Staunton, Hyypia, Carragher, Heggem, Berger, Hamann (Meijer, 66), Redknapp, Smicer (Camara, 70), Owen, Fowler (Gerrard, 66 (91' Sent off!)).
Henchoz, Nielsen.
EVERTON:
Gerrard, Ball, Gough, Dunne, Weir, Barmby, Collins, Hutchison, Xavier, Campbell, Jeffers (74' Sent off!).
Unavailable: Unsworth, Watson, Myhre, Williamson, Parkinson (injured); Branch, Farrelly, O'Kane (transfer-listed); Bilic (in limbo); Grant (on loan),
Cleland, Gemmill, Ward, Johnson, Simonsen.
Playing Strips
Formations
Liverpool:
Red shirts; red shorts; red socks.
4-4-2
EVERTON:
Royal Blue shirts; white shorts; blue socks.
4-4-2
Yellow Cards
Red Cards
Liverpool:
Staunton (18'), Redknapp (23'), Owen (27').
Westerveld (74')
Gerrard (91').
EVERTON:
Ball (36'), Gough(80').
Jeffers (74')

---
A Magic Night
Jon Berman
Someone said it is night's like last night that make Steve Allinson's ticket service all the more appreciated. I can certainly vouch for that. I was absolutely made up that Steve had a ticket for me for what was to become one of the best nights I have experienced in any ground for years and years.

Arriving in The George around 7pm, there were the usual suspects. Most of them were really looking forward to it. I, of course, was my usual pessimistic self. I turned to Chris Roberts and suggested that I was extremely nervous about this one and had been all day and yet I felt – up until I left the house – quite confident. I don't know what came over me in The George, but I began to get doubting Clives creeping in to the psyche.

After a couple of beers, it was getting too near for comfort to the start and I made my way to the ground. All you could hear was kopshites loudly exclaiming to anyone that was within earshot, how their plans would undo us. Bloody little street urchins the lot of them. It was whilst listening to one wag proclaiming that with Owen being back on form, he'll do most damage, that I threw off my pessimistic feelings and began to feel ten times taller.

Just as the teams where about to kick off, I sat down and surveyed the crap ground and believe me it is shite. Utter shite. I will tell you why later on. Watching the game, it was almost played in slow motion in the first half and I never wanted it to end. We were magnificent! The one-touch football played by our heroes was a sight to behold.

As far as the incidents go, Owen is a fuckwit of the highest order. He definitely should have gone for that disgusting foul on Weir. Hutchison should also have been sent off with his crazy tackle. It was not mis-timed. But how anyone could say the ref was doing a good job is beyond me. Yes, on the night, he got all the important decisions right, but his inconsistency was something else.

I'm sorry, but those loveable Reds were truly awful. The only thing they could do was to play dirty. But we know how to play that game too when needed. But the wonderful thing was we didn't need to – apart from that tackle by Hutchison. Whereas the liverpool bastards were at it all night.

I remember when I was a kid, hearing a some bloke always shouting at the great 60's team, "That's right Blues, show 'em how to play. Play them off the Park." Those words were being shouted out by me last night. We looked awesome and don't let any little RS tell you otherwise. Cretins the lot of them.

When Campbell's goal went in, I kept thinking of both Colm Kavanagh and everyone on IRC... after I had gone mental of course. Typical of Arsefield, my seat was broken, but that didn't matter – we stood for most of the game as it was.

Everton are now a team that are so full of confidence, you just pray they continue to believe they can win every match. I have said it so many times before, Walter Smith will see this club pull clear of the mire and put us back where we belong. Give him the right backing and he will do it. He reminds me of what Howard Kendall did in the 80s and that is to build a team that will fight for everything with a team spirit that will be second to none.

The second half proved what he is trying to do. Every one of those players worked for each other and made the RS look very ordinary. What I really like about Walter is that even in winning a derby game, he still is realistic and not getting carried away which is what I want to hear from a sensible person.

As for the shitty ground, it is true in every sense of the word. When the final whistle went it was announced that the gates were to be kept locked at our end. Ok, that I can handle. When we have just won and we were all singing every Everton song known, even a rendition of Z Cars!

It is after 20 minutes that you do begin to wonder about the Arsefield policy and the policing of such a game. When the gates were finally opened there was the usual rush to the exits. At the side of the Arsefield Road end, there is a bloody huge concrete post right by the steps. I must have seen three kids no older than 14 getting continually crushed against it.

Even I was helpless to stop myself from moving forward at one point. It was bloody ridiculous. There were fans screaming at the police and stewards to do something, but all we got told was to 'Shut it and get out.' Will they never learn?

I'd like to know why Everton fans were kept in in the first place considering that there are families who will have gone to the match together supporting either side and yet would not have seen each other after the game for at least 45 minutes afterwards. It was a disgrace and I urge everyone to phone Radio Merseyside's Roger Philips programme, who was there last night. I also urge people to write into the local rag that never seems to give us a fair view. In fact just complain vociferously to anyone who will listen. It's a dump of a ground. A shed. A flea ridden pit.

One thing I did notice at the end of the game which will live with me for a very long time was that I have never seen a player go as mental about winning a match as Xavier did. To say he was pleased is a massive understatement. Barmby was nearly doing cartwheels despite a hamstring problem which I reckon could keep him out against Coventry. God, I hope not. He has been a revelation this season.

Afterwards it was back to The George where some celebrating was to be done. The best tale from the terraces this time, was that some of you watching on your TVs would probably have heard the chant of "Where's the Scouser on the Kop?" Well I can reliably inform you that it was our very own Patchie that started it. Well done mate. Thanks go to Patchie's Dad too. Sir you are a scholar even if you do support Sunderland! Top bloke!

After The George things become slightly hazy as we repaired to the Jacaranda in town where I saw Jon Gard and Claire and Berry shouting 'COME ON' at every opportunity. A magic night.

Gerrard Houllier. Oh Gerrard!!!

Westerveldt – Redknapp – Owen – Fowler – Lawrensen – Dalglish – Rush – The Koppites

Your Boys Took A Hell Of A Beating!!!!!! Yessssssssssssss!!! COME On!!!!!!!!!!
---
The Total Match Report
Chris Lord
Let's get the important facts out of the way:

1) It WASN'T a penalty. Course, this is by my own personal logic, and not by the actual rules. I believe that if you make a lot of a foul, you deserve it if you don't get the pen. I'm not being hypercritical here, I said it about Campbell earlier in the season, so I'm not just saying this to make up a reason for it not to be a pen.

Otherwise, it probably was a slight foul, so a pen could have been given. But he gets no sympathy from me, for more than one reason.

2) Anyone who criticises Jeffers for ruining a few chances wants shooting. Although I couldn't see it (having watched the game on TV), I can only assume that Jeffers running off the ball must have been tremendous. How else can you explain Jeffers being the only player on the pitch, on either side, to constantly find himself with 20 yards of space? I tell you, the kids a born genius at this. You can't teach it. If you leave a gap of any sort, Jeffers will find his way into them. Jeffers didn't waste any chances, HE SINGLE HANDEDLY CREATED THEM. Someone had to pass to him, sure, but even Mitch Ward can do that. His finishing was off, but the class shines through.

3) How the hell did two Evertonians get front row of the kop, right behind the goal?

4) Great to see "The Premiership's dirtiest player" Gerrard get sent off. Serves the fucker right, I don't think I've ever seen anybody be so arrogant at such a young age. Makes Beckham look like a saint. After getting and with constant late tackles in previous games, and also a stamp on Gazza, its about fucking time. One day, he's going to really annoy Keane, Hutchinson, Ferguson, Petit - someone who's going to want serious revenge. He may never play again. Here's hoping that day comes sooner rather than later, eh?

Anywho, the performances:

Defence - Dare I say it, for the first time since, since, erm...for the first time in ages, the defence actually played as a unit. They defended on the edge of the penalty area, conceding possession up to there, and challenging RS to break through them. From there, they held firm, didn't allow any space, and mopped up any mistake. For all the possession they had, did RS ever look like scoring???

And here, you will see me give my first real compliment to Walter. He's got some things right before, and some wrong. Monday, he nailed it. By defending so deep, Owen's only real method of scoring a goal (through ball on his right foot) was taken away from him. Liverpool's only other attacking threat was then down the wings, but although Berger did get past Dunne a few times, the chances of Weir and Gough getting beaten to a header looked remote in the extreme.

So hats off to Walter. I'm waiting to see how he fucks up on Saturday so I can go back to hating him.

Midfield - Calm, cool and collected on the ball, hard working off it. Again, there was little diving in in midfield (with a couple of notable exceptions), with all four midfielders working on getting behind the ball. And frankly, Liverpool just aren't good enough to slice though the middle of a crowded defence. Obviously playing to a gameplan rather that their natural game (especially Hutch), it worked well.

On the ball, they ran rings round the shite shite (think about it). One-touch football at its best, which is good, because that's the way it has to be played now if we are going to play to Jeffers' & Campbell's strength.

Up front, Jeffers as I said was tireless (if he hadn't have got sent off, I'm sure he wouldn't have been able to keep it up till full time). Campbell seemed to be playing slightly behind Jeffers, collecting the ball from midfield more. Jeffers could be accused of being greedy, but as I said, I don't see it like that. I honestly think he was right to shoot, or at the very least entitled to. From memory (impaired by the consumption of certain beverages, admittedly), the guys he could have passed to were not totally unmarked, but did have a defender near them. Which do you think he'd have more confidence with - knocking an inch-perfect pass across goal, or shooting?

The fact that he never really got a dangerous shot on goal is disappointing, but I wouldn't criticise him for it. All strikers have an off day - at least Jeffers' isn't Saturday, like most of our other strikers in recent years.

Gerrard 8 - A couple of great saves, and one arse-up that conceded a corner - I can forgive that cos we all knew that we wouldn't concede from a corner. Errm, we did all know that didn't we? (yup, I was still terrified, don't know why looking back. I suppose because it's just such an Everton way of conceding a goal)

Ball 8 - Showed his obvious class over Unsworth in the left back position. Also showed Unsworth's strength - which actually is Unsworth strength. You still can force your way through Ball, even if you can't play your way past. Still, a return to the early performances from him.

Gough 10 - Flawless. Literally flawless. His only weakness – pace – cannot be exposed when defending 18 yards out - there its only intelligence, strength, heading and once you've won the ball passing. One of the best signings we've made in decades, and I challenge anybody to argue against that statement. Just him being there puts up the confidence to those around him, knowing that if they fuck up its not a guaranteed goal. Whatever praise you give him, it isn't enough, because he's changed a leaky defence into a rock solid one.

Weir 9 - It must be fantastic to play alongside Gough. You can make as many mistakes as you like, and still be safe. Still, just to be on the safe side, Weir didn't make any mistakes. Basically take Gough's description, take away the hyperbole, and you have Weir's.

Dunne 7 - Still strikes me as the weak link. If there's one place Liverpool looked like getting through the defence, it was the Berger-Dunne matchup. On the bright side, he made some great challenges, interceptions etc, but in a one-on-one situation he looked hopelessly lost. This is the bit of the report where every week I point out that Dunne should not be a right-back, because he is a born centre back and we risk ruining and/or losing him to another club if we continue to play him there.

Barmby 8 - Must have run a marathon. When Liverpool were attacking, Barmby was right there in defence. When we attacked, Barmby was up there. When Jeffers ran through on goal, Barmby was usually waiting at the far post. Didn't do anything spectacular, just worked and worked and worked. What more can you ask for in a derby?

Collins 8 - I've said before that all Collins style of play does is land Unsworth in trouble, because Unsworth's style of play isn't passing, and that Collins should take the responsibility himself. Well, with Unsworth not playing, Collins was left with putting Ball under pressure. The difference is that Ball is good enough to play the one-touch passing himself, so instead of us losing the ball it leaves the shite chasing shadows. Surrounded by players who can play the quick, short passing game as well as himself, Collins game improved substantially. The tactic of holding in midfield, waiting for the RS to give us the ball rather than us winning it, helped him as well. I'd still prefer Gemmill.

Hutchinson 8.5 - Still can't resist the 6 inches off the ground tackle. Is a great talent though, and clearly is comfortable with the one touch game. Works hard and everything, just needs to stop the blood rushing to his head occasionally. Still the personification of everything the RS were lacking themselves in midfield though.

Xavier 9 - I considered deducting a mark for his haircut, but it will surely be the only way we'll ever be able to work out a chant. Can't see 40,000 scousers chanting Xavier myself, doesn't quite sound right. He's quality. I'm beginning to think that Walter Smith's great with money, as long as he doesn't get too much of it. The likes of Weir, Gough, Gemmill, Xavier and Campbell (who we only paid money for after we realised how good he was on a freebie) are proving far better than Collins, Dacourt, Baka (who will score tonight, I have money on him getting the first one) and Marco. Again, very comfortable on the ball, and with a work ethic to match.

Jeffers 8 - I'm looking at Jeffers on how much he created, not how much he wasted. Great running, and he is finally learning how to use his body to protect the ball. One final note - if you get sent off in a fight, you might as well get a proper sending off. Punch the bastard hard – no bitch slapping. It carries the same penalty, we can cite precedent on that one.

Campbell 8 - As expected, he's not been the out-and-out goal machine that we got at the end of last season. Instead, he's been something completely different, a reliable, strong, hard working forward, who can be relied on never to hide. Compliments Jeffers perfectly. We'll have to see now if he can forge a partnership with Tommy Johnson - I have high hopes.

Team 8 - Lets not get over-confident now. Despite the stuff that's flying around, we aren't Europe quality. We aren't Europe contenders (the Coca-Worthington-Milk-Rumbalows-Cola Cup being our only chance of that, and I did genuinely think we stood a very good chance in that). Just because we've strung results together against Southampton, Wimbledon, West Ham, Sheff Wed and Liverpool does not make us top 6 potential. It makes us better than last season, and we should avoid relegation without too much of a problem, but not top 6 potential. We should win on Saturday, but after that the future looks less bright. Arsenal, Chelsea, Leeds et al are much harder games, and we should be pleased to get a single point from them. Haven't we been through the whole "hopes raised, hopes dashed" thing enough times to realise that form comes and goes, and we shouldn't judge entirely on the last 2 or 3 games?

And finally: Genuine RS excuses:

The game, as it should have been
(from The Book According to Bad Losers, verses 16-32. The first 15 verses are on the Ryder Cup by people who give a shit about golf):
"Owen should have gotten the penalty."
Apprently he didn't dive, or even make the most of it, but Gough swept his legs away. (That isn't a typo by my – he said Gough). Unable to convince him about this, I asked if Owen should have been sent off. He was actually pretty angry now, red face and all, saliva flying out of his mouth etc. Apparently,
"Owen didn't do anything wrong", although "It was a bad foul" (I'm paraphrasing now...).
How does he justify this weird paradox? Easy:
"The referee should have stopped the game to send off Hutchison, whose tackle was far worse as he actually made contact with the player" (that one is an actual quote!!!!).
"As the game should not have made it as far as Owen's foul, Owen should not have been put in the position of having to make that foul, therefore it's not his fault but the refs."
I'm sure he was being sarcastic, but there was not a hint of a smile on his face, or of irony in his voice. I'll give him the benefit of the doubt and say he's great at deadpan humour (he is a mate after all), but I do have serious doubts...
Others -
"Everton's goal was pure luck."
"Fowler is crap" (opinions on him change on a daily basis it seems).
"We had all the possession, and deserved more" (despite having barely any shots on goal).
But the best of all, which is just so much bollocks on so many levels its funny (he'd been going though the whole game, berated everybody on the pitch, saying how Liverpool were crap, Everton were crap, the ref/linesmen were crap etc etc):
"The ref ruined our chances at the end when he sent off Gerrard. He shouldn't have gone - his foul was only as bad as Westerveld's on Campbell".
And for once, I agreed with him.
---
Bloody Norra!!!
Mickey Blue Eyes
YEEERRRRSSSSSSSS!! After four days of sheer subliminal joy, champagne and laughter....THIS put the top hat on it.

We are BACK in BIZ, people. No question of it when the New Blue Bellies can hold their shape during matches like this.

And don't the fans know it! Three tremendous cheering congregations converged across Stanley Park before spilling into the ale-houses of Walton to get solid pissed and, necessarilly, take the piss out of the few rednecks in evidence.

It was a nervy, edgy sort of match but there's no question whatever that the Blue Bellies well deserved to win. It was another one they should have won by more before the Rednecks came back into it in the last quarter. The only other time they threatened was during a 10-15 minute spell just before half time.

And because we've all had a go at young Dunne recently it's only fair to note that the Rednecks tried three players against him tonight, and he gave them all NOTHING. First Berger, then Owens, then Camara. None of them got a sniff, largely because he's learned not to go diving in first time. Nice one, Richard. Hope you build on it. Still more of a centre-back, though.

Bally, too, had an excellent game and didn't lose focus at any time. When he plays like this the boy looks like he can't fail. His tackling was dead sharp and Liverpool eventually gave up trying to play it down the right.

Gerard had another excellent game when required during the closing nervous stages. He made three saves of world class and spilled absolutely nothing. It's a pleasure to see him picking up the pieces of his career with more and more clean sheets.

Nick Barmby didn't have one of his recent stormers but he never stopped being a nuisance. When he moved wide he did much better. The Don, John Collins and Abel Xavier are beginning to forge a formidable midfield three. Hutch and Collins picked up most of the loose balls all night and gave them to able Abel so he could play almost languidly... he even HEADED a ball accurately at one point. When the heat was on, Hutch delivered good style.

Jeffers-Campbell scared the Rednecks whenever they combined properly, and that was a LOT. KC took a right kicking in this match... and gave it right back without complaint. Big Ears should watch him even closer to make sure this part of his game improves. Lose yer rag and yer get sent off. Period.

And now we have to give even more credit to Gough-Weir. These two were simply magnificent yet again. Richard Gough was my man of the match by a long margin. The only time he screwed up, it nearly led to a penalty after Owens went down in the penalty area. Seen 'em given for less. Tough luck, Rednecks.

Overall, there was only one team who really WANTED this game. And they wore Royal Blue shirts. Whenever a loose ball went 50-50 it was invariably a Blue Belly who won it.

A couple of early attacks came to nothing at both ends. We got an early taste of the Redneck plans when Berger went straight at Dunne down their left. It looked a bit dicey at first... until Dunne realised that Berger has almost no strength on the ball and his pace isn't quite fast enough to get him away from a defender who hangs off him. Duly learned, Berger faded then almost vanished from view.

After about seven minutes Jeffers-Campbell slit the throat of the redneck defence wide open with a quick one-two and KC was clear just left of the penalty spot and closing and hit it safely home, though the Cheesehead got a hand to it. Pandemonium all round me. I was slightly delirious meself.

From then until the closing 10 minutes of the half, there was only one team looking likely and that was us, odd scare apart. During the 10-minute spell, they played it wide both wings and stretched us quite well. Surprised they didn't keep this up because it pulled Gough and Weir slightly apart and some holes appeared.

Second Half

In the second half ,the game should have been dead and buried after 60 seconds. Dunne broke up a Redneck attack down the left and the ball got through to Big Ears closing in on their right with somebody in hot pursuit. All he had to do was square it to unmarked Nicky and it was game shot. Instead, he did what all instinctive strikers do – try to score... but got caught in two minds and the ball went harmlessly across the goal area with thousands of Blue Bellies trying to suck it in.

Five minutes later he got completely clear on their left and had only the Cheesehead to beat. And then screwed it maddeningly, infuriatingly WIDE. Aaaaarrgghh!!!

On another day, and with a little more experience, these are going to end up safely in the back of the net. Difficult to tell that to all the Blue Bellies around you at time like this though. Especially since you're likely calling him all the bad names on earth too. Ah yes....PASSION!!!

Which is what eventually got him sent off, soft bastard. Difficult not to laugh though. Here's this skinny nipper squaring up to somebody twice his size, and all because the two of them didn't shrink from the challenge. When Big Ears clocked the Cheesehead one, Son of Wobbly exclaimed, "Bloody 'ell! Franny's just hit the post again!" He had to go of course and so did the Cheesehead. As he went off, he gave the clenched fist salute to all the Blue Bellies behind the goal. Ohhhhh, but didn't they just LOVE him for that! Spat over, thank god.

The only time I got concerned was when the substitutions were made. I needn't have been. I thought maybe this might be too much for our midfield. It produced more pressure during a late surge, a plethora of corners and three terrific shots.

For all that, the Rednecks were strangely unconvincing. Plainly, Fowler and Owens were unfit. Fowler in particular should never have played. You can see what the Froggie's trying to do with their team... to their credit, even when the game was flowing well against them they tried to play it around. But they seem to lack backbone and final shape – something you couldn't say about the Blue Bellies. Their defence is absolute crap and Big ears and Owl Arse took full advantage thereof.

Therein of course, lies our problem. Unless Wally babe can get a larger squad, this is probably as good as it's gonna get, so make the most of it, people. Most of the team are verging on vet stage or are already vet. Still, he's worked small miracles with little clay.

But OH HEAVEN! Won't this just do for the moment!

The Glebe in Walton was awash in Moet and drunken Blue Bellies all practising their piss takes for the morrow. Didn't see a single one of the small contingency of redneck regulars. The again, my view was severely restricted by the glasses of ale on every table.

It doesn't get much better than this, people. Savour it. Relish it. Take the piss out of 'em mercilessly. You've earned it after the last three seasons.
Gerrard 8 - A few saves to make near the end. But never looked ruffled by them. Bit dicy when he missed that backpass though.
Dunne 8 - Great game. Solid on the right and a few intelligent balls out of defence.
Ball 7 - His best game for a while. Looked fired up and into it.
Weir 9 - The guy is a class act. What a bargain.
Gough 10 - MOM. An inspiration.
Collins 7 - Looked solid and steady and passed intelligently.
Hutchison 8 - Really got stuck in. Got to be careful though.
Barmby 6 - Started the move that lead to the goal, and ran his socks off in spurts. Looked like he might still have a bit of an injury.
Xavier 6 - Looks calm and composed on the ball, but obviously still trying to find his feet.
Campbell 8 - Lead the front line commandingly, posed a real problem for LFC defence.
Jeffers 5 - A great understanding with KC, but was too hot headed tonight and his childish behaviour got him sent off.
---
Outfoxed and Outthought
Rob Burns
Allow me to relieve myself of the pent up frustrated joy that occurs when you sit in front and behind the redshite wooden tops in the famous shitton Kop. How I chuckled inside at the rendering of YNWA in Norwegian, Welsh, Cockney Rhyming Slang, Urdu etc. etc.

Liverpool's foreign boys did not get the translation of what the Derby was all about until the start of the second half. Until then the class of Barmby, Campbell, Ball and Gough met all of their light artillery with challenge after challenge. Jeffers found a new level of arrogance as he frantically hunted for chances to get one over on the boys at the other end of the field who are surely destined to live in his shadow.

Xavier sat back to watch a frantic match unfold in front of him, stepping in occasionally where required to make a crucial challenge, penetrative pass or key header.

Hutchinson, wild with passion found a yard of pace which I haven't witnessed before. Break after break found the RS defence in the same disarray as in the first few minutes when KC, Barmby and Jeffers combined to get a coolly taken shot past a shocked keeper. Credit to Mr. Carragher for keeping the flag down.

Looked like Franny's temper would boil over eventually. After two dramatic dives in the first half, and his dismissal of the orders of DH and Gough to cover back in a late corner, it was no surprise when he clashed with Westerveld and ended up with something resembling the rumble in the jungle as the two went toe to toe.

Liverpool pressed in the second half and added to their impetus with the Bakayokoesque 'Tit Tit' trying to take on the flare Richard Dunne on the right. But Everton held out with special credit to Ball and Barmby whose steady left sided combinations gave us frequent outlets to escape the barrage. Nothing went right for Liverpool, crosses which found the box dealt with easily by Weir and Gough, Campbell intelligently holding up the ball and attacking the corners/stands when needed.

Chants of 'going down' greeted the departing RS wankers as they prepared the 'Houllier out, Dalglish in' speech for the local radio. They had lost "THEIR CUP FINAL" ha ha and the Blue boys had taken on the position which they have falsely claimed for the last 10 challengeless years as 'title contenders'.
---
The Red Mist and the Blue Sea
by Richard Tanner, The Express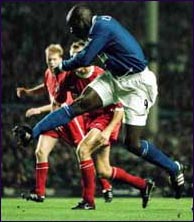 The 161st Merseyside Derby erupted in a red mist at Anfield on Monday night. Sander Westerveld, Franny Jeffers and Steve Gerrard were all sent off as Everton won an explosive game.

Westerveld, Liverpool's Dutch goalkeeper, and teenage Everton striker Jeffers traded blows after colliding in the penalty area in the 75th minute of a pulsating match.

They left referee Mike Riley with no option but to dismiss both of them - but Westerveld's red card meant that defender Steve Staunton had to be pressed into action as an emergency keeper because Gerard Houllier had already used his three substitutes.

Then minutes later, Gerrard was dismissed for flattening match-winner Kevin Campbell. Liverpool managed to protect Staunton well but still lost thanks to Campbell's fourth minute strike which enabled Everton to continue their impressive early season momentum with a deserved win over their most bitter rivals.

Houllier has threatened, cajoled, encouraged and shuffled his defenders, but nothing he tries seems to make Liverpool in the slightest bit secure at the back.

They gifted Manchester United a two-goal lead after 15 minutes, they were a goal down to Leicester after 90 seconds and last night they fell behind after only four minutes, although the goal was down more to Everton's attacking invention than a lapse by the home defence.

Nick Barmby played the ball in to Jeffers whose delicate flick put Campbell through to shoot past Westerveld, despite the Dutchman getting a hand to it. In the corresponding game in April, Olivier Dacourt's second minute strike for Everton sparked an impressive Liverpool fightback. They led 2-1 at the break on that occasion but there was no such response before half-time this time with Walter Smith's team looking confident and composed.

They had gone into the Derby ahead of their bitter rivals in the table for the first time in over a decade and came close to scoring again on 19 minutes when Jeffers lost his marker and saw his powerful downward header from Don Hutchison's corner clawed round the post by Westerveld.

Everton goalkeeper Paul Gerrard, largely untroubled in the opening 20 minutes such was his sides control, was finally tested by Jamie Redknapp's drive which he could only parry to his right. To his relief however, the ball rolled to the bye-line where Robbie Fowler shot high and wide from an impossible angle. Liverpool's frustration was beginning to show. Staunton was booked for a foul on Hutchison, although he claimed with some justification that the Everton man had taken a dive. Then Redknapp was cautioned for a scything challenge on Hutchison before Michael Owen, who had hardly been in the game, launched himself into a dreadful two-footed lunge on David Weir after losing control of the ball.

Everton boss Smith jumped out of his directors box seat in disgust at the tackle which left Weir writhing in agony - and Liverpool braced themselves for the worst. But Riley showed the England wonderboy surprising leniency by showing him only a yellow card.

Owen was involved in more controversy after 38 minutes when Fowler dummied Weir to make room for a long range shot that Gerrard couldn't hold.

Owen was in like a flash to charge down Richard Gough's attempted clearance and as he dribbled in on goal was brought down by Michael Ball but Riley ignored Liverpool's heated appeals for a penalty.

Liverpool had finally begun to exert some control as the half wore on but Gough, the oldest man on the pitch at 37 kept Everton tight and organised at the back while the impish skills of Jeffers kept the home side at full stretch. Owen got away from Richard Dunne just before half time and Everton fans had their hearts in their mouths but Gough was there to clear his lines and preserve his team's advantage.

Jeffers, so impressive in the first half, squandered two chances to increase Everton's lead early in the second half. First, he burst clear down the right but sent his cross-shot too far ahead of Barmby.

Moments later, Jeffers was put through by Hutchison but as Westerveld came out he rolled his shot wide. At the other end Fowler escaped from two defenders but his shot from a tight angle was well claimed by Gerrard.
Report © The Express
---
Three off as red mist falls over Mersey
by Stephen Wood, The Times
NEW legislation to curb violence and abuse at football grounds was introduced yesterday, but someone must have reminded the Liverpool and Everton players that it did not apply to them. In an incident-packed Merseyside derby at Anfield last night, one peppered with bookings, nastiness and three sending-offs, Everton secured a infamous victory to move into joint sixth place in the FA Carling Premiership.

There had been doubts expressed about the ease with which Liverpool's blend of imports and derby newcomers would adapt to the tumult of the Mersey rivalry, but they had been firmly dispelled by the time the two sets of protagonists had dragged themselves from the battlefield. It was expected to be a contest that would replicate all the traditions associated with English football, but the players, whether Scousers through birth or adoption, took matters farther and produced an occasion that will rank among the darkest annals of Merseyside derby history.

Indeed, such was the aggressive undercurrent that often burst through to the surface, it actually threatened to degenerate beyond the pale. Kevin Campbell, the Everton forward, secured the deserved victory with an early strike that proved to be the decisive blow. It was not the only one, however, and it will not be the enduring image.

With 16 minutes remaining, Francis Jeffers, the Everton forward, and Sander Westerveld, the Liverpool goalkeeper, clashed inside the penalty area. With both players immersed with the tense denouement, the pair aimed slaps at each other and Westerveld grabbed Jeffers by the neck. The red cards that were flourished in their directions by Mike Riley, the referee, were no surprise. Their full quota of three substitutes already used, Steve Staunton, the defender, was forced to take over in goal. Liverpool could even have seized a late equaliser, but for desperate saves by Paul Gerrard, the Everton goalkeeper.

The frenzy became too much for Steven Gerrard, one of the Liverpool substitutes. In the dying moments, he assaulted Campbell with a tackle so high that the Everton player was left clutching his midriff. Riley had no hesitation in brandishing another red card.

"Some of my players lost the plot out there," Gèrard Houllier, the manager, said. "I am not happy about that, because no matter how much provocation there is, you will pay if you lose your nerve at this level. You must have the brains to decide what is the best way of getting something out of a game like this."

Ultimately, the result represented Liverpool's third home defeat of the season, and their position of twelfth in the league is not a comfortable one given Everton's sudden loftiness.

It could have been worse, however. In the first half, Michael Owen committed a two-footed tackle on David Weir, the Everton defender. It was an ugly incident in keeping with the rest of the evening, and many will feel that Owen was fortunate to escape with a booking. If it had occurred later in the game, the punishment would have been more severe.

Houllier had pleaded with his side to be focused and disciplined, but Liverpool remain their own worst enemies. The team heeded their manager's warnings for just four minutes. Sacrificing possession in midfield, Barmby, the Everton forward, broke down the left and crossed low into the feet of Jeffers, who, with his back to goal, appeared to have options on Everton's right flank.

That, at least, is what Liverpool's defenders surmised, for they failed to read Jeffers's clever reverse pass to Campbell, his strike partner, who, having been played on-side by Carragher, slipped the ball under Westerveld. Owen's challenge on Weir had seen some members of the visitors' coaching staff leap off the bench in anger, but Owen should, have been able to silence them seven minutes before the interval.

After Fowler's long-range shot was parried by Gerrard, Owen danced around four Everton players in the area before Michael Ball appeared to bring him down just before a shot was delivered. Riley refused to grant Owen a penalty and the decision did not meet with a philosophical reaction from the Anfield faithful.

While Everton continued to create chances, Robbie Fowler's attempts to earn a reprieve for the home side were subdued. Facing an operation to clear an ankle injury that has been troubling him, Fowler was substituted with more than half an hour remaining.

His dejection contrasted sharply with the emotion of the Everton players and supporters at the final whistle."These things happen in derby games," Walter Smith, the Everton manager, said. "I was especially happy with the way we competed."
Report © Times Newspapers Ltd
---
Three sent off as Campbell seals Anfield anguish
Henry Winter, Electronic Telegraph
ON A deeply embarrassing night for Liverpool, Everton deservedly prevailed over the old enemy at Anfield last night, playing with commitment and control to go sixth in the table through Kevin Campbell's early goal.

Liverpool huffed and puffed but lacked the final ball to blow down an Everton back door, superbly kept shut by Richard Gough. A veteran of derbies in London and Glasgow, Gough proved an indomitable figure throughout a frantic match. John Collins and Don Hutchison also caught the eye in another impressive performance by Walter Smith's men.

On a remarkable night, Liverpool finished with Steve Staunton in goal after their goalkeeper, Sander Westerveld, and Everton striker Francis Jeffers were sent off for trading punches in the 75th minute.

Liverpool had already used their allotted substitutes so Staunton had to don Westerveld's shirt and gloves. Steven Gerrard also departed for a dreadful challenge on Campbell.

On this tense, traditionally sulphurous occasion, it had taken only four minutes for the blue-touch paper to be lit.

Buoyed by Campbell's early strike, given strength by the huge contributions of Gough and Hutchison, and willed on by their impassioned support, Everton were marvellous throughout the first half, constantly combining pace and a precision not always associated with derby duels.

Campbell's early goal owed as much to Everton's intelligence in possession as Liverpool's defensive uncertainty. Seizing swiftly on Liverpool's inability to clear properly, Everton went for the jugular, driving through the red ranks with a series of direct passes from Nicky Barmby to Jeffers until Campbell bulldozed his way clear.

Westerveld, rushing from his line, attempted to narrow the angle but Campbell's finish was crisply and confidently struck, the ball flying past Liverpool's goalkeeper.

Quick and sharp into the challenge, on the ground and in the air, Everton swamped midfield, pushing Liverpool back until a rally by Gerard Houllier's men late in the half. Each Everton player seemed to take every second Liverpool held possession as a personal affront which demanded instant rectifying. Leading the way, John Collins tore into the red midfield, assisting the excellent Hutchison in re-claiming the ball, launching counter-attacks and supporting Campbell and Jeffers with wonderful alacrity.

Jeffers, running hungrily and speedily at the opposing defenders throughout, must have resembled a blue blur to Staunton and his concerned colleagues. After 19 minutes, the teenager almost scored with a superb header from Hutchison's corner. Sander Westerveld, though, saved brilliantly, clawing the ball into the front row of a relieved Kop.

The match briefly turned nasty when Hutchison felled Dietmar Hamann, who was returning from an ankle injury, and then Michael Owen unleashed an awful two-footed assault on David Weir, Everton's centre-half. The challenge was late and vicious, the type that puts players in hospital, and Owen was fortunate to be shown only a yellow card by Mike Riley.

Owen then displayed his more commendable side, running with real purpose at Everton's defence as Liverpool at last began to reveal the class that undoubtedly exists in their ranks. Released by Redknapp, Owen raced forward only to be denied by an excellent block from Michael Ball. Everton's left-back then dived in at the flying feet of Owen, bringing the striker down, but Riley deemed the challenge legitimate.

Redknapp and Hamann were starting to build a bridgehead in Everton's half, but still the counter-attacks came, notably from Jeffers in the 50th minute, although he wasted a fine opportunity by placing his shot wide.

Liverpool were piling on the pressure. Patrik Berger charged around midfield, trailing hair and flair in equal measures. Robbie Fowler, too, was starting to threaten and, when Weir slipped, Fowler sprinted down the inside left channel before bringing a smart stop from Gerrard.

Everton's goalkeeper then claimed the ball moments before Fowler arrived in search of Vladimir Smicer's through pass.

Still Liverpool pressed, still Everton resisted, even hinting at a second when Barmby curled the ball in for Campbell to head over. Still the dramas persisted after 75 minutes when Westerveld and Jeffers were dismissed, following a high-speed collision that brought simmering tempers to the boil. Yet Liverpool could have stilled Everton celebrations, but Gerrard excelled himself in repelling Erik Meijer's deflected shot and a Redknapp free-kick.
Report © The Electronic Telegraph
---