Everton 0 - 0 Liverpool

Half Time: 0 - 0

---

FA Carling Premiership 1999-2000 – Game 35
8pm Friday 21 April 2000
Goodison Park, Merseyside
Att: 40,052
MATCH SUMMARY
The 162nd league derby match started in a vibrant atmosphere at rain-soaked Goodison Park, and ended in high controversy as Everton were cruelly denied the winning goal.

With Liverpool riding high, challenging for a Champions League slot on the back of only 2 losses in 24 games since their humbling Anfield derby defeat, and Everton still clutching at the straw of European qualification despite injuries to key strikers, there is even more to play for than local pride and prowess.

The unusual kick-off time – 8pm on a Bank Holiday night – means that the amber fluids will have been flowing freely for many hours. Hopefully this will only act as a lubricant for the traditional verbal jousting at Goodison, and not as a pretext for some more aggressive confrontations...

Richard Gough (calf injury) and Joe-Max Moore (knee ligament damage) are both ruled out but David Unsworth and Abel Xavier are expected to be fit.

The Match

Everton won the toss in a tremendous atmosphere at rain-soaked Goodison Park. And the tough challenges started straight away with Thomson and Collins both getting poleaxed. Thompson later fouled Barmby badly, and went in the book before 10 mins. Good Everton move then let Barmby in but his shot was well saved.

A good chance for Owen was then saved well by Gerrard, despite Everton starting the match well with Stephen Hughes well involved. On the whole, Liverpool defending solidly, and repulsing the Everton trusts. HT: 0 - 0 – after exactly two full minutes of added time...

Fowler came on for Heskey after half-time. Jeffers, Ball, and Ward were the late, late, late subs for Everton (Why, Walter, Why???)

The ding-dong battle persisted throughout the second half but, despite persistent Everton pressure, it was Paul Gerrard who was forced to make the most vital saves. At one point, Everton broke strongly and Mark Hughes – who had an excellent match – was through on goal, but pushed his effort just wide when he should have scored.

Then, in the last seconds, Everton were again denied by the ref, when Westerveld took a free-kick quickly, it hit Hutchison in the back as he was walking away, and it flew into the net... GOAL! No, said Mr Poll!!!! He claims he had already blown for time. Yeah right. With the clock at 91:45 – 15 seconds short of the 2 mins of added time???

You be the judge:

Video of the "Goal"
(5MB .mpeg file)

---
MATCH FACTS
GOALSCORERS
EVERTON:
–
Liverpool:
–
LINEUPS
Subs Not Used
EVERTON:
Gerrard, Xavier, Weir, Dunne, Unsworth, Barmby (89' Ward), Collins, Pembridge (85' Ball), S. Hughes, M. Hughes (81' Jeffers) , Hutchison.
Unavailable: Cleland, Campbell, Gough, Moore, Williamson, (injured); Myhre (on loan).
Jevons, Simonsen.
Liverpool:
Westerveld, Carragher, Henchoz, Hyypia, Matteo, Thompson (56' Heggem), Hamann, Gerrard, Berger, Owen, Heskey (46' Fowler).
Smicer, Murphy, Nielsen.
Playing Strips
Formations
EVERTON:
Royal Blue shirts; white shorts; blue socks.
4-4-2
Liverpool:
Red shirts; red shorts; red socks.
4-4-2
Yellow Cards
Red Cards
EVERTON:
–
–
Liverpool:
Thompson (8'), Hamman (42'), Henchoz (82').
–

---
A KOP-out of the highest order
Steve Bickerton
No preamble, just complaints about the referee. It's too late and I'm not rational enough to do anything else. Why? Ask Graham Poll. If this is a Cup Final referee, then I hope its a tip-tap, fairy dust sort of game. The guy can't make a decision. Except when its cut and dried. You know the sort of thing: sneeze at Owen or Heskey; free-kick. Tug at Mark Hughes; its Sparky up to his old tricks and he probably deserved it – same sort of view I've espoused in the past.

Another unusual line up from Walter with Barmby (left) and Pembridge (right) swapping sides. We might have prospered more had they played the other way round as our best moves were pressed down the right, but Pembridge played below his recent form.

Overall, the game itself was a fast and furious affair, typical of the genre. No quarter asked, none expected. Unless you wear red. Want a quick free kick? Take it. If you score, well done. Take a quick free kick and you lose out and the home side score, pretend you've blown for full time. A KOP-out of the highest order.

We out-fought, out-competed and out-passed a team riding high, 'invincible' for 5 months and about to stuff us stupid. Just a pity we couldn't out-score them. But Mr Poll saw to that.

Both keepers were busy throughout the game, with both pulling off excellent saves. The midfield was combative and creative on both sides. But we edged it in the second half, with honours even in the first.

The game should have been ours

Man of the Match:

A difficult choice with good performances all over the park. Once more Paul Gerrard made some outstanding saves but was let down by some erratic handling. His command of the box was much improved, though.

At the back both Richard Dunne and David Weir had solid games. The second half switch of Xavier to centre-back improved his performance, no end and David Unsworth, whilst defensively good had one of his poorer games in terms of distribution.

In midfield, Barmby ran and ran and must have impressed the watching Kevin Keegan with his industry. Collins was again excellent, completely controlling midfield himself in one purple patch, though he tired towards the end. Stephen Hughes again showed that his game is improving apace as he gets more match fit and made an excellent contribution. Pembridge's performance was below his more recent high standards.

Up front Don Hutchison played well, but was over-elaborate on occasion, whilst Mark Hughes at last made me eat my words. No longer did he play in a five-yard area, no longer was he the roughneck up front. His control and vision in bringing others into the game was impressive, more as he was in his prime rather than the pale shadow of recent years. All he lacked was a goal.

So, where does the Man of the Match award go? Along with Sky Sports viewers, I'll give it to Mark Hughes.

Player Ratings from "Greggs"
Paul Gerrard – Another solid game. Handled everything well and made two crucial saves. Did nothing fancy and his kicking was good. 7/10
Richard Dunne – One of his better games for the club. Caught out on a couple of occasions but acquitted himself well. 7/10
David Unsworth – Solid and strong in the tackle. Covered the centre backs well. Passing let him down on occasions but full of passion and pride. 7/10
Davie Weir – One of the most under-rated players in the division. Full of calmness and style throughout. Cannot remember him making too many errors. 8/10
Abel Xavier – Played his best game for the club. A few misplaced passes and caught out but made up for it with a sound aerial display. Kept Heskey and Owen quiet. 8/10
Mark Pembridge – Played in an unaccustomed right wing role. Full of energy and commitment. Missed a great opportunity. Gave a 100%. 7/10
Stephen Hughes – Very quiet. Seemed lost at times. 5/10
Nick Barmby – Had a good first half but was very quiet in the second half. Showed glimpses of quality in front of watching England manager Keegan. 7/10
John Collins – Showed touches of genius followed by sloppy balls and was tackled at times too easily. However looked the most accomplished midfielder on the pitch. 8/10
Don Hutchison – Good battling performance. Should have scored the winner. Good link between midfield and attack 7/10
Mark Hughes – Give it everything and was unluckily substituted. Missed the chance of the game when clean through. Held the ball up well and made some great runs off the ball. Man of the match. 9/10
---
INCONCIEVABLE!
Alan Creevy
Its inexplicable. Lets just get the two 'facts' straight:
Westerveld tried to take a quick free kick and Don's back was turned moving away from the ball. It can't be encroachment.
I thought that the board telling everyone how long was left was meant to defuse these kind of situations. If it says two minutes to go, then the least you expect is the two minutes.
It wasn't two minutes. Sad trainspotter that I am, I was clocking it on my stop watch and even allowing for stoppages, of which there were two, there was still only 1 minute 40 seconds played... it is absolutely scandalous and unforgiveable that they get away with things like this time and again. If we miss out on Europe by two points, then... well its just another reason, as if one were needed, why the 'brotherly' relationship between our two clubs is turning into a Kane and Abel style one.
And on the subject of Abel, he was magnificent last night. How the kiddie-messer can come out and criticise him for his 'treatment' of Heskey, I'll never know. Abel was awesome. As was MOM Mr Collins – the really class player on the pitch. I can honestly say that I didn't even think Gerrard and Hamann were playing, such was JC's dominance. I couldn't believe the Daily Post giving S Gerrard 8/10. He was anonymous at best.
1 to 11 we had heroes all over the park. If I was good enough and fit enough to play in a Derby then I KNOW I would be like Dave Unsworth. Every tackle, every stretch and launch up field was done with the kind of determination that only a fan can muster. I bet the redshite wish they had someone with the same kind of feeling for their pathetic, cheating, blood-stained club.
Even before Mr Poll decided to write himself into Merseyside folklore, he had already signalled his intention to do everything in his power, bar actually scoring himself, to win the game for Liverpool. From failing to give Sparky even one foul, to awarding them a free kick on the edge of our box after a particularly mystifying fall from the Toy Blunder, he gave possibly the most inept, biased display of refereeing I've seen for a long time. And there are no shortage of opponents for that accolade.
As I thought, the game passed young S Hughes by a little bit, but once again, there is a touch of class about him that when he starts producing it consistently, he'll be a real match winner. Mark Pembridge went off to hero's reception and he deserved it for a biting, terrier-like job on Berger. And he showed touches of brilliance down the right flank as well!
I was saying in the Black Horse last night that one of the really positive things to come out of this season is the versatility that Smith is demanding of his players. Xavier, Collins, Hutchison, Unsworth, Dunne, Barmby, Pembridge – all have been asked to play in a number of different roles, and nobody can say that they've looked out of place wherever they've played. Its heartening to know that not only are we able to change systems of playing this season, 3-5-2, 4-4-2, 4-4-1-1, 4-5-1 – whatever – but we also have the confidence to play certain players 'out of position' and be comfortable in the knowledge that they'll do a job.
Anyway, I'm going to stop now before I get too emotional. I'm just sick of being cheated and seeing our players not get the credit when they deserve it. We'll have them next season.
---
Heskey's injury hinders Liverpool
by Phil Shaw, The Independent
Failure of Houllier's men to beat Merseyside rivals means Manchester United can seal the title at Southampton today
A fierce but largely finesse-free deadlock in the 162nd Merseyside derby saw local honour grudgingly satisfied by a point apiece for Everton and Liverpool last night. It also provided food for thought for Sir Alex Ferguson and the watching Kevin Keegan.
Liverpool's failure to record their first victory at Goodison Park since 1990 means that Ferguson's Manchester United will be crowned Premiership champions for the sixth time in eight seasons if they win at Southampton today.
Meanwhile, the England manager witnessed the long-awaited if rather rusty return of Robbie Fowler after serious ankle problems, although Keegan will have been concerned that he owed his comeback to an injury to Emile Heskey.
The evening ended in controversy as Everton claimed a bizarre last-gasp winner. Sander Westerveld drove a free-kick against Don Hutchison, the ball looping gently back over the Liverpool goalkeeper but the referee, Graham Poll, had blown his whistle to show that injury-time was up.
Form reputedly counts for nothing on these occasions, but successive four-goal flourishes by Everton and Liverpool's five consecutive wins meant the atmosphere was even more electric than usual. David Thompson inflamed passions further by going down as if elbowed by David Unsworth and then, after a miraculously quick recovery, earned a booking for a foul on Nick Barmby – all inside the first five minutes.
Walter Smith, the Everton manager, may have surprised Gιrard Houllier by making several positional changes. The revamp, which involved Mark Hughes foraging alone up front with Don Hutchison operating just behind, did not adversely affect their fluidity. As early as the eighth minute the Welsh warhorse helped to fashion a shooting opportunity for Barmby which Westerveld saved.
From less possession, Liverpool created the better chances of the first half. Patrik Berger, seizing on a lapse by John Collins after 12 minutes, freed Michael Owen for a characteristic run on goal but he could not find the angle to defeat Paul Gerrard's dive.
There seemed scant danger to Everton when Heskey overran the ball on the half-hour. However, it broke obligingly for Thompson, whose cross to the far post was volleyed goalwards, but into the ground, by Owen. Paul Gerrard saved one-handed.
Heskey, renowned for the frequency with which he goes to ground, required treatment three times as a helter-skelter half came to a close. A clash of heads with Abel Xavier was followed by an aerial brush with Stephen Hughes which left the £11M striker clutching his back. Minutes later, he crumpled again near the visitors' goal.
Heskey gave way to Fowler, making his first appearance since scoring at Wimbledon nearly four months earlier. Before he had so much as touched the ball Steven Gerrard broke clear and played an unwitting one-two with a defender before unleashing a follow-up drive which his namesake parried.
Fowler had still not adjusted to the frenzied pace before Liverpool came tantalisingly close to taking a 58th-minute lead. Owen left Abel Xavier and David Weir trailing in his wake, but Paul Gerrard touched his low shot behind for a corner.
Although Everton had been slower out out of the blocks, they responded immediately. Collins initiated the move and Mark Pembridge carried it on with a pass that left Mark Hughes facing Westerveld in the inside-right channel. Evertonians rose as one to acclaim a goal, only for Hughes to drag his shot wide.
Report © The Independent
---
Timekeeping of Poll fails to impress Everton
by Matt Dickinson, The Times
THE Merseyside rivals battered each other to a scoreless standstill last night to leave Manchester United as the principal beneficiaries. Sir Alex Ferguson and his team travel to Southampton this afternoon when victory will secure their sixth FA Carling Premiership title in eight years.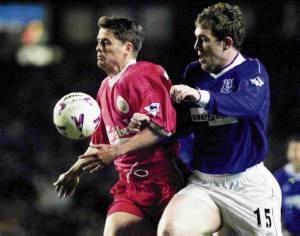 Owen finds himself cramped for space by the presence of Dunne in a combative Merseyside derby
After that, they can put their feet up. United were reliant on Liverpool's failure to win at Goodison Park and it was one of football's safer bets. They have not raided enemy territory for three points since 1990, and once again they found an Everton side able and willing to match them tackle for shuddering tackle.
It was impossible to prise the two warring teams apart although Everton supporters were adamant that they had been unjustly denied victory right at the death. When a free kick by Sander Westerveld struck Don Hutchison on the back and looped back into the Liverpool net, the home players celebrated the most unusual of last-minute winners.
Imagine their surprise and anger, then, when the next thing they saw was Graham Poll picking up the ball and walking off to the dressing-room. No goal, the referee said, claiming that he had already blown the final whistle. "The players got excited and confused as they do in derby matches but it was clear in my mind," Poll said. Strange, then, that his hands should have been down by his sides as Westerveld took the kick, and Walter Smith was not alone in believing that the official had panicked.
"The fourth official put up two minutes on the board, but the ball crossed the line 15 seconds short of that," the Everton manager said. "We have a computer that measures it. I feel the referee has taken the easy way out."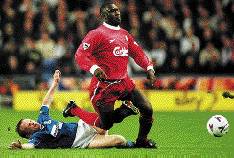 Heskey battles to wriggle free of Pembridge's attentions
It was an unsatisfactory end to an unsatisfactory game watched by Kevin Keegan, the England coach. Keegan came with a busy scouting agenda but, apart from the discovery that Merseyside derbies are even more frenetic than in his day, it is hard to know what he can have gleaned. That English football played at this intensity does nothing to benefit the national side was probably the most obvious and depressing lesson.
What is bad for the England coach is, though, not necessarily bad for anyone with a ticket or a television set and the spectators were served up a derby of sound and fury. It would have to go some way to match Everton's victory at Anfield earlier in the season when three men were sent off, but no tackles were shirked and no mercy asked for or given – except in front of goal.
With a lack of width from both sides, possession in the crowded centre changed almost every second but it was Liverpool, despite their early defensiveness, who carved out the best early chances amid all the chaos. Owen might have opened the scoring after only 11 minutes but he flicked a weak shot as Unsworth slid in. The England forward might have done better when Heskey's surging run straight into the heart of the Everton defence caused palpitations, but his volley was parried by Paul Gerrard.
Good chances both, but they still felt as if they came on the counter-attack because Everton were dominating possession even if they struggled to use it inventively. Nick Barmby, another player hoping to catch Keegan's eye, was the best of their forwards as he skipped past Henchoz early on but his left-foot shot was easily saved by Westerveld.
With so many errors and ferocious challenges, there was little for Keegan to judge from the performances of Barmby, Carragher, Steve Gerrard and Owen while Heskey went off with a back injury at half-time. He was replaced by Robbie Fowler for the forward's first appearance since December and the second of his ankle operations, but this was not a match for a player feeling his way back and the savagery of the tackles never wavered.
The ball continued to fly from end to end a little quicker than either manager would have liked. Liverpool would create their chances with Gerrard, in the Everton goal, thwarting his Liverpool namesake after a rampaging run and then saving from Owen after he had skipped past two tackles on the edge of the penalty area.
But then Everton would charge back at them as if their status in the Premiership depended on the result. They should have taken the lead when a pass from Collins put Mark Hughes through the Liverpool defence. It was exactly the type of match that old Sparky relishes but, after drawing Westerveld, he pulled his chance horribly wide.
And so the game went on with chances missed at either end. Liverpool had more reason to rue them as they attempt to secure a place in the European Cup Champions' League. United had most cause to be grateful.
Report © Times Newspapers Ltd
---
Liverpool set up title decider
Henry Winter, Electronic Telegraph
FULL OF SOUND and fury, this frenetic Merseyside derby ultimately proved of significance only to Manchester United, who can now secure a sixth Premiership title in eight years if they prevail at Southampton today. This draw for second-placed Liverpool means they can achieve only 78 points and United already have 76.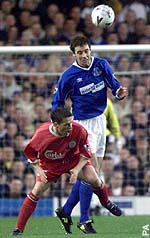 Everton's David Weir towers over Liverpool's Michael Owen
The result will also have interested Arsenal, who now lie six points behind Liverpool but with two games in hand. Yet one of those matches comes at Everton, who showed last night why they could prove a more consistent force next season, providing John Collins does stay. The Everton captain was outstanding here.
Long on commitment but short on chances, a predictably pell-mell first period saw these age-old rivals tear into each other with all the speed and gusto of stock-car racers. Mark Hughes v Sami Hyypia was a full-bloodied contest that should have been delayed until after the 9pm viewing watershed.
Out wide, David Thompson, Liverpool's feisty right midfielder, resembled a dismissal waiting to happen in the first few minutes as he charged into tackles, earning a booking for a meaty lunge at Nicky Barmby. Emile Heskey looked like he was auditioning for Casualty such was the time he spent being attended to by the medical men. Bruised and battered, Heskey departed at the break to be replaced by Fowler.
Although Steven Gerrard and Patrik Berger displayed occasional classy touches for Liverpool, the half's glimmers of grace were provided primarily by Everton, particularly Collins, whose willingness to bring the ball down and build passing movements was admirable.
Collins was a scoreless half's outstanding figure, continually snapping into tackles, earning rich applause from the Goodison faithful as he slid in amid the studs to prise possession. Alongside Collins, Stephen Hughes continued to embellish his Everton reputation with some neat passes. But possession is a commodity rarely held for long in any derby match. Too many moves broke down too quickly.
Apart from Stephen Hughes' wayward shot and Abel Xavier's header wide, the half's best chances fell mainly to Liverpool. When Collins, for once, slipped in the 12th minute, Patrik Berger was swiftest to the loose ball, which he swept through the middle of Everton's defence to Michael Owen. The England forward speeded in but, under pressure from David Unsworth, failed to trouble Paul Gerrard with a weak shot.
Another opportunity fell Owen's way after 32 minutes. Thompson's cross eluded Everton's centre-halves and was met unconvincingly by Owen, whose volley was pushed out by Gerrard. Heskey's follow-up was cleared.
The second half produced a greater quota of chances. A one-on-one between the two Gerrards saw Paul thwart Steven. Nicky Barmby tested Westerveld, who saved well. Then Steven Gerrard and Owen combined well, allowing Owen to go racing through the blue ranks but his shot deflected behind for a corner.
Back came Everton, reflecting the game's end-to-end nature, giving their fans great hope of victory. Mark Pembridge's through pass was seized on by Mark Hughes, palpably offside, but he shot wide. Westerveld then repelled drives from Pembridge and Stephen Hughes.
The thrust and counter-thurst never stopped. Eleven minutes from time Dietmar Hamann burst through but shot wide. Back came Everton, Stephen Hughes forcing a corner with a blocked shot. But Berger almost conjured a winner with a fulsome drive parried by Gerrard.
Controversy reared its head at the end when Westerveld kicked the ball into the back of Don Hutchison. The ball cannoned back and over the line but the referee, Graham Poll, insisted that he had already blown for full time.
Report © The Electronic Telegraph
---