Sunderland 2 - 1 Everton

Half-time: 1 - 1

---

FA Carling Premiership 1999-2000 – Game 31
3pm Saturday 25 March 2000
Stadium of Light, Sunderland
Att: 41,934
MATCH UPDATE
Nick Barmby plays despite worries about his calf and hamstring, but he is unlikely to be all that effective. Davey Weir misses the match with damaged ribs.

It didn't take long for Sunderland to surge into the lead at the Stadium of Darkness for Everton: an early free-kick, a poor defensive wall, a low hard shot, and Nicky Summerbee had scored the opening goal.

Everton improved slowly, starting to move the ball around well and create some chances, with Joe-Max Moore scooping a good one over the bar. Then, near half-time, a long throw from Pembridge was pushed on by Stephen Hughes for Nick Barmby to volley a glorious angle drive into the roof the net! Game On!!!

At the start of the second half, Everton started well, but Alex Rae missed a sitter for Sunderland after being put through. A good tussle ensued, with Everton pressing Sunderland hard, much to the disappointment of the fickle Mackems... until a moment of brilliance from Kevin Phillips put them back in the lead.

The match saw the partial rehabilitation of The Prodigal Don, who came on as a sub with Cadamarteri to replace the somewhat ineffective partnership of Joe-Max Moore and Mark Hughes. But as usual it was far, far too late to have any impact on the game. Why does Walter Smith always, always make his substitutions when the game is effectively over?

---
MATCH FACTS
GOALSCORERS
Debuts
Sunderland:
Summerbee (7'), Philips (78')
EVERTON:
Barmby (42')
LINEUPS
Subs Not Used
Sunderland:
Sorensen, Holloway, Craddock, Williams, Makin, Summerbee, Rae, Schwarz (75' Bould), Kilbane, Quinn, Phillips.
Marriott, Roy, Thirlwell, Dichio.
EVERTON:
Gerrard; Dunne, Gough, Unsworth, Xavier, Collins, Barmby, S Hughes, Pembridge, Moore (83' Cadamarteri), M Hughes (83' Hutchison).
Unavailable: Cleland, Campbell, Degn, Jeffers, Weir, Williamson, (injured).
Ball, Gemmill, Simonsen.
Playing Strips
Formations
Sunderland:
Red & white shirts; black shorts; red & white socks.
4-4-2
EVERTON:
Royal Blue shirts; white shorts; blue socks.
4-4-2
Yellow Cards
Red Cards
Sunderland:
Schwarz (7')
–
EVERTON:
–
–

---
Sometimes this game is crazy.
Phillip Pellow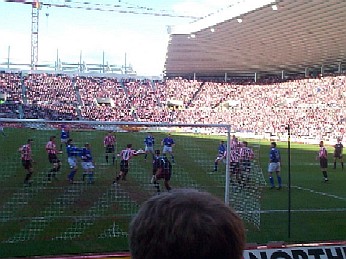 Sunderland hand-ball missed by the Officials

Just when it seems that you are in the ascendancy, the other side score a beaut from nowhere and suddenly the game is lost. That's the simple résumé of this game.

The stadium is still in construction, but looks superb to me, with sweeping curves and fantastic views from all sides – jeez, but we are so far behind it's scary. As always, loads of Bluenoses there, and plenty of noise too.

We started in our usual sluggish and disorganised manner, and went a goal down when Summerbee's free kick deflected off the side of the wall and wrong footed Gerrard.

As the half progressed. however, we took control, with Collins bossing midfield, and good performances by Stephen Hughes and Nick Barmby alongside him. Mark Pembridge, as always, worked his socks off covering and tackling. In defence Xavier played alongside Gough for the injured Weir, with Dunne and Unsworth at full back. So, a centre-back injured, but we play four more!

Pembridge's throw was worked on to Barmby, whose rocket shot flew in for a tremendous equaliser, and by half time we were pretty happy at progress. In the first part of the second half, Everton dominated possession, but with no cutting edge up front.

Mark Hughes, as I leave and breath, is the reincarnation of the immortal Bernie Wright. A thug who achieves nothing through an embarrassing lack of pace and basic skill. Moore, never stopped running but to little effect. Mark Hughes volleyed a good chance from the edge of the 6-yard box high into the crowd, then we were denied a penalty for hand ball, with both the ref and the linesman unsighted, before Phillips popped up with a goal of rare quality which eventually won the game.

The home fans roundly BOOED their team for the period when we bossed them. What pricks, I thought, until some of our fans BOOED Don Hutchison when he came on. How can anyone boo a man in the Royal Blue? Jeez...

Hutch did little, but Dancing Dan got past their defence a couple of times, although to no end product. So, three defeats in a row, and kiss the Intertoto bye bye. So What?
---
We were mugged!
Steve Bickerton
I never want another week like the one I've just had. Suffice to say, I doubt it will ever be eclipsed from now till doomsday. Nevertheless, with an enforced spring in my step, I set off for the expected majesty of the Stadium of Light, safe in the knowledge that things had to get better...

The meet was made at the Sappers Club (aka the Engineers), a stone's throw away from the white edifice that is the home of the newly christened Black Cats. Cheap and cheerless beer, the whole experience enlivened by Steal's tale of his 10p entrance fee. Maybe he'll care to recount it.

The Stadium of Light looked impressive as it was lit up by an early-spring sun, in a near-cloudless sky. Could I live in a home like this? More anon... Entering at ground level we crossed the concourse and strode up the shallow slope to the seating area. Stunning is the word that came to mind as I took my first look at Sunderland's new home. Then it was off to find our seats.

Down 16 or so rows. We must have been below ground level by now, but still, the view of the pitch was perfect... ish. We were too far away. At least in the main stand at Goodison, you know you're too far away, but that's compensated for by the magnificent view. Here there is no such compensation.

The teams were announced and I was puzzled by Weir's absence. I don't remember hearing about an injury but apparently he damaged his ribs against the Toonies.

We got off to what could only be called a sluggish start. I think the word revenge had been much bandied about their dressing room as they swarmed all over us like bees on a honey pot (other metaphors sprang to mind here). In the end we panicked, gave away a needless free kick centre of goal and just outside the penalty area.

Gerrard marshalled his wall and Summerbee struck the ball low. A slow motion effect saw Gerrard dive right, following the ball, a ricochet off the wall deflecting the ball right and Gerrard helpless as the ball found the net. 1-0 Sunderland.

Floodgates opening flashed across my mind. But, try as they might, Sunderland found that they were unable to prise the defence open again. Gradually we found our way back into the game, with Collins controlling the middle and Barmby suddenly being given the ball out wide. We started to look useful again, going forward, playing precise football, if not inspiring football, at times.

We took the game to Sunderland, the pressure affecting them at the back. Sorensen is a poorer kicker of the ball than Gerrard and that can take some doing at times; Sunderland tried hard not to force the ball back to him. This meant that they went for touch when a keeper ball might have been the best move.

One such action gave us a throw on the right. Step up, Mark Pembridge. A long throw into the box, forced out by the defence to Hughes (S) who nudged it across to Barmby and an unstoppable right-footed drive saw the ball scream into the net. 1-1 and Sunderland were on the back foot. We played out the half in relative comfort and went in all square.

The second half was a cut-and-thrust affair. We dominated possession and on two occasions were unlucky not to find the net. One chance fell to Mark Hughes, after Collins won the ball in a scramble. A trademark volley from Hughes failed, though, to give us the trademark finish. The ball flew harmlessly over the bar.

Sunderland meanwhile had had a chance at the other end as they broke quickly. A neat ball through the defence after a Gough mistake saw Rae blast the ball wide with only Gerrard to beat. That miss saw Sunderland heads drop and, with the lively Collins picking up every loose ball, and Barmby and Moore linking nicely down the right, time and again we brought desperate clearances from the Sunderland defence.

Another second clear goal chance saw a cross from Pembridge on the left fly across the face of the goal. Moore, racing towards goal, lunged forward and connected with the ball, but his direction was askew as he did no more than clear the ball to safety. How we were to rue that miss.

We were neat and tidy, depriving them of the ball, when Unsworth tucked one back to Gerrard. John Shearon, sitting next to me commented on the futility of such actions as we now had no more than a 50/50 chance of winning the ball, rather than controlling it. Suffice to say they won the ball and drove forward down the left. Xavier, though, who looked far more composed today, managed to clear, but only out to the Sunderland right.

Having started to draw back, Sunderland again picked up the ball and a cross field pass saw Phillips in space, out of harm's way on the left corner of the box. Out of harm's way? What was I thinking? A moment of class as he curled the ball beyond Gerrard into the far corner of the net. 2-1 Sunderland.

After that, it was anyone's guess who might score next as the ball went from end to end. We had the nervier end to the game, having dominated for so long. Cadamarteri and Hutchison (to a mixed reception) came on to replace Mark Hughes and Joe-Max Moore with about ten minutes left, but all to no avail. Final Score 2-1.

Sunderland knicked it off us, we were robbed, we were mugged (© Stuart Roberts). All the usual clichés. All they help do is disguise the fact that we are missing Kevin Campbell up front.

There were many good points to take out of today.
Stephen Hughes, still not match fit, didn't go into hiding. He was still chasing towards the end.
Richard Dunne had an excellent second half after a dodgy start.
Xavier looked much calmer.
Pembridge showed passion and commitment and not a little skill.
Collins ran midfield.
Barmby just ran and ran and ran and scored a superb goal.
Mark Hughes though still baffles me. A much better performance for the team today, but still he didn't harry the defence enough. There were times when Sunderland were so frightened in possession that a bit of passion might have taken the ball off them and given us a chance. Barmby and Moore did this to great effect, but Mark Hughes wasn't interested. I'm not and never will be his greatest fan. But he still needs to contribute more.
As for a conclusion on the Stadium of Light . In the end I was disappointed. For a brand new ground, the facilities in the away supporters concourse were poor. One small bar and toilet facilities for 24. Having built the stadium below ground level they appear to have catered only for those above ground, with effectively half the facilities there should be. Even the Gwladys Street, for all its faults isn't this bad. The main stand though is a stunning piece of architecture. Score for the ground: Aesthetics 9/10, practicality 3/10.
Man of the Match:
After much deliberation, John Collins, who ran the midfield and showed his commitment and disappointment at the end when he repeatedly kicked at the ground. As for our ex-captain: first to the showers after the final whistle. Must try harder if he wishes to rebuild those bridges.
---
Phillips' solo effort ends Sunderland's misery
Steve Thomson, Electronic Telegraph
Kevin Phillips's 26th Premiership goal of the season ended Sunderland's miserable run of 12 games without a win. The England striker conjured up a glorious solo effort 16 minutes from time to claim the North-East club's first victory since mid-December.
Peter Reid's team had looked like being the surprise package in the top flight after an impressive early-season surge, but the wheels came off, ironically, at Goodison Park on Boxing Day when they suffered a crushing 5-0 defeat.
Yesterday's triumph was therefore particularly sweet revenge for Reid, a former Everton favourite. For his old club, however, the result was their third defeat in a row which represents their worst run in the League this term.
Sunderland were doubtless relieved to be able to name Steve Bould in their squad following a lengthy lay-off with hamstring trouble. During the former Arsenal stalwart's absence their defence has looked disturbingly fragile and he was clearly the pillar around which it was built.
The Roker club's problems clearly have not been up front, where the aerial threat of Niall Quinn and the penalty box potency of Phillips have continued to keep opposing centre-backs fully occupied.
Don Hutchison, meanwhile, was restored to Everton's bench after a spell in which he has been out of favour due to a contract dispute. As one of their few naturally inventive players thrusting forward from midfield, his presence might have made a difference in recent disappointing displays, particularly last Sunday's defeat by Sunderland's neighbours Newcastle.
That was the club's first home defeat of the season and dented Walter Smith's professed ambitions of clinching a top-six finish.
Alex Rae forced the goalkeeper to block smartly in the second minute, but four minutes later Nicky Summerbee put the home side ahead. Everton's veteran defender, Richard Gough, approaching his 38th birthday, found Phillips too hot to handle and barged him over 30 yards out. Summerbee's free-kick somehow sneaked through the defensive wall and crept past Paul Gerrard.
Urged on by another near-capacity crowd at the Stadium of Light, Sunderland's quest for a second goal continued with their captain, Stefan Schwarz, and Rae just off target with long-range efforts. Everton's first opening did not come until the 34th minute when Darren Williams stumbled, letting in Joe Max-Moore. But the American ballooned the ball embarrassingly over the top.
His blushes were spared eight minutes before the break, however, when Nick Barmby equalised in spectacular fashion. A long throw-in was only half cleared to the edge of the box where Barmby unleashed a ferocious right-foot volley into the top corner.
Despite their sudden parity, the visitors were quickly forced on the back foot on the resumption and, when Phillips's pass gave Rae a clear sight of goal, Gerrard was relieved to see the lively midfielder miscue badly. In a rare counter, Mark Hughes was guilty of an equally glaring miss at the other end, blazing wide after John Collins found him in space with a clever chip.
The most rousing cheer at this stage came when Bould, making his first appearance for two months, came on as a substitute for Schwarz in the 74th minute.
The return of their ever-reliable defensive linchpin must have had an instant settling effect on Sunderland for, within 60 seconds, they claimed the winner.
A long ball in from the right picked out Phillips on the far side of the area and he turned quickly inside before curling the ball exquisitely beyond Gerrard from 20 yards.
Report © The Electronic Telegraph
---
Phillips is Sunderland's star
Louise Taylor, The Sunday Times
JUST where would Sunderland be without Kevin Phillips? Craving revenge for their 5-0 Boxing Day reverse at Goodison Park, Peter Reid's side struggled to contain the Merseysiders until the Premiership's leading scorer conjured a splendid winner from a mere half-chance. "It was a goal out of nothing," admitted a relieved Reid at the end of an afternoon otherwise dominated by Everton's Nick Barmby and John Collins. Sunderland scarcely deserved it, but Phillips's 26th goal of the season – an extravagantly curling right-footer, which arced imperiously over Everton keeper Paul Gerrard's left shoulder and into the top corner from 20 yards – secured their first victory of the 21st century.
After last week's largely unsatisfactory dalliance with 3-5-2, Reid reverted to his preferred 4-4-2, precipitating a recall for Nicky Summerbee on the right wing. Recently out of favour, Summerbee justified his inclusion in the seventh minute, scoring with a direct free-kick from 25 yards. The kick, awarded after Richard Gough had fouled Phillips, took a hefty deflection off the wall.
Having begun in 3-4-2-1 mode, Everton duly re-adjusted to 4-4-2. They nearly earned a swift reward. Exhibiting a sudden change of pace followed by adroit footwork, Joe-Max Moore tricked and turned Jody Craddock, leaving himself with just Sunderland keeper Thomas Sorensen to beat. The American international seemed certain to score, but his poise momentarily deserted him, and he lifted the ensuing shot embarrassingly high over the bar.
No matter. Everton were soon level, thanks to a brilliant Barmby volley into the top right corner, exquisitely executed at waist height from 25 yards after a Sunderland half-clearance had fallen to Stephen Hughes, who miscontrolled it, leaving the ball to drop conveniently for the former England international.
Suitably encouraged, Everton became a different team. By the interval Sunderland supporters had become a little restless, but were placated by the introduction of Milton "Tyson" Nunez, their new international attacking midfielder and, incidentally, the first black player signed by Reid during his five years on Wearside. Having just flown in from Greece, where he failed to command a first-team place at PAOK Salonika, Nunez jogged towards the centre circle. Delighted by his passionate reception, he then embarked on a spontaneous lap of honour, sashaying round the perimeter and waving to the crowd before reluctantly allowing himself to be enticed back down the tunnel.
Reid has been proudly showing off videos of his £2.6M acquisition, who, on film at least, looks fast, strong and two-footed. The only doubts are over how the Premiership's first Honduran will adapt to English football, and that he will often be absent on international duty. Surely Reid, who had a £1M bid for Everton's Don Hutchison rejected last week, would have been better advised to splash out the £3M asking price for the Scottish international.
A proven performer, Hutchison fell out with Walter Smith after he branded the Everton manager's final offer of improved contractual terms a "disgrace", but a thaw is in the air, as the Merseysiders' former captain was a substitute here.
From the bench he watched Collins and Barmby strutting the midfield to impressive effect, the latter contributing some delightful touches and surely deserving a second chance with England.
With Stephen Hughes, Smith's £3M England Under- 21 international recruit from Arsenal reserves, beginning to impose himself, too, Everton were firmly in the ascendant.
Sunderland badly needed some opportunism or inspiration. Not for the first time, Phillips provided both. Lurking just outside the penalty area down Sunderland's left flank, the England striker wrapped his right foot around a ball from Darren Holloway, spotted Gerrard slightly off his line, and curled a delicate chip into the top corner with consumate precision. Small wonder that Reid was so willing to smash his wage structure and pay him £25,000 a week.
Let's just hope that Phillips and yesterday's other outstanding individual, Barmby, get their just reward and a chance to enjoy a slice of the Euro 2000 action in June.
Report © Times Newspapers Ltd
---
Phillips finds a winning flourish
Scott Barnes, The Independent
Sunderland's awful run finally came to to an end thanks to a superb strike from Kevin Phillips which sealed his side's first win of the year with a style that the game barely deserved.
It came in the 77th minute when he deliciously curled the ball from 20 yards over Paul Gerrard's outstretched arm so that it dropped under the bar into the right-hand corner.
"When it gives you three points and you haven't won for 12 games, any goal is a great goal," said Sunderland manager Peter Reid. "The crowd was getting restless and it was going to be either a bit of luck or something special that brought us victory and that goal was something special."
Sunderland's dreadful sequence, which had seen them drop from third, began with a 5-0 drubbing on Boxing Day at Everton and this result, Everton's third consecutive defeat, brought a measure of revenge.
"We've got to stick in and keep going," said Everton's manager Walter Smith. "When we equalised, I thought we were the better side but a couple of chances went begging and that was the story of the game – we missed our chances."
Sunderland took the lead in the seventh minute after Richard Gough had crudely up-ended Phillips a couple of yards outside the penalty area. Nick Summerbee, reconciled with his manager after a disagreement and starting his first game for three months, struck the kick low and it sneaked beneath the wall and slid under Gerrard's right arm.
Being ahead was such a novelty for Sunderland that it unnerved them. Only Niall Quinn towered above the mess and in the 24th minute he rose on the halfway line to set Phillips racing away. Gerrard comfortably palmed the shot aside.
Everton hadn't managed an effort on target in all 90 minutes last weekend and this game was 33 minutes old before Joe-Max Moore plucked up the courage to have a go. His shot, however, flew high.
It was a surprise, then, when Nick Barmby struck in the 38th minute. The half-cleared ball was bouncing without menace 25 yards from goal when Barmby lashed it beautifully into the top right corner.
Not even the pitchside presence of the Premiership's first Honduran, Milton Nunez, just signed by Sunderland for £1.6M, could raise the game from its scrappy state. In the 53rd minute Quinn chipped the ball into Phillips' path, but from six yards and with only Gerrard to beat, the league's leading marksman was dreadfully off target.
To ease Phillips' discomfort, seven minutes later, from a similar distance, Mark Hughes crashed what should have been a trademark volley well wide of Sunderland's goal. Fifteen minutes later Phillips' 26th of the season won the game.
Report © The Independent
---
Phillips exhibits predator's touch
George Caulkin, The Times
THE ink on his new contract is barely dry, yet Kevin Phillips plays as if angling for extended terms. If, on occasions, his presence can be inspirational, on others, as on Saturday, it can simply be enough; nipping at the heels of irritated defenders, pursuing lost causes and conjuring a vital, blissful goal. If the qualities sound familiar, then so they should, for according to his captain, Sunderland possess an accurate replica of another striker of some renown, television and disciplinary appearances aside. "Ian Wright is crackers, loud and funny and Kevin is the opposite, a very quiet character, but he's just as good when it comes to finishing," Steve Bould said.
And, after countless seasons deflecting Wright's practical jokes at Highbury, Bould should know. "Watching him in training, Kevin reminds me very much of Ian. All he wants to do is score, and in that way they are identical. If we're serious about finding someone to get goals, put him in the England team."
In Sunderland colours, Phillips has pilfered 86 in 108 matches, the last of which not only represented one of his best – struck venomously with little warning from 20 yards out – but was responsible for bringing his side their first victory for more than three months, a reward that they scarcely warranted.
Before his goal, in the 78th minute, every excursion made by Peter Reid, the Sunderland manager, from the dugout prompted a chorus of catcalls and jeers. "It was the first time the crowd have had a go at us to that extent," Bould said.
Sunderland had taken an early lead through Nicky Summerbee's deflected free kick, but their play was characterised by hesitation and indecision. That Everton lost their third game in succession occasioned disbelief from Walter Smith, their manager, who, without the injured Francis Jeffers and Kevin Campbell, watched his players scorn a host of opportunities. Nick Barmby proved the exception, volleying beyond Thomas Sorensen after 38 minutes.
Report © Times Newspapers Ltd
---