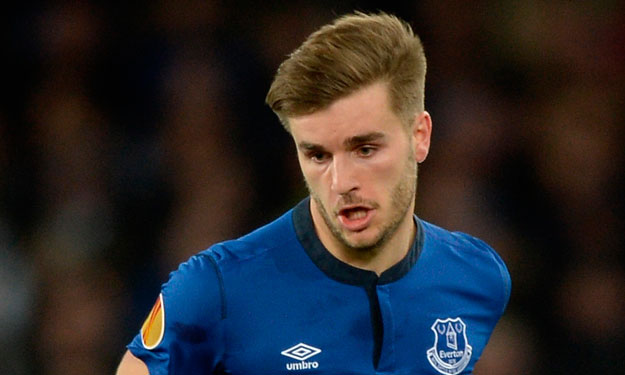 Luke Garbutt was signed as a 16-year-old in July 2009 having exercised an option to leave Leeds United, where he had been a part of the League One side's academy. The Harrogate-born left-back signed a two-year scholarship with the Everton Academy where he entered the Under-18 set-up. He has England Under-17 honours as well as clocking up some reserve team experience for the Blues in his first season.
Everton's academy manager Ray Hall said: "This is very much a transfer for the future for Everton. It's not an uncommon move to make – many Premier League clubs invest in young talent with a view to nurturing and developing them.
"We are all delighted to have Luke at the Club – he is an excellent prospect and he will be allowed to mature and learn his trade with our Academy staff and players.
"I know the manager will be keeping an eye on his progress, as he does with all our boys, and if he looks ready to make the next step up then he may get his chance. We have shown as a Club on a regular basis that we are prepared to give youngsters an opportunity at Everton."
Leeds United were not particularly happy at losing such a good prospect and were due compensation following the transfer, both clubs agreed that a figure would be set by a tribunal of the Professional Football Negotiating and Consultative Committee (PFCC), which is made up of representatives from the Football League, Premier League, PFA and Football Association.
The hearing of the tribunal, which took place at the Premier League's offices in London in September, declared that Everton should pay an initial £600,000
Aside from an initial payment of £600,000, Everton were also due to pay Leeds an extra £150,000 if the player made 5, 10, 20, 30 and then 40 appearances for the club, as well as a payment of £200,000 if he made a full international appearance — a potential fee schedule totalling £1.55m for an unproven 16-year-old. The Yorkshire club also negotiated a 20% sell-on fee should Garbutt later be moved on.
Luke was part of the England team to win the Under-17 European Championships but the closest he came to a senior debut in his first season was being an unused sub in the Europa League game against BATE Borisov, which is where he picked up the No 32 shirt. As a signal that his apprenticeship was on the right course, Luke was rewarded with a three-year professional contract in July 2010 and he would continue his development through the Blues' youth ranks. He featured in a second FA Youth Cup campaign but did not participate in any senior games during pre-season in 2011 so it was no great surprise when he went to Cheltenham for a loan spell that September that was eventually extended to the end of the season and the League Two play-off at Wembley, which Cheltenham lost to Crewe.
Garbutt played for England Under-19s alongside Barkley and Lundstram in the Junior European Championships and was named as a substitute by Everton for only the second time in August 2012 before he finally got on the field for the senior team when he played the second half of the League Cup clash against Leyton Orient at Goodison Park. He then spent the season playing for Everton Under-21s, picking up an injury in September 2012 that kept him out for a couple of months.
2013 saw Garbutt back out on loan again, this time to Colchester United where he would impress before being recalled in January 2014 after Bryan Oviedo suffered a double leg break in an FA Cup tie at Stevenage. He would spend the bulk of the rest of the campaign alternating between the U21s and the first-team bench until he finally saw some action late in the 2013-14 season under Roberto Martinez.
The Catalan expected the League Cup to be an opportunity for testing his up-and-coming youngsters the following campaign with Garbutt getting his first senior start in an ill-fated third round tie at Swansea City in August in which a much-changed Everton side was humbled 3-0.
Nevertheless, Garbutt got another chance to impress when both Leighton Baines and Seamus Coleman were injured for the Europa League trip to Wolfsburg in late November 2014. The young fullback hardly put a foot wrong in a very composed and confident display were he looked every inch a first-team player in a memorable 2-0 win.
Garbutt would make 10 appearances in all that season but as the end of the season drew near, his unresolved contract situation became an increasingly worrying issue for Evertonians who felt they were witnessing the emergence of a natural long-term successor to Baines. Their fears of losing the Yorkshireman as a free agent for just an undetermined development fee in the summer were not eased when he informed the club that he wouldn't make a decision over his future until the end of the season.
Garbutt had let his previous deal run down before re-signing for Everton but with rumours floating around that rivals Liverpool or newly-promoted Bournemouth might lure him away with the promise of more immediate first-team football and Martinez having blooded 19-year-old Brendan Galloway at left back for the final two matches of the2015-16 season, few were confident he would re-sign.
Garbutt eventually agreed a new five-year deal with Everton that would run through 2020 at the end of June but the next stage of his development would be away from Goodison Park when Everton agreed at the end of July to a season-long loan for him at Championship side Fulham. That didn't start too auspiciously, though, as ankle ligament damage sustained in their last pre-season friendly meant he would be sidelined for the first two months of the new season but he recovered and got back into the team for the middle portion of the season.
However, the talented full-back struggled at times, especially in Fulham's 3-0 loss to Blackburn Rovers where he was unceremoniously hauled off by Fulham boss Slavisa Jokanovic before half-time; he issued a Tweet aplogizing for his poor performance in response to criticism from both Cottagers fans and concerned Evertonians. Garbutt's spell in West London was not without its troubles, and he only started 19 games in the Championship over the full season.
Fulham struggled at the wrong end of the Championship and just avoided relegation at the end of the season. Garbutt didn't play in many games after mid-March but came on as a late substitute in the last game of the season to engineer a win over relegated Bolton Wanderers as his farewell present to The Cottagers. Will he return to be groomed as Everton's future left-back? That would depend on the assessments of Ronald Koeman as the next manager at Goodison after Martinez.
The signs were not auspicious, however, when he was overlooked for the first-team warm-weather training stint in Austria, and his probable departure was presaged by a failure to make the published list of squad numbers for the new season despite playing his part in the Under-23s successful preseason, where they won the Lancashire Senior Cup.
But it turned out to be another loan assignment, this time 4½ months with Championship side Wigan Athletic, until the end of the 2016. However, it became another disappointing loan spell that saw him make just 8 appearances before returning to Finch Farm in January. He played no further games, being hampered by a back injury. Garbutt faces an uncertain future, despite being determined to win over Ronald Koeman in the 2017 pre-season training but he remained outside the manager's thinking giving rise to speculation that he could be allowed to leave Goodison Park permanently if he could find a suitable club.
But with three more years on his Everton contract, Garbutt was given a new shirt number and, at 24, was playing for David Unsworth's U23 side in Premier League 2... possibly the only left-back cover in the squad for the aging Leighton Baines, should he get injured. However, Ronald Koeman and his staff had somehow failed to register him in either the Premier League or Europa League squads for the 2017-18 season, which was required because of his age.