Everton History
"Even After All These Years" – Pat Labone
Becky Tallentire
13/04/2017

100 Comments
[Jump to last]
Share: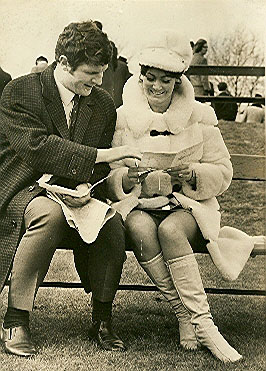 I just loved dancing, sometimes when I hear those old songs it takes me right back and my feet start tapping. I love all kinds of music from light classical to the very old songs of my father's era and everything in between. My father was a musical man who liked Flanagan and Allen and I know all the words to all those old songs. I always say that when I'm in my coffin just put the music on and I'll come out and have one last dance.
I think it runs in the blood; my grandmother and her sister were in the theatre and by the time I was nine I was already going to the Brendan Smith's academy of acting in Dublin. I had two much older brothers from my father's first marriage, the eldest one, Denis, had the most beautiful singing voice in Ireland — he was known as the Irish Boy Wonder. When I was a little girl he'd be performing in shows and he taught me some of the songs. I remember the one time I was in the audience and he got me up on the stage. The strange thing was that off-stage I wouldn't say boo to a goose, I was so shy I would hide behind my mum's skirt, but when I got on the stage it was totally different and I just knew that was what I wanted to do.
I was born in the Rotunda hospital in Dublin to an English mother. My sister Linda is 11 years younger than me but the strange thing was my mum was in the same ward and the same bed for us both. My father was a bookmaker; the Lynam's were very well known among the racing fraternity in Ireland. He thought the bookmaking business was going downhill and mum wanted to go back to England where the work situation was better, so we upped sticks and sailed over to Liverpool.
My father had an aunt who didn't live far from Anfield so we lodged with her until we sorted ourselves out and then we moved to a house in Spencer Street off West Derby Road, I don't think it's there anymore. My father worked as a hydraulic inspector and my mum stayed at home with my baby brother, Charles.
You do learn to conquer shyness over the years but I was stricken with it back then. I'd been schooled in a Catholic convent and had only ever been in the company of girls and nuns so when I went to my new school where it was mixed, it was quite literally a shock to my system and I had terrible difficulty coping with it. I'd never come into contact with boys before; they were alien creatures.
It was very traumatic for me and I found it awfully difficult to settle down. There were a few girls at the school who use to bully me because I was Irish, they would taunt me and follow me home and they made my life a misery. I hated it so much there was a stage when my parents thought they might have to go back to Ireland because I was so deeply unhappy and homesick.
I had to stick it out but it always left me feeling separate from the others because, from an early age, I was made to feel different. Eventually, I left school and had been doing some part-time modelling for Patricia Platt's agency in Liverpool. They entered their models into beauty pageants to get us used to an audience and increase our confidence. The Miss Liverpool contest was due to be held at the Locarno Ballroom in Liverpool and they suggested I entered along with a couple of the other girls. To this day I don't know how I won it, but I did.
Shortly after, I had the opportunity to go to London but my father disapproved. He was very old fashioned and you didn't argue with your parents in those days, you were told to do something and there was no discussion. He didn't think it was right and told me to find a proper job, something that would stand me in good stead. I began doing secretarial work in a travel agent's and ended up in a law firm, I've pretty much been in and out of law ever since.
It has stood me in good stead because I've never been without a job, so it was a reliable back-up but if I'd had my way, I'd have gone off and become a professional dancer. I'd done all types of dancing by then: Irish, ballet and tap, and I'd got all my medals and cups for ballroom dancing. I loved it and that's all I ever wanted to do but you didn't say 'no' to your parents, you did as you were told. It used to eat away at me for years and years but with maturity you look back and realise it wasn't to be, and at least I can say I've never been out of a job. I've always been able to support myself even when I've been on my own.
Clothes and fashion enchanted me and I used to love to dress up to go out. I think people have lost the art now, which is a shame, they just don't seem to bother. I've always wanted to take care of myself and look my best; if I feel good then I can take on the world.
Brian and I met in 1961 at the Downbeat Club in Liverpool and to this day I'm still wondering how we bumped into each other because I was always on the dancefloor and he was always at the back of the room with his friends.
I was wearing a sleeveless navy linen dress with a white scalloped pattern on one side. Back then they had ultra violet lights in clubs that would pick out the white and he tells me that's what caught his eye. I was collecting my coat to go home and he came over to chat but I was dashing for my bus so it was only a few words, and he asked why I was leaving so soon.
He was well dressed and looked a decent type. I suppose his height and his build struck me the most and he was awfully handsome and smart in his collar and tie but I thought, "Who's this cheeky devil talking to me?" and I dashed off to the bus stop. But he played on my mind a little bit and I was quite pleased when I saw him there again the following week. He made his way over and struck up a proper conversation and that was where it all began.
I was 19 and he was 22 and we both lived at home with our parents. He was already a footballer and had been at Everton for about four years but the truth is, I didn't realise football existed as a way of making a living. I thought it was just a game lads played in the streets. He did tell me he played but I thought he just meant in the park, and it was only after I'd met him a few times that I realised it was his job. I had absolutely no idea.
After a number of dates, he asked if I wanted to go and see a match and out of curiosity I said yes. Brian didn't drive a car until well into our engagement so anywhere we went was on foot or by bus. I remember walking all the way to Goodison Park and getting engulfed in the crowds and wondering what on earth was going on. There were masses of people, thousands and thousands of them swarming their way to the game and I got swept along the road with them. I'd never seen anything like it in my life.
I finally got inside the ground and it all seemed to be going well. I was entering into the spirit of it but nobody had told me they changed ends at half-time. A goal went in and I was jumping up and down in celebration until I realised I was the only one and the penny dropped. I always seemed to have the knack of turning up wearing the opposition colours, too. I can still see it now, my lovely red coat with a grey fur collar and as I walked down Goodison Road, I wondered why everyone was looking at me. It was lovely and warm but I never wore it again.
After a couple of years, we got engaged but while we were courting my parents moved over to the Wirral and I went with them. I loved it over there and I never wanted to move back to Liverpool again. It didn't hold many good memories for me.
Saturday was the big night out and occasionally we would go to the Royal Tiger in the City centre but Brian wasn't really a clubby type person and most of our friends were outside of football. We would go to the usual places in town for meals; the Porthole was one of our favourites and we would go to the Golden Goblet for their big T-bone steaks. More often than not we would end up in Russell's, the cabaret club in Parr Street. I remember Bruce Forsyth was on one night but my idol was Sean Connery. Goldfinger had just been released and I thought he was fantastic. This one night we had our usual table right up by the dancefloor when a big group came in and among them was Sean Connery; he'd been playing golf with Kenny Lynch and Jimmy Tarbuck. I couldn't believe that I'd met my hero that night.
Everton made it to the FA Cup final in 1966 against Sheffield Wednesday. It was my first visit to Wembley and I had a turquoise silk dress and jacket made especially for the occasion. Of course Everton won, so I got to see Princess Margaret present Brian with the Cup - it was one of the proudest moments of my life. I looked at him and thought 'that's the man I love', and I felt like I would burst with pride. He says the Princess was beautiful and she had the most delicate skin. I got to do it all again in 1968 but there was no Cup for him that day and it was a long drive home again.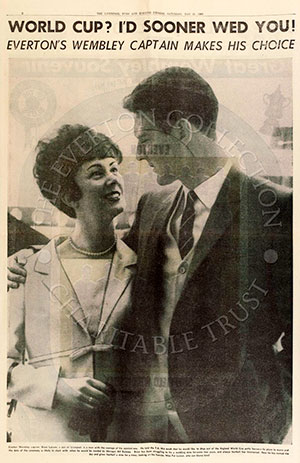 There was a big build-up to my wedding and I daresay Brian will never live down the fact that he gave up his place in the 1966 World Cup squad to marry me. To this day people believe it was me who put pressure on him; in fact I'm sure my own brother is still convinced that it was down to me, but it was Brian's decision.
Originally, he wasn't in the squad until Jackie Charlton got injured so he was called up as his replacement, but he said he'd made his decision to get married and he was sticking to it. I won't say that if he had of gone he wouldn't have got earache from me, but it was totally his choice. I have to admit that now, when I see the England team finally getting their honours and recognition, I still cringe, even after all these years.
The wedding was planned for the close season of 1966. It was at St Peter and Paul's in New Brighton, a beautiful big Catholic church and with the longest aisle you could ever imagine. Gordon West was Brian's best man.
We did meet up with a lot of opposition along the way, various people were not happy about it at all with me being Catholic, but he stuck to his guns. There was bigotry in those days, there really was. Most of the opposition was based on religion so it meant Brian had to take religious instruction and that any children in the marriage had to be brought up Catholic. It might be difficult to understand now, but it was very real and it did go on.
When Everton won the League in 1963, the club had taken the players and their wives to Torremolinos for a special treat. Because we weren't married I wasn't allowed to go and I was so disappointed. It was just as foreign holidays were about to become fashionable and there were only one or two hotels there. It all sounded so exotic. Brian was only there for a couple of days and he had to join up with the England squad for an Eastern European tour anyway, so he didn't have the best time either. We decided to go back there for our honeymoon and we had a great time, it was just fabulous and a member of the staff recognised him from the first time around.
I wanted to stay living 'over the water' but it wasn't the policy at Everton with the clubhouses, and most of the players lived around the Maghull area. A team mate of Brian's, Dennis Stevens had a house in Arrowe Park on the Wirral and he must have got transferred to another club because his house was up for sale. We weren't given much of a choice but luckily I fell in love with it and that was where we started out our married life.
Brian couldn't dance to save his life, he has two left feet and though he could easily go out and play in front of 70 000 people, he was too self-conscious to get on a dance floor. He's very much a man's man and it wasn't his style. I can't say it didn't cause a bit of friction when we'd go to functions but he wouldn't budge but luckily we'd always go with friends, so I would have somebody to dance with.
He only scored two goals in his career and I saw both of them. Both times it was amazing and I was absolutely thrilled. I remember him running down the pitch in celebration. I think he was as surprised as the rest of us and I was jumping up and down with delight. I watched him play all the time. I went to all the home games and as they progressed in the FA Cup I might go to some away games too, depending on whether I could get a lift, although it was nerve-wracking to watch him play.
There were some great things about the football life but one thing I couldn't stand was the way the wives were treated as second-class citizens. There was no way I could accept that and I was like a suffragette constantly fighting for the cause. It was the way things were, but I resented it. There were no amenities for the wives or anywhere for us to go after matches and it used to infuriate me. They didn't even have a room where we could wait and I've often stood outside in the dark and rain waiting for him to finish, and it was only the kindness of the doormen who would let me stand inside that got me out of the cold.
The club was very strict about late nights and drinking. The players weren't supposed to be out after midnight and they weren't allowed to drink after midweek yet they would take the boys off for what they would term 'special training' straight after some matches. They'd go to Blackpool or wherever and it was just an excuse for them to let their hair down. It certainly didn't go down well with me because I thought it was double standards — it was all right to do it while you were away but not at home? I used to hate it.
It was a lonely life at times. During the close season, they'd go on tour and be gone for weeks at a time and when they came back, it didn't leave you much time to have your own holiday before they were back in training.
When they went back after the summer break, he would really suffer. Even now when we drive past the sandhills at Crosby and Ainsdale he winces and tells me how the manager, Harry Catterick, had them up and down them for hours on end, gasping for breath.
Initially, Brian didn't really do a great deal with his spare time as he threw himself wholly into football but latterly his father started a business, J & B Labone, a central heating company, and he started spending time there. He was going to take it over when he finished football, but it got too big for his father to cope with so he sold it. They're still trading under that name and are all over the country and in Ireland now.
I'm very independent. I like to maintain my own identity and earn my own money. I've always worked full time and I used to fit my modelling in around the evenings, the weekends and the holidays, and I loved it. I liked the beautiful clothes and the whole concept; it was the perfect job for me. Before we married, I still entered the occasional beauty competition and I suppose I would have continued down that road but eventually it conflicted too much with home life so I packed it all up.
At weekends we would go out but there came a time when we had to stop it. In our innocence, we would think we'd be able to spend some time together but it didn't work out like that. Brian was the club captain and was well liked so it would end up that most evenings I would finish up on my own because all kinds of people would come over to talk to him about football. They were always nice people and very courteous but the next thing you knew another hour had passed, the night was over and you hadn't had a chance to have your meal properly. We ended up having to give the city centre a miss and find somewhere a little quieter so we could spend some time together.
Brian bought a beautiful chestnut racehorse and named him Goodison; at one time he held the course record at Ayr. He was stabled on the Wirral at Colin Crossley's and we would go along every weekend and feed him Polo mints and make a fuss of him. He had nine or 10 wins in his time but we never saw one of them. We did see him come second a few times, and it got to the point where people would ask us to stay away when he was running because we were such a jinx. He lasted for quite a few years and then came the fateful day at Market Rasen. It was his first or second time over the sticks, he fell and broke a fetlock and they shot him on the track. We were devastated because he was such a big part of our lives. We didn't know until it was too late, but they're allowed to take that decision without the owner's permission. It depends on the break but a horse can nearly always get better although it's a long process and they could never run again.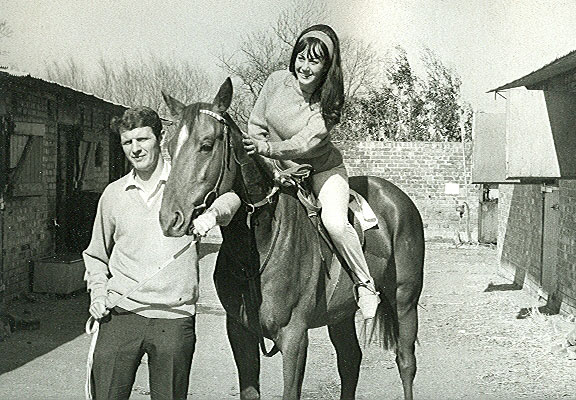 Brian and Pat Labone with Goodison
Unfortunately a lot of people would just claim the insurance, but Brian and I would never have done that given the choice. I remember he rang me in tears to tell me what had happened. I was in tears as well and to this day I swear that if we'd been asked we'd have brought him home. He wasn't the most expensive horse but he had a big heart and he always gave everything.
In comparison to players these days Brian didn't get an enormous amount of attention from other women, but he got enough. It didn't make me angry, it made me feel quite insecure. There were some footballers that liked that side of it but I can say with hand on heart that Brian was never a womaniser; he wouldn't even notice if someone was after him. He really was a one-woman man and I didn't have to worry at all. I was never that self-confident that I would feel totally secure, but I didn't have to worry.
Brian and Pat in Malta
We'd been married for a couple of years when we went on holiday to Malta. We stayed at the Golden Sands Hotel at Golden Sands Bay and were having lunch one afternoon when the Prime Minister of Malta, Dom Mintoff, recognised Brian and came over to introduce himself. He invited us to spend the following day with him and his family and we had a lovely time. The press had come along to the hotel and took a few photos of us lying by the pool. Years later friends of ours went there and said the picture was still there, framed and on the wall.
I like people to be genuine and I have no time for users. We were forever getting calls for tickets for games; we've often been woken up in the middle of the night by the phone ringing. People thought he could just put his hand out and pull tickets off trees. I was probably more wary of people than Brian; I soon realised a lot of them were not genuine and I could pick up on that quicker than he could.
I don't really like using the word but they seemed like hangers-on and I would know they only wanted to be with us because of who he was. They couldn't give a damn what kind of a person he was, they just wanted to be in his reflected glory. I got very angry with that. He would shrug it off and say it didn't matter but it used to rile me. I was proved right when he finished playing; it was amazing the number of people who we suddenly didn't see anymore.
Brian was away in Mexico playing in the World Cup in the summer of 1970 and I was at home six months' pregnant. It was the best thing that ever happened to me and I absolutely loved it; I just bloomed. Like most footballers, he wanted a son. I thought it might have been a boy because she was never still but deep down I really wanted a little girl. I'd seen the most beautiful aquamarine and diamond ring in Pikes the Jewellers and it was absolutely gorgeous. Brian said that if I had a boy I could have it, Rachelle weighed in at 7lb 12oz on Sunday September 6th but he got me the ring anyway because he was thrilled to bits.
My mother and Brian came with me to the hospital and she was born by emergency caesarean. Caesarians were known as shock births in those days and you weren't able to hold the baby for 48 hours. They were fed, washed, dressed and changed within their special soft-canvas crib, so it was almost two days before I could hold her; it was like a cruel form of torture. I couldn't believe the fear I felt, that it was all too good to be true and that I might lose her.
One night I woke up and put my hand out to touch Rachelle and she was absolutely stone cold. I panicked and screamed the place down; I was in floods of tears, saying there was something wrong with her. They took her away and when she came back they said she was fine and just fast asleep. It seemed almost too good to be true and I couldn't believe I had this beautiful little girl and she was going to be mine; it was just the most wonderful feeling in the world. I always say I only ever had one child because I couldn't improve on perfection. She was the greatest achievement in my life.
A lot about being a footballer's wife was fun and the spin-off was certainly colourful because I'd always been more interested in the arty side of life. We met quite a number of showbiz people and that was what I enjoyed. I went to a party once at Frank Ifield's home and I met Bob Monkhouse too — he left quite an impression on me because he was the most charming man you could meet and so clever and quick. Another nice man we met was Frankie Vaughan and when we moved over to our new house in Lydiate, Ken Farrington, who played Billy Walker in Coronation Street, would stay with us whenever he was doing a play in Liverpool.
Rachelle had a pony called Smokey and the house was adorned with rosettes they'd won. We had stables at the back of the house and a paddock that he shared with Peter the donkey. One Sunday afternoon, Brian and his friends had all been to the pub and rolled up at the house, Ken thought he would have a laugh and have a ride on Peter but it threw him off and he ended up with a broken arm. His play started the following night and ran for two weeks so he had to do the entire run with his arm in a sling.
I always wanted to retain my own identity. I was with the Green Room Playgroup, a well-known amateur dramatics society, and we staged a play called 'Suddenly Last Summer' which we performed at the Neptune Theatre in Liverpool. I was thrilled to bits because I got a really good write-up from the Liverpool Echo and we had an after-show party on the Saturday night and Brian came with me. A woman was introducing us, and she said, "Oh and this is Pat Labone's husband". It was then I knew I'd retained my individuality. After all those years of being made to feel like a second-class citizen lurking in the shadows, it was a great feeling because I'd been seen as a complete person and not as an extension of my husband.
Brian was doing well at Everton and had been lucky enough to escape any major injuries but it was a collision with Gordon West, believe it or not, that put him out of action for a long time. It happened during a game in London and I had to go down there on the train to see him in hospital. That was when they discovered he had 'double kidneys' but I never found out if that meant he had four kidneys or just two that were twice as big.
That put him out for a while but for somebody who was rarely on the sidelines it is ironic that an injury ended his career. It was his Achilles tendon; I think they can repair those quite easily now. My recollection of it was that all he needed was rest but he was never really given the time to heal. He wasn't forced to play but they'd give him a couple of weeks off and then they would desperately need him back. He was the captain, so there was a big obligation there.
He finished football in 1971 and went into an electrical business with the cousin of a friend, but it didn't work out. Unfortunately, he'd gone into business with a disreputable person and he was taken advantage of. He was left with a load of debt, which he had to pay off, and the business folded. He had nothing behind him, football had been his life and apart from anything else, there just wasn't the money. What he'd earned he'd given to his father to put into the business, so that was it.
He went into insurance and he's been doing that ever since. He did reasonably well but I always felt that in some ways Brian was wasted because he really could have done so much more. He's the Master of Ceremonies at Goodison on match days but I always think he'd have made a great TV pundit or a radio commentator; he'd have been brilliant. He had the flow, the patter, the ability and the brains to do something really creative and interesting.
We were married for 14 years and together for 19 – there were some outside influences that were partly to blame and our marriage came to an end in 1981. My main concern was for Rachelle because I didn't want her to suffer and the nice thing about it is that we've proved that it can be done. She never resented anything, she's never suffered in any way and we're all dear friends. We celebrate Christmas and birthdays together and there's always a lot of laughter – it's all very amicable and behaviour befitting the captain of Everton Football Club.
We had a meal together last New Year's Eve and even after all these years there's still never been anybody important in his life. He says he's like a swan and he's mated for life. He's not the most romantic of people who comes out with flowery words but when he does say something, it means so much.
Brian is an honourable and a modest man and I think that's what people admire about him. The one thing I'm really proud of is that I can honestly say I've never heard anyone say a bad word about him. After all this time and the sheer number of people we've met through life, I truly haven't. He's getting a bit crotchety in his old age, but he's still a nice man. He could mix with the highest and the lowest and treat them all the same. It was those traits that made me fall in love with him.
I don't know many other footballers who have put as much time and effort into helping out others, and he's never asked for a single penny. Most would want a fee but not Brian – he's given his caps and his medals away for auctions and charities, but that all goes unsaid and unsung.
I think I would handle being a footballer's wife much better now than I did when I was actually married to one, but you can't put an old head on young shoulders. When I look back I can see there were certain areas that I had difficulty coping with and I don't think I was the best footballer's wife. I'm hoping I was a good wife but I have this Irish thing inside of me that would always protest and have to question things.
Both my parents died in their 60s, mum was 66 and my father was 69. He had numerous heart attacks then eventually one did get him. I didn't have the best of relationships with my father. I can say that now, it took me years to admit it, but it's true and I think that's where my shyness and uncertainty stemmed from.
Sadly, my mum died of the most horrible cancer; we were devastated because we all loved and adored her. She was my strength, the only real certainty in my life. She'd be so pleased to know we're all still very close. My brother lives in Bath so we don't see him as much but thankfully Linda lives nearby and she really is my dearest and closest friend. We have a really strong family bond that holds us close and we all rely on each other, it's a lovely feeling.
I still dance whenever I get the chance - even now my feet can't keep still when I hear the music. I know that will never change, just like I know Brian and I will always be there for each other. The bottom line is we can't live together but we're star-crossed lovers and he'll always be part of my life even though he still hasn't learned to dance. He says I was his first love and his last.
Taken from Real Footballers' Wives — the First Ladies of Everton, still available for purchase in book or Kindle form
© Becky Tallentire 2004
Follow @bluestocking63
---
Reader Comments (100)
Note: the following content is not moderated or vetted by the site owners at the time of submission. Comments are the responsibility of the poster. Disclaimer
Add Your Comments
In order to post a comment, you need to be logged in as a registered user of the site.
Or Sign up as a ToffeeWeb Member — it's free, takes just a few minutes and will allow you to post your comments on articles and Talking Points submissions across the site.
© ToffeeWeb