Chelsea 1 - 1 Everton

Half-time: 1 - 0

---

FA Carling Premiership 1999-2000 – Game 28
3pm Saturday 11 March 2000
Stamford Bridge, London
Att: 35,113
MATCH SUMMARY
With half his first-choice line-up missing for one reason or another, Walter Smith faced the daunting prospect of Stamford Bridge with a bright-looking line-up that included Paul Gerrard back in goal, and Stephen Hughes making his debut in midfield. Unsworth, Ball and Gemmill were out with the flu.

Up front, Joe-Max Moore was partnered by Cadamarteri, with Phil Jevons on the bench. Richard Dunne was reinstated despite his ridiculous attempt to dodge some of the punishment given for failing to turn up for training on New Year's Day.

Everton started well against a Chelsea team showing the depth of their massive squad with no less than five senior players rested. After a number of good chances, especially for Cadamarteri, Dennis Wise slotted in the first goal for Chelsea on the half-an-hour.

Everton tried their best to come back into it, but Barmby and Moore wasted a couple of good free-kick opportunities. Then Cadamarteri popped up to twist and turn, firing in an unstoppable shot from close range off a long throw-in. This set the match up for an exciting finish as Chelsea threw big scorers Flo and Poyet into the fray – all to no avail.

A great result for beleaguered Everton against the glamour monster squad!!!

---
MATCH FACTS
GOALSCORERS
Debuts
Chelsea:
Wise (29')
EVERTON:
Cadamarteri (68')
Stephen Hughes
LINEUPS
Subs Not Used
Chelsea:
De Goey, Ferrer, Thome, Leboeuf, Harley (72' Poyet), Di Matteo, Wise, Morris, Babayaro, Sutton, Zola (46' Flo).
Ambrosetti, Cudicini, Terry.
EVERTON:
Gerrard; Collins Dunne, Gough, Weir; Barmby, Xavier, Hughes, Pembridge; Cadamarteri, Moore.
Unavailable: Ball, Unsworth (ill); Cleland, Campbell, Jeffers, Williamson, (injured); Hutchison (transfer-listed).
Myhre, Ward, Jevons, Gemmill, Watson.
Playing Strips
Formations
Chelsea:
Blue shirts; blue shorts; white socks.
4-4-2
EVERTON:
Yellow shirts; yellow shorts; yellow socks.
4–4-2
Yellow Cards
Red Cards
Chelsea:
–
–
EVERTON:
Gough (80'), Barmby (81')
–

---
Good day's work
Phil Pellow
Crappy view, aggressive and not very pleasant policing. I couldn't see a quarter of the pitch because of several PC's standing in the way. What do these people think we are?

As the game progressed, the Blues got better and better for me, with John Collins outstanding at left back. We played 4-4-2, with Gerrard back in goal, and a back four of Dunne, Weir, Gough and Collins. Across the midfield right to left were Barmby, Xavier, Hughes and Pembridge, with Danny Cadamateri and Joe-Max Moore up front.

A right Horlicks at the back for the Chelsea goal, with three chances to clear the ball spurned, and although he ran tirelessly, DC was getting nothing out of the impressive LeBoeuf. But Danny is not without heart, and he just kept throwing himself into the tackles against a bloke half a foot taller than himself, so it was a nice touch when Gough's flick on from a Pembridge long throw fell to Danny, who slotted it home.

Barmby was not, as far as I can recall, either unmarked or better placed. The box was full of people and the ball fell to Danny, who put it away. End of story. By now, Chelsea were rattled, and Everton's passing was a constant source of worry to them – so on came Poyet.

But the Blues continued to get better, and at the end both sides had chances to clinch it, with Joe-Max Moore's rasping drive from 25 yards stinging the hands of DeGoey before Chelsea had another chance at the other end, with someone heading straight at Gerrard.

All in all, a point well earned, with everyone playing their part in a good team show. Pembridge was excellent, working his socks off again, and the two big lads at the back were also superb, but Man of the Match was John Collins who tackled and covered like a good 'un all day.

Stephen Hughes had a quiet start, and at times the game just passed him by. He does work hard, but made a few errors in passing. Barmby and JMM covered every blade of grass in their usual fashion, and Richard Dunne was clearly not encumbered by the problems with Walter – he had a fine game as well.

Finally, good ole David Elleray (as usual) played the lead part. First, he gave an indirect free kick in the box when Gerrard caught Hughes' miskicked attempted clearance. A ridiculous decision but thankfully, nothing came of the free kick. Then, with Gough injured, he blew up with the ball at half way, for treatment to be administered. When Gough got back on his feet, Elleray gave Everton a goal kick! Less than a minute later, we were level.

After the game, I was threatened three times for trying to sell an EFC Fanzine outside THEIR ground. Jeez. It's only a game.
---
Rocket Salad, please dahling
Paul Tollet
Arrived at The White Hart in the affluent Parsons Green about 1.30. Your typical footy pub. Uniformed bar staff, a Barby on the go outside, and everyone ordering Rocket Salads, darling!

My dad isn't so good on his legs so we set off early for the ground. The weather was beautiful, and it was interesting to hear the Chelsea supporters on the way in. Their feeling was that it was perfect conditions for Chelsea to turn on the style, as the next mid table team will dutifully roll over and receive a spanking.

I hadn't been to 'The Bridge' since the mid 80's (Nev's sending off), and was interested to have a good look around the development. At about 2:50 we wandered past the Players Entrance, in a deserted part of the ground (beneath the East Concourse) and there are two blokes chatting outside. A rabid Evertonian and Walter. We wandered over and joined the conversation. 'Where's Hutchison' asks my dad. 'Who knows and who cares' came the reply. My dad got his ticket signed, and if I hadn't insisted we went to find our seats, then I'm certain we would still be there now. As we left the other Blue grabbed Walter and planted a big wet smacking kiss right on his lips. If god had only let me have a camera. Walt's face was a picture.

In contrast to the last time I was at Chelsea, I thought the crowd was passionless, and very much of the Nirvana type ie 'We are here, entertain us'. All those Range Rovers in the car park might mean they have 12 bistros to choose from, but it has definitely taken something away from this club.

The Everton support was strong, with our section full. There was a fair amount of trepidation, and we only really got behind the team once we had equalised. Someone needs to remind them that 1-1 means the same as 0-0 in terms of points. Pembridge was the target of a lot of aimless abuse, even though he had a decent game.

Some comments on individuals.

Dunne has finally convinced me he is a one-touch player. As long as that touch is a 50-yard punt upfield. When given the ball to feet he looks like a deer in headlights, and seems incapable of playing a 5-yard pass to a colleague,

Collins may well have found his perfect position, all be it a little late. He was a tremendous outlet for Weir and Gough on Saturday. Holding the ball up, and playing it to the midfield. He tackled well and got forward.

Hughes did well. Clearly not match fit, he kept going until the end. Won a couple of freekicks in the second half. Looked absolutely shagged as he left the pitch.

Gough and Davie Weir – Fantastic. Unruffled, and as cool as you like.

Gerrard. I'm sorry I prefer Thomas. He is more commanding, and when he comes, he always gets a piece of the ball. Not Gerrard. Also when we conceded the indirect free kick, with the wall on the line why wasn't he in front of it? Instead he was standing in the goal, with no view of the proceedings.

Barmby was inspirational (playing on the right; Pembridge was on the left and Hughes and the Peter Sutcliffe lookalike were in the middle). His work rate is immense, his tackling, his passing, everything. In the 89th minute he sprinted 60 yds into to the left-hand corner flag and hassled Lebeof into giving away a throw. Superb.

Danny missed a sitter, and got a rough ride from Thom particularly. However his head didn't drop, and his workrate was fantastic, particularly in the 2nd half. Was in the right place to slot the ball home.

Sutton. An oasis of mediocrity in a desert of class. What possessed Vialli to pay £10M for this man is beyond me. He is a donkey, relying solely on his physical presence. No guile, no touch, nothing. Like Matt Elliot, he plays the number 9 role like a number 5. A better ref would also have had him off in the fist half. He ALWAYS leads with his elbows, and he took a swing at Barmby in the first half that conveniently went unnoticed by Elleray and the linesman.

Wise. I hate the little git, but he has turned into a superb player. At every opportunity, my dad kept shouting at him. 'Your eyes are too close together, your eyes are to close together'. It didn't seem to phase him though.

Zola. Real class, even at 34. He must have glue on his boots, and can do the lot.

Elleray. A home team performance. Sutton got away with murder, including throwing a punch, and Thome was more than robust on Danny all afternoon. The decision to give a freekick for the back pass was insane. Weir tried to hook the ball upfield, he sliced it and it span backwards to Gerrard. Hardly a pass.

The two lads behind me were Joe-Max's mates from the States, over to see their friend. They were very quiet, and I think they were suffering from culture shock with all the Scally blues around them. They said they thoroughly enjoyed it though.
---
Eleven blue-hearted men and true
Peter Preston
Expectations were low for Evertonians after the abysmal home performance last week against Sheffield Wednesday and in the light of the news that we were to be without Kevin Campbell, Dave Unsworth and Michael Ball. In addition to the absence of Don Hutchison, it meant an inevitably weakened side.

On the Premiership preview on Sky on Friday night, we had been treated to a fresh-faced Don Hutchison saying that he was always available wherever and whenever 'the Gaffer needs me'. This was followed with an interview with a stony-faced Walter Smith in which he managed to suggest that the only reason Hutchison wouldn't be playing was because he had been omitted from the squad. Given the astronomical cost of Chelsea's football equivalent of the Harlem Globetrotters, a significant defeat seemed to be on the cards.

At Stamford Bridge, the away fans are distributed in such a way as to make it difficult to generate much atmosphere. We get the lower section along half of the East side. Strung out in a thin line, there is little chance to get the kind of collective jollity that we saw a couple of weeks ago at West Ham. What singing there was concentrated more on taunting Chelsea with the seriously inaccurate 'You've never won f... all'.

So, it was a pretty subdued away following which greeted the team and one which was seriously gob-smacked when John Collins lined up as an orthodox left-back in a conventional 4-4-2 formation. Those who say that Walter Smith has no tactical variety are not attending matches. You may or may not like what he does, but there is no doubt that he shuffles his dwindling pack according to both the opposition and what he has available.

Astonishingly, Everton had the best of the first half hour. The back four of Dunne, Weir, Gough and Collins looked solid. The solid central midfield of Hughes and Pembridge with Barmby on the left and Xavier on the right gave little away. Up front, Cadamarteri and Moore worked hard to little avail. The plus points were good shape, hard work throughout and some pretty good, quick-fire incisive passing. Where it fell down was with lack of penetration up front. Le Boeuf and Thome are skilful, large and ruthless. Our midget forward line was easily pushed aside.

It was screamingly obvious that what we needed was a strong centre-forward to hold the ball up. As it was, promising moves fell apart before the midfield could catch up. Until, that is, about twenty minutes when Cadamarteri, in a left-wing position, neatly turned Le Boeuf and set off at high speed diagonally into the penalty area. With De Goey coming out low, he had three options – pass to the unmarked Barmby steaming in towards a now gaping goal, chip it over the spread-eagled keeper or hit it straight at him. He chose the third of these options.

The fright seemed to galvanise Chelsea into action. There were waves of attacks with Zola and Wise both looking dangerous but firing over the bar a couple of times and the malodorous Sutton strong-arming his way into the penalty area. Finally a cross from Harley on the left bobbled around in the middle of our penalty area, Gough and Xavier tried to clear, it bounced off Sutton and into the path of Wise who was coming in fast from the right. Collins went to ground for a last-ditch block, but Wise shot incisively home. Gerrard was trying to cover the centre of the goal and couldn't stop it going in to his left. For the rest of the half, Everton defended well but showed little sign of getting an equaliser.

For the first fifteen minutes of the second half, the Chelsea domination resumed but, having replaced Zola with Flo, they seemed to have even less penetration. The game rattled from end to end with Chelsea having the better of the chances. Thome brought the ball out of defence, beat three men and sent a powerful drive just over. Flo hit one wide, Wise hit one over but, in the main, Everton looked reasonably safe.

The Everton following was pretty subdued, assuming that more goals would come for Chelsea. Then we revived and started to take the game to them. Pembridge took a long throw-in from the right on a level with the edge of the penalty area. The six-yard box was crowded with Chelsea defenders. Gough went up for the ball but seemed to make no contact. It fell and Cadamarteri, in the melιe, turned like lightning to side-foot it sharply into the net.

This opened the way for a scintillating last twenty minutes. Chelsea immediately brought on Poyet for Harley and mounted wave after wave of attacks. Poyet headed just over from a corner for which Gerrard came out late. Everton stood firm with heroic and disciplined defending.

As tension mounted, Gerrard inexplicably caught a looping back-pass from Hughes. The referee (who, it has to be said, had a pretty good game, despite being Mr Elleray of Harrow – obviously a neutral Londoner) gave an indirect free-kick on a level with the penalty spot about five feet to the right. After much messing around, and Barmby and Gough booked for encroaching, Le Boeuf took it fiercely, obviously hoping for it to be deflected in off the wall. The ball cannoned off Xavier and up the field to safety.

Thereafter, Moore had a stunning shot from 25 yards which was pounded out and fell to Pembridge on the left of the penalty area. He had a wonderful shooting opportunity or an even better chance to pass to the unmarked Cadamarteri. As it was, he shot, belting the ball about 15 feet to the right of the goal and about four feet in front of Cadamarteri.

With a sense of intense relief, we left, delighted that the point stolen by Chelsea at Goodison had been avenged. Under the circumstances, it was a heart-warming performance by Everton. As a team, they showed discipline and determination. The only deficiency was that several of the players are just not of sufficiently high quality but they all worked their guts out and you had to be proud of them.
Gerrard (6) made a couple of excellent saves and looked good apart from his inane howler with the back pass. He still does not command his own area.
Dunne (6) was pretty solid throughout, apart from one ill-advised effort to dribble past Babayaro.
Weir (8) was magisterial, cool and assured at all times.
Gough (8) ditto.
Collins (7) was surprisingly effective at left back. His distribution was excellent and his general positional play would have done credit to a natural defender.
Pembridge (8) is short of the silkier skills but he worked amazingly hard tackling back. It is easy to see why Walter perseveres with him as someone whose head rarely goes down.
Xavier (6) looked assured on the ball and put in plenty of effort. He looks more comfortable as a right-sided midfielder or wing-back (as v. West Ham) than in central defence (as v. Sheffield Wed).
Barmby (9) was the magnificent man of the match. He ran himself into the ground, chasing, harrying, trapping impossible balls, passing incisively at speed.
Hughes (6) was obviously short of match fitness and was pretty anonymous but he did nothing wrong.
Cadamarteri (6) had one of his better games, and put in lots of effort. It was interesting, in terms of dressing-room politics to see the really affectionate congratulations from Gough when Danny scored.
Moore (7) also worked hard and was unlucky not to have got a goal.
So, all told, a commendable performance from eleven blue-hearted men and the man who must (pace David Catton) be the manager of the season.
---
Cadamarteri's strike exposes Chelsea flaws
By Patrick Barclay, Electronic Telegraph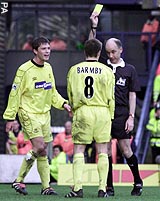 Referee David Elleray books Everton's Nicky Barmby

CHELSEA were relieved that Liverpool also dropped points at home, for to stay in the top three has significance in terms of qualification for the Champions League next season. Gianluca Vialli's team should still have overcome a depleted Everton, whose equaliser suggested they had been learning from their neighbours Tranmere: it came from a long throw, Mark Pembridge adopting the role of Dave Challinor and Danny Cadamarteri profiting.

Everton are performing wonders. Only one defeat in seven matches testifies to Smith's powers and the resilience of the veteran Richard Gough. Yet they were flattered by a draw, Chelsea finishing poorly in a second half that also featured their fatal moment of inadequate defending.

Although Chelsea remain unbeaten in a dozen Premiership outings, it was hardly ideal preparation for Tuesday's Champions League visit to Feyenoord, who have improved considerably since losing here in November. "With a lot of matches in a short time," said Vialli, "tiredness is understandable. But I think we played some good football. We'll be ready for Feyenoord, I hope."

Hope? To be fair, there are so many peaks to scale these days. Faced with a Himalayan range of assignments, Vialli had reasonably made changes, resting Marcel Desailly and Didier Deschamps and using Tore Andre Flo and Gustavo Poyet only in the second half. It was just as predictable that the Chelsea manager should stick with his captain throughout, for Dennis Wise does not take rests; he merely serves suspensions.

The toast of Stamford Bridge after his match-winning contribution against Marseille on Wednesday, the 33-year-old Wise displayed his customary excellence, enhanced by another goal. He is mounting a formidable argument for a place in Kevin Keegan's European Championship team. We shall have to see. His tendency to get into trouble must always be a worry, even if he has yet to incur a yellow card in Europe this season.

According to Vialli's coach, Graham Rix, Wise is fundamental to Chelsea, not least because of the demands he makes on other players. "For all the outstanding footballers we've got," ventured Rix, "I'd say he is the most important player at the club."

To facilitate the restoration of Roberto Di Matteo, Wise operated on the right yesterday. "I asked him to try to be as influential as in the middle," said Vialli, and Wise's response was to put Chelsea in front before supplying the bulk of service offered to, and spurned by, the strikers.

The effects of Everton's casualty list were apparent at left back, where John Collins did emergency duty, and in the lightweight partnership of Cadamarteri and Joe-Max Moore up front. For half an hour, the Merseysiders nevertheless gave as good as they got and ought to have taken the lead when Cadamarteri's attempt was blocked by Ed de Goey as Nicky Barmby, unmarked to his colleague's right, waited in vain for a tap-in.

But almost as soon as Everton came under pressure at the back they cracked. Albert Ferrer's pass found Di Matteo on the edge of the penalty area and, though Gough seemed to have nudged the ball away from the Italian, he recovered possession and forced it on for Collins and Chris Sutton to tussle inconclusively before Wise stepped in to send a low, angled shot under the diving Paul Gerrard.

Vialli's side remained the more rhythmic, but lacked a cutting edge as Sutton and Gianfranco Zola failed to gel. Poor Zola. He has looked jaded for some weeks and it was no surprise that he gave way to Flo at the interval. At least the Norwegian gave Gerrard some anxiety. From one corner by Wise, he poked wide. From another, he headed over. But by the time Flo had returned to his merciful ways, again nodding too high from Sutton's promising cross, Everton were level.

Gough rose to Pembridge's throw, glancing the ball on for Cadamarteri to sweep past de Goey. Now Chelsea showed a bit of fire and after Poyet had put yet another header over the top Gerrard did well to stop Leboeuf's fierce shot from a free kick awarded for his handling of a pass-back from the debutant Stephen Hughes.
Report © The Electronic Telegraph
---
Chelsea lose their grip
by Ian Hawket, The Sunday Times
POINTS squandered by Chelsea? Not quite. Customary though it is to blame blips in the league on the proximity of a European adventure, that would understate Everton's case here. After Dennis Wise – who else? – had given Chelsea a first-half lead, the visitors rallied nicely, Danny Cadamarteri capitalising on a lapse in the home defence. Everton never really looked like winning it, and indeed Jody Morris, with a header, might have restored Chelsea's advantage at the end.
However, Walter Smith's patched-up team had had their moments, and remained a threat on the counter-attack. Smith's defenders worked harder, not least Richard Gough, who marked Chris Sutton. It would be another blank day for Chelsea's strikers. Nevertheless, Wise's second goal in four days keeps them in third place.
The Chelsea captain had started on the right fringe of midfield, with Morris and Roberto Di Matteo at the hub. "I asked him to be as influential there as when he plays in the middle," said Gianluca Vialli, Chelsea's manager. Wise was.
Neither team was at full strength, although in Chelsea's case, this was a matter of choice, and the need for some rest and recuperation before Tuesday's Champions League game against Feyenoord. George Weah and Graeme Le Saux were injured, Tore Andre Flo and Gustavo Poyet started on the bench, and Didier Deschamps and Marcel Desailly were absent altogether.
Everton's planning had been shaped by illness and injuries. It meant John Collins playing in an unorthodox left-back position and Stephen Hughes, signed from Arsenal for £3M in midweek, making his debut in the centre of midfield.
With Francis Jeffers and Kevin Campbell out injured for at least another month, Cadamarteri joined Joe-Max Moore up front, and it was Cadamarteri's wasted opportunity after 20 minutes which gave the match its first significant heartbeat. Chasing a long ball from deep, he neatly shook off his marker, Frank Leboeuf, and belted goalwards in an inside-left position. Ed De Goey advanced quickly, but the odds still favoured the Evertonian. Cadamarteri shot low; De Goey saved.
Almost immediately, Wise volleyed a Jon Harley centre over the bar and Gianfranco Zola curled a 25-yard free kick in the same direction. Chelsea had been stung, and once Zola had narrowly lost a duel with goalkeeper Paul Gerrard, the momentum carried them towards their lead. Tenacious work in the Everton penalty area by Di Matteo and Sutton gave Wise his opportunity. He accepted it, driving in his angled shot with accuracy, power and confidence.
Harley had been enjoying his space out on the left, too, and a touch from either Sutton or Wise on the end of his centre might have further registered Chelsea's superiority by half-time. Zola had also had a left-footed shot saved. Come the interval, Vialli withdrew his compatriot and brought on Flo.
Chelsea's wide players took it as an invitation. Crosses from Wise and Celestine Babayaro promised well without delivering, and much of the rest was speculative.
Emerson Thome strode forward aggressively on two occasions to unleash efforts from long range, the second after a smooth exchange with Flo. "We played some good football," said Vialli, pleased to see better instincts returning after a patchy display in midweek.
Yet, as the second half went on, Everton began to feel more comfortable in Chelsea's company. Abel Xavier tried his luck from 25 yards, as did Moore, drawing a good save from De Goey. Hughes also expressed himself more fluently, winning two free kicks within range of the Chelsea goal.
Midway through the second half, Cadamarteri seized his moment. A long throw-in from Mark Pembridge skimmed off Gough's head and dropped at Cadamarteri's feet. He lost not time in whipping the ball past De Goey.
"We got a lucky break with it falling to him like that" said Smith of the goal. "It was a good result, which we worked very hard for."
Report © Times Newspapers Ltd
---
Cadamarteri punishes complacency
by Steve Tongue, The Independent
After victory over Marseille in midweek, Chelsea reverted to the bad old habits of last autumn, following an effective performance in the Champions' League with a much less convincing effort in domestic football. Their domination on either side of half-time produced nothing more than a second goal of the week from the inspirational Dennis Wise and, although it was a surprise when Danny Cadamarteri stole an equaliser, the London side's lassitude had left them vulnerable to that eventuality.

It was unexpected to hear Gianluca Vialli praising "a good performance", assuming he meant his own team's rather than Everton's. For the under-strength visiting team, this was certainly an excellent result, on the heels of convincing victories at Wimbledon and West Ham last month on previous visits to the smoke. Their manager Walter Smith thought there had been "few opportunities for either side", though, like Vialli, he must have been blinding himself to the ones that Chelsea passed up.

Smith had wanted to ease his new signing, Stephen Hughes, gently into the swing of things by sitting him in the dug-out to watch his new colleagues, but the young midfielder, squeezed out of Highbury by Arsenal's legions of foreigners, was thrust straight into a team depleted by injuries, illness and, in the case of their erstwhile captain Don Hutchison, a bad case of financial disenchantment. Hughes coped reasonably in the circumstances, under less pressure than the Scottish midfielder John Collins, who was forced to turn out at left-back, charged with subduing Wise – which is rather like keeping the lid on a jack-in-the-box.

Until Chelsea got a Wise in the box, just failing to reach Jon Harley's cross in the 18th minute, the visitors were untroubled. Seeing their captain volley another Harley centre narrowly over the bar encouraged the home crowd and team, and after Gianfranco Zola had curled a free-kick just too high, Chelsea scored. Zola's nod-down caused confusion, increased by touches from Roberto di Matteo and Chris Sutton, whose square pass was driven in by Wise.

Everton, starting brightly, had seen plenty of the ball, but were only able to test Ed de Goey with it once before the interval: the goalkeeper was forced to block from Cadamarteri, who after leaving Frank Leboeuf standing, would have done better passing to Nick Barmby on his right.

Zola stayed in the bath after half-time, replaced by Tore Andre Flo, on the verge of joining Everton rather than Chelsea just before Joe Royle was sacked in 1997. Despite making himself busy from the start and almost scoring within eight minutes, the Norwegian was later guilty of two weak headers from good positions. He did better in setting up Emerson Thome as the Portugese-Brazilian defender twice galloped forward in search of his first Chelsea goal. One attempt flew wide and the other was not much too high.

An equaliser arrived in the 70th minute. Richard Gough challenged for Mark Pembridge's long throw and caused enough of a diversion for Cadamarteri to sneak in ahead of Leboeuf and stab the ball into the net.

Gustavo Poyet, heading a corner over the bar immediately after replacing Harley, and Jody Morris, heading straight at the goalkeeper, might have restored the lead. The best opportunity came from an indirect free-kick 12 yards out, but David Elleray, having booked three Everton players for encroaching, still allowed the defensive wall close enough to smother Leboeuf's shot.
Report © The Independent
---
Chelsea's loss as Sutton fails to profit from rare opportunity
by Keith Pike, The Times
AS Alan Shearer and Kevin Keegan sit down over the next two months to debate who best can help the England captain mark his retirement from international football with a European championship winner's medal, the man with whom he once formed the most productive partnership in the land finds himself so far down the waiting list that he is likely to qualify for an NHS hip replacement operation before a recall to the national colours. If Chris Sutton could get a fresh pair of legs fitted at the same time, so much the better.
The chance to play for England B having previously been declined because he felt it would prove nothing, one can only imagine how Sutton feels now about being fourth choice for his club, never mind an afterthought for his country. Given the opportunity to lead the Chelsea attack on Saturday because of George Weah's injury and Tore Andre Flo's recent exertions, Sutton cut a forlorn figure, dwarfed by a central defender as old as the hills if not over them, and condemned by a transfer fee that looks more inflated by the match. As sure as Gianluca Vialli is Italian, when his team flies out for the European Cup Champions' League match against Feyenoord tomorrow, Sutton's seat on the plane will be a bench with an in-board dugout in preparation for his Rotterdam role.
Vialli was defiantly standing by his highly-expensive man at Stamford Bridge as he chewed over a draw against Everton that left Chelsea unbeaten in 12 FA Carling Premiership matches but 11 points off the pace. "Chris is doing well and working really hard," his manager said.
"I am happy with the way he is playing and he knows that. Sometimes you go through a season where nothing seems to happen in terms of scoring goals, but we are third and doing well in two other competitions. It doesn't matter who scores as long as we win matches. It will only matter when we don't win games." His loyalty to Sutton is as admirable as his logic is flawed. Someone should remind him that Chelsea did not win this one. Nor did they deserve to.
Hardworking or not, the Sutton balance sheet makes unimpressive reading. His goals, in 29 appearances, have so far come at £3.3 million each, and not one has been decisive: one against the ten men of Skonto Riga (3-0), one against the might of Hull City (6-1) and one, albeit a corker, against Manchester United, the second of Chelsea's five. He stands level in the scoring charts with own-goals, who cost £10 million less.
It was the static nature of Sutton's performance rather than the statistics that angered supporters. He did manage to get an inadvertent touch in the messy build-up before Wise gave Chelsea the lead on the half-hour, but the profit and loss columns eventually tallied. Sutton later failed to cut out Pembridge's long throw and Cadamarteri poked in the equaliser.
Cadamarteri had earlier missed a great chance, delaying his shot to allow De Goey to spread himself to save, while Morris's injury-time header was Chelsea's only other clear opening.
Sutton, meanwhile, would scarcely have been surprised had he found Richard Gough inside his jacket when he got changed. The veteran Scot hardly gave his younger rival an inch as Everton battled for a deserved point.
"Not many 37-year-olds get offered a new two-year contract," Walter Smith, the Everton manager, said. "He never flinched. It shows how long you can go if you look after yourself. He needed a lift at the end of his career and we gave it to him." How Sutton could do with one right now.
Report © Times Newspapers Ltd
---