Match Summary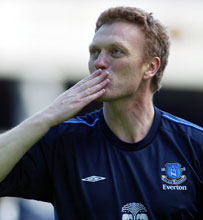 David Moyes gave his charges their first public runout of the pre-season campaign in the little Austria town of Bruck. With a number of World Cup stars still enjoying their holidays, new signing Joseph Yobo still awaiting his work permit, plus the usual list of niggling injuries to contend with, it was an opportunity to cycle through most of the supporting players in the expanded first-team squad.
Reserves of note included Leon Osman, now hopefully fit after a disastrous season of injuries, Sean O'Hanlon, George Pilkington, Peter Clarke, Tony Hibbert, Kevin McLeod, Keith Southern, Nick Chadwick, and of course Wayne Rooney, whom we promise not to over-hype at every opportunity!
Trialist Omar Daley (Jamaican striker from Hazard United) was also involved but Juliano Rodrigo (Brazilian striker from Botafogo, on loan with Athletico Mineiro) was out of action after suffering a poisoned toe from boots that were too tight.
A lively game ensued, with Omar Daley hitting the post in the first minute, Goals came from Sean O'Hanlon, who placed his header well from a Leon Osman corner; Radzinski, who deflected Kevin Campbell's header in off his chest, and yes, the Great White Hope, Wayne Rooney.
Rooney's goal came off an excellent long ball from Keith Southern with the youngster shaking off two defenders to slot home. Huber pulled one back for the home side when he broke away to slot it past Paul Gerrard.
But, whatever the hype-merchants may claim, this was not Wayne Rooney's first senior goal for the Blues. This was merely a friendly — and friendlies don't rate in the record books.