Venue: Goodison Park, Liverpool
Premiership
Saturday 17 December 2006; 1:45pm





Arteta (pen): 37'
Yobo: 64'
Half Time: 1-0
Ballack: 48'
Lampard: 81'
Drogba: 87'
Attendance: 33,970
Referee: Mark Halsey
Everton powerless to stop Chelsea fight-back
By rights, both of the top two teams in the Premiership should have lost away games today. As it was, while Manchester United succumbed to West Ham United by a single goal in Alan Curbishley's first game in charge, Chelsea somehow escaped from Goodison Park with all three points after surviving two genuine penalty claims and then blowing their hosts' lead to shreds with two sublime strikes in the last 10 minutes.
With Nuno Valente the latest casualty of a Bellefield training session, David Moyes was once again forced to reshuffle his back line, although the loss of the Portuguese international was cushioned by the return from inury of Phil Neville in the other full-back slot. Joleon Lescott, who has filled in at left back on plenty of occasions already this season was again asked to play out of position, with Alan Stubbs partnering Joseph Yobo.
In midfield, Andy van der Meyde was excused from duty after his home was burgled for the second time in the last few months, but Mikel Arteta was a surprise name on the teamsheet and he lined up alongside Lee Carsley, Simon Davies and Leon Osman. Up front, Victor Anichebe was handed his first Premiership start alongside Andy Johnson as Moyes went for a brave attacking partnership for the visit of the Champions.
As the manager would have hoped, Everton started with purpose and sent a message to their illustrious visitors that they weren't going to make it easy for them. Indeed, the Blues had the better of the first half and chances were at a premium at both ends.
Didier Drogba signalled his intentions with an audacious early effort in the ninth minute that flashed across Tim Howard's goal from the angle before the Ivorian was denied by a terrific saving tackle by Stubbs five minutes later.
At the other end, Everton were doing some probing of their own and Arteta did well to skip past his marker and get to the byline but he couldn't find a Blue shirt with a decent cross. But they might have had a penalty four minutes later when Johnson was involved in another controversial incident that seemed to cement the suggestion that the accusations leveled at him as a "diver" are costing him genuine penalty claims.
The striker raced onto a flick-on by Anichebe and beat Boulahrouz but was clearly nudged in the back by the Dutchman. Already off balance as a result, Johnson leaped to avoid contact with the on-rushing Hilario and crashed to the turf as the ball ran out of play. Referee Mark Halsey paused, checked with his linesman and then waved play on. Had AJ been playing for the penalty, he would have left his feet in and allowed the 'keeper to crash into him. That he didn't is a credit to how he is trying to handle himself in these situations these days. It makes you wonder whether he'll win a penalty again.
In marked contrast, Anichebe, who has no history with referees, was awarded a spot kick eight minutes before half time. The 18 year-old collected a nudged ball forward by Johnson and after he crumpled under the over-zealous attentions of Boulahrouz, the referee pointed to the spot. Up stepped Arteta, sent Hilario the wrong way and buried it into the corner. 1-0 and no more than the home side deserved.
Naturally, Chelsea came at Everton almost immediately but, much like the entire first 45 minutes, weren't able to create anything concrete that threatened to breach the Blues' back line and the scoreline remained unchanged at the interval.
On the evidence of the first half, it was going to take something special — or fortunate — for Chelsea to level the game. In the end, it took a bit of both and it came just three minutes after the restart. Carsley gave away an innocuous handball 25 yards out from goal and Michael Ballack swerved the resulting kick off the post and in off the back of the diving Howard.
Jose Mourinho's team briefly had the upper hand and had the Goodison faithful's hearts in their mouths again when, after Arjen Robben's shot was deflected behind, Yobo mis-kicked horribly in front of goal and Solomon Kalou despatch a snapshot off the same post that has been so kind to Ballack six minutes earlier.
But Everton regained the initiative soon afterwards and after Anichebe had won a free kick down the left touchline and Arteta had forced Hilario to punch clear from under his crossbar, Yobo rose to head the following corner into the top right-hand corner and send Goodison into delirium with 26 minutes left.
Again, Chelsea responded as you'd expect by exerting more pressure and Drogba had an opportunity to level matters again almost immediately when he was picked out brilliantly but he skied his shot on the turn. Andrei Shevchenko was thrown on but still Chelsea, for all their technical superiority could not find their way past dogged defending by the home team.
Instead, it was Everton who should have had another penalty and a shot at putting the game out of reach. Anichebe flicked on a long throw from the left but Johnson was prevented from collecting it by Boulahrouz's hand. The referee either didn't see it or didn't feel it was sufficiently intentional and denied the baying from the home fans and team for justice.
10 minutes later, Chelsea drove a second knife through the Blues' hearts. Kalou laid the ball back to Frank Lampard on the edge of the box and he took one touch before driving an unstoppable shot high into the net to restore parity in cruel fashion.
Rocked back on their heels, Everton surrendered the advantage to the visitors a little in the closing stages but still could only muster a tame effort by Shevchenko and the Blues did not deserve what came next from Drogba. Miles from goal, the Ivorian chested the ball down, swivelled and half-volleyed spectacularly past Howard to break Evertonian hearts with three minutes to go.
Moyes's side, having given their all despite still being under strength, were stunned and pretty much spent by this point. Shevechenko tried to end his own scoring drought when he stung the palms of Howard with a powerful drive while Everton threw on Beattie and McFadden for Carsley and Anichebe in injury time but it was too late.
After a disappointing display at Portsmouth, with key personnel out, and Arteta not firing on all cylinders following his injury, the fans could not really have asked for more from the players, particularly against the Premiership Champions. They didn't scale the heights of the early part of the season and they failed to penetrate the Chelsea defence sufficiently to create any clear chances for Johnson, but they certainly did more than enough to win this game and deserve to do so.
That they didn't was down to pure class, the kind of skill that a billionnaire Russian can buy you, bad luck and two poor refereeing decisions that should have yielded at least one more penalty than the one that Arteta converted so confidently.
Results elsewhere mean that the Blues remain in the top ten and go into the Christmas programme looking over their shoulders a little but can take heart from a very good performance and will be boosted by an encouraging debut by Anichebe who looks, on this evidence, to be a far better bet alongside AJ than James Beattie.
Match Preview
After a week of debate over the stadium issue and the controversial "Kirkby option" that was confirmed at Monday's AGM, it's back to business on the pitch with the visit of the Champions, Chelsea.
Still without key figures in the form of Tim Cahill and Mikel Arteta — the Spaniard may be fit in time for the Christmas programme but Cahill is ruled out until the New Year with knee ligament damage — David Moyes is hopeful of being able to welcome Phil Neville and Leon Osman back to first team contention following their own more minor injuries.
That would certainly ease the selection crises in midfield and defence where centre backs have been filling in at full back with uncomfortable regularity in recent weeks. If Neville returns, it would allow Joseph Yobo to move back into central defence.
And if Nuno Valente is dropped back to left back after an experimental run-out in left midfield in the defeat at Posrtmouth last weekend, it could mean the resumption of the impressive Yobo-Lescott central defensive partnership and a more familiar-looking back line in front of Tim Howard.
Osman's last game was in the home win over West Ham and if he is passed fit, it's likely that he too would walk straight back into the starting line-up. If we assume, as is likely, that Andy van der Meyde will keep his place, much will then depend on whether Moyes decides to play James McFadden in midfield or up front with Andy Johnson — and therefore drop James Beattie to the bench. If McFadden is deployed in left midfield, Simon Davies would likely drop to the bench.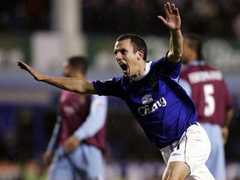 Leon Osman:
scored last time out and could return from injury this weekend
In attack, Moyes does have options but is almost guaranteed not to risk one of his 18 year-old strikers against such strong opposition. That means perming two from Johnson, Beattie and McFadden, with the smart money being on the former two despite Beattie's poor form and substitution at the halfway point at Fratton Park last weekend.
Chelsea have major doubts over Ricardo Carvalho and goalkeeper, Carlo Cudicini, while Joe Cole is ruled out with a broken foot. Dangerous frontman, Didier Drogba, is expected to shake off a hamstring strain and start up front for Jose Mourinho's side.
No one in the Everton ranks will be under any illusions about how difficult a fixture this will be, particularly given the way the Blues have been struggling for goals over the past few games.
But, if there is comfort to be taken in the run up to this one which will be screened live on Sky at the unorthdox time of 1:45pm on a Sunday afternoon it's that Chelsea are not the all-dominant force they were last season.
Of course, they appear to have got back to something approaching their best in recent weeks but their two defeats thus far have come away from Stamford Bridge and, as Middlesbrough and Tottenham have proved, they are beatable if Everton can get their act together and take the game to them.
And our home record against Chelsea over the past few seasons is also cause for optimism; twice last season the Blues held the Pensioners to 1-1 draws and a 3-1 reverse in 2002/03 aside, this fixture has been been very tight.
As they proved in the early part of the season, this is a highly capable Everton team but you have to be honest and say that they will struggle without Arteta's influence in midfield and Cahill's goal threat.
Everything will depend on whether they can provide decent service to the front two, something they have singularly failed to do for too long now.
Betting: Take a look at some sample prices from our online betting partner, BlueSquare. For example, you can get 12/1 on Everton winning 1-0.
Matchday Stats
May appear here later
* Unfortunately, we cannot control other sites' content policies and therefore cannot guarantee that links to external reports will remain active.
EVERTON (4-4-2)
Howard
Neville
Yobo
Stubbs
Lescott
Davies
Carsley (Beattie 90')
Arteta
Osman
Anichebe (McFadden 90')
Johnson
Subs not used
Naysmith
Wright
Weir
Unavailable
Valente (injured)
Cahill (injured)
Van der Meyde (personal leave)
Hibbert (injured)
Pistone (injured)
Turner (injured)
CHELSEA (4-4-2)
Hilario
Geremi (Kalou 46')
Cole
Boulahrouz (Bridge 73')
Carvalho
Makalele
Lampard
Essien
Ballack
Robben (Shevcenko 73')
Drogba
Subs not used
Hedman
Ferreira
Premiership Scores
Saturday
Arsenal
2-2
Posrtmouth
Aston Villa
0-1
Bolton
Charlton
0-3
Liverpool
Newcastle
2-1
Watford
Reading
1-2
Blackburn
Wigan
0-1
Sheffield Utd
Sunday
Everton
2-3
Chelsea
Man City
1-2
Tottenham
West Ham
1-0
Man United
Monday
Fulham
-v-
Middlesbro'
Premiership Table
Pos
Team
Pts
<%Do while NOT oMRTRs.EOF%> <%If oMRTRs("Team") = "Everton" then %>
<%=oMRTRs("Pos")%>
<%=oMRTRs("Team")%>
<%=oMRTRs("Pts")%>
<% ElseIf oMRTRs("Pos") > 20 then %>
<%=oMRTRs("Pos")%>
<%=oMRTRs("Team")%>
<%=oMRTRs("Pts")%>
<% Else %>
<%=oMRTRs("Pos")%>
<%=oMRTRs("Team")%>
<%=oMRTRs("Pts")%>
<% End If %> <%oMRTRs.MoveNext%> <%Loop%>
After <%=DatePart("d",date)%> <%=MonthName(DatePart("m",date),True)%> <%=DatePart("yyyy",date)%>
<% oMRTCs.Close() Set oMRTRS = Nothing %>