Match Updates
Despite a promise that we wouldn't be seeing the kids in this one, David Moyes has given senior-level debuts to Victor Anichebe and Mark Hughes. Run-outs also for other members of the senior squad who have not been getting much of a look-in: Wright, Davies, Van der Meyde, Valente and Beattie. Davies was returning to his original club, who benefited to the tune of £2.1M in sell-on bonuses when Everton bought Davies from Spurs.
Beattie had a pop early on from 25 yards but it was wide, but Peterborough responded with A typical Wright howler on 15 mins saw Lescott scramble it clear from under the Everton bar. Anichebe was then in trouble, needing to stretch and recover from some knock, strain or pull. Valente lashed one wide after 20 mins.
But on 23 minutes, Everton broke the deadlock, a far post header from Beattie deceived the goalkeeper from a difficult position on a superb cross from Valente, heading down onto the line and beating Tyler well, to put Everton ahead after they had weathered the initial Posh onslaught. Or, in the Alternate Reality that is the Official Everton website: "Headed own goal by Jude Stirling (Peterborough) (bottom-left of goal) from own half (6 yards)." But Peterborough had a shout for a penalty when Davis went down under a firm tackle from ___ but he got the ball, so the referee was dead right. A yellow card for Richards, for pushing over Lescott in a contested tussle that got the backs of the locals up.
Peterborough tried to get back into it and threatened occasionally. A wonderful sweeping move started with Davies, Anichebe set up Carsley with a beautiful ball and his first time shot was saved brilliantly by Tyler. Best move of the game!
Early in the second half, Mark Hughes fell heavily after being challenged but he came back on after some medical attention. Very little flow or continuity to the game as Everton struggled to assert themselves. Beattie struck a distant free kick over the bar. But a ferocious shot was
An excellent driven shot was fired in from Adam Newton after a flowing move from Peterborough that showed up a number of Everton weaknesses and would have beaten Wright but for the intervention of Mark Hughes, who deflected it out. Off the ensuing corner, Trevor Benjamin headed it in and Simon Davis cleared it off the line but the Linesman said it was over the line and a goal was given against Everton. 1-1 and ea real cup-tie atmosphere — not exactly what we wanted! Anichebe linked up ell for Beattie but the shot was weak and deflected away.
David Moyes responded by replacing half of his midfield, bringing on Cahill and Arteta with the aim of seeing of the troublesome hosts. v Van der Meyde had not really impressed, and Naysmith, playing forward on the left, was always vulnerable for replacement. Beattie got the ball forward well for Davies, clean through, but it was a good chance well saved by the keeper. Arteta tried to play him in again from the corner but that did 't work.
Match Preview
Everton embark on another League Cup adventure with their first-ever game against Peterborough United. This is, of course, the only one of the major domestic cup competitions that the Blues have never won and, as such, has become something of a bogey tournament for us. Unfortunately, David Moyes has thus far failed to show any signs of burying that jinx.
The manager usually changes things up for the first foray into the Carling Cup which, given the seeding system for the second round, always pits us against lower-division — and, therefore, theoretically inferior — opposition.
He will probably be forced into a few changes at London Road, though, with Joseph Yobo doubtful with a back strain, Leon Osman battling an ankle knock and Lee Carsley recovering from the rib injury that forced his early departure from the 2-2 draw with Wigan on Saturday.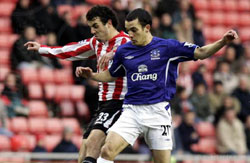 Leon Osman:
An ankle injury could mean he won't be risked at London Road
David Weir is likely to step in for Yobo, and Andy van der Meyde could see his first taste of action this season with a start on the left in place of Osman.
Simon Davies, absent from the first team line-up since the opening day of the season, will be hoping to play against the team that gave him his start in professional football, while Nuno Valente could be handed 90 minutes at the expense of Gary Naysmith to boost his fitness levels.
It goes without saying that Everton should win over the two legs but it would be nice if we could really go to town for once and score a hatful of goals like so many other top-flight sides do at this stage of the tournament.
The key, of course, will be not to make so many changes and blood too many kids — only Mark Hughes and Victor Anichebe have been named in the squad — as to break up the rhythm already established in Everton's unbeaten start to the season.
Matchday Stats
The 2nd round of the Carling Cup (or the League Cup to those of us who remember football prior to Sky) sees Everton play Peterborough United for the first time, competitively.
Whilst Everton should be seen as favourites – especially against a League Two side (or Division Three a few years ago or Division Four as it used to be known, which is why we will be referring to this from now on as Level Four) – the penchant for Premiership sides to 'experiment' plus the fact that Everton's record in this competition is not good by any means – the potential for another "Shrewsbury" is very real.
Then again, Everton's record against clubs at this level (Level Four remember) in the League Cup is very good, having won 15 of the 16 matches played against Level Four teams.
Everton's full record against Level Four teams in all rounds of the League Cup is:
| | | | | | | |
| --- | --- | --- | --- | --- | --- | --- |
| | P | W | D | L | F | A |
| Home | 9 | 8 | 1 | 0 | 33 | 5 |
| Away | 7 | 7 | 0 | 0 | 16 | 3 |
| TOTALS: | 16 | 15 | 1 | 0 | 49 | 8 |
Memorable results from matches against Level Four teams in the League Cup include Everton's 3:1 win over Accrington Stanley in 1960 which was our first in the competition, as well as an 8:0 win over Wimbledon in 1978 when Bob Latchford scored 5, and the less-remembered Martin Dobson getting the other three.
The closest Everton have come to a defeat against a team in Level Four, was a 2:2 draw against Chesterfield in 1983, in a second round, second leg match, after Everton had won 1:0 at Chesterfield.
Everton didn't play in this round last season due to our, very brief, European exploits, however, the second round of the League Cup has seen a good number of 'upsets' over the past 11 years:
1994: Knocked out 3:4 on aggregate by Portsmouth, however, Duncan Ferguson starts his ten-year love affair with the club.
1995: Knocked out 2:4 on aggregate by Millwall in extra time at Goodison Park.
1996: Knocked out 3:4 on aggregate by York City.
1997: Beat Scunthorpe United 6:0 on aggregate, before losing 4:1 at Coventry City in the next round. Remember Howard Kendall telling the players to warm down on the pitch afterwards?
1998: Beat Huddersfield Town 3:2 on aggregate. Everton finally lost to Sunderland in the 4th round on penalties!
1999: Knocked out 1:2 on aggregate by Oxford United.
2000: Knocked out on penalties by Bristol Rovers after drawing 2:2 on aggregate.
2001: 2nd round ties are changed to one-off matches but it's another penalty shoot out loss, this time by Crystal Palace after the teams drew 1:1 at Goodison Park.
2002: Wayne Rooney becomes Everton's youngest goal-scorer as Wrexham are beaten 3:0, and then Everton actually win a penalty shoot-out at Newcastle United, before losing rather meekly to Chelsea 1:4
2003: David Moyes makes it two wins in two second round ties, as Everton comfortably dispatch Stockport County 3:0, by end up being knocked out by Middlesbrough in the fourth round – yep, on penalties again.
2004: Another shock in the Everton career of David Moyes as he wins a second penalty shoot-out, this time beating Bristol City before a 1:3 defeat at Arsenal, again in the fourth round.
As we can see, in David Moyes' 4 attempts at winning the League Cup so far, we have got to the fourth round on three of those 4 occasions. Can David Moyes motivate the side and actually win the only major domestic trophy Everton have failed to claim so far?
Our record for the 19th September would suggest that Everton should be able to overcome Peterborough and proceed to the third round:
| | | | | | | |
| --- | --- | --- | --- | --- | --- | --- |
| | P | W | D | L | F | A |
| Premier League | 5 | 2 | 1 | 2 | 4 | 6 |
| Division One | 14 | 10 | 1 | 3 | 33 | 18 |
| Division Two | 1 | 0 | 1 | 0 | 0 | 0 |
| League Cup | 1 | 1 | 0 | 0 | 2 | 0 |
| European CWC | 1 | 0 | 1 | 0 | 0 | 0 |
| UEFA Cup | 1 | 0 | 0 | 1 | 0 | 1 |
| TOTALS: | 23 | 13 | 4 | 6 | 39 | 25 |
Whilst this our first ever match against Peterborough, this will be Everton's second League Cup match on this day. The first was in 1989, when goals from Mike Newell and Kevin Sheedy ensured a 2:0 victory over Leyton Orient at Brisbane Road.
Milestones that can be reached this game:
If he starts, Lee Carsley will be making his 100th starting appearance for Everton in all competitions.
Match Report
May appear here later
* Unfortunately, we cannot control other sites' content policies and therefore cannot guarantee that links to external reports will remain active.