Tim Howard is thankfully eligible to play in this game, replacing Iain Turner, who is on the bench in place of Richard Wright. The only other change seems to be a brave one by David Moyes: dropping the one-dimensional and limited Tony Hibbert to the bench, allowing Captain Phil Neville to play in his best position at right-back, with Osman moving back into midfield, allowing for the return of Victor Anichebe upfront as partner fro James Vaughan.
The game started slowly and was rather bitty, with neither team able to settle.
A scary moment when Neville lost the ball after an Everton corner, setting up a Portsmouth break that Carsley had to be at his best to stop. Everton looked nervy for the following few minutes, with some bad defending and bad decision-making by Everton. But they escaped and launched a half-hearted attack that went nowhere when Osman's ball was too far beyond Anichebe.
More formless football from Everton followed, allowing Portsmouth to take the initiative for a few minutes, forcing a series of corners. But Vaughan suddenly had a glorious chance to score, a ball from Anichebe putting him through on goal but he mis-hit his shot which screwed wide of James's post.
Moments of brightness appeared briefly form Lescott and Arteta, with the crowd urging them on to take a grip of the game, but mistakes and poor aimless passes continued to hand the initiative back to the visitors.
Fernandes got caught in possession trying to do a Fancy Dan drag-back, and was forced to foul his opponent, getting a booking in the process. No fluidity whatsoever from Everton, with Portsmouth looking the better team.
But Anichebe got a great flick-on to James Vaughan who controlled it superbly, drawing a foul and a dangerous free kick for Mikel Arteta to fire into the solid Portsmouth wall, leading to a break by Portsmouth and a foul by Arteta that also say his name in Howard Webb's book.
There was a spell of nothing football until the last few minutes of a very tense and nervous half. Then, a nice move saw a great ball from Arteta that allowed Neville to cross well, Fernandes got a header back to Anichebe but he could not get the shot in.
Portsmouth then broke again and O'Neill scampered into the Everton area and should really have punished Everton, but he rushed his shot and missed badly.
At the other end, Lescott almost had a chance to score off another Everton corner but it seemed the ball would not drop for the Everton players and Portsmouth were off again up the other end. 0-0 at half-time.
The second half began slowly until Arteta got a superb ball in that Osman dummied but Carsley could not direct it, the ball coming too far behind him. Chance gone.
Everton looked stronger and Lescott set them going again, determined strong play feeding Anichebe and on to Vaughan. The all was blocked out to Neville who put in another good ball but Osman missed it an the near post. Chance gone.
But the intensity of the game — and the vocal support form the massed Evertonians inside Goodison — was finally reaching the required tempo
Vaughan turned inside Primus and was brought crashing down in front of the Park End, a massive shout went up. PENALTY!!! Mikel Arteta strode up, under immense pressure, and David James made a fantastic effort to save it, getting his hand on Mikel Arteta's penalty but not enough to stoop it going in the net — YES!!!
Everton so nearly scored again, with sheer genius from Arteta, a drag back beating three defenders to get the ball in to Vaughan but it did not come off. But then, off a Fernandes corner, Joseph Yobo bulleted a header down on the line past a statuesque but livid David James... TWO-NIL!! Fantastic stuff. Goodison rocking.
Everton where buoyant now, and started to put on the style. Attacking in style, and they really should have capitalized further. Vaughan was booked for having the ball kicked at him by Shaun Davis!
A fantastic pass and move by Arteta saw him in with a glorious chance that he drilled fractionally past the post. Would have been a a great, great goal. McFadden on for Anichebe, who was given a rapturous round of applause.
Great stuff from Arteta and McFadden. Some nice football from the end, even from Beattie, on in stoppage time, and Arteta's corner flicked on by Beattie, Gary Naysmith banged the ball in to wrap it up THREE-NIL!!!
Everton fully dominated the second half and could have scored five. It was a fantastic atmosphere at the end, though, with the fans staying behind to celebrate a decent show in the second half and a great victory securing Uefa Cup qualification, and to express their appreciation to David Moyes and the players.
The only time in many years that Everton have managed two wins in their last five games — not so much of an end-of-season whimper this time!
Super Blues Turn it on When it Counts
Everton took a giant stride towards playing in next season's Uefa Cup with a second-half performance that devastated Portsmouth's lacklustre resistance and earned the Blues a rare final-home-game victory. In the end, after a somewhat disappointing first half, David Moyes's side weren't flattered in the least by a scoreline that suggests a comprehensive win over a team that has looked odds-on for Europe themselves for most of 2006/07.
The result means that at the very least Everton will finish as the highest-placed applicant from the English Premiership for this summer's Intertoto Cup which would leave them one victory away from the qualifying rounds of the Uefa Cup.
With Andy Johnson again ruled out with the ankle injury he sustained early in the defeat at West Ham two weeks ago, Moyes took the bold decision to deploy both his young striking prodigies up front in what was a proverbial six-pointer against Harry Redknapp's team. Victor Anichebe was fully recovered from an ankle complaint of his own and he kept James Beattie on the bench by partnering James Vaughan up front.
Manuel Fernandes started against the team for which he started the season on loan from Benfica, with Phil Neville moving from central midfield to right back at the expense of Tony Hibbert. Tim Howard returned in goal after sitting out against Manchester United last weekend, a decision that has stirred controversy after it emerged that Everton were under no legal obligation to drop the American against his old team.
Not surprisingly, given the stakes of this match-up between the sixth- and seventh-placed teams, things started in scrappy and nervy fashion, with neither side either willing or able to take control of proceedings. Everton shaded the opening few minutes but had little beyond an appeal in vain for a penalty when Anichebe appeared to be felled illegally in the corner of the area as he tried to wriggle past two defenders.
Pompey then enjoyed a spell of possession when Everton seemed to continually waste any chance at asserting some control by punting long balls downfield and by-passing the midfield where Mikel Arteta and Fernandes were largely peripheral figures in the opening quarter of the match. Thankfully, though, the visitors produced nothing of note beyond a Linvoy Primus header that sailed a yard or so over.
Then, out of nowhere, Vaughan was handed the best chance of the half on a plate. Anichebe's deft flick-on from Howard's downfield hoof dropped perfectly between two defenders and Vaughan was in with just David James to beat. Unfortunately, the 18 year-old was off-balance when the tried to fire home with his left foot and his shot sliced agonisingly wide of the post.
A couple of minutes later, Anichebe came within inches of connecting with a great cross by Neville as the Blues started to threaten.
However, just as it did last week against United, poor distribution in key areas of the pitch threatened to undermine their efforts. Neville and Lescott were both guilty of horrible infield passes that gifted possession to Portsmouth that led to attacks that, thankfully, did not punish the errors with the opening goal.
If there were portents of what was to come from the home side in the second half, they appeared in the latter stages of the first as first Neville's cross was cleared only as far as Anichebe around 14 yards from goal but he scuffed a left-footed shot that was cleared, then Arteta's trickery allowed him to set up Lescott who swept a side-footer goalwards but it was too close to James who made a comfortable catch.
Pompey's best chance of the opening half arrived in first-half injury time as they broke down the left with Benjani who threaded a perfectly-weighted ball through the Everton defence to Gary O'Neill on the far side but with just Howard to beat from the angle, he smashed his shot into the side-netting when he really should have done better.
So, 0-0 at half time and, with everything still to play for, a chance for Moyes to organise his troops after an uninspiring first 45 minutes. And if the first 15 minutes after the interval — as fine a quarter-hour as the Blues have played at any time this season — were anything to go by, it was a chance the manager grabbed with both hands.
Arteta in particular was magnificent as both he and Fernandes revelled in the more patient, fluid, intelligent and ground-based approach that Everton took following the restart. A delightful piece of skill by the Spaniard created the first real chance of the half in the 49th when he faked a pass back to Neville, turned 180 and skinned both markers and raced down the touchline. His low cross was dummied smartly by Osman near the six-yard box but Lee Carsley somehow contrived to sweep a first-time effort the wrong side of the post. Half the ground thought it was in... probably because they couldn't believe he could miss!
A similar routine almost reaped dividends a few minutes later when more terrific work by Arteta allowed Neville to cross low to the near post but Osman couldn't make contact and neither did James as the ball scooted across the face of goal and out of danger on the far side.
Then, a couple of minutes short of the hour mark, Everton made the crucial breakthrough. Vaughan, showing more and more of an understanding with his strike partner, latched on another nice flick by Anichebe and bore down on the visiting defence shaping to shoot. While his last touch looked to have been too heavy and seemed to have carried the ball too far from him, Glenn Johnson slid in and scythed him down.
Referee Howard Webb had no hestiation in pointing to the spot and although James dived the right way and got a hand to his kick, Arteta buried the penalty to set the Blues on their way.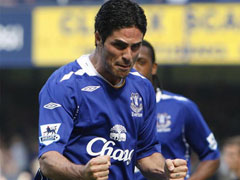 1-0:
Arteta celebrates after beating James from the spot
Sensing blood, the Blues came forward again three minutes later and after admirable tackling back by Arteta robbed Primus of the ball presented him with a flat defence just waiting to be split in twain, the Spaniard put Vaughan in one-on-one again with James who deflected his shot and Anichebe was tantalisingly close to toeing it into the unguarded net as the ball flew across the face of goal.
From the resulting corner, Yobo capitalised on entirely absent marking to rise and head home goal number two. 2-0 up and cruising, Everton were now determined not to repeat their self-destruction of the previous week.
They did ease off the accelerator a little once the second goal had gone in but either side of a double-substitution by Redknapp in the 70th minute the Blues were still the ones looking the more likely to add to the scoreline. Fernandes unleashed a 66th-minute piledriver that James did well to parry away to safety and then there was more magic from Arteta, man of the match once more, as he intercepted a routine pass in the centre circle, laid it off the Anichebe down the right and met the return ball in the area with a left foot stab that fizzed inches wide.
That was to be Anichebe's last meaningful contribution as he was withdrawn in the 77th minute in favour of James McFadden as Portsmouth staged a comeback attempt in the closing stages. First, Johnson raked a shot just wide from the edge of the area, then Howard saved a powerful 25-yard effort from substitute Mvuemba.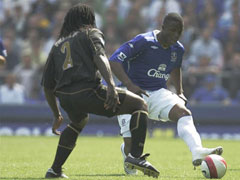 Back in the saddle:
Victor Anichebe made an encouraging return
Back down the other end, McFadden was making something of a niusance of himself. He made a monkey of his marker with a superb turn but his attempt to bend the ball around James fell wide of goal. Then, yet another dangerous cross by Arteta found the Scot around six yards from goal but he couldn't make any contact, and, finally, he had a penalty shout four minutes from the end of normal time but referee Webb — by now flashing yellow cards like they were going out of fashion — was having none of it.
Portsmouth meanwhile, continued to press but without the desperation you would have expected. Nevertheless, sub Lua Lua forced Howard into a parry at full stretch, Johnson again tried his luck from the edge of the box but the 'keeper made the catch of his swerving effort look easy, and Primus had what was arguably Pompey's best chance of the half in injury time when he swiveled and volleyed well wide.
There was still time, however, for the Blues to put the icing on the cake with a corner routine involving two subtitutes who had only been on the pitch for five minutes combined. Arteta's kick was flicked on by Beattie — making his last appearance at Goodison as an Everton player? — at the near post and Gary Naysmith dived practically unchallenged to head home from close range. It might have been his first touch of the game and it represented his first goal in almost four years!
This was a handsome and well-earned victory that rewarded the fans for their "12th man" contribution to the final game at Goodison of what could well turn out to be a highly successful Premiership campaign. The first half may have been characterised by the kind of one-dimensional, route-one strategy that has drawn much criticism from some quarters of the fanbase but once the Blues got going they played some truly magnificent stuff, much of it coming from Arteta and Fernandes.
The former's talents on the ball are now an entrenched facet of Everton's game and were complemented once again by those of Fernandes who, in one standout incident, embarrassed at least three opposition players with a breath-taking moment of ball-glued-to-the-boot skill that provoked Sean Davis into taking his frustrations out on the nearest Blue shirt (in this case, Phil Neville).
Whether he will get the chance to exhibit those silky skills on the Goodison turf next season is very much open to question. Sure, he showed plenty of evidence of why the fans want him to stay but the manager might point to his relative absence earlier in the game without identifying the reason, namely the hoofball that marginalised the more forward-minded midfield trio as an attacking entity.
So, with Tottenham possession two games in hand, Everton's destiny is partially in the hands of other teams and partially at the mercy of Chelsea who were de-throned as Champions when they could only draw at Arsenal. With one eye on the FA Cup six days after the teams meet at Stamford Bridge next Sunday, the Blues will no doubt be hoping to catch Jose Mourinho's team in distracted mood and spring a surprise to claim 5th place on their own.
Match Preview
The last home game of the season. A roller-coaster season of wildly mixed emotions with great wins against Spurs and Liverpool early on, replaced by painful defeats to Chelsea, Spurs, and Man Utd at home,. at Goodison Park.
And now, it seems the hopes of Uefa Cup qualification hang very much on this final game in front of the Goodison crowd, against Portsmouth — a team who could still pip us to the post, and consign Everton to a 9th place finish, from 5th just a week ago. Such is the battle among the also-rans. Best of the rest, if you like. but that only confirms their increasing inability to penetrate into the top four who now dominate English football.
There's a lot to play for, still, and a massive amount of work to do to slay the demons of last weekend's dismal capitulation to the superior self-belief of the Manc hordes. Can Moyes's charges raise their game for less illustrious visitors in the form of Portsmouth, who have had a pretty good season by their own standards.
And as the season draws to a close, you can't help wondering which of the players will be making their final appearances in the Royal Blue of Everton at Goodison Park today. Fernandes? Are Everton really more interested in bad-boy Barton? James Beattie? Surely unlikely to last out the summer? James McFadden? A trickier one to call... Perhaps Moyes really rates him and won't let him go...
In the treatment room, Andy Johnson (ankle) is struggling, but Victor Anichebe is close to a return following an ankle problem.
Whatever the individual stories, one thing is certain: this is a must-win game if Everton are to secure Uefa Cup football next season. COYB!
Teamtalks
Mindful of the big Manchester derby being on in the pub, we arrived in plenty of time to watch this and get relatively drunk before our crucial final home game of the season against Portsmouth. Having watched Michael Ball tussle with and stamp on Ronaldo for 90 minutes, Man Utd won 1-0 just to practically rubber stamp the league. Shortly after this, we set off to a packed Goodison Park.
Earlier on in the pub I mentioned that I'd like to see Vaughan and Anichebe start from the off, now that they've both penned long-term contracts. I was therefore delighted that they were given a chance and were deployed from the off. The only other changes from the team which collapsed against Man Utd was Howard replacing Turner in goal, and Hibbert dropped for Phil Neville. The substitute bench was warmed by Hibbert, Naysmith, Beattie, McFadden and Turner. As for Portsmouth, Kanu and Benjani started up front with David James in goal. Howard Webb was the referee. Before the game was under way, we observed another minute silence for another young lad to have died in Iraq. Sad. We switched ends and attacked the Gwladys Street goal in the first half.
The first half was one of little incident and was on the whole generally controlled by Portsmouth. We started well but didn't build on this unfortunately. Whilst there were a few half-chances for both sides from corners, both teams missed clear-cut opportunities to take the lead.
Firstly from a long kick by Howard, Anichebe flicked on and Vaughan was through on goal. Sadly he took just a bit too long and couldn't make up his mind where to put it so screwed wide. At the other end, O'Neil was played through by Benjani but lashed wide with a good opportunity. That was roughly it for the half. Overall we were quite disappointing and Portsmouth will have been pleased with their first half efforts.
I don't know what was said at half time but boy did it work. Everton came out fighting hard in the second half. We took the game to Portsmouth and did what we had to do. Everybody just stepped up a gear or two and it worked. The crowd certainly played their part as well. Everyone was cheering for every ball and willing the players on in every opportunity.
A good move down the right found Arteta. He played a lovely ball across the box for Carsley to half volley goalwards but it ripped just the wrong side of the post. He ought to have scored but you sensed we'd have other opportunities.
That we did. Vaughan did superbly to lift the ball over Primus and chase through on goal. He knocked the ball just a bit too far ahead of himself and across the covering Glen Johnson. Johnson panicked somewhat and slid in, sending Vaughan tumbling over. The referee pointed to the spot and booked Johnson for his troubles. Arteta stepped up. You never like facing James with penalties, basically because he's pretty good at them. Arteta ran up and hit it to the left of the goal. James dived the right way, got a hand to it but couldn't keep it out.
This gave Everton a great chance. We then seized the opportunity and kept on pummelling Portsmouth. Shortly afterwards, Vaughan got into the box and had a low effort well blocked by James. The ball then skidded across the penalty box and just missed Anichebe's outstretched leg and out for a corner. Arteta whipped it in, Yobo climbed highest and planted his header into the centre of the net. God knows what James was doing but who cares. Everton were now two goals to the good whilst Portsmouth began to loose their discipline.
As Portsmouth went to restart, Stubbs waved his arms towards the Gwlady's and Bullens Road ends to keep the momentum with Everton. The crowd certainly responded and the last 20 minutes or so was just party mood. Portsmouth didn't have any answers and Everton continued to dominate. The atmosphere was superb.
As the clock ticked down Moyes gave some of the other players a run out, substituting Anichebe, Vaughan and Fernandes for McFadden, Beattie and Naysmith. McFadden nearly scored another wonder goal when he turned well in the box and lofted a curling effort just past the post from a difficult angle.
In the final 10 minutes or so, Portsmouth finally exerted a little pressure but it was all well dealt with by the back line whilst the midfield got back to help out as well. It was all great stuff.
As we reached the 4 added minutes of injury time, Everton began to waste time in the corner flags. We actually won a corner and Lescott came close to Arteta to take a short corner. This pulled two Portsmouth players towards the corner flag. Arteta then fooled everyone and whipped it in. Beattie got an excellent flick on it at the near post as Portsmouth switched off. Naysmith crashed in at the back post to plant a diving header into the net. This put the icing on the cake and Portsmouth could hardly bring themselves to restart. It was unnecessary anyway as the referee ended Portsmouth's misery a few moments later.
Well done Everton. It seems we've pulled this one out of the bag and are set for a European tour.
The players went to get their kids and then came back out onto the pitch for a well earned lap of honour. It's hard to fault the players this season as they've certainly been very committed all season long. I always find myself feeling quite sad for the players saying goodbye for the last time. The likes of Pistone and Wright look extremely unlikely to play for Everton ever again and there are obviously clear question marks over James Beattie's future at Everton. Somebody said James McFadden was crying as he went round so he could possibly be off.
As the players got close to us, Lescott, Cahill and Arteta all got a great reception but the best was probably reserved for Andy Johnson. Moyes grabbed him by the arm and raised it up to the Gwlady's Street. It was great fun. Yobo and Vaughan threw their boots into the crowd. Osman was I think the last to go back in as he had fun with his somewhat confused looking young lad. It all ended with Moyes giving a big clap to the whole stadium and walking in. And off we trotted. That's that for games for me this season. I'm not paying Ł45 for a Chelsea ticket so will have to miss that one. At least we can now go there not having to win. Let's go and have them!
Get your passport ready. Europe here we come!
Player Ratings:
Howard: Not a great deal to do but was generally solid. 7
Lescott: My man of the match. Quite apt I guess as he received the EDSA Player of the Season award before the game. What a season he's had. 8
Yobo: Solid. Scored a good headed goal as well. 8
Stubbs: Made several clever interceptions and headers out. Will be around next season I reckon. 8
Neville: Got on with the job well and covered back on many occasions. 7
Arteta: He was everywhere in the second half. Set up two and scored one so you can't really ask for more than that. 8
Carsley: Covered a lot of ground in midfield. I hope he's still around next season. 7
Fernandes: Not one of his more lively games but he did go through a stint of skinning everybody at one point in the second half. 6
Osman: Had a good game. Kept on providing good cover for Lescott as well. 7
Vaughan: Had a good lively game and caused them problems throughout. Should've scored in the first half. 7
Anichebe: Did alright. Still returning from an injury so was subbed on about 70 minutes. 6

McFadden (for Anichebe): Did well. Unlucky with that curling effort. 7
Beattie (for Vaughan): Great flick at the near post for the third goal, and he won that corner himself so overall, a good contribution. Possibly for the last time at Goodison. 7
Naysmith (for Fernandes): One touch – one goal. Can't ask for more than that. 7
A fan's day out
Not so much a day out, more of an experience. A 7-hour round trip courtesy of Arriva and Virgin Trains — all for 90 minutes worth of football. Oh, and We're All Going on a European tour.
The good lady dropped me at Abergavenny station with 30 seconds to spare. The train rolled in and I found a good seat to admire the scenery along the Wales-England border, whilst tuning in to Bolton's second-favourite son with Kay as his surname, and relax. I didn't really want, or need any refreshments, but the trolley is so magical with all its Jaffa Cakes and crisps, that I became mesmerised and, before I knew it, I was buying the most expensive cup of tea in the world. All change at Crewe, where a couple of scallies buy two ciggies off me and I'm reminded that the smoking ban hasn't come into force yet in England, so I have a sneaky one in the bar.
Then onward to Merseyside. You know that moment when the stewards pile around the ground as we approach injury time. Well the number of Bluenoses boarding the train between Crewe and Lime Street provided that same sensation — we're getting close!!
A quick stroll through Liverpool and a fiver spent in the Wimpy (I swear this is the only Wimpy still open in Britain) and I'm on the bus to Goodison. The customary walk around the ground, a sniff around the players' cars and then I buy my programme and go into the ground to watch the Manchester derby. Strange that all this furore has been caused by a Manchester City left back, who wasn't Ben Thatcher and it's not like Michael Ball has any previous. Still it was the only interesting moment in an awful game.
Then I find my seat, in the Park End, and watch David James practising his goalkicking. Make no bones about it, he is massive, and I began to panic about how little James and little Victor would face up to him. I needn't have worried. The team is announced and I'm probably going against the grain by admitting that I was pleased to see Neville at right back. He was excellent there earlier in the season, and his second half performance vindicated his selection over the limited Hibbert. I had hoped to see a bit more from Fernandes and was just praying that Ossie doesn't do his normal trick of carrying the ball 20 yards before falling over.
The first half was dreadful, although we in the Park End were unaware quite how horrific Vaughan's slice was when through on goal. Primus came forward for a corner which he knocked harmlessly over the bar... Thank god for half time, when the announcement that Bolton were getting webbed at West Ham drew the biggest cheer so far.
Straight from the kick-off in the second half, a strange thing happened. The Everton players started to put their foot on the ball, and play it around on the deck. The magical, mercurial Arteta was always hungry for the ball, jinking around fullbacks, splitting the Portsmouth backline, whilst wee Leon Osman was a menace to the giant defenders, especially the gangly Traore who seemed to lose Osman in-between his legs.
Ironically, the first goal was a result of a long ball forward from Howard, which Anichebe flicked on to Vaughan, who in turn flicked it around the otherwise outstanding Primus. Cue Glen Johnson... and the rest is history. Arteta held his nerve, and within a few minutes Yobo found himself unmarked to make it 2-0. The third goal was particularly sweet, as Beattie flicked on to Naysmith who, in the words of Mottie, "buried it". 3-0, and then Bolton and Reading had lost, so Everton are all-but guaranteed Europe.
Fernandes was a disappointment, with a few flashes of skill and the odd drag-back, but he went missing far too often. Carsley and Stubbs blocked everything that came their way, whilst Yobo and Lescott tidied up anything else. Neville was excellent at right back, bombing forward to overlap and providing some deadly crosses. And the two boys up front were excellent, constantly closing down the defenders, winning headers, skipping over tackles, orchestrating the crowd, and generally having a good time playing football whilst getting paid for it.
I don't think a single fan left before the lap of honour and it was a privilege to be there and have the team thank the crowd for our support. "We're all going on a European tour". Barring an eleven-goal swing, of course, but that doesn't rhyme.
So then we filtered out into the street, all singing, all smiling. I got a bit lost once I'd got clear of Goodison and ended up walking the whole way back to Lime Street, again just making my train. Happily, it was the train to Euston which was packed with fans of relegated Brentford, fresh from another spanking at Tranmere. "We're going down like a hairy Lesbian" they sang, before apologising to all Hairy Lesbians on the train. I got chatting to a number of ESCLA members, and they were very generous in sharing their lagers around. Thank guys, you know who you are.
I left them at Crewe and found my little train to carry me back to Welsh Wales. Listening to Greeny on 5LIVE! just made my blood boil, but I heard that Bristol City had been promoted so I rang my best mate to congratulate him. A great day all round. The good lady met me at the station and we picked up a Chinese just in time to watch Match of the Day. We won 3-0, by the way.
* Unfortunately, we cannot control other sites' content policies and therefore cannot guarantee that links to external reports will remain active.