Venue: Goodison Park, Liverpool
Premiership
Sunday 13 Jan 2007; 1:45pm





Match Preview
One of the biggest criticisms levelled at David Moyes is that over his five-year tenure at Goodison his team has been consistently inconsistent.
A flying start to the season, the Blues' best in years, had fans dreaming of another challenge for a Champions League qualifying place but was followed by a run of poor form that seemed to be indicative of another false dawn.
Then, an apparent resurgence, beginning with a handsome 2-0 away against this weekend's opponents, Reading, over Christmas again revived hopes of Europe before being dashed by tactical madness at Manchester City and a horrendous 4-1 reverse in the FA Cup last weekend at the hands of Blackburn.
So, while the faithful fill Internet pages with debate over Moyes's suitability for the position and lament the depressing lack of activity in the transfer market so far this month, an unpredictable season continues in front the Sky cameras on Sunday.
Chief among the manager's problems will be the absence of Mikel Arteta who serves a one-match ban after picking up another unnecessary booking for dissent at Eastlands on New Year's Day.
Also missing will be Nuno Valente, who was stretchered off against Rovers but suffered relatively minor damage to his knee and should be back by the end of the month.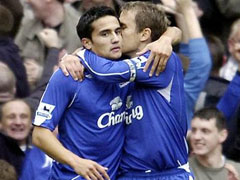 Tim Cahill:
on the verge of a return to first-team action
But Tim Cahill, a long-term absentee after being crocked by Lee Carsley's typically wayward boot, is expected to return to the starting line up.
That should cushion the blow of losing Arteta a little but the real potential lies in the possible link-up between service from the flanks from Andy van der Meyde and Cahill's aerial prowess. Some hope seeing as the Moyes regime never cottoned onto delivering the same service to Duncan Ferguson when he was around or, for that matter, to James Beattie.
Reading, who are likely to be without Brynjar Gunnarsson, Dave Kitson and winger Bobby Convey, will be looking for revenge for that defeat at the Madejski Stadium less than a month ago. They have yet to pick up a point against Everton in the League, though.
Without beating around the bush, we should win this one and there's no excuse not to, even without Mikel.
There, not one Rocky pun in sight!
Matchday Stats
May appear here later
Match Report
May appear here later
* Unfortunately, we cannot control other sites' content policies and therefore cannot guarantee that links to external reports will remain active.
EVERTON (4-4-2)
Subs not used
Unavailable
Player (injured)
Player (injured)
Player (injured)
READING (4-4-2)
Subs not used
Premiership Scores
Saturday
-v-
-v-
-v-
-v-
-v-
-v-
-v-
Sunday
-v-
-v-
Monday
-v-
Premiership Table
Pos
Team
Pts
<%Do while NOT oMRTRs.EOF%> <%If oMRTRs("Team") = "Everton" then %>
<%=oMRTRs("Pos")%>
<%=oMRTRs("Team")%>
<%=oMRTRs("Pts")%>
<% ElseIf oMRTRs("Pos") > 20 then %>
<%=oMRTRs("Pos")%>
<%=oMRTRs("Team")%>
<%=oMRTRs("Pts")%>
<% Else %>
<%=oMRTRs("Pos")%>
<%=oMRTRs("Team")%>
<%=oMRTRs("Pts")%>
<% End If %> <%oMRTRs.MoveNext%> <%Loop%>
After <%=DatePart("d",date)%> <%=MonthName(DatePart("m",date),True)%> <%=DatePart("yyyy",date)%>
<% oMRTCs.Close() Set oMRTRS = Nothing %>