A surprise start for James Vaughan saw James Beattie sitting on the bench at the start of this, one of Everton's biggest games of the season. And having slipped to 8th on the results yesterday, nothing short of a win is required to carry on the charge for Europe.
All the pre-match talk was of Tony Hibbert returning but he only made it to the bench as David Moyes preferred to keep captain Phil Neville back there, with Leon Osman recalled to his usual midfield role on a bitterly cold and blustery afternoon at Goodison Park
It was an excellent inspiring start from Everton, who came at Arsenal with serious determination and no shortage of skill, passing the ball around nicely and penning back the Gunners for the best part of the opening 15 mins. Johnson was a terrier, chasing everything, and Vaughan looked up for it but it was in midfield where Osman and particularly Fernandes were really doing some great stuff for Everton.
The usual penalty appeal involving Johnson took barely 9 mins to occur, a flick getting past Lehman and being chased by AJ, who waited too long (as he does) for the ball to bounce, enabling Lehman to reach past him and paw the ball away, Johnson tumbling to the ground under his presence. But never a penalty.
At the other end, Howard was forced to trip Aliadiere, but not before he too had got a fingertip touch to the ball, pushing it away from the goal. That was a rare moment of penetration for Arsenal but, as the half wore on, the pendulum inexorably swung away from the home side and in increasing favour of the visitors, who realised their hosts were trying valiantly to play them at their own game.
The Arsenal defence looked increasingly solid against the relatively lightweight threats of Johnson, Vaughan, Osman, and Arteta, who were trying their damnedest, but the extra bit of skill, the split-second timing, and the key decision-making simply weren't there for the Blues, who started to make more and more mistakes while the Gunners settled and started to play increasingly better football.
On 25 mins, out of nowhere, a Lee Carsley thunderbolt smashed into the angle above Lehman, and that seemed to be it for the Blues, who really struggled for the rest of the half to even get close to Lehman's goal. Stubbs earned a silly card for a despairing lunge on Toure's ankle, while Fernandes also got booked for a late and unnecessary lunge at Baptista. The last five minutes of the half were all Arsenal, who piled forward, reducing Everton to desperation stuff, Howard making a number of key saves.
It was a very scrappy start to the second half, with formless play from both sides that disrupted the pattern of play. Lescott then gave away a free kick and got a yellow for a clumsy looking tackle on Aliadiare but nothing came of it. Lescott then won a free-kick ff Ljunberg at the other end but it was a weak effort from Arteta.
An interesting passage of play just before the hour summed up the way this game was going: Everton, valiantly trying to hold on to possession, were totally unable to penetrate forward and the ball was passed around with no real product until Lescott was forced to play it back to Howard from the half-way line. He hit it short, almost letting in Rosicky in but for Howard's quick response. And it led directly to one of Arsenal's best looking attacks, Ljunberg firing over from a brilliant Rosicky cut-back.
Johnson was running hard and seeing a lot of the ball for once but seemingly always being driven out wide, making the wrong decisions and always failing to take sufficient command of the ball. A classic example came on 62 mins when he was again pushed wide and tired to chip Lehman from a very narrow angle when there were far better options running in.
Then Vaughan was overly exuberant coming in on Lehman, lunging at a ball that was already in the keeper's hands by the time his outstretched foot reached him and caught him. Well handled by Referee Mark Clattenburg, who had a really good game, letting the football flow whenever he could.
In a scrambled attack on 72 mins, Everton hit the woodwork again, Osman jabbing at the loose ball and pushing onto the left-side angle. On 81 mins, Vaughan finally got the card his spirited and aggressive play probably merited overall. As Arsenal pressed for the win, Everton had resorted to the lofted ball forward, and both sides were creating half-chances from a flowing end-to-end period of play, as each team vowed not to allow this one to end in a draw.
Vaughan went off with a few minutes left, to be replaced by Victor Anichebe as the hail poured down, a substitution by Moyes that would prove crucial. And soon he was making a real nuisance of himself, winning a crucial free-kick just outside the Arsenal area but Arteta's looped delivery was easily picked up by Lehman. Everton's best chance surely spurned...?
Everton kept pressing and won a corner on the 90th minute. Amidst fantastic scenes of pouring hail, it was AJ who first back-headed Arteta's corner into the mêlée, where some great work by Anichebe saw it come back to the man himself, Andrew Johnson hammered it unerringly through the crowded area and into the back of the Gwladys Street net. Delirium!!!
Andy Johnson:
clutching at his captain's shorts for added inspiration amidst the hailstones
The heavens opened as if in celebration as Everton played out the final minutes before an enthralled and pulsating Goodison Park, to secure a famous and well earned win to celebrate five years in fine style for David Moyes. This was much more like it, from Moyes, who had obviously prepared the players with the intention of actually winning this game, rather than holding on for a draw. What a contrast — and rightly so — from that awful Spurs game!
Johnson steals it at the death
Everton's charge for Europe is very much back on track after Andy Johnson popped up a minute into injury time to snatch the points from an entertaining and open game that had looked up until that point to be heading to a goalless conclusion.
The result, achieved on the back of a spirited overall performance and more defensive resilience, not only returns Everton to the sixth-place berth they occupied going into this weekend's Premiership programme but brings them to within a point of Bolton in fifth place — Sam Allardyce's team having suffered a 4-1 reverse at Old Trafford yesterday.
David Moyes's side won this fixture last season by a solitary goal scored by James Beattie but the struggling striker, without a goal from open play in over a year now, was demoted to the bench giving James Vaughan his first start of the campaign up front alongside Johnson.
Tony Hibbert was fit again but with Manuel Fernandes and Lee Carsley automatic choices in central midfield, Phil Neville was selected at right back. Joleon Lescott continued his stint at left back following Alan Stubbs' return from injury.
The home side started in impressive fashion, pushing their more highly-regarded visitors back into their own half for the first 10 minutes with some confident passing and pleasing forward movement.
Fernandes had the first sight of goal, an attempt to curl the ball around Jens Lehmann from the edge of the box, but his shot dropped wide before Johnson was involved in what seemed at first glance to be the game's first contentious moment. The striker chased a flick-on from a combination of Vaughan and Kolo Toure that bounced invitingly towards the left edge of the six-yard box but the 'keeper did well to reach around a paw the ball away, bundling Johnson down in the process. There were howls of protest from the stands but referee Mark Clattenberg was well placed and rightly waved play on.
A minute later, the official was spot on again in a similar incident at the other end. Alialadière chased a through-ball into the area and Howard managed to push it to safety before up-ending the striker. Again, correctly, no penalty was awarded.
Arsenal began to come more into the game as the first half progressed but while they were moving the ball around impressively in midfield, they were restricted to long-range shots until a few minutes before the break. Rosicky tried his luck from distance in the 17th minute but his shot was well wide and Alialadière's fierce effort in the 39th minutwe almost caught Howard out but he did enough to parry the ball awkwardly behind for a corner.
In between, the best effort of the half came from arguably the least likely source. Carsely, without a goal in two years, unleashed a piledriver from 30 yards that hammered off the post and out to safety from Arsenal's point of view. Another couple of inches to the left and it would have marked a spectacular return to the scoresheet for the Irish international.
Undeterred, Arsenal finished the half strongly with Julio Baptista dropping a direct free kick the wrong side of Howard's post, Cesc Fabregas forcing a good save from Howard's foot with the visitors' best chance of the first 45 minutes and Diaby firing a couple of feet wide of the angle of crossbar and post with a speculative drive on the stroke of half time.
Importantly from an Everton perspective, the Blues carried their momentum in the first half into the second. All too often, Moyes's side fail to perform consistently for the full 90 minutes but today, despite having to endure periods of Arsenal pressure, the fans could have few complaints.
And the home side's level of commitment was perhaps evidenced by the yellow card count that was weighted entirely on the Everton side of the final statistics card. Stubbs and Fernandes were booked in the first half and could have few complaints, while Lescott felt slightly aggrieved at having been booked for felling Alialadière six minutes into the second period.
Moyes appeared to have instructed his team to be a bit more direct in the second half, with Vaughan asked to play the target man role and get his head on long clearances from the back. Yet, as usual, the Blues' best moments came when the ball was used intelligently along ground, as it was when Johnson fed Fernandes as he charged in from midfield but the Portuguese midfielder drove a powerful shot into the side-netting in the 54th minute.
Yobo then had Lehmann's heart fluttering with a looping back-header that dropped onto the roof of the net before Rosicky made a rare foray to the byline, cut the ball back invitingly for Alialadière but he made a mess of a terrific chance, volleying high over the bar with his left foot.
Genuine chances remained at a premium, however, and it wasn't until 15 minutes later that Osman looked to have broken the deadlock with a snapshot in a crowded area but his effort bounced off the outside of the post to leave the home fans' heads in their hands for a second occasion.
Arsenal, meanwhile, continued to probe but without real penetration and Howard was equal to everything Arsene Wenger's side could throw at him, holding Fabregas' low drive at the second attempt and watching Toure head a corner wide of his right-hand post in the closing stages.
In stark contrast to their last home game against Arsenal's North London rivals, Tottenham, Everton stepped up a gear in the final ten minutes. Osman somehow steered a free header a couple of yards wide from a central position in front of goal and, after Moyes had thrown on Victor Anichebe for Vaughan, the Nigerian youngster won a free kick on the edge of the box that deserved a better end result than Arteta's weak shot.
There was to be a grandstand finish, however, after the fourth official had signalled an extra three minutes of time. Johnson forced a corner as the game ticked into stoppage time and, after some argy-bargy on the goal line involving Anichebe and a couple of Arsenal players, Arteta swung in the set-piece from the right.
Johnson flicked it on at the near post and when the ball came back to him by way of an Arsenal leg he swept it into the net before wheeling away in delight at what was an almost-certain winner. He and Osman had to be extracated from the throng of celebrating fans by the corner flag and the home side played out the final couple of minutes to claim a well-earned, priceless victory.
Wenger's bitter criticism of Everton after the 1-1 draw at The Emirates earlier in the season was that Moyes had employed negative tactics to stifle Arsenal's fluid passing style but he could level no such accusations today. The Blues may not have matched the Gunners in the passing department — how could they? — but this was much closer to the style of play the Goodison faithful demand of an Everton team.
Arteta may have been subdued by his standards on home turf but Fernandes assumed the "flair player" mantle with ease, exhibiting some lovely touches and operating as the playmaker on many occasions. And the back four did their manager proud with another resilient display, Stubbs and Lescott in particular exhibiting some wonderful reading of the game.
While not everything either player did came off, the Vaughan and Johnson partnership was a promising one, particularly against the visitors' makeshift central defensive partnership. Neither player had a clear-cut opportunity until Johnson was presented with the chance to win the game at the death and he grabbed it with both hands by rifling home with a crisp strike to cap another highly industrious performance.
After the disappointing fashion in which Everton surrendered the points to Spurs in their last home fixture, this was a welcome return to attacking football and positive tactics, particularly when it came to the last few minutes when the manager was no doubt faced with the choice of playing to preserve a point or going all out for the win. Thankfully, he chose the latter.
If his side play like this for the remainder of the season then that sixth place — possibly fifth — is there for the taking. The key in the remaining eight games will be consistency... something Everton under David Moyes have so often struggled to achieve.
Match Preview
Everton return to action this weekend in what will be their only first-team fixture in a 28-day span as they look to mount an increasingly promising challenge for European qualification.
Despite a lacklustre draw at Sheffield United last time out, David Moyes's side are well-placed in sixth as they prepare for a televised clash against Arsenal who are two places and only nine points better off... albeit with two games in hand.
Unfortunately, the Blues will be without Tim Cahill whose season was brought to a premature end when he fractured a metatarsal bone in his foot at Bramall Lane a fortnight ago.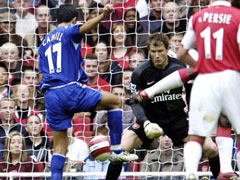 Tim Cahill:
scored in the reverse fixture but is now out injured for the season
And the break in Premiership action hasn't been long enough for the likes of Andy van der Meyde, James McFadden or Nuno Valente who are all likely to be ruled out. But Tony Hibbert should be fit after suffering a groin strain just two games after returning from a long-term layoff.
The Gunners, meanwhile, welcome Tomas Rozicky and Alexander Hleb back to fitness but will be without the suspended Emmanuel Adebayor, and the injured Emmanuel Eboue (ankle) and Gael Clichy (hamstring).
Of course, few Evertonians need reminding that the Blues won this fixture by a single goal last season. The goal that day was scored by James Beattie but it has now been over a year since the £6.5m striker scored a goal from open play.
It's a statistic that doesn't seem to be bothering Moyes as he persists with Beattie week in, week out but the striker himself must be desperate to break what seems like an impossibly long drought in front of goal.
The no. 9 is likely to again be deployed alongside Andy Johnson, especially as Cahill's absence lessens the chances that the manager will go for a five-man midfield. Then again, we are playing a top-four side so you never know... Maybe Moyes will play it safe and give Arsene Wenger more to moan about after the Blues frustrated his side in the reverse fixture at The Emirates and by rights should have won.
Matchday Stats
May appear here later
Match Report
May appear here later
* Unfortunately, we cannot control other sites' content policies and therefore cannot guarantee that links to external reports will remain active.