Venue: The Valley, Southeast London
Premiership
Saturday 25 Nov 2006; 3:00pm





Reid (68')
Half Time: 0-0
Heridarsson (og:52')
Attendance: 26,435
Referee: Alan Wiley
Match Summary
Another big blow for Everton, with Andy Johnson ruled out due to hamstring problems. Beattie and McFadden formed the attacking pair as David Moyes reverted to 4-4-2.
McFadden started well, getting Osman moving down the left and from the throw-in the ball came back to Carsley, who's drilled shot was deflected away, with Everton getting a couple of corners but Arteta's range-finding was poor. However, he won a free-kick that he swung in to create a half-chance for Beattie that was blocked.
McFadden had a fantastic chance to score on 6 mins but took an extra touch, allowing El Karkouri to get a vital foot in, as Everton take looked to take a stranglehold on proceedings. But Charlton responded with a couple of probing attacks of their own, one requiring a good anticipation from Tim Howard. McFadden was looking very lively, some great work setting up Davies for a long shot that was too weak.
After a very promising start for the Blues, Charlton were seeing more of the ball as it became a more even game, with McFadden if anything over-elaborating. But the early incisiveness Everton had showed evaporated as possession in the final third eluded the Blues. McFadden, again being selfish, chose the long shot instead of setting up Beattie. Davies was being typically useless, one good run down the right ending with a awful wasted cross.
Charlton were reduced to taking long-range speculative shots, while Everton were getting a number of favourable decisions from Alan Wiley. But a long-range free-kick was driven low by Beattie into the Charlton wall. Valente was then guilty of an atrocious cross that was worse than Davies's. McFadden did better and showed the others how to cross but it was too close to the goalie. Meanwhile, Ambrose nearly set up Bent at the other end, as Carlton started to show a lot more intent.
With half-time approaching, Everton started to show a little more ambition, good work from Osman letting Neville run in and cross... but straight into the goalie's arms. The referee's whistle came as something of a welcome relief, and a chance for Moyes to hopefully kick in with some better ideas for scoring.
Heridarrsson booked 2 mins into the second half. Arteta won a free-kick in a good position and on the second attempt, Arteta planted it straight into the goalie's chest. But Arteta won another free-kick that resulted in a bizarre goal for Everton, a poor free kick, Osman changed its path with a glanced header off Heridassson's thigh and into the Charlton net. Rather fortunate, but they all count!

The goal gave Everton the boost they needed, and their game briefly showing more composure, better corners from Arteta increasing the threat of a second. But they failed to capitalize and Charlton crept back into the game again. Faye really should have got one back for Charlton, completely mis-timing his header form an unmarked position in front of the Everton goal. Former Everton player Marcus Bent then joined the fray. But a dreadful piece of play by Valente allowed Marcus Bent to sneak up and nudge the ball from him into the path of Andy Reid who drove a low shot into the corner of the Everton net with 20-odd minutes left.

The initiative had been gifted to Charlton, who pressed again and really should have scored after a great move from Rhommedal. El Karkouri got booked for a sliding tackle in on Osman. Arteata's free-kick was too low for anyone to utilize, but Everton won other corner that was delivered better into the danger area. On 77 mins, Moyes threw in his final card, perhaps 10 mins too late, with Anichebe and Vaughan replacing the increasingly poor front pair. But it was Reid who nearly scored with an open shot on Howard's goal that was well parried away.

Anichebe and Vaughan so nearly combined, their introduction having livened the game up somewhat. A long-range drive from Davies flew a foot over the bar as both teams went for an undeserved win in the 4 mins of added time.
Michael Kenrick
Match Preview
There's no doubt that last weekend's slender victory over Bolton Wanderers came at just the right time for Everton. The result ended a four-game losing streak and a three-game streak without a goal.
Instead of going to bottom-placed Charlton low on confidence and fearing an upset, David Moyes's side can approach this weekend's trip to the The Valley with a certain level of confidence that they can come away with three points for the first time in five years.
Of course, the Addicks are under new management and trying to turn around what has thus far been a disastrous campaign. The new broom wasn't able to work immediate miracles for Charlton last weekend — they lost at Reading but are only three points behind West Ham in 16th — but Everton will have to be wary of any significant improvement that new boss Les Reed is able to conjure after a full week's training with the squad.
Moyes may finally be admitting publicly that his squad is stretched worryingly thin but he can be thankful that the team that started against Bolton appears to have come through that game and the week's training.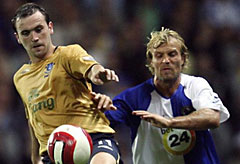 James McFadden:
back in contention after serving a two-match ban
He has favoured the lone striker away from home and although Tim Cahill, the player who is arguably crucial to the success of that formation, is on the long-term injury list, the return of James McFadden following suspension may give Moyes the option to deploy a five-man midfield this weekend.
McFadden has not managed to convince many that he can cut it wide on the left of midfield; playing in a more central, advanced role in the hole behind Johnson could be an option.
But then there is the improved display by James Beattie last time out. That will keep the manager's options open as he plots his strategy ahead of the trip to southeast London.
Given the win over Bolton, Evertonians will be in confident mood and will be expecting a decent result against the Premiership's basement boys. It certainly is a great opportunity to add another three points and keep pace with the leaders.
Matchday Stats
May appear here later
Match Report
A hamstring injury sustained in training deprived Everton of Andy Johnson for the first time in the Premiership this season. With Tim Cahill also sidelined with injury, that meant that both of the club's top scorers were missing and only two of today's starting line-up — Mikel Arteta (3) and James Beattie (2) — had found the net in the league so far.
James McFadden returned from a two-match suspension and walked back into the starting XI up front alongside James Beattie while Simon Davies also returned in midfield. Phil Neville moved back to right back after a shocker of a performance against Bolton last weekend meaning that Joseph Yobo and Joleon Lescott resumed what is now clearly the Blues's best central defensive partnership.
As you would expect from the Premiership's bottom club, Charlton are a team short on confidence and it showed in the early stages as Everton controlled proceedings and set about trying to dismantlle their hosts' defence with purposeful running by James McFadden and some occasional passing moves through the midfield.
The Blues had three opportunities in the opening ten minutes: firstly, when Lee Carsely's goal-bound shot was blocked, then when Beattie failed to get a solid connection on Mikel Arteta's fifth-minute free kick, and finally when McFadden ended a terrific flowing move by side-stepping his marker but took one touch too many and allowed El Kharkouri to get in a last-ditch block.
Charlton, meanwhile, showed they could threaten on the break through Dennis Rommedahl and the Dane collected a one-two from Andy Reid and forced Tim Howard into his first save of the game as he blocked the shot with his leg in the ninth minute.
Everton were the tidier and more accomplished of the two sides on the ball in the first half but that did not mean that they were employing the passing game that threatened to usher in a new era under David Moyes very early in the season. Howard was far too reliant on the long punt downfield which, more often than not went straight through to Scott Carson in the opposite goal, and, as has often been the case away from Goodison, Arteta wasn't always the dominant force his team needs him to be so the midfield was pretty one-dimensional for long periods.
The home side, in front of a nervously quiet crowd, were restricted mostly to long-range efforts. Darren Ambrose cut in from the left after a quarer of an hour and hot a rising shot from 25 yards that flew well over, Reid hit a speculative drive from a similiar distance that Howard spilled but gathered at the second attempt 15 minutes after that, and Rommedahl cut in from the right before firing wide with his left foot a few minutes before the break.
For Everton, meanwhile, with Beattie looking ponderous and unsure of his role, McFadden remained the chief threat and the Scot almost set his strike partner up with a close range header with more trickery and a cross that was plucked out of the air by Carson before it could reach its intended target.
0-0 at the break with Everton the more disappointed of the two sides not to have found the net in the first 45 minutes.
Charlton emerged from the break a little more invigorated but it was Everton who made the most telling inroads into the opposition half in the early going. Herman Hreidarsson was booked for blatantly pulling McFadden back as he looked to burst through on a well-weighted pass from Osman, while Arteta had two bites at a free kick outside the left edge of the area before making the opening goal after 51 minutes.
The Spaniard's delivery into the box was poor, Osman may have got a faint touch but it was Hreidarsson who diverted the ball past Carson and into the net to make it 1-0. It was a fortuitous goal but the Blues were just about good value for it.
And they might have doubled their advantage six minutes later when Beattie chested back nicely for Osman but he dragged a left-footed shot acorss goal and wide for a goal kick before Amdy Faye passed up a gilt-edged chance at the other end when he missed with a free header.
Then, a suicidal moment from Valente. Arguably man of the match behind Arteta last weekend against Bolton, the Portuguese defender tried to waltz nonchalently along the edge of his own area but was dispossessed and as the ball broke to Reid he fired low passed Howard who barely moved, presumably because he was unsighted either by Lescott's legs or the sun shining right into his face.
It was clearly a case of "get rid"... so much so that Yobo, expecting Valente to put his boot through it and clear his lines, was busy fiddling with his boot as Reid was despatching the ball past him and into the net to even the scores. As soft a goal as you could imagine and the perfect tonic to Charlton's flagging spirits.
With ex-Blue Marcus Bent already on and providing a fresh outlet beyond his namesake Darren, the Addicks were suddenly buoyed and went looking for the winner. After Beattie had tried to drift a shot into the corner from the edge of the box, Rommedahl effected another quick one-wto with Reid but, thankfully, he flashed the ball across the face of goal rather than shooting from the angle.
By this point, it was anybody's game but with the Beattie-McFadden partnership producing fewer and fewer options, Moyes withdrew both strikers with 12 minutes to go and replaced them with 18 year-old pair, Victor Anichebe and James Vaughan.
The grandstand finish that the closing stages promised never arrived. Instead it merely outlined how turgid the Premiership can be. Charlton threatened to steal all three points with a series of raids down the right that ended with little beyond a Darren Bent shot that went well over while Everton were truly awful in their attempts to feed their two energetic young forwards. Instead Davies had their best chance of the last 10 minutes when he lashed a shot a foot above the crossbar in the final minute of normal time.
Charlton, as poor as they clearly are, were there for the taking by a side that has aspirations of European qualification. But the display put in by Moyes's team merely underscored the desperate medciocrity that pervades much of his squad. Osman, Carsley, Davies, Beattie and Neville looked several shades short of the level required to finish in the top six, while Arteta's failure to impose himself on a match crying out for his influence was the missing ingredient for what should have been an Everton victory.
That the Addicks' equaliser came in such humiliating and frustratingly avoidable circumstances just makes it worse. As an accomplished international who has represented his country in the World Cup semi finals and won the Champions League with Porto, Valente should either know better than to play with fire on the edge of his box or not be so complacent in such a vulnerable area.
But his error was not entirely the reason why the Blues dropped two very winnable points. Their own goal was a fortuitous one and, to be blunt, they didn't consistently display the quality required to win this game in their own right.
Moyes says that it will be difficult to improve upon his squad in January and that he is happy with what he has, but today illustrated all too clearly that without Cahill, Johnson and an in-form Arteta, this team is almost entirely impotent in the final third of the field. And that is highly disconcerting after five years in the job.
* Unfortunately, we cannot control other sites' content policies and therefore cannot guarantee that links to external reports will remain active.
CHARLTON (4-4-2)
Carson
Young
El Karkouri
Hreidarsson
Traore
Rommedahl
Holland
Faye
Reid
Ambrose (M Bent 67)
D Bent
Subs not used
Myhre
Kishishev
Sam
Fortune
EVERTON (4-4-2)
Howard
Neville
Yobo
Lescott
Valente
Carsley
Arteta
Davies
Osman
Beattie
McFadden
Subs not used
Wright
Stubbs
Weir
Unavailable
Cahill (injured)
Davies (injured?)
Pistone (injured)
Naysmith (injured)
Hibbert (injured)
Boyle (injured)
Premiership Scores
Saturday
-v-
-v-
Sunday
-v-
-v-
Monday
-v-
Premiership Table
Pos
Team
Pts
<%Do while NOT oMRTRs.EOF%> <%If oMRTRs("Team") = "Everton" then %>
<%=oMRTRs("Pos")%>
<%=oMRTRs("Team")%>
<%=oMRTRs("Pts")%>
<% ElseIf oMRTRs("Pos") > 20 then %>
<%=oMRTRs("Pos")%>
<%=oMRTRs("Team")%>
<%=oMRTRs("Pts")%>
<% Else %>
<%=oMRTRs("Pos")%>
<%=oMRTRs("Team")%>
<%=oMRTRs("Pts")%>
<% End If %> <%oMRTRs.MoveNext%> <%Loop%>
After <%=DatePart("d",date)%> <%=MonthName(DatePart("m",date),True)%> <%=DatePart("yyyy",date)%>
<% oMRTCs.Close() Set oMRTRS = Nothing %>