Venue: Old Trafford, Manchester
Premiership
Wednesday 29 Nov 2006; 8:00pm





Ronaldo (39'), Evra (63') O'Shea (89')
Half Time: 1-0
Attendance: 75,723
Referee: Mark Halsey
Match Summary
Everton did very well to stem the anticipated onslaught, giving as good as they got, if not better, until Ronaldo reacted to a block from Carrick's shot on 39 minutes by lashing the ball in the corner of the net beyond Wright. Not one error from Wright or from Everton for that matter, in a very good fast-paced high quality first half that Everton edged up to the goal. Perhaps some consolation that it had to be a snapshot of the highest quality to beat the extremely well drilled Everton defence, who were, of course relying on the usual gameplan: keep it tight and steal a goal.
Unfortunately, as ever, it was the "steal a goal" bit were the plan fell apart. Half-chances for Stubbs and Beattie just coming too quickly to players who simply do not have that nose for goal, that desire to score at all costs, that anticipation for the incoming ball, that coiled-spring needed to lash home the barest half chance... just as Ronaldo had done. Such a pity, really, because Everton, as ever, had raised their game substantially to meet and indeed improve on that of their hosts.
But, once the goal went in, there was a palpable difference in the United play, as they swaggered forward and looked to walk all over Everton. The half-time whistle couldn't come soon enough, and it left Everton wondering just what they would face in the second half...
What second half? Yes, Everton hustled and bustled, huffed and puffed. Meanwhile, Man Utd scored a couple more well-crafted goals. And that was pretty much it. Ah wel... maybe next year...
Match Preview
Oh boy... where to begin with this one?
Having failed miserably to overturn the bottom club at the weekend, Everton make the short trip up the M62 to the cauldron of Old Trafford to play the Premiership leaders... only this time a point would be very welcome given the disappointing nature of the Blues' current form.
After being written off by some as past their prime and incapable of mounting a serious attempt to dethrone Chelsea this season, Alex Ferguson's team have ascended to the summit of the table with confidence and style. They pose dangers in almost every area of the pitch so Everton's defence — arguably their strongest suit when Nuno Valente isn't giving up possession on his own 18 yard line and Joseph Yobo isn't fiddling with his footwear — will have to be at their very best on Wednesday evening.
On his return to his former stomping ground, Phil Neville especially will need to turn around his worst run of personal form since joining 15 months ago. His best position remains the right back slot he has occupied for the most part since Tony Hibbert was sidelined with a long-term groin injury, but as the midfield looks lightweight with both Leon Osman and Simon Davies playing, David Moyes may try deploying Neville in a five-man midfield alongside Lee Carsley.
Certainly, it would not be a surprise for Moyes to opt, as he did at Arsenal, for a line-up focused on containment behind a lone striker, be that Andy Johnson or the thus-far ineffective James Beattie.
It's not completely clear at the time of writing whether Johnson will even figure in this one. He was reported to be injured for the trip to Charlton on Saturday — totally unfounded rumour suggests he had a bust-up with Moyes over the manager's intention to deploy him wide right in a three-man strikeforce — and the latest reports still rate him as a "major doubt".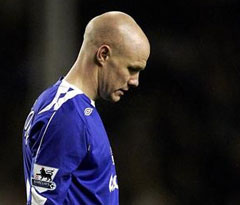 Andy Johnson:
a "major doubt" ahead of this week's game
Elsewhere in the team, Tim Howard is barred from playing against his permanent employers, so Richard Wright will make his first Premiership appearance of the campaign, with John Ruddy recalled from his loan spell at Stockport County to act as cover from the bench.
Only Arsenal and Chelsea have come to Old Trafford and left with any points so far this season and, of course, Everton haven't won there since the 1992-93 campaign. So, no one in the Blues' camp will be under any illusions about how difficult a game this will be.
In their favour, however, is the fact that Everton have already faced three of the teams who finished in the top five last season and not lost to any of them; indeed, they beat Spurs and Liverpool handsomely — albeit when they were playing substantially better than they are now — and might well have won at Arsenal had Mike Riley not intervened with a highly dubious free-kick decision.
So, there are precedents this season for Moyes's boys rising to the occasion against the big teams and, as always, it comes to XI vs XI on the day; anything is possible, particularly if you go out and give Sir Alex Ferguson's men a game.
Matchday Stats
May appear here later
Match Report
Everton's miserable record against Manchester United — and at Old Trafford in particular — continues after a disappointingly predictable victory for Sir Alex Ferguson's side who retain their lead at the top of the Premiership.
Defeats of this magnitude against the likes of United were common under Walter Smith, whose teams seemed to lay down and die at the feet of vastly superior opposition, but in the last two seasons David Moyes managed to come away from this fixture with two draws. And, after taking points off all three teams who finished in the top five last season whom the Blues have played so far this season, there were high hopes that they could avoid defeat tonight.
Unfortunately, though, this was a stroll for United. Even during Everton's better spells in the first half, the home side were rarely troubled by an opposition struggling to create anything on a consistent basis through midfield.
With Andy Johnson forced to watch from the dugout because of the hamstring injury that kept him out of the draw at Charlton, Moyes eschewed the 4-5-1 formation for a front two of James McFadden and James Beattie, ably assisted by Leon Osman who reversed a recent run of poor form with a decent display.
Phil Neville was back in central midfield and Joseph Yobo at right back, which meant a recall for Alan Stubbs in central defence alongside Joleon Lescott, while Richard Wright deputised for Tim Howard who was inelgible to play against his full-time employers and had to watch from the stands.
Far from strinking in the face of United's superiority and the roar of a crowd of 70,000, the Blues made a decent fist of the first half until they fell behind to a well-taken goal by Cristiano Ronaldo six minutes before the break.
And it was the impetuous Portuguese midfielder who started the action in the third minute with a strike from 25 yards that was always drifting wide before Osman let fly from even further out to force Edwin van der Saar into his first save of the evening.
Perhaps because of the number of changes in personnel they had made, United were slow to get going but Everton couldn't capitalise on their hosts' lethargy. McFadden had the Blues' best chance of the half when he mugged Michael Carrick in midfield, received Osman's touch on on the of the box but dragged his shot wide of goal in the 16th minute.
Kieron Richardson drove a free kick a foot over and Wayne Rooney flashed a header inches wide as United started to find their rhythm, while Alan Stubbs had a half chance when Mikel Arteta's corner fell to his feet but his shot appeared to be blocked by the prone figure of Lescott in the six-yard box.
With Everton looking solid in defence it was no surprise that it took a moment of quality to break the deadlock. Carrick's shot from 20-odd yards ricoheted off Nuno Valente and Ronaldo caught it sweetly with a first-time shot that crept inside the post past Wright's despairing drive.
The visitors might have replied emphatically just a couple of minutes later but when the ball rolled to Beattie in plenty of space a few yards inside the United box, he exhibited all the ball control of a newborn Wildebeest and the loose ball was cleared before he knew much about it. How a player who cost £6m and once notched over 20 goals in a Premiership season can look so embarrassingly slow and demonstrate such poor reactions is unfathomable.
At the other end, Rooney looked electric by comparison as he side-footed goalwards looking to beat Wright but the 'keeper got across well to push the ball behind for a corner.
Neither side changed players or pattern after the break but United looked far more confident and comfortable with the one-goal lead than they had when the scores were level. Everton, meanwhile, were trying but the battle was being lost in midfield. Carsley's limitations going forward were once again underlined, Neville's distribution ran the gamut from awful to effective, Arteta was often isolated on the flank and Osman, while busy and always looking to set up neat interchanges with the front two, was unable to do it all on his own.
On top of that, there was no width down the left and nothing coming from the bylines, with the end result that Beattie got next to no service from anything other than Wright's hoofed clearances and set pieces. McFadden, vastly improved on the 2005/06 version, showed flashes of inspiration but also suffered from a general lack of effective support and movement from his teammates.
Neverthless, they were still in the contest until the 63rd minute when Rooney laid the ball off to meet Evra's run down the left channel and the Frenchman made a beeline for goal before slamming a shot through Wright's legs. 2-0, game over.
Even that didn't spur Moyes into shuffling his pack. In fact, it took the manager 13 minutes to respond to the second goal when he removed Osman and threw on James Vaughan for the last 14 minutes. Unfortunately, while he charged around chasing the ball enthusiastically, he suffered from the same lack of service that has blighted Everton's forwards for weeks now.
Still, the Blues did have a late flurry with some balls into the box and Lescott effected a neat touch when Neville's flighted free kick dropped at his feet in the six-yard box but no-one was on hand to turn it into the net. From the resulting clearance and corner, Yobo rose above everybody to power a head narrowly over.
But United had the last word and what better way to hammer home your superiority than have a defender score your third goal. Neville conceded an 89th-minute free kick near the touchline, Rooney collected the clearance and fed Heinze on the left and, with Neville clearly hobbling from a knock and seemingly unable to close down the cross, John O'Shea flicked it into the net off the inside of the post.
Yes, we acquitted ourselves better than we have at Old Trafford in the past but we still lost 3-0 which is a pretty comprehensive defeat. And despite carrying the occasional threat, we made precious few clear-cut chances and, as such, never really looked like scoring. Allowances should, of course, be made for the absences of Johnson and Tim Cahill, but if we're so reliant on those two — as we clearly seem to be — then something is clearly wrong.
As fans have been griping for years, the midfield is where most of the problems are. No width, no flair beyond Arteta, poor passing, few ideas... the deficiencies go on... and so does this current run of poor form that has wrecked what was our best ever start to a Premiership season. Yes, we're still curiously within reach of the Champions League spots but to get there you have to win games... and Everton are just not doing enough of that these days.
* Unfortunately, we cannot control other sites' content policies and therefore cannot guarantee that links to external reports will remain active.
MAN UNITED (4-4-2)
Van der Sar
O'Shea
Neville (c)
Ferdinand
Silvestre
Evra
Richardson
Ronaldo
Carrick
Fletcher
Rooney
Subs not used
EVERTON (4-5-1)
Wright
Yobo
Stubbs
Lescott
Valente
Neville (c)
Arteta
Carsley
Osman
Beattie
McFadden
Subs not used
Ruddy
Weir
Van der Meyde
Vaughan
Anichebe
Unavailable
Player (injured)
Player (injured)
Player (injured)
Premiership Scores
Tuesday 28 November
Watford
0-1
Sheff Utd
Wednesday 29 November 2006
Aston Villa
1-3
Man City
Bolton
0-1
Chelsea
Fulham
2-1
Arsenal
Liverpool
0-0
Portsmouth
Man Utd
3-0
Everton
Premiership Table
Pos
Team
Pts
<%Do while NOT oMRTRs.EOF%> <%If oMRTRs("Team") = "Everton" then %>
<%=oMRTRs("Pos")%>
<%=oMRTRs("Team")%>
<%=oMRTRs("Pts")%>
<% ElseIf oMRTRs("Pos") > 20 then %>
<%=oMRTRs("Pos")%>
<%=oMRTRs("Team")%>
<%=oMRTRs("Pts")%>
<% Else %>
<%=oMRTRs("Pos")%>
<%=oMRTRs("Team")%>
<%=oMRTRs("Pts")%>
<% End If %> <%oMRTRs.MoveNext%> <%Loop%>
After <%=DatePart("d",date)%> <%=MonthName(DatePart("m",date),True)%> <%=DatePart("yyyy",date)%>
<% oMRTCs.Close() Set oMRTRS = Nothing %>