Venue: White Hart Lane, London
Premiership
Saturday 26 August 2006; 3:00pm





Half Time: 0-0
Davenport (og:53')
Johnson (65')
Attendance: 35,540
Referee: Peter Halsey
Match Summary
David Moyes switched to a 4-1-4-1 formation, as expected, with the fat, lazy, ineffective, unfit (choose your own adjective!) James Beattie rightly dropped to the Bench. But Andy Johnson struggled from the start to see anything from the towering Tottenham defenders, despite Everton playing some excellent passing football in midfield and defense. Everton were very well organized and defended solidly against a very determined Spurs side that simply could not penetrate with any effect.
The football was absorbing if somewhat unexciting, but the key decision of the half was, as ever, made by the referee. Kilbane was booked on 14 mins for his first challenge of the game, which was slightly mistimed, that's all. Not vicious or assaulting, like Ben Foster's yellow-carded crime. But Kilbane was trying to control both Lee and Lennon, pacy little buggers who were always a threat, and, on 32 mins, Kilbane felt he had to put in a late challenge on Lee, who had scampered past him and then died like a swan. Unnecessary, as Naysmith was covering his path, but a second yellow was inevitable and Everton were cruelly reduced to 10 men.
Moments early, the only real threat on Everton's goal came when a bobbling ball across the goal area needed clearing from under the Everton bar, and Naysmith's powerful boot smashed the ball up off the face of his own crossbar! Hearts in mouths...
But Everton had played well and continued to be unfazed by the reduction in their numbers, an Arteta free-kick nearly surprising Spurs with Lescott coming in at the far post. If Berbatov hadn't illegally restrained him, it would have been the opening goal. 0-0 at half-time but a difficult defensive task ahead in the second half as it will only take Spurs one chance to break the resolution of this strong but tiring Everton rearguard.
A few minutes into the second half, and some great work by Johnson, who was not having the best of games, earned a free-kick that was powered in superbly by Mikel Arteta. Lescott challenged for it and may have got a touch down toward the in-running Yobo at the far post but the ball spun off Davenport's foot for a wonderful own-goal that Everton's controlled and disciplined play thoroughly deserved... GAME ON!
The onslaught you would have expected from Spurs simply never materialized as Everton grew in confidence and played some excellent possession football to nullify the tremendous potential of the young stars Martin Jol has pulled together. We are boasting of two Everton players selected for England... Spurs have FIVE in the squad! But Everton were leading 1-0 away from home on the ultimate bogey ground... Could they hold on?
Could they indeed! On 54 mins, the moment of the match: another threat on goal from Spurs, with Lennon running in, was nullified by the marshaled Everton defence. The ball was pushed forward into midfield with pace and accuracy (no hoofing!), where Osman picked it up and fought off a strong challenge and shirt-tugging from Davids. But the Everton man spun away and pushed the ball out accurately into the path of Neville who had overlapped well. He powered in an absolutely first-class low cross that was met and finished superbly by Andy Johnson, running in between two burly Tottenham defenders. Robinson was comprehensively beaten and the Evertonians in the corner, who had been given the most perfect view of this one, went wild again! One of the best goals I have seen Everton score in many a long year... BRILLIANT!
Spurs huffed and puffed as Everton's control of the game went from strength to strength. Howard's only save worthy of the name — perhaps the only shot Spurs got on target the entire match — came in the 92nd minute. That's doesn't say much for Martion Jol's glamour boys... but it speaks volumes about Everton's stalwart defence, which was the foundation on which this tremendous victory was accomplished.
I have been one of the biggest critics of David Moyes's awful football. He has astounded me with that dispaly. Everton were superb, majestic, phenomenal in playing with ten men against a very strong and talented team, but coming away with a brilliant 2-0. FANTASTIC!
Magnificent Everton end 21-year hoodoo
With a performance that should have had even the most ardent critic of David Moyes welling up with pride, Everton firmly buried a 21-year hex at White Hart Lane by beating a strong Tottenham side 2-0... despite playing almost an hour with 10 men! An own goal by Callum Davenport and a superbly-worked second, converted by Andy Johnson, lifted the Blues to an unlikely win and into a temporary second-place berth in the Premiership following Kevin Kilbane's dismissal for a second bookable offence after just 32 minutes.
Moyes's teamsheet and starting formation gave little hint of the exhilaration to come. James Beattie was, unsurprisingly, demoted to the substitutes bench but, instead of offering James McFadden a reward for his midweek cameo, the manager elected to go with Kilbane again on the left and Tim Cahill alongside Mikel Arteta, Lee Carsley and Leon Osman in the rest of a five-man midfield behind lone striker, Johnson.
At the back, Gary Naysmith continued to deputise for Nuno Valente, Phil Neville likewise for Tony Hibbert who was named as a surprise substitute, and Joleon Lescott made his first start next to Joseph Yobo. Tim Howard kept his place in goal.
Again, the first half an hour gave no hint of what was to come as both sides struggled to take control of the game. Tottenham lacked the fluidity through midfield that you would expect and Everton were resorting to many high balls into the box which left Johnson, at 5' 7", little chance of making much impact.
Osman had the first shot of the game, a wayward daisy-cutter that rolled well wide before Kilbane was booked for a nothing challenge on Lee Yung-Pyo on Spurs' left flank . Referee Mark Halsey clearly reacted to the nature of Lee's swan dive to the turf because it was never a bookable offence.
True to the inconsistency that plagues top-flight refereeing these days, the Irishman was not booked for a clear yellow-card infringement when he went through Aaron Lennon 13 minutes later. Jermaine Jenas was to escape a booking for clattering through Carsley in similar fashion in the second half.
Everton had their first nervy moment in defence in the 26th minute when Dimitar Berbatov's scissor-kick bounced across the six-yard box and Naysmith sliced a clearance awkwardly over his own bar. And Callum Davenport had one of the home side's few first-half chances when he headed the resulting corner over the bar.
Then the roof seemingly fell in on the Blues' chances of taking anything from the game. Kilbane was again beaten easily by Lee as he cut inside from the wing and despite the presence of Naysmith, he chose to swing a leg and foul the South Korean international from behind earning him a second yellow and an early bath.
Pleasingly, Everton did not appear visibly shaken by going a man down and the game remained fairly even until half time. Michael Dawson had a tame shot deflected easily into Howard's arms before Jenas and then Edgar Davids dragged shots wide from outside the box.
At the other end, Davidson went into the book after being skinned by Johnson on the touchline and chopping him down in full flight and Arteta almost engineered a goal for Lescott but the defender couldn't crane his neck far enough forward to divert the Spaniard's free kick back into the net at the back post. Osman ended a nice passing move by sweeping another shot wide of the goal, this time with his left foot.
Half-time brought no changes by either side and Everton remained purposeful after the restart. Both Osman and Cahill were fouled within a second of each other on the edge of the box setting up a chance for Arteta to work his magic with a direct free kick, but his effort sailed a couple of yards over. At the time one felt that would have been perhaps the Blues' best chance to get onto the scoresheet given their inferior numbers and Tottenham's strengths.
But within five minutes, Moyes's side had stunned the home fans by taking the lead. Johnson, who never stopped running and whose movement and pace up front could not have offered a starker contrast to someone like James Beattie or Duncan Ferguson, chased a lost cause into the corner and after legitimately muscling Assou-Ekotto off the ball he was fouled by the Tottenham defender on the touchline. Arteta swung in the resulting free kick and although Lescott will feel he should have made better contact and scored himself, he got enough purchase on the ball to force Davenport into stabbing out an instinctive leg that diverted the ball past his own goalkeeper.
David Moyes leapt in the air in delight and the admirably vocal away support erupted. 1-0 away from home — at White Hart Lane no less! — and playing a man down. Superb stuff.
The anticipated Spurs backlash never came. Instead, Everton, who by this point were enjoying almost two thirds of the possession, kept up their offensive with crisp passing, incisive movement and dogged tackling and doubled their lead in the 65th minute.
Wonderful persistence by Osman as he broke away and held off the tigerish attentions of Davids ended with the midfielder feeding Neville who was overlapping down the right and his pin-point cross in behind the defence was met by Johnson who swept the ball past Robinson into the net. The away fans were delirious and Moyes matched their joy as he bounced up and down on the touchline, his fists pumping the air.
Still Tottenham couldn't seem to raise themselves from their torpor and with the visitors' 10 men to a man putting in terrific performances, they never really looked like getting back into the game.
The remaining four midfielders were immense as they hustled the home midfield out of its stride. Osman, Cahill and Arteta were always looking to make things happen on the counter-attack or assist Carsley in breaking up attacks. Similarly, Yobo and Lescott combined well to stifle most of what came their way and even Gary Naysmith was having a great day "at the office". With Johnson's tireless work leading the line and tracking back to bolster the defensive efforts and Neville's experience, Everton had the perfect platform on which to defend their amazing advantage and ensure that Tim Howard didn't really have to make a decent save until injury time when he leaped along his line to grab a Berbatov header aimed at the corner of the goal.
Tottenham's best chance had arrived a few minutes before that and Howard would have been powerless to prevent Robbie Keane from scoring had his attempted flick with his heel gone inside the far post from Lennon's low cross rather than scooting harmlessly wide ahead of the on-rushing Dawson. The final whistle was greeted by a roar from the away support and a chorus of boos from those Spurs fans who had stayed to the bitter end. A truly spectacular way to end 21 frustrating years at White Hart Lane for Everton fans!
Honestly, the starting line-up and the inclusion of Kilbane — frankly, a player of limited talent and prone to erraticism — seemed before kick off to be an overly cautious, some would say negative, strategy, particularly given the transformation Everton underwent at Ewood Park midweek when they really started to take the game to Blackburn.
But in the aftermath of a wonderful victory, Moyes seemed to get everything right, especially the way he resisted the temptation to break up a terrific display by his ten remaining players by introducing substitutes until he was forced into a change late on when Lescott suffered a gash to the head and David Weir played out the last eight minutes in his place.
After going a man down, the expectation based on the last few seasons was that Everton would shrink into their shells, resort to pumping aimless balls down to Johnson and scrap their way to a point. The reality was quite different; they played some wonderful football at times and Johnson's running down the channels and dropping back to link up with the central midfield added a whole new dimension to the more ponderous team to which we became painfully accustomed last season.
Shorn of any height among their offensive players following Kilbane's dismissal, the Blues were forced to play it on the deck and they did with ease at times, particularly down the right flank. The result was a comfortable victory earned against all the odds but with style. That is what we have been baying for, Mr Moyes. More please!
Match Preview
A trip to White Hart Lane... enough to stop any good Everton run dead in its tracks. So, it's not surprising that Blues are approaching this third game of the season with a large measure of dread, particularly as Spurs have already shrugged off their 2-0 opening-day defeat at Bolton with a win by the same margin over Premiership new-boys, Sheffield United, on Tuesday.
Worse, their new £10M summer capture, Dimitar Berbatov, opened his account midweek, continuing his pre-season form into his first home game with the club. Everton's own big summer attacking signing has, of course, made the scoresheet himself and might have doubled his tally for the season were it not for a good stop by Blackburn's Brad Friedel on Wednesday. Johnson has made an impressive start to life at Goodison and he seems the kind of player who will be relishing the chance to end the Blues' 21-year winless run at White Hart Lane.
David Moyes has already broken up one successful line-up this season so predicting his selection for this weekend is not easy. Despite claims about squad rotation, the rearguard more or less picks itself with Tim Howard's positive display at Ewood Park and Alan Stubbs, David Weir and Nuno Valente candidates to miss out through injury. Weir has not figured because of a groin injury, Stubbs was forced out of the Blackburn draw at the half-way stage with an ankle knock, while Valente, who suffered a dead leg last Saturday against Watford, is probably the most likely to be passed fit. If not, Gary Naysmith will line up at left back again in Alessandro Pistone's absence with Phil Neville filling in for Tony Hibbert while he recovers from his exotic illness.
Unless Weir returns (which is unlikely), Joleon Lescott is in line to make his first start of the season alongside Joseph Yobo. That would provide an early opportunity to judge what many fans believe will be the first-choice central defensive pairing by the end of the season.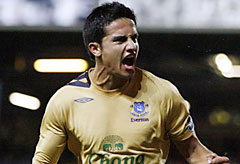 Tim Cahill:
his impact on the game at Blackburn would make him hard to ignore
for a starting berth at White Hart Lane
It's in midfield and up front where Moyes has been exercising his increased options. Leon Osman and Tim Cahill's respective displays at Blackburn could earn them starting berths alongside Lee Carsley and Mikel Arteta. Or, if Moyes rotates his team again, Simon Davies could play and Osman could start on the bench.
In attack, James Beattie's ponderous start to the campaign is in stark contrast to the re-energised and more incisive James McFadden and it wouldn't be a big surprise to see the Scot start ahead of the £6M man on the ground where he scored 20 months ago. Victor Anichebe, who was left off the teamsheet altogether midweek will be hoping to make the XVI if Stubbs is ruled out.
Moyes acknowledged his side's performance in the first hour of the game at Ewood Park was poor and he will hopefully be mindful of the fact that, should they play the same way for the majority of the 90 minutes against Spurs, they're likely to extend the Blues' miserable record on the Londoners' turf. But the manager does tend to be cautious away from home and appears not to want to change anything until his side goes a goal down. That was a frustrating tactic for the supporters last season; this second away game in four days may hint at whether or not Moyes will change his modus operandi on the road this season.
A win would, of course, be a fantastic tonic against a team that missed out a fourth-place finish by one match and which has strengthened further over the summer. But a draw would be a decent afternoon's work as well.
TW Betting Pick: 2-1 Everton win at 20/1
Matchday Stats
The 151st match against Tottenham Hotspur sees Everton, who are sixth in the League, travel to White Hart Lane trying to finally break their jinx against the North London team.
Everton's last victory at White Hart Lane was on 4 March 1986, when goals from Adrian Heath and Gary Lineker ensured Everton moved into the sixth round of the FA Cup. Everton's last League victory at White Hart Lane was earlier that season when Gary Lineker scored in a 1-0 victory. Ironically, that came on 26 August! So it's been a whole 21 years to the day since our last League victory – surely time for a change.
In the stats for the Blackburn match, we touched on the fact that the last time we had won our opening match of the season, in 2002, we drew the next game. The third game of that season saw a 2-0 home win over Middlesbrough, with Scot Gemmill and Kevin Campbell getting the goals.
We also highlighted the fact that the last time we won the opening match when playing at home, in 1996, we also drew our second game of the season. Our third game was another away match, like this season, and it was against Tottenham Hotspur, but this time we managed a 0-0 draw. Will the gods be on our side for this match?
Everton's full record against Tottenham Hotspur in all competitions is:
| | | | | | | |
| --- | --- | --- | --- | --- | --- | --- |
| | P | W | D | L | F | A |
| Premier League | 28 | 2 | 10 | 16 | 27 | 48 |
| Division One | 108 | 40 | 33 | 35 | 155 | 167 |
| Division Two | 2 | 1 | 0 | 1 | 4 | 3 |
| FA Cup | 10 | 5 | 1 | 4 | 15 | 14 |
| Screen Sport Cup | 2 | 1 | 1 | 0 | 3 | 1 |
| TOTALS: | 150 | 49 | 45 | 56 | 204 | 233 |
Whilst Everton's overall record against Tottenham sees us losing more games than we've won, our record at Tottenham is close to abysmal!
| | | | | | | |
| --- | --- | --- | --- | --- | --- | --- |
| | P | W | D | L | F | A |
| Premier League | 14 | 0 | 4 | 10 | 16 | 33 |
| Division One | 54 | 13 | 16 | 25 | 67 | 107 |
| Division Two | 1 | 0 | 0 | 1 | 0 | 1 |
| FA Cup | 3 | 1 | 0 | 2 | 5 | 8 |
| Screen Sport Cup | 1 | 0 | 1 | 0 | 0 | 0 |
| TOTALS: | 73 | 14 | 21 | 38 | 88 | 149 |
Despite the fact that we have never won at Tottenham in the Premier League, our record against them in this competition is, surprisingly, not the worst, statistically. That honour is shared between Wolverhampton Wanderers and Fulham, were Everton have failed to record a single point on their travels. The bottom five looks like this:
| | | | | | | | |
| --- | --- | --- | --- | --- | --- | --- | --- |
| Opponents | P | W | D | L | F | A | Pct |
| Fulham | 5 | 0 | 0 | 5 | 1 | 9 | 0 |
| Wolverhampton Wands. | 1 | 0 | 0 | 1 | 1 | 2 | 0 |
| Arsenal | 14 | 1 | 1 | 12 | 11 | 39 | 11 |
| Tottenham Hotspur | 14 | 0 | 4 | 10 | 16 | 33 | 14 |
| Manchester United | 14 | 1 | 3 | 10 | 11 | 29 | 18 |
(The percentage figures have been calculated as the number of points won in relation to the number of points available, using the old 2 points for a win system.)
The last meeting between the clubs, on 15 April earlier this year saw Everton lose, yet again, 0-1 at Goodison Park. Whilst last season's reverse fixture saw another away defeat, this time 0-2, to extend the current run to 4 consecutive away defeats against Tottenham since the 2-2 draw on 17 August 2002.
Despite the abysmal record at White Hart Lane, Jimmy Harris managed to score a hat-trick there on 11 October 1958, to go along with Bobby Collins' goal, as Everton scored 4 at White Hart Lane for the first time in their history. Unfortunately, Tottenham scored 10 goals that day!
The last hat-trick against Tottenham was by Tony Cottee on 5 October 1991 in a 3-1 win at Goodison Park.
Whilst Everton's record against Tottenham seems to spell certain doom, the club's record for 26 August would suggest that an unlikely draw (or even, dare we say, an even unlikelier win) may be on the cards:
| | | | | | | |
| --- | --- | --- | --- | --- | --- | --- |
| | P | W | D | L | F | A |
| Premier League | 3 | 1 | 2 | 0 | 6 | 4 |
| Division One | 12 | 6 | 3 | 3 | 16 | 10 |
| League Cup | 1 | 1 | 0 | 0 | 3 | 0 |
| TOTALS: | 16 | 8 | 5 | 3 | 25 | 14 |
Whilst we've already seen that Everton have played Tottenham before on this day in 1985, and won, the last match the club have played on 26 August was in 2003, when goals from Steve Watson and a certain Wayne Rooney ensured a 2-2 draw at another London team, Charlton Athletic. In fact, all 3 games Everton have played on this day, in the Premier League, has seen them score 2 goals in each match – now if we can just keep Tottenham below 3!
Milestones that can be reached this game:
If he starts, Joseph Yobo will be making his 100th League start for the club.
It is unlikely that Tony Hibbert will play in this match, but if he somehow makes a recovery from his illness and plays, then this will be his 150th match for Everton in all competitions.
If he makes yet another substitute appearance, then James McFadden will join Sandy Brown in 4th place on the overall list with 43 substitute appearances for Everton in all competitions, with only 39 more before he joins Duncan Ferguson at the top.
* Unfortunately, we cannot control other sites' content policies and therefore cannot guarantee that links to external reports will remain active.
TOTTENHAM (4-4-2)
Robinson
Lee (60' Defoe)
Dawson
Davenport
Assou-Ekotto
Lennon
Jenas
Davids
Tainio (74' Zokora)
Berbatov
Keane
Subs not used
Cerny
Stalteri
Gardner
EVERTON (4-4-2)
Howard
Neville
Yobo
Lescott (84' Weir)
Naysmith
Osman
Carsley
Arteta
Cahill
Kilbane 14' 32'
Johnson
Subs not used
Wright
Hibbert
McFadden
Beattie
Unavailable
Player (injured)
Player (injured)
Player (injured)
Premiership Scores
Saturday 26 Aug 2006
Charlton
2-0
Bolton
Fulham
1-0
Sheff United
Liverpool
2-1
West Ham
Man City
1-0
Arsenal
Tottenham
0-2
Everton
Watford
1-2
Man United
Wigan
1-0
Reading
Sunday 27 Aug 2006
Aston Villa
-
Newcastle
Blackburn
-
Chelsea
Monday 28 Aug 2006
Middlesbro'
-
Portsmouth
Premiership Table
Pos
Team
Pts
<%Do while NOT oMRTRs.EOF%> <%If oMRTRs("Team") = "Everton" then %>
<%=oMRTRs("Pos")%>
<%=oMRTRs("Team")%>
<%=oMRTRs("Pts")%>
<% ElseIf oMRTRs("Pos") > 20 then %>
<%=oMRTRs("Pos")%>
<%=oMRTRs("Team")%>
<%=oMRTRs("Pts")%>
<% Else %>
<%=oMRTRs("Pos")%>
<%=oMRTRs("Team")%>
<%=oMRTRs("Pts")%>
<% End If %> <%oMRTRs.MoveNext%> <%Loop%>
After <%=DatePart("d",date)%> <%=MonthName(DatePart("m",date),True)%> <%=DatePart("yyyy",date)%>
<% oMRTCs.Close() Set oMRTRS = Nothing %>