Venue: Ewood Park, Blackburn
Premiership
Wednesday 23 August 2006; 8pm





McCarthy (50')
Half Time: 0-0
Cahill (84')
Attendance: 22,015
Referee: Uriah Rennie
Match Summary
True to his word, David Moyes broke up a winning line-up for the trip to Blackburn... but not in the manner expected. Despite making noises about needing to change the Blues' style of attacking play to accommodate Tim Cahill, the Australian was left out of the starting line-up in favour of Leon Osman who was back in contention following a groin injury.
Kevin Kilbane replaced Simon Davies in midfield, with Mikel Arteta moving inside to partner Lee Carsley in the centre. Elsewhere in the side, Gary Naysmith made his expected return to first-team action by lining up at left back in place of Nuno Valente who did not recover in time from the dead leg he suffered in the home opener against Watford.
Everton started brightly, winning a first-minute corner but Arteta couldn't beat the first man and the opportunity went begging. Tim Howard then saved the first of three Blackburn chances in the first half when Jason Roberts tried his luck before the Blackburn striker raced clear of Alan Stubbs in the 13th minute but, thankfully he curled his shot wide of the upright.
Leon Osman then went into the book before David Bentley's left-footed effort in the 25th minute was deflected wide for a corner and then Benni McCarthy had his first chance, a first-time shot from 25 yards that Howard saved despite a heavy deflection off a Blue defender.
At the other end, Everton were offering little in the way of testing Brad Friedel. James Beattie did get a shot in on the half-hour mark but the angle was tight and the Rovers 'keeper gathered it with ease. Meanwhile, Bentley was booked for a studs-up foul on Stubbs in first-half injury time. Although the defender did come out for the second half, he was replaced by Joleon Lescott within three minutes of the restart.
Two minutes later, Rovers were ahead. McCarthy, whom Moyes twice tried to sign before he eventually arrived at Ewood Park, picked up a loose ball following a fortuitous bounce off Joseph Yobo and lashed it past Howard to make it 1-0.
Everton took a while to respond but Osman had their first shot of the second half which he dragged well wide. Then, after Cahill and James McFadden had been introduced at the expense of Kilbane and Beattie, an Arteta corner flew across the six-yard box but no Blue shirt could make contact. Lescott was almost caught out at the back by Roberts but did enough to divert the ball back to Howard and barely a minute later, the Blues' best chance of the match came at the other end. A lovely flick forward by McFadden put Johnson in one-on-one with Friedel but the American stopper made himself big and blocked the shot with his legs.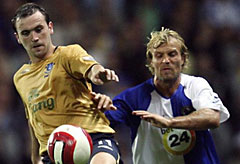 James McFadden made a big impact as a second-half sub
Everton kept up the pressure and Arteta had the chance to replicate the goal he scored here a year earlier but he fired wide from a similar distance with 10 minutes left. Then, Andy Todd, who was only playing after the FA rescinded a red card he picked up at Portsmouth at the weekend and was riding a tightrope following a first-half booking earlier in this game, shoved Johnson to the deck but referee Uriah Rennie waved play on.
A minute later, though, the Blues got their reward when McFadden latched onto a long ball from the back, tangled with Friedel and as Johnson failed to connect when the ball bounced back off the post, Cahill turned it into the empty net to send the massive traveling contingent into rapture with six minutes left.
Despite a McCarthy volley that was well saved by Howard, Everton continued to carry the greater threat going into the closing stages. After great work by McFadden in injury time, the Scot was chopped down right on the edge of the area but Arteta lofted the free kick harmlessly over the bar.
Match Preview
If any proof were needed that Evertonians can be a discerning and demanding bunch the aftermatch of the Blues' first opening day win in five years — indeed, their first at Goodison in a decade — has provided it. David Moyes's big summer signing scored on his debut and his charges emerged from their encounter with Watford with three points but there were still critical voices concerned that some of the more negative aspects of Everton 2005-06 are still too much in evidence.
While Watford could quite easily have come away with a draw — they had a number of efforts on goal and were unlucky to concede the penalty that wasn't —the Blues' offensive capabilities shouldn't be ignored. Mikel Arteta rattled the crossbar with one of his free kicks and Tim Cahill was within an inch of heading what would have been goal number two in the first half. Had those two gone in instead of being foiled by the woodwork, the scoreline and the post-match reaction might have been much different.
So, to Ewood Park for our first away test of the new campaign against a Blackburn Rovers side that will be smarting from a 3-0 demolition at the hands of Portsmouth on Saturday. Mark Hughes's side finished 6th last season and has been strengthened over the summer with some key additions, among them Benni McCarthy from Porto, so there is no doubt that they are a capable side. Everton should be wary of a potential backlash...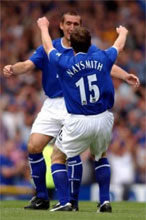 Garry Naysmith:
could step in if Nuno Valente isn't passed fit
In addition to Tony Hibbert and Alessandro Pistone, Moyes has further worries at fullback with Nuno Valente struggling to be fit due to a badly bruised thigh. That could mean an early opportunity for Gary Naysmith. David Weir is still out with a groin strain and James Vaughan is still not fit enough to be in contention.
Barring any training-ground injuries this week, the Blues will likely be unchanged in the rest of the team which would be bad news for Andy van der Meyde and those fans itching for him to be given a chance to impress. The Dutchman did not make the sixteen selected against Watford despite apparently being fit, a clear reflection of the choices at the manager's disposal this season.
This being an away game, it would not be surprising if Moyes opted for a more cautious approach, relying more on Johnson's pace on the counter-attack. That could be a potent weapon away from Goodison this season. A point on the turf of a team with the quality that Blackburn possess would be a satisfying return this Wednesday, but Moyes will hopefully also be going for Rovers' jugular after their nightmare start at Fratton Park at the weekend.
TW Betting Pick: Johnson scores in an Everton 1-0 win: 33/1
Click for more
Matchday Stats
Everton go into their 150th match against Blackburn Rovers having won their first opening match of the season since a 2:1 victory at Charlton Athletic in 2001. That season saw a 1-1 draw with Tottenham Hotspur the following Monday, which resulted in Everton topping the Premier League table for the last time (so far!). The last time the club won the opening match when playing at home was in 1996, with a 2:0 victory over Newcastle United and this was also followed up with a draw, this time at Manchester United.
Everton's full record against Blackburn Rovers in all competitions is:
| | | | | | | |
| --- | --- | --- | --- | --- | --- | --- |
| | P | W | D | L | F | A |
| Premier League | 24 | 10 | 3 | 11 | 24 | 28 |
| Division One | 106 | 44 | 23 | 39 | 200 | 182 |
| Division Two | 6 | 0 | 2 | 4 | 2 | 10 |
| FA Cup | 10 | 7 | 1 | 2 | 18 | 9 |
| FA Charity Shield | 2 | 2 | 0 | 0 | 3 | 1 |
| Zenith Data Cup | 1 | 1 | 0 | 0 | 4 | 1 |
| TOTALS: | 149 | 64 | 29 | 56 | 251 | 231 |
Whilst Everton's overall record against Blackburn is not too bad, our performances at Blackburn are nothing to shout about!
| | | | | | | |
| --- | --- | --- | --- | --- | --- | --- |
| | P | W | D | L | F | A |
| Premier League | 12 | 5 | 2 | 5 | 15 | 15 |
| Division One | 53 | 12 | 11 | 30 | 80 | 120 |
| Division Two | 3 | 0 | 1 | 2 | 1 | 4 |
| FA Cup | 2 | 1 | 0 | 1 | 4 | 5 |
| Zenith Data Cup | 1 | 1 | 0 | 0 | 4 | 1 |
| TOTALS: | 71 | 19 | 14 | 38 | 104 | 145 |
The last meeting between the clubs, on 11 February earlier this year saw James Beattie get the only goal in a 1-0 victory at Goodison Park. This was the last of a seven-match unbeaten run (winning 6 and drawing 1) which, effectively secured the club's top-flight status for another year.
Last season's reverse fixture, which was Everton's 4,000th top-flight match, saw Mikel Arteta and James McFadden getting the goals in a 2-0 victory. The chances of an Everton player adding to the club's 4 hat-tricks against Blackburn seem remote as all the previous hat-tricks have come at home, with the last being Tommy White's hat-trick in October 1933.
23 August has been a fairly good day for Everton in the Premier League:
| | | | | | | |
| --- | --- | --- | --- | --- | --- | --- |
| | P | W | D | L | F | A |
| Premier League | 4 | 3 | 0 | 1 | 8 | 4 |
| Division One | 11 | 3 | 3 | 5 | 9 | 15 |
| Division Two | 1 | 0 | 0 | 1 | 0 | 2 |
| TOTALS: | 16 | 6 | 3 | 7 | 17 | 21 |
The last match on 23 August was in 2003, when goals from Gary Naysmith, David Unsworth and Steve Watson secured a 3-1 victory at home to Fulham. The last time we played away from home on 23 August was in 1977, when Arsenal won 1-0 at the now defunct Highbury.
Everton's first ever game on this date was in 1947, when goals from Jock Dodds, Eddie Wainwright and Tommy Eglington secured a 3-2 victory at – Blackburn Rovers, in the only previous meeting between the two clubs on this day. Can David Moyes's men emulate those of Theo Kelly?
Harold Uren was born on 23 August in 1885 in Barton Regis. Having signed from Liverpool in February 1912, Harold made just 24 appearances for Everton, and scoring 3 goals, before he was sold to Wrexham in May 1913.
Milestones that can be reached this game:
It is unlikely that Tony Hibbert will play in this match, but if he somehow makes a recovery from his illness and plays, then this will be his 150th match for Everton in all competitions.
Referees: Bane of our lives
I have a question. Why do the FA have the stupid rule that only English referees can officiate on Premier League fixtures? Last night, Everton were denied the chance to pick up three points on the road by not the Blackburn defence but none other than Uriah Rennie!
Admittedly the first-half performance was not of a very high standard but this was true of both teams, and overall I think Blackburn shaded it. But what was clear in the first half was Rennie's ineptitude! Andy Todd on several occasions accosted Andy Johnson and could of easily had to walk; however, no cards for him but cautions for Arteta and Osman that were questionable.
The second half saw Blackburn come out the stronger and probably deserved their lead when Yobo was unlucky to direct the ball in to the path of Benni Mcarthy who finished well. 1-0. Everton started to become more of an attacking force and when Beattie and Kilbane were substituted for McFadden and Cahill. Everton then played the ball on the ground and the team linked up considerably better playing some well worked football.
Before Beattie's departure, we saw another display of ill-judgement from Rennie when on 61 minutes he cautioned Beattie for a fair challenge but this was par for the course by now. Everton were awarded so few decisions that they could be counted on one hand and time and time again Rennie pointed the other way?!
Since Moyes rang the changes the game had been transformed and Blackburn were under siege. In one attack when Andy Johnson was clear on goal with 10 minutes to go, none other than Andy Todd again went beyond the laws of the game to prevent his opponent a goalscoring chance, clattering in to him with his arms all over him seemingly pushing him to the ground by the back of Johnson's neck. Astonishingly to Everton players, fans and the bench alike Rennie again waves play on!
Everton eventually got what they deserved and after good work from McFadden the ball was pushed on to the post by Freidel only for Cahill to fire home the equaliser. In the build up Friedel pulled back at McFadden and Rennie would surely of awarded the penalty had Tim not slotted home... wouldn't he??!!
Everton finished stronger and could have taken all three points but maybe it would of been hard on Blackburn. However, win at home and draw your away games, so they say...
Not a bad result for Everton but the highlight of the game was the absolute mediocrity of Uriah Rennie. A display so poor you would expect him to be officiating in the lower leagues rather than England's top flight. But hang on, wasn't that just where he was last season? The FA have a rule that only English referees can officiate our matches. When you consider that our supposed best referee Graham Poll who was sent to the World Cup only to make a fool of himself and be sent home in ridicule surely this must be detrimental on our game? I have never been a fan of Poll after his exploits in a Liverpool derby that every Everton fan will remember well but it is clear he and most others are simply not very good! We know they have a hard job and there are constant calls for the technology to help them but none of these things hide the fact that we need better officials in our country.
I must comment that there are a few officials who do not offend me so much, Mr Webb is generally a good referee but even he made a glaring mistake last night only showing Ben Thatcher a yellow card for an assault on Pedro Mendes when perhaps he should of been shown a cell for the night.
People will also point out the fortuitous penalty Everton were awarded last week against Chris Powell and Watford, claiming the season equals itself out, I'm not so sure. One thing I do know is that it was another glaring mistake by an English referee, this time Peter Walton.
Editorial Comment: One Word — Perluigi Collina... Okay, that's two!
* Unfortunately, we cannot control other sites' content policies and therefore cannot guarantee that links to external reports will remain active.
BLACKBURN (4-4-2)
Friedel
Emerton
Khizanishvili
76'
Gray
Todd
41'
Reid
Savage
Bentley
45' (74' Gallagher)
Pedersen
38'
McCarthy
Roberts (80' Jeffers)
Subs not used
Brown
Kuqi
Mokoena
EVERTON (4-4-2)
Howard
Neville
Yobo
Stubbs (48' Lescott)
Naysmith
Osman
14'
Carsley
Arteta
28'
Kilbane (63' Cahill)
Beattie
61' (64' McFadden)
Johnson
Subs not used
Wright
Davies
Unavailable
Valente (injured)
Weir (injured)
Pistone (injured)
Vaughan (unfit)
Hibbert (ill)
Premiership Table
Pos
Team
Pts
1
Man Utd
6
2
Portsmouth
4
3
West Ham
4
4
Bolton
4
5
Aston Villa
4
5
Everton
4
7
Chelsea
3
8
Newcastle
3
9
Middlesbro
3
9
Reading
3
11
Tottenham
3
12
Arsenal
1
12
Liverpool
1
14
Watford
1
15
Sheff Utd
1
16
Blackburn
1
17
Man City
1
18
Fulham
1
19
Wigan
0
20
Charlton
0
After 24 Aug 2006
<% oMRTCs.Close() Set oMRTRS = Nothing %>