Atmosphere and Stadium Design
The only complaint was that that the acoustics of the underside of the Upper Gwladys, which was directly over the singers in the Lower, was not great for projecting out the songs, but at least it was some form of acoustics and there was singing.
When the attendances shot up, unreserved seating ended. Nevertheless those who wanted to sing would still get their tickets for there, so you'd only get the a few non-singers mixed up with them. Although not ideal, this was far from being the main problem. The main problem was that fans stopped standing up. The reason for this is all due to a design fault in the the Lower Gwladys. When fans on the last 2 rows stood up their view of the entire opposite end of the pich was obstructed by a horizontal supporting beam several rows in front. Therefore when fans did try to stand in front of them, they understandably asked fans to sit down. Standing up is the key to atmosphere but as this could not happen the singing ended.
Before you think about the problem being solved in the new stadium... think again. If our singers congregated at the back of the new Lower Gwladys then they will have the executive boxes directly behind them. This will put the fans off from standing up for sustained periods. It will even cause an obstruction to those executive in the executive boxes behind. Do you really think they'd be happy to spend 90 mins on their feet with their new business partner after paying all that money out for a box? Of course not, they'd get the stewards to eject those forming the first line of standing.
The only time standing can happen then is when the fans at the front choose to stand up when the ball is by the goalmouth, causing the rest to stand. This is the only time you get atmosphere in the Lower Gwladys now; however, the songs will struggle even more to project out than now. The proximity of the roof is just too far from the fans in the Lower Gwladys to be of any assistance.
So our singers cannot go in the lower tier ? but what about the upper? Well, standing up is the key for singing, but standing up is deemed a significant safety risk in the upper tiers. Aston Villa are one team who do have their singers in the upper tier, but they say it is a lot harder to orchestrate. There is no concertina effect that you have in the lower so you don't have the advantage of fans standing up now and then anyway, leaving the back to just stay stood. All the Villa fans I have spoken to all say that they rely on a row of fans to purposely stand up so that the rest behind can. It is not easy to get that, it has to be organised rather than spontaneous.
They also find that the singing is just confined to those standing, so it is very rare to have the entire stand singing as one as there is no concertina effect from one tier to another. Villa fans believe a serious error was made by not having a large single tier.
These problems are shared by other fans who who have similar designs to Kirkby. Rangers and Blackburn have both resorted to bringing a drum, and Celtic are struggling in their attempt to create a singing section. Man Utd fans are organised in their attempt to purposely stand and have a huge number of fans willing to do this following years of their fanzine promoting it, but again this is very orchestrated and therefore relies on purposeful attempt to stand. Imagine going to your seat next game and purposely standing in order to encourage everyone behind you too. Not easy, the Man Utd fanzines constantly try to encourage this. However, this has led to a number of ejections from stewards due to the inconveniance standing causes to the executives directly behind them. Sound familiar?
So why were the non-overlapping stands built this way then. Well when the Taylor report came along, they did not expect fans wanting to stand in front of their seat in order to help generate an atmosphere. The Kirkby style of End Stand (non-overlapping two tier) has failed in Britain because of this, the design is 15-20 years out of date. Yet Everton, oblivious to all this, go and choose this style of End Stand!
You see Cologne has kombi terracicing, so fans are standing up anyway, in both tiers. That is one less thing to think about in stadium design. We don't have kombi terracing here, that is why that design does not work here.
Now some of you may be thinking that they don't want to stand up in front of their seat; well that's fine, all we want is just for the End Stands to be designed in a way that does not discourage standing, with one of those End Stands to have standing tolerated, therefore everyone has a choice. There is also a campaign (see http://www.standupsitdown.co.uk) to have standing up in front of seat to be tolerated in one stand/lower tier in each stadium.
If you care in the slightest about the singing at Everton, then the design must change. If we could have a large single tier behind both goals with the executive boxes doubled up on the side stands then not only will we increase the number of executive boxes but we will also finally have a stadium capable of a great atmosphere.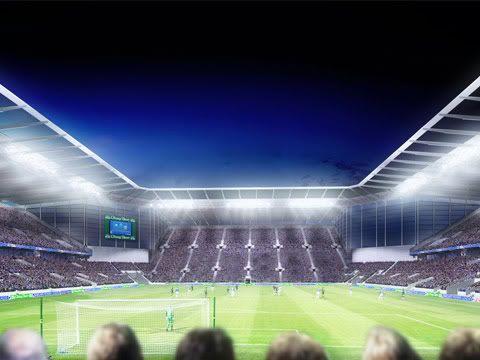 Reader Comments
Note: the following content is not moderated or vetted by the site owners at the time of submission. Comments are the responsibility of the poster. Disclaimer
Add Your Comments
In order to post a comment to Column articles, you need to be logged in as a registered user of the site.

Log in now
Or Sign up as a ToffeeWeb Member — it's free, takes just a few minutes and will allow you to post your comments on articles and MailBag submissions across the site.
© ToffeeWeb