FAN ARTICLES
Man United for the Carling Cup ? Still!
At the half way stage of the season I wrote a piece to compare the performance of teams with those of last year in the corresponding fixture, using it as a guide to final points and placings. The half time report stated that let's all hope United win the Carling Cup as that will give a UEFA cup spot to the team in 6th ? and that is likely to be where we will finish. Well as we head into the weekend of the final, then for Evertonians, nothing has changed.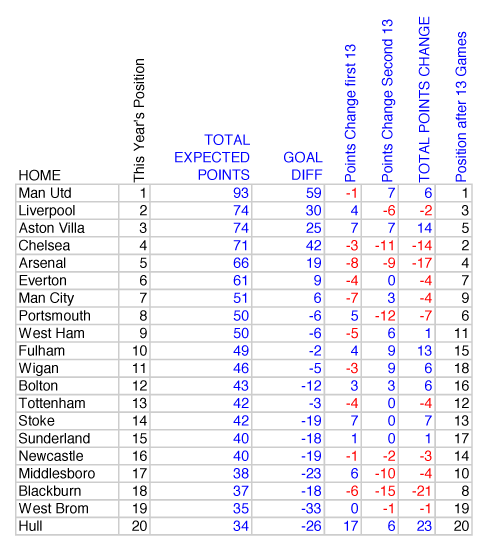 Based on the same results in the remaining games as in last season's matches, then with 26 games gone, the league would finish as shown. For the top six, only one thing has changed ? Villa look like they will become the second club to break the Sky monopoly. 6 home games, which they all won last year and apart from a defeat by Everton this time round, they are likely to do the same and that should give them enough to stay ahead of Arsenal. Liverpool's whimper of a title challenge (+2 points in the first 13 games and -6 in the next 13) has faded as suggested two months ago. United have just pressed the gas pedal when needed and are possibly going to finish nearly 20 points clear. I think they may take their foot off the pedal to concentrate on winning four trophies. Pity for them that they will only get 3 after losing to Everton in the Cup Final. But the demise of Chelsea and Arsenal over recent weeks is clear to see. If they had preformed like last year, Chelsea would be now be 4 points clear, and Arsenal level, with United.
We should be a very secure 6th. Frustration flows from the St. James' Park Massacre, as the win would have put us only 3 points behind Arsenal ? and while my heart remains hopeful my head says that without Arteta we will struggle to catch them. However even if we did, all it does is give the other European League place and more prize money, Champions League is a bridge too far in catching Chelsea who have a 10 point advantage on us for the last 12 games. Of course if Spurs win on Sunday they would be in Europe and if we do not win the Cup then we need United, Chelsea or Arsenal to be in the final (or us to make the final with one of them) to give a 6th place team a European slot.
As for the rest of the league, Portsmouth have slid badly after losing Harry, losing a point a game in the last 13. Carry on like that and it is 38 points and panic stations. And with their financial problems we could have another Leeds United. City, West Ham, Fulham and Wigan all picked up and look solid bets for not having to worry too much come Easter. And then there is the bottom 9 who could be separated by only a few points. Bolton seem to continue to outperform last year and so their abrasive style should be with us next year. Spurs, Stoke (Birmingham last year) and Sunderland are treading water. What a pain that Woodgate scored that late winner on Monday night! Newcastle will remain precarious with 3 wins last season in the remaining fixtures and with Arsenal, Chelsea and United to visit the North East, then a major improvement is unlikely. Stand by for some more ?supporters protests?. Don't you feel sorry for them ? err..... NO.
And then we have the four below the magic 40 points. Hull are still bottom. I was ridiculed by some people commenting on my December article that Hull were bottom and so here we are 7 games later and they have still not caught West Brom. They have only outperformed Derby by 2 points over the last 11 games. Perhaps those who stopped reading when they saw Hull at the bottom are still reading this time. It could be tight ? but if they do survive, they look a good bet for relegation next year. Wonder whether it is worth a punt now? West Brom, who are compared with Reading from last year seem doomed. So that leaves the two teams who have collapsed. Blackburn, having got rid of Ince and brought in that exponent of cultured football in the shape of Allardyce are now in the drop zone. And his magic touch has actually presided over them dropping another 6 points in the last 7 games. With visits to Arsenal, Chelsea and Liverpool then it will need all of their fighting spirit (and they normally have lots of that ? or is that just fighting?) to keep them up. Finally there is Boro. After a bright start with +6 points from the first 13 games, they have lost 10 in the last 13 and are sliding more and more towards the Championship.
So again I wait for all the comments that last year is no guarantee of this year blah blah. ?.. but last time I said that about 40% of results are the same from one year to the next, ? and there have been about 70 games played since then and guess what ? about 40% had the same result as last year! So no guarantee but for the true supporters from the city of Liverpool we can look forward to supporting United this Sunday, another third consecutive season in Europe (first time ever), effectively two new signings come August in the guise of Yakubu and Arteta, a bunch of great kids coming through and a great wave of sympathy for our neighbours that they were just so close to winning the premiership.
Reader Comments
Note: the following content is not moderated or vetted by the site owners at the time of submission. Comments are the responsibility of the poster. Disclaimer
© ToffeeWeb