FAN ARTICLES
Extra Time with Alex Young
By
Ian Macdonald
: 23/09/2008 :

Comments
(6) :
After the pleasure of meeting Alex at Radio Merseyside on the Friday I was given more time from wishes off Aladdin to meet the gentleman and Sixties icon again the following day. This time it was at the venue where he made his name and was ushered into Evertonian folklore, in the room that was named after him at Goodison Park. He was back to his footballing home once again.
I was invited as ToffeeWeb's ambassador with fellow Evertonian website representatives to ask some more questions to this genius who marveled so many with his gifted talents. David France once again organised the interview and gave another chance for fans to meet and buy his new book on the life of Alex. Thoughts of what to buy your dad or uncle for a birthday or Christmas present have been solved, the book is a must0buy for those who saw this man play and even those that did not.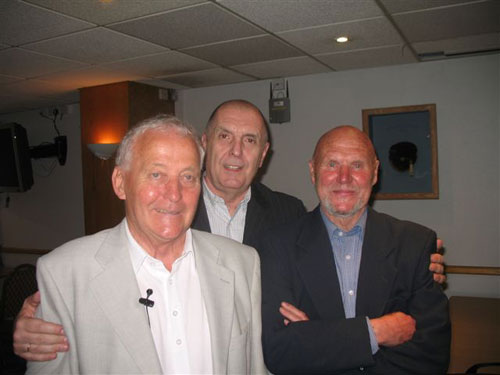 Alex Young
with David France and 1966 World Cup winner, Ray Wilson
George Orr once again helped David out with the book sales. If you cut this man in half it would be Blue and White sprinkled with amber. You can find George at the corner of the Winslow selling his fanzine (Blueblood) on match days. What this man does not know about Everton is not worth knowing; I often thought of putting him on Mastermind and you know what his specialty would be? George also does the popular Blue Watch section on Radio Merseyside Friday night.
I had to pinch myself about the situation I found myself again in the Alex Young suite waiting for our celebrated star to arrive, I thought of so many older Evertonians who would have loved to have been there in my seat, especially my late Dad. Then Alex floated in with his wife and soulmate Nancy, looking as fit as ever with an added bonus of our World Cup winner Ray Wilson in tow. Happy days indeed.
Harry Ross, our Everton Chaplain was there to interview Ray and Alex for the ex-Everton players foundation. The birth of the foundation yet again was inspired by David France. So many ex players have been helped over the years with battered bodies repaired and all matter of other help. Every older player I know punches the air for the foundation, they feel they have never been forgotten by the Evertonians for whom they plied their trade. Copied now by the likes of Celtic, Spurs and Barcelona.
Simon Paul who was representing his website, NSNO, has kindly given his permission to link the interview that he part recorded.

Alex talks candidly about Catterick, John Carey, signing for Preston before Everton, the Inter Milan offside ?goal? and past games. Before the recorded interview started I asked Alex what was his greatest Everton moment? He replied it was the whole 62-63 season, he was an ever present and beating Spurs early on gave them the impetuous to take the championship off the previous season double winners. He went on to tell us about what the crowd was like then, getting gates of 60 to 70,000. Now Alex says we can only get 42000 in but what atmosphere is created by Evertonians especially at night, our crowd is worth a goal. Alex remembers when the ?D? sections were put in behind the goals due to a dart being thrown from the crowd onto the pitch reducing the gates.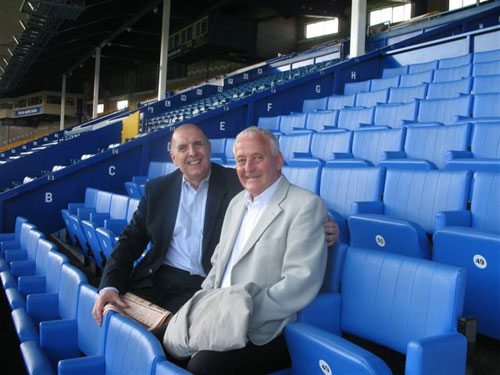 Alex with David France in the seats at Goodison
I asked Alex about the difference between today?s players and players of his era. His answer was both informative and a great insight. Alex told us that the players of his era came from the days when there was a food shortage during the war. There were no apples or bananas then except for Christmas maybe, if you were lucky. Chicken was for Royalty, everything was basic. Remember blind stew? Once a year a boat from Canada would bring some apples, Alex would polish one for days and admire it before taking the plunge and eating it.
So diet, or lack thereof, was instrumental in how people developed then. Now players come from a time of plenty, diets designed by NASA for high energy and muscle build. Every leading club employs a dietitian, pasta was what the Italians ate, and we ate chips. No wonder Inter Milan after beating Everton in the San Siro went onto win the European cup.
To be fair, Alex said, they were a wonderful team with the help of the referees. Some things never change it seems. So answering the question in a nutshell Alex thinks past players did suffer from lack of nutrition but today?s players have everything at their disposal to build the perfect body. There are exceptions like Billy Wright... only joking Billy!
Coming back from the defeat in Milan, Everton where heavily critised by the press. We were unlucky to get such a hard draw so early on.
The likes of Ronaldo have a bagful of tricks did you practice yours in training Alex,?No? was the reply ?it just came naturally?
We talked about the lack of footage available from those days. Now every angle is shown with bird?s eye views and in-depth analysis.
If you were playing today would you be as big a star as in the sixties? ?Well, I would get more protection for certain from referees, I used to get kicked all over the place. I had pace but not fantastic. I would run in front of the defenders and close them down; my trainer at Hearts taught me a lot.
George Orr said that Alex had a hell of a shot, a bit like Charlton but did not release it enough. I was amazed about the Preston signing story when he ripped the contract up because they defaulted on the signing on fee, thank you Preston! Wolves were also after Alex at the time.
Alex said there was no Sky or agents then, signings were secretive. Fans would only find out when the papers were printed. During the conversation it came out that both Westy and Alex worked down the mines. So we had two miners in our team. Alex thought Albert Dunlop was a decent goalie remembering his debut at Utd away, but not in Westy?s class.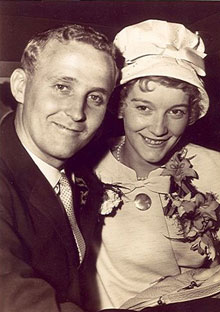 Alex and Nancy getting hitched
I asked if there was an Everton player of today that reminded him of himself. ?Arteta, he?s brilliant. Worth the admission fee alone?
How are you feeling now Alex after your stroke the other year? ?I?m ok, it was a terrible time I was frightened. Only for Nancy I?d be dead now.
 Nancy had a fitness regime for me and taught me how to walk again, step by step. Fifty yards was impossible ,now a mile is no problem to walk."
I had a chat with Nancy after the interview. She loves coming back here. Their daughter Jane was the little girl asked in the film ?The Golden Vision? what her daddy did for a living. Kathy is 45 now and has two brothers Alexander and Jason. They work in the family business near Edinburgh making blinds. I told Nancy the old joke about three men killing time in the hospital waiting room. First man asks what do you think is the best advance in medicine. Penicillin the first answers. Open heart the second replies. The third says blinds. What! The others reply how do you work that one out? Well if it was not for blinds it would be CURTAINS for everybody! That tickled Nancy.
There is a great book by Becky Tallentire called ?Real Footballers Wives: The First Ladies of Everton? in which Becky does a cracking interview with Nancy. Here is a few extracts from ?I felt like I belonged?
Some nights he would re-live matches in his sleep. I could feel him starting the game, with the odd twitch now and again and it would progress to full-blooded kicking of an imaginary ball ? but of course it was the back of my legs! I remember one night after a match he?d scored in when he stood up on the bed and was scrabbling around on the wall behind the headboard. The next morning he said he was dreaming that he?d scored and got tangled up in the net trying to get the ball back.

All the wives went down to Wembley by train for the 1966 Cup final against Sheffield Wednesday. We were booked into the Waldorf hotel and it was really special because we didn?t get away very much. There we were, all dressed up to the nines and dying for the lads to win and suddenly we were 2-0 down. It was just terrible; it was the most gut-wrenching feeling you could imagine and there?s nothing you can do about it.

 Eddie Cavanagh was a mad Evertonian and all the players knew him well, he spent a lot of time at Bellefield in their company and when we drew level at 2-2 he couldn?t contain himself and he ran on to the pitch. When the policeman finally caught him, he wriggled out of his jacket like an eel, weaving and ducking and diving; it was hysterical. Nothing really surpassed that day; I think it was the proudest moment of my life when I saw Alex holding up the FA Cup.

His feet were the bane of his life and would have to be bound up with foam and bandages and plasters before he played to help ease his pain, but by the time he got home his socks would be stuck to his feet with blood. We?d have to soak them off and he would pop the blood blisters with a pin. It was so horrible.  They used to allow tackling from behind back then and they would scrape down the back of his heels. He never had any toenails either - especially his big toe, but I think that was just an occupational hazard because they?ve grown back now.

 It was great to see him run on to the pitch but I didn?t understand the game at all and had no idea what was going on; I just used to watch him even when he wasn?t on the ball. Alex didn?t have a pre-match ritual and wasn?t particularly superstitious, but he always wanted to be the second-last man out of the tunnel, and when he was at Hearts his mother would give him a drink of raw egg in sherry because it made him feel great.

When they?d finished training the players had a lot of spare time on their hands. Alex used to love playing golf but his real passion was the races. He and Roy Vernon were always together at Manchester, Aintree or Haydock and when Roy left he hooked up with Alan Ball. They would go to Haydock or Aintree whenever they had the chance and he even went halves on a racehorse with Bally called Daxal, but they didn?t make any money out of it. One afternoon he told me they had extra training, I was changing Jane?s nappy on the living room floor and when I glanced at the television, there was him and Bally right in the middle of the screen at the Aintree racetrack
Thanks, Becky, for those extracts, I thoroughly recommend Becky?s books on Everton. There are some cracking Everton books around now. Years ago I would go into WH Smiths and envy the amount the dark side would have and we had hardly any. David France alone has compiled 16 books about Everton. I think I might write one myself one day and give the proceeds to the foundation.
Getting back to the interview with Alex I asked him if he remembered about the time he was actually booed at Goodison for missing a sitter to win the game? ?Ah yes it was against West ham but I should have scored so I deserved the booing.?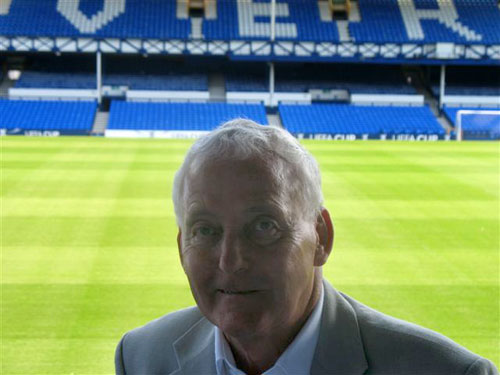 Alex with the Goodison Park pitch where he dazzled and delighted so many behind him
For the final question Alex was asked for his opinion on moving from Goodison. ?What?s wrong with here, do the place up. Rangers and Celtic did, that is where their roots are. This ground is special, the fans together are special. No get the will to stay here. We have got to get investment?.
I love the way the older players who never came from here still say ?we? when ever talking about Everton.
Thank you, Alex, and I shook the great man's hand once again. Later I went outside the Lounge with Alex and David to sit in the stands. Alex?s eyes sparkle when he looks onto the pitch where he gave so much joy to so many.
It's been an honor and a privilege to interview such a humble gentle man who is in disbelief of how Evertonians still hold him with such high regard and revere him to this day. He liked my saying of ?Happy Days? and he gave so many. I?d like to thank David France and his wife Liz for their sterling work over the years for Evertonians leaving not just his entire collection of Everton memorabilia intact but the many other deeds he has done to record our history. David is winging his way back home to Vancouver now. I wish him well. I wonder what his next project is?
Alex Young ?The Golden Vision? 1960/1 - 1967/8
Centre-forward
Born Loanhead, Midlothian 3.2.37
Played 268 games
Scored 87 goals
8 caps ? Scotland
Reader Comments
Note: the following content is not moderated or vetted by the site owners at the time of submission. Comments are the responsibility of the poster. Disclaimer
Jim Townson
1
Posted 25/09/2008 at 11:12:19
Another heartfelt article Ian.
I did not get to see the great man play very often, And as i was only 8 when he left my memories are sketchy. But i knew how good he must have been from the way my dad, and uncles john and jimmy would go into raptures whenever they spoke about him.
I have been fortunate enough to meet the real 'sir alex' on a few occasions now and i am always amazed at his sense of humility.
He is a very friendly and approachable chap but it took one of my old workmates Brian over an hour to approach him at one of the hall of fame do's, he was in such awe of him. But once he had plucked up the dutch courage he had alex's full attantion for 10 mins.
At the same do a few scoops later i was talking in the adelphi bar with brian and he had this stupid grin plastered all over his face. 'whats up' i said. 'i am standing in the same room as Alex Young' he replied. The grin never left his face for the rest of the night..
The love felt for alex by evertonians will never diminish.
I post this comment partly as a thank you to my late father who passed away on 1st September for making me a blue. Another blue boy taken before his time.
Thanks for giving him some great memories Alex.

Paul McMonnies
2
Posted 24/09/2008 at 10:36:53
A cracking read as always Ian.

I am too young to have ever seen Alex play, but as you know he will always hold a special place in my heart due to my dad's adoration to him, and my story about my dad getting to meet him at one of the Hall of Fame evenings (http://www.thepeoplesforum.org/gvision/gvision.htm)

A lovely man - Everton through and through, and you're right - that is indeed one Christmas present that is sorted !
Damian Wilde
3
Posted 24/09/2008 at 12:29:13
Great article. What a legend. I?ve only seen video clips, but my Dad saw him play many times and has told me how good he was.

Getting hacked down all the time and having bloody, messed up feet with no nails after every game, but still playing fantastically well - what a player, what a guy. Oh and I loved the way he played out the matches in his dreams, the man lived for football!
Michael Brien
4
Posted 24/09/2008 at 13:22:55
Ian - I read your article during my lunch break at work - when I get home I am going to have to watch my DVD of " The Golden Vision" and start to read "Goals at Goodison" - or do both !! I was lucky enough to see the great man play - but as I made my first visit to Goodison in 1964 when I was 7 years old, my memories are rather sketchy.Unfortunately thanks to Mr Catterick banning the TV cameras for a time, there is not a lot of 1960's Everton on DVD/video.
What a fine team we had in those days - I wonder what Alex would be worth in today's Transfer market? Strange to think that a player as talented as Johnny Morrisey was what people would today call a squad player for 2 or 3 seasons in the 1960's !!
My late father told me that Alex was not only a great centre forward, but could also do a good job on either wing !! I know the club have the Alex Young Suite at Goodison, but what about naming one of the stands after him?
Tom Bowers
5
Posted 24/09/2008 at 14:36:26
What a great article. First class. Coincidently, I have just received a dvd of The Golden Vision from an old school chum in OZ. Haven?t seen it since it was first shown on the box 40 years ago but it?s a soccer classic and what a class act the whole Everton team was in 1962.Fantastic memories indeed.
Steve Wright
6
Posted 26/09/2008 at 23:04:55
A great article. I remember watching Alex in my youth, and my first season ticket was in 1962-63. My brother, dad, and grandad were near the back of the old Goodison Road stand. Although I don't remember too much about that season, I still vividly remember the last game and the lap of honour. Great days.

Back then, we always referred to Alex as the "golden ghost." This was partly because of his pale complexion and his wispy blond hair, but also because of the way he glided across the field. He was very light on his feet, and had the ability to ghost into the box at the right time. He was also a great header of the ball.

Does anyone else remember Alex as the "golden ghost"?
© ToffeeWeb