Trio to leave Everton this summer
by

Comments
(25)
jump to end
| 05/06/2013
Hitzlsperger and Mucha will exit with Neville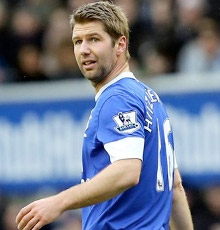 Three of Everton's fringe players will leave Goodison this summer when their contracts expire, the club have
announced
.
In addition to Phil Neville, who continues to be linked with a coaching role at Manchester United, Thomas Hitzlsperger and Jan Mucha will depart on free transfers.
Mucha joined the Blues in the summer of 2010 but has endured a frustrating time as goalkeeping understudy to the virtually ever-present Tim Howard.
Previously restricted to League Cup duty under David Moyes's squad-rotation policy in that competition, Mucha finally got his chance to impress when Howard suffered a back injury earlier this year. Despite performing admirably as deputy, however, Mucha was unable to hold onto a first-team spot when the American returned after three games out.
Hitzlsperger, meanwhile, saw his move to Goodison as a free agent last year as an opportunity to resurrect his Premier League career after a spell with Wolfsburg but he, too, struggled to break into the first team on a consistent basis under Moyes.
Now 31, the German made nine appearances in all for Everton.
The announcement from Everton seemingly precludes Neville remaining at the club in a coaching capacity under new manager Roberto Martinez. Neither the Spaniard nor Moyes have made their final decisions over which of their backroom staff they will be taking to their new clubs.
Reader Comments
Note: the following content is not moderated or vetted by the site owners at the time of submission. Comments are the responsibility of the poster. Disclaimer
Drew Shortis
236
Posted 05/06/2013 at 21:34:11
Nev we knew about. I'm not surprised about the other two. Hitz did a good job when we needed him. Shame we never got to see one of his trademark left foot lightningbolts. I guess fitness must be a big factor in this as he is not that old.
I wish Jan Mucha all the best. Looked like a good keeper to me, but never got a long enough run to claim the number one jersey. I think that a couple of his early mistakes came from him being too eager to show what he could do. When he came in to cover for Howard he did a great job, especially against Man City. I guess you can only warm the bench for so long before you have to move on.
Along with the savings on wages from Moyes (anyone know how much RM is on?), the savings from these three as well as Heitinga (unless he has a change of heart) will allow Martinez to bring in quite a few additions without increasing the total wage bill. If there is some money to spend (left over from January) and we get some money in for Heitinga RM will be able to do some business without having to sell the stars of the squad!
Matt Traynor
244
Posted 05/06/2013 at 21:49:57
RM is apparently on £2m/yr, or approx £40k/wk, 25k less than Moyes finished on.
Doubt there was ever much money in January. The 2nd tranche of PL TV money is paid then, but we borrow against that for the Vibrac loans...
Matt Garen
246
Posted 05/06/2013 at 21:52:48
Jonathan de Guzman being linked on twitter. . . for whatever that counts for.
Phil Sammon
252
Posted 05/06/2013 at 21:55:54
Decent midfielder actually. I'd prefer Fer but I'd take him.
Shame about Hitzlsperger. Moyes opted to play Neville and Heitinga out of position before The Hammer got a chance. Another Moyes error IMO as he does have a good range of passing...and THAT shot!
James Elworthy
254
Posted 05/06/2013 at 21:55:56
Hitzelsperger hardly got on and when he did he gave the ball away in dangerous positions not what you want from a sub late in the game would of preferred a youngster given a chance to him.
Mucha had one good game v City, his last.
Neville was finished as the cup QF proved.
If you want to move up a level you need squad players of higher calibre than Mucha and Hitz, I am afraid age caught up with Neville who gave fine service to the club

John Gee
256
Posted 05/06/2013 at 21:53:05
Mucha was unlucky that he joined just at the time Howard went on an appearance run that must have broken records. Plus Moyes was reluctant to use him for cup competitions which, in light of how he prioritised the cups, is shocking. When he came in to the team he seemed to do very well, especially with his distribution which indicated a thoughtful player.
I'm gutted I never saw Der Hammer smash one in from 30 yards.
Neville: his Everton career has been sullied because his time here has coincided with us becoming Man Utd's bitch. In the medium term, he'll be judged kindly. In the long term, he'll be forgotten.
Tony Cheek
264
Posted 05/06/2013 at 22:18:38
Now we need two new keepers, not one! We cannot go into the new season with Howard as keeper, he cost us a CL place this season and should have been dropped earlier. New keeper must be a priority for Martinez!
Tom Owen
272
Posted 05/06/2013 at 22:29:41
Totally agree with Tony 264
Howard needs a spell on the sidelines. Moyes had his favourites and Howard was in that club!
Ron Sear
274
Posted 05/06/2013 at 22:40:06
I'm surprised that Naismith and Jelavic are being retained – perhaps they'll be loaned out to Maybe Wigan, or sold for small fees in part-exchange for some of the Wigan plays that may follow Martinez. Who knows?
Patrick Murphy
279
Posted 05/06/2013 at 22:48:53
If Everton could find a Goalkeeper who could save more points than he costs then it would help a great deal. Howard does make some good saves that win us points but he also costs points with some silly errors, he probably just about breaks even over a season.

Harold Matthews
338
Posted 06/06/2013 at 01:02:26
All goalkeepers make great saves. All goalkeepers make mistakes. The best goalkeepers make the least mistakes.
James Stewart
341
Posted 06/06/2013 at 01:14:22
Hopefully Howard will buck his ideas up or be dropped. What is the point of paying a back up keeper that kind of salary? Just have a kid on the bench. God forbid he might actually do ok like Ruddy did
David Ellis
351
Posted 06/06/2013 at 02:30:11
Ron Sear
I don't think Jelavic or Naismith are at the end of their contracts so they would have to be sold, as opposed to being simply released. Whereas the 3 players under discussion are simply out of contract and the club is deciding not to renew.
I agree that Naismith should move on. Jelavic has shown he can perform, so worth hanging on for now unless we get a stupid offer for him (which is unlikely given his form over the last 12 months).
Andrew Bone
370
Posted 06/06/2013 at 07:02:53
Agree with David 351. Naismith seemed to offer little this season, whereas Jelavic seemed to lose confidence and ability. His goals he scored last season and this season show he has got it, he just needs to rediscover it regularly. I know there were some horrible misses this season, but if he is employed as the striker, and not as a focus point of the attack in a one up front formation, he may get the confidence back.
Jim Harrison
372
Posted 06/06/2013 at 07:18:09
I think Jelavic could come good again, new coach, fresh start, no real worries. I think Naismith remains a doubt, but cost bugger all and can perform a role in the squad. We are obviously going to need a new keeper, sub or first choice, but I have to say the criticism of Howard goes a bit far, costs more points than he saves? Had a dodgy spell, but the Chelsea game aside played extremely well in the run in, making some quality stops that saved us a good few points.
The three players leaving are no surprise, if Jonny sods off for a few million and either Baines or Fella goes (Hopefully not Baines!) Berto should have a decent amount of cash to add some players to the squad
Peter Mills
374
Posted 06/06/2013 at 07:29:53
When he was not constrained to the right wing Naismith showed he has the ability to find space and create opportunities in the penalty area. Worth another season.
David Ellis
375
Posted 06/06/2013 at 07:42:25
Peter - ok he (Naismith) did play better in the middle in the last game of the season - but I would rather we used youngsters as cover as this is how they develop.
Jamie Barlow
377
Posted 06/06/2013 at 07:54:33
That's right Harold. There isn't a goalkeeper who hasn't cost his team points this season. I wouldn't say Howard makes many more mistakes than the others. A first choice goalkeeper isn't a priority to me. We've already got a decent one. We just need someone to keep Howard on his toes now Mucha has gone. I couldn't care less about the other two.
Chris Ashton
441
Posted 06/06/2013 at 10:33:51
I think the bigger picture here is that 3 players who were possible first team players have left now which means the squad is 3 men down. I think for us to push on and increase the squad we need to add at least 7 new players right now. Granted Duffy, Stones, Kennedy, Garbutt, Vellios and Barkley can fill the void left but the question is how much faith will our new leader put in them? Otherwise I think martinez will need to conjure up at least 5-6 Michu bargains this summer to really compete again at the top level.
Kevin O'Regan
460
Posted 06/06/2013 at 11:46:11
Tim Howard had a right clanger recently in teh USA vs Germany game, poor showing and due a makeover in that position
Drew Shortis
512
Posted 06/06/2013 at 15:50:25
I might be less insightful than others here, but I think Howard is a top keeper. He does make the odd mistake, but I'm sure he makes as many, if not more top draw saves. I can't think of many keepers out there who don't drop the odd clanger. So long as it isn't every week I think we should keep faith with Tim and spend our limited money elsewhere. Get a young up and coming keeper in relatively cheaply and give him a chance if Howard's form does drop. Can't see the point spending big money for someone who will be warming the bench!
Just thought, Schwartzer is out of contract this summer. Still a good keeper in my opinion.
Andrew Ellams
516
Posted 06/06/2013 at 16:08:28
Schwarzer is 40 Drew.I think a we need to look for a long term successor to Howard, We missed out on the best option in January when Stoke signed Butland, but there are others out there, probably.
Paul David
517
Posted 06/06/2013 at 16:09:23
Howard was very good in the second half of the season but in the first half he was costing us a goal every other game. He needs replacing.
Kristian Boyce
521
Posted 06/06/2013 at 16:22:51
Looks like Yobo is on his way to Cardff, could speed up Johnny's move to the Turks.
Graham Mockford
686
Posted 06/06/2013 at 21:41:27
I really don't get the negativity around Tim. All keepers make mistakes, he makes less than most. Don't forget he conceded 5 goals in the last nine games of the season.
Kevin #460 I wouldn't call it a clanger. The shot was deflected off a defender causing him to parry the ball.
Could we get a better keeper .... Yes but we are probably talking £10m+. I think we have more pressing needs.
Add Your Comments
In order to post a comment, you need to be logged in as a registered user of the site.
Or Sign up as a ToffeeWeb Member — it's free, takes just a few minutes and will allow you to post your comments on articles and Talking Points submissions across the site.
© ToffeeWeb