A new Everton Crest?
20/04/2013 |

Comments (78)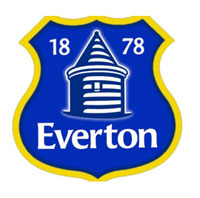 A new crest trademarked by Everton has set Blues atwitter that the Club's iconic Latin trademark and elegant laurel wreaths will be dropped in favour of a simplified badge.
Everton filed a trademark with the Intellectual Property Office in the United Kingdom (case UK00002656323) for the crest but it is not clear whether this new design would replace the current crest or would, more likely, be used for some other commercial or merchandising purpose.
The new design, pictured right, features several differences: A bolder blue color, the removal of the club's motto (in Latin) and a simpler but more distinctive design.
There have been rumours in recent weeks that the Club plan in ditching the Nil Satis Nisi Optimum motto from the crest.
Original Source: EPL Talk

Rumour source ranking:
1 = Poor; 2 = Fair; 3 = Good; 4 = Very Good; Empty (grey) = Unranked
Reader Comments
Note: the following content is not moderated or vetted by the site owners at the time of submission. Comments are the responsibility of the poster. Disclaimer
Luke Berry
033
Posted 20/04/2013 at 06:20:40
I have to say I am utterly disappointed in the clubs creative department and their efforts. Now I'm not one to have a moan for the sake of it but I have been relatively pleased with the kits and the general look of Everton merchandise over recent seasons. This logo looks – if it is true – completely amateurish and not befitting of our great club. To me it says nothing of tradition and looks like a logo knocked together for a team that has been recently formed.
Take this logo for example:
http://imgur.com/8yuwxWN
That logo oozes class and is understated, it is something genuinely befitting of Everton Football club, I don't even mind the fact that it doesn't have the club motto - that could be placed on the collar or the trim of the sleeve, if it need be there at all. The one thing I will say and this article is not meant as an attack on the board per se; would be that to remove Nil Satis Nisi Optimum from the jersey altogether may be more in line with their ambitions than those of the supporters.
As it stands it looks terrible and I would have to say honestly that I would personally make myself heard by writing to the club repeatedly just so they get the message. We've had some wonderful crests down the years, and yes I understand the need to freshen up, Tottenham toyed with theirs and in my mind it still looks good. This crest would to me look like a 'poor mans' crest and I don't like that at all.
EFC - the tower and the laurel have long been synonymous with us. I was never really taken with Everton written in full, even if it was in a subtle-yet-fancy serif font. Hark back to bygone times and a simple EFC always looked better for me.
What are your thoughts guys, and would you also voice your concerns to the club with me, or am I just being a moaner? I'll sign off by leaving leaving you with the clubs motto; in this case I believe it's rather fitting:
Nil Satis Nisi Optimum.
Carl Bloxam
035
Posted 20/04/2013 at 06:28:10
Kids are gonna love it. It's so cartoon.
I don't like it... It looks like the shield has a fat ass. To comic and just generally rubbish.
I know lets hire a company that knows nothing about EFC and get them to design a new crest.
Jim Potter
037
Posted 20/04/2013 at 07:13:10
Disgraceful - if they go down this tatty Pound Stretcher line.
The current badge is pure class.
"Nil Satis Nisi Optimum" - until my dying day.
Anthony Crawford
038
Posted 20/04/2013 at 07:40:48
This has to be a wind up. Right? That crest is absolutely pathetic.
James Newcombe
039
Posted 20/04/2013 at 07:46:21
Spurs did a wonderful job with their crest. It took some adjusting to, but because it was a well-drawn, solid mark fans came around to it. This is just shit and I hope it's a joke!
Dennis Stevens
041
Posted 20/04/2013 at 07:47:27
It does look like the type of design that might be considered suitable for items produced for kids.
Steven Telford
042
Posted 20/04/2013 at 07:41:28
Pound saver says it all, it will be a sad day if the current crest gets swaped for this tacky badge.
Ray Roche
043
Posted 20/04/2013 at 08:00:41
April 1st has come and gone.....
Maybe because we no longer abide by "Nil Satis Nisi Optimum " , Boys Pen Billy wants to drop it from our badge.
Kevin Hudson
046
Posted 20/04/2013 at 08:23:07
Horrible - a wind-up, surely..?
In relation to our current crest, I wish they would drop the word 'Everton,' from it, as I feel that the iconic badge shouldn't have to explain who we are; The look is distinctive enough.
The Latin must remain, and the 'designers,' who appear to have wrestled with this 'concept,' for all of 30 seconds, need not tinker.
Paul Ellam
048
Posted 20/04/2013 at 08:53:20
I agree that the Everton word does not necessarily need to be on the badge but if they insist on keeping it I wish they would have all the letters in capitals.
We are an important club who should have BIG letters to show it!
Robbie Riddal
050
Posted 20/04/2013 at 09:06:19
*adopts Stewart Lee voice*
It's not even as good...yeh?....as the *ToffeeWeb* logo, is it, Everton?

Ray Roche
053
Posted 20/04/2013 at 09:13:33
Kevin Hudson @ 046
Kevin , it was "designed" by a collaboration between Stevie Wonder, Ray Charles and Donald Pleasance in his Great Escape character, Flight Lieut. Colin Blythe ......... "Take me with you...I can see"
David Jones
056
Posted 20/04/2013 at 09:45:17
It's absolutely awful and I won't buy anything with it on out of principle. Why do Everton always get it wrong? Letting go of Nil Satis Nisi Optimum would be a massive PR error by the board.
If we're going to mess about with it get rid if the 1878 and Everton. Never liked that.
Mike Green
057
Posted 20/04/2013 at 09:07:41
If this is true it's very reminiscent of what Arsenal did to their badge a few years ago.
Arsenals badge was great, a bit 'heraldic', had the Latin motto and a cannon that actually... erm... looked like a cannon. Then they turned it into - Carl Bloxam 035 nails it - the current cartoon version and made it, for me, one of the most dislikeable badges in football.
This seems to smack of the same, I can hear the marketing presentation now...... 'it's 2013 guys, no-one understands Latin these days, and as for Laurels no one even knows or cares what these are for.... Both of these components are cluttering up what needs to be a clear brand image that can be understood globally. We wanted to lose the tower and the date too but kept them in on you request but still think its vital we change the name from Everton (what is 'Everton') to 'Liverpool' as that's where the team play and is known worldwide thanks to the Beatles - it'd be a huge hit with our markets in the East, as would our proposal to play in red - come on guys, it's a no brainer, you need to get with the times.....'

Nick Entwistle
060
Posted 20/04/2013 at 09:43:47
No fucking way. I wouldn't have thought there were so many office staff that someone needed to produce this piece for job justification.
Reminds me of all those rip off football shirts you see across London on the tacky tourist trinket kiosks with a blue shirt and badge that says Chelsea or a red one saying Manchester (just manchester)... but it can't be one of those as it would mean an increase in the marketing departments know-how.
But at least its not like Cardiff changing from blue shirts to red... even though the fans still turn up in blue.
Ian Bennett
062
Posted 20/04/2013 at 09:48:49
It looks like something from those dodgy blag kits you see in Spain when on holiday, could they not spent 50p more.
Eric Myles
067
Posted 20/04/2013 at 09:55:25
Luke #033 the badge you linked to DOES have the Club motto on it.
Mike Keating
069
Posted 20/04/2013 at 10:02:40
There are times when the logo is an embarrassment rather than a badge of honour (FA Cup performances against Wigan 2013 and Liverpool 2012 for example) but it should stay as a reminder of what we always aspired to be.
While we are at it - reclaim the Liver Bird.
Luke Berry
070
Posted 20/04/2013 at 10:21:20
Aye Eric #067, on closer inspection I see that you're right mate, maybe I should have gone to Specsavers? I'd actually missed it first time around. Still apparently Nike are being fussy buggers and want something 'more easily reproduced' so they may be against tiny detailing such as that anyway.
Still it's far superior to the poundland badge, so nice in fact that I would literally champion having it used on the shirt. I think we should get it sent over with a ruddy big petition letting the club know that we're not happy.
It can't be a case of Nike holding us over a barrel for something as poxy as too-much-detail can it?
Shaun Brennan
071
Posted 20/04/2013 at 10:21:25
The removal of the Latin, how fitting.

Ian Bennet #062, my thoughts exactly.
& just think £9k a year could get you a Graphics Design Degree. Money well spelt... ahem!
Terry Myers
073
Posted 20/04/2013 at 10:29:45
I can't believe it... instead of fucking around with a new badge, why doesn't knobhead Kenwright concentrate on getting a buyer for our beloved football club?
Luke Berry
074
Posted 20/04/2013 at 10:43:58
Nice little blog:
http://teamsenglandfootball.blogspot.co.uk/2012/11/everton-fc-logo-history-and-design.html
Luke Berry
075
Posted 20/04/2013 at 10:44:38
And this just to remind us:
http://en.wikipedia.org/wiki/File:Everton_crests.jpg
Paul Dark
076
Posted 20/04/2013 at 10:49:00
Omitting 'nil satis nisi optimum' says everything you need to know about the current thinking inside the club. It's utterly unacceptable.
Paul English
080
Posted 20/04/2013 at 10:51:32
The tattoo shops will be sharpening their needles!
Christine Foster
082
Posted 20/04/2013 at 11:03:06
Why? Why the need to dumb it down and leave it classless?
Clueless...
Brent Stephens
084
Posted 20/04/2013 at 11:07:59
This sort of thing makes me angry. It's an iconic design. The current design is iconic. It "touches" us in several ways. Including the latin motto. We sign off our posts with NSNO. Vade retro, you tossers. Cunno bis.
Bjørn-Ivar Pedersen
085
Posted 20/04/2013 at 11:05:38
No no no no no, are they serious?????? Taking the last shred of pride from us?
The current logo is the best logo we ever had...in my opinion, I even got it tattooed on my arm...this new one looks like....well just ugly and dumb, like something coming from the other side of the park.
Ray Roche
088
Posted 20/04/2013 at 11:21:36
Maybe if we all e-mailed the club and voiced our dissatisfaction with their pathetic attempt to update the club crest they might give it a second thought.

Sorry, this is Everton, what we think doesn't count. If it was the chimpanzees across the park I'm fairly sure their owners might reconsider, but Bungalow Bill? No chance.
Patrick Murphy
090
Posted 20/04/2013 at 11:30:15
Who drew that badge an eight-year old, WTF, I tell you what, why not change our name as well after all nobody outside of the city knows where Everton is. Perhaps we should move to a country where we can challenge for the title without spending money, change the colours too, after all blue is so last century, 'people's club', don't make me laugh. Maybe we should get Disney to sponsor us as the people running the club are turning us into a 'Mickey Mouse' outfit.
Ernie Baywood
094
Posted 20/04/2013 at 11:39:39
I like our current crest. I don't like the new one.
That said, it's not a major issue. The current badge hasn't been around as long as Goodison and most would ditch the Old Lady in a heartbeat.
John Gee
098
Posted 20/04/2013 at 12:10:29
Pretty cheap looking. Let's hope its just a case of covering bases. Maybe they've spotted some hooky gear being sold with that crest.
Why any club would ever employ a company to do this kind of designing is beyond me. I'm sure there are many artistic, creative football supporters who would love to take part in a competition to design the new badge/kit/crests and would do it Gratis just for the prestige.
Derek Thomas
100
Posted 20/04/2013 at 12:23:56
Shite!
Brent Stephens
101
Posted 20/04/2013 at 12:37:18
John #098 but they'd say no Latin allowed - it's "for free" not "gratis"!
Nelly Verdonghan
104
Posted 20/04/2013 at 12:35:07
Absolutely diabolical... looks like a kid's caricature. We cannot let them get away with this... our crest is part of our history and has plenty of history in it's self. Let's all begin a 'SAVE OUR CREST' demo/petition etc
These people have no respect for us or our club. Kenwright, you sink lower and lower with every passing day... tell your cronies to 'FUCK OFF' and stop messing about with our heritage. A joke badge to go with a joke chairman
THEY MUST BE STOPPED!!!
Mark Stone
106
Posted 20/04/2013 at 12:33:36
Having the club motto on the badge is a relatively new thing anyway. Looking back at the kits I had growing up in the 80s, it wasn't on there. I reckon it turned up around the time of the creation of the premier league. St Ruperts Tower only appeared about 15 years before that (probably around the time of the club's 100-year anniversary). So taking the motto off isn't really a big deal!
That being said, this does look shit. My favourite Everton badge was the one on the NEC Le Coq Sportif and Umbro kits of the mid to late 80s. It had the tower and the laurel wreaths, but they weren't inside a badge. Perhaps I'm biased though, as I was at primary school at the time and just getting addicted to Everton!
It's nice to have the motto on the kit, but it would be better placed elsewhere. Not, I should stress, that this affects me much — I haven't bought the kit since I was a kid, and I don't have children of my own yet to buy them for.
Ryan Sloan
107
Posted 20/04/2013 at 12:50:13
Maybe Bill will have the Tesco slogan "Every little helps" in place of Nil Satis...
Joking aside, we can never have this badge — it's cheap and nasty, second rate. I'm one for moving with the times, but this is a disgrace. There's nothing wrong with the one we have now. The supporters should have a say on this — it's our club.
Peter Foy
108
Posted 20/04/2013 at 12:56:39
Is this the club's way of re-uniting the fans?

Ross Edwards
109
Posted 20/04/2013 at 13:02:27
It shows doesn't it the board's lack of consideration for the fans. If this is to be the new crest, they could have let us vote on whether we want it or not. BK has sold out to Nike, no doubt his next move will be to sell the naming rights to Goodison. Don't be surprised if Goodison next season is called the Nike Sportswear Stadium or something to that effect.
I don't like the crest one bit. Maybe BK saw that Cardiff changed their badge and thought he could get away with it as well. It looks like something an 8-year-old has designed in a 5-minute scribble in a Maths book.
Mark Stone
110
Posted 20/04/2013 at 13:07:25
*Prince Rupert, sorry. Although I'm sure Rupert won't complain that I have just promoted him to St!
Paul Gladwell
111
Posted 20/04/2013 at 13:08:34
Mark, we had the bage in the late 70s early 80s after the EFC kit came the one with Latin motif, my mum used to by me it from robs&jobs in charging cross Birkenhead, even in the 70s you could buy our kit outside of Liverpool 1.
Ernie Baywood
112
Posted 20/04/2013 at 13:10:46
FFS Ross, you say our board are commercially inept and then complain that they might strike commercial deals.
You're either in or out. There's no in-between.
Mark Stone
113
Posted 20/04/2013 at 13:09:26
Secondary to my previous post, before everyone starts getting their knickers in a twist it might be worth seeing if the club actually do intend on modifying the crest. As someone mentioned earlier, it could just be for merchandise or to prevent other people using it.
Peter Fearon
114
Posted 20/04/2013 at 13:09:03
I wish I could say that I'm shocked... surprised. I can't. Just disappointed.
Mark Stone
115
Posted 20/04/2013 at 13:14:58
Must have just been on the Hafnia kit for a couple of seasons then Paul, cos it wasn't on the NEC kits of the mid- to late-80s (and very early 90s I think). The crest itself with the Latin has remained unchanged for years and years on some merchandise, but it hasn't necessarily been on the kit in that form.
Paul Gladwell
116
Posted 20/04/2013 at 13:19:38
They are probably putting the feelers out a bit to see the reaction, but these clowns are capable of anything — think pink kits that only women and wrongly advised people bought, this kit is down on many sites as the worst ever kit in footy history.
Paul Gladwell
121
Posted 20/04/2013 at 13:23:31
I think it came out for the century celebrations with the new umbro diamonds down the sleeves then stopped with the classic Le Coq kit that they failed with on a new retro version with the diamond far too big the other year
Eugene Ruane
124
Posted 20/04/2013 at 13:42:37
Really hope that's a wind-up.
If it's not, someone wants the kicking of all kickings.
Roberto Birquet
127
Posted 20/04/2013 at 14:00:25
No trophy for ages, so no laurel wreaths. Is that the idea? And no nil satis, because we no longer can adhere to that with or lack of cash?
Niall MacDiarmada
129
Posted 20/04/2013 at 14:00:34
Barcelona just updated their crest a few years back to make it more modern and easier to print/design
Why the need to change the Everton crest so much? All it needs is a slight tweaking.

Sean McCarthy
130
Posted 20/04/2013 at 14:06:54
The badge first appeared on the shirts circa 1978-79 but didn't contain the Latin motto, just the tower and laurels. Previous to that, it was a rather boring 'EFC' and nothing more. The 60s shirt had a fancier design using the 3 letters.
The motto, as Paul above rightly states, appeared around the time of the Premier League was started. It was then the full badge (tower, laurels, shield motto) first appeared on the shirts.
Whilst the design above is somewhat naff, the absence of the motto from the shirt wouldn't be the end of the world!! Even the RS relocated the Hillsborough flames from on their shirts last summer without much of a fanfare.
Keep things in perspective eh???
Graham Lloyd
137
Posted 20/04/2013 at 15:42:47
Emperor's clothes 'n' all...
Looks like the old crest without the Latin.
Jackie Barry
197
Posted 20/04/2013 at 17:59:55
They are realizing they can't live up to the club's motto.
Patrick Murphy
200
Posted 20/04/2013 at 18:03:43
They should use the same badge as we have now but instead of NSNO should have "Club For Sale' and 24/7 to replace '1878'.

Barry Stevens
252
Posted 20/04/2013 at 18:51:26
Fucking disgrace. Kenwright and his pals sink lower each day.
Paul Ferry
333
Posted 20/04/2013 at 21:12:27
Hmmmm, I wonder why the Latin motto has been removed from the new cartoon crest ........
Colin Wainwright
336
Posted 20/04/2013 at 21:14:40
Might be in for a new motto. What's latin for "Be Careful What You Wish For"?
Pat Finegan
371
Posted 20/04/2013 at 22:17:03
I don't know that I'm as bothered by it as most on here are. We're still Everton. We're still not satisfied with anything but the best and we still have an incredible history. Most of our history took place without any badge at all, by the way.
The new badge does look horrible. Wouldn't it be better if they came up with 3 or 4 designs and polled the fans? Poll us on the socks too while they're at it.
Karl Masters
409
Posted 21/04/2013 at 00:57:21
If this is true, there really is no hope for these cretins......
Patrick Murphy
412
Posted 21/04/2013 at 00:59:47
It might not seem a huge alteration, but similar to the rights we take for granted, traditions take years to build up and can be lost on the whim of an individual. Any erosion of tradition unless it is to genuinely improve something is to be resisted, like trying to move us to a small town on the outskirts of the city, I often wonder how much of a True Blue Bill Kenwright really is, even Peter Johnson would struggle to match some of the radical ideas that this board has come up with.
NSNO is Everton's equivalent of the Old Labour Party's clause 4, it probably didn't mean a great deal in practical terms but it did mean a lot to the rank and file.
Colin apparently it is 'Exsisto curiosus quis vos opto' but don't ask me to pronounce it.
Ian Bennett
455
Posted 21/04/2013 at 08:46:03
Why don't we just go with the pawn shop crest. Everything else is in hock
Paul Gladwell
498
Posted 21/04/2013 at 09:47:33
Sean, the Latin came on the kit around 1978 not sure if this was a century celebration thing as I did once have the official centenary book which had it on too, if you look at some old programmes you will see the everton at the top and Latin at the bottom, so we are talking 35 years minus those glory years it's been on the kit.
I looked at the badge on my sons black away strip and it looks smart aside from the silly need fo write Everton with a big E, this new badge whether its for leisurewear or the kit is shocking, it's like some 5 year old does for a competition, everything that comes out of our club theses days just always goes against or splits the fan base, when are they going to get us all to say well played?
Mike Hughes
557
Posted 21/04/2013 at 13:36:08
Instant reaction - it looks like the result of a kid's school project.
And I mean junior school.
Our crest should not be changed as it refers to our historical status, roots, identity class and fan's (and I hope board's) ambition.

Sean McCarthy
561
Posted 21/04/2013 at 14:13:09
Looking at the website historicalkits.co.uk, it would appear the motto has appeared on the shirt for a total of 24 years since 1878.
Whilst I agree the proposed new badge looks crap, let's not use the absence of the Latin motto as something else to beat the club with. No wonder we get called "bitter"!!!
Paul Smith
567
Posted 21/04/2013 at 14:26:09
FFS, it`s only a crest.
It's a change at Board level which needs debating (I know it`s been done to death on here) but it needs doing until someone takes notice.
The fanbase is so polarized, I think BK likes it that way sometimes — divide an rule is the ideology of the day, and it works.
How many blues are ambivalent? I am — fuck knows what's right or wrong. DM instills a bit of hope: v Man City with 10 men, good performances at the WHL and the Arse... and then yesterday. What I do know is the thing with ambivalence is staying the same is usually a painful option — the only way of addressing it is to make a decision one way or another.
The board, DM the fanbase — keeping the status quo is doing no-one any good, it's just kicking the can down the road. I for one am looking forward to the summer. But can honestly see things being exactly the same in August.

Greg Lambden
598
Posted 21/04/2013 at 15:46:28
As the current owners are unable to deliver anything that could be described as NSNO then if makes complete sense to drop it.
Maybe replace it with 'average at best'.
Ross Edwards
610
Posted 21/04/2013 at 16:17:35
Or, "only Finishing 7th is good enough"
Tony J Williams
612
Posted 21/04/2013 at 16:25:06
It will be for the range of sports wear, I have a pair of shorts I wear for the gym with a similar logo/crest on it.
I confidently predict that it will not be for the kit.
Richard Reeves
619
Posted 21/04/2013 at 16:19:46
I hope this is some sick joke.
If they're going to change it, then get rid of the Everton wording and 1878 and return to the previous badge. Also, I would change the colour of the current badge that we see on a lot of merchandising that seems to be designed to have a reflective effect by being slightly darker on the outside going lighter into the centre, this just looks like an off-blue to me. Get it back to Royal Blue with no light and shade.
I agree with Eugene: whoever's idea this is needs the mother of all kickings.
Richard Reeves
640
Posted 21/04/2013 at 17:27:34
I forgot to say, I don't like the amount of yellow on our current badge. If there has to be yellow or gold on it. then I would limit it to just the two laurel wreaths.
For me, the badge should be blue with white edgings.
John Hall
917
Posted 22/04/2013 at 05:43:55
How about ' From magnificent 7th to sexy 6th!' – a great new motto!
Craig Walker
954
Posted 22/04/2013 at 09:45:16
We should go back to just the tower and the wreaths with E.F.C. above. I really don't like having the word 'Everton' on our crest. We don't need to spell out who we are. The font is awful. It's like some 6th former has knocked this up for a coursework project. Awful !
Rob Sawyer
009
Posted 22/04/2013 at 14:38:04
Dare I say this... Liverpool got it right with their simplified crest on this season's shirt. We should replicate the 1983-85 crest design on the 2013-14 kit (ie, the tower, two wreaths and EFC underneath)
James Carlisle
257
Posted 23/04/2013 at 18:48:58
This badge sums up Everton in Kenwright's time. Lack of Nil Satis refers to the lack of ambition and no victory wreaths is due to us not winning anything.
I hope to god this is fake. If we do change the crest, it should be the same but minus the badge shape and the Everton.
Paul Gladwell
796
Posted 25/04/2013 at 20:42:42
Greg Okeefe confirming we are changing badge but not sure if it is this but it seems it is as there are leaked stuff on the net, cannot believe what they are doing to our club, that fucker would sell our soul if Nike or Tescos told him too.
Andy Whittingham
808
Posted 03/05/2013 at 10:33:16
Have to agree wholeheartedly with Luke Berry at the top of this post (and almost everyone else on here) - so I had a spare 10 minutes and I nicked the base of the Arsenal badge and added some EFC elements.. and voila - http://imgur.com/TNzOoE3
Ste Phillips
901
Posted 03/05/2013 at 16:59:09
Dear Mr. Phillips
Thank you for your e-mail.
As our fans have come to expect, we are consistently looking at ways to develop and progress the Club.
Fans know that our work is diligent and consultative.
They also know that we will update them, on all matters, as soon as we can.  We will remain true to both principles.
Regards,
Everton Football Club
-----Original Message-----
From: Ste [mailto:philipsstep@gmail.com]
Sent: 03 May 2013 01:19
To: Everton
Subject: Change of badge
As a season ticket holder and proud evertonian, I like to ask why you are to change the everton badge? We as supporters like the old badge, the only the best will do is our motto, so why are you changing the proud Everton badge that we love close to our hearts, for the "Simpsons cartoon looking badge", no wreaths, no latin plaint! If you are truly The peoples club as you so proudly say, isn't it to be put to the supporters for a vote? Show us people who pay the money for season tickets season after season if we want it changeing, I hope you give people the choice mr kenright, youll lose a lot of admirers if you don't!  And I for one will be reviewing my season ticket standing , kind regards a discusted evertonian ste phillips Sent from my iPhone
Ernie Baywood
803
Posted 25/05/2013 at 16:15:01
This badge has just been confirmed... after consultation with supporters. WTF???
Add Your Comments
In order to post a comment, you need to be logged in as a registered user of the site.
Or Sign up as a ToffeeWeb Member — it's free, takes just a few minutes and will allow you to post your comments on articles and Talking Points submissions across the site.
© ToffeeWeb