World Cup Winner talks about Everton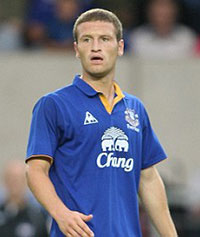 Mustafi played once for Everton in the 2009 Europa League but was eventually released at his request in 2012

© Getty Images

Shkodran Mustafi has become a World Cup winner just two years after he asked David Moyes for a free transfer out of Goodison Park because he was being overlooked.

The 22 year-old German international was picked up by the former Everton manager as a promising 17 year-old but made just one appearance for the Blues, that as substitute in the Europa League defeat to BATE Borisov in 2009 which saw a number of the club's young players given a run-out in the final group game of that year's competition.

It was a lack of first-team opportunities that prompted Mustafi to ask Moyes to release him in the summer of 2012, a wish that was granted whereupon he joined Sampdoria.

Two years later, the Bad Hersfield-born player was selected by Jogi Loew for Germany's 23-man World Cup squad following injury to Marco Reus and Mustafi ended up playing three times in Brazil as his country won the trophy for the fourth time.

Mustafi is pragmatic about his time in England, though, and speaks in complimentary fashion about Everton.

"The time I was at Everton I had to step on because I was not playing," he said. "I needed to play so I asked David Moyes to release me. I needed to play to grow up.

"Everton were really professional with me and said it wasn't a problem to give me away because I wasn't playing. They always thought about the players not themselves.

"That is unusual. They wanted to give the players the best opportunity and, for me, that was to move on and go somewhere where I could play.

"I took a step back to go to Serie B in Italy to make two steps forward and now I am here."

The former Hamburg SV defender is back in Germany now where his teammates are enjoying a hero's welcome following their triumph over Argentina in extra time on Sunday.

"The German language has a lot of words, but I don't know how to describe the feeling I felt in those last minutes," Mustafi continued. "For a 22-year-old player, it is not so easy to understand what just happened.

"I played my first competitive games for the national team here at the World Cup after being called up for the tournament at the last moment. Now I am lifting the trophy. It is unbelievable."

Quotes sourced from Daily Express



Reader Comments (25)
Note: the following content is not moderated or vetted by the site owners at the time of submission. Comments are the responsibility of the poster. Disclaimer
Tony Doran
1
Posted 15/07/2014 at 07:41:33
Well done lid, now get your arse back. The establishment is under new management and a hopefully things are going to get tastier.
Peter Murray
3
Posted 15/07/2014 at 08:10:12
A comment on the player or on the then coaching/managerial set up?
Jim Bennings
4
Posted 15/07/2014 at 08:18:52
Made up for him.
If only the same attitude could be said of the English players who don't even come close to the German mentality of being "Winners".
Sadly the British mentality when it comes to sport will always be heroic failure.
Ant Dwyer
5
Posted 15/07/2014 at 08:36:18
Nice to hear some positives about the club from Mustafi. Made up for the lad... who knows, he may grow into the next top top German defender in a few years – just in perfect sync with our billionaire arriving to see us reunite in perfect harmony. The end.
Karl Masters
6
Posted 15/07/2014 at 08:38:32
On a more serious note, it is interesting to read him saying Moyes put the player's career before the Club, and that is unusual. We seem to have heard that before after OFM left!
After Lescott, it appears he swung to the other extreme and let anyone leave who wanted to.
Chris Fisher
7
Posted 15/07/2014 at 10:06:52
Imagine he would be worth quite a few bob now!!! Most clubs in a situation like this put a buy-back option in the deal, would we have thought of that?! With Distin getting on a bit, he would've been a great replacement, Stones and Mustafi could've been a great partnership for the future!!!
Mike Keating
8
Posted 15/07/2014 at 11:09:55
He's playing for Sampdoria and just appeared in the winning squad at the World Cup finals – why would he come back here?
We will probably regret this long term but let's concentrate on who we are bringing in – not those we let go. All gone quiet on the Besic front and everywhere else...
Last-minute loan deals again?
Ernie Baywood
9
Posted 15/07/2014 at 11:28:42
If he was out of contract, we couldn't have put a buy-back in there. Not sure if that was the case or if we just let him go for nothing.
Either way, it's a great story. And he's behaved with a bit of class in this interview. It would have been easy to say "Everton never gave me a chance and look at me now".
I'd rather focus on the positive aspect (as he has) than the negative. In truth, he hasn't exactly proven us wrong yet; despite being on the fringes of an excellent national team, is he actually better than what we have? Would he have earned that experience with us? And players that even get to this level after getting dropped at a young age are very rare.
Good luck to him.
Erik Dols
10
Posted 15/07/2014 at 11:37:23
Chris Fisher, as I understand it, he was released on a free. At the time it wasn't possible to structure a buy-back deal because he was effectively a free agent for a short time.
Ernie Baywood
11
Posted 15/07/2014 at 11:38:18
I can't claim to be a guru on Italian football, Mike, but Sampdoria are shit aren't they? Relegated to Serie B only a few years back.
Ray Roche
12
Posted 15/07/2014 at 12:03:23
According to the Official Site at the time, he moved on and "There is no fee involved in Mustafi's move." Which would suggest that we could have asked for a fee but chose to release him for nothing. Which has helped the lad to become the player he is today. And he also says himself that he asked Moyes to release him, not sell him.
Phil Sammon
13
Posted 15/07/2014 at 12:23:15
It's interesting that so many are so quick to chastise the club for his release. He looked distinctly average when he played for us. I'd have taken Duffy or Dier over him any day. And let's be honest... he looked pretty shite for Germany too, and I was rooting for the lad.
Andrew Ellams
14
Posted 15/07/2014 at 12:34:12
Phil to be fair, he may have looked shit but never in a million years is he a full back.
Steve Jones
15
Posted 15/07/2014 at 12:57:38
Agreed Phil. The story with this lad seems to be that he was once on Everton's books and was let go. No-one's really saying anything about the impact he had on the tournament... which was pretty non-existent other than him giving the ball away a fair bit, when he did get on the pitch, and warming a bench otherwise.
Jim Bennings
16
Posted 15/07/2014 at 13:13:45
Regarding the Besic thing, apparently there is some kind of hitch/holdup. (Been here before, haven't we?) It could just be the usual bullshit that the papers spout to fill a few blank columns.
In the interview last week, Martinez seemed quite certain that we would "have two in before we play Leicester in Thailand on July 27, and another two before we play them on August 16". Make what you will of that but you'd assume two would be Besic and Traore, along with Barry.
We are still waiting for that one big signing, most likely, hopefully it's the 20-goal-a-season striker, Lukaku or Bony perhaps? Unlikely to be either but fingers crossed...
We also need another wide player to bring some lightening pace like Deulofeu did (albeit cameos from him). I hope we can get something done.
I don't know about other fans but I won't be too chuffed if our three summer signings are Barry, Besic & Traore. Nothing on those lads but they are not going to bring the added quality that we need to challenge the top 4.
Kris Boner
17
Posted 15/07/2014 at 13:45:08
Who honestly didn't see this story coming? He didn't really impress here, didn't impress much for Germany either. Makes me wonder how much depth the Germans have at centre back really...
Germans might be able to consider themselves lucky their only injuries were in positions they had depth. Like that unbelievable amount of talent they can put behind a striker.
Eugene Ruane
18
Posted 15/07/2014 at 13:49:09
Kris Boner (16) - "Who honestly didn't see this story coming?"
Hmmm...well let's have a look shall we.
"Mustafi was originally left out of Joachim Low's squad, but an injury to Marco Reus opened the door to him. He was on the substitutes bench as Germany beat Argentina in the Maracana after sustaining a thigh injury against Algeria in the last 16 and today will take part in a civic reception in Berlin"
So in answer to your question, I'll say everyone on the planet didn't... including you.
By the way, here's a mad idea: maybe, just maybe, Joachim Low is a better judge of a footballer than the ginger presbyterian, so when you say 'he didn't impress here' maybe that was because the person he was trying to impress thought Phil Neville could play in midfield and would have selected Ossie even if both his legs were broken (and on many occasions, it appeared...)
As for the Germans were 'lucky' – dear me.
Kris Boner
19
Posted 15/07/2014 at 14:21:58
Eugene, you mistake me in the first part. I meant to imply upon making the squad, who didn't see this as a story that would be present in the media. Former Everton player wins World Cup, after being released. It was a piece of news that was always going to come up.
The second part may have been a dig at the fact that he came in to replace one of those unbelievable attacking midfielders they seem to be creating from thin air. A place they are well-stocked, as opposed to defence which I consider them to be slightly under-stocked, given they had to bring in the Sampdoria centre-half instead of a top-tier Champions League centre-half.
Tony Page
20
Posted 15/07/2014 at 15:10:42
Good come-back, Kris, and let's hope the Besic deal still goes through. I can't see Barry playing 60-odd games.
Paul Burns
21
Posted 15/07/2014 at 16:26:51
To sum up, Sampdoria are shit, if he came back he wouldn't get a game (again) because of Seamus Coleman and he must be decent to play 3 games for a World Cup winning team. I thought he played alright.
Sorry Jim Bennings, can't agree with the "glorious British failure" bit, there are many, many examples of British World Champions in many sports down the ages.
Gavin Ramejkis
22
Posted 15/07/2014 at 17:16:48
Jim #16, re the Besic signing – rumours are BK thought he heard he was a Bosman... not a Bosnian!
Jim Bennings
24
Posted 15/07/2014 at 18:47:21
Haha your probably right Gavin.
I suppose come late August we will here a statement from Bill saying all our transfer kitty has gone because the cost of Johnson's paint has gone up when painting the ground..oh dear
James Stewart
25
Posted 15/07/2014 at 19:40:40
Should have had more game time here; he looks a decent player.
Andy Meighan
27
Posted 16/07/2014 at 22:37:32
Can't really call him a World Cup winner. He played a couple of games and did okay. But if you asked most fans around the world who he was, they wouldn't know. Now if it was Kroos, Schweinsteiger, Goetze, Schurlle etc they'd know right away.
Ant Dwyer
28
Posted 17/07/2014 at 01:40:25
We can't keep every kid. Yes, it does grate on my nerves that we let this lad go as, if we had of been able to tie him down to a long-deal we may have been able to allow him out on loan to gain his first team experience but this is a little bit blown out of proportion because he made the German World Cup squad.
A little out of his depth at full back, in my opinion, but I think, if the Blues could rewind and have the boy back, I'm sure things would be done differently. That said, it could be worse: we could have allowed Pique to go for around ٤m and Pogba to leave on a free –like a certain club did!!
Good luck to the lad, is my shout to him, and to all our fans, I'd say "Be glad he left as we may not have bought Stones as a replacement, who, in my eyes, is miles better.
---
Add Your Comments
In order to post a comment, you need to be logged in as a registered user of the site.
Or Sign up as a ToffeeWeb Member — it's free, takes just a few minutes and will allow you to post your comments on articles and Talking Points submissions across the site.
© ToffeeWeb