Osman Testimonial ends all-square
Everton 1 - 1 FC Porto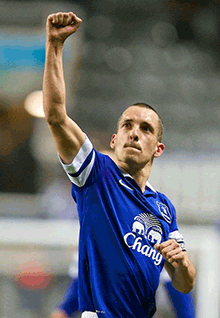 Everton honoured more than a decade of service to the club from Leon Osman with a testimonial match for the midfielder against Portuguese giants, Porto at Goodison Park today.

The 32-year-old is on his way to reaching 400 appearances for the Blues in all competitions since making his full debut 10 years ago and remaining a key player during Roberto Martinez's impressive first season in charge.

The starting XI looked fairly strong, but without Belgian World Cup stars, Kevin Mirallas and Romelu Lukaku, while Arouna Koné and Bryan Oviedo were still not fit enough to play. Joel Robles replaced Howard in the Everton goal after the jet lagged USA star had played nearly 20 uneventful minutes, Porto beginning to assert themselves thereafter, dominating possession.

Osman, among others, was seeing very little of the ball as the pink-shirted Iberian side moved the ball around at will. When Everton got rare possession, it seemed to be McGeady who was having the most trouble using the ball well, with too many poor passes.

But McGeady took advantage of a terrible clearance by the Porto keeper, playing in Naismith for a lovely sweeping shot just inside the post to give Everton a somewhat undeserved lead a few minutes before the break.

Record signing Lukaku was presented to the crowd at the break and received a splendid ovation. Muhamed Besic and Sylvain Distin came on at half-time, followed later by Browning then Stones.

Porto continued to frustrate the Blues with their much better ball control in the second half, while changes to both sides continually disrupted the flow of the game, Jackson levelling for Porto near the hour mark.

Browning (on for Baines) had a good shot on goal saved well before Osman missed a trademark header but that didn't stop him getting a well deserved standing ovation from the crowd after 86 mins.

After the match, Roberto Martinez addressed the absence of Gibson and Coleman; Martinez explained: "Darron Gibson has been working a lot in the last few days and we felt that we were running a risk with him, so he needed an extra day to recover and he will be involved on Wednesday [against Celta Vigo].

"Sometimes it's about giving players the right doses of work and Darron's not got a problem at all — it's just about making sure we don't take unnecessary risks with him."

"Seamus will be ready for the Germany trip and he should be involved in that game," Martinez added. "If not, we'll have a behind closed doors game the following week and we would expect him to be ready for the start of the season."

Everton: Howard (19' Robles); Hibbert, Jagielka (53' Stones), Alcaraz (46' Distin), Baines (46' Browning); McGeady 86' (Hope), Barry; Barkley (46' Besic), Osman (86' McAleny), Pienaar (46' McCarthy); Naismith (86' Long).
Subs not Used: Kennedy, Lundstram, Duffy.

FC Porto: Fabiano; Danilo, Martins Indi, Maicon (76' Reyes); Quaresma (46' Brahimi), Evandro (54' Quintero), Herrera (76' Eduardo), Adrian Lopez (54' Tello); Alex Sandro (76' Angel), Oliver Torres (46' Martinez), Neves (54' Casemiro).
Subs not Used: Nunes, Fernandez, Sami, Ricardo, Kelvin, Defour, Igor, Opare.

No live streaming coverage was available. Highlights will be on evertontv later.



Reader Comments (82)
Note: the following content is not moderated or vetted by the site owners at the time of submission. Comments are the responsibility of the poster. Disclaimer
Terry Davies
1
Posted 03/08/2014 at 15:40:38
The game suddenly appeared on Wiziwig's list in the last couple of days. Just google wiziwig, live football and choose a stream. you may not get the best first time but keep trying and you will. Why is it not on Everton TV? A couple of weeks ago they said it was as part of a package or bought individually.
Tony Page
2
Posted 03/08/2014 at 15:56:39
Did Everton present Lukaku? That would have been worth the ticket price.
Mick Quirke
3
Posted 03/08/2014 at 15:59:43
McCarthy?
Harold Matthews
4
Posted 03/08/2014 at 16:11:38
It's on VIPbox. Just enlarge the screen.
Dominic Tonge
5
Posted 03/08/2014 at 16:36:03
What happend to Howard? Robles on for any reason?
I do hope he isn't injured.
Paul Dark
6
Posted 03/08/2014 at 16:04:25
Alcaraz, McGeady and Osman are the weak links ... again.
Colin Glassar
7
Posted 03/08/2014 at 16:49:35
Howard has just got back from his hols, Dominic.
I wouldn't play Ossie in this game, he's rubbish, waste of space, slow, weak, short arse, crap etc, etc, etc......
Dominic Tonge
9
Posted 03/08/2014 at 17:05:35
Cheers, knew he was just back – I just thought he would either come off at half time or come on with say a half-hour to go is all.
Denis Richardson
10
Posted 03/08/2014 at 17:19:00
Is Distin injured?
Also I'm pretty sure Ossie is 33 and not 32...
Mike Childs
12
Posted 03/08/2014 at 17:53:26
Listened to the second half on the radio a rather interesting perspective from the sounds of it Besic will be in the starting XI fairly quickly. The guys calling the game loved him sounded like he could do no wrong. McGeady made some plays near the end and sounded like Browning missed a sitter.
Overall, the run of play was probably in Porto's favor but 1-1 is the result.
Drew Shortis
13
Posted 03/08/2014 at 17:54:06
Nice one Leon. A great servant of the club over the years. Hope he enjoyed his day.
We were second best in this match but it was a good warmup, especially for the Europa League. For me this highlighted the importance of Lukaku's signing and the importance of bringing in another decent striker as cover / competition. Naismith is an important part of the squad but if Lukaku has to miss games I would like another instinctive goalscorer on the books. Are we still interested in Batsuyashi or Vossen?
McGeady has it in him to be a good player but he needs to be much more focussed!
We need a bit more quality in depth. At the moment I would only class Mirallas, Barkley and Lukaku as our real flair attacking options. Hopefully Atsu will join but I think one or two more will give us a real chance of challenging. The likes of Naismith, Osman, McGeady and Pienaar can all be great on their day but over a whole season I am concerned about where our creativity is going to come from, especially when injuries kick in.
Besic looks like a decent player. Tough in the tackle and positive when looking to launch attacks. Many TW posters have said we need a replacement for Arteta. On the evidence of the past few matches I totally agree. I'm hoping McCarthy and Besic can fill this void somewhat, but a real flair option in midfield is needed.
Wayne Smyth
14
Posted 03/08/2014 at 17:59:21
Think we have a star in the making in Besic. Only gave the ball away once when surrounded by 3 or 4 Porto players, and based on that very limited evidence actually looks the best of the 4 central midfielders we have. He certainly seems to have the feet of Arteta combined with the workrate of McCarthy and that is unusual.
Porto brought a quality side who had a lot of possession and caused us some problems, but with Mirallas, Lukaku and Coleman to all come into the first 11 and Kone to return from injury, I think we're in for a good season!

Wayne Smyth
15
Posted 03/08/2014 at 18:05:54
Drew, I think Besic looks to be comfortable on the ball, agile and have quick feet, but I doubt he will create much. I'd guess that Martinez wants hard-workers in there rather than creativity.
It was interesting to see Barkley play in a deeper role, I thought he did well and was able to break into a bit of space a few times, but generally I think we rely on our wingers to create stuff for us. Unfortunately for most of the game McGeady was in Alex Sandro's back pocket and Pienaar is too slow and only effective near the box. Even Pienaars passing today was poor; I think this season will be his last for us.
If he can be more consistent, McGeady could be a decent player for us, but I think we're really in need of a couple of really quick or tricky flair players to play on the flanks.
Tom Bowers
16
Posted 03/08/2014 at 18:08:13
Whilst not a game to worry about the scoreline, it was worrisome to think that what we have after Lukaku and Mirallas is not awe-inspiring.
Okay, surely McGeady and Naismith will improve but another class front man is required for sure.
Sue Brown
17
Posted 03/08/2014 at 18:00:45
Managed to see the game on Bein Sport: a good workout but Porto were by far the better team.
McGeady did a lot of running but his passing was poor; Naismith worked hard but struggled by himself up front.
Most impressive for me was the new lad Besic... if that was a sample of him in a friendly, he should be in every starting 11. Covered the ground well and not afraid to get stuck in. I think refs are going to be familiar with his name pretty quick!
Harold Matthews
18
Posted 03/08/2014 at 18:09:28
Besic is a serious player.
Sam Hoare
19
Posted 03/08/2014 at 18:17:15
Haven't watched it yet but sounds like Besic was the stand out player.
It seem's at present that we have a very solid team that may have difficulty creating chances and breaking down stubborn defences. Sounds familiar!
Hopefully we can get in one or two more attacking players with either pace or vision as these are the two qualities you need sometimes in the Premiership to get the crucial goals. Atsu would be useful and I still think we lack an Eriksen, Silva, Mata, or Cazorla type player but not sure we'll have the cash left to get one....Perhaps the burden will rest on Barkley's shoulders. How did he play?
Phil Walling
20
Posted 03/08/2014 at 18:15:31
Let's agree to hold all judgements until the lads have kicked a ball in anger in two weeks' time.
Having said that, I fear that this casual 'return to work' approach will see us 'undercooked' come the opening fixture.
Everybody seems to have been playing serious friendlies for weeks whilst our guys are still pissing about !
Tony Draper
22
Posted 03/08/2014 at 18:23:42
Harold, I agree, I liked what I saw of Besic.
Hopefully, that was only an "amuse-bouche", and at ٢M & 21, I reckon I can wait for the main course.
Sue Brown
23
Posted 03/08/2014 at 18:22:00
Barkley played a lot deeper today, Sam, but did ok in the first half. Porto didn't allow us to get a grip on the game, but we've still got senior players to come back in so I wouldn't worry too much. A few of the young lads got a run out; only Hibbo and Barry played the full 90 mins.
Graham Mockford
24
Posted 03/08/2014 at 17:55:39
So there's a surprise, a Paul Dark comment slagging Ossie.
You really ought to make your position clear on the player who has played more Everton PL games than any other and is in the top 20 of all time Everton appearances.
Duncan McDine
25
Posted 03/08/2014 at 18:35:29
Yep, I agree that Besic looks very good... could be a fantastic signing, and might even push to split up the Barry-McCarthy partnership.
Kevin Rowlands
26
Posted 03/08/2014 at 18:39:14
Early days I know but Besic looks top draw to me; to think Lallana cost SIX times as much, that blows my mind.
Phil Walling
27
Posted 03/08/2014 at 18:42:05
Agree, Kevin, but come the derby match and........
Matt Muzi
28
Posted 03/08/2014 at 18:32:32
Impressed with what I saw of Besic, thought again Naismith put a proper shift in, Stones looked good after he settled & Ross looked good, playing deeper, but I think that was to accommodate Ozzie.
Although I fully accept this is a pre-season testimonial, and we have a few players to come back into contention there were some glaring concerns for me today, some of our elder players were made to look low-level mediocre at best, to be fair by a good Porto side.
That said, I've formed the opinion that watching Robles play in goal over a long period of time would probably cause you serious health risks.
Good eye-opener, today, to what we could face in Europe... and a glaring issue: we need at least one more striker – if not two.
Oh yeah anyone know where Gibson was today? Don't say he's injured again!
Tony Draper
29
Posted 03/08/2014 at 18:28:42
Phil W @ 21
OK, mate, we all know that you are extremely reluctant to "hype". The season hasn't started yet and so I haven't a reason to worry.
I know that you want everything "just perfect", and you're not alone in that – it really is an Evertonian trait. Yet, in order to appreciate Roberto's new menu, we do have to taste the new dishes. TBH, I found 'em a shade scary at first, but, I'm really getting a taste for 'em.
I'd strongly recommend.... Progress. Hope. Positivity....Give 'em a go! Go on! Because Everton will be serving them up regularly from now on.
Try 'em, then you can ditch that small bowl of thin, cold gruel that habit has you clinging on to so obsequiously.
FFS, Your'e a Evertonian, man, step up!
Trevor Lynes
30
Posted 03/08/2014 at 18:41:02
There is a snag about the Atsu signing and that needs to be cleared up ASAP. He is a player who has real pace and he runs at defenders. He could be our 'secret weapon' :0)
Besic is already worth the money spent if he is compared to Rodwell etc.
Wayne Smyth
31
Posted 03/08/2014 at 18:42:03
Strange thing was ,Kevin, I was prepared to be surprised by some tough tackling, neat short passing or high workrate. The sort of thing you might expect from a defensive midfielder.
I wasn't prepared for the little tricks, dribbling, long-range passing or how good he was under real pressure from several opponents. If nothing else, he'll give the other 3 centre mids a real kick up the arse to either raise their game or be prepared to sit on the bench.
I can't wait for the next friendly so we can get a better look. His was probably the most promising debut 45 minutes of any player I can recall, given my expectations.
Derek Knox
32
Posted 03/08/2014 at 18:41:44
I have got to agree with you all with regards to Besic, personally I thought he was the best player by far and only played the second half.
I know you can't read too much into these warm-ups, but in each game McCarthy has been nowhere near the player he was last season.
Does anyone know why Luke Garbutt didn't play? Of all the young hopefuls who have been handed a chance to impress, he is the only one who looks capable of stepping up.
Before anyone jumps on the bandwagon, Besic has had a chance and looks nailed on for a start, after 45 minutes. The younger lads have had the same, or longer, and quite clearly they don't seem to be ready or want it enough.
I felt overall Porto were the better outfit, and looked capable of going up a gear!
Danny Kewley
33
Posted 03/08/2014 at 18:52:12
Mo Besic looked and is the real deal! In contrast Aidy McGeady was a wagon load of shite; however, there were a few moments of trickery that suggests maybe Bobby is on to something!
I hate friendlies!!!!!!!!!!!!!! For the sake of sanity please.........Roll on the 16th!!!!!!
Paul Thompson
34
Posted 03/08/2014 at 19:06:16
We were missing some key players, whereas Porto appeared to have all their top people available. But it wasn't pretty – clearly second best. Defence was pretty solid across all the changes, but midfield poor and Naismith isolated.
I have to agree with the other comments: Besic was the standout – such quick feet. I am really looking forward to seeing more of him. But we need more midfield creativity.
John Daley
36
Posted 03/08/2014 at 19:20:58
"trademark header"?
Gary Creaney
37
Posted 03/08/2014 at 19:18:36
I always hate to hear that we've signed a player who can play in midfield and defence..... Just rings of a Jagielka or Neville who can't actually play midfield some manager thought he was getting two players for the price of one aaaaargggghh!
Anyway, what Besic did with his nifty footwork and general passing was definitely the handiwork of a proper midfielder. If he can play defence too well great but I'm excited by what he can offer as a midfielder. RM will get the best out of him I've no doubt.
Beyond that, the game should not be analysed too thoroughly, pre-season is a hateful time and the worst way to judge any football. We will be ready to go come Leicester, I'm sure of it!
Dan Brierley
38
Posted 03/08/2014 at 19:18:04
Thrilled to see Besic getting some good feedback, I really think this lad is going to be a key player. We need to add some skill/guile to the already hardworking/organised midfield. Full credit to Martinez for bringing him in, at ٢ million he could turn out to be a fantastic signing. He has done an excellent job of moulding this squad, we can see the direction he is trying to take us and I think we are all embracing it now.
In some ways, having a player in the middle of the park able to dribble and pick out a pass is just as important a priority to us as having a top striker. Lukaku is the type of striker that needs good service, he isn't going to make much happen by himself.
I'm really excited about this lad, but equally we need to be cautious not to expect too much from him too soon.
Dave Cook
39
Posted 03/08/2014 at 19:27:59
Not sure what the tactic was from goal kicks. Seemed to be hit it long to McGeady to pass back to Porto, or once Timmy came off, for Joel to hoof it towards McGeady only for it to end up at a Porto player.
Annoyingly McGeady did get much better with the last 10 mins (i counted 5 passes complete in a row!) so he has potential, but Joel needs to just start passing short.
Disappointed the kids only got 10 minutes. I'd have liked to see Kennedy at some point too.
Brent Stephens
40
Posted 03/08/2014 at 19:34:39
Just back from the game (as they say). BESIC! Besame mucho! We're gonna luurv this guy! Quick feet à la Osman (great reception for HIM today) but the steel of a McCarthy, and an eye for a pass. How much did we pay?!!
McGeady, sorry but he isn't going to make it with us.
Karl Masters
41
Posted 03/08/2014 at 19:37:17
Anybody like the look of us wearing white socks rather than the navy blue?
Ian Burns
42
Posted 03/08/2014 at 19:35:20
I know this was a friendly today but for me personally I was alarmed at the difference between the two sides. Porto made us look ordinary; we couldn't get hold of the ball – particularly in the first half – and when we did we gave it away so often, it was embarrassing.
Besic definitely looks the part; Barkley looked good in patches; Stones is a class act.
On the other side of the coin, McGeady gave as bad a performance as one could imagine and I doubt he will sleep well tonight.... And worryingly, McCarthy looked very subdued to me; the less said about Robles, the better.

Jim Bennings
43
Posted 03/08/2014 at 19:37:05
You can never take much from the end result of friendlies or testimonials; you only ever have your fingers crossed that nobody gets hurt but I suppose it's a match to go to and if we learned anything from it then it has to be:–
Joel Robles... my God, Joel, you scare the shite outta me! He looked good when he was at Wigan; I don't know if it's a lack of football or what, but he's damn jittery.
Aiden McGeady... I want to quite like him and I do at times but has he really progressed since the day he came here in January? He still looks very sluggish to me although he did put over a few good crosses, I have to question as a wide player what does he bring to the table?
We know Mirallas offers trickery and goals, direct running; we know that Pienaar at his best offers the great link up play, the quick feet and the 110 % busy-bee mentality.
But for me, so far, the only real strength I have seen from McGeady is his ability to put a good cross in; he's not a real threat running towards goal, nor does he look like beating his man all that much.
It's going to be a very important first few months of the season for McGeady to try and start nailing down a place as an established member of the team.
Also just one more point:–
Our central defensive partnership to start the season with, in my opinion, has to be Distin and Stones. I'm sorry but Jags scares the living daylights out of me every time he has the ball at his feet; still competent enough but, for me, Stones is the player for now and the future... Don't hold him back because he's that good and will only get better by playing as he did in the second half of last season when he was outstanding during that 7-match winning streak.
Keith Glazzard
44
Posted 03/08/2014 at 19:58:16
Nessi can hit the target. I wouldn't take too much out of today's game than that.
Actually, given that it was a 'no-tackle' friendly, our lads did well limiting them to one chance. This was not the Premier League.
Steve Woods
45
Posted 03/08/2014 at 20:12:32
I have to say that Robles did absolutely nothing today to calm my reservations about him. OK he made two catches was it and I suspect one of those was by accident! I just don't see what RM sees in him and worse than being a dodgy keeper (at best) he totally unsettles the back four... Get rid and start again Roberto.
Kevin Rowlands
46
Posted 03/08/2014 at 20:23:58
Agree about Robles, dodgy at best but I didn't think McGeady was as bad as some people on here are saying. I thought he showed some real nice touches and put in some pretty decent crosses, I think and hope he'll have a good season.
Derek Knox
47
Posted 03/08/2014 at 20:21:37
Steve # 49
He scares the shit out of me, with him as second choice, we will be out of every Cup we enter with him in goal!
I thought we would add more senior squad players for the demanding season ahead, like someone said before if Lukaku gets injured what happens?
Is Kone ever going to play before he is due a testimonial?
Duncan McDine
48
Posted 03/08/2014 at 20:27:15
I'm not McGeady's biggest fan, and I only managed to catch the second half but thought he did well. Pressed the back four, and did well with the ball when you consider he didnt have the likes of coleman overlapping and making more space. I'm hopeful that he'll be a decent understudy for Mirallas.
Steve Woods
49
Posted 03/08/2014 at 20:33:48
Derek 51 I agree with everything you say there.
Steve Woods
50
Posted 03/08/2014 at 20:36:03
McGeady himself realised that he was having a mare today, you could see he was hacked off with himself. I thought that his game improved in the second half. Fingers crossed that he will come good and become (at least) a good squad player as the season progresses.
Wayne Smyth
51
Posted 03/08/2014 at 20:27:25
Given the speculation, I reckon we're in for Atsu on the left wing to compete with Pienaar, and Henen into the u21's. If Kone comes back in that gives us 2 decent players for every position.
Doesn't fill me with a lot of confidence should we get a couple of injuries, but I think we'll be ok. This team was only a whisker away from a CL spot last year without Kone and Gibson, and Barkley, Lukaku, Stones and McCarthy are all a year older and a year wiser. Add the very promising Besic into the mix to provide energy and quality in the centre of the pitch and we'll do ok.
As for Porto, I'm not sure why people are surprised we struggled, they are a quality team. Portuguese champions 7 out of the last 10 years, they have a raft of quality players with Champions League experience and are especially good going forward.

Ron Sear
52
Posted 03/08/2014 at 20:34:29
Two things puzzle me. When will somebody tell Robles to try catching balls and pass them quickly to somebody on the same side rather than punching them to the opposition.
Secondly, how come at half time did the scoreboard display the rather dubious fact that we had 50% possession? All I could see were Everton players being dispossessed and chasing the ball all over the park.
Oh well, pessimism is probably the most rational response to a game like this.
Mark Taylor
53
Posted 03/08/2014 at 20:40:06
There was a point when our attack consisted of McGeady, Naismith and Ossie. I hope to God that is the one and only time we are left in that position this season. As toothless as my old nan.
Cameo from Besic was promising, but nothing else new to report. Robles still looks a liability, McGeady was utterly dreadful apart from 5 mins or so at the end, Hibbert shouldn't really be our back up right back and unfortunately we were passed off the park by a handy Porto side. I said a few weeks ago we are strong enough to win the EL. Well not on that showing because Porto is the sort of side we are likely to come across in the later stages and they were comfortably better.
Like others, I despair as to whether we will ever see Gibson and Kone string some games together (and in the latter case, any at all).
With barely a couple of weeks to go, we look very undercooked. Hope we can push on, get Seamus and the Belgians back in and push Ross further up the pitch.
Steve Woods
54
Posted 03/08/2014 at 20:46:33
Ron 56 that's the mystery and concern isn't it. RM and his coaching staff have had Robles for more than two years and yet he continues to perform (badly) in the way he does in every Everton game I have seen him play. Surely his, mania for punching, his poor distribution and basic skills should have been improved by the coaching staff by now. To me he is a liabilty ready to trip us up whenever he is be played. It scares me whitless watching him, heaven knows what it must feel like playing in front of him!
On the other side of the coin I think that Tim Howard has looked more assured and a better keeper since the departure of Chris Woods and the arrival of the Wigan keeper coach.
Raymond Fox
56
Posted 03/08/2014 at 21:00:59
I see we're kicking the same players again, far too ready to condemn players in my view.
Porto are a typical continental side who are slick and keep the ball well; it should be no surprise – hasn't it been that way for a long time? How many decent chances did they make though?
We won't be meeting teams in the Premier League that knock it about as well as they do... big difference.
I do agree that Besic looks/is a absolute steal at ٢m he looks like a player that should be costing us at least 4 times that. He might be a player that RM could fashion into the creative midfielder that were crying out for, worth a try at least.
Brian Waring
57
Posted 03/08/2014 at 21:23:50
Supposedly the rumours are the Atsu deal has stalled as we only want him on a 6 month loan deal because he is off to the African cup of nations in Jan/Feb, Chelsea are having none of it, and it's a season long loan deal or nothing.
Raymond Fox
58
Posted 03/08/2014 at 21:34:29
If that's true Brian, I cant say I blame our club for that.
Not daft Chelsea, are they.
Mark Taylor
59
Posted 03/08/2014 at 21:46:28
Ray, it's possible we kick the same players(if that is actually true) for a good reason, because they are too often sub par for the quality side we aspire to be. The attack today at that point was toothless.
I have more time than some for Osman. He can be quite effective coming off the bench, albeit he won't last 90 minutes anymore. Today, because it was his testimonial, he was pushed forward and he is not very good there. Naismith is a useful finisher but can't play the flanks. And McGeady is just awful.
Raymond Fox
61
Posted 03/08/2014 at 21:56:33
Mark, fans are entitled to their opinions, of course they are, but I do think there's an element of 'follow my leader' about some of the criticism!
I wasn't meaning any criticism of Ossie or Naismith, their not world beaters obviously, and McGeady, who didn't have a great game, did manage a couple of crosses that, on a good day, would have ended up in the net.
I think we will have to accept that some of our players are not top class and it's one of the reasons they're with us!
Brin Williams
62
Posted 03/08/2014 at 22:41:04
Ron Sear 53. Spot on Robles must be taught to catch the ball or there are going to be fatalities in the stands – somebody is going to have a heart attack the way he is carrying on.
As for 50% possession the game I attended saw Everton on the back foot for most of the game. They couldn't hold onto the ball; when they had it, it was either given away or taken away pretty sharpish.
One or two pluses – Besic and Browning perhaps – but many more questions than answers.
Ernie Baywood
63
Posted 03/08/2014 at 22:07:34
You can't expect top performances at this stage. They'll be getting flogged every day in training and not being tested ahead of games. As clichéd as it sounds, this is about fitness.
Criticism of McGeady seems a bit harsh. I actually thought he looked good (but unfit) last year. Tends to retain the ball, usually gets a shot or cross away. I'll judge him once the season starts.
Jamie Sweet
64
Posted 03/08/2014 at 22:50:57
Just seen a clip of a bit of skill from Besic that made me spit my coffee out and weep with joy. That was insane!
Check out @Everton on twitter to watch it on an eternal loop.
John Malone
65
Posted 03/08/2014 at 23:04:05
McGeady's nowhere near good enough to nail down a spot every week for us which I think Martinez knows hence his comment about needing a wide player.
Besic looked like he could be the real deal the arrogance and technique in some of his play was top class. We definitely need another attacking centre midfielder, winger and striker.
Brahimi looked quality for them today; someone in his mould would be good.
Ant Dwyer
66
Posted 04/08/2014 at 00:23:50
Not sure how many of you went today as the attendance was so low!!! But I must say only a few things stood out for me today:
One was how desperate we are for back-up for Rom.
Two is our so-called squad players, Hibbert and McGeady, are not good enough.
Three, Besic looks the only good point from today but, on a field with Barry and McCarthy, we will lack any creativity.
That's my opinion.
Bobby Thomas
67
Posted 04/08/2014 at 01:03:54
Regarding McGeady, the type of player he is, he's up & down.
He is definitely inconsistent. He also, when he's on, provides penetration, threat and great crosses. He's a risk player; not everything he's gonna try will come off.
That's just how he is.
Harold Matthews
68
Posted 04/08/2014 at 00:39:55
McGeady will not be a regular starter and will not moan about sitting on the bench and coming on with fresh legs late on. Martinez will know how to use him.
I wouldn't worry about McCarthy having a quiet pre-season. His aggressive all-action game is not suited to friendlies and he probably won't shine till the real stuff starts.
Pienaar never got a kick and looked as miserable as ever. On massive wages with 2 years of his contract left, I hope he returns to something like his best.
Alan Humphreys
69
Posted 04/08/2014 at 02:02:48
A bit harsh to judge the team on today's outing and write off our chances in Europe. This was a testimonial, the international players are only just back or not at all in some cases.
Bill Gall
70
Posted 04/08/2014 at 01:58:23
Just reading the comments on the game it still seems that since the sale of Arteta Everton have not replaced him with this type of midfielder who can control the game and it does not appear that a quality midfielder is on the books.
Mark Andersson
71
Posted 04/08/2014 at 01:41:06
I love my morning read of well informed ToffeeWebbers. How ruthless the manager can be when picking his starting 11 will be key. The 2nd keeper needs addressing by the many worrying posts on here. I look forward to seeing this Besic guy, a ray of light in a somewhat confused tunnel of doubt.
Jason Lam
72
Posted 04/08/2014 at 02:22:41
I got my lad the new kit and having paired them with black socks, white socks and blue socks, matching blue socks look class.
Michael Kenrick
73
Posted 04/08/2014 at 02:23:55
None of the reports or the official website seem to list the attendance, which seemed worse because large parts of the stadium were closed. These matches usually get around 13,000.
Please let us know if you see the official attendance anywhere...
Michael Penley
74
Posted 04/08/2014 at 04:12:41
If you don't have Twitter (what sane person would?) here's a clip of Besic during the game: https://www.youtube.com/watch?v=-DYfAln7WR0
Impressive stuff. I didn't make the clip so don't blame me for the music.
Brent Stephens
75
Posted 04/08/2014 at 05:33:51
Steve Harris
76
Posted 04/08/2014 at 07:06:52
I hate being negative when everyone seems so positive going into the new season with the 'excitement' of signing Lukaku but in reality, apart from maybe Besic, the team will be basically the same as last season. I agree that Besic looked a decent player when he came on but did we really need another defensive midfielder?
The problem we had last season was not being able to open teams up and we haven't addressed that. Surely the priority should've been a player who can dictate games and spread the ball around whilst being able to find that defence-splitting pass that separates the very top teams from the rest?
Phil Walling
77
Posted 04/08/2014 at 07:58:58
I didn't go to the game yesterday as I believed I had purchased live streaming via the OS's pre-pay package. Too late the discovery that it wasn't included with the other rubbish I have had to endure via that medium!
But be that as it may, I am left with a very uncomfortable feeling that many of our players will go into the Leicester game seriously under-prepared for the fray.
With less than two weeks to go before the off, several of our lads have yet to kick a ball in anger as a holiday camp atmosphere seems to pervade Everton's preparations.
"World Cup!" I hear you cry, but our top table rivals (good to type that!) seem to have taken things a lot more seriously than our Happy Spaniard. The Vanman excused only the players reaching the last four from his strenuous examination of his charges and has already said the likes of Van Persie will be under-cooked... And, like Man Utd, all the other top clubs have been engaged in quite serious training and competition since early July.
Now the "happy-clappy, come back when you feel like it" approach may well be the right one for our 'over-worked' World Cup stars but, seriously, is eight days training and a match against some no-mark team appropriate preparation for what lies ahead? I fear not!
Ryan Rosenberg
78
Posted 04/08/2014 at 09:48:26
How did Browning go? I didn't get a chance to watch this game but I was impressed with him against Tranmere and Leicester.
Brent Stephens
79
Posted 04/08/2014 at 10:00:53
Ryan, I thought he was tentative and not sure of his positioning in relation to the rest of our guys around him.
Raymond Fox
80
Posted 04/08/2014 at 15:14:46
See you are your usual optimistic self Phil, you'll have lots of time to moan if and when things go wrong!
You're making the implication again that Martinez is mismanaging the situation, I think he will have a better idea than you how much pre-season training and games the squad need.
Sam Morrison
81
Posted 04/08/2014 at 15:42:19
On a lighter note, there's this:
http://www.theguardian.com/football/2014/aug/04/steven-naismith-everton-tickets-liverpool-unemployed
Paul Andrews
82
Posted 04/08/2014 at 15:58:19
Great gesture from Naisy.
To people who are "unemployed through no fault of their own"
His politics shine through there as well
Phil Walling
83
Posted 04/08/2014 at 15:58:31
Six points from our first three games will be enough for me to lighten up, Raymond, and offer my apologies for doubt, Promise !
Linda Morrison
84
Posted 04/08/2014 at 15:59:48
I went to the game yesterday and for once had a good view, no obstruction!
It was a friendly and there were lots of changes so here are my thoughts.
We may be almost the same team as last season but we have a young striker who made a positive decision to come to our club
The board have backed the manager with money for the above so another big money signing is not going to happen.
Yesterday I didn't think Jags was too bad, he cleared a few balls off the line which would have gone in.
I didn't think Robies was as bad as most on here, he made a few good saves.He lacks confidence though
i think Roberto will be using and promoting some of the younger players this season to increase the squad.
I worry though about the time when Disitn finally hangs up those boots. When he came on he was directing the younger lads and made some good interventions. The Porto goal was a farce, you would not see park players doing that.
I don't expect us to finish as high as we did last season ,this will be our transition season I think.
I was pleased for Ozzie though and the turnout was good
Paul Dark
85
Posted 04/08/2014 at 17:34:06
I hope Osman had a good day yesterday - and wish him all the best and thank him for his service (especially in the early years). I really hope he gets nowhere near the first team this season, though. Ditto Alcaraz.
I thought McGeady improved in the second half but don' think he's good enough. Robles likewise. I also have my doubts about Kone who looked OK to good in a Wigan shirt, but I dare say he needs a chance once foot to prove his worth. Wish Rom had the No. 9 shirt.
The rest of the squad 9the very young players aside) looks very good to exceptional. It's going to be a very exciting season. I hope the likes of Stones (who still makes quite a few mistakes despite being a phenomenal player for his age) and Besic (very exciting) are blooded appropriately by Robbie. I'm sure they will be.
I think our best XI will give any of the teams in the PL a run for their money, home and away. We certainly have the makings of top 4 but perhaps not quite this season, as Linda intimates. Still, with Rom anything can happen ... .
I can't wait for the season to start - and three (convincing) points vs Leicester.
COYB!
Paul Burns
86
Posted 05/08/2014 at 11:29:24
Everton's players should be judged on EVERY performance.
It's this amateurish approach to preparation for seemingly every season that sees us off to a shocker year after year.
While clubs serious about winning things are playing in competitive pre-season tournaments, we're piss-farting about at Tranmere's ground and trying not to get injured as if the season's years away.
Patrick Murphy
87
Posted 05/08/2014 at 12:12:50
Paul I agree up to a point about every Everton game being important as the fans pay good money to watch them. However, because our squad in comparison to those other clubs in the higher echelons, it is understandable if all the players don't go all out in these friendlies.
The only worrisome part of Ossie's testimonial was the sheer lack of real attempts at goal. It will obviously alter for the better when the likes of Mirallas and Lukaku are in the line-up but I would have hoped to have seen a pattern of play emerge at this point in the build-up.
I'm pretty sure that Roberto will take note of the situation and address it in the next couple of games but, without a more pro-active approach from the players, we may find the difficult fixtures at the start of the season too much and the feel-good factor could disappear as quickly as it arrived.
Whilst there is probably little or nothing left in the transfer pot, it is important that RM brings in a couple of loan players for the first-team, in particular some creative talent.
Let's hope it will all be alright on the night, because so far in the pre-season there has been very little to get excited about, Besic being the one ray of hope.
Harold Matthews
88
Posted 05/08/2014 at 11:29:17
Yes, Phil is true to form but he's probably not on his own with this one. Some of our lads may be slightly under-cooked for the Leicester game. When the post match interviewer suggested that Besic looked fit and well, he said he would need 2 more 45 minute run-outs plus the usual training in order to reach full fitness.
On the other hand, the World Cup interfered with normal preparations and Martinez is being careful not to rush his players into situations where they may pick up an injury. Barkley deliberately hardly broke sweat the other day and most of the lads were operating at two thirds pace. Come the big day, they will definitely step up a gear.
---
Add Your Comments
In order to post a comment, you need to be logged in as a registered user of the site.
Or Sign up as a ToffeeWeb Member — it's free, takes just a few minutes and will allow you to post your comments on articles and Talking Points submissions across the site.
© ToffeeWeb