Late lapse costs Everton opening-day win
Leicester City 2 - 2 Everton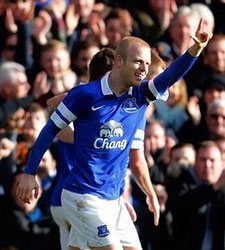 Everton were on course for victory on the back of Steven Naismith's first-half goal
Everton were on course for a precious opening-day victory at King Power Stadium but were denied three points by Chris Wood's late strike.
The Blues led at half time thanks to an excellent Steven Naismith strike but they couldn't drive home their technical superiority with a noticeably less intense second-half performance and paid the price four minutes from time when the Leicester City substitute fired home.
With Romelu Lukaku a surprise starter up front and Steven Pienaar lively and inventive back in his natural role ahead of Leighton Baines down the left flank, Roberto Martinez's side started well and quickly settled into the controlled, possession-based game that was such a positive feature of the Catalan's first season in charge. Naismith was dropping effectively off Lukaku with probing runs and Everton looked by far the more dangerous side in the early going.
And they pressed home that early pressure following a corner from the left-hand side which was initially cleared but when Kasper Schmeichel could only bat the ball into the path of Aiden McGeady, the Irish winger had time to set his sights and whip a terrific shot in off the far post to make it 1-0 with 20 minutes gone.
The home side were level almost immediately, though. A corner from the Leicester left wasn't dealt with and when Sylvain Distin's attempted clearance struck a blue shirt and fell invitingly to Leonardo Ulloa, he drove the ball past Tim Howard.
Everton resumed their patient and occasionally brilliant attempts to pick their way past the Foxes defence, Pienaar again at the heart of their best moment and it was the South African's neat footwork and cutback that presented McGeady with a great chance to make it 2-1 but his shot was charged down impressively by Wes Morgan.
Four minutes later, though, another lovely on the left served up the Blues' second goal. Baines and Pienaar played a one-two off Lukaku's floated pass and when the former's pass eventually fell to Naismith, he swept a first-time shot in off the crossbar to make it 2-1.
With Nigel Pearson's Leicester side exhibiting spirit but lacking true invention, the second half was set up for Everton to push on and kill the game by simply carrying through their first-half form. Instead, they appeared to ease off in the second period and fatigue began to set in as the match wore on.
Chances were at a premium for both sides but substitute Jeffrey Schlupp had a gilt-edged chance to level the game midway through the second half but he blazed over the bar with just Howard to beat. At the other end, Luke Moore escaped a possible red card when his handball denied Lukaku the chance to race into the clear, referee Mike Jones settling for just a yellow.
Martinez set his stall out to try and engineer a decisive third goal when he threw Kevin Mirallas on for the tiring Pienaar with 10 minutes left and then added Seamus Coleman to the mix four minutes later but his defence was caught cold at the wrong end. Phil Jagielka's challenge on Mahrez fell to the feet of Wood with John Stones having been dragged out of position to back his captain up and the New Zealander made no mistake with the whole goal to aim at.
While newly-promoted Leicester left the field elated, Everton trouped off knowing that two vital points had been dropped from a winning position. Much like the opening day draw at Norwich by the same scoreline a year ago, they let slip the chance to get three points on the board early and were forced to settle for a draw, an excess of which proved costly last season.
While the manager will have been disappointed by the way his team failed to keep their foot on their opponents' throat, he will have been encouraged by many aspects of the display, not least the continuing effectiveness of the Baines-Pienaar partnership, a first goal for McGeady and Naismith's clinical finish.
Full coverage: ToffeeWeb Match Reports
Reader Comments (157)
Note: the following content is not moderated or vetted by the site owners at the time of submission. Comments are the responsibility of the poster. Disclaimer
Joey Brown
1
Posted 16/08/2014 at 18:17:51
I think some of the blame can be put on Roberto for this one, the subs came a little late for me. Lukaku was ineffective for most of the match but played the full 90.
Tony Doran
2
Posted 16/08/2014 at 18:17:47
Why not try to kill the game off when on top. Second half was crying out for someone who could hold the ball up as Lukaku was woeful.Mcgeady also gave the ball away far to much.
Paul Ferry
3
Posted 16/08/2014 at 18:18:05
My first real Bobby-bash! What was he thinking of in that 2nd half?
We score a 2nd at the perfect time. So, in for a 1/2 time chat. And Â…Â…..
My knee aint jerking! I'm not over-reacting! I'm just fuming at how we lost a game we looked so comfy in.
Yep, Bobby has to take the blame for his 2nd half decision-making. Macca should have gone off as soon as that Leicester fella tried to murder his leg. Besic for Macca then. Atsu should have come on for Pienaar who had a nice and neat 1st half but then went missing – this will be the pattern for him for the season. Mirallas should have come on for Lu.
Subs Bobby, bleedin subs! We needed subs at '60.
But, my, oh my... I'm more distraught about t,he defence than I am about that result. I might even have taken 2-2 yesterday but it was the manner of giving the game away.
Defence! Jags and Dustin cannot play together! Distin was absolutely shocking today. Shocking! The mistakes and muddles in the middle will be our downfall unless something is done and quick.
I honestly think that Bobby believes that defence is done and dusted. Sorted! NO! Stones is on the greener side of things but did well last season and he has to come in there.
Oh and Barry was utter Â…..
Next week: Howard; Coleman, Stones, Jagielka, Baines; McCarthy, Besic; Atsu, Mirallas, Naismith; Lukaku.
Liam Reilly
4
Posted 16/08/2014 at 18:24:29
Looked unfit to be honest. The pre season was poorly scheduled and it showed.
Play like that against the Arse or Chelsea and we'll be on a hiding.
Paul Ferry
5
Posted 16/08/2014 at 18:25:59
Oh and can I add that just watching SNN, I didn't see Bobby talking post-match but Tim Howard! My blood pressure just went up two notches. You made some serious mistakes today that cost us a victory Bobby. At least have the balls to face the camera/microphone. Unless I missed him in which case I apologize.
Bill Gall
6
Posted 16/08/2014 at 18:18:21
This game featured two halves: In the first half, Everton played some decent football moving the ball well and scoring 2 goals. The thing that troubled me was the lack of fitness that was showed by a number of players in the second half that even had the commentator saying after 65 mins that a number of Everton players looked tired.
It seems to me that we have a problem with not only match fitness but general fitness with some players that has carried over from pre-season. The only people to blame for this are the Manager and the coaching staff. I agree results do not matter in pre-season games but performances do and a number of players are still not playing up to 90-min Premier League standards.
Kevin Rowlands
7
Posted 16/08/2014 at 18:31:46
Oh FFS, just been reported by NBC's Rebecca Lowe that Martinez has said Barkley could possibly be out for FIVE months, just the news I didn't need to hear after watching that very poor second half from us.
Colin Malone
8
Posted 16/08/2014 at 18:29:17
Its a marathon not a sprint.
Stones ball watching again.
Osman should have replaced Naismith.
Besic should have replaced Barry soon after he was booked.
Baines my man of the match.
Again its a marathon, not a sprint.
Christopher Kelly
9
Posted 16/08/2014 at 18:38:01
RM to blame for this! Sloppy sloppy pre season and run up to the season.
Always something in ToffeeLand :/
John Byrne
10
Posted 16/08/2014 at 18:35:13
McCarthy was our best player today. He was everywhere. Breaking up their attacks & getting around the pitch well. Thought Besic would have come on late on for Barry as he ran the risk of being sent off & was very lucky not to be in the end.
Lukaku was poor. Didn't look sharp at all. We looked very good going forward in the first half but we were happy to sit back in the second half. There were more goals there for us if we pushed on.
I don't remember us creating a whole lot in the second half. It's typical of us away from home. 2 bad goals given away too. Very disappointing
Jim Bennings
11
Posted 16/08/2014 at 18:31:14
We still look like a team that had to be playing 100% otherwise we look quite ordinary.
We never seem to defend high balls well, we were hopeless last season at defending any kind of crosses last season, remember the two derbies especially the Goodison one? Or Crystal Palace in April when Scott Dann walked onto a corner to put them 2-0 up..
It's been going on for seasons now and all we ever get is over the top plaudits for our shaky defence.
Will Martinez ever give Duffy a go? At his height surely he'd win more headers than Jags?
Distin can't go on forever and as good as Stones is on the ball is he the commanding man beast centre half we desperately need?

James Stewart
12
Posted 16/08/2014 at 18:47:51
2 points dropped and a slow start against weak opposition again. Besic should have come on to give us fresh legs in midfield and so should Atsu. Subs were far too late and it cost us.
Howard Don
13
Posted 16/08/2014 at 18:48:04
Only time we showed any threat in the second half was in the five minutes or so after they equalised.
Subs too few and way too late when it was obvious they were needed as several players flagging badly. Atsu's pace and Mirallas could have really taken the pressure off in the last fifteen when Lukaku & McGeady looked knackered and kept giving the ball away. Martinez didn't do it for me today.
Every team in the league will be sitting up and taking note of how poor we are defending high balls; RM and the coaches have to get a grip of this now. It could soon be time for Stones to come into the middle as first choice; I don't like him at full back anyway; the sooner Seamus is 100% fit, the better.
Iakovos Iasonidis
14
Posted 16/08/2014 at 19:05:40
Dropped point today. Leicester will go down this year. I am so pissed off because second half was so anti-Martinez style. it was so Moyes-style. He should know better and I know he does but fuck!
Peter Morris
15
Posted 16/08/2014 at 19:08:11
Another game with 64% possession away from home; but vulnerable to set pieces and crosses. Cheered up by 'King Louis's' big day falling flat! Ha Ha!
Anyway, up and running...roll on Arsenal!
COYB
Chris Sillett
16
Posted 16/08/2014 at 19:02:10
Im 50/50 about this result, part of me says a point away from home on the first day is a decent start, the other says being 2-1 up against Leicester and not winning is disappointing. 3 points was needed today with Arsenal and Chelsea next up. McGeady will get a lot of confidence from his first goal and I expect Lukaku to produce a much better performance in the next game!
Peter Creer
17
Posted 16/08/2014 at 19:10:03
The team played well in the first half and it was definitely a case of sitting back in the second half. The substitutions did come late and I thought that they were needed earlier because the legs were getting tired. Match fitness is the issue. This would have been the time to give Besic or Atsu a run out.
It is a marathon, not a sprint and we can't be throwing in the towel or getting on Martinez's back. All the teams are dealing with the World Cup hangovers with players well behind in their fitness regime and teams not having the opportunity to work with their players as a unit because of the staggered return from holidays.
Clive Rogers
18
Posted 16/08/2014 at 19:11:00
Worrying first game, especially with the news about Barkley. Lukaku was very poor, and Barry's lack of pace led to him hacking players down. No way should he have been given 3 years.
Bill Gall
19
Posted 16/08/2014 at 19:26:14
The problem with considering it a marathon and not a sprint is if you are not fit at the start of a marathon after part way you have no chanceof finishing near the front.
Phil Walling
20
Posted 16/08/2014 at 19:31:19
Just had an hour in the pub and unusually found myself the voice of reason ! Most Evertonians felt that Martinez has already morfed into Moyes and was playing the pragmatist in his match-time tactics today.
They reminded me that 'early' Moyes took the risks but in his second season 'bolted the door'.
My take is that World Cup has disrupted the preparation for 14-15 and that Roberto is understandably 'playing it careful'.
Four points from the next two games will again see his star shining all over Evertonia.
Colin Glassar
21
Posted 16/08/2014 at 19:41:28
I am Roberto's biggest fan but he has to carry the can for today's result. Wtf happened in the dressing room at half time? Why did they come out with a completely different mindset in the 2nd half a la ginger? Why the late, and wrong, subs?
No excuses Roberto, you fucked up so admit it.
Ed Smith
22
Posted 16/08/2014 at 19:47:13
Plus points were that Baines and Pienaar linked up well in first half. We missed that in the run in last year. Also the bench looks strong.
Negatives include. Stones being caught ball watching and out of position, Lukaku being easily contained by what must be a mediocre defence and Barry having to body check to stop people getting past him. Again bad sign for what is to come in the next two weeks.
Dean Adams
23
Posted 16/08/2014 at 19:45:29
Phil, have you been taking the piss all pre-season or are you just that kind of character who enjoys playing games with us all? You have been Mr Negative for months and today, you have been Mr Positivity. Still keeps us typing I suppose!!
Tom Flower
24
Posted 16/08/2014 at 19:49:08
I thought we played well first half and by far the most dangerous and creative of the two teams. Leicester looked exactly like a championship team in the first premier league season – all huff and bluff, closing players down quickly and playing it high and hopeful without any real quality. I think they will be in the mix for the drop. Both of there goals were very fortunate – both ricochets off our players with the ball falling in their path. On another day they would have got sweet fa. Everton however looked incisive in the first half and for me controlled the game. The second half was disappointing but I still thought we were the better side without really creating anything.
On a separate note I had to endure commentary on the stream from Trevor Francis. Always thought he was a bell end but his commentary was so biased and anti Everton it was shameful. What a moron. Wanted McCarthy booked and Barry off. All he could say when Wood near decapitated Jags was that "at least he said sorry quickly". I could go on but he is such an unhinged prick I cant be bothered.
Peter Cummings
25
Posted 16/08/2014 at 19:44:46
This was a replay of last season, leading at half time and sitting back and inviting trouble. Lukaku was pathetic and should have been substituted; McGeady, after scoring a candidate for goal of the month, faded badly; to everyone's surprise, Pienaar had a great game and deserved MotM along with Baines; Naismith who chased everything was excellent.
Barry is becoming something of a liability and should have walked for stupid tackles. In the end, though, I thought the result was fair and Leicester deserved their point, they have some very useful players and can make their mark in the Prem.
A very good game all round, especially the first half, plus competent refereeing for a change.
Jim Knightley
26
Posted 16/08/2014 at 20:05:45
As I said a week ago (and was criticised for) our pre-season foreboded this result. We look behind where we should be at this stage, and the Barkley injury is horrible news. On the plus side, an away game against a promoted team can always be difficult, and we got a point and have some of the better players returning to fitness. I'm not confident for the next two though, but after that hopefully we will be completely ready and would have added a creative player to the mix. I'd love Kagawa.
Sean Kelly
27
Posted 16/08/2014 at 20:18:28
I watched game today and I'm watching again on Sky. The one thing that sticks out is our fitness levels. So many players faded in the second half, you have to wonder was everyone on the beach until last week? I think Roberto got it wrong both in pre season and today. I hope it's not a sign of things to come.
Distin's legs are shagged. Every time he went up for a corner, it took him an age to get back and they counter-attacked at speed.
With so many tiring in second half, especially McGeady Lukaku and Barry, the subs should have been on at the hour mark. Sorry Roberto, I'm one of your biggest fans, but you fucked it up today and pre-season. This could be a long season.
Tamhas Woods
28
Posted 16/08/2014 at 20:30:45
As disappointing as the last ditch equaliser was, a part of me was dreading a much worse result. It doesn't seem as though a lot has changed since last season play-wise, but our ability to go the distance obviously remains under scrutiny
Had we won today, there would have been less incentive to learn and plan ahead of the next two games – in the end, those two dropped points may yet serve us well.
Beat either Arsenal or Chelsea and we are AHEAD of our tally at the same point last season....
Some people need to get over stuff – just imagine how many "un-likes" the Man Utd facebook page will be getting tonight!
Martin Mason
29
Posted 16/08/2014 at 20:36:23
Beware of irrational exuberance over our current position or that those who have spent millions will be miles ahead at the end of the season. Arsenal were lucky to beat managerless Palace at home despite spending multiples of what Everton have spent on World Cup Stars.
The most important players won't be the stars costing mega millions but those who roll their shirts up and get the work done in midfield. The 5 million dollar men not the 50 million dollar men.
Wayne Smyth
30
Posted 16/08/2014 at 20:44:29
I disagree Sean.
What I saw from the minute the players came back out, was the attitude that the job was done. Lukaku was the only exception, he looked well off the pace, but he was also marked out of the game by a very good defensive performance from Moore.
I actually thought our play in the first half was very good. I was actually thinking how sharp the players looked compared to pre-season and thinking that perhaps Martinez hadn't done such a bad job in pre-season as some had suggested.
Don't believe me? In the last 5 minutes once they'd scored their second equalizer, we battered them again, but had no time to get another. So, our main problem today was complacency and taking our foot off the gas when 1 up and assuming we could beat them easily. One goal is never enough in this league.
Peter Bell
31
Posted 16/08/2014 at 20:50:09
Just watching the Sky Sports re-run of the game. I see what posters are saying about Trevor Francis.
He just said Everton needed the assistance of the woodwork for both goals. Both great finishes. A total knob.
Matt Traynor
32
Posted 16/08/2014 at 20:55:56
Peter #32 he's been like that about us for years. I don't know if we backed out of signing him, or he got crocked in a game against us, or we got results against him as a manager, but he really, really hates us.
Mike Anson
33
Posted 16/08/2014 at 21:03:21
I went to the match today and had the following observations
a) Good tidy possession but little end product in the second half. Can't remember troubling Schmeichel at all.

b) Both Leicester goals came from defensive errors, the amount of space they had for the second equalizer was shocking.

c) Lukaku didn't seem to be at the races today. Should have been substituted.

d) Creatively our two best players, Pienaar and McGeady, good in the first but poor in the second.

e) On the plus side, two well taken goals
A draw was a fair result, but could and should have won.
Peter Bell
34
Posted 16/08/2014 at 21:06:56
Matt, getting results against him wasn't a problem, he was gash as a manager. I seem to remember he went to QPR thinking he was the new Clough.
He stopped a player from going to hospital when his wife was in labour. Cider drinking arsehole.
Sean Kelly
35
Posted 16/08/2014 at 21:08:50
Wayne that's what I meant but maybe I didn't say it clearly. We done okay first half but some couldn't be arsed second half and others ran out of steam. We never seem either able or willing to finish teams off when ahead.
I don't know what the answer to that is but maybe it's a mindset of "we hold what we have". That knobhead Francis saying nothing wrong with the challenge on Macca — I suppose pulling your todger makes you go fucking blind. Dope.
Barry Stevens
36
Posted 16/08/2014 at 20:43:37
Whilst it's disapointing not to get the 3 points, an away point is not so bad. Leicester have an excellent home record and gave a typical first day in the big league performance. We had 63% possesion, and kept their crowd mostly quite. Reminded me of last year's opener at Norwich. Especially their goals coming from lucky ricochets.
Some of the over reactions, especially on the forum, are crazy. People having a go at Roberto, Distin and Jags past it, Stones overrated, Lukaku a waste of money, blah blah blah. Judging by the report's I've read of the other games, no-one's started all guns blazing and all games were tight. I feel there were enough positives today to let us know we will have another good season.
COYB
Peter Z Jones
37
Posted 16/08/2014 at 21:14:56
Meh. I think Bobby pulled a Moyes and waited too late to get some subs in when we were losing impetus around the 65 minute mark or so. Bit unlike him to wait until the 80th minute to make something happen. Not trying to start a debate involving OFM but I figured I'd be fair here. I'd have criticized him for it so I'm gonna keep it real. It's most likely an aberration anyway so no biggie.
Other than that, very similar game to the 2-2 Norwich opener last year. We score twice through brilliance and sheer endeavour. They score 2 absolute flukes through lucky bounces of the ball and a shanked cross, only for that cross to be finished by Ricky Van Wolfswinkel, the most impotent striker in the Premier League last season. Everton. Gotta love us.
Anthony Jones
38
Posted 16/08/2014 at 20:59:49
Colin, 22, bang on.
James Hill
39
Posted 16/08/2014 at 21:20:59
We just need to maintain the pressure until we kill teams off and learn to handle the long ball. Both their goals had a real element of luck.
I thought we were cruising too much in the 2nd half and paid the price. That said, it was two points we should have had.
Jim Bennings
40
Posted 16/08/2014 at 21:20:21
Barry
Distin and Jagielka have been a major weak link for quite a while now.
We are so so vulnerable to any high balls be it crosses or corners and at the end of the day our centre halves have to take the vast responsibility of the problem.
Jagielka, a decent tackler but nowhere near commanding enough in the air and Distin is more like Yobo, immense at times but always prone to a Bambi on ice moment all too often.
Jon Withey
41
Posted 16/08/2014 at 21:30:08
Bobby was pretty critical of the second-half performance, which is not like him.
I'm far more gutted about the Barkley news than the dropped points at this stage of the season.
Nick White
42
Posted 16/08/2014 at 21:30:17
Same result as opening day last year. We couldn't beat Norwich. I rather a result like this than thumping them and then the obligatory early self-anointment. Let's keep the wheels on until just before the finish line again.
God, it's a bleak and pessimistic life being an Evertonian but I wouldn't change it for anything.

Steavey Buckley
43
Posted 16/08/2014 at 21:33:11
Jags is the main reason why Everton are failing defensively, despite the extra defensive cover of Barry and McCarthy.
I believe Duffy or Stones could replace Jags against Arsenal next week unless Martinez decides to go with Jags in a back 3.
Jags has had a torrid time since the World Cup and appears to have lost confidence and the ability to attack the ball when the opposition threaten.
Darren Hind
44
Posted 16/08/2014 at 21:08:08
Wow, Lyndon. I always look out for your reports and generally find them on the money, but I cant agree that Martinez set out his stall to put this out of Leicester's reach.
By the time Martinez started to make ring the changes, I think the last thing on his mind was trying to engineer a decisive goal. This was clearly a "what we have we hold" stance he was taking and it backfired.
Sure, Mirallas was sent on, but only because Pienaar was running on empty. We actually had five across the back when Seamus came on with Macca and Barry only slightly more advanced.
I'm amazed to see people still trying to defend foolish claims that our pre-season preparation was adequate, it wasn't. After barely an hour, Everton players were blowing out of their arses all over the pitch. The gulf in class we witnessed in the first half was only matched by the difference in the two teams' conditioning.
The Leicester fans were really heartened by the sight of tired looking Everton players and really began to urge their team on. They might be garbage (actually, they are garbage) but they threatened to run us into the ground and only relaxed once they'd equalised.
Bad preparation, bad tactics (second half) and bad selections all contributed to a really bad second-half performance.
Next!
Barry Stevens
45
Posted 16/08/2014 at 21:39:55
Jim
We have been poor at defending set pieces since Jelavic and Fellaini left. The majority of teams in the league have more big guys than us and to blame the centre backs is unfair in my opinion. They are the only 2 players in our starting 11, who you would describe their skill of heading as above average. What we need to do is get Lukaku trained up in the art of near-post defending, an asset Jelavic had which was very underrated.
Phil Walling
46
Posted 16/08/2014 at 22:03:55
The only mitigation surrounding Barkley's injury is that it has happened whilst the transfer window is still open.I don't usually play Football Manager but today we saw how vital it is for Everton to have a truly attacking midfielder in the side.
Pienaar played well but is creative rather than incisive and Mirallas makes too many fruitless crossfield runs. Naismith runs his heart out but is not a game changer.
Will Roberto act or rely on what we've got? It's in matters like this that managers earn their millions.
Tony Abrahams
48
Posted 16/08/2014 at 22:37:54
Agree with most things you say, Darren, but you say that Leicester threatened to run us into the ground and only relaxed when they equalised? Why didn't they go for a winner if they were running us into the ground? And why all of a sudden did Everton begin to look dangerous again?
We might not be fit but the reason we never won the game wasn't solely because of this. We lacked a cutting edge, and tactically we never really went for a third goal until it was to late. A one-goal lead is never enough, as we found out to our cost today. So it was a total lack of professionalism that cost us today, on and off the pitch.
Peter Jones
49
Posted 16/08/2014 at 22:46:50
Everyone of us is looking for success for our team and rather too much of our emotional well being is linked to it. I think that, buoyed by relative success last season, we are looking at least to maintain that level of performance and ideally improve on it even if most of do not aspire to Champion status.
Predictions for fans are based on emotions and feelings rather than evidence. Today's game gave us evidence that, while we have better players than Leicester and their ilk, the old failings are still there to prevent us from improving on what we have done before.
We now have two of the toughest games of the season ahead of, two games which last season gave us concrete evidence that we were improving. The best we can manage is to equal what we achieved last season. Sadly today's game only suggested that we are at best standing still.
James Stewart
50
Posted 16/08/2014 at 23:20:43
@41 I think you have a point. The decline of Distin and Jagielka is inevitable and will be gradual but I think it has started.
Ant Dwyer
51
Posted 16/08/2014 at 23:16:46
I can't help but feel it's 2 points dropped. Not being disrespectful to the opposition but come on!!
We were 2-1 up and didn't bother to even try to kill the game off. We could have pushed them back and hit a third goal which would have ended them. Instead, we got too complacent and it cost us.
I feel we look awful on all set pieces for and against, we never look like scoring off a corner and we always look like conceding on them.
Massive games coming up and players need to become fitter very quick. Pienaar, who looked lively all first half, and McGeady both completely disappeared in the second and Barry was lagging too. The biggest player for being out of form for me had to be Distin. The lads need to get up to speed quickly so as we don't find ourselves in a bad situation.
Si Cooper
52
Posted 16/08/2014 at 23:04:12
Disappointing to drop two points when 2-1 up at half time. Very surprised substitutions weren't earlier and looking to finish Leicester off with a flourish.
Left flank worked really well, right flank is virtually non-existent without Seamus. Expect better performances to come as the team gets sharper; needs to happen in double quick time though.
Rob Halligan
53
Posted 16/08/2014 at 22:29:09
Been to the match today. Honestly, I've never heard such negativity in all my life.
On the train out of Liverpool this morning, all I heard was how we were going to get beat, and lads saying they would take a one-nil defeat now!!
Then afterwards, everyone moaning about how we threw the win away, blaming this player and that player for only getting a draw!!
FFS, it's the first game of the season, away to a team who have just been promoted after ten years out of the Premier League. This was probably the worst game we could have picked to start the season. Yet I thought in the first half we totally dominated the play, without creating too many clear-cut chances, although scoring two very good goals. In the second half, we fell by the wayside somewhat, but I never thought we would concede a second, because, believe me, Leicester are a poor side, and in my eyes are a certainty to go down.
So, while it was disappointing to throw away two points, because that's what we have done, just think back 12 months when the same thing happened away at Norwich, where did we finish and where did Norwich finish? We still have one or two key players to come back, though sadly not Ross according to reports, and hopefully with one or two signings we will be right up there again — unlike Leicester, who will go the same way as Norwich.
Kieran Kinsella
54
Posted 16/08/2014 at 23:36:40
Rob Halligan don't believe you heard a man saying he'd settle for a 1-0 defeat on the train ride down. I know for a fact that David Moyes wasn't on your train.
Rob Halligan
55
Posted 16/08/2014 at 23:39:10
Tongue in cheek comment I'm sure, Kieran, but believe me, I heard one or two saying they would settle for a one-nil defeat.
Kieran Kinsella
56
Posted 16/08/2014 at 23:51:12
Rob Halligan, that's truly amazing. Firstly, what kind of negative "fan" would ever have that kind of attitude? Secondly, why would these miserable masochists choose to spend so much money travelling halfway across the country to see a game they are viewing as nothing more than a damage limitation exercise?
As someone who can't so easily go to games – I live in the MidWest of the US these days – it pains me to hear fellow fans making such remarks. The post-game comments – well that's fair game... to a point.
Ernie Baywood
57
Posted 16/08/2014 at 23:46:29
You can't expect the players to be 100% on day one... its not sustainable for a full season.
There were some real positives – that first half performance showed that we're real challengers and we played some beautiful football. Great to see Pienaar in good form – he's still a player who makes us tick. Actually he makes us purr.
Out of the three games I watched I didn't see anyone who had themselves in the kind of form we were in that first half. It was a good cohesive team performance.
Second half Leicester did what you would expect and gave it a red hot go. Forced us back and we struggled to counter them. With Lukaku looking sluggish we really didn't have anything to threaten them on the counter. Maybe Atsu will be that option but obviously this came to soon for him.
Looking forward to these next games. Hope we see more of that first half Everton.
Brian Wilkinson
58
Posted 17/08/2014 at 00:10:12
Some things I observed today:
● Leicester got their 2nd equaliser after we made changes from the bench;

● We are absolutely shite on corners and hardly ever seem to trouble defending teams,

● Lukaku does not have eyes in the back of his head, can we please stop those back heelers to Lukaku,

● We always seem to start the season slow.
On the plus side, thank heavens the local whipping boy Osman did not play or the lynch mob would have really gone to town on the guy.
Early days yet; yes, two points dropped but still early days.
Harold Matthews
59
Posted 17/08/2014 at 00:24:09
Terrible 2nd half performance. Jags and Distin were a shambles, Stones looked slow off the mark and completely lost, Baines still can't tackle and Barry was looking for a holiday. At the other end, Lukaku was in Morgan's pocket and didn't make much effort to get out of it. Leicester are probably the worst team we will meet all season but the man I respect, Mr Martinez, got it all wrong.
Tim Locke
60
Posted 17/08/2014 at 00:48:37
I sadly missed the game as out with the in-laws. I managed to sneak the last 10 mins on the radio, and was so annoyed when the goal went in. Then came home and read ToffeeWeb, and thought this sucks. What is going on?
Would you believe your luck that the game was then broadcasts as Sky's evening game. So, iPad in hand, I managed to watch it. I was a little surprised, half expecting to see a team pressed back, looking like that were going to conceded any second, remember the FA Cup against Liverpool when we went 1-0 up, it was just a matter of time till we went under. That was one of the issues with Moyes, but I didn't see that today. Sure the players didn't look as sharp as I have seen them, but they were far from a side that had accepted their fate.
So I would disagree with the comments that this was like the days under Moyes, how quickly you forget just how bad it was at times.
Secondly Lukaku, he got nudged off the ball a bit but I thought some of his link-up play was excellent and he looked like he has goals in him, and definitely needs to work in his fitness, but he will come good.
Generally, I thought it was an okay start, this is a game which we have historically drawn, opening day of the season is never good, and sure we all sat there thinking 3 points in the bag but I remember last season and our start: 3 draws before we got going, West Brom, Cardiff and Norwich, it should have been 9 points. But we finished with over 70 points, I can't argue over the course if a season he got it right, heads up chaps it's a long season ahead of us. COYB.
Andy Crooks
61
Posted 17/08/2014 at 01:21:38
I believe that, given a run of games, Shane Duffy would make us a better team. He and Stones are the future.
Harold Matthews
62
Posted 17/08/2014 at 01:47:08
My post @ 60 is near replica of one I posted on another thread but couldn't find. Sorry about that.
Jason Heng
63
Posted 17/08/2014 at 01:43:03
If only Osman and Hibbert played....
Kevin Tully
64
Posted 17/08/2014 at 02:48:28
I really do think we need to take a breath, and stop trying to convince ourselves pre-season / player fitness issues are handled unprofessionally.
Does anyone honestly believe anything is left to chance regarding player preparation in the Premier League? Does the manager (a qualified physio) just throw them on the pitch hoping they can last a full game?
Players today are put through their paces behind closed doors, weighed, analysed and fined if they return to training even slightly overweight. Some posters think they are talking about a semi-pro side returning from 2 weeks on the bevvy.
Really guys, think about it. There is no secret plan other teams have to get ready for the start of the season.
Paul Ferry
65
Posted 17/08/2014 at 05:51:36
Harold (#60) – a long observer of all things Everton – absolutely nailed it mate in impeccable ideas and prose in just 68 words! Not a single word to grouch about what you wrote... I thought perhaps too heavy on the vowels!
Jeez, that was a perfect summary of a summery day that at half-time was sorted and at full-time I had my first ever major grumble with El Bobby, and not least the subs, gaffer.
Paul Ferry
66
Posted 17/08/2014 at 06:00:42
I so want Kev Tull's babies - 65 - I've been trying for a month now to put those ideas into words without catching the right words in a couple of snappy sentences!
Cheers Kev!
But what about that defence mate, something has ti change in that muddle in the middle!
Harold Matthews
67
Posted 17/08/2014 at 06:54:31
Cheers Paul. When you, of all people, enter a complaint against El Bobby, something somewhere is not quite right.
Paul Hewitt
68
Posted 17/08/2014 at 08:45:44
Having watched Arsenal against Palace, I don't think there's much to worry about.
Shaun Laycock
69
Posted 17/08/2014 at 09:22:23
We will score goals this season but I am worried about the defence...how many sound bytes to we have to listen from Roberto about 'we gave away soft goals' or 'we lost concentration' for him to realise how poorly we do actually defend. Comedy defending for both goals. Is it me or do we always have a 'rick' in us.
Raymond Fox
70
Posted 17/08/2014 at 08:41:06
Come on chaps it was the 1st game of the season against a newly promoted side who have 4 other teams more likely to go down before them in the league. The match betting told us this game was very likely to be a draw.
Everyone's very disappointed after leading the match twice after playing well first half and then going off the boil, but let's give Leicester some credit, they were always going to come out fighting after the break. Fair enough, but I don't think the result is a bad one, there's no easy away games in the Prem – just look at Man Utd beaten at home and Arsenal being given a win against Palace also at home.
Martinez is getting plenty of stick for not making subs earlier, again fair enough but he knows the players better than us, so he will have his reasons for not subbing some players.
We've two difficult matches to play next; we put in one of our best performances against Arsenal last season, let's hope we beat them again. Against Chelsea, we were lucky to get a win, they had loads of chances to score but couldn't put them away.
I believe we will have a good season again, plus it looks certain that Roberto will get more reinforcements in before the transfer deadline to give us more options.
Mike Corcoran
71
Posted 17/08/2014 at 09:44:41
Young Stones is a little naive and has dropped a few bollocks in recent weeks. Poor lad, maybe coming through too quickly.
Phil Walling
72
Posted 17/08/2014 at 09:39:03
First game of the season and as we SHOULD have learned from the past, it often falls well short of our expectations.
Rarely in Premier history have we got off to a flyer and Martinez is the latest manager to catch the flak when our team disappoints.
Yesterday we fell short against a team I expect to struggle from October onwards. Next up we have two teams who will compete for the crown. After those games we shall know more about our side... regardless of results.
Ed Fitzgerald
73
Posted 17/08/2014 at 09:57:54
Poor defending cost us three points whatever you think of pre season games they have already been characterised by defending that Charlie Caroli would be proud of.
Good to see Coleman get on he really needs to play next week at RB. Stones into the middle and replace either Distin or Jagielka both of whom were shocking yesterday. I thought Baines did alright really and at least contributed something.
Next time we think of slagging Naismith off, we should remember this game, he isn't my favourite player but he worked hard all game, played intelligently, as did Pienaar until he tired.
Kev Johnson
74
Posted 17/08/2014 at 10:22:12
You'd think this was a three-game season the way some people are talking! As far as I'm concerned, it's still early doors until you've played about six games. That would take us up to the Palace game at home, by which time we'll have played one Europa League group game.
I'd be OK with a couple of draws in our next two games against Arsenal and Chelsea (which is realistic, frankly) followed by three wins against WBA, Elfsborg and Palace (which is also realistic). That would leave us unbeaten and with a good base from which to launch ourselves.

James Marshall
75
Posted 17/08/2014 at 10:38:07
I just saw highlights of the game, and from what I could see, both Leicester goals were from very lucky breaks, not poor defending.
Chill out folks, it's a funny old game, remember.
Carl Sanderson
76
Posted 17/08/2014 at 10:56:48
Yesterday Arsenal were as poor as we were, but got a lucky break (red card plus spawny ricochet on the box). If Stones had thrown himself at Wood's shot the lad might have ballooned it and we'd all be saying, "played badly and won – sign of a good team". These are the margins.
A point at a newly-promoted team on the first day of the season is a decent result, no ifs or buts.
Lukaku definitely wasn't fit: he probably wasn't expecting to do more than 30 minutes until Barkley hurt himself.
Raymond Fox
77
Posted 17/08/2014 at 11:01:38
As Mike 72 says, Stones is looking increasing dodgy in our defence, he's getting caught out too often for my liking.
Maybe time to give Duffy a run in the team, then there's Alcaraz as a other option and what about Besic?
Colin Grierson
78
Posted 17/08/2014 at 11:06:43
Come on, lads, it's a point away from home... disappointing, yes... disastrous, no.
Watch those knee jerks! I hope Ross doesn't agree, his knee's need rest!
Steve Jenkins
79
Posted 17/08/2014 at 11:24:14
Yesterday was very frustrating, especially second half.
Leicester are poor and are definitely going down, it was a big 2 points dropped. So frustrating, hoping to hold on for the win and then next week we should have more quality players available next... it was inevitable though and you could see it coming.
I agree with other comments, we didn't look fit enough, defending was poor in open play and set pieces, and this needs addressing on the training ground.
We were crying out for some changes around 60-65 mins. We couldn't keep possession and were absolutely no threat at all.
We were 2-1 up and should have gone for the throat, it was reminiscent of Moyes yesterday and we tried to survive the win and conceded.
Second half, we needed a midfielder to control the game and some pace to worry Leicester; I thought Besic should have come on and Barry/McCarthy off. Good players but too alike and both pedestrian, sometimes that's needed but you could see yesterday that needed changing in the second half and one should have been replaced by the silky and more dynamic Besic.
Pienaar & McGeady were good first half, 2nd half Pienaar was non existent and McGeady gave the ball away. We should have brought on Mirallas or Coleman/Atsu and gone for it. Instead Leicester made positive changes and it paid off; ours came way too late.
I'm a huge Martinez fan, he's done a fantastic job thus far, and I think he will long-term. However, yesterday confirmed what I think we all think: the squad is too small and lacking in the quality to get into the Champions League. And we also have the Europa League to contend with.
We're seriously lacking in creativity and pace and that's needs to be addressed next, with wingers and strikers, whether anything can be done before the window closes....
Too many non-first team players starting yesterday and we paid for it, that's largely out of Bobby's hands but the subs should have been made earlier.
I have full confidence in Bobby, realistically we need another 2 seasons (4 transfer windows – not including the end of this one) before we'll have enough of a chance to bring in depth & qualify in the squad whilst ridding the deadwood, then we should have a genuine chance for CL qualification.
Long-term, we need better footballers in the squad with skill, balance, pace and touch – in the mould of Nolito, Ben Arfa etc or off days gone by Limpar, we just don't have that type of player at this club and its needed. Obviously Bobby needs to find one with the right attitude as well, which is why it's important it's addressed asap, not just anybody.
Rome wasn't built in a day and I'm sure Bobby's aware of this and it's next on his list to Santa... but, for the time being, yesterday's 2nd half performance & Barkley getting injured serves as a reality check for the coming season. I'm still hoping we can bring home a cup somewhere which we are more than capable of.
Sam Hoare
80
Posted 17/08/2014 at 11:26:35
Lukaku needs to do more at defensive set pieces. Look at him for their first goal. He is standing closest to where the initial ball is delivered but does not move at all. We need our taller players to really attack the ball at defensive set pieces or else we will concede similar needless goals all season. As someone else said on another post Lukaku should be able to do what Jelavic did and win lots of defensive headers.
Christopher Timmins
82
Posted 17/08/2014 at 11:41:11
Folks, we will be fine, somewhere between 5th and 7th again this season. However, one thing that needs to happen during the course of the season is the introduction of a younger age profile to the back four. Father time will eventually takes its toll.
Zahir Jaffer
83
Posted 17/08/2014 at 11:25:02
On the previous thread on the build up to the game, I did say I would take a draw against Leicester and win the next two games. It is a real bummer though, being infront and getting complacent to only lose that lead.
Last season, we were best when we had to go get the win from either being down a goal or being held up with a draw, and we showed that in the last five minutes yesterday, but it was all too late then. We just can't sit back and protect a lead, especially for 45 long minutes. Everytime we do, I get the heebbie-jeebbies all over me.
Jagielka was our stand-out player, he was nothing short of abysmal and I lost count of the amount of times he couldn't deal with all those hoofed-up balls. McCarthy, Naismith and Baines were the only players who knew what they were doing throughout the game. The wingers had good patches but were atrocious second half.
Lukaku played like a Championship club's striker who lost possession more times than the whole team combined. Please, oh please get Remy.
All that talk about how Tim Howard could save world hunger or be USA's Secretary of Defence just blew right through the wind with the second goal he conceded. It was a weak and powerless shot right through the centre of the goal! Literally where the keeper is supposed to be! And he dived towards the near post in anticipation... shaking my head. His control of his defenders was quite pathetic as well. Especially with those hoofed-up balls.
All-in-all, as most of you have said, we didn't deserve the win with that pitiful performance. Especially if you count that McGeady's goal came from a corner, that never should have been. However, we definitely will step up our games against the big boys and we just need to live and learn from the opening game of the season.
Zahir Jaffer
84
Posted 17/08/2014 at 12:06:21
Sam #81 not being stereotypical or anything, but for a black guy he jumps quite meagerly.
Andrew Hawes
85
Posted 17/08/2014 at 12:01:29
If we look at all Roberto Martinez's sides, you will see that they always concede goals. If David Moyes was in charge yesterday there's every possibility we would have won that game 1-0 but we wouldn't have a prayer in the next two!
The way I look at it, we now play more expansive football which we didn't in the Moyes era, which gives us a chance of actually beating the better sides. There will be an element of "if you score 2, we will score 3" about Roberto's approach.
What is not forgivable is the timing of when we concede? First 5 minutes of a game, straight after half-time, or like yesterday a few minutes after we go a goal up. This team should be switched on 110% at these times because it has happened so often and the fault for that lies with Martinez.
Harold Matthews
86
Posted 17/08/2014 at 12:46:51
Yes Christopher, I've never liked novices at the back but one or two of our oldies are starting to creak. As Distin stated only last week. "The skill and speed of of today's youngsters is making things very difficult."
His interview was actually quite sad. Whilst predicting a great future for Everton he gave the impression that pre-season was getting harder each year and age was beginning to catch up with him.
Mike Powell
87
Posted 17/08/2014 at 13:29:57
Schoolboy defending. I don't think our centre halves won a header all game between them. We defend like that against Arsenal and Chelsea, then I worry for us.
I'm not a big fan off Naismith but I thought he was MotM – he never stopped running all game.
Sean Kelly
88
Posted 17/08/2014 at 13:35:23
Having been on the live forum yesterday and having read most of the posts today I think there was a lot of over reaction. Okay, we didn't win but overall we didn't deserve to.
My own reaction was vented at Roberto and that was a first for me. I think he waited too long before making the subs. McGeady was bolloxed by half time. Stones isn't a RB and Lukaku was clearly still on the beach. Roberto can put things right I'm sure but he did look shocked and nervy in the different interviews I saw him in after the game.
I think Besic should have been on from the start instead of Barry. Besic is a hungry tenacious player where as Barry is in the comfort zone.
We need to stay calm about yesterday and believe in Roberto. Harold Matthews is I believe the only sane person on TW and maybe Harold you will have a word with Roberto about Susic.
Raymond Fox
89
Posted 17/08/2014 at 13:35:49
I'm beginning to think our best option would be to sell our captain while he's worth a few bob, he's looking less and less like an Martinez or an England player to me.
We are looking fragile at the back, don't get me wrong I'm not doom-mongering but I'm getting the feeling we need to make a move before its too late as far as Jags is concerned, Distin can't go on forever and Stones is showing his lack of experience now. We have Duffy, Alcaraz and young Browning in reserve if needed, but Browning, who looks a likely lad to me, is not ready yet to be thrown to the lions.

Harold Matthews
90
Posted 17/08/2014 at 13:56:13
Cheers Sean. Like everyone else, I'm never sane on the live forum.
Phil Walling
91
Posted 17/08/2014 at 14:00:19
Christ! sell the captain, retire Distin, replace Stones with Duffy, get Lukaku off the beach, train McGeady to last 90 mins and as for the manager's tactics.................!!
And they say I'm a fucking misery!
Brian Furey
92
Posted 17/08/2014 at 13:52:23
I watched it live and was waiting for Stones to fuck it up all day. He needs to concentrate more.
What did you think of McGeady? His finish was excellent but he gave the ball away a few times, but then again who didn't. I was amazed Bobby didn't replace Barry with Besic. He was lucky not to see red.
I think Naisy will get 15+ goals this year. If he stays fit he knows where to make runs to and reads the game well. Atsu, McGeady and Pienaar will create loads going forward.
Raymond Fox
93
Posted 17/08/2014 at 14:09:17
You ARE a fucking misery Phil, there no argument about that old pal.
So what's your assessment of Jags? it seems to me like he's going downhill to me and my suggestion is to sell him before his value nosedives, not pleasant but business wise probably the right thing to do.
The only problem is of course is that we don't have anyone on the books that can come in and are certain to do a better job at the moment, Stones is not ready yet for me.
I do think we need to be on the look out for a good experienced ball playing centre half quick. I'm sure Matinez recognises that we have a problem at the back; when Coleman's missing were looking very jittery!
Phil Walling
94
Posted 17/08/2014 at 14:31:20
Glad I haven't lost my crown, Raymond. The missus wouldn't recognise me!
Jags may well be undergoing a loss of confidence following the flak he and Cahill suffered at the World Cup. I'm sure it will be temporary and that he will be back to his best by the time we've played three or four games.
Coleman has been so brilliant that anytime he's absent it's bound to show up. I'm just glad that he wasn't missing for months!
I'm sure the team are playing 'catch up' following the World Cup – which was just a fecking nuisance to all English clubs.
Try to look on the brightside.... we are still unbeaten!!!
Paul Tran
95
Posted 17/08/2014 at 14:09:11
In a good first half, I thought we were acceptably ring-rusty.
It was clear they would come out guns blazing in the second half. What surprised me was that we didn't come out at all. We couldn't keep the ball, string two passes together, couldn't cope with their hoofball, couldn't concentrate at the back.
Martinez has to take the rap for this one. They got a foothold in the game and the hour mark was the time to make substitutions. If some players needed 'minding', wouldn't this have made sense? Mind you, if the players are 'undercooked', no-one mentioned it to Naismith, who once again kept running, probing and had more desire than the rest of the team put together.
Lots of similarities to last season. We drifted through the second half, seemingly waiting for someone to take the game by the scruff of the neck. Barry was lucky to stay on the pitch, Lukaku had one of those days when he looked barely interested - the days that some chose to forget when we bought him. Again Stones lost his sense of spatial awareness and displayed fragile confidence. McGeady again got the McFadden award for sporadic brilliance & poor decision making.
The positives were that we scored two great goals and we didn't lose......!
Top of my wish list for the transfer window would be Martinez finding the solid, tough, comfortable on the ball centre half that a lot of teams are looking for. I'd also like him to find someone, any position, who can rally, lead, cajole, motivate the rest of them when things get tough.
For the rest of the season, we need some leaders to emerge out of these players. Either that, or we need some top man-management and sports psychology.
We were let down yesterday by a combination of a lax pre-season and way too late substitutions. For the long-term, that little sideshow is masking some real re-occurring issues in an otherwise good team. We'll get better, but if we're going to succeed, Martinez is going to have to sort these issues out.
Darren Hind
96
Posted 17/08/2014 at 13:39:50
Tony # 49
I suspect Leicester did not go for the win because it already felt like a win. They had equalised in a game they had no right to still be in. Their fans celebrated like the'd won too.
They had worked hard to get something out of the game and they did not seem prepared to risk it. I did not say this was the only reason we didn't win. I listed three reasons.
To compare our non preperation to a semi pro side returning from two weeks on the bevvy, is an insult to beer drinking semi pros everywhere. Virtually all of our players were pulling caravans after an hour. The Leicester fans were getting increasingly encouraged with every tired pass and hoof up the park. The Evertonians were screaming for fresh legs. Pienaar looked as though he needed oxygen.
Meanwhile, Martinez did nothing... You 'd think being a qualified physio, he would be able to recognise exhaustion.
The people who dismissed concerns about our poor pre-season preparation may want to deny the evidence of their own eye – they would wouldn't they? But anyone inside that stadium yesterday can tell you, we were not able to match a much fitter Leicester side in terms of commitment.
Martinez took the plaudits for every single point gained last season; he must surely carry the can for two points dropped here.

Phil Walling
97
Posted 17/08/2014 at 14:44:15
Amazes me that after just ONE game, everybody's on about the need for centre-halves. How many do you want?
We've got FIVE. Are they all rubbish suddenly?
Matt Traynor
98
Posted 17/08/2014 at 14:50:59
Phil #96, come on this is ToffeeWeb! Our pre-season was shite, so yesterday was bound to happen. I mean, Man Utd won all of their pre-season games, and, er, oh.
We all know Distin isn't getting any younger, but to be honest Jagielka is my main concern. Stones has plenty of potential, and is good at recovering situations – but unfortunately they're of his own making, and at the moment he looks like he has a Yobo-esque mistake per game in him.
One thing all the "sign this, sign that" mob forget, is we ain't got the cash now. We could always cash in on Barkley. Oh, damn, next season then!
Paul Tran
99
Posted 17/08/2014 at 14:49:35
Darren, I didn't share your views re Bobby on the telly, but you're bang on the money re the pre-season. It's not acceptable for us to be out-fought and less acceptable for Martinez to not notice and act. The more people tell it like it is on here the better.
Phil, I don't care how many centre halves we have. I'd just like at least one that's strong, comfortable on the ball and can transmit some authority to the rest of the team.
We've got a good team that'll improve and finish somewhere in the top six this season, but if we're going to kick on we need that good centre half and a bit of mental spine and authority.
Raymond Fox
100
Posted 17/08/2014 at 14:48:20
Phil, it could be I've finally lost leave of my senses, but I don't think Jags is untouchable.
The dilemma for the manager is that we naturally want to win every game, especially in the Prem, so there's no/ very little scope to play some of the young developing talent that we have in defensive positions; he's tried with Stones but the lads now showing how inexperienced he is.
Colin Glassar
101
Posted 17/08/2014 at 15:03:32
After watching yesterday's games, and today's, it's obvious that almost every team is lacking match sharpness. Everton, Man Utd, Arsenal, Spurs etc... were all below par yesterday. The RS look average today, I expect no fireworks from Man City either later on. So don't let's be so harsh on ourselves as it's still early days and nothing is won in August.
Kevin Tully
102
Posted 17/08/2014 at 15:08:20
Sorry lads, but to say an elite band of professional athletes, complete with nutritionists, conditioning coaches, doctors and physio's don't know how to prepare for the start of a season is beyond stupid.
Man Utd started the season off with 9 first team players out of action - surely there has been some over-training involved there?
Martinez should have substituted players earlier yesterday, but listening to posters on here, they have all been jogging around Finch Farm licking ice-creams as they go.
I bet if some of you actually witnessed a behind-the-scenes look at what goes on at Finch Farm, you would be shocked, and suitably embarrassed by the ale-house shouts on here.
Raymond Fox
103
Posted 17/08/2014 at 15:28:48
I agree Kevin, the management will know exactly where individual players are with their fitness and I wouldn't put our second half display entirely down to lack of it, although in Lukaku's case I doubt he was 100%, the manager probably thought a 80% fit Lukaku was better than any replacement we could field.
I don't believe there's any team in the Prem. that would start the season 100% fit + it could be Roberto's strategy to leave a little bit in the locker because we have a long season in front of us.
Darren Hind
104
Posted 17/08/2014 at 15:20:17
Paul
I think we would all love to see one of our centre backs assume command, but it's not going to happen. They are not bad defenders, but there isn't a leader among them.
I know I keep coming back to Martinez, but it's not because I dislike him, it's because I believe he can be a top top manager if he just started paying closer attention to detail.
You know we are crap defending corners and free kicks, I know it, everyone who watches us regularly knows it. So why have we not addressed it?
In the absence of a natural-born organiser at the back, Martinez should have taken control and spent much of pre-season drilling his players on their roles when we defend dead ball situations. Nobody seems to have a clue.
Bill Gall
105
Posted 17/08/2014 at 15:47:16
The major concern in the game was not who played bad or who played good. What concerns me is how well the team played in the first 45 mins and then suddenly around the 60-min mark a number of players seemed to run out of energy that affected their performances.
The problem the manager created was, despite having quite a strong bench, it took him too long to make changes. The manager said himself after the game that Everton were in control but they should have gone for the 3rd goal. As manager it was his job to do something about it and recognize the players who were running out of energy and changed the team around with substitutions to get the 3 points.
Darren Hind
106
Posted 17/08/2014 at 15:49:04
I'll tell you what is really beyond stupid; The thought that any Nutritionist, conditioning coach, doctor or Physio would have declared that our players were primed and ready to go.
What's even further beyond stupid is the thought that they had a say in the pre-season preparation.A manager can hardly work with the players in if he isn't there himself.
I wonder what the conditioning coaches made of those hastily arranged fixtures against anybody who would give us a game, or the fact that we are still conceding from corners because it still hasn't been addressed?
When I come back, I'm coming back as Everton manager, it appears you can do what you want and it will ALWAYS be somebody else's fault.
Paul Tran
107
Posted 17/08/2014 at 16:04:11
Agree with all of that, Darren. While we're at it, maybe we can remind Martinez that he won a cup with a set piece, early season points have the same value as those in April and early goals count the same as late ones?
Do we have a defensive coach?
Kevin Tully
108
Posted 17/08/2014 at 16:08:11
Darren - why don't YOU drop him a line mate, you clearly know what's wrong with his thought process:
I know I keep coming back to Martinez, but it's not because I dislike him, it's because I believe he can be a top top manager if he just started paying closer attention to detail.

You know we are crap defending corners and free kicks, I know it, everyone who watches us regularly knows it. So why have we not addressed it?
Have you ever listened to yourself?
Michael Polley
109
Posted 17/08/2014 at 16:09:39
I thought we played well in the first half. The Pienaar/Baines link-up was good to see again, but the second half was poor. We lacked concentration and our fitness level is to be questioned.
The 2 goals conceded were poor, all down to poor defending. We should've killed the game by getting a third goal. We were guilty of sitting back and trying to see the game through. It backfired on us big time. I would of liked to see Mirallas play from the start, and Besic to appear in the 2nd half.
On another note - Gutted about Barkley's injury. Let's hope he is out for weeks not months, but it doesn't sound good. Not a great start to the season, but it's a long way to go!! Keep the Faith!!!
Raymond Fox
110
Posted 17/08/2014 at 16:06:29
Darren, you haven't a clue about what our fitness regime was pre-season. So what are we paying all the conditioning and medical staff for if the manager has to see to this and every aspect of the club as well? It's called delegation. What about our assistant manager, he wasn't in Brazil as well was he?
It's beyond stupid on your part to think that Martinez would go into pre-season with no preparation worked out, that doesn't appear to be his style to me, you're as usual after any angle to beat Martinez over the head with a stick!
Mike Oates
111
Posted 17/08/2014 at 16:25:37
The problem we have is that, like any other side which had a large number of players at the World Cup, the start has come around too quickly and there are clearly players who aren't fit, players who can't last the 90 mins and overall a sharpness is missing.
Our secondary problem is that where Chelsea, Arsenal, Man City and to a slightly lesser extent Liverpool can put out teams still capable of winning their games, we cant. We rely so much on Lukaku, Mirallas, Baines, Coleman giving us the creativity, and for differing reasons three of those aren't fit. Their replacements, Stones, McGeady and no-one for Lukaku just aren't at the same level.
If we were playing bloody Stoke, West Ham, Aston Villa, Sunderland in the next two games, I would think we'd have enough, but no of course it's Arsenal and Chelsea, who again won't have fully fit first-choice players but will still have enough quality to really test us.
Kevin Tully
112
Posted 17/08/2014 at 16:32:22
They'll be OK, Mike, Martinez has just given the go-ahead for a McDonalds to built at Finch Farm.
Linda Morrison
113
Posted 17/08/2014 at 16:15:01
I wasn't going to look at the site today as I didn't want to see the overreaction to yesterday, but I couldn't resist it. Man Utd won all their pre-season games and look what happened to them yesterday.
I listened to the game on the Radio and there were a number of times that, according to the commentators, Leicester players should have been booked.
I personally think the real problem yesterday was the concern over Barkley and how long he was going to be out for. It overshadowed the game.
We had no luck yesterday and Arsenal and today LFC had it all. That will not happen all the time.
The report in today's Independent states that Jags had been a pillar in the defence, but his tackle put the ball into the eventual winners' path. Question, where was the rest of the defence?
I'm hoping that next week Roberto puts Besic or Gibson where Barkley should be and looks to bring on additional reinforcements. We have only added 1 player, Besic, to the squad. a squad that was pushed to the limit last season.
My main concern is the effect that playing in 4 competitions is going to have on the players. I know people are coming back from injury but with our luck no doubt they will be replaced by others.
Michael Winstanley
114
Posted 17/08/2014 at 16:36:55
We strolled through the second half thinking the job was done. Nothing to do with fitness levels or practicing how to defend corners.
Complacency cost us yesterday, nothing else.
Rob Halligan
115
Posted 17/08/2014 at 16:38:16
We have to ditch this 3 at the back because clearly it doesn't work.
I know it's early doors but my team for next week would be:
Howard.
Coleman
Distin
Jagielka
Baines.
Barry
Mirallas
Besic
McCarthy
Atsu
Lukaku.
Seeing as Atsu can't play against Chelsea we need to give him some game time, so play him from the start next week. McGeady gives the ball away too many times, so start with Mirallas. There has also been some criticism directed towards Jagielka, but in my opinion any mistakes he makes he can often rectify and I also think he can read a game quite well. So for me our back four should be left alone, and as I say, ditch the 3 at the back!!
Paul Tran
116
Posted 17/08/2014 at 16:46:42
Can I be clear that I agreed with what Darren said in post 105, not the bonkers rant of 107.
My guess is that everything was planned for a light pre-season with the whole of the season in mind. I think it's possible to be puzzled by this without thinking that it was done on a fag packet after the World Cup.
I'm still not happy that Leicester looked stronger than us, that we got the subs wrong, and we lack defensive organisation.
Jamie Barlow
117
Posted 17/08/2014 at 16:50:12
It's ridiculous how the same people on here keep crying when anyone dares to criticise anything Martinez does.
It seems pretty obvious to me that we don't practise defending or attacking set pieces as much as we should.
I also don't think we look anywhere near as fit as we should be and more than half of our players blowing out of their arses after an hour showed that.
Patrick Murphy
118
Posted 17/08/2014 at 16:55:50
Three at the back wasn't the problem yesterday. The first goal was from a scramble after a corner; the second goal was partly caused by Seamus being out of position in front of Stones and between the two of them they didn't cover the last bloke on the far side of the area. There were plenty of defenders around to have dealt with the situation but they didn't. It might be time to have a look to see how we can make the midfield section a little more dynamic – against the better sides, such as the next two fixtures, we'll need both in the middle but against teams that are less capable perhaps we should try a different combination.
Maybe we have to re-evaluate the capability of the team as a whole... some parts of it are pretty good, some parts are pretty poor... and it seems to change from month to month which departments are working well. But the team never appears to gel as a whole often enough. If our defence is at the races, the forwards go missing and vice versa. We have a long way to travel to get to where we want to be.
As somebody mentioned somewhere, we never seem capable of playing well for 90 minutes – a trait that the team has been saddled with for a very long period of time, and it has to be addressed.
Those lucky teams that grab those late winners or hang on to win despite coming under heavy pressure are not lucky – they are just better than most and unfortunately we fall into that 'most' bracket.
Patrick Murphy
120
Posted 17/08/2014 at 17:07:04
Jamie - you can complain until you're blue in the face about Roberto's views on set-pieces. I'm firmly of the view that set-pieces are an integral part of the game and always have been... but, as long as Roberto is Everton manager, we will have to grin and bear the lack of goals at one end and the number of goals conceded at the other. I don't agree with him but he is never going to alter his methods and he will, like any other manager, pay the price if the results go South.
From that point of view wouldn't it be healthier to support the manager of Everton FC, whoever it may be, until such time as it's obvious that his methods are having a detrimental effect on the club and its results? Let's see where we are come the end of September and then we can properly assess where we are at as a team and whether or not the manager is the right man for the club – if he isn't, then I'm not sure who is.
Rob Halligan
121
Posted 17/08/2014 at 17:06:34
Couldn't agree more, Colin. Exactly what I said last night when I got home from the match. At the end of the day, we were playing a team on their own pitch, who hadn't seen a Premier League game for 10 years and, particularly in the second half, were well fired up for it. So of course it was always going to be difficult.
We started away at Norwich last season with the same result, again a game we should have won. So, while we may or may not finish where we did last season, I can see Leicester being relegated.
But, then again, that's just my opinion, before anyone says, based on their performance yesterday, they will stay up.
Paul Tran
122
Posted 17/08/2014 at 17:13:43
Colin, I didn't make any complaints after Norwich. I thought we played well there and deserved a win. I spent the first six months of last season defending Martinez to the hilt.
Yesterday we looked off the pace and vulnerable. The subs were made too late. Leicester looked sharper and looked like they wanted it more. Defensively we were poor. That's how I saw it.
What annoys me is that we'll go on a great run, lose a game in April and that will 'cost us 4th'. People will forget about yesterday's two very gettable dropped points.
I like Martinez. Unlike under the last manager, I want his errors to be highlighted and rectified so we improve. There's so much to like about Martinez, but there's still a bit to sort out.
We'll still finish top six, playing better stuff than yesterday.
Tony Abrahams
123
Posted 17/08/2014 at 17:14:56
Darren (#97), talk about contradictions? They had equalised in a game that they had no right to still be in. I agree with that 100% mate.
Darren (#45), they might be garbage but they threatened to run us into the ground and only relaxed when they had equalised? If I agree with your first post then I can't agree with your second one, because I don't think that Leicester ran us into the ground.
There was a time in the second half when we looked like we were playing a game of possession football in training, because the game was that easy. But, for whatever reason, we never tried to score a third, which enabled Leicester to stay in the game, and feed off the fact that there was only one goal in it.
No top team will be fully match fit yet, but most top teams would have put the game to bed when they could've. It's early days but it was a stupid way to lose two points though.
Colin Glassar
124
Posted 17/08/2014 at 17:28:31
I wasn't exactly referring to you Paul and I totally agree we threw away the three points after a very poor second half show.
My point is no-one has exactly started on fire have they? It usually takes 4-5 games for players/teams to get up to speed at the start of a season.
I'd have loved to have won yesterday by 2-3 goals and I said, yesterday, that Martinez has to carry the can for not making the required subs earlier in the game and for letting the players come out (2nd half) too cocky. But it's not the end of the world, or the season, and I'm sure with a stronger starting XI next week, we will put in a much better performance.
Darren Hind
125
Posted 17/08/2014 at 16:35:04
Kevin / Raymond
Three questions for you:
I) Were our players physically wilting after an hour yesterday and did the Leicester players look fitter and stronger?
2) Do you think Martinez was taking the piss a bit when he didn't return until 4 weeks before the big kick off – given that the season finished three months ago.
3) Given how costly our inability to defend corners proved last season, did you see the slightest shred of evidence to suggest Martinez has been working with his players to remedy this fatal flaw?
Oh and here's a 4th: If you have answered questions 1, 2 & 3 truthfully... What exactly are you trying to defend?
Dean Adams
126
Posted 17/08/2014 at 17:42:22
Patrick (#119),
We scored more late goals than anyone last season. But you can't do it every time. The second half was very disappointing, but that is something to work on.
As for all this about Coleman out of position stuff that so many are suggesting, I was under the impression that he replaced the right-sided attacking midfielder, McGeedy. With that in mind, nobody was out of position and the ball being squeezed through the gap was just one of those things that happen. Stones is far better in the CB position and compared to Coleman, nobody in the prem looks that good.
Colin Glassar
127
Posted 17/08/2014 at 17:43:43
I'll try and answer Darren, probably not to your liking, but here goes.
1) Most of our players went to a major tournament, called the World Cup. The Leicester lads didn't.
2) Several top managers were at this World Cup thingy, eg, Wenger, Klopp, LVG... I believe Mourinho was there as well, probably more as it's not a crime.... yet.
3) I agree with you but he does, or should, have a coaching staff at FF who had plenty of time to work on these things.
4) I've done my best to answer you; now one for you: Why the dislike for Martinez on your part?
Kevin Tully
129
Posted 17/08/2014 at 17:43:18
Darren - You ask us to defend Martinez's actions then call everyone out as sycophantic fools if they do, so let's not get into that one.
As far as I'm aware (please correct me if I'm wrong) the manager was back with the players at Finch Farm for the start of pre-season training. If most or our players were unfit, then there is a problem, but surely all the players at the World Cup haven't been binging on Pizza for the past 4 weeks?
Didn't we have the third best defence in the League last season? So, whilst we need to improve our defending of set-pieces, it's not really the defensive disaster zone that's being painted by some, is it?
Jamie Barlow
130
Posted 17/08/2014 at 17:46:32
"From that point of view wouldn't it be healthier to support the manager of Everton FC whoever it may be until such time as its obvious that his methods are having a detrimental effect on the club and its results."
It's already happening. Are they not having a detrimental effect on the club and its results now? How many points have we lost because he doesn't believe scoring from set piece is the proper way? How many have we lost because we seem unable to defend set pieces?
Patrick Murphy
131
Posted 17/08/2014 at 17:43:16
He wouldn't let it lie, he'll never let it lie. Darren, let's see how fit Leicester City are in December and January and conversely how fit Everton appear to be. Roberto working for ESPN has absolutely no bearing whatsoever on the fitness of the Everton squad.
BTW if Roberto had have spent all pre-season at Finch Farm exactly which players would have benefited from all that training that you advocate? Howard, Mirallas, Baines, Jags, Stones, Lukaku – none of whom were in the country from the moment they joined up with their national teams for pre-World Cup games through to the middle of the tournament. The World Cup Final was played on 13 July so to give you the benefit of the doubt the players may have been available at the end of June – but the players need a break from football for a holiday and therefore you would expect them to start pre-season around the middle to end of July... which I think is what happened.

Patrick Murphy
132
Posted 17/08/2014 at 17:58:06
Jamie - how many points did an Everton team led by the management team of Roberto earn last season? A record number for the Blues in the Premier League.
I believe so far he has been an asset to the club but, if we end up lower half of the table come the season's end, our results will have gone backwards and then it will be proper to give him stick. At the moment, I don't believe we can – that's not to say we can't point out things that concern us.

Jamie Barlow
133
Posted 17/08/2014 at 18:01:44
Exactly Patrick. I'm sure it's ok to point out things that concern us without being told that we have a dislike for Martinez.
We might have had a record points total last season but I still think it could have been better in hindsight if we could defend and attack set pieces. It seems to me no matter how many times we concede from set pieces or fail to score, we do nothing about it.
Patrick Murphy
134
Posted 17/08/2014 at 18:09:00
Jamie — and that's down to Roberto's management style and footballing philosophy. Suck it up dude, as the Americans might say.
Paul Tran
135
Posted 17/08/2014 at 18:07:57
Patrick. Nail. Head.
I do think some people need to realise that recognising Martinez's few shortcomings is different to blanket criticism.
There was an unhealthy culture of blind faith in the previous manager, which I don't want with this one.
Paul Hewitt
136
Posted 17/08/2014 at 18:13:50
All teams aren't match fit this early in the season.
Jim Knightley
137
Posted 17/08/2014 at 17:58:25
Some points:
For those defending pre-season; We were the only team in this league not to win a match. That statistic is irrelevant to a degree, because as many will rightly argue, pre-season results are irrelevant; but it was not the results but the performances which were of concern. We are behind were we should be, and where other teams are. We got tired in the second half. It's natural to be behind at this stage of the season. Really, we've had to start a week earlier than we should have (I've no idea why they can't start the league a week later and end a week later? The only summer tournament will be the Under-21s). But why are we looking more tired than other teams? More tired than a Swansea side who had very little possession? More tired than a Palace side who had barely any possession? The pre-season forebodes this result, and this performance. Notably some of those criticising posters who in turn criticised pre-season have disappeared.
Next: Calling for Duffy instead of Stones is madness. I'm really surprised at the surprise about Stones's shaky performances. He often looked dodgy last season, but he got away with it on multiple occasions. Stones is not a top class player yet, and anyone with that conception should have paid more attention last season. He is a very good prospect, and like any good prospect, needs time. He will make mistakes. It is a risk playing him this early. But it's a risk we need to take, and Alcaraz does not fill me with more confidence and Duffy certainly does not. Stones can become a first team fixture for years to come, but we will have to be patient for a season or two yet.
Next again: Martinez's role as a pundit for ESPN had nothing to do with the fitness of the players. He will delegate fitness issues, and arrange them with his staff. I think Martinez is at fault for our slow start however, because he is not the hard-arsed type who will get players ready for mid-August. That said, I don't think players should be overworked either, and the care taken by Spurs, Man City and Arsenal (among others) over World Cup players illustrates that he is not alone in his careful approach. I'm nonetheless disappointed to see certain players looking tired. I think it's acceptable that Mirallas and Lukaku will take a while to get up to speed, but some others should be fitter than they are.
We can't disregard yesterday, because it is points dropped. If Chelski win tomorrow, which they probably will, we will have been the only team from last season's top six to drop points in their opening fixture. But, it is only the first match of 38, and a win against Arsenal next week will completely alter our perception. That said, I do not think we are ready for Arsenal. We should have a massive advantage: We have largely the same squad as last season, we had no players involved in the World Cup Semi-Finals and Final or 3rd-place play-off, whilst Arsenal have a Champions League qualifier in mid-week in Turkey and their Germans haven't even been training for two weeks. In spite of that, I'm not confident.
But, Martinez and Everton have surprised me in the past, and they can do it again. Next week is massive. The reverse fixture last season was a symbol of everything good about Martinez's Everton: If we lose it, it will be a big blow, and Chelski away won't make it any easier. We cannot lose, and ideally, will win.
Colin Glassar
138
Posted 17/08/2014 at 18:27:29
Jamie B, hindsight is brilliant, do you think he could be our next manager?
Sean Kelly
139
Posted 17/08/2014 at 17:41:28
I am with you there, Colin, and I will agree with Darren on one point. We really don't have a leader on the pitch. Jags is a nice decent bloke but is far too quiet to lead the team. In fact, there isn't a guy in the starting eleven that will give a rollicking when needed.
Jags should have been directing Stones to keep position as he was all too often coming onto the centre-back position to defend. In doing this, he gave Woods too much space for the second goal.
I reckon Roberto will get it right for next week as I think he looked a bit shocked in his interviews after the game.
Jamie Barlow
140
Posted 17/08/2014 at 18:39:16
It is brilliant Colin. It doesn't make the slightest bit of difference if you don't do anything about it though. Does it?
Amit Vithlani
141
Posted 17/08/2014 at 18:31:21
Defensively we were all over the show. In the first half, Distin and Jagielka looked unable to win aerial balls against Leicester's front two; in the second, they got caught out of position so many times we were rather fortunate that Leicester did not have any front player capable of exploiting the spaces properly.
Barkley's loss is extremely painful and whilst McGeady put in another extremely encouraging shift, much will rest on the shoulders of Big Rom. I thought he did really well yesterday. His link up play was good and his pass to Baines for our second goal showed he is learning to pick out team mates. The more I watch him, the more I realise we have a player with some serious potential.
Barry played as Barry does and Pienaar and McGeady were the big surprises for me. McGeady looked lean and fit and clearly has an eye for goal whilst Pienaar was brilliant at ball retention.
The biggest disappointment was McCarthy. He looked unfit, his mind perhaps elsewhere, and we did not see the energy we have become accustomed too. Besic may get a start sooner than we thought.
Overall, we must improve defensively if we are to repeat last season's form. Attacking wise, despite Barkley's injury, the signs are there that we have the creativity to get goals. If we tighten up defensively, we will take some stopping, particularly if Big Rom blossoms under Bobby's tutelage.
Kevin Tully
142
Posted 17/08/2014 at 18:44:00
Wenger makes some valid observations regarding preparation. Let's be honest, we know next to nothing about what's required, so it's useless arguing what we should or shouldn't have done. Let's leave this one to the pros.
"You look at the results last week for example in France. PSG played a draw at Lens and Monaco lost at home to Lorient. Thiago Silva is out for a month, David Luiz is injured as well. If you don't give players enough holiday or enough build-up in their preparation and play them straight away then they get injured.

"I have had the experience of post-World Cup years and they are always difficult years to get everyone back to the same level. It's difficult for everybody. It's a bit levelling. Until everyone gets going, it could take some time for some clubs."
Colin Glassar
143
Posted 17/08/2014 at 18:50:51
Jamie, I imagine they do practice defending from, and attacking, set pieces but, when players turn off on the field, there's not much the manager can do bar replacing them with players we don't have.
I clearly remember the Naughton free kick at Spurs when no-one picked up Adebayor on the far post, or the Van Winkel goal. These are things the players have to be aware of, it's not necessarily the manager's fault.
Darren Hind
144
Posted 17/08/2014 at 18:17:50
Colin#128
Fair play we all hve differing views.
On your first answer I think you are stretching thigs a little. The England players finished weeks ago and some of the others played so little football in Brazil, you'd have missed it if you blinked, Besides; Distin, Barry, McCarthy, McGeady and Pienaar didn't get near Brazil yet they were all blowing out of their arses yesterday; only Naismith looked fit.
Your second point is an interesting one. You're right of course Robbie committed no crime by going to work for ESPN, but was he giving his best for EFC? Of course not, To be honest, mate, I don't see how he possibly could have. The suggestion that he has accomplished as much in four weeks as he could have done in eight makes no logical sense.
I would take your point a step further and ask are Evertonians who expect 100% from their manager wrong? By asking the question, have they committed a crime?
In answer to your question, I don't dislike Martinez. I DO dislike the fact that history is begining to repeat itself and once again the manager can do no wrong, that any criticism is greeted with howls of indignation, that people are prepared to blame any player before contemplating the possibility that he has dropped a bollock or two.
I wouldn't swap Roberto for anybody, but that doesn't alter my belief that he cost us two points yesterday.
Things will get better, of that I'm sure, but we won't get those two points back
Tony Doran
145
Posted 17/08/2014 at 18:53:07
Best thing about having Lukaku on loan last year was the fact he was only on loan. Now we bought him for 㿈m. Now I know that over the course of the season he will do some very good things but too few and far between. FFS hard work should be a given, look at Naismith he's not the most gifted but his work rate puts Lukaku to shame.
Colin Glassar
146
Posted 17/08/2014 at 19:01:22
Fair do's, Darren. Of course we have a right to differ – that's what footy fans do. I'd just like to finish by saying I've overdosed on football this weekend and (a) nobody has impressed me so far; (b) several top players look sluggish; and (c) you're right, it was two dropped points yesterday and for some reason, that I can't fathom, we are notoriously slow starters. I don't know why but it seems to be in our DNA.
ps: I still have high hopes for the season despite yesterday's failings.
Jamie Barlow
147
Posted 17/08/2014 at 18:55:37
Of course not. It's everybody's fault. Players, coaches and manager. The problem is, it doesn't look like it's being sorted.
Maybe I'm being too quick to judge after one game. We might not lose a goal from a set piece again this season and score loads. If that's the case, I apologise in advance but I can't see it. As Patrick says, it's down to Roberto's management style and footballing philosophy.
Ajay Gopal
148
Posted 17/08/2014 at 18:56:34
Amit (142), a good summary and pretty much how I feel. Rob (116), why in the world would you drop our 2 goal-scorers for the next match? I am quite sure Martinez wouldn't go with that team, barring injuries. My team:
Howard
Coleman Jagielka Distin Baines
McCarthy Barry
McGeady Naismith Pienaar
Lukaku
Subs: Besic, Atsu, Mirallas, Osman, Alcaraz, Stones, Robles.
Naismith is a highly under-rated player – he does what Cahill used to do for us: tireless running, troubling defenders for 90 minutes, winning headers, plus good goal-scoring feet.
We have an exciting team and I sure Bobby's hand has been forced by Barkley's injury. Expect a loan move from one of the Spanish/Italian clubs.

James Martin
149
Posted 17/08/2014 at 19:09:11
I've said it a thousand times, we'll never win anything with the Jagielka - Distin partnership. The two of them do not work well together and cannot deal with the high balls. The best partnerships of the last few years have been Jagielka - Lescott, Heitinga - Distin, Stones - Distin. These partnerships got strings of results.
When put under pressure Jagielka Distin cannot deal with it and will always give away a chance which is invariably punished. On our 7-game winning streak last year with Stones at the back we would go 1-0 up at places like Sunderland and you felt we'd hold out. Yesterday was just Norwich, Fulham, Newcastle at Goodison, all over again. It's always 2-2, it's always from a set piece and it always seems to be when Jags and Distin are playing.
Colin Glassar
150
Posted 17/08/2014 at 19:19:22
You might have a point, James, especially about Jags. Ever since his injury last season he's been off his game. He now gets bullied by big forwards, constantly out jumped. He also had a terrible summer in a poor England team and he has been ripped apart by the media so his confidence might be low. I'd still give him a few more games to get up to speed; if not, I'd drop him and go with Stones.
Paul Hewitt
151
Posted 17/08/2014 at 19:20:52
I do on't think you can blame Jags and Distin for the result yesterday — the whole team never turned up second half. And for our 㿈 million superstar... move your arse more in a match! I wouldn't give you 㿈 on yesterday's showing.
Denis Richardson
152
Posted 17/08/2014 at 19:22:27
Game is done and dusted; whilst it's disappointing not to have beaten a lower league team, at least we got a point away from home. Hopefully a lot of cobwebs have been blown away and the team will put in a better shift over the 90 mins next weekend. Nice to also score a couple on the first day.
Barkley being out till next year is a big blow but at least Martinez has a couple of weeks to try and sort out a signing or two (loan or permanent) to try to fill the void. We need to forget him and make do as best we can until the new year.
Next game is always the most important and, if we're serious, this season we must get a result against them. Given our injury history, I am going to wait until Friday before trying to guess what the side will be.
Not all doom and gloom but boy would 3 points next weekend make the world seem a much better place....
Paul Hewitt
153
Posted 17/08/2014 at 19:32:21
I don't think any team has impressed this weekend...
Raymond Fox
154
Posted 17/08/2014 at 18:03:20
Darren 126,
Question 1: — First of all, to say they were wilting is subjective; then, as Patrick says, there were 6 of our 1st choice players involved in the World Cup so they were entitled to a few weeks off.
Leicester, as far as I know, were free of such complications and would be as fired up as much any team can be in their first Premier League match in front of their hostile home crowd.
Then you have to take into account how much our team took out of themselves bossing the 1st half like they did.
Question 2: — No I don't think Martinez was taking the piss; you're surely aware that phones in the shape of land and mobiles exist, along with the internet, so as far as being in touch is concerned there wasn't any problem. He has an assistant manager and the rest of his staff to carry on if he's away.
Question 3: — Maybe the defence as a whole are not very good ability-wise at marking players? I seem to remember we were not too hot when Moyes was here in the last few years.
As I said before, we have the two most experienced centre-halves in the Prem. If they don't know how to defend corners by know, well they must be thick. It's not rocket science, is it? What great words of wisdom can Martinez give them, each take a man or defend that area!
Anyway, you're not telling me that Roberto will not want to point out when we give soft goals away and where we need to improve defensively.
Your Question 4: — Because I disagree with the points that you're making, Darren.
Rob Halligan
155
Posted 17/08/2014 at 19:23:09
Ajay, were you there yesterday? The amount of times McGeady gave the ball away, as well as some of his passes which were hospital passes, was frightening. Just because he scored doesn't warrant him a place in the next starting eleven.
Granted, Naismith does a lot of hard work, lots of running etc but, for me, I think he makes more of an impact when coming off the bench. The team that started yesterday lacked pace down the flanks; if Atsu is as quick as he says, then I would start him.
Peter Bell
156
Posted 17/08/2014 at 20:17:39
I totally agree Rob, McGeady's overall performance was poor, a class finish does not paper over the cracks
Carl Sanderson
158
Posted 17/08/2014 at 22:39:22
Paul 152,
"And for our 㿈 million superstar... move your arse more in a match! I wouldn't give you 㿈 on yesterday's showing."
Had Barkley not been injured, Lukaku wouldn't have played. He's clearly not match-fit. Leave it until mid-September before forming your judgement, mate.
Tom Bowers
161
Posted 17/08/2014 at 23:10:58
Some really good comments here but also some big over-reactions especially being the first game. Didn't the same happen last year after the first game at Norwich with the same score and look how happy everyone was after such a turnaround season.
Okay, it is a big disappointment throwing 2 points away with 4 minutes left and then other teams getting 3 points with late, late, goals but Everton will get their share.
RM got some good insight on who's who after that game especially those who didn't show consistency over 90 minutes. Like many, I thought he could have used the two new boys in this game at some point but almost certainly they should have been able to shut up shop with 5 minutes to go.
Leicester will get hammered by a few teams this season, make no mistake, and it was unfortunate the Blues had to play them first and at their ground but still there was no excuse for not holding on. Hopefully the new boys will see some action soon and the victories will come.
Max Wilson
163
Posted 18/08/2014 at 14:40:07
Well now, you are all correct some of you! I had to have a laugh when our two pedestrian players managed to score. And almost no-one has picked them for Saturday.
World Cup and late returns have buggered up our pre-season and fitness levels are not there yet, for almost everyone, and it would show for the older players, and it does. Roberto made some terrible decisions second half – we should have had subs on early. Wes Morgan had Luke in his pocket all afternoon, 30% of Naismith's passes were inaccurate. But Stones and Distin did alright. Jags had his hands full with 'Ullo, McCarthy and Barry looked good. Leighton was getting forward a lot.
Overall, we can do a lot better, as has been said by you all. See you Saturday! Whenever my mate Chris and I get up to Goodison we win. How's that?
Paul Andrews
164
Posted 18/08/2014 at 15:56:11
I thought we played some good football for large parts of the game. Have to disagree completely that the manager tried to shut shop and hold on.
Why would you bring a forward on if you were looking to do that?
Darren Hind
165
Posted 20/08/2014 at 05:46:47
So Raymond
Despite the fact that Stones, Barry, Distin, McCarthy, McGeady, Naismith and Pienaar Havent kicked a competative ball since May... we still had six players in our starting eleven that were struggling because of the World Cup?
Martinez had no cause to be at FF because he could always have integrated the youngsters and gone through a few routines and drills etc with his remaining 17 players on the on his Nokia.
And Roberto would be pissing against the wind trying to put a stop to those needless goals we concede from corners or free kicks, because despite pulling the entire team back into our area every time we defend one, we'll never really be able to defend them because our two seemingly intelligent centre-halves are actually err... "thick".
Who knew ?
---
Add Your Comments
In order to post a comment, you need to be logged in as a registered user of the site.
Or Sign up as a ToffeeWeb Member — it's free, takes just a few minutes and will allow you to post your comments on articles and Talking Points submissions across the site.
© ToffeeWeb