Everton vs Arsenal
Match Preview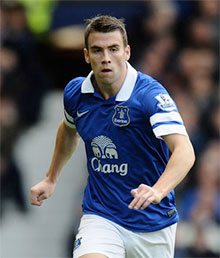 Seamus Coleman is in line for his first start of the new season
In comfortably breaking Everton's Premier League points record in his first year in charge, Roberto Martinez set the bar very high in a number ways for this season, not least with some big performances and handsome results. The stunning 3-0 demolition of Arsenal last April, with the tactical masterstroke that underpinned it and the sheer collective desire of players and fans alike to deliver a statement to the Blues' closest rivals for a top-four spot at the time, was one such game and the same fixture has arrived very quickly in 2014-15.
In terms of timing, it's unlikely either team will be thrilled to be facing the other in only the second match of the campaign but Arsenal, having already played the Community Shield and a Champions League qualifier on top of their opening day fixture against Crystal Palace, might feel the better prepared.
Everton, though still reeling perhaps from the loss of Ross Barkley, may feel they will have benefited from the opportunity to focus on the training ground at Finch Farm rather than travel to Turkey to grind out a 0-0 draw with Besiktas like Arsene Wenger's men. And they, too, will have to make an adjustment due to injury after Mikel Arteta sprained an ankle in that match, although there is plenty of depth there to cushion the blow.
The Gunners won their opening Premier League match against Palace but despite all the glittering talent in their ranks, including new signing Alexis Sanchez, they looked less than convincing and needed an injury-time winner from Aaron Ramsey to grab the three points. That bodes well for the Blues who will know they stand an excellent chance of chalking up their first win of the season if they can tighten up at the back.
Two sloppily-conceded goals denied Everton three points they largely deserved at Leicester but a home game in a late-afternoon kick-off in front of a full house should provide the extra shot in the arm needed for the players to raise their game and push through any of the second-half fatigue that was evident at King Power Stadium last weekend.
Though Barkley was a key component in a swashbuckling Everton performance in April's victory over Arsenal, he was not included in the starting XI by his manager that day but was introduced after just 10 minutes following an injury to Leon Osman. Martinez will have to do without him completely this time around as he mulls his team selection and strategy against foes who will be wary of the three-man forward line he deployed against them to such devastating effect last time.
Rumours that Romelu Lukaku is a doubt through an unspecified injury have seemingly been dispelled so the assumption is that he will start and all eyes will be on what sort of role he is asked to play given how effective he was raiding in from the flank in the Blues' win in April. Given that the Belgian can be unstoppable on his day, Martinez could have the audiacity to line up his forward line the same way and have the same effect but Lukaku's lack of match sharpness might still be an issue.
Also expected to start, despite Martinez's coyness in his pre-match press conference on Thursday morning, is Seamus Coleman who showed that he has recovered from a minor hamstring problem by coming on as a late substitute against Leicester last week. His pace, energy and defensive prowess were sorely missed against the Foxes, underlining just how important he is to the way Everton currently play.
He will likely replace John Stones in the back four, while Kevin Mirallas, another substitute who saw action last weekend, is a good bet to start in place of Aiden McGeady on the right with Steven Naismith continuing in the forward line. Both Mirallas and Coleman got further tune-up minutes in a behind-closed-doors friendly against Fleetwood earlier in the week which should increase their readiness for their first starts of the new campaign. Darron Gibson has been passed fit but the Blues could be otherwise unchanged.
As it was a few months ago, a win over an Arsenal side which has been strengthened over the summer, would be a massive result and would extend Everton's unbeaten run against the Gunners — a team against which they still have a poor record since 1992 — to five matches.
Unlike last time, Wenger will have the likes of Aaron Ramsey and Mezut Ozil available, two keys to his midfield, and while Theo Walcott remains sidelined with injury, the talented Sanchez is, potentially, a superior option on the right flank, albeit one still feeling his way into the Premier League.
Again, that means the onus will be on Everton keeping things watertight at the back and starting with a high tempo going forward. They had Arsenal on the ropes by half-time in April before finishing them off with a knockout blow in the second half and you get the feeling a similarly intense first hour is going to be required this time if they are to repeat the feat.
Referee: Kevin Friend
Kick off: 5.30pm
Full coverage: ToffeeWeb Match Reports
Reader Comments (85)
Note: the following content is not moderated or vetted by the site owners at the time of submission. Comments are the responsibility of the poster. Disclaimer
Sean Kelly
1
Posted 22/08/2014 at 16:59:34
Here's my team to start tomorrow:
Howard; Coleman, Stones, Distin, Baines; McCarthy. Barry; Pienaar, Mirallas, Atsu; Lukaku.
Jim Bennings
2
Posted 22/08/2014 at 19:48:37
The first of two huge Goodison evenings and we must surely make sure we win one of these two.
Despite our strong home record last season we have lost two of our last three games at Goodison conceding six goals.
We need Seamus Coleman fit so badly.
We need to get off to a strong start with same kind of tempo and intensity that walloped Arsenal in April, we need to scare Arsenal under the evening air at Goodison Park.
We need to start holding on to a lead more doggedly.
We need to cut out conceding sloppy schoolboy goals when under little pressure.
We DEFINITELY need to stop conceding goals from setpieces, corners, free-kicks etc, it's becoming so frustrating because it always used to be one of our strong points but the last two years it's crept in almost alarmingly unnoticed and reared its head again last weekend at Leicester.
Finally we need our big players to have big games...that means not carrying a below par Romelu or Kevin Mirallas if he starts.
Big players win you big games.
Mark Frere
3
Posted 22/08/2014 at 19:51:07
Hopefully Coleman and Mirallas will be back in the starting line-up. The Pienaar/Baines combination looked back to its best against Leicester but without a threat on the right side we can become a tad predictable against better opposition.
Personally, I'm quite excited by the partnership of Lukaku and Naismith. Naismith doesn't have the technical ability of Barkley but he does have excellent movement around the box, works hard and most importantly, he scores goals. I'm confident that if Naismith starts on a regular basis his goal tally will easily hit double figures by end of season.
I expect us to line-up like this:
Howard
Coleman Jags Distin Baines
McCarthy Barry
Mirallas Naismith Pienaar
Lukaku
Hopefully, Distin and Jags 'horror show' last week won't be repeated.
Jackie Barry
4
Posted 22/08/2014 at 20:26:10
I would love it to be
Howard
Coleman
Stones
Distin
Baines
Atsu
Barry
McCarthy
Mirallas
Besic
Lukaku
That for me would give Arsenal something to think about, yeah it won't happen but would be nice. Besic I feel has the ability to create behind Lukaku and would link up well.
Jim Bennings
5
Posted 22/08/2014 at 20:42:22
Mark
The Jags and Distin "horror show" has been all too frequent over the past two season's sadly.
I don't mind admitting that just seeing those two at the back at times has had me shaking, every time time we concede a corner you almost feel it's like conceding a penalty such is the lack of assured leadership when defending.
Its up to one of our defenders to stand up and start barking orders out, ala Dave Watson, John Terry for example.
What gets me is why when defending corners don't our players run and attack the ball rather then allowing the opposition players to do just that while all of our players remain static for a standing jump.
Any good defensive coach knows that you have more chance of winning a header from running and gaining momentum rather than a static standing jump.
Lets just watch how we defend corners tomorrow and study this.
Kieran Riding
6
Posted 22/08/2014 at 20:50:47
Lukaku is fit to play.
Kieran Riding
7
Posted 22/08/2014 at 20:54:53
Coleman and Mirralas came through the behind closed doors game ok the other day too, so I'd expect them to play, although Atsu did score a couple so I wouldn't be surprised to see him at some point.

Brent Stephens
8
Posted 22/08/2014 at 21:08:02
Mark #2 team for me.
Earlier subs than last week if not going well. Besic, Atsu...?
Dick Brady
9
Posted 22/08/2014 at 21:20:49
These are the type of game where a 㿈 million striker should shine and prove his worth.
Got a good feeling about this one. Everton 2-1 Arsenal.
David Greenwood
10
Posted 22/08/2014 at 21:24:38
Just a few months ago since we hammered them. We need to get that level of intensity, aggression, self belief and bloody good football going again and tomorrow is as good as place as any to start.
We know they don't like it when you get in their faces, Wilshere/Giroud at al, off squealing like little girls to the ref.
2-1 win for us tomorrow, big game needed and coming from Rom, both goals for the big fella.
Lets do this.
Ian Bennett
11
Posted 22/08/2014 at 21:15:50
Same again for me. I'd go with Lukaku on wide right again, with Gibbs out injured on their left. Naismith permission to buzz around the centre halves, and Mirallas getting after Debuchy. Arsenal have a fine front six, so getting after Monreal and Debucy will be key to any hint of a win.
Howard
Coleman
Baines
Stones
Jags
McCarthy
Barry
Mirallas
Pienaar
Lukaku
Naismith
Paul Hewitt
12
Posted 22/08/2014 at 21:35:46
We need to get 3 points tomorrow because we've no chance off beating Chelsea next week.
Anthony Gee
13
Posted 22/08/2014 at 21:40:11
Let's get at them because they're gonna give us much more space than Chelsea will so we've gotta go for it. I'd start with the following team cos we need an early goal and need players who won't shit themselves in front of goal
Howard
Coleman Jagielka Distin Baines
McCarthy Barry
Mirallas Naismith Atsu
Lukaku
Coyb!
Harold Matthews
14
Posted 22/08/2014 at 21:13:59
Besiktas got stuck in hard and fast and kept it up. Not sure we can do that but Arsenal didn't like it. They certainly didn't like Ba and I hope our own big fella gives them plenty to think about. Without Arteta they won't be as well organised and I'd love to see Atsu and Besic in attacking positions at some point. Sticking the young Bosnian in a DM position would be very risky (especially with this ref).
Time for Roberto to put his three post Brazil words into action. Dynamic - Intense - Brave. Let's go for it.
Alex Trevalyn
15
Posted 22/08/2014 at 22:18:55
Hi Harold just got the bearskin off the head, at Buck Palace all bloody day!!
I couldn't agree with you more re Ba, a real handful... and they are there for the taking..
You take care, mate...
Jamie Crowley
16
Posted 22/08/2014 at 22:23:06
I doubt Besic will start, but I certainly hope he features at some point.
I'm very excited about this kid and I think he could come on and play well in a big game.
Also hoping the crowd is raucous and gets behind the team in a major way.
Trevor Lynes
17
Posted 22/08/2014 at 22:26:43
I just hope that we can get a glimpse of Besic and/or Atsu at some time during the game. Atsu is a direct runner and likes to take fullbacks on. He is the type of winger defenders do not like. Also, when Lukaku plays, he comes back to make defensive headers at corners for the opposition. He would be a big help to our defence at corners and set pieces. Drogba was the best defensive striker in the Premier League, so big Rom should be capable, I'm sure.
Mark Frere
18
Posted 22/08/2014 at 22:53:29
Jamie, I think we will have to wait until the Europa League and League Cup before we get a proper glimpse of Besic. I agree though, he looks a very exciting prospect... him and Gibson in central midfield for the cup games I would expect. I've always rated Gibson and perhaps Besic will become too good to simply ignore for the PL games as the season progresses.
Harold Matthews
19
Posted 22/08/2014 at 22:56:46
Cheers Alex. That was a real tough stint. Hope you get a good rest tonight.
Dan Brierley
20
Posted 22/08/2014 at 23:02:04
At the match tomorrow for the first time in nearly a year, absolutely buzzing and will be full of confidence after a shit load of ale. Bring it on.... COYB!
John Malone
21
Posted 22/08/2014 at 22:52:25
Heart says a repeat of last year's performance; head says a very different game.
Ramsey came on for the last 10 minutes last year and looked a cut above. Arteta for me was their weak link with his lack of strength and pace, and him not playing is a blow.
I just hope we can take it to them at a high tempo, get the crowd going, get in front and keep it that way.
Hopefully we'll get see some of Atsu's pace up against Monreal; McGeady for me is not a player to be relied on in big games – he's too hit and miss. Saying that, he'll probably prove me wrong and score a whopper.
James Flynn
22
Posted 22/08/2014 at 23:32:08
No special lights hanging off Arsenal. Same as both games last year.
Attack, attack, pause for a deep breath, and attack some more.
Fuck them.
Sam Hoare
23
Posted 22/08/2014 at 23:51:13
Little chance of repeating last year I feel as we aren't 100% sharp yet from what I saw last week.
I'll settle for any sort of win, even an undeserved one just to get some points on the board and get some momentum.
Philip Holding
24
Posted 23/08/2014 at 01:31:56
Love the way people are saying "stick Lukaku wide right again" as everything will happen the exact same.
Wenger will not set them up the same way...
Kieran Kinsella
25
Posted 23/08/2014 at 01:39:50
All this ya all of last year but let's not forget there were three very different games against them. When we won, Ramsey was out while we had our best line-up. This time, Ramsey is in, Barkley is out, and Rom, Mirallas and Coleman are all working themselves up to speed having played very little of late. In the circumstances, a draw would be an OK result but, if we are serious about smashing the glass ceiling, we need to win games like this all the time and not just once in a blue moon.
James Flynn
26
Posted 23/08/2014 at 02:28:37
Sam, Kieran - Fair enough.
It's early season for them too, though. So I'll stand on mine.
Attack them, attack them, attack them. They respond poorly to it.
Bob Parrington
27
Posted 23/08/2014 at 05:02:35
Jim Bennings #4. Right on Jim. Every time there is a free kick where the ball is going to be crossed in to the area, I shake with trepidation. It goes back beyond the two years though. I've been saying for donkeys years we need two commanding central defenders, who can attack the ball in the air, rather than close their eyes and hope for the best. This is our weakness – Rule No 1 – attacks win games, defences win tournaments!
Mark Andersson
28
Posted 23/08/2014 at 05:21:58
I'm a realist so a draw would be a good result. We will pay for last week's mistakes.
Ajay Gopal
29
Posted 23/08/2014 at 05:39:00
Most of you here seem to think that McGeady is not good enough to start. But why would you want to leave out a guy who scored a beauty in the previous game? Just doesn't make sense and I am sure that Martinez will have him in the starting XI. So, I think the only change will be Coleman in for Stones:
Howard
Coleman Jagielka Distin Baines
McGeady McCarthy Barry Pienaar
Naismith Lukaku
Yeah, boring I know, but a good team to start with. To change things around, we have Mirallas to come on in the 60th minute for Pienaar/McGeady, Atsu for McGeady/Pienaar around the 70th minute and Besic/Gibson on for Barry/McCarthy (if we are leading 2-0).
Their team would look something like:
Schezny
Monreal Mertesaker Koscielny Debuchy
Oxlade Ramsey Wilshere Cazorla
Sanchez Giroud
Formidable looking line-up, and their wide mid-fielders are better on paper, but our full-backs are better on paper. If the crowd is up for it, we should nick it 2-1.
Darryl Ritchie
30
Posted 23/08/2014 at 05:52:58
If we play like we are capable of playing, a win is a definite possibility. If we play like we have been playing, a draw would be a good result.
Darren Hind
31
Posted 23/08/2014 at 07:17:15
I like James Flynn's post, but I think Martinez got the balance just about perfect in last year's fixture, "Cobra football" as the the arl fella who sits behind me call's it.
We know Arsenal will come at us and if we can counter anywhere near as well as we did against them in the first half last year, we will be in business.
Coleman a must for me, we don't want to become too predictable by relying too heavily on the left. If I thought we could win it in the first half like last year and we were able to repeat some of the "Ole" stuff we produced in the second. I'd pay twice. Can't see it happening though. This is a much better Arsenal team.
The crowd has a big part to play tonight. I'm going for an Everton win.... just!
Jim Bennings
32
Posted 23/08/2014 at 07:52:42
Bob
Glad you have noticed it too.
I had a bit of spare time one night during July so watched a re-run of the season review of 2012-13, David Moyes's final season, and I noticed it, the sheer amount of goals we shipped by hoofed corners or deep free-kicks into our box, just absolutely slaughters our defence.
I would actually like to see which team over the last few years has conceded most goals from set-pieces because I'd bet my bottom dollar we'd be near one of the worst.
The thing is as well we are totally hopeless from attacking set-pieces too, we hardly even win aerial duels yet alone score from them. It's something I hope we have worked on during the summer but judging by last weekend it seems to have started already.
Jagielka and Distin always look so jittery with the ball at their feet and not a great deal more confident when high balls come in at them.
Harold Matthews
33
Posted 23/08/2014 at 08:32:57
Yes Jim. We've also had a few keepers, including the last two, whose feet seem super-glued to the goal-line at set pieces. The headers and tap-ins from one yard made me ill. (I seem to remember Kone getting one...)
Michael Penley
34
Posted 23/08/2014 at 08:53:53
I think we'll thrash them again. 3-0 and we'll see our first glimpse of Besic's talents.
Sam Fitzsimmons
35
Posted 23/08/2014 at 08:55:46
I know it's only the second game of the season but if we don't win this game then I'll be lowering any expectations of a possible top 4 finish. These home games against contenders for a CL berth are absolute must wins for a whole host of reasons that go beyond the three points.
The psychology of a win over a top 4 team particularly this early in the season sends out a statement of intent, it breeds a winning mentality, an arrogance if you will, it sends out a message to Chelsea "Welcome to Goodison". If we are going to do something this season this is a marker for us.
Denis Richardson
36
Posted 23/08/2014 at 09:13:05
Tough to call the line-up in AM given both McGeady and Naismith scored last week. However, I'd prefer to stick to the better players and start with Pienaar, Mirallas and Atsu – won't happen as Atsu will likely start on the bench.
All the players need to be up for this and get at them from the off to have any chance. There's little chance of stopping them scoring if we try to just keep it tight at the back. Baines needs to have a good game against Sanchez and Rom needs to give their CBs a really tough game.
I am nervous of this game coming so early in the season but their players will also be rusty. Hopefully a packed and rocking GP will help to get us over the line with 3 points.
Chris Davies
37
Posted 23/08/2014 at 09:45:44
Has anybody got a spare ticket for this one please?
Chris Davies
38
Posted 23/08/2014 at 09:46:58
Oh, whoops.. 07951486020
Derek Knox
39
Posted 23/08/2014 at 10:18:29
To all fellow TW posters, I like the sound of some suggesting that Atsu and Besic to start the game, and feel that they would both come out of the blocks impressively.
However, my immediate concerns are the defence, which including last week at Leicester, and all the pre-season showings, that they have looked anything but a shadow of last years invincibility.
Tim has been a bit shaky too, but that could be down to lack of confidence, in those in front of him. Baines and Coleman are nailed on, but the Central Defensive pairing, leaves so many questions, what is our best combination?
Tony J Williams
40
Posted 23/08/2014 at 10:30:12
Mr Pessimistic has been knocking at my brain all this week.....that means we will win 2-1
Anthony Flack
41
Posted 23/08/2014 at 10:39:00
Ajay, I suspect your team is the likely one. I would prefer Mirallas to start in a free role behind Lukaku instead of Naismith. Harsh on Naismith but he is effective off the bench whereas I do not think Mirallas is.
Steve Jenkins
42
Posted 23/08/2014 at 10:27:25
I initially thought that Coleman and Mirallas would come in for Stones & McGeady, but after reading today's Echo article regarding McGeady, I think it'll only be Coleman.
McGeady was awful against Porto but I'm hoping now he's had 6 months to get used to Prem football & now has had a pre-season under his belt that we may start to see the best of him.
He has a lot of ability but has to start being consistent, he had a good first half last week, showed what's he's capable of, scored a great goal but second half he just gave the ball away. In fairness, everyone was poor second half.
An in-form player like McGeady could really make a difference to our season.
Good, strong bench with Besic, Mirallas & Atsu – I hope to see them all get game time today.
Different Arsenal side today, Sanchez, Ramsey etc and a strong bench. Considering the job Besic did on Messi, I wonder if RM is tempted to stick him man to man on Ramsey. Keep Ramsey quiet – that's half a job done there.
We're still more than capable of taking 3 points but we'll need a top performance; play like 2nd half last week...

Kevin Tully
43
Posted 23/08/2014 at 10:36:19
They had a very tough game in mid-week. Flying out to Turkey after playing their first game of the season is not ideal preparation, and I think it catch up with them today.
These two home games against tough opposition are precisely what's required to get us up to speed....3-1 with Lukaku scoring a brace. Take that, Arsene!
Harold Matthews
44
Posted 23/08/2014 at 11:05:45
Horrendous weather out there right now. Belting down with rain, very windy and quite chilly. Hope it clears up.
Ernie Baywood
45
Posted 23/08/2014 at 11:21:06
First home game... I can see us flying out of the blocks and smashing them before they've got started.
4-0. Time for another statement of intent.
COYB.
Eugene Ruane
46
Posted 23/08/2014 at 11:37:06
Well there's fate well and truly tempted Ernie, if I'm shuffling away after the game muttering something along the lines "spineless, useless, hopeless..." I'll be laying the blame firmly at your door.
Up The Toffees!
Andy Codling
47
Posted 23/08/2014 at 11:40:20
Any Evertonian bars in Bangkok?
Rob Halligan
48
Posted 23/08/2014 at 11:43:53
Anyone on here be in The Brick before the match?
Derek Knox
49
Posted 23/08/2014 at 11:43:13
Aye, Aye, Eugene.
There again I suppose 'Up The Toffees' could be applied both in congratulatory and denegratory contexts.
So, very clever, you have covered both outcomes there my friend.
Not sure where a draw would fit in though.
Kevin Tully
50
Posted 23/08/2014 at 11:55:29
A mate of mine has just asked me to post: 'Any Toffees know of where he can see the game in Kowloon?' He'll be reading.
Brian Harrison
51
Posted 23/08/2014 at 11:57:16
Well first of two very tough games on the bounce, I think Arsenal might prove to be the easier of the two games. My worry is that we don't seem to be able to keep a clean sheet and that means we will have to score 2 against both Arsenal and Chelsea. I will be very happy if we come out of these two games with 4 points.
Rob Halligan
52
Posted 23/08/2014 at 11:57:16
We couldn't have asked for a tougher start, home and away. Leicester was always going to be difficult and I think most would have settled for a point before the match.
Today will be very difficult. Arsenal will probably have their three German World Cup winners available who will be really fired up and full of adrenalin. As has been mentioned, the one thing in our favour was their long trip to Turkey in midweek. A draw might not be a bad thing at the end of the day. Chelsea next week will be even more difficult, judging by the way they played against Burnley.
So would three points from the first three games be such a bad thing?
David Hallwood
53
Posted 23/08/2014 at 12:02:50
Podolski has been left out of the Arse's squad – I wonder how much they would want for him?
Sam Hoare
54
Posted 23/08/2014 at 12:06:20
Next two games against teams I reckon will finish in the top 3. Trouble is, we want to finish in top 4 and as such 4 points has to be the minimum we are satisfied with.
I worry that the intensity Roberto talks about is not yet present in our game and that Arsenal and Chelsea will punish any sloppy passing as has been evident in pre-season and at Leicester. McGeady in particular seems prone to giving the ball away in bad positions and as such my team is:
Howard
Coleman Stones Jagielka Baines
McCarthy Barry
Mirallas Naismith Pienaar
Lukaku
Rob Halligan
55
Posted 23/08/2014 at 12:12:11
Agree with most of your team Sam. I personally, would like to see Atsu start and use his pace to run at their full back. One thing we lacked last week was pace down the flanks and someone to get to the by line and throw a cross in.
Atsu can't play next week so let's see him today.
Barry Stevens
56
Posted 23/08/2014 at 12:07:55
We now go into to these games believing a win is possible, rather than hoping as before. All of the fellow Toffees I've spoken to this week are full of confidence, while the Gooners I know are not. They fear us.
If we can get an early lead and the Old Lady starts rocking, their players won't fancy it. In the back of their minds will be last season's game. Team-wise I think Roberto might spring a surprise and start Atsu. Coleman should also be back, which in turn will hopefully bring out the best in McGeady. Ever the optimist, I'm gonna stick a fiver on us to win 4-1.
COYB
Jamie Barlow
57
Posted 23/08/2014 at 13:18:16
I think it sends a terrible message to McGeady if he is dropped today.
I'd go for the same team as last week except for Coleman coming in for Stones. Bringing Atsu and Mirallas on in the second half to murder Arsenal's tiring back 4.
Derek Knox
58
Posted 23/08/2014 at 13:21:45
The thing is Jamie, McGeady is one of those infuriating players, as he so ably demonstrated last week at Leicester.
Great first half, almost useless, and conceding possession all too easily second half. I know wingers quite often have this trait, but from what I've seen of him, his poor displays greatly outnumber his good ones.
As I mentioned, as have other posters, I would give Atsu a good go, bearing in mind he will not be available next game against Chelsea.
Funny feeling he will start with Pienaar, as again against Leicester, the Bainaar partnership was almost back to it's best in the first half, second half a different story.
Michael Penley
59
Posted 23/08/2014 at 13:29:51
I'm sure McGeady will start, Roberto's said he likes to reward players and he usually starts our goalscoring midfielders next game doesn't he?
Michael Penley
61
Posted 23/08/2014 at 13:34:19
You can tell. He's got that "I've had one or two brain cells knocked out playing or thinking about rugby league too much" kind of face that all rugby people have.
Derek Knox
62
Posted 23/08/2014 at 13:40:09
Michael (#61),
Good observation there.
What worries me, is that if this has been the case, just how many has he got left?
Christopher Wallace
63
Posted 23/08/2014 at 13:41:26
We need all our boys at it today so no place for McGeady in the team. Atsu could well start, other posters have suggested.
Jamie Barlow
64
Posted 23/08/2014 at 14:15:07
Derek, all our wingers are of that ilk. They can be fantastic one minute but equally as bad the other. With tricky players like McGeady, they are going to lose the ball more than others as they try things less tricky players won't. It doesn't really bother me that much.
As Michael said, he likes to reward players and I think he did enough last week to stay in. Not that it would bother me if Mirallas came in.
Shane Corcoran
65
Posted 23/08/2014 at 14:30:28
I'm pessimistic today.
Coleman returning should be plus and hopefully Stones being gone from right back settles the two lads in the middle.
I think our attacking players aren't up to speed yet, in particular the two Belgians.
I watched the Madrid derby last night and Mandzukic is very similar to Costa, just without the pace. Lukaku would never have fit into their team with the level of work rate they put in.
John Daley
66
Posted 23/08/2014 at 14:20:30
"I think it sends a terrible message to McGeady if he is dropped today."
Not if that message is "You need to put in a 90 minute shift to earn a regular starting spot in this team... Aiden. One nice strike doesn't excuse you huffing and puffing like a Homebase shelf-stacker throughout the entire second half."
Mirallas on an off day will still pose more of a threat to Arsenal than McGeady.
Anyway, my major concern today is whether the mouthy, eyeball bulging, phlegm projecting prick who looks like Biffa Bacon's mutha and sits 2 seats along from us has renewed his season ticket for another year.
David Chait
67
Posted 23/08/2014 at 14:33:15
These match days really do interfere with my player transfer gossip!
Shane Corcoran
68
Posted 23/08/2014 at 14:34:52
I have indeed John. See you there.
Tony Twist
69
Posted 23/08/2014 at 14:28:57
All out power attack required by Everton is required and required for the full 90 minutes. Martinez saying that he doesn't think Arsenal's match this last week shouldn't effect them, it should! We are not fit, Martinez has been found wanting and needs to win today. We need fortress Goodison and teams worrying about playing us at home.
Team today should be Howard, Coleman, Stones, Distin, Baines, Besic, McCarthy, Mirallas, Naismith, Astu, Lukaku. Lots of mobility and running is required today so Barry can have a rest. COYB.
Jamie Yates
70
Posted 23/08/2014 at 14:54:18
Sorry Tony #70, the liberal sprinkling of the word "required" in the first line of your post reminds me of Sir John Moores on the old Official History video... "We've a very good crowd and a very good crowd, a crowd that's very loyal..." Always made me chuckle.
Tony Twist
71
Posted 23/08/2014 at 15:14:24
Aye Jamie it was one of those moments after you have pressed submit your comment button and go back a read and think....what am I on! Just pray for a win today to get us off to a reasonable start but this late start for TV is a pain.
Raymond Fox
72
Posted 23/08/2014 at 14:59:31
I for one don't want to see Stones starting the game, while Jags and Distin both haven't covered themselves in glory, neither has Jonny Boy! He's been showing too much inexperience this season, with too many bad blunders and to stick him this game could seriously damage his confidence.
I'll be very surprised if Martinez doesn't stick with experience at the back. I fancy the team will be as Sam has it down, apart from Distin instead of Stones.
I've not a clue how the game will go, we'll probably know after the first 20 mins, I think though if we really get behind the team we could scare the living daylights out of this lot, they're not the greatest of travellers!
Sam Hoare
73
Posted 23/08/2014 at 15:37:30
Leicester giving Chelsea a run for their money at Stamford Bridge. Maybe a point at theirs might look a decent result at end of season.
Al Reddish
74
Posted 23/08/2014 at 16:04:21
Chap on Facebook...usually accurate...says Coleman for Stones is the only change.
Jackie Barry
75
Posted 23/08/2014 at 16:15:03
Hardly fair to have a go at Stones when he was playing at RB, certainly not his position. If he is to become the player we expect him to be then he needs game time and the only problem is who partners him, Jags or Distin?
Jackie Barry
76
Posted 23/08/2014 at 16:26:22
Hope not Al we need some speed to get at Arsenal, also need some creativity behind Lukaku. Shame if it is the case.
Al Reddish
77
Posted 23/08/2014 at 16:28:32
I agree Jackie. We'll find out for sure soon. Hopefully see super Kev
Kunal Desai
78
Posted 23/08/2014 at 16:28:54
What about going with the same side that beat Arsenal Convincingly 3-0 in April - Stones in for Jageilka and Pienaar/Atsu in for Osman
Kunal Desai
79
Posted 23/08/2014 at 16:31:34
Everton (to face Arsenal): Howard, Coleman, Jagielka (c), Distin, Baines, Barry, McCarthy, Mirallas, Naismith, Pienaar, Lukaku.
Al Reddish
80
Posted 23/08/2014 at 16:31:23
Kev and Coleman in. Stones and McGeady out
Kunal Desai
81
Posted 23/08/2014 at 16:32:05
subs: Robles, McGeady, Besic, Atsu, Osman, Stones, Alcaraz.
Peter Moore
82
Posted 23/08/2014 at 16:40:07
Desperately need a backup striker
Brian Hennessy
83
Posted 23/08/2014 at 16:45:54
Peter Moore... Just thinking the same thing, bench looks really short of options up front. We must get someone in before transfer window shuts.
Ray Said
84
Posted 23/08/2014 at 16:46:23
I think we need to attack with pace from deep. I would play three centre mids to drop deep, keep the ball then spring the attackers so my team would be:
Howard
Coleman Stones Distin Baines
McCarthy Barry Besic
Mirallas Naismith
Lukaku
John Daley
85
Posted 23/08/2014 at 17:27:41
Pitch been narrowed?
Zahir Jaffer
86
Posted 23/08/2014 at 18:37:09
We were sitting so deep we were begging to concede. We also switched off around thr 60-65th minute, call it over complacency.
---
Add Your Comments
In order to post a comment, you need to be logged in as a registered user of the site.
Or Sign up as a ToffeeWeb Member — it's free, takes just a few minutes and will allow you to post your comments on articles and Talking Points submissions across the site.
© ToffeeWeb