Everton honour 1906 cup hero Sandy Young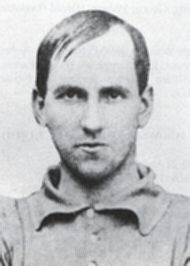 Alex "Sandy" Young was honoured today in Edinburgh

Everton FC and Everton Heritage Society unveiled a new headstone in Edinburgh's Seafield cemetery today to mark the grave of Alex 'Sandy' Young, one of the club's first legends.

Still the fourth-highest goalscorer in Everton's history, Young was the scorer of the winning goal in the 1906 FA Cup Final win over Newcastle United that clinched the trophy for the Blues for the first time.

In all, he found the net 127 times in 314 appearances in the decade between 1901 and 1911 but he was troubled in later life by mental illness and a prison sentence for the manslaughter of his brother in Australia before he passed away in 1959.

Thanks to the efforts of the Heritage Society, a fundraising effort has finally enabled the erection of a headstone at his grave site which was revealed at a special ceremony attended by club officials, his namesake Alex Young, and members of Sandy's family.

Heritage Society chairman, Paul Wharton, said at the ceremony: "This is an Everton legend from 100 years ago that Evertonians will talk about in another 100 years. We had to honour the man and we're made up with how well it's gone. The Club are proud and so are we."

More quotes and a photo gallery are available at evertonfc.com.



Reader Comments (9)
Note: the following content is not moderated or vetted by the site owners at the time of submission. Comments are the responsibility of the poster. Disclaimer
Derek Knox
1
Posted 04/09/2014 at 07:25:49
From a fellow Scot, it's good that the club have rembered him after all this time and honoured his grave with a headstone.
Lyndon, did he remain in Australia when he died, or make his final journey back home ?
Derek Knox
2
Posted 04/09/2014 at 08:30:15
Lyndon, no need to to answer that now, I have read more about the sad end to his life, and is typical of a lot of the players of yesteryear.
I just hope that the modern players realise how lucky they are, in that many of the greats in the early years, were playing professionally for the equivalent of 2, 3 or 4 times the average tradesman's wages which wasn't a lot by comparison to the film star's wages of today.
Sorry for the typo too ' remember ' my keyboard inexplicably misses letters every now and again.
Paul Wharton
3
Posted 04/09/2014 at 09:19:46
Yesterday was just fantastic, from the weather to the speeches and the piper, but most importantly the young family, they all now know what Evertonians think of him and I think our missionary work has worked as we gained another new 20 Evertonians. A big thank you to all who attended.
Efc Heritage Society
Chairman
Derek Knox
4
Posted 04/09/2014 at 09:42:40
Paul# 3
I live in Liverpool now, but grew up in Scotland, near Dundee and supported Dundee United. Like most Scottish football loving kids, we all pretty much, had an English team too, which we looked out for. I must admit that most of my contemporaries were either Man Utd. Liverpool, Spurs or Arsenal.
One reason for this being that in the early (black and white) Match of the Day's they featured the English teams, with a small cameo reserved for Celtic or Rangers,(very rarely, if at all Dundee United) it was whilst watching that show my love for Everton began.
I can't recall the exact match but it was Everton, and looking for any Scottish connections (unbiassedly of course) I remember seeing them play like Brazil on the day, and the Star of that Game was 'Alex Young'.
At last I had my Scottish connection in him, and I have remained married to the blues after all this time, never contemplated divorce, (but have had suicidal tendancies after some performances) and doubt whether that will ever happen.
I later, through being in the Royal Navy happened to visit Liverpool, aboard HMS Eagle, and subsequently met, who is now my ex-wife, but all her family were Evertonians (coincidence or what?) I used to have a season ticket for years, but as I am retired now, limited finances do not permit me to go that often, but I watch every game I can, by hook or by crook, and check on them everyday.
Strange as it sometimes, the way these things work, but again, the connection Scottish (Alex Young, but not related) in this article, triggered those memories, and I just felt I should share them with whoever was prepared to listen.
Danny Kewley
5
Posted 04/09/2014 at 10:21:29
It looks like a fitting memorial to one of our first legends,was held yesterday, nice one!
Derek that was a smashin' post young man!
Joseph Clarke
7
Posted 05/09/2014 at 08:28:27
Talking of heroes, why do some Evertonians consider Duncan Ferguson a hero? To me he is the worst kind of footballer. Very talented or not, the least you should expect, as a teammate or a supporter, is that a player will give his all every time he plays. The words for a player that doesn't is, a cheat.
Ferguson often couldn't be bothered, and it showed. Read what his early manager had to say about him, before he moved to Rangers. Read what Joe Royle had to say about him in his book, and even our former manager, who I never had much time for, but he is a knowledgable football man and deserved respect as the Everton manager, had to say about him.
The theme running through all their impressions, is of a man with great talent and ability, who didn't have a passion for the game, and played when he felt like it – even in a game against Liverpool, which Joe Royle writes about.
Joe Royle says he asked Ferguson at half-time in one match if he would do something in the second half that he had never done in the first. Ferguson asked, "What's that, Boss?" Royle replied, "Sweat."
I hope Ferguson does well in his present job for Everton. That is all I am concerned about: what is best for Everton. By all accounts, he is doing a good job. But never, never, an Everton, or footballing hero. A true hero is someone with the attitude and playing style of Dave Hickson. His football philosophy summed up by the most famous quote from him: "For every team I played for, I was prepared to break my bones... but for Everton, I was prepared to die."
Peter Murray
8
Posted 05/09/2014 at 22:09:32
In a memorable scene in "The Golden Vision" (which I still re-watch several times a week!) the grandfather tells an enraptured grandson about the other Alex Young — "Sandy" Young.
That scene put substance on stories I heard from old timers when I used to do holiday work as a student in the local pub in Bootle.
How fitting that that the Golden Vision himself, the greatest footballer ever to pull on a royal blue jersey, attended that ceremony.
The incredible life story of "Sandy" is in itself a script for another Ken Loach film.
Well done Paul Wharton and the EFC Heritage Society.
Pure Everton.
Danny Kewley
9
Posted 07/09/2014 at 10:33:04
Peter@8
I forgot all about that scene in the "Golden Vision"
Priceless mate!
Chris Regan
10
Posted 09/09/2014 at 12:24:27
I was interested to read this article. As I once read that Alex Young was the first and only FA Cup winner to be hung for murder! I was of that opinion until two minutes ago, is it true? Was he hung for murder or did he serve time for manslaughter? Do I have to wiki this?
Joseph Clarke, #7, I read what you said about Duncan with interest. I was thinking of Dave Hickson before you mentioned him. Never seen him play, but by all accounts he was the most blue of blues. COYB!
---
Add Your Comments
In order to post a comment, you need to be logged in as a registered user of the site.
Or Sign up as a ToffeeWeb Member — it's free, takes just a few minutes and will allow you to post your comments on articles and Talking Points submissions across the site.
© ToffeeWeb