Atsu grabs the winner for Ghana
Everton winger edges five-goal thriller against Togo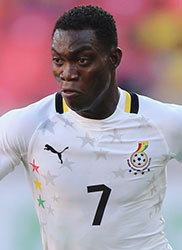 Christian Atsu popped up with a late winner to give Ghana a 3-2 win over Togo in Lome to preserve the Black Stars' unbeaten start to Group E of Africa Cup of Nations qualifying.

Emmanuel Adebayor looked to have grabbed a point for the home nation but Atsu raced clear to score the decider with four minutes left on the clock.

Ghana had drawn with Uganda 1-1 last Saturday, the latter country heading the group on goal difference following their 2-0 win over Guinea.

Atsu will be eligible again for the Blues when they travel to West Bromwich Albion this weekend after having to sit out against his parent club, Chelsea on 30th August.

He came on to make his debut as a late substitute against Arsenal the week before, the only minutes he has played since arriving from Stamford Bridge on loan last month.



Reader Comments (15)
Note: the following content is not moderated or vetted by the site owners at the time of submission. Comments are the responsibility of the poster. Disclaimer
Derek Knox
1
Posted 10/09/2014 at 23:48:48
I just knew, or rather suspected, this kid was the wasp's patellas.
I just hope the experience has honed his skills, to get some more game time along with Mo!
I am going to get a broadside I know, but I feel we should buy this guy permanently, it's just down to whether Blood Brother's Tickets, or Greenshield Stamps would be accepted, as legal downpayment money, or whether we will have sufficient funds to make it happen.
I wouldn't have thought for one moment that Everton, could not have seen this potential scenario possibly occurring.
I am sure they will have written into the pre-nuptial agreement, something to that effect.
What you tell me no!
Deja vous!
Phil Sammon
2
Posted 11/09/2014 at 00:38:47
Derek,
You're talking as if he's just banged in the winner in the World Cup Final. Jesus mate, he's played a few minutes for us and scored against some African no-marks. Let's see how the next six months go before we start lamenting Everton's lack of foresight.
Jay Rollinson
3
Posted 11/09/2014 at 02:11:22
People going overboard about new players who've proven nothing so far seems to be in right now. Besic is called brilliant because he did alright in a couple of friendlies and now Atsu is another great? He might be but nobody knows for sure. He's hardly been seen.
Michael O'Brien
4
Posted 11/09/2014 at 05:40:43
Well Jay, I dunno much about Atsu, but Besic was one of Bosnia's stand-out players in the World Cup. Probably his best game being against Argentina where he commanded mid field, and effectively marked Messi out the game (as best as you can with Messi).
Ajay Gopal
5
Posted 11/09/2014 at 06:16:06
Let us just celebrate that we now have potentially the best squad for a long, long time. I know at the moment, the defence seems weak, but I am sure it will get sorted out pronto.
We have:
Strikers: Lukaku, Eto'o, Naismith, Kone
Wingers: McGeady, Pienaar, Atsu, Mirallas
Mid-field: Barkley, Osman, Barry, McCarthy, Gibson, Besic
Central Defence: Distin, Jagielka, Stones, Alcaraz
Full Backs: Baines, Coleman, Oviedo, Garbutt, Hibbert
With the youngsters: Browning, Galloway, Long, McAleny trying to make the step up.
Competition for starting spots is going to be intense and that will only benefit Everton. This season will be special – I firmly believe.
Danny Kewley
6
Posted 11/09/2014 at 10:31:54
I read the report on the game and it sounded like a cracking match. So, as it has turned out, I think I'm right in saying that all our lads on international duty have come out it okay as regards injuries.
I get the feeling, for some reason, that the lads will really perform on Saturday at the Throstles' nest! COYToffeeees!
Mick MacManus
7
Posted 11/09/2014 at 10:53:59
On paper that is a great squad Ajay. I always feel a tinge of disappointment when the team is announced, week-in & week-out, with the 4-5-1 type-system (i.e. one striker up front with a supporting 'midfield striker' playing behind). It seems there is always only one place for a striker in our teams for many years now. Is the two striker system dead for us?
Craig Fletcher
8
Posted 11/09/2014 at 11:02:28
I'd love to see a Eto'o / Lukaku combo (or something similar with Kone) up top too, Mick, but for that to happen we'd need to deplete our midfield by one. And because Baines and Coleman play effectively as wing-backs, that means we need good defensive midfield cover to protect our centre halves effectively. I guess having to consider good defensive midfield cover is the trade-off to having the best attacking fullbacks in the country.
Tony J Williams
9
Posted 11/09/2014 at 11:16:26
Who is this "Kone" you speak of, Craig?
James Stewart
10
Posted 11/09/2014 at 11:32:36
Great looking squad list by Ajay... until you get to central defence which looks a bit scary.
Mick MacManus
11
Posted 11/09/2014 at 17:02:45
Fair point, Craig. We have an over abundance of players who can play the 'second striker' role for years now, ever since Tim Cahill made it his own.
Craig Fletcher
12
Posted 11/09/2014 at 19:21:31
True, Mick. TBH can't remember the last time we played two out-and-out strikers.... I think Moyes had Yakubu and Saha up front together for a short time.
Andy Meighan
13
Posted 11/09/2014 at 20:39:29
5-goal thriller against Togo. Has just got no ring to it whatsoever, it really hasn't.
Jon Ferguson
14
Posted 12/09/2014 at 21:34:24
I'm defo glad we don't play two out-and-out strikers together. Naismith is like the old No 10 and so, when him and Lukaku play together, you could argue that is two upfront. However, a more attractive system comes from only having one striker. It's not like in the pre-Premier League days now. Players are proper athletes and defenders are incredibly well drilled and organized.
You look back at games from the '80s now and it looks like pub football. In the modern game you need players who can create from deep and you only need one up front to finish the move off. Or else play 3 up front, with two men playing wider than the central striker. The days of a straight 4-4-2 are dead, thankfully.
Harold Matthews
15
Posted 13/09/2014 at 10:20:23
Agree, Jimmy. This fella has the rare distinction of not impressing on YouTube. You're also probably right about Martinez being our best scout. His capture of Besic was brilliant.
---
Add Your Comments
In order to post a comment, you need to be logged in as a registered user of the site.
Or Sign up as a ToffeeWeb Member — it's free, takes just a few minutes and will allow you to post your comments on articles and Talking Points submissions across the site.
© ToffeeWeb