West Bromwich Albion vs Everton
Match Preview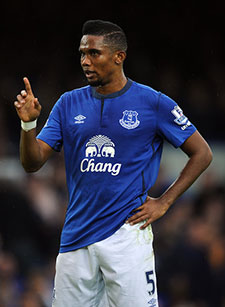 Samuel Eto'o faces a late fitness test on a groin complaint
Coming just three matches in, the first international break of a new season is usually an ill-timed frustration but with Everton's disappointing start to the campaign and Romelu Lukaku's niggling toe injury, this month's interlude for tournament qualifiers and friendlies has afforded the Blues a fortnight for recuperation and regrouping.
Though many of the first team were in action for their country and therefore not at Finch Farm for some collective focus on putting right some of the ills that have dogged the first three weeks of the campaign, those players who did travel enjoyed either some fine individual performances, some good results, or both.
That will hopefully stand Roberto Martinez in good stead as he prepares the team for the first congested portion of the fixture calendar, one that will span three competitions and involve four games in the space of 10 days.
The good news is that Lukaku appears to have recovered sufficiently from that toe complaint that there is little doubt he will start this weekend as Everton travel to the Midlands to face Alan Irvine's West Bromwich Albion. Steven Pienaar returned to full training after missing almost all of the last two matches through injury and Arouna Kone is, according to his manager, "very close" to making his long-awaited return to action.
There are slight doubts over the fitness of Samuel Eto'o and Leon Osman, though, with the Cameroon star picking up a minor groin strain against Chelsea and the stalwart midfielder suffering a knock in the friendly match against Stoke City last week. Both will undergo late checks on their availability before Martinez finalises his squad.
West Brom have an almost identical record to the Blues coming into this one, with the two clubs sitting alongside each other in 17th and 18th place with just two points from nine so far. The Baggies were beaten heavily by Swansea on their last outing, though, and struggled to see off lowly Oxford United in the League four days earlier suggesting that Irvine is still finding his feet in his new role.
His new signings are also bedding in, including record singing Brown Ideye who will likely start on Saturday in place of former Blue, Victor Anichebe, who is struggling with a hernia problem that forced him to sit out of training this week. In their absence of goals from those two players, Saido Berahino has carried the main threat for Irvine and will likely be the one to watch for Everton's back line.
And it is how that defence performs that will be in particular focus on Saturday given how porous it has been so far this season. Martinez is unlikely to ring any changes to the back four so the onus will be on the central defensive pairing of Sylvain Distin and Phil Jagielka and the defensive midfield axis of James McCarthy and Gareth Barry to rediscover the organisation, tenacity and focus that helped the team to such an impressive defensive record last season.
On the evidence so far, if they can tighten things up significantly at the back, this could yet be an excellent season for Everton because they have shown that they can score goals... just not more than the opposition so far.
Kick off: 3pm
Referee: Anthony Taylor
Full coverage: ToffeeWeb Match Reports
Reader Comments (70)
Note: the following content is not moderated or vetted by the site owners at the time of submission. Comments are the responsibility of the poster. Disclaimer
Darryl Ritchie
1
Posted 12/09/2014 at 06:55:54
If we tighten up at the back, and if tightening the defence doesn't throttle the offence, and if the lads have finally got this " fitness" thing behind them...we should win handily!
3-1 Toffees
Kunal Desai
2
Posted 12/09/2014 at 07:11:48
It might just take a scrappy 1-0 win to kick start our season.
Derek Knox
3
Posted 12/09/2014 at 07:12:39
Darryl#1
Hate to sound like your old English Teacher, but there were a lot of 'if's' in your post mate.
The biggest thing that most of us find iffy is the defence, and furthermore our failure to land at least another recruit in that department, before the window shut. Still, we are stuck with that now, and will just have to get on with it.
It does cause some concern though.
Kieran Riding
4
Posted 12/09/2014 at 07:31:36
Eto'o is out.
Duncan McDine
5
Posted 12/09/2014 at 07:34:37
Looking forward to this one... mostly because of the Vine Tree tandoori pub! Me and my mate will be in with the local shitmunchers as it seems impossible to get an away ticket these days.
I just hope we can sort out the defensive problems and get Lukaku back on track. COYB
Phil Walling
6
Posted 12/09/2014 at 07:38:59
I am trying not to be too hung up about these early season games. My early suspicion that the pre-season training programme fell well short of what was required is now generally accepted as fact and we may still be in the process of obtaining peak match fitness.
Having said that, we have some excellent players and Martinez had 'a good window'. He now has to show he can make the most of what looks a strong squad although I suspect we will need to have patience extending well into next month before it all comes together.
Not to say we can't comment whilst we wait.
Peter Healing
7
Posted 12/09/2014 at 08:01:01
This is a real under-pressure game. We have to get a win. The longer us not winning drags on, the further behind we get. A draw ain't no good. Time for all players to turn up and catch WBA off guard.
Phil Sammon
8
Posted 12/09/2014 at 08:03:40
Jesus...that was almost positive, Phil.
Stuart Gray
9
Posted 12/09/2014 at 08:36:21
Got a feeling WBA might get a good old fashioned hiding tomorrow.
Tim Locke
10
Posted 12/09/2014 at 08:57:56
The start of the season has been very similar to last year, plus side we have scored more, downside we have conceded more, but points wise we are only 1 point worse off.
If we hit the 70 point mark again it will be amazing. Win the next four and we get onto that 2 points a game mark; this weekend seems the best place to start this.
Chris Davies
11
Posted 12/09/2014 at 09:17:54
Lyndon, you know we're away tomorrow, right?
Max Wilson
12
Posted 12/09/2014 at 09:25:38
Not winning at West Brom could be a watershed in our season – the pressure will be really on and lots of us, me included, will start wondering about Roberto.
We need to see an impregnable defence back in place again, not the shambles it's been recently, and after all these millions spent, Lukaku doing his stuff. Will we also see Eto'o? It seems not, but Etu probably. Our midfield will look good – Pienaar is back I'm told. COYB!
Dave Pritchard
13
Posted 12/09/2014 at 10:41:20
Kieran (4). Hope you are wrong but could you possibly give us your source so that we can judge how reliable your statement is likely to be. Do you have a contact at the club for example?
Jim Bennings
14
Posted 12/09/2014 at 10:38:31
Tomorrow is in my opinion the start of two very very important weeks.
Failure to win at least one of the next two, then two weekends on the spin see us visit Anfield and Old Trafford, which in our heart's we can win but in our heads we know the way we have been defending we will be eaten alive.
We failed to beat West Brom and Crystal Palace home and away last season, not good enough for a team chasing that elusive 4th place.
If we fail to beat them again over the next two weeks and as is expected we don't yield a win from the Kop or Mancs then no wins by tbd middle of October means 4th will already be all but gone this season. It may not happen but then again, I know we are looking at a possible worst case scenario here, it just could happen.
It begins to get hard winning matches when your confidence is low, just as winning matches looks easy when your confidence is high and confidence comes only from winning football matches. Please just don't concede anymore stupid schoolboy goals tomorrow, Blues.
[I'm getting sick of saying that every weekend.]
Conn Prosser
16
Posted 12/09/2014 at 11:57:10
Baines and Jags have had a few clean sheets recently, outside of Premier League fixtures. That will do a world of good for their confidence. A couple of good games to get the lungs ripe and we're all back on schedule. Two-nil.
Peter Cummings
17
Posted 12/09/2014 at 11:55:37
I don't think WBA will be the walkover some Evertonians seem to think it will be tomorrow. Time after time last season we were held and sometimes beaten in games we were expected to win in spite of dominating over the 90 mins.
In today's game, there's no such thing as a banker, as MK Dons proved earlier, even we have beaten the odds a few times in the past and won when a loss was predicted, so let's not count our chickens just yet, boys.
I'm just wondering how long the 'slight' groin strain to Eto'o will take to clear up, or will he be out for weeks with it?
Jack Okell
18
Posted 12/09/2014 at 11:22:25
Chris Davies - CHILL OUT. The report states Everton are travelling to the Midlands. People jump on grammatical errors on this website like a tramp on hot chips.
Joseph Hinchliff
19
Posted 12/09/2014 at 12:44:06
If Jags can show anywhere near the composure and positional sense as he did in his short stint the other night, then we might start to see our defence getting back to where it was and should be. A bit of luck and Lukaku will bag a few to get his confidence back and away we go!
Tony J Williams
20
Posted 12/09/2014 at 12:55:00
We will win 5-2
McGeady, McCarthy, McLukaku, McMirallas and McDistin to score for us and Anichebe and Lescott to score for them.
Dave Pritchard
21
Posted 12/09/2014 at 12:59:27
More likely to be 5-3 with Irvine getting their third.
Jon Withey
22
Posted 12/09/2014 at 13:00:54
No McNaismith ?
I'm beginning to have a mistrust of the reporting from our medical department.
Anyway, I want to see Eto'o play, but I guess we have plenty of games for him to be involved in.
Geof Thompson
23
Posted 12/09/2014 at 12:59:18
I have just read the comment from Max (#12) and I just could not stay silent. "Lose this game and Roberto is hanging by a thread..." are you kidding me? Do you hide under the bed if you are hear a bang?
Where has Evertonian courage gone, people?This is by far the best squad in 20 years. The best manger in... well, ever! And on the back of a couple of poor games you want to throw it all away???
Courage... Heart... Bravery. You want the players to show it. How about us fans show some? Lukaku must score or he's a waste of money? McCarthy anonymous? Our captain who has been brilliant for years has to dropped?
Good grief, grow some stones, people.
Ajay Gopal
26
Posted 12/09/2014 at 13:41:22
My team (4-2-3-1):
Howard
Coleman Jagielka Alcaraz Baines
McCarthy Barry
McGeady Naismith Mirallas
Lukaku
Subs: Robles, Stones, Distin, Gibson, Besic, Kone/Long, Atsu
(Assuming Pienaar, Oviedo, Barkley, Eto'o, Osman are unavailable)
Atsu for McGeady after 70'; Kone/Long for Lukaku after 80'; Gibson for Barry after 80'.
A nervy 2-0 for us.
Andy Meighan
27
Posted 12/09/2014 at 14:05:09
Isn't brown ideye a paint? Sure I've seen that in B&Q...
Denis Richardson
28
Posted 12/09/2014 at 14:06:37
Any scoreline will do as long as it brings home 3 points.
Amit Vithlani
29
Posted 12/09/2014 at 14:51:12
Looking fwd to it. My preference is 4-3-3 if Rom not fit. McGeady to cut in from the right and Mirallas to roam in and around Nais. Baines and Coleman can push on if we play 3 in Centre Mid. Barry to anchor and Besic and McCarthy to forage and find the boys out wide. Stones ahead of Jags.
WBA will try and play a short passing games as Irvine likes his teams to play this way. They will be dangerous from set pieces which is our weak link.
We will win 2-0 with Mirallas and McGeady continuing their good recent form. Coyb.
Anthony Burke
30
Posted 12/09/2014 at 14:52:18
We have 2 points from 3 games; we should have 6 points but we're only 1 point worse off than this time last year. A good defensive display tomorrow should see us come home with 3 points as I can see us scoring 2 or 3 goals. I'm predicting 3-1 or 2-0 to kick start our season. COYB!!!!!!!
Steve Brown
31
Posted 12/09/2014 at 15:06:19
Bloody hell Ajay 26, Alcaraz! Weren't the Man City and Soton defeats enough punishment for you last season?
Jay Harris
32
Posted 12/09/2014 at 15:35:39
I can't see how some posters think we are only one point worse off than last year.
Last season, we beat Arsenal and Chelsea so we are FIVE points worse off than last year, game for game, assuming Leicester take the place of Norwich.
That five points will be hard to claw back as this season will be a lot tougher than last season due to inadequate squad reinforcing for the Europa and other top teams strengthening with quality players.
I do have a feeling, however, that we are due a win at West Brom and would be disappointed with anything else.
Anthony Burke
33
Posted 12/09/2014 at 15:43:04
Jay some of those points can be reclaimed with victory's over West Brom and Palace next week. We're notorious slow starters; we faced Leicester away, a newly promoted team with their tails up, and Arsenal who always hit the ground running, and a much improved Chelsea side.
At the end of the day, we should have 6 points but in reality we have 2; we will turn this around... have faith. COYB!!!!
Eivind Nyhus
34
Posted 12/09/2014 at 16:11:13
I think we'll get all the points from this one. I thought so before all our matches this season, so don't bank on it.
John Daley
35
Posted 12/09/2014 at 16:34:20
"I can't see how some posters think we are only one point worse off than last year. Last season, we beat Arsenal and Chelsea so we are FIVE points worse off than last year, game for game, assuming Leicester take the place of Norwich."
Maybe because you're missing out two key words before 'last year'? Those being 'this time'.
Pretty simple really. Three games gone and two points acquired this season vs three games gone and three points acquired at the same stage last season.
Does it really matter who the opposition was?
Bearing in mind Everton only drew at The Hawthorns last season and got turned over by Palace at Goodison, if we win our next two games are we then back on level footing in the 'how we did head to head last season' league?
Five points 'clawed back' pretty swiftly if it turns out so.
Conor McCourt
37
Posted 12/09/2014 at 16:18:06
Great post, Geoff, as there has been a lot of rubbish written on here today.
Phil I don't think that we were unintentionally short of fitness as Roberto is planning for a long hard season and neither of the Leicester or Chelsea games were points dropped due to fitness. After every World Cup come some poor seasons by fatigued players and increased injury risk, so Roberto has clearly intentionally factored that in to his pre-season this time around. Let's judge him at the end of the season not after three games.
Jay, we cannot predict where our points will come from so we are one point behind last year and we have already played two of the best three teams in the league. Anybody questioning the manager's position after three games of the season having been treated to the brand of football last year should hang their heads in shame.
I'm 35 and I've never been so proud to be an Evertonian and anyone doubting our brilliant boss should just look at the Cleverly situation where the Mancs are so afraid of us that they would only sell him but not loan him to us. They did not worry about giving us Neville or Gibson.
Anthony Burke
38
Posted 12/09/2014 at 17:03:19
John, we did beat Arsenal and Chelsea last year; we also only took 1 point off Palace and two off West Brom – not every result is going to be the same as last year. It's a marathon not a sprint results will turn have faith COYB!!!!
John Malone
39
Posted 12/09/2014 at 17:20:29
I don't know how after one season and winning nothing people can say Martinez is the best manager we've had in recent history.
Some silverware and a top four finish are the markers for me; any less and it's the same as Davey Moyes, the nearly man.
Danny Kewley
40
Posted 12/09/2014 at 17:34:28
Everton to win 1-3.
Nigel Gregson
41
Posted 12/09/2014 at 18:18:11
I hate to be the party pooper, but I just don't see us winning this. The Hawthorns has always been a bogey ground for us and this with a super tight defence. I'd take a draw there.
David Bryant
42
Posted 12/09/2014 at 20:26:22
I'm with Conor @38. We have goals this season and I think the defence will tighten up. Net effect = more wins than losses before too long.
Tim Greeley
46
Posted 12/09/2014 at 21:13:55
I seriously doubt I can even watch another game until we have that first win under our belts. The Arsenal result had me physically and emotionally fecked for like 3 or 4 days after. And it was only the second game of the season!
All that and I've never even been to England, not once, nevermind the city of Liverpool or Goodison Park. How do you all do it!?!??!
The plan is to hang out in the Live Forum for a while to BS with you dudes and then go dark and check the score after to see if it's worth watching later. I might have serious problems.
WBA has been bogie for us and tomorrow's match is suddenly very important with what's coming up. Thursday-Sunday-Tuesday next week!?!? Is that even allowed? Hibbo will have to play at some point. Robles at striker. God help us all. Please win tomorrow!!
Andy Meighan
48
Posted 12/09/2014 at 21:46:11
I know we can all be optimistic, and rightly so. But I've a feeling we could be in for a tough afternoon. They need a win as well to kick-start their season and, as I've previously said, it's not a happy hunting ground.
The way we've leaked goals is depressing. I think Martinez will keep the same back line but, if we do concede 2 or 3, he's got to change it. To me, it's a tough one to predict... so, er, I won't.
Kevin Rowlands
49
Posted 12/09/2014 at 22:15:31
Jay #33, going by your mindset that means we should expect every result last year to be the same this year — it's completely illogical and isn't going to happen, I for one would hope we get more than 1 pt vs Crystal Palace, and definitely more than one against the RS.
I'm also in the "glass half-full" camp as at times we have played some excellent stuff already this season against two top teams, I believe we'll stuff these on Saturday.
Danny Kewley
50
Posted 12/09/2014 at 23:01:40
Just had a smashing night out here in the outback of Mill Hill North West London and bumped into a Baggies fan who reckons 4-2 for the Toffees......... Do me!
Paul Hewitt
51
Posted 12/09/2014 at 23:20:24
We will win tomorrow: 3-1 — panic over.
John Daley
52
Posted 12/09/2014 at 23:18:23
Thanks for that Anthony, but they weren't actully my words. I was quoting from an earlier post.
Jamie Crowley
53
Posted 12/09/2014 at 23:27:30
Tim Greeley -
I find you hilarious.
Upcoming fixtures are going to be akin to 10 pounds of shit stuffed into a 5 pound diaper.
But enjoy the fact we can watch the Mighty Blues so often.
We'll win. I've a good feeling about this one. The day we didn't play: a promoted side's opener at their place, or one of the other "big" teams.
It's time for a "proper" stuffing.
Pray the back line is up to the task.
Phil Sammon
54
Posted 12/09/2014 at 23:39:22
4-0.
McGeady and Naismith each bagging two and a rip roaring week for my fantasy football team.
Baines with 4 assists.
Tony Twist
55
Posted 13/09/2014 at 00:16:23
All out attack required for this match, a win is essential. My team, if available would be:
Howard; Coleman, Stones, Jagielka, Baines; Besic, McCarthy; McGeady, Astu; Naismith; Lukaku.
Should be looking to replace Lukaku with Kone or Eto and McGeady with Mirallas early second half to keep the momentum going. It's time for Jags and Besic to right the wrongs of last week.
Mike Green
56
Posted 13/09/2014 at 00:22:22
Tim - come to England, Liverpool and Goodison. Where are you? We'll put a plan together. It'll be easy.
Si Cooper
57
Posted 13/09/2014 at 00:44:37
Certainly time for the defence to get their act together and give us the platform for a much needed victory.
The international break may have really worked in our favour this time – some good confidence-boosting performances and a chance for those with minor injuries to rest and recuperate. I hope to see more than just a couple of minutes of Atsu to see how he is settling in.
I han't see it being anything near a 0-0, I just hope we are doling out a thrashing.
Pat Finegan
58
Posted 13/09/2014 at 01:17:30
Anyone else think Roberto will go 3 at the back to sort out the defense?
Howard
Stones Jagielka Distin
Coleman McCarthy Barry Baines
Lukaku Naismith Mirallas
I think we're likely to see something of the sort. 3-1 to the Blues.
Luke Osborne
59
Posted 13/09/2014 at 02:52:30
4-2-3-1
Howard
Coleman, Jagielka, Stones, Baines
McCarthy, Besic,
McGeady, Naismith, Pienaar,
Lukaku
Subs: Robles, Alcaraz, Distin, Osman, Barry, Mirallas, Eto'o
Eto'o for Lukaku 60', Mirallas for McGeady 75', Barry for Besic 80'
2-1 Lukaku early and McGeady 50'.
COYB
Tim Greeley
60
Posted 13/09/2014 at 01:43:42
Haha thanks Jaime!
Mike Green #58, I appreciate the gracious invite! I am in New Jersey and believe me the Goodison experience is front and center on my to do list. Right now I have two lovely little ladies at home (4 and 1½) so my travels have been limited recently and will remain so for a few more years.
But I am pro-most things England and can handle myself with aplomb in a pub so I feel I am ready. By the time we are regular Champions League representatives in 3 years time, I'll coast in and soak up the vibes!
But for tomorrow... Maybe it's the wine tonite but I am feeling more confident now than when I posted earlier at work. 2-1 to the Blues. Coleman and Lukaku first half then Sessegnon to customarily make the last 10-20 minutes unbearable.... OYYYYYY!
Peter Barry
61
Posted 13/09/2014 at 06:18:48
This is a must win game, a draw is not good enough, because four games in to the season with 2 or even 3 points on the board is just not good enough.
Darren Hind
62
Posted 13/09/2014 at 06:27:36
I hope big Vic doesn't play. I spent years tearing my hair out because of him.
He would be powder puff for months... then, out of the blue, he would give us all a fleeting glimpse of what he could, possibly should, have been... then he'd vanish for another couple of months.
Enough pace and power to trouble the best, fantastic at rolling defenders, could finish too – as proved on those rare occasions he could find the drive to actually get into the box.
If there was ever a youngster who proved you really do need to be the full package, it was Vic. If you haven't got it in your head and heart, you haven't got it.
I met him once and he was absolutely charming, so I wish him well... but I hope he doesn't play today.
Matt Traynor
63
Posted 13/09/2014 at 06:52:04
Darren #64 I know what you mean, but I think he will play as they're light on options up top. So we'll be in for 90 mins of screaming at him for going down like the proverbial sack 'o shite, trying to win a soft pen, and it'll be just like old times!
Darryl Ritchie
64
Posted 13/09/2014 at 07:01:26
Apparently Vic has a problem with a hernia and is a question mark for the match.
Anthony Burke
65
Posted 13/09/2014 at 07:15:43
The usual back four along with Barry, McCarthy, Mirallas, Pienaar (if fit) with Naismith playing behind Lukaku. This team should have more than enough to beat West Brom.
Brian Hill
67
Posted 13/09/2014 at 07:16:44
We'll win today, no worries. Things are looking up. My 10-year-old daughter won a talent contest in Cape Town last week - fellow Blues, please "like" it on youtube and she might win a prize.
https://www.youtube.com/watch?v=K3H_7fb9tbA
Michael and Lyndon, sorry if this breaks any rules, please delete if so.
Aman Kanji
68
Posted 13/09/2014 at 07:35:51
Duncan #5. Taking my son today but home end. 3rd row on the half way line. Give us a wave... Would prefer to be there in person to relish the 5-0 win than watch it on a fuzzy telly!
David Greenwood
69
Posted 13/09/2014 at 07:46:47
3-1 win for us today. Naisy, McGeady and Baines penalty.
Now that international shit is out they way, let's get cracking on with some real football.
John Audsley
70
Posted 13/09/2014 at 08:12:47
Massive game today, we need the 3 points desperately and it's gonna be a scrappy, long afternoon. We should be able to do it, however, and I'm going for 1-2.
Robbie Muldoon
71
Posted 13/09/2014 at 08:41:21
Start Stones, please.
Mike Corcoran
72
Posted 13/09/2014 at 08:47:38
Not normal for me but I had a dream that I missed the match, turned on the TV, and we had lost one-nil to a late goal after playing the most turgid game ever. I got up at 3am and had a cig in the yard to console myself.
Ian Bennett
73
Posted 13/09/2014 at 09:10:43
Definitely interesting dilemma over England international John Stones. Quite how long can Roberto keep him on the bench? He'll pick the below, but I'd go with Stones over Distin for today.
Howard
Coleman
Baines
Jagielka
Distin
Barry
McCarthy
Mirallas
Naismith
McGeady
Lukaku
And hopefully back to winning ways.
Mike Oates
74
Posted 13/09/2014 at 09:55:20
To get the season on track he will play safe, and the team will be:
Howard, Coleman, Jagielka, Distin, Baines, McCarthy, Barry, McGeady, Naismith, Mirallas, Lukaku.
Subs: Robles, Stones, Alcaraz, Osman, Besic, Eto, Pienaar.
Sneaky feeling we will win but will be tough and we will still concede too many goals: 3-2 to us.
Harold Matthews
75
Posted 13/09/2014 at 11:13:02
Yes Mike O. He'll play it safe and it will be very tough. Irvine knows all our weaknesses and his team will be drilled to exploit them. Don't be surprised to see them chucking plenty of crosses and high balls at Howard and our dodgy centre backs. Okay, we should win but it won't be pretty.
Mark Tanton
76
Posted 13/09/2014 at 11:38:24
I think there's a real chance of us getting turned over – and then a disappointing start becomes a shite one. Hope I'm wrong. We'll need to toughen up that's for sure.
Kunal Desai
77
Posted 13/09/2014 at 12:19:22
It'll be interesting to see how much confidence was knocked out of the side after the thrashing Chelsea dished out. There is simply no room to switch off for any player in this game.
It will be as difficult as the previous 3 already played and grinding out that first win will require even further belief as well as greater mental and physical strength than already shown. Let's hope the team haven't had energy sapped out of them this early in the season.
Jim Lloyd
78
Posted 13/09/2014 at 12:58:41
I don't see that Chelsea dished out a thrashing for us. We gave away at least 3 stupid goals, one of which was offside. They scored two quick goals yet Everton fought back really well and got a great goal at a great time. For a large part of the first half, we took the game to Chelsea, I didn't see us fold then.
We came back strongly in the second half and it could so easily have been 5-4 and not 6-3, when Mirallas finished off a great move. Their Goalkeeper pulled off a great save and prevented what would have been a contender for "goal of the month" and then Besic gives them a freebie, which I'm sure he'll have nightmares about and, hopefully, wont try such a daft trick again. When Eto'o came on, it was Chelsea playing for time for the last 15 mins, not us.
I know full well that the scoreline doesn't lie but that didn't reflect on the game as a whole. It was the other England Centre Half lying on the deck feigning injury and who dragged himself off as though he had lead boots.
My view was that our two central defenders were not protected as much as when Pienaar is playing and certainly not as much as when Ross is playing.
I think teams have fathomed out that if you by pass the midfield and get at Jagielka and Distin, they are prone to make mistakes, usually fatal. When we have McGeady and Mirallas playing, their natural tendency is to go for goal and defence isn't their greatest strongpoint.
When you look at our season, we have let teams back into a game and we let a team score goals which should never have been scored.
The fact that Arsenal were bouncing round like they'd won the Cup, after getting a draw and the fact that Chelsea were so confident that they did all they could to see out the last 15 mins with feigned injuries and whatever. Those two teams are very likely to be in the top four.
So yes, the defence needs tightening up. But as Howard Kendall said in last weeks Echo, "The defence starts from the front."
Steve Jenkins
79
Posted 13/09/2014 at 14:02:27
Need to kick off our season today and fancy us to get 3 points. Hope we have somebody protecting the back 4 as we start with what are allegedly to DM's (not questioning their ability) but neither do what at one least one should required to and that is - sit in front of the back 4 and protect it.
Hope Eto's fit as you always feel capable of getting a goal off the bench with that kind of quality around.
McGeady's in great form and really showing what his ability & talent is capable of - hope that continues today.
---
Add Your Comments
In order to post a comment, you need to be logged in as a registered user of the site.
Or Sign up as a ToffeeWeb Member — it's free, takes just a few minutes and will allow you to post your comments on articles and Talking Points submissions across the site.
© ToffeeWeb