Burnley vs Everton
Match Preview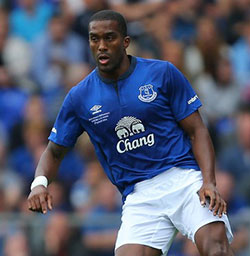 Did Sylvain Distin play his way back into a regular starting berth on Thursday?
Everton complete a testing sequence of six away games in seven this weekend as they make the mercifully short trip to Burnley in the Premier League. Though they didn't manage to record a victory on the road — apart, perhaps, from the moral one at Anfield at the tail end of last month — the Blues did secure two important points in the Europa League that has them well positioned going into the second half of fixtures in Group H.
The performance in Lille may not have even threatened to hit any noticeable heights but Roberto Martinez was happy with the draw and he will now look to build on last weekend's handsome win over Aston Villa that has his team sitting four points off the Champions League places despite their highly disappointing points return thus far.
With Seamus Coleman and James McCarthy wisely rested given their recent returns from muscle injuries, the manager will almost certainly look to restore the bulk of the starting XI the Villa game which would also entail recalls for Steven Naismith and Romelu Lukaku. Though they both put in accomplished shifts across the 90 minutes, Muhamed Besic would likely make way for McCarthy and Tony Hibbert would step aside for Coleman. Further forward, Naismith woudl likely come in for Aiden McGeady and Samuel Eto'o for Lukaku.
It's in central defence where Martinez may pause for further consideration given Sylvain Distin's solid display in France on Thursday. Antolin Alcaraz was equally impressive last Saturday but the Paraguayan may get the nod purely because he'll have fresher legs having had eight days off.
Arouna Kone and Bryan Oviedo are apparently close to full fitness and may be considered for the match against Swansea City next weekend but Martinez ruled both out of the trip to Turf Moor during his pre-match press conference yesterday.
Burnley will start the day in the bottom three, having amassed just four points and two goals at thus far on their return to the top flight. Of course, Evertonian Law says that the team waiting for a first win will inevitably get it against Everton with the striker suffering a goal drought — in this case, Danny Ings (although what price ex-Blue Lukas Jutkiewicz) — scoring the winner but maybe just pointing that hoodoo out will be enough to banish it in this instance!
The Clarets have been struggling in front of goal, though, and have been susceptiple to conceding goals, so if the Blues can get their act together going forward in the manner in which they did last weekend, then they stand a good chance of recording a second victory away from Goodison Park in 2014-15.
KIck off: Sunday, 1:30pm BST
Referee: Andre Marriner
Full coverage: ToffeeWeb Match Reports
Reader Comments (82)
Note: the following content is not moderated or vetted by the site owners at the time of submission. Comments are the responsibility of the poster. Disclaimer
Derek Knox
1
Posted 25/10/2014 at 07:41:00
Thanks for whetting the appetite with that preview Lyndon, and yes it would be good to get three points there, but quite rightly so, Roberto is not underestimating them at all.
I quite like Burnley's style of play, under Sean Dyche, and I have seen them on TV a couple of times; on each occasion, they have been a little short of both luck and finishing. Having said that, I think they will still surprise a couple of sides, as they are not far away from being decent one themselves.
Let's just hope they don't start that trend against us on Sunday.
COYB
Tony J Williams
2
Posted 25/10/2014 at 08:10:34
I can't say that I have ever seen such a run of away games to home games in my life.
Ajay Gopal
3
Posted 25/10/2014 at 08:08:03
Lyndon: "...will now look to build on last weekend's handsome win over Aston Villa that has his team sitting four points off the Champions League...." or 2 points off the relegation zone, whichever way you want to look at it! It has been a strange season so far, and in reality Burnley are only 5 points off Everton. Hopefully, we will start putting a string of results together and pull away from the mid-table stragglers.
I mentioned on another thread that I believe Roberto will rest Barkley (at least put him on the bench) and Barry and will start with:
Howard
Coleman Jagielka Alcaraz Baines
Besic McCarthy
Naismith Osman Pienaar
Lukaku
Subs: Robles, Distin, Browning, Gibson, Barkley, McGeady, Eto'o
This team is strong and energetic and surely should be enough to see off Burnley.
Neil Wood
4
Posted 25/10/2014 at 08:31:06
Morning All... Great text, Lyndon, as always.
Ajay, I disagree resting Barkley as he needs some game time to get to his best and build up his confidence and where better to do it. I think the McCarthy/Besic partnership giving Barry a week off is a possibility and doesn't lose us much.
Another three points this weekend and we will start heading towards that top 4 again. Then the media can continue to talk about everyone else but Everton again and frustrate the life out of me!!

Max Wilson
5
Posted 25/10/2014 at 09:33:41
I want to see Lukaku and Eto'o up front together and the service to them improved 100%. If this involves not playing our mediocrity, so be it!
Tony Byrne
6
Posted 25/10/2014 at 09:35:02
Good morning all,
Great preview, Lyndon, on tomorrow's game, I hope RM starts with the same 11 that beat Villa last week.
Barkley needs more game time & the form Barry is in, can he be rested? I wouldn't want to see him rested tbh. I can see Barkley taking this game by the scruff of the neck & possibly getting on the score sheet.
Big 3 points required tomorrow but we must show more threat going forward; I'm sure we will.
Dave Abrahams
7
Posted 25/10/2014 at 09:48:55
Ajay (#3),
I do not fancy that team one little bit.
Mark Andersson
8
Posted 25/10/2014 at 09:55:26
Nice one, Lyndon, remind everyone that the Gods of football always help a struggling team break their duck against us.
I don't care what team Roberto picks as long as we win. Niel 4 the press only talk about Manure, Chelsea, the Redshite and Arsenal in that order. Man City, the champions and a great entertaining footie team, just about get a mention. I would love it if some other team won the league.
Brian Harrison
10
Posted 25/10/2014 at 10:42:56
I hope that we impose ourselves from the first whistle, they are a team low on confidence so let's make sure they don't get a foothold in the game. I think if we are to compete for a top 6 position then nothing short of a win will be good enough. Playing in Europe in midweek is not an excuse for not picking up maximum points tomorrow.
Joe Edwards
11
Posted 25/10/2014 at 10:49:16
I'm amazed at your comment that Besic put in an accomplished shift, I thought he was poor giving the ball away cheaply, offering no help to Barry in his efforts to keep possession and his first touch was grim on more than one occasion.
I understand the need to rest McCarthy and so I'm not going to harp on too much but I think the lad's got a long way to go if he's going to be an "accomplished" player.
David Hallwood
12
Posted 25/10/2014 at 11:09:52
Brian Hennessy (#9) do you remember when you were a kid and your mum used to tell you about spring-heeled Jack or the Galoshe man.... Well Kone is the 21st Century equivalent.
Colin Glassar
15
Posted 25/10/2014 at 12:07:19
This is a must win game. Depending on results today we could be either adrift tomorrow or, with a win, be right back in the mix. 0-2 win tomorrow.
Sam Hoare
17
Posted 25/10/2014 at 12:35:58
Joe 11, I disagree. I thought Besic (in the second half mainly) looked composed and comfortable. He's very athletic and can drive us forward unlike Barry and McCarthy. Considering he is young and new I think he is bedding in very well.
However, I think Martinez will probably start Barry again this weekend with McCarthy. Barkley looked totally spent by end of Thursday night and will possibly not be recovered to start.
I reckon we will see...
Howard
Coleman Jagielka Alcaraz Baines
McCarthy Barry
Naismith Osman Pienaar
Lukaku
A slow team and I think we may struggle to create that many chances vs an organised Burnley. Will rely as ever on Coleman and Baines.
James Stewart
18
Posted 25/10/2014 at 12:46:55
Barkley won't be rested. The reason Lukaku is looking a bit better again is Barkley's return.
Howard
Coleman Jagielka Alcaraz Baines
McCarthy Barry
Naismith Barkley Pienaar
Lukaku
I would prefer to see Browning given a go personally and Eto'o to start for Pienaar.
Kevin Tully
19
Posted 25/10/2014 at 13:07:46
Can someone explain something to me?
Why is playing on a Thursday/Sunday any different to playing on a Wednesday/Saturday?
Whenever anyone is discussing the Europa League, playing on a Sunday is always mentioned, yet it's not an issue for Champions League sides playing midweek and Saturday?
No excuse as far as I'm concerned. I think some teams play better, the more they are playing, and we should be welcoming these extra games. Once you get into a winning groove, you want to play every day.

Mark Frere
20
Posted 25/10/2014 at 13:03:20
This should be a routine win, Burnley are out of their depth at this level and our defence is finally looking solid again.
I really hope Naismith isn't deployed on the right wing; he lacks the pace and technical abality to play out wide and we've seen before how much his form has suffered from playing in that position. It should be either behind the striker or the bench coming on as a impact sub for Nais.
I would play:
Howard
Coleman Jagielka Alcaraz Baines
Besic McCarthy
Astu Naismith Pienaar
Lukaku
Colin Glassar
21
Posted 25/10/2014 at 13:21:00
Why is Big Sam wearing a gents toilet symbol on his lapel?
Gavin Johnson
22
Posted 25/10/2014 at 13:21:10
Mark, I'll second that line-up. I suspect Osman will be ahead of Atsu though, with not making the trip to France in the week. But I'd like Atsu to make a start as there were some encouraging signs in Lille.
Mark Frere
23
Posted 25/10/2014 at 13:22:04
I suppose the main difference is that the CL sides ie. Man City Chelsea, Arsenal and RS have bigger squads... but like you say there's no excuse for a professional athlete not to be able to play 2 games a week. Baines always seems to cope better than anyone else. Every member of our squad should be at Baines's level of fitness.
Mark Frere
24
Posted 25/10/2014 at 13:41:06
I think you're right, Gavin. More than likely it will be Sam (17) line-up starting with Osman coming off cream-crackered after 60 minutes. Hopefully then Astu will get a run-out.
Jack Cross
25
Posted 25/10/2014 at 13:29:24
Mark Andersson. On paper Burnley should be a push over. But, as you and Lyndon say, the likes of them always seem to put something special together when playing us. I think we should come out of it easy winners maybe 3-0. But you always have that little bit of doubt in your mind from past experiences.
Chris James
26
Posted 25/10/2014 at 13:35:21
Three things I'm going to take issue with from several of the line-ups above:
1. The 'R' word – we're banging on about resting players again... have we learned NOTHING from the experience of twatting around with line-ups in recent games? Did we avoid injuries? – No. Did we look disjointed and lose points ~ Yes.
For my money, if it's a competition we're serious about, we should have the strongest team from available players lined up. End of discussion.
If there's a tactical reason for changing, a player is injured, out of form or not fit, that's one thing; if you want to give a reserve or youth team player a chance, that's equally valid; but 'resting' young professional athletes being asked to perform for an hour and half twice a week is ludicrous.
When it comes to Barkley especially, the Villa game surely proved just how desperately we'd been missing a player of his type (i.e. both creative and happy to run at defenders, not just pass). Not only did he create havoc himself and add an extra point to our attacks, but he also allowed Lukaku to look a little more like the player we hoped we'd bought.
2. Osman should not be starting in the Premier League again. Unless we REALLY have no other options. I can't actually recall a good game he's had in 2014 and everytime he's played this season he looks massively off the pace in terms of pace + fitness, gets brushed off the ball with a gust of wind, and – with passes being largely back/sideways (another one) or stray – he's a net negative to the side.
This isn't to disrespect his previous service to the club or his talent as a footballer; he was an unsung player for a long time (and then briefly somewhat oversung), but he's just not good enough anymore.
3. I don't understand why no-one is suggesting McGeady or Atsu. With Mirallas out, our only real width is provided by our rampaging full-backs. Now don't get me wrong, they are both brilliant, the best pairing in the league if not global football right now I think, but they are so much more effective and harder to shut down when they can overlap and get space from a wide player ahead of them. What's more, a pacy wing-player gives us another easy out-ball other than pinging to Lukaku to try and hold up.
I totally admit that neither of Atsu or McGeady is yet delivering at the level we need, but they are clearly capable of doing so and both need game time. Pacey flair players are by nature often 'luxuries' but I think either are a better gamble than the liability of starting Leon.
On this basis, my preferred line up would be:
Howard
Coleman Jagielka Alcaraz Baines
Barry McCarthy
Naismith Barkley Pienaar
Lukaku
With a bench of: Atsu, McGeady, Besic, Distin, Eto'o

James Stewart
27
Posted 25/10/2014 at 14:03:59
The prospect of a choice between McGeady and Atsu is a grim one. Both next to useless. We need Oviedo back fit and Delboy back in January.
Callum McNab
28
Posted 25/10/2014 at 14:20:51
Hope to God we get a good win and keep the confidence going. I just hope the voodoo that always bloody hits us in someone looking to score for a record or their first win doesn't happen. COYB
Pete Edwards
29
Posted 25/10/2014 at 14:39:17
Chris @ 26 — your team suggestion contradicts point 3 of your post!
Conor McCourt
30
Posted 25/10/2014 at 14:51:19
Some really old fashioned views on this thread that have no link to reality. This viewpoint that footballers should be able to play three games in a week as the working man has to work 60 hours a week blah blah... more macho bollocks.
It is a scientific fact that after European games, teams who play in the following weekend win over 30% less than when not playing in Europe. You only have to look at Man City today. No-one is suggesting you can't play three games in a week but, to perform at an elite level, that lack of freshness or the effects of a bad pitch or long travelling can make levels drop and give lesser teams the opportunity to take advantage.
Taking Leighton Baines example – yes he looks fresh as a daisy but – two seasons ago, for the first half of the season, he was brilliant and never rested... then, in the second half, he looked so jaded and wasn't the same player. With the amount of games Bainesy has played, don't be surprised to see a dip in form before the New Year... but hopefully we will have Garbutt or Oviedo on hand.
Mark Frere
31
Posted 25/10/2014 at 15:30:46
Don't over exaggerate, Conor. No one said three games a week; it was two 90-minute games... and I don't think that's asking too much of a professional athlete. Sports such as tennis, players play every 2 days and games often last longer than 90 minutes.
And I don't know what the working man, working 60 hours has got to do with the grand scheme of things. Most people's jobs don't require them to run about and be fit as a fiddle.
Kevin Tully
32
Posted 25/10/2014 at 15:35:24
Conor - where does that 'stat' come from? How have Arsenal qualified for the Champions League 17 years on the bounce if European football is such a hindrance? Why did Man Utd, Liverpool, Chelsea and Arsenal have those top 4 places tied up for nearly a decade when playing Champions League football every season?
Who mentioned any connection to a normal bloke working 60 hours a week?
We have rested Coleman, McCarthy, Naismith and Lukaku played only came on for 20 minutes. I don't remember any teams playing poorly from being 'tired' after playing midweek games, and certainly not this early into a season.
Ray Roche
34
Posted 25/10/2014 at 15:49:10
Conor, once people start telling footballers that they'll be "tired" after playing in Europe, then they WILL be tired. It's just the excuse they'll need to explain away a crap performance. "Sorry Boss, I was tired after the one hour flight to Lille...."
They only time that excuse is/should be allowed is when we have to travel thousands of miles to Eastern Europe on a Thursday and then have to play at Old Trafford on Sunday lunchtime to appease the arseholes from the TV companies desperate to see their pet team Man Utd win. We should have been allowed to play Monday night and have more rest...
Colin Glassar
35
Posted 25/10/2014 at 15:51:03
Conor, I hate to use the RS as an example but when they were in their pomp they used to play 70+ games a season, and might've used 15-16 players. They didn't have the diets, individual training programmes, squad rotations etc.... Just saying.
On another note, if we win tomorrow we could go as high as 6th and Lawro has got us down for a draw.
Andy Crooks
36
Posted 25/10/2014 at 16:00:21
I really expect a win and a clean sheet. Roberto is using rotation as though we are in the Champions League so he must get it right.
Ray Roche
37
Posted 25/10/2014 at 16:13:43
Just watching the shite against Hull, that Diame is some player.
Conor McCourt
38
Posted 25/10/2014 at 15:55:53
Raymond Verheijen conducted this research, Kevin, and if you had read my post properly its based on the matches directly after a Champions/Europa League game. So Arsenal's Premier League performance after playing in Europe was what I am talking about – not in Europe itself.
Mark & Ray, players cannot complete at 100% in every game. What this research shows is that it takes a minimum of 72 hours for the body to be fully recovered from a big game such as Champions League football. This was not taken just from one league or one season and it's not because players are told they are tired, so play like that – that's just a stupid thing to say.
I am so glad that we have such a forward-thinking coach like Roberto at the helm who is trying to use and rotate the squad to get the best out of the team over the whole season; he was slated for his methods in pre-season but come the end of the season we will realize why he did so.
Ian Bennett
39
Posted 25/10/2014 at 16:10:38
We really need a win tomorrow, no dropping points. Tight at the back, and goals up top. Up the blues.
Howard
Coleman
Baines
Jagielka
Alcaraz
McCarthy
Gibson
Pienaar
Barkley
Naismith
Lukaku
Brent Stephens
40
Posted 25/10/2014 at 16:17:21
I have to smile when there's talk of having to get over the travel to various places. Travel is arduous when it's, for example, all the way to Oz, flying economy, with public transport to / from the airport at both ends, queuing to check in and get through security and passport control, sat in basic public spaces at the airport.
Totally different, even when it's long haul, when it's chauffeur driven car / transport, fast lane processing through check-in etc, business class lounges and flights. These guys get all this and for flights that might only be a few hours.
Kevin Tully
41
Posted 25/10/2014 at 16:21:40
So, Conor, using that logic, Burnley have a 30% better. chance against us because we played on Thursday? Bollox.
Ray Roche
42
Posted 25/10/2014 at 16:19:56
Conor. It's not a stupid thing to say. Some players will look for any excuse to divert attention from a crap, listless display. That is a fact, as anyone who has played the game at ANY standard will tell you. I would be interested to see what your stats say about players putting in two hard training sessions in a day and then doing the same thing the next day.
Conor McCourt
43
Posted 25/10/2014 at 16:21:58
Good team, Ian, I was thinking the same except he will probably play Osman instead of Barkley but I'd much prefer yours.
Conor McCourt
44
Posted 25/10/2014 at 16:28:02
Well, I played Irish League level, Ray, which is similar to conference level in England so I was okay but extremely fit.
Look at how many points Spurs dropped last year after Europa League matches. Do you think they would have finished that far behind us without the distraction of Europe?
Why does Roberto always talk about having the squad to cope with the demands if there is no difference in playing that extra game during the week?
Ray Roche
45
Posted 25/10/2014 at 16:41:20
Well, Conor, we might as well forget about qualifying for the Champions League because we'd be playing better teams and travelling just as much as the nancy boys at White Hart Lane.
Incidentally, I played Welsh League and was also extremely fit, running several half marathons; I played my last 11-a-side game when I was 50 and 5-a-side for some time later. (This explains why I need new knees!) I also trained several teams but decided against taking my coaching badges... golf got in the way.
Harold Matthews
46
Posted 25/10/2014 at 16:10:50
I'm not sure Pienaar will play but I can't understand why he is the only one to appreciate the pass-and-move ability of Baines. Roy Hodgson has never twigged on to it and neither have the Everton coaching staff. I find it very annoying.
We ought to beat Burnley but, if our two lines of four drop too deep, they have players who can smack the ball from outside the box.
Linda Morrison
47
Posted 25/10/2014 at 16:58:31
I'll be surprised if it's not the same team as against Villa.
After Thursday, I can see Roberto alternating Distin and Alcaraz, if only to keep Distin in the frame if/when Alcaraz gets injured.
As for resting Barry, I would not like to be the one to tell him; in the Independent, he is now nearly always there or thereabout for MotM.
Ken Buckley
48
Posted 25/10/2014 at 16:58:29
Beware the Euro Thursday/Sunday Curse. I don't think it is a curse really and I don't think playing two games in 4/5 days is a hardship as we know the players we are playing against like brothers; however, playing a European team whose players we don't know so well, and where concentration has to be blob-on for the whole game, can create a mental tiredness.
A couple of uncharacteristic lapses and any team can be undone. There are checks for fitness levels so I hope the manager and staff have a good idea of each player's mental stamina as that might well determine the team selection and enable what should be a win for the Mighty Blues.
See you there,
UP THE BLUES
Rob Halligan
49
Posted 25/10/2014 at 17:17:50
Some talk on here about the problems of playing Thursday/ Sunday is just crap.
So tell you what: let's lose tomorrow so that we remain in the bottom half – not too near the bottom though, as we don't want to be relegated. Say somewhere between 12th and 16th should be sufficient.
We can then lose our next three Europa League games so we don't qualify from the group. After all, moving on would then mean we might possibly win the damn thing and qualify for next seasons CL.
Then, come January, hope for a really difficult away game in the FA Cup and get knocked out, thus reducing our chances of qualifying for next season's Europa League.
So we can then finish bottom half of the league and some will be happy as there will be no European football next season and we will be trophyless again.
Then again... tell the 10,000+ who went to Lille and see what reaction you get to Europa League? This club needs European football every season; if it's not Champions League – then Europa League is just fine with me. Also, we need to win a trophy as well. Football is after all about winning things, not being happy to plod along mid-table and just surviving!!
Colin Glassar
50
Posted 25/10/2014 at 17:51:45
Surely we're good enough to beat bloody Burnley?
Michael Kenrick
51
Posted 25/10/2014 at 17:57:40
I think the way it works, Colin, last time I checked, you have to turn up, and play reasonably well... and score at least one goal, not let in as many or more than you put in yourselves.
But the result is not a forgone conclusion. That's why we actually have to go there and play the game. We'll only know if we were good enough at 3:30 pm tomorrow afternoon...
Andy Crooks
53
Posted 25/10/2014 at 18:54:48
Kevin Tully, spot on. This tiredness myth is a relatively new invention and unfortunately Roberto is the lead perpetrator of it. Young hugely paid men being tired in October is shameful. If Roy Hodgson had any balls Sterling's England career would be over.
I have long defended footballers earning a fortune but my God some of them are loathsome.
Gareth Ashman
54
Posted 25/10/2014 at 19:20:40
I'm confident of a 2 - 0 win tomorrow, Barkley and Lukaku. Any team that has their badge produced by Commodore 64 technology deserves what they get. Relegation!
Colin Glassar
55
Posted 25/10/2014 at 19:06:28
I agree Andy, if a player came to me and said he was tired after two months I'd tell him to look for another line of work.
Lyndon Lloyd
57
Posted 25/10/2014 at 20:36:16
Joe (11), I saw Besic's performance very differently and I certainly don't recall him giving the ball away that much.
He had a pass-accuracy stat of ~89%, compared to Barry who had the best rating of 91% and Baines, for example, who had ~74%.
I like him. As mentioned above, he's athletic and moves the ball well.
Sandra Bowen
58
Posted 25/10/2014 at 19:49:11
I can't remember which manager it was but I seem to remember an interview a couple of years ago in which this manager said, regarding the Europa League, that it wasn't any problem in terms of fatigue or travel; it was more a problem of constantly playing catch up on a Sunday. The psychological element of there being a little more pressure of the Saturday's results and always being behind in terms of games played and points accumulated.
Makes a bit if sense to me.
Andrew Hawes
59
Posted 25/10/2014 at 21:36:49
For me, Aston villa was a starting point for us!! After a tough start, with disappointing performances, it's now time to put a run together .
The great thing about the likes of Man Utd, Spurs and Liverpool playing so inconsistently is a few wins in the coming games puts us in a really solid position in the top 4.
Everybody's fit apart from Mirallas, Stones and Kone, with the likes of Lukaku & Jagielka just playing themselves back to full match sharpness. Then we have Barkley and Coleman who are going to be fresh after their injuries for the remainder of the season?
All is good in the world, IF we get 3 points tomorrow!!

Michael Penley
60
Posted 25/10/2014 at 21:57:47
Gareth (54) - I like their badge, and better the Commodore 64 than the MS Paint we used for our badge last year, no? We should be down in League Two for that travesty.
Gareth Ashman
61
Posted 25/10/2014 at 22:07:31
Touche Michael, no comeback. Last year's was a travesty.

Harold Matthews
62
Posted 25/10/2014 at 22:21:42
Sandra. Very interesting point.
Linda. Yes, the intelligent positional play of Barry is not always appreciated. He keeps an experienced eye on everything.
John Voigt
63
Posted 25/10/2014 at 22:29:44
Everton simply put need to win almost all their games against relegation sides. At this point it's more than likely that Burnley are going down.
Watching Everton this season it's obvious that the Everton skill players that take the game directly to the opposition are difference makers.
I'm talking about Barkley, Coleman and Mirallas. When none of these players were available play bogged down. Having Barkley and Coleman available should give Everton a big edge tomorrow.
Looking at the top of the table at this early stage it's interesting that only 2 teams are averaging 2 points a game. My point here is that top 4 places for Champions League are wide open at this point in the season (last season it took 2 points a game to make the top 4, but it might take less points this season).
For Everton to get in the mix for a top 4 finish they really need to move up the table in the next month.
Jim Bennings
64
Posted 25/10/2014 at 23:30:37
Got to be honest after watching the highlights tonight I'm loving Wilfried Bony...
The fella is a brick shit house, can hold the ball up, and can score goals and the thing that I really like is that he's always in the bloody MIDDLE, in the box not hanging around on the wing.
How much money have we got left??
Imagine partnering Lukaku with Bony???
Phew that's some thought.
Brian Hennessy
65
Posted 26/10/2014 at 00:01:34
Agree fully with you Jim Bennings re Bony
I can't understand how he is still at Swansea, he would be a real asset to any team looking to finish in top 6.
Problem is, for the last 10 years once a striker comes to Everton they inevitably end up spending far too much time out wide. I had hoped this would end after Moyes left but RM seems to do the same. For me your main striker should almost never be outside the width of the 18-yard box.
Lukaku has got a fair share of criticism this year, but he has received the ball far too much either out wide or with his back to goal.
I would just love to see RM give him a few games with instructions to just sit on the shoulder of the last man and stay away from the wings, we have more than enough wide players in our squad to do that job.

Mike Childs
66
Posted 26/10/2014 at 00:35:10
What a difference a year a makes. Last year, when I joined the pro-Bony crowd over the Lukaku crowd, I must admit it was close to a coin toss. Bony was more established and held the ball up better. After watching the two of them this year I would take Lukaku.
The guy we missed out was Alex Song. If you want to talk strikers, than Pella Grazzo of Southampton is the man. Hold it up, pick out a pass he has all the skills. Given his age, though, I think we did okay with Romelu.
Daniel Joseph
67
Posted 26/10/2014 at 00:46:54
I've got a very strange feeling about this game... 0-5 to the Blues?
Harold Matthews
68
Posted 26/10/2014 at 01:04:18
Lukaku has made it clear that he dislikes being the target man. He asked the Belgium coach to play him up front with Fellaini.
Andy Crooks
69
Posted 26/10/2014 at 09:18:28
Daniel, that's fate well and truly tempted.
Neil Wood
70
Posted 26/10/2014 at 09:29:04
Daniel... It's strange but I had £3.67 left in my B365 account and I have just used it on 5-0!!!! It's fate!!!
Happy with 3 points today and a steady climb up the table.
Geoff Evans
71
Posted 26/10/2014 at 09:59:58
Colin 35 Spot on.
Tony Abrahams
72
Posted 26/10/2014 at 09:17:30
Andy Crooks, the tiredness myth is a new intervention?
I remember Cantona's assessment when he was at Leeds and they got another chance in Europe meaning they played a lot of matches early on in the season. He said that the players were shattered but kept saying it was alright because they were English, and would just get on with it. Cantona's reply was to tell them that it didn't matter if they was from outer space and if your tired, then your fucking tired! You will still play the game but of course it will affect your performance.
Do you think Everton would have lost to Man Utd in 85 if it hadn't come 3 days after Rotterdam? Modern football is all about the squad and we should have enough in ours to beat Burnley today!
Denis Richardson
73
Posted 26/10/2014 at 10:18:12
Wish is simple. 3 points, clean sheet and no new injuries.
Come on Bobby, not asking for too much am I?
(Couple of Eto goals for my fantasy team wouldn't go a miss either...)
Gerry Quinn
74
Posted 26/10/2014 at 10:32:01
http://www.livesoccertv.com/match/1207078/burnley-vs-Everton/
Andrew Ellams
75
Posted 26/10/2014 at 11:16:36
Colin@35, because that was then and as per Ray Roche @ 34, the poor babies are constantly told now that playing these games is tiring and the play up to it. The recent case with a 19-year-old who was too tired to play for England after a 45-minute run out vs San Marino says it all.
Jim Harrison
76
Posted 26/10/2014 at 11:29:01
Harold, #46
I glad you made the point about Hodgson not using Baines's link up play effectively. In the last England game I saw, Baines kept making the runs in advanced positions as he would at Everton and never received the ball. Waste.
Harold Matthews
77
Posted 26/10/2014 at 11:34:08
Yes Jim, He makes fruitless runs in every England game. After passing the ball to Milner, Downing, Welbeck, Young or whoever, he flies up the wing but is totally ignored. I've often wished that Pienaar was English. The way he finds Baines without even looking is wonderful to watch and it can rip defences apart. Can't wait for him to get fully fit. His general passing game at the moment is well below his normal standard and he'll need plenty of game-time.
Three points will do me today and, like Martinez, I couldn't care less about a clean sheet.and wouldn't want the team to have it as a target.
Colin Glassar
78
Posted 26/10/2014 at 12:01:24
Are we actually playing today? According to the media the only game on today is man u - Chelsea.
We really need to batter someone sooner or later so I'd like us to win 7-0 today.
Conn Prosser
79
Posted 26/10/2014 at 11:37:18
There's a lot of hoohaa on here about how professional athletes should be able to play midweek games and not get tired. The important thing to note is that fitness and squad depth is relative. Of course upper tier teams should be able to play midweek games and still be fit the following weekend. But there are 14 other teams that don't have the midweek game, so that is what we are comparing. Man Utd didn't play midweek and where more rested, more ready than the Everton squad. So Conor's stat is relevant because we are dealing in tight margins. Mental strength is a factor too. Distin and Alcaraz are probably very close in terms of fitness and overall contribution, but seeing as the latter didn't play three nights ago, he is sure to get the nod for this game. Learning to play as a squad, not just a team carries something of a zeitgeist that only Arsenal, Man U and Chelsea have carried off for a prolonged period.
Kev Shearer
80
Posted 26/10/2014 at 12:09:55
I want to know when Martinez is going to implement the 3-5-2 formation he is supposedly in favour of?
I do believe that it would suit Baines and Coleman as they would have even more influence on games as wing backs rather than full backs...
It also suits the players we have in other areas such as Jagielka, Stones and Alcaraz all accommodated in the back three, Baines and Coleman pushed further forward as wing backs, Mccarthy and Barry as midfield duo with Barkley playing ahead of them as an attacking midfielder, and Mirallas playing just off Lukaku...
That formation employs our most important players with the likes of Eto'o, Naismith, McGeady and Besic on the bench... also Browning could be our answer to replacing Distin with him and Stones playing either side of Jagielka...
That's my view anyway....
Go for the jugular straight from the off Blueboys and get an early goal... should be enough to make it a routine afternoon for us... NSNO
Brian Waring
81
Posted 26/10/2014 at 12:27:38
Hope Martinez never rested Osman against Lille so he could come in for Barkley today, if that ends up being the case, then for me he should have played Osman against Lille and rested Barkley.
Burnley haven't won a game all season, so that means only one thing, and Lukas Jutkiewicz scoring the winner.
Brian Waring
82
Posted 26/10/2014 at 12:32:34
Just put sky on to watch the preview before the game, and they're talking about Man fucking U!
Harold Matthews
83
Posted 26/10/2014 at 12:24:01
Conn, you're expected to play two games a week and not get tired if you play for Mourinho. Drogba only got a game because Costa was injured.
Derek Knox
84
Posted 26/10/2014 at 12:36:23
Brian#82
My thoughts exactly, turned on myself hoping to see a preview, and some team news, and the gobshites (pundits) are talking Manure and Chelsea.
Al Reddish
85
Posted 26/10/2014 at 12:37:37
According to my mate, Naismith Lukaku and Eto'o start. As do Osman McCarthy Coleman and Alcaraz .
Brian Waring
86
Posted 26/10/2014 at 12:47:16
Would really like to see Besic start alongside McCarthy, give Barry a rest.
Harold Matthews
88
Posted 26/10/2014 at 12:58:44
Howard, Coleman,Jags, Alcaraz, Baines, McCarthy, Barry, McGeady, Eto'o, Lukaku, Osman, Naismith.
Harold Matthews
89
Posted 26/10/2014 at 13:02:25
Okay, That's 12. Can't remember the exact 11.
Andy Osborne
90
Posted 26/10/2014 at 13:26:58
McGeady is on the bench

---
Add Your Comments
In order to post a comment, you need to be logged in as a registered user of the site.
Or Sign up as a ToffeeWeb Member — it's free, takes just a few minutes and will allow you to post your comments on articles and Talking Points submissions across the site.
© ToffeeWeb