Everton vs LOSC Lille
Europa League Preview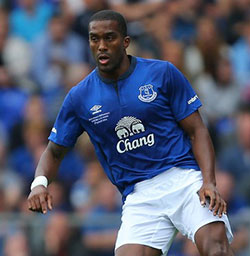 Sylvain Distin is the likely replacement for the injured Antolin Alcaraz
Sitting atop Group H, having collected a vital home win over Wolfsburg and ground out draws in Russia and France, Everton can virtually assure their passage to the next phase of the Europa League with victory when Lille become the first French club to play the Blues at Goodison Park in a competitive fixture.
The reverse fixture two weeks ago was a fairly dull, goalless affair on which the Blues will need to improve but there were enough signs from that game to suggest that Lille would be there for the taking by an Everton side firing on all cylinders.
Therein lies the issue for Roberto Martinez's men, of course; the handsome 3-1 win at Burnley 10 days ago was sandwiched between two uninspiring 0-0 draws and it's unsettling that the Blues have won just four times all season so far.
If the dropped points at the start of the campaign could be ascribed to a disjointed pre-season, some complacency and a general lack of fitness, it's the lack of continuity from the frequent chopping and changing of the line-up from match to match due to injury and squad rotation that many cite as a big reason why the team has been unable to string a run of results together.
They are unbeaten in four now, though, and a win this week over Lille would certainly add some momentum heading into the visit to Sunderland in the Premier League on Sunday.
The cause has, of course, been aided by the return from injury over the past few weeks of some key players, like Ross Barkley, Seamus Coleman and James McCarthy. A double-blow in central defence, though, means that Martinez is down to his last two fit senior players in that position following Antolin Alcaraz's shoulder joint dislocation on Saturday.
He joins John Stones on the sidelines but his absence offers another opportunity for Sylvain Distin to reclaim his spot alongside Phil Jagielka. The 36-year-old started in Lille and will almost certainly do so again this week, with the likes of Tyias Browning and Brendan Galloway waiting in the wings as potential cover. Gareth Barry could, of course, deputise at centre half as he did against Swansea after Alcaraz went off but it's unlikely.
In midfield, Steven Pienaar and Muhamed Besic could be the beneficiaries of Martinez's rotation policy, seeing as both have been on the bench recently, most likely replacing Aiden McGeady and one of Barry or McCarthy, while Darron Gibson is also in the frame after being passed fit again.
Romelu Lukaku is also apparently fully fit after playing 20 minutes on Saturday — he could be deployed up front alongside Samuel Eto'o but the Cameroonian is vying with Steven Naismith and Barkley in the forward areas, evidence of the selection dilemma that the manager faces with all four available.
Though their early results in Group H mean that Everton have been playing with little pressure in the Europa League, another home win that would put them five points clear of Lille and, potentially, six clear of Krasnodar if the Russians lose in Wolfsburg, would really take some additional weight off the shoulders over the last couple of months of 2014.
Kick off: 8.05pm
Quotes sourced from ToffeeWeb Match Reports
Reader Comments (63)
Note: the following content is not moderated or vetted by the site owners at the time of submission. Comments are the responsibility of the poster. Disclaimer
Ciaran Duff
1
Posted 05/11/2014 at 22:24:13
Important to get a win (I'll take an ugly one) for the sake of momentum and also to relieve some pressure for the later Europa fixtures.
Seems obvious that Distin will play (I had expected him to be picked for this anyway) but what will be interesting is whether he can handle 2 games in 3 days and if not who would be CB for Sunderland game.
Aman Kanji
2
Posted 05/11/2014 at 23:41:22
Do we want Tyias Browning in the squad? I'd like to see him play. A gamble... but what the hell. I'm getting bored of 70% possession in our own half with 9 shots on goal!
A game for Besic and Osman.
I will take a big quilted coat and pillow just to make sure I'm cosy during cat naps...
We should win with a shanky goal.
Minik Hansen
3
Posted 06/11/2014 at 00:18:51
Everton need to go full throttle in the Europa League, we are so close, or actually in the middle of it, so deal with it as it is! COYB.
Sam Hoare
4
Posted 06/11/2014 at 00:39:14
I expect a similar game to Swansea with Lille sitting back and looking to catch us on the break with the pace of Origi. Hopefully we will have a little more precision and luck around their penalty box. First goal if any will be crucial.
They won't give us much space so guile rather than pace is called for. With that in mind, I'd go for:
Howard
Coleman Jagielka Distin Baines
McCarthy Besic
Osman Eto'o Pienaar
Lukaku
Harold Matthews
5
Posted 06/11/2014 at 01:16:43
Lopes was tearing St Etienne to pieces before he went off injured the other day and is very doubtful.
Lille win few games and, despite having Origi up front, can't score goals. They are scared of Coleman and may try to counter-attack him with No 23 Souare who gave us a hard time in France. Reports say he turned down a possible move to Everton last week but I don't believe it.
The RS may swop Origi for Balotelli in January.
Duncan McDine
6
Posted 06/11/2014 at 07:39:45
Cant beleive its been almost 2 yrs since my last trip to Goodison, I just hope its worth it (will be getting home sometime around 3am if all goes well). COYB
Jim Bennings
7
Posted 06/11/2014 at 08:45:29
Play your strongest team and make certain of qualification.
No excuse about tiredness, please; tiredness at this stage is a mere mental factor. Winning football matches should put paid to any mental fatigue – what player wouldn't want to get back out on that pitch at Sunderland on Sunday afternoon if we win tonight?
We need to really go after this Europa League, it may be our last taste of European football for a few years, we need to make it last and enjoy every minute of it.
Justin McCallum
8
Posted 06/11/2014 at 08:39:31
#4 No Barkley or Naismith in your team... really? Osman and Pienaar should've been moved on a couple of seasons ago.
Let's hope that Barkley can start supplying the balls for Lukaku to run onto and then out-muscle the French defence and smack the ball into the bottom corner. Simple... no back-passing... no holding the ball up... no passing the ball around our 18-yard line for half the match.
Just simple, pass it to Lukaku to run at the defence... It's not rocket science Roberto..
Abhishek Saha
9
Posted 06/11/2014 at 08:47:31
Martinez should stick to his best playing XI to start with, which would be:
Howard
Coleman Jagielka Distin Baines
McCarthy Barry
Barkley Naismith
Eto'o Lukaku
3 points today would render the remaining 2 fixtures as inconsequential which gives Martinez the luxury to experiment as much as he wants without getting hurt. Experimenting in the league is proving increasingly expensive.
Max Wilson
10
Posted 06/11/2014 at 09:19:55
Ah Duncan! How things have changed, Just one win at Goodison this season.
It's rumoured (how I hate rumours) that RM is thinking of lots of changes for tonight. As far as I know, the only changes Toffees fans would like is for him to play his best players together (where possible).
Lee Wareham
11
Posted 06/11/2014 at 09:18:28
I agree, Jim, a win tonight and the pressure will be off and then Bobby can try some of the youngsters.
Howard Coleman Distin Jagielka Baines McCarthy Besic Atsu Eto'o Pienaar Lukaku
That side should win us the game with plenty of options from the bench.
James Marshall
12
Posted 06/11/2014 at 08:59:17
"There are 23 outfield players who have all shown what they can do for the team and I don't see it as a case of fielding a weakened side if you make five or six changes.
"To become a big club with a big mentality, you need to be able to make lots of changes repeatedly."
Hmm.
Al Reddish
13
Posted 06/11/2014 at 09:48:13
He needs to stop pissing about and get a settled team. It's up to those on the fringes to change his mind by grabbing their chance when given it.
Jim Bennings
14
Posted 06/11/2014 at 09:43:39
If every word Roberto spoke last season seemed to make perfect sense then this time around its like he's been taken over by a drone from David Moyes's past.
I know he has to big up the squad players' confidence but surely can't he see that, by changing the starting team every week, that your not getting settled performances?
Big sides change players because invariably they have world class talent in every position; sadly we don't.
It's like Saturday against Swansea, we end the match with Eto'o, a guy who has made his living as a goal-poacher, out on the wing... then he takes off McGeady, who had been putting a few crosses in, and introduced Lukaku, a guy who would have appreciated those crosses.
Strange stuff at times.
Phil Walling
15
Posted 06/11/2014 at 10:09:25
Just heard someone on the radio talking about another club who takes all season to qualify and then, when it gets into Europe, makes seven changes so that its players will be fit for a Prem match that might help it to qualify again!
I would like to think our manager is not so far up his own arse that he will want to make 'clever' changes for tonight. He isn't, is he?
Dan Murphy
16
Posted 06/11/2014 at 10:22:47
Anyone who's seen Wolfsburg tearing up the Bundesliga and taking Krasnodar to the cleaners would know we want to have qualification wrapped up before going there on the last matchday. Caning them 4-1 has been our season highlight so far.
I don't see why we can't do the same to Lille tonight if everyone turns up.
Steven Jones
17
Posted 06/11/2014 at 10:28:10
Phil, I hope all his changes are clever and subtle having experienced the Lille system of play and matched to how he might want to freshen things up tonight.
Also clever enough to make sure we have a proportion of players biting at the bit for the tricky away at Sunderland.

Derek Knox
18
Posted 06/11/2014 at 09:58:36
I believe that squad rotation should not be a problem, and we should have players who are capable of replacing 'first choice' ones, in case of injury, suspensions or the inevitable loss of form.
In reality, we do not have that strong a backup in all departments, so therefore, being the Devil's Advocate for tonight's match, I think we must field the strongest team available against Lille.
My reasons are simple: we are out of the Capital One Cup, have little chance on present (or even projected) form of getting back into Champions League qualification (ie, top four). Have not even started the FA Cup run (even though either Cup would only get us back where we are now in the Europa League)... so this is a good position to take seriously, and absolutely go for it!
Maybe I am being pessimistic about our Premier League form, but we don't seem to be as consistent as last year. I hope I am wrong, but still feel we should be taking this seriously (Europa) and if we qualify as well through getting into the top four, well that's a welcome bonus.
COYB
Duncan McDine
19
Posted 06/11/2014 at 10:41:56
Max, I hope the rumours are wrong... but the papers predicted the RS line up the other day, so could be the case. Whatever team he sends out, I want to see some spark – something that we've hardly seen so far this season.
Peter Laing
20
Posted 06/11/2014 at 10:58:27
Looking forward to this one; it should be another interesting contest against one of Euorpe's meanest defences. The Lille centre-back, Simon Kjaer, looks one mean player and as strong as an ox.
He is definitely one player that I hope is on Martinez's radar as he has had some complimentary things to say about Everton and, at 25, he could be what we are looking for to replace Distin / Alcaraz.
James Stewart
21
Posted 06/11/2014 at 11:02:48
@15. Agreed. His subs are usually bizarre.
Dave Lynch
22
Posted 06/11/2014 at 11:56:09
If they start that pointless passing for passing's sake, I'll turn the fucker over.
Get our strikers playing in a striker's role, have Seamus and Leighton bombing wide, midfield pushing on hard in support and they will fall apart like a cheap suit.
They will shit themselves if we go for the throat.
Tony J Williams
23
Posted 06/11/2014 at 12:07:57
Don't mess around with the team,
Only about three players have played in all the games so don't give me that tired crap. We have had our pile up of away fixtures so no need to rest players now.
Get our best side out, get the points and look forward to the next game. He has tried to be a smart arse two seasons on the bounce against Crystal Palace and recorded two defeats by the same score.
Don't let us down Bobby and stop talking shite about Distin not being a substitute at his age. Nose, face – meet spite.
Mike Childs
24
Posted 06/11/2014 at 12:43:56
I like your lineup, Sam, but can't see him putting Barry on the bench without an injury. He's our safety net.
Harold Matthews
25
Posted 06/11/2014 at 13:05:58
Lille are usually very dangerous in the first 15 minutes.
Andrew Clare
26
Posted 06/11/2014 at 13:05:44
We must play a strong team. Lille will play a different game away from home and be a tough nut to crack. A lot of these European games are easier in the away leg than the home tie because teams set up to play on the counter-attack away from home.
To win this game, we need to get people in the box with the ball at their feet – otherwise, it will be another Swansea affair with lots of possession and very few chances. Deulofeu would have been ideal for us in Europe; unfortunately, he is not here... so it is up to McGeady and possibly Atsu to make the breakthrough.

Brian Waring
27
Posted 06/11/2014 at 13:40:31
I just hope he doesn't start Barkley out wide to accommodate Naismith behind Lukaku or Eto'o.
Sam Hoare
28
Posted 06/11/2014 at 14:03:04
Dave Lynch, 23
"Get our strikers playing in a strikers role, have Seamus and Leighton bombing wide, midfield pushing on hard in support and they will fall apart like a cheap suit. They will shit themselves if we go for the throat."
Really? They have one of the best defenses in Europe. You don't get that by crumbling under a bit of pressure.
I think if anything we will have to try and draw them out in order to create space. Kjaer will deal with crosses into the box all day long.
James Morgan
29
Posted 06/11/2014 at 13:23:40
Peter Laing, Kjaer is a Kopite!
Looks a decent defender though so we would have to overlook his dark side to employ him.
Denis Richardson
30
Posted 06/11/2014 at 14:22:43
Need to play the strongest team and go for the 3 points. A win would almost guarantee us getting through, depending on other results, and puts us in a great position to top the group (and hopefully avoid a CL club in the next round).
I expect (and hope) to see a similar team to the PL games. Play the strongest side and worry about the league game tomorrow morning.
Not fussed about the performance, need 3 points although a point would not be the end of the world.
Whatever happens don't lose!
Brian Harrison
31
Posted 06/11/2014 at 14:27:16
I have to say I don't feel as I am going to be sitting on the edge of my seat tonight watching this game. This team has a reputation for not giving many goals away, and our performance against Swansea doesn't fill me with the prospect of an entertaining game.
We need to play at a higher tempo than of late and let's get the ball forward a bit quicker, and let's try and make sure that our attacking players have more touches than our defenders... now that would be a change!
Andrew Ellams
32
Posted 06/11/2014 at 14:45:34
We got into a rut last season with slow and sluggish football but got out of it by going for the throat at Newcastle. We need a breakout game like that again.
Dave Pritchard
33
Posted 06/11/2014 at 14:51:47
I agree that if Barkley starts he must go into his correct position, ie, central attacking midfield. Same comment for all players even if it means there has to be some people staying on the bench.
Important to get points here as Wolfsburg are high up the Bundesliga (2nd last time I looked) so we don't want to have to get a result there to progress.
Getting my layers ready for tonight as it's bloody cold.
Harold Matthews
34
Posted 06/11/2014 at 14:56:58
Kjaer may be a Kopite but he sees Goodison as "A true place of football."
Unbeaten in Europe so far, they will try for a clean sheet but are not in a good moment of form. The injury to Man City loanee Lopes has left them short of creativity in midfield and they can't buy a goal. Most of their recent efforts have come from outside the box.
Tony Marsh
35
Posted 06/11/2014 at 15:36:56
Apart from the loss on penalties to Florentina a few years ago, who is the last team to beat us at Goodison Park in Europe and when? I can't remember so it must be late 60s early 70s?
Peter Laing
36
Posted 06/11/2014 at 15:42:22
James, Ian Rush was a blue but it didn't stop him scoring against us!
Dave Pritchard
37
Posted 06/11/2014 at 16:05:26
Tony, I remember seeing Di Maria ripping Hibbo apart when we lost 2-0 to Benfica not that long ago. Benfica team full of stars that day and they buried us 5-0 at their place.
Brian Hill
38
Posted 06/11/2014 at 16:04:24
Tony,
Villarreal, perhaps?
Brian Hill
39
Posted 06/11/2014 at 16:09:43
Dave, you are correct. I'd forgotten about that embarrassment.
Tony J Williams
40
Posted 06/11/2014 at 16:13:04
Bate beat us 1-0 didn't they? 2010?
James Marshall
41
Posted 06/11/2014 at 16:16:05
So the general consensus is that we need to win. OK good, thanks lads, as you were.
Lille don't concede many, and you can bet your arse that bloody Origi will get one tonight. Shit like that is written.
I still back us to win though, but then I always do so y'know...
Tony Marsh
42
Posted 06/11/2014 at 16:17:11
My memory has forgotten the Villarreal game – now that is a painful memory.
There was me thinking it was Panathonikos.
Dave Pritchard
43
Posted 06/11/2014 at 16:33:44
So that's at least 3 home relatively recent defeats. The mind does shut out unpleasant thoughts.
James Morgan
44
Posted 06/11/2014 at 16:33:22
Peter, not just Rush!
Ajay Gopal
45
Posted 06/11/2014 at 16:50:11
Howard
Coleman Jagielka Distin Baines
McCarthy Gibson Besic
Barkley Lukaku Pienaar
Subs: Robles, Hibbert, Browning, Barry, Osman, McGeady, Eto'o.
Tony J Williams
46
Posted 06/11/2014 at 17:05:43
Is that your wish, Ajay, or the official line up?
Ajay Gopal
47
Posted 06/11/2014 at 17:07:24
Tony, that's my expectation.
Tony J Williams
48
Posted 06/11/2014 at 17:11:31
Rightio.
I wouldn't be too upset with that line-up.
Geoff Evans
49
Posted 06/11/2014 at 17:02:35
No time for smart arse selections go for the best team possible and don't piss about. If and when we qualify that's the time to experiment. Play Eto'o and Lakuku and leave one of the defensive midfielders on the bench, we're at home for God's sake, GO FOR IT!!!
Conor McCourt
50
Posted 06/11/2014 at 17:44:15
Already the knives are out for Martinez before a ball is kicked but are we not suppose to be supporters of Everton? For these idiotic comments about how bad we are, we are sitting pretty in the PL and topping a group in which I thought we would struggle to qualify.
Certainly we can have criticism of our manager and team but to say he is clueless about substitutions when we won more games last season from Roberto's changes than any other team in the league is just a moronic statement. Yes we will have our different ideas in team formation and sometimes his subs will disappoint like Saturday but Roberto knows what he is doing and I have more faith in him than any manager we have had in 3 decades.
In Roberto we trust. COYB.
Colin Glassar
51
Posted 06/11/2014 at 18:12:53
Spot on Conor, can't add anything to that.
Neil Wood
52
Posted 06/11/2014 at 18:19:32
Here here....
I think McGreedy will start tonight and in fairness I am expecting him to have a good game!
Get behind them !!!
Mike Allison
53
Posted 06/11/2014 at 18:23:38
His substitution have been poor all season. Praise him when they're good, criticise him when they're bad. Don't praise him when they're bad because they used to be good.
He hasn't even made the full amount in games that needed changing, and which were during busy periods where the squad needed to be utilised.
I'm all for having a go at the whingers, some of the childish knee-jerk negativity I read on ToffeeWeb is embarrassing, but the credibility of those of us who tend to stay positive is harmed by an argument that basically says you're not allowed to criticise Martinez even when he's wrong.
Linda Morrison
55
Posted 06/11/2014 at 18:31:26
I just do not understand the Everton supporters slagging Roberto off. What do you want? O.K. they were crap on Saturday but this is a team in transition as I keep saying.
Whatever happens in Europe we will win the league if we keep our best players in a few seasons.
I think I will be in a minority but I am pleased Osman has another year and Disitin is also getting another year. Transition time people.
To be honest I would prefer 3 points on Sunday than today
Bobby Thomas
56
Posted 06/11/2014 at 18:37:56
No way he's going to drop Barry to the bench & play Gibbo who's just had a small knock Ajay.
Conor McCourt
57
Posted 06/11/2014 at 18:32:49
No mike I've just said we have a right to criticize after the game when we think he could do better. Even this season the only games where he has got it wrong was Leicester when he didn't react and against Swansea when he took McGeady off and brought Eto'o wide and no service for Lukaku..
Considering the fixtures we have had, the injuries, the WC hangover and having to deal with Europe, his management of the team has been very good. Moyes had us 6th and 7th every year and his subs were so predictable and his tactics negative yet Roberto gets slated because a few games don't go our way. I read on here how bad the performances are yet I see it so differently and other fans tell me we have been the best team they have played this season.
Linda Morrison
58
Posted 06/11/2014 at 18:55:42
Well done Conor I thought it was just me! We need to support our team whatever. They are a bit like Miliband and Labour. Will always get slagged off!
Jack Plant
59
Posted 06/11/2014 at 18:57:45
Would like to see Barkley play today, he needs some game time to get sharp again. Hopefully he'll get a good run out in the internationals as well
Al Reddish
60
Posted 06/11/2014 at 19:01:11
T. Howard
S. Distin
P. Jagielka
T. Hibbert
L. Baines
G. Barry
L. Osman
A. McGeady
S. Naismith
J. McCarthy
R. Lukaku
Christopher Wallace
61
Posted 06/11/2014 at 18:58:27
Conor, people tend to ignore things like that if it doesn't suit their agenda.
Roberto's use of subs last year was fantastic. I didn't realise the stat you posted about being best in the league, but it certainly seems feasible.
A win tonight and we're big faves to top the group. I reckon we'll do Te backend on sunday as well.
COYB
Al Reddish
62
Posted 06/11/2014 at 19:05:04
Everton subs: Robles, Gibson, Eto'o, Besic, Atsu, Pienaar, Barkley.
Al Reddish
63
Posted 06/11/2014 at 19:10:05
Not one defender on the bench. Rumours on facebook earlier Coleman was injured in training. Hope there's no truth in it. Expected to see Browning involved at some point tonight.
Alan McGuffog
64
Posted 06/11/2014 at 19:22:05
Ok I've poured myself a stiff drink. I can take it. What's happened to Seamus ? Out till February ?
---
Add Your Comments
In order to post a comment, you need to be logged in as a registered user of the site.
Or Sign up as a ToffeeWeb Member — it's free, takes just a few minutes and will allow you to post your comments on articles and Talking Points submissions across the site.
© ToffeeWeb