Sunderland vs Everton
Match Preview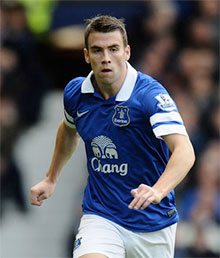 Seamus Coleman is a doubt again due to a cut to his ankle
With the campaign in Europe continuing to go according to plan, Everton return to Premier League action trying once more to establish some momentum on the domestic front following last weekend's disappointing draw with Swansea.
The Blues saw off Lille in confident fashion on Thursday night and fans making the trip to Wearside this Sunday will be hoping for a repeat of the League result that followed the first meeting with the French side last month. That 0-0 draw was followed by a 3-1 defeat of Burnley and Everton take on another team struggling for form this time in the form of Sunderland.
Gus Poyet's side scored a handsome win of their own last Monday when they took down Crystal Palace on their own turf but that was only their second win of the season and it came in the wake of 8-0 drubbing at the hands of Southampton and a 2-0 home defeat to Arsenal.
Nevertheless, they come into the weekend just two points behind Everton, which perhaps speaks volumes about the Blues' patchy record over the first quarter of the season. Roberto Martinez has overseen just one more win than his opposite number — and yet his side remain just four points off the coveted top four places.
In that search for consistency and momentum, Martinez will have been hugely encouraged by Everton's performance against Lille under the Goodison lights the other night. They comprehensively dismantled the Great Danes on the back of impressive displays by James McCarthy, Aiden McGeady, Steven Naismith and Romelu Lukaku.
The Belgian striker may not have scored but he looked fitter and sharper than perhaps at any point in the season thus far and that bodes well for the trip to Sunderland and beyond. It also suggests he will be in the starting XI at the Stadium of Light, perhaps with goalscorer Steven Naismith and Samuel Eto'o in a repeat of the attacking trio that put Burnley to the sword.
Eto'o hasn't started either of the games has only started one of the two matches since he scored twice at Turf Moor and he could be due for a recall. That would, of course, make it difficult to incorporate Ross Barkley into the side but it's a conundrum that the manager will continue to face while the bulk of his squad is fit. Steven Pienaar was another player who sat out against Lille and could come in for Leon Osman, while Darron Gibson and Muhamed Besic will be on standby should Gareth Barry fail a late fitness test on an ankle injury.
Seamus Coleman will also be assessed before the game to determine whether a cut to his heel has healed sufficiently to allow him to play. Tony Hibbert is the likely deputy should the Irishman be forced to remain on the sidelines while Sylvain Distin is expected to continue at centre-half alongside Phil Jagielka.
Though they will have been buoyed by their win in South London thanks to top scorer Steven Fletcher's brace, as that awful showing at Southampton showed, the Black Cats are susceptible to conceding goals. That presents an opportunity for an Everton side who carved out three goals in the Europa League this past week, after being shut out for the first time in the Premier League by Swansea five days earlier.
While no away match is ever a banker, this is certainly a fixture that a Blues side aiming for Champions League qualification should be winning and, certainly, if everything comes together as Evertonians would expect, then three points should be in the offing. It will take a more imaginative and incisive performance than was the case against the Swans, though.
Kick off: Sunday, 1:30pm
Referee: Lee Mason
Full coverage: ToffeeWeb Match Reports
Reader Comments (75)
Note: the following content is not moderated or vetted by the site owners at the time of submission. Comments are the responsibility of the poster. Disclaimer
Tony Abrahams
1
Posted 08/11/2014 at 07:37:06
Lose this and we could be in the bottom six; win it and we can finally get the feeling that our season has really began.
Only conceded one goal in five games and another clean sheet would surely get us another three points and put us in a decent position going into yet another international break.
Terence Leong
3
Posted 08/11/2014 at 09:03:43
In attack, I would put Eto'o, with Barkley behind him. Pienaar on the left, McGeady on the right.
In the middle, I will start with McCarthy and Gibson. Defence will be as on Thursday. That can give some freshness while having some continuity.
And if the game is panning out to our favour, to introduce Besic for McCarthy, Browning for Hibbert and/or Oveido for Baines to keep the players fresh and give match fitness/experience.
Derek Knox
4
Posted 08/11/2014 at 08:47:19
Strange how a win and a good performance can really gee you up for the next game. Hope this has been the same effect with the squad, for tomorrow's journey to Mackemland.
Also hope they don't think it will be a stroll, as we have seen all too often in the recent past, teams you expect to get a win against, more often or not surprise us and leave us with an abundance of egg rolling off our collective chins.
I also notice that our kick-off is early at 13:30 yet they do not appear to be on TV, well not Sky for sure. Does anyone know any different, and why the early start?
COYB
Mike Childs
5
Posted 08/11/2014 at 09:31:21
Thursday done and dusted. If anything this season has shown what happened on Thursday means nothing towards Sunday.
Hopefully we continue to climb towards our potential. Sounds like the good luck charm Hibbo will play. COYB!
Max Wilson
6
Posted 08/11/2014 at 09:59:43
Mike is on the money! This one will be tougher. They are fighting for their survival. I guess we won't have Coleman or Barry. Up front, I'd like to see our double-barrel shotgun being brought out – Lukaku and Eto'o together.
I expect to see Distin at the back with Hibbert and I'd have no qualms about seeing Browning on the bench. Midfield: General McCarthy, probably Gibson because of the Barry situation; Naismith, Barkley, Oviedo and Pienaar.
This will be a 90-minute, no-let-up game. No prisoners will be taken.
Mike Chambers
7
Posted 08/11/2014 at 10:25:56
We really need to get the 3 points tomorrow. Never mind resting players – the best team should be out at all times. These guys are paid enough to play two games a week... if not three.
Ian Bennett
8
Posted 08/11/2014 at 10:34:31
If Coleman and Barry are out I'd go:-
Howard
Browning
Baines
Jagielka
Distin
McCarthy
Besic
Pienaar
Barkley
Eto'o
Lukaku

Denis Richardson
9
Posted 08/11/2014 at 10:31:51
Odd season so far and leaguewise it's a bit on the edge, 4 points off CL spot and 4 points off relegation zone. Now is really the time to get a few wins to kick on up the table.
It's an away game and none are easy but after the confidence boosting win against Lille (with no travel involved), I'm expecting us to grind out the 3 points. Sunderland really are a very average side.
Looks like we'll be missing Coleman, which is a blow, but others have to step up. If a few out of Barkley, Lukaku, Eto'o, Naismith and Pienaar have good games in attack, then we should be fine. Hibbert will be solid and Browning can get a few more minutes late in the second half... I hope so anyway!
Mark Frere
10
Posted 08/11/2014 at 10:56:35
Bobby has a nice team selection headache at the moment. I suspect there will be a little rotation and Barkley will come in for Naismith in the hole behind the striker.
I would start with Lukaku and give him 60 minutes or so to capitalise on his good performance against Lille. I think McGeady has also earned a start with his recent form... might as well keep the momentum going when he's playing well.
I hope Browning is given a chance if Coleman misses out; I can't understand why RM has been so reluctant to use him, he looked very impressive defending and going forward in the 45-minute cameo against RS - the lad needs game time to develop.
I just hope there's no square pegs in round holes... Hopefully no Naismith or Osman stuck out on the wing. Both are good players but need playing in their correct positions. Osman played well on Thursday in the left midfield position but usually he doesn't excel playing there.
I would play:
Howard
Browning Jagielka Distin Baines
McCarthy Besic
McGeady Barkley Pienaar
Lukaku
Hopefully Gibson will get 30 minutes or so, he looked very impressive spraying the ball about against Lille; he could be a very valuable squad member if he can stay fit.
Kunal Desai
11
Posted 08/11/2014 at 11:52:26
I'd love Browning to get an opportunity to start but I can't see RM taking that risk. Hibbert will start if Coleman doesn't make it and Besic in place of Barry. Pienaar and Barkley will start probably in place of McGeady and Osman. I think it'll be another score draw.
Chris James
12
Posted 08/11/2014 at 11:55:30
This is a must-win, no argument, and we need to go for it from the off.
If Coleman's out, I think that has to be Hibbert at right back. Browning can come in, but Hibbo played well in mid-week and his experience will count. Likewise has to be Besic for Barry IF the latter is injured.
Pienaar on the left to have a genuine wide player and likewise McGeady on the right, his running will be doubly important with Coleman out. Naismith to come on for either if they're struggling.
Barkley is a must start and I'd probably start Lukaku but def be thinking about giving Eto'o a crack for more than the last 15 if we don't get a breakthrough.
Howard
Hibbert Jagielka Distin Baines
McCarthy Barry/Besic
McGeady Barkley Pienaar
Lukaku
Subs: Robles, Browning, Gibson, Naismith, Osman, Oviedo, Eto'o (with Atsu for Oviedo if he's still not fit).
Harold Matthews
13
Posted 08/11/2014 at 11:56:26
With Lee Mason in charge, shirt-tugging, wrestling and rough tackles will be the order of the day. He has a huge blind spot for this kind of stuff. Anyone with dodgy legs, flimsy bodies and faint hearts should remain on the bench or on the coach.
Sunderland are set-piece experts and we will need to stay awake and not lose focus.
Colin Glassar
14
Posted 08/11/2014 at 12:09:32
What we've learned from the last couple of games is that Lukaku, Nessie and Eto'o can't play together as a trio as one of them has to sacrifice their natural position and become totally ineffective.
Mike Childs
15
Posted 08/11/2014 at 12:36:49
Guess I'll be rooting for our farm club this morning states, early afternoon in grand ole England. Just saw a great preview that started with the Slip. Wish we could just jump over them today.
James Stewart
16
Posted 08/11/2014 at 13:16:17
I don't think we should be making too many changes after playing well. Browning should be given a go; I'm not sure why he is being sidelined suddenly after playing well.
Howard
Browning Jagielka Distin Baines
McCarthy Gibson
McGeady Barkley Pienaar
Lukaku
Eto'o and Besic on from the bench.
Max Wilson
17
Posted 08/11/2014 at 13:34:56
Dear Brother Mark and Christopher,
As this is going to be a hard battle – why wouldn't you be playing your best two strikers?
Oh deary me! Please put the old thinking cap on.
Yours Evertonially, Maxie.
Colin Glassar
18
Posted 08/11/2014 at 13:34:11
Sunderland will be a happy with a point so will probably be uber-defensive and we will probably be without Seamus and Barry so I'd go with this team:
Howard
Hibbert
Jagielka
Distin
Baines
McGeady
McCarthy
Besic
Pienaar
Naismith
Lukaku
Subs: Robles, Browning, Garbutt, Barkley, Gibson, Atsu, Eto'o,

Jay Harris
19
Posted 08/11/2014 at 13:45:39
Colin,
I couldn't agree with you more. I have been banging on all season about how playing too many "centre" forwards has caused us two problems:
Players running into each others space, and leaving midfield light, affecting our build up play.
Phil Walling
20
Posted 08/11/2014 at 14:23:08
Me and Colin don't agree on much but I'll go with that line up tomorrow. I think Nais and Romelu are our best partnership up front but suspect Bobby will fuck it up by bringing in Ross and playing the Scot wide !
Jackie Barry
21
Posted 08/11/2014 at 15:03:41
I'don't; I'd rather have Barkley in, Lukaku and him seem to have a gold understanding. I thought Gibson was injured too based on some reports I have heard.
Conor McCourt
22
Posted 08/11/2014 at 15:32:24
I like your team James that would be a very exciting line-up. Let's hope Man Utd stays 0-0 and with RS losing it could be a nice weekend for our top 4 chances, if we can get a result tomorrow.
Colin Glassar
23
Posted 08/11/2014 at 16:25:30
Phil, I think Ross will start on the bench as he's still not match sharp. Bring him on after an hour if need be and let him run at the defence which is where he's most effective.
Jay, square pegs in round holes was OFM biggest defect. I hope Roberto doesn't go down that road.
Jay Harris
24
Posted 08/11/2014 at 16:41:30
Unfortunately Colin he has gone down that road all season although to be fair he has corrected that to an extent in the last couple of games.
3 points tomorrow is vital to get the momentum going but I would prefer to see Besic McCarthy and Barry in midfield against the Black Cats as I feel there will be a real battle for midfield domination.
Mike Childs
25
Posted 08/11/2014 at 16:43:37
I like your line-up too, Colin. Imagine the wake-up call to Barkley if he starts two in a row on the bench. If Barry passes the fitness test, then he steps in and Mo goes to the bench.
Nothing against Mo who is a nice tidy little player but Barry is the glue for this team.
Colin Glassar
26
Posted 08/11/2014 at 16:53:54
I hope Barry is fit to start but I left him out just in case. It sounds like Seamus is deffo out. I forgot to put Ossie on the bench but that's Ossie's fault, of course.
Paul Andrews
27
Posted 08/11/2014 at 16:59:57
Howard
Hibbert
Jagielka
Distin
Baines
Barry (Barkley)
McCarthy
Besic
Naismith
Lukaku
Osman
Kevin Tully
28
Posted 08/11/2014 at 17:06:22
A win tomorrow could possibly see us go 6th - 2 points off a Champions League spot. Against Lille, we definitely witnessed the 'real Everton' playing the game with confidence. One- and two-touch football, players wanting the ball, and completely solid at the back.
As soon as we become hesitant in our play, it really affects our whole game plan. As long as we can keep the ball moving with fluidity, we are a match for anyone in this League.
We really should have too much for an average Sunderland side. I also think playing these scrappy sides away from Goodison suits us better at this point – as the home side, the onus is on them to open the play up and go for the win.
3-1.
Paul Dark
29
Posted 08/11/2014 at 17:15:30
Ian #8: Very nice team, possibly having Hibbo at RB - he's done well this season in my view. As long as we avoid playing (or putting on the bench) Osman or McGeady, we'll be OK.
It's a pivotal game at a pivotal time. We need to score early and then keep possession (another reason that McGeady and Osman must not feature, let alone play) and get a second just before or after half-time.
0-3 would send the right message to Soton, WHU and other CL hopefuls.
Paul Dark
30
Posted 08/11/2014 at 18:03:43
I still don't feel we're anywhere near our best of last season. The two big differences from last season for me:
1. Our passing was purposeful: incisive and with a forward push, much more likely to happen when Pienaar is playing, in my view.
2. We were solid at the back and played as one team. (McGeady isolates Coleman all too often, And Seamus isn't the most natural out-and-out defender anyway.)
We look a much better side with Besic, but he has taken to the slow backward and sideways passing too. I don't mind us keeping the ball and playing along the line at the back and moving forward with pace at the right time, but we need to keep a shape for that – and we don't. Both Rom and Sam come very deep in search of the ball, especially when we play slow and that ruins our shape – and Naismith the same sometimes/often. Perhaps we would play with more purpose if one of Barry/McCarthy played in a more advanced role in central midfield dictating play, but I'm not sure if either is a midfield general. This team so needs the calming influence of a Reid/Bracewell and the incisive final ball of a Tricky Trev. While we're at it, we could put the best ever goalkeeper (anywhere in the world) in goal... :-)
COYB!
Brian Harrison
31
Posted 08/11/2014 at 18:13:17
I don't see the need to change the team that played against Lille; we controlled the game from the first whistle to the last. I know Southampton aren't playing in Europe but Koeman plays roughly the same team each week and they don't look tired.
Patrick Murphy
32
Posted 08/11/2014 at 18:20:52
Brian, I would imagine that Barry will be missing tomorrow and there's no way Ossie should start, he was gasping for air early in the second-half on Thursday night. Barkley may get the nod with Eto'o tomorrow but we will have to wait to see what the manager decides upon.
But there is a great opportunity to get the season up and running tomorrow and at least make a challenge at the top end of the table. Tomorrow's result may have a big bearing on the rest of the PL campaign.

Brent Stephens
33
Posted 08/11/2014 at 18:22:37
Paul Dark #29 "As long as we avoid playing (or putting on the bench) Osman or McGeady, we'll be OK."
Consensus seems to be that those two played well midweek (as did Hibbo who you would have in your side). Not that I'm surprised to hear it from you. Even a broken watch is right sometime in the day – so, if you keep saying it long enough, you'll eventually be right about Osman!
Jim Bennings
36
Posted 08/11/2014 at 18:42:20
Paul
I agree about the passing, it was far more purposeful and quicker last year, it took a few months to get going but by October 2013 we were well into our rythm.
This season however we have been rather slow and ponderous, last week against Swansea it was clear that the game had 0-0 stamped all over it from half time.
Tomorrow's game will ve a totally different kettle of fish, Sunderland will have the vocal backing, they will play more direct, more tempo and more physicality than Lille.
The Lille match strangely had a pre-season feel about it at times, the game became really slow in the second half.
Tomorrow we need to show another side to our game again.
Mark Frere
37
Posted 08/11/2014 at 19:16:53
"I agree about the passing, it was far more purposeful and quicker last year, it took a few months to get going but by October 2013 we were well into our rythm".
I disagree, Jim, it was about this time last year when we put in a lacklustre display at home to spurs and was very lucky to come away with a 0-0 draw. The following game we went to bottom of the table Crystal Palace and our play was slow and ponderous, and we drew 0-0 again.
It wasn't until late November - when we drew 3-3 - with RS that we started playing well IMO.
The results were better early on last season than this season but the performances were nothing special... and we did have a easier fixture list earlier on last season, with a much better pre-season as it wasn't a World Cup year.
Jamie Barlow
38
Posted 08/11/2014 at 19:26:23
Paul@30, you managed to get McGeady in there but you didn't mention Ossie in your post. You're definitely slacking. Must try harder.
Jim Bennings
39
Posted 08/11/2014 at 19:41:35
It's a good point Mark.
The 3-3 draw with them in the derby kind of gave us some kind of spark, almost as though something hit us that day and we thought "hang on, we have just gone toe to toe in a derby match against a in-form Liverpool team, we can do anything we wish "
To be fair, last year in that month leading up to Christmas, the 3-3 derby, the 4-0 against the notoriously tough nut Stoke, the 21 year hoodoo at Old Trafford going up in smoke, and then the outstanding performance at the Emirates in the 1-1 draw had me feeling as proud to be a Evertonian as I have for some long time.
I take your point that last season's fixture lust at the start was much kinder but this season we have failed to beat Leicester, Palace, Swansea at home ( not a bad side but at home we should be expecting the win) .
The next month of games will determine for me what our ambitions for the season will be.
Failure to go on a winning run beating teams like Sunderland, Hull, West Ham (fair enough won't be easy this season the Hammers) then we can't expect a top 4 challenge.
Its time to start clicking full time.
So far we have clicked only part time.
Mark Frere
40
Posted 08/11/2014 at 20:00:18
Yes, Jim, its certainly an important month ahead; if we can put a good run together, we will be right up there challanging for top 4 again. The league is very close this season, and any side in top half of the table are in a position to challenge top 4.
Dave Lynch
41
Posted 08/11/2014 at 20:14:15
Anyone else thinking the Devil has torn up his contract with the red shite.
Sam Hoare
42
Posted 08/11/2014 at 20:11:27
Finding it pretty hard to pick a side after the Lille performance.
The back 6 or so is east enough. Coleman in for Hibbert but otherwise unchanged. The front 4 is tougher.
Barkley or Naismith? Or etoo in the hole where he excelled vs burnley.
I think mcgeady will start as our quickest winger. Maybe give Nais a rest?
Can't decide.
Sam Fitzsimmons
43
Posted 08/11/2014 at 20:49:23
Paul #29 I hear you....Osman played shite against Lille he only scored once and McGeady was even worse he only had two assists.
John Keating
44
Posted 08/11/2014 at 20:51:03
I look at the League table tonight... I think we should be above Southampton.
I think of how we fared last season. Look at our squad and the signings we made. The crap of the so-called challengers – apart from Chelsea – Man City and United are crap, Arsenal hot and cold, Spurs are shite and as regards of the RS, say no more!
Our pre-season was a disgrace. Our start of the season fitness was abysmal. If we had come out the traps, which we all expected and should have, at full pelt and as we finished last season, we could have been so close to Chelsea.
Martinez has a lot to answer for. If there is one season we could have done it, then it's this.
Southampton second – unbelievable!
Peter Bell
45
Posted 08/11/2014 at 21:10:19
John, the next month will be the test for how good Southampton are. They have Chelsea, Arsenal, Man City, Man Utd and Everton within the next 8 games.
They can't be that good: look at the teams they played who have beat them. That's Spurs and the RS...
Michael Kenrick
46
Posted 08/11/2014 at 21:20:10
John @ 44, you're probably trying to wind us up but you should admit that, in truth, we finished last season rather poorly: A dismal loss to Crystal Palace... at HOME! Another home loss to Man City when we should have consolidated on a brilliant opening goal from Barkley... (So much for Fortress Goodison...)
And in-between... an away defeat to – guess who? Yes, Southampton. They have gone through a lot of changes since then, and Koeman is doing an amazing job. But let's see if it can be sustained. There's often a 'lesser', team that outperforms in the early part of the season and then falls away.
The thing to remember about the League Table, though, John, is that it never lies.
Paul Dark
47
Posted 08/11/2014 at 21:18:43
Sam: I hear what you're saying, but I personally would pick a team on the best players whose form had consistently merited inclusion. In my opinion, Messrs McGeady and Osman do not deserve inclusion (in the team or on the bench) on that basis. I have given my reasons above and elsewhere.
I can handle the fact that you disagree, no problem.
Michael Kenrick
48
Posted 08/11/2014 at 21:29:56
Derek @4, I'm sure the early start time is in deference to the live Sky game at 4pm. This way, all the non-televised Sunday games are over by 3:30 — a good half-hour before the Sky 'showpiece' hits the TV screens.
Patrick Murphy
49
Posted 08/11/2014 at 21:36:37
I bet Tottenham and Everton would have preferred a 3pm kick-off following Europe last Thursday - but this only seems to have started this season where all the Sunday games apart from the 'big one' have uniform kick-off times. Once again, a decision which discourages many fans from attending stadiums, with early starts on Sundays being a real bug bear for most especially travelling supporters.

Mike Allison
50
Posted 08/11/2014 at 22:19:54
Michael I think it's more to do with overseas TV, they can offer 'match choice' like Sky do with the Champions League if they all kick off at the same time.
I'm sure there have been Sundays with two 1:30pm kick offs and two 4:00pm kick offs. I think this is the first time there have been three kicking off together.
Tony Abrahams
51
Posted 08/11/2014 at 22:10:49
Dave Lynch, the negotiations are still on going with Liverpool wanting a longer contract than the original one which still has another 666 years to go.

Kevin Rowlands
52
Posted 08/11/2014 at 22:39:31
Paul #29, WTF pal, both of them played this week in our best performance of the season and both played well, why the hate?
Mike Corcoran
53
Posted 09/11/2014 at 00:47:05
Same team where possible for me. Jog on Ossie bashers
Harold Matthews
54
Posted 09/11/2014 at 01:23:49
Ossie scored a great goal and played quite well for 60 minutes. during the last 30 minutes he was dispossessed on several occasions and struggled to track back. I've always been an Ossie supporter but have to admit that the old legs can't go the distance any more and a late sub role would be preferable.
Christopher Kelly
55
Posted 09/11/2014 at 04:01:37
Osman scores one goal, has a (great) rap karaoke video and all of his supporters come out of the woodwork. What a joke.
He played a good game and got a VITAL goal. I celebrated more than anyone at the bar. I will give you that. However, one good game and goal does not a good player make. How people can forget all the mishaps, lost passes, ineffectual shots that should beat the keeper but don't because they're too slow (Man United), not tracking back, exhausted at halftime... the list goes on.. Fucking bunch of sheep on this site. Does my head in.
Christopher Kelly
56
Posted 09/11/2014 at 04:15:24
...With that said, I do like Colin's lineup up top.
I think we are just finding form and really hope Coleman makes it back. He will be critical in getting 3 points in a "moving day" sort of weekend.
COYB onwards and upwards
Eric Myles
57
Posted 09/11/2014 at 04:56:03
Christopher #56, do you count 2 Everton managers and an England manager among those sheep?
Joseph Terrence
58
Posted 09/11/2014 at 06:05:05
I don't understand why so many people feel as though Browning deserves a/needs to start. By all means, he looked great in his cameos vs. the RS and Manure, but Hibbo has been solid as a rock. There is absolutely no reason to start him over Hibbert, but there is no doubt he should at least be on the bench.
Anyway, my XI would be
Howard
Hibbo
Distin
Jags
Baines
Barry (Gibbo)
McCarthy
Peanuts
Naisy
McGeady
Lukaku
Subs: Joel, Barkley, Eto'o, Browning, Besic, Ossie, Galloway
Pete Edwards
59
Posted 09/11/2014 at 08:44:22
@ Christopher #55 and you sound like one of those sheep who spout total crap about Osman pot, kettle........
Dave Duggan
60
Posted 09/11/2014 at 08:54:55
Christopher 55
I agree with what your saying. One good game and all of a sudden people seem to think he his wonderful. One person the other day even said he's still out BEST midfielder haha. Each to their own I suppose tho.
However, Thursday was by far our best performance this season and putting aside my personal views about players I would much rather see an unchanged side to keep momentum.
Barkley is our greatest talent but I hope bobby doesn't squeeze him in today just for the sake of it. No square pegs in round holes please. Gibson is the obvious choice to replace Barry if he doesn't make it as it's more like for like. Besic I think is more similar to McCarthy with his high energy, even though he seems to have a better passing range.
In saying that tho, I wouldn't be totally suprised to see Barkley play next to McCarthy today. Seem to recall something Martinez said that he would play more games there this season as that is his more natural positions long term. More of an 8 than a 10 sort of thing.
Either way same tempo as Thursday and we should have too much or Sunderland today. COYB!!
Tony J Williams
61
Posted 09/11/2014 at 08:55:00
It may be a coinkidink but since Hibbert has been playing we seem to have been conceding far less goals....... coincidence?
Let's replace him them with a youngster who about 30 commander his belt.
Baaaaaa, Christopher.. baaaaaa
Steven Jones
62
Posted 09/11/2014 at 08:44:36
On the Ossie debate - both sides have a point - however for pragmatism and reality he is coming to the need of his Everton career and can still play vital roles ... despite the vitriol he can play from the start, however he cannot play more than one game in a week - so rests, cameo's, 60mins, sub roles for last 30 mins etc is the name of the game.
Osman still has the quickest feet, touch and guile in the oppositions half - he also moves the ball forward and turns more and holds on and gets caught so again gives evidence for both sides ...
I love the guy ... and like Hibbert, Timmy and even pointing Pip have provided a base for our progress on small budget over the last 5 -8 years.
Some older ones will remember LFC's development being partly based on average but over performing players such as Brian Hall, Alun Evans, Joey Jones, Tommy Smith et al ..
We should respect and value all our great Everton servants that help the cause day in day out ...
Today could be a pivotal day in the development of this squad and this club over the next few seasons - lets get behind the team. COYB's!
Paul Andrews
63
Posted 09/11/2014 at 09:22:14
Simon Evans
64
Posted 09/11/2014 at 09:56:40
I have to say I agree with a lot of comments about Browning. I know defensively we haven't been great so far this season and he does represent a bit of a risk at this stage, but at some point we have to see what he's about, instead of continuously loaning him out.
And Sunderland aren't exactly a terrifying attacking force. Hibbo is a solid right back and a good defender, but doesn't offer the energy or attacking quality that suits our play, especially away from home, whereas, from what I've seen so far, I think Browning could...
Anyway fingers crossed and COYB!
Kevin Rowlands
65
Posted 09/11/2014 at 10:16:13
Chris #55, I've seen Osman get plenty of criticism on here when it's deserved, I'd argue that the 'sheep' are the likes of you and Paul Dark who are unable to give any sort of praise when Osman and Mcgeady have decent games because you have already made your minds up that their shite and absolutely nothing they do is going to change your mind.
Also the Utd game and the Osman shot that you describe as being to slow, I notice you conveniently failed to mention that De Gea pulled off a world class save, I wonder why?
Jay Rollinson
66
Posted 09/11/2014 at 10:44:43
Simon,
'At some point we have to see what Browning is like instead of continuously loaning him out'.
He spent four weeks on loan at Wigan and that (along with his couple of cameos for Everton) is the sum total of his senior career so far.
Mike Powell
68
Posted 09/11/2014 at 11:01:10
I'm not an Ossie baiter but you have to admit: his days are numbered. He has one good game out of every 10. How many times does he lose the ball and fall over?
Yes, he played well against Lille but they were poor; we are a much better team without him. I would rather see Besic play instead of Ossie.
Phil Walling
69
Posted 09/11/2014 at 11:07:32
Reading through this thread, you might as well put all the names in a hat and see what comes out. The prejudices for and against certain players shine through and perhaps we should email Roberto that any team that includes the likes of Hibbo, Ossie and Nais but omits Barkley will not be acceptable !
Tom Cuffe
70
Posted 09/11/2014 at 11:33:50
WeTell to expect a call from a Brendan kidney tomorrow he thinking of replacing windows and doors in his house he also works We need to be on our A game today, if we are to take 3 points.
If we play with the same intensity and endeavour as we displayed against Lille, we should be very happy by this afternoon.
I would like to see the same team that started against Lille, get a run out, if Barry is injured, Mo can slot in there, I know Mc Geady is a bit if a liability, but I don't think we have much options in regards to attacking wingers or attack minded midfielders with the exception of Barkley.
Hopefully this is the day that kick starts a good run, and we could get a jump on the rest, and drive on, and see were we end up.
And hopefully we practiced corners this week !!!
Tom Cuffe
71
Posted 09/11/2014 at 11:43:33
Ignore the 1st part of my post, need to fine tune the art of cut & paste.
Dave Pritchard
72
Posted 09/11/2014 at 12:01:42
I was trying to think what the joke about Brendan Kidney was Tom.
Conor McCourt
73
Posted 09/11/2014 at 11:29:14
Really looking forward to the match and also eagerly anticipating Roberto's team.
Just a few points that annoys me on TW. This constant looking back to last seasons table and where we were etc has no relevance to this season .This year Roberto decided to plan his pre-season differently, we had to cope with a lot of players at the WC, serious injuries, the Europa League and a difficult fixture list.
Then there's this infatuation with Southampton and West Ham and how they are doing, btw it was Villa for weeks ago. Some guy says Roberto has a lot to answer for as all our competitors have slipped up and we should be second in the league. Does this guy not realize that the reason a lot are slipping is because most big teams had a lot at the world cup. Only Schneiderlin and Valencia I can think off hand were at the WC so they are going to be fresher and easier to find form at this time of the season.
We are told we have a better squad so should be ahead of the Saints. Yes we have a better squad but Saints haven't had to test theirs yet as all their key players have been fit bar Rodriguez. Brian says they play the same tame all the time and don't look tired. Yeah once a week over 10 weeks after having the summer off, not a wonder.
Lets not consider how a supposed inferior team who is playing so well are doing better on us after a quarter of the season. Lets see what happens when they have injuries, how they do against the big teams, how they cope without Pelle or Tadic, and how all their foreign lads perform at Leicester in winter.
Let's look at us- if we win today we are 2 points of where we dream of ending the season, we have most of our squad fit, we are ripping up the Europa League, no-one likes playing us (except palace) we have a nice
fixture list until Xmas, players have hit form and the squad is brimming with confidence. COYB
Dave Pritchard
74
Posted 09/11/2014 at 12:27:54
I think Barkley and Pienaar will replace Naismith and Osman and assuming Barry and Coleman are out, Gibson will replace Barry and Hibbo keeps his place. This would have all players playing in their natural positions which I think is essential. Eto'o, Naismith, Osman and Besic are all good options on the bench.
Dave Pritchard
75
Posted 09/11/2014 at 12:37:11
Just seen team and how wrong was I? Definitely be some players not in their natural positions
Jack Plant
76
Posted 09/11/2014 at 12:49:12
I think that's pretty much our strongest team right now, maybe switching out McGeady though he did play well midweek. Would love ot see Barkley get a goal today.

Phil Walling
77
Posted 09/11/2014 at 12:50:58
Blime, Connor. Talk about worshipping at the shrine !
This is a Fan's Forum and just think how boring it would be if we all agreed with everything the manager said and did. And by the way, still using the World Cup as the pillar of your argument seems like you are stuck in a time frame of convenience.
Harold Matthews
78
Posted 09/11/2014 at 12:57:55
Gi8bson does not have the defensive mentality or the defensive ability of Barry. From a boy at United he has been coached to be effective in the opponents half.
Conor McCourt
79
Posted 09/11/2014 at 13:05:44
Phil its always the same after every World Cup. A lot of the top players tend to have a dip after a long season then a World Cup and before they know it the new season is upon them. I think it has a lot to do with why all the realistic top four challengers are faltering and don't use it just as an excuse for Everton.
Don't worry Phil if you had been sitting beside me for the second half of the Leicester game when he didn't react to what was going on or when he took McGeady off and put Eto'o on the right to feed Lukaku against Swansea you might be a little shocked.
Bizarrely you and I don't agree on much but I do admire when someone forms their own opinions and has strength of convictions to stand by those opinions and that's whats great about this forum is to challenge each other. Its' the sing when were winning' brigade that I get frustrated with and perhaps why I'm so defensive of our manager as its the healthiest I've seen the club in my lifetime even behind the scenes as well as on the football front.

---
Add Your Comments
In order to post a comment, you need to be logged in as a registered user of the site.
Or Sign up as a ToffeeWeb Member — it's free, takes just a few minutes and will allow you to post your comments on articles and Talking Points submissions across the site.
© ToffeeWeb