McCarthy may have hamstring injury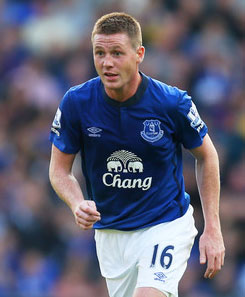 The Republic of Ireland's medical staff will assess the condition of James McCarthy's hamstring before deciding whether or not to include him in the upcoming internationals against Scotland and the USA.
McCarthy pulled up late in Everton's 1-1 draw at Sunderland yesterday clutching his upper leg and finished the match with strapping on the area as Roberto Martinez had used all three of his available substitutes.
The 23 year-old, who missed both of his country's Euro2106 qualifiers last month with a similar injury, will undergo an assessment when he joins up with the rest of Martin O'Neill's squad in Dublin this evening.
Ireland, currently joint top of their group with Poland, face Scotland in Euo2016 qualifying on Friday and then have an international friendly with the United States scheduled for the following week.
McCarthy's Everton teammates, Seamus Coleman, Darron Gibson and Aiden McGeady have all been named in the squad. Should Coleman play, it will be his first involvement for his country since the summer due to a succession of injuries that have dogged him so far this season.
Reader Comments (27)
Note: the following content is not moderated or vetted by the site owners at the time of submission. Comments are the responsibility of the poster. Disclaimer
Geoff Evans
1
Posted 10/11/2014 at 16:39:31
We pay his wages keep him here.
Sam Hoare
2
Posted 10/11/2014 at 17:10:08
No way he should be playing those internationals if not fully fit. We need him. Been outstanding last few weeks.
Lyndon Lloyd
3
Posted 10/11/2014 at 17:44:20
I agree. I can't see how he leaves yesterday's game hobbling with a hamstring strain and then plays on Friday.
Everton should insist that he stays at Finch Farm seeing as he's already missed games this season with a similar / the same injury.
Steavey Buckley
4
Posted 10/11/2014 at 18:24:15
Surely the doctor at Everton should have prevented James McCarthy from traveling to the ROI, as it is quite clear, he had serious hamstring problems at yesterday's game. And going to the ROI won't help JM's recovery. More like hindering it.
Christopher Timmins
5
Posted 10/11/2014 at 18:42:14
Folks, he will be back at the Farm in a day or so. Probably a game he would like to miss in any event.
Harold Matthews
6
Posted 10/11/2014 at 18:42:40
Worrying times.
Ajay Timothy
7
Posted 10/11/2014 at 18:55:38
No way would Mourinho have allowed him to travel to the ROI.
Kunal Desai
8
Posted 10/11/2014 at 19:31:00
He needs to be starting against West ham in two weeks time whatever it takes. I'm not concerned about ROI.
David Hallwood
10
Posted 10/11/2014 at 21:40:22
Oh FFS!!
Nigel Gregson
11
Posted 10/11/2014 at 21:48:29
At least all the Besic supporters will see him in full flow.
John Brereton
12
Posted 10/11/2014 at 21:51:38
Well, as an Irish Evertonian, the Scotland match is way more important than the West Ham game!
Gerard Carey
13
Posted 10/11/2014 at 21:55:04
No way, Everton's game at West Ham is more important, John.
Brian Hennessy
14
Posted 10/11/2014 at 22:07:42
I'm as much an Ireland fan as anyone but if there is any doubt at all about his fitness I hope he is not risked.
I have a feeling Naismith will put one over us, from what I have seen of the Scots, they look a better side than the Republic.
Robert Duncombe
15
Posted 10/11/2014 at 22:32:31
Rest him. All he needs to say is that he feels a bit tired. You do not need to be injured these days to miss an international game.

Tony Abrahams
17
Posted 11/11/2014 at 07:27:17
Robert he's a Glasgow kid who elected to play for the Republic and the game is getting played at Celtic Park. If McCarthy misses this match, the kid would be absolutely devastated and maybe the great form he has been in recently is partly due to his excitement in looking forward to playing in this game?
Big fixture this one and although the match is being played in Scotland, I'm intrigued to see which country will have the most support inside the stadium, given Celtic's massive links to the Republic.
Imagine how desperate any 23-year-old kid would be to play in this game.
Jim Bennings
18
Posted 11/11/2014 at 08:59:26
Just imagine this scenario..
James McCarthy goes away with Ireland, which he has, despite carrying a obvious muscle problem, he then plays during a grueling match against Scotland and aggravates the injury so that he misses at least a month of football at Everton?.
A month of vital football at the place of his employers?
It is absolute madness that he has been allowed to go away this time, even more so with Gareth Barry likely to miss a sizeable chunk of action.
What are we playing at?
Why didn't we simply say that he's not fit for action next week, we already have a slight concern over Seamus Coleman too, another who will probably play Scotland despite not being 100 percent right.
I will enjoy the International matches don't get me wrong, watching the Ireland v Scotland game and the Scotland v England one but I damn wish they didn't have to keep stopping and starting the club football to fit them in.
Managers moan constantly about winter breaks and too much football at Christmas time and December yet these International matches are arranged at the beginning of the so-called busiest period of the calendar.

Denis Richardson
19
Posted 11/11/2014 at 10:02:14
Good news I think as this forces him hopefully to miss the RoI games and get a couple of weeks rest under his belt as well as allow him to get 100% fit. Good timing to have muscle strain.
Dave Abrahams
21
Posted 11/11/2014 at 13:19:05
Doesn't he have to join up with the Irish team so they can assess his injury themselves?
Linda Morrison
22
Posted 11/11/2014 at 16:20:17
According to the news today, James is highly unlikely to play as he has a hamstring injury.
Expect him back on Merseyside before the weekend. Although EFC should have informed the ROI medical team the lad was injured.
Did someone at Goodison go around breaking a load of mirrors? I can't remember a season where nearly all the players have at some time been out for several weeks/months. I've already written this season off but hope we win a cup
Jim Bennings
23
Posted 11/11/2014 at 19:00:14
I agree Linda with you 100 percent.
The season has been totally destroyed by long term injuries to key players, Barkley, Mirallas, Coleman still doesn't look fully himself, Stones gone until January at least now Barry and McCarthy get them just to add to it.
I know people will point out that Gibson is a decent stop gap but let's ask ourselves how long will it be before he's back down and out with another knee/hamstring/thigh problem?
We are not going to challenge the top 4 even though the league is wide open, that's not necessarily because there's that many great sides it's because we just aren't that good this year couple with the horrible injury record its not going to happen.
Prior to the season there were high hopes, we had a young hungry Ross Barkley, we were made up we had just signed Lukaku, even at 28 million there was still a bit of excited anticipation there.
Too much has gone wrong since those hit summer days though.
Barkley crocked on the eve of the opening day, then one of our most potent attackers Kevin Mirallas, John Stones our young composed central defender with a injury that left me totally downbeat.?
Couple these factors with Romelu Lukaku's total inability to look like he's even got out of pre-season mode, his form is nothing like I expected when we signed him, he's been a disappointment thus far.
Then we all thought the likes of Arouna Kone would be back by now adding some more depth and a different option.
The signing of Atsu another let down and hasn't even had the impact that the Deulofeu cameo's had this time last year.
Intact I'm really struggling to find that many real bright sparks yet as we approach winter, perhaps the ever consistent James McCarthy and the form of Steven Naismith.
Above that there really hasn't been anything to crow about.
Linda Morrison
24
Posted 11/11/2014 at 19:17:46
Jim there is a lot to crow about.
We have in Lukaku a young player who will score a lot of goals for our club.
We have a very good defence with Jags and Disitin that others do not have.
Our problem is that we have a manager who wants to rotate the players and I understand why but you need to stick with a winning team my friend

Jim Bennings
25
Posted 11/11/2014 at 19:39:28
Linda
I like your thinking but I'm still having nightmares about the Jags/Distin partnership from early season, I know they've done ok the last two but they are set to face more potent attacks than Lille and Sunderland.
Lukaku??
I will be honest I was quite pleased when I knew he was signing permanently but I do also know when to admit when I'm wrong.
Lukaku needs to start performing and he needs to start performing better than he did on Sunday.
Robert Duncombe
26
Posted 11/11/2014 at 20:39:31
Thanks for the info, Tony. My comment was a nod in the direction to those who cannot be named across the Park. Saying that, I want him to be fit for us. I can however from your comments see how he will be torn.
Tony Abrahams
27
Posted 11/11/2014 at 22:25:29
Sorry I missed your subtle dig, Robert, but I was just thinking about how badly McCarthy must want to play in this fixture.
Can't play if your injured though and at least he won't be suffering from Sterling Syndrome when he returns!
Max Wilson
28
Posted 12/11/2014 at 16:47:25
You know,all this rumour and supposition about McCarthy, without a doubt our best player this season, is doing my head in. Surely as soon as he came off the pitch on Sunday complaining of a problem, the physio would have pounced and if there appeared to be a problem immediately arranged for the guy to see the club medic, who should have been along in case of emergencies?
So why, if he passed through these checks okay, are folk now going on about him being injured? What is going on really? If he has had a bad knock he should be resting up and/or being assessed. Let's have a definitive answer.
Kieran Riding
29
Posted 12/11/2014 at 17:35:06
Tony Abrahams #17
Cracking post that.
Rob Halligan
31
Posted 13/11/2014 at 18:45:56
Good news, if we can call it that, is that McCarthy will not be risked in either of ROI's two games this week, so hopefully will return to Finch Farm for intensive treatment and get him ready for the next few important games for us.
---
Add Your Comments
In order to post a comment, you need to be logged in as a registered user of the site.
Or Sign up as a ToffeeWeb Member — it's free, takes just a few minutes and will allow you to post your comments on articles and Talking Points submissions across the site.
© ToffeeWeb