VfL Wolfsburg vs Everton
Europa League Preview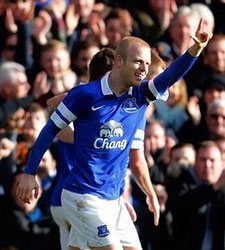 Steven Naismith misses the trip to Germany with a hamstring injury
Everton are back in Europa League action this week as they travel to Wolfsburg for what is, on paper, their most difficult assignment yet in this season's competition. Though the Blues won September's meeting at Goodison Park handsomely, the 4-1 scoreline masked the strength of the Bundesliga side and Roberto Martinez will know that his men are unlikely to find them so accommodating on their own patch.
Even so, Everton have travelled well so far in Europe this season, carrying out their assignments in Krasnodar and Lille in unspectacular but efficient fashion to earn the draws that, coupled with two impressive home wins, leave them with one foot in the next round going into the fifth round of Group H matches.
The job is by no means done, of course, and Martinez would, no doubt, love to top the group; that makes avoiding defeat in the Volkswagen Arena of paramount importance — a win for the Germans would put them top of the pile going into the final group matches.
The Toffees' boss comes into the fixture with a number of injury concerns that will complicate his thinking as he plots his team. Steven Naismith is ruled out after picking up a hamstring strain at the end of Saturday's win with West Ham United, joining John Stones and Antolin Alcaraz on the list of unvailable players that will also likely include Bryan Oviedo, Gareth Barry, Stephen Pienaar, Leighton Baines and Darron Gibson.
Oviedo continues to be brought back slowly from his double leg-break and the removal of the screws from his bones last month, while it is surely too soon after Barry's ankle ligament injury for him to return. Baines, Pienaar and Gibson are nursing minor complaints and Martinez will no doubt weigh their inclusion against the probability of qualifcation from the group irrespective of the result on Thursday evening and the importance of Sunday's clash with Tottenham at White Hart Lane.
Tony Hibbert was an able if unspectacular deputy for Baines against the Hammers at the weekend while Osman appeared to revel in a deeper-lying role in Barry's stead. Both could start again, although there is also scope for Luke Garbutt to make his second start of the season if the manager is feeling bolder. His decision to put Matthew Pennington and Brendan Galloway on first-team standby this week may also hint at some fresher faces appearing on the squad list for Germany.
Again, much depends on the level of the Catalan's desire to ensure he comes away from Wolfsburg with a result. Much will be asked of Sylvain Distin and Phil Jagielka between now and the end of the year and while it's probable that the likes of Tyias Browning will see some action in the coming weeks, it remains to be seen whether Martinez would risk them against such a talented side as that of Dieter Hecking.
Since losing on Merseyside two months ago, Wolfsburg have been on a terrific run that has seen them win six of eight and propelled them to second in the Bundesliga behind leaders Bayern Munich. Their defeat at Schalke (a team that lost 5-0 at home to Chelsea in the Champions League this week, it should be noted) ended a six-game winning streak, so there will be some uncertainty for the Blues to exploit.
Key for Everton will be shackling Kevin de Bruyne, Ricardo Rodriguez and Ivan Perisic who starred for Croatia at the World Cup in Brazil but missed the match at Goodison with a shoulder injury. De Bruyne, in particular, was the chief orchestrator of the German team's best moments in that match, although he and his teammates were largely restricted to long-range efforts from the night and Rodriguez only managed to beat Tim Howard with a world-class free kick in injury time.
A big test for Everton without doubt but while a draw is enough to qualify, if they can carve out a win, passage to the knockout phase of the Europa League as group winners is assured with a game to spare.
Kick off: 6pm
---
Update None of Gareth Barry, Leighton Baines, Darron Gibson and Steven Pienaar have travelled to Wolfsburg but Tyias Browning, Ryan Ledson, Arouna Kone and goalkeeper Russell Griffiths are included in the 20-man squad for the game.
Full coverage: ToffeeWeb Match Reports
Reader Comments (81)
Note: the following content is not moderated or vetted by the site owners at the time of submission. Comments are the responsibility of the poster. Disclaimer
Darryl Ritchie
1
Posted 26/11/2014 at 07:42:33
If Everton could just field a full strength squad, we could beat any club on the planet. With our injuries, however, Wolfsburg away is going to be a tough nut to crack. They're playing very well at moment.
Keep it tight at the back and hit them with the counter, and we might just come away with a point or three.
Ciaran Duff
2
Posted 26/11/2014 at 07:58:55
I think this is going to be an extremely difficult match for several reasons. Apart from the fact that it is away from home, Wolfsburg being currently 2nd in the Bundesliga and needing a result, they will also be wanting to make amends for the Goodison result. I read something at the time, that even the Bundesliga were embarrassed with that result. So, I would very happily settle for a dour 0-0 result.
Laurie Hartley
3
Posted 26/11/2014 at 08:22:25
Roberto hasn't got a lot to choose from for this one.
We have to get a point at least, but can this team win?
Howard,
Coleman, Jagielka, Distin, Hibbert,
McCarthy, Osman, Besic
McGeady, Eto'o, Pienaar.
Old heads and cunning for the first half, then youth and enthusiasm from the 60th minute.
Subs:
Lukaku, Mirallas, Barkley, Atsu, Browning, Robles.
Adam Luszniak
4
Posted 26/11/2014 at 08:41:11
Given our injuries, I would take a point from this one. That said, If we can get Baines back playing, I would feel much happier. Hibbert did very well at the weekend but, for all his defensive know-how, he doesn't have Baines's skill going forward. We were very limited on the left hand side against West Ham and this simply invites pressure. I'm hoping Baines plays.
Although I would never wish an injury on a player, I can't help thinking that Naismith could actually do with a rest. His performance at the weekend was below his normal quality and intensity, as evidenced by that sitter he put in to the stands. He looked out of sorts in the international friendly too. Barkley in the middle for me, McGeady on the right and Mirallas on the left. Mirallas needs games by the look of things.
That leaves McCarthy and Osman again in the middle, or Besic. Frankly i'd like to see Besic play given Osman's advancing years, and the fact that Besic hasn't been given much opportunity so far!
Mike Oates
5
Posted 26/11/2014 at 08:58:13
I will be extremely happy if we come away with a point. I think Wolfsburg will be up for it big time, particularly after the game at Goodison, where the result flattered us. They had twice as many attempts as us, 27 vs our 12, with also double on target, 13 vs 7... so its not going to be easy!!
You aren't 2nd in Bundesliga unless you are good and, with our injuries piling up, I just can't see a win, even with my blue specs on. Don't also forget they that turned Krasnodar over in Russia 4-1, where we struggled to stay in game and came away with a lucky draw.

James Stewart
6
Posted 26/11/2014 at 09:04:53
Howard
Coleman, Jagielka, Browning, Garbutt
McCarthy Besic
McGeady Eto'o Mirallas
Lukaku
Dave Pritchard
7
Posted 26/11/2014 at 09:09:31
I would pick an unchanged back 4. Hibbo doesn't attack much but the emphasis in this match is on defending so if he can do what he did against West Ham I will be happy. Midfield and attack is more tricky. Maybe 5 in midfield, Osman, McCarthy, Besic, McGeady and Barkley (furthest forward) with Sam or Rom up front. We could give Mirallas another outing to get him fit for Sunday but he was a bit of a passenger against West Ham and we'll need 11 fit players tomorrow.
Hopefully Baines and a few others are ready to return on Sunday.
Abhishek Saha
8
Posted 26/11/2014 at 09:02:01
McGeady is a must as he has the experience of playing in such conditions, so he is an automatic choice for injured Naismith. However, I would still start with both Lukaku and Eto'o upfront and maybe let Barkley and Besic come in for Mirallas, Osman or Eto'o depending on the scoreline. Remember Mirallas may not be still 90-min fit.
But yes, Laurie (#3), an experienced XI to start with to soak up all the pressure as they will throw everything at us and then bring on some fresh young legs to spring a few surprises.
Howard
Coleman, Jagielka, Distin, Hibbert (Browning)
McCarthy, Osman (Besic/Barkley)
Mirallas (Barkley), McGeady (Atsu)
Lukaku, Eto'o (Besic, Barkley)
Jim Bennings
9
Posted 26/11/2014 at 09:46:04
Why is it over the last 18 months every time I have seen the names of Darron Gibson and Steven Pienaar it's been followed by a line like "long-term injury" or "injury doubts"? The question is:How much longer can we keep guys like this on the payroll? Of course there's people like Kone and Alcaraz too who, more than a year on, have contributed little.
Pienaar has been one of my favorite players over the last 7 year's but sadly I'm facing up to the reality that, in his second spell here, apart from those early months on loan in 2012, he has not been the same, due mostly through injury after injury.
Wolfsburg away IS the hardest match of the group, no question about it. We haven't got a fully fit squad so I'm sure it will be predominantly a backs-to-the-wall job. We haven't really played well in the away games, we have rather stifled two average teams in Lille and Krasnodar but Wolfsburg in Germany will be a totally different proposition.
The only good thing is that we should get at least a point in our final game at home against Krasnodar, with the Russian's liable to have little interest themselves. A couple of good performance's wouldn't go amiss... though, one thing about this season so far is we have seldom clicked and blown anyone away, maybe Villa but I thought that was as much how bad they were that day rather than us scintillating.
We can't always blame injuries, fact is we are likely to go through the whole season with niggly injuries and seldom will we have a full side to choose from.
Andrew Clare
10
Posted 26/11/2014 at 10:27:00
A very very difficult game. The Bundesliga is unquestionably one of the top two leagues in the world, the other being La Liga. If we get a result there I will be very delighted.
On-form, we would be a match for anyone but we are not on-form and haven't yet been on-form this season.
Col Wills
11
Posted 26/11/2014 at 10:24:16
Keep it tight tomorrow, so play Besic in a five-man midfield and keep Hibbert at left back (save Baines for Sunday). No need to go gung-ho. Make no bones about it, these are a decent team.
The blue invasion of Germany begins today: trains, planes and automobiles... Hamburg, Hannover, Berlin better watch out!
Trevor Lynes
12
Posted 26/11/2014 at 10:30:54
Pienaar, a couple of years ago, was the most fouled player in the league and no doubt this has caused a lot of his injury problems. I must say though that Baines is at his best with Pienaar playing and we miss that pairing a lot as at present the left side is not producing as much threat going forward. Also with those two playing it gives Coleman more chance to attack which doubles the threat.
IMO, a lot of the striker problems is the reduction in assists from Baines as he has had no partner on his side to cover his forward forays. Pienaar at his best is absolutely full of industry and does take men on (hence the fouls) and Leighton has knocked a few free kicks in from just outside the box. At the moment, we do not seem to have a player who is able to do the Pienaar job as he is virtually telepathic with Baines on occasion.
I noticed that both fullbacks were involved in Clyne's equalizer against Villa and that reminded me so much of Coleman's similar goal from Baines cross. Sadly this is lacking of late. I hope that Roberto can get one of our attacking midfielders to form a partnership with Baines if Pienaar is indeed on the wane.
Robert Lam
13
Posted 26/11/2014 at 10:49:31
But we always turn up against good teams.
Michael Penley
14
Posted 26/11/2014 at 11:21:20
Everton squad: Robles, Howard, Besic, Browning, Ledson, Griffiths, Atsu, Eto'o, Garbutt, Lukaku, Kone, Coleman, McGeady, Distin, Mirallas, Barkley, McCarthy, Jagielka, Osman, Hibbert.

Kone?
Iain Love
15
Posted 26/11/2014 at 11:46:58
Wolfsburg are a good team and are at home, but I wouldn't want to be going into that match with any fear. We beat them at our place and they lost at the weekend, as pointed out previously, to Schalke who Chelsea tonked.
Osman probably suits the European game and played very well on Saturday, I fancy us to nick a win with big Rom coming off the bench to score the winner.
Geoff Evans
16
Posted 26/11/2014 at 11:59:37
Never easy against any German team. They have got a big aerial threat that we didn't see at GP and so corners and set plays will be big threat. I'd settle for draw and job done.
Adam Luszniak
17
Posted 26/11/2014 at 12:13:55
Do we think we'll have Hibbert at LB again then?
Trevor Lynes
18
Posted 26/11/2014 at 12:19:47
I reckon Hibbert will play as this German team is a big one and I think that Garbutt may play at home against the Russian side if the qualification is already decided. This is a very important fixture as winning the group will give us easier games during the KO stage.
The Europa League is a way to continue European football next season. This will attract players to the club and help to ensure continuation of progress. Getting into the top four is still a huge mountain to climb with our supposed limited finances. The big money spenders will rise again as they can just 'buy' their way.
Let's see where we are at the end of January as there are a lot of games to play and a lot of points to play for. It will be really interesting to see where Southampton are by then as they have looked a really good team this season so far.
Pete Edwards
19
Posted 26/11/2014 at 12:49:16
All the talk about how many chances they had compared to us in the home game is a bit of a red herring in my opinion. If we had won 1-0 with us scoring with the only shot on target then fair enough but we did them 4-1 after creating plenty of chances ourselves!
How many of their efforts were from outside the box! Most of them I'd have thought (no, I've not checked the stats just going from memory)! Says to me we defended pretty well frustrating them and we restricted them to shooting on sight.
Ajay Gopal
20
Posted 26/11/2014 at 12:32:47
We have a very good squad to take on Wolfsburg, no need for the pessimism here. The left back spot is weak, no question about it, but I think Roberto will give Garbutt a chance there. I would like Martinez to start with:
Howard
Coleman Jagielka Distin Hibbert/Garbutt
McCarthy Besic
Mirallas Barkley McGeady
Lukaku
Subs: Robles, Browning, Garbutt/Hibbert, Atsu, Kone, Eto'o, Osman
That is one strong first XI and a decent bench to change things if required. I wouldn't be too worried about the Tottenham game – they would also be coming off a Europa game, so let us take it one game at a time.
Paul Baker
21
Posted 26/11/2014 at 13:21:16
Naismith has had an excellent start of the season, but could really get some rest – finally! Regardless of the former Rangers player's and Eto'o's brilliant displays in that central attacking midfield role, Barkley must – and I mean
must
– be restored there, as he has that special type of communication with Lukaku on the pitch.
Given the long list of injuries we must cope with now and Wolfsburg's recent resurgence, I would say I will be happy with a draw in Germany. I would opt for a 4-4-2 formation in the first half to have more control in the midfield and then, at around an hour-mark, I'd let some freshness onto the pitch with Mirallas and Lukaku.
So, for me, this would be the starting XI:
Howard
Coleman, Jagielka, Distin, Hibbert (or Baines – if fit!)
Barkley, McCarthy, Besic, Osman
McGeady, Eto'o.
Then sub out Osman for Mirallas and Eto'o for Lukaku to form a more offensive-minded 4-2-3-1:
Howard
Coleman, Jagielka, Distin, Hibbert/Baines
McCarthy, Besic
Mirallas, Barkley, McGeady
Lukaku.
Dave Lynch
22
Posted 26/11/2014 at 13:32:23
I watched the first game again last night and only for Howard and some unbelievable bad luck on their part we would have been hammered.
I predict a twatting for us if we play anywhere near the game and tactics we used in Krasnodar.
Patrick Murphy
23
Posted 26/11/2014 at 13:37:12
Come home lads you're obviously all wasting your time and money, I don't know why some Evertonians have to be so pessimistic, I really don't. We could get beat as against any opponents in any fixture but we might also win – that's the fundamental attraction of the game isn't it?
Anyway we might lose and still qualify if the other game ends in a draw and we'll have a second-bite of the cherry in the final match. I'm pretty sure most of us would have accepted that scenario prior to the season starting.

Mike Childs
24
Posted 26/11/2014 at 13:45:11
I think it's the perfect game to give Jimmy Mac a day off too. I'm sure he won't ask for it; I doubt RM will sit him but it's a long season RM.
Colin Gee
25
Posted 26/11/2014 at 14:19:32
A draw means we go through to the knock-out round, a win means we would top the group then be able to play the kids against Krasandor in the last game. I would say go for it tomorrow night but it won't be easy. Wolfburg are a good side.
But with Spurs coming up on Sunday, then Hull at home on Wednesday, then Man City away, we are going to need everybody fit.
Did my eyes deceive me as I was looking on FB earlier, or was that really Kone getting on the plane at Speke Airport?
Mark Taylor
26
Posted 26/11/2014 at 14:11:27
I would play our strongest team because it looks like the Europa League will be our best chance of a trophy this year (and a Champions League spot too).
For me, that would mean Ajay's line-up (assuming Baines isn't fit) but with one exception: I agree with Mike Childs that McCarthy could do with a rest before we burn him out, so I'd replace him with Osman.
A draw would be a decent outcome and, if results go our way, we can give the younger ones a run out in the final game – and maybe a few of the walking wounded trying to get back, eg, Oviedo, Pienaar and Kone, if the latter really is capable of playing.
Sam Hoare
27
Posted 26/11/2014 at 14:26:54
I think Wolfsburg would twat most Premier League teams at theirs except perhaps Chelsea.
This could be the time to revert to a Moyesesque gritty defensive rearguard and hope to catch them on the break.
It will be a good test of this team's progression under Roberto but I'd be delighted with a point, any which way.
Jamie Crowley
28
Posted 26/11/2014 at 14:41:04
A different type of football this Thanksgiving on the tube at the Crowley house.
2-1 the Blues. COYB, Turkey, Mashed Potaoes, Stuffing, Gravy, and Vino!
Geoff Evans
29
Posted 26/11/2014 at 14:40:21
No Fear, just respect, Two good sides.
Brian Cleveland
30
Posted 26/11/2014 at 14:51:41
While Naismith has played a lot, you have to feel for him. He was left behind for the trip to France to rest him, and now he's injured. He's done his fair share to merit being on these trips and now he is missing out.
So COYB, get the job done, so he'll have the chance of a jolly in the next round.
Odds on a Kone hat-trick? :-)
Harold Matthews
31
Posted 26/11/2014 at 14:42:17
True, Lyndon, we'll need to snuff out Perisic, De Bruyne and Rodriguez. Easier said than done but Martinez will have a plan, there will be plenty of support and our lads are never easily beaten.
Anto Byrne
32
Posted 26/11/2014 at 15:25:08
Not sure this game will have the same level of thuggery as the WHU fixture. It's a real selection problem: do we go for it and then park the bus at Spurs for a point? Hull City and Man City? Will Wolfsburg play a full strength team or do they want Champions League football with a top 3 finish? A point for both sides will be a good result and probably enough for both clubs to qualify.
Then again, it could be the Ross Barkley show given Naismith is out and that centre role behind forward is where he should be playing. I can see it being a 4-5-1 with Mirallas to start and Kone to get a run second half. It's going to be interesting whatever the line-up and tactics employed. 0-0 or one goal either way. Exciting prospect.
Andrew Hawes
33
Posted 26/11/2014 at 15:48:26
Trevor (#12):
I think that is half the problem with regards Pienaar. He is still in the squad because of his "telepathic" partnership with Baines... when, in reality, his performances and partnership have been non existent for nearing two seasons now.
He was my favourite player but, adding his more frequent injury spells to his inability to even stand up at times on the pitch, then I think it's time to now find an alternative to play with Baines down the left.

Dave Pritchard
34
Posted 26/11/2014 at 16:08:18
Can this be true?
http://www.bbc.co.uk/sport/0/football/30204400

Linda Morrison
35
Posted 26/11/2014 at 16:47:15
Yes, Dave, it is true; it was in the papers today. He has played a few games with the Under-21s so let's hope he scores the winner tomorrow!
Barry McNally
36
Posted 26/11/2014 at 16:51:40
This is our toughest game so far this season. Wolfsburg will be all out for revenge to make amends for the very flattering scoreline at Goodison. I would take a 0-0 any day of the week!
Paul Andrews
37
Posted 26/11/2014 at 16:59:20
A record amount of Premier League points last season...
Our team will progress to the knockout stages of the Europa League....
On the fringes of top 4
Fuckin hopeless, this Martinez fella.
Harold Matthews
38
Posted 26/11/2014 at 16:56:02
Dave / Linda. Who?...I can't do this pasting stuff.
Barry McNally
39
Posted 26/11/2014 at 17:05:04
Harold: "It is great news on Kone, who came through 45 minutes really well with the U21s last night [on Tuesday] and will be in the squad tomorrow," said the Spanish manager.
He added: "We have massive respect for Wolfsburg. We know they are in good form, but the squad is ready for the challenge."
Denis Richardson
40
Posted 26/11/2014 at 17:31:06
Tough game indeed followed by another on Sunday but we're pretty much already through to the next round – we're 5 points clear of Lille and 6 clear of the Ruskies with 2 games to go, so we'd have to lose both our remaining games and Lille win both their remaining games in order for us not to qualify. Cannot see us losing at home to the ruskies to be honest. If Lille fail to beat the Ruskies tomorrow then we're 100% through anyway.
Only thing left really is to try and finish first and avoid a CL team in the next round – which is the problem as Wolfsburg are trying to do exactly the same (as well as gain some revenge).
We need to play our strongest team and look to get a result – we're simply not set up to go for a 0-0, we inevitably start panicking at the back after 60 minutes and cave in. Have a go and if we get anything out of the game we're almost guaranteed to go through as group winners, if not then we'll likely have a dead rubber in the last game anyway.
Team wise, if Baines is fit, play him. McCarthy and Ossie in the middle worked well against West Ham so would stick with them (give Ossie a break after 60 mins or so). McGeady to come in for Naismith and start Barkley behind Lukaku with super sub Eto'o to come in later. Hopefully Mirallas will be a bit better having played over the weekend.
Looking forward to it – I just hope we give it a go!
.
Richard Lyons
41
Posted 26/11/2014 at 17:30:43
Arouna Kone – I've heard that name somewhere before... Doesn't he play for Wigan Athletic?
I'm wincing when I consider what our respective forms (dating from half-time in the Goodison encounter) suggest might happen tomorrow night.
Sam Hoare
42
Posted 26/11/2014 at 18:36:55
Paul Andrews 37.
I'm a fan of Martinez but I don't really care much about points totals. We're not through in the Europa League group yet and we have been on the fringe of top 4 for a while now.
To be honest, untill we win a cup or get top 4, then he's not really taken us significant steps forward in my eyes, though the signs are promising and we live in hope.
Tomorrow will be a good test of where we are in terms of European progression. I remember Moyes's team getting taught a lesson in quite a few away games in Europe.
Phil Walling
43
Posted 26/11/2014 at 18:40:57
Two names included in the travelling squad scare the shite out of me.......and they are both ex-Wiganers: Robles and Kone.
We'd need to be four up with five minutes to go to be safe with them on the field!
Peter Bell
44
Posted 26/11/2014 at 18:58:41
Let's get a win, seal first place, then we can play Hibbert at centre forward against Krasnodar.
Colin Glassar
45
Posted 26/11/2014 at 19:37:42
I can see us getting a draw, at least, over there.
John Paul McGurk
46
Posted 26/11/2014 at 19:49:21
If Kone can get fit again and back playing for us like he did against us in the FA Cup, it will be like a new signing.
Graham Mockford
47
Posted 26/11/2014 at 19:53:01
Richard Lyons
"Our respective forms"? You haven't noticed we are unbeaten in eight games then.
It will be a tough game, they are the second best side in the group.
The biggest quandary is who to play in midfield especially if Barry is going to be unavailable on Sunday. We will probably want to play our strongest team against Spurs so my midfield would be:
McCarthy, Barkley, McGeady, Besic and Atsu.
Injuries permitting on Sunday, I would replace Barkley and Atsu with Mirallas and Osman.
Mark Frere
48
Posted 26/11/2014 at 19:48:17
Hopefully, Garbutt will finally get the nod for this one. It's time for Bobby to put his money where his mouth is regarding the youth.
I think playing Eto'o up top with Osman behind would be a very good combination. Bring Lukaku and Barkley on for last 30 minutes, depending on the score at the time of course.
Howard
Coleman Jagielka Distin Garbutt
McCarthy Besic
McGeady Osman Mirallas
Eto'o.
Paul Andrews
49
Posted 26/11/2014 at 20:32:13
Sam,
Martinez accrued the highest total of points in 24 years in his first season and that doesn't interest you?
Why?
Paul Andrews
50
Posted 26/11/2014 at 20:42:52
* 24 years of Prem football; 29 years in total.
Michael Polley
51
Posted 26/11/2014 at 21:16:27
I'll take a draw considering the injuries we have, but we should have a go at them. Parking the bus could be a tall order for the full 90 mins.
Wayne Smyth
52
Posted 26/11/2014 at 21:36:39
Sam, I think Martinez has taken us a significant step forward. Mentally.
Regardless of how the team play, or who we're playing, he wants us to play to win, we don't make excuses about money and we're not beaten before the game has kicked off.
It doesn't always come good in either the performance or the result, but the attitude is an important one if we are to win anything.
Harold Matthews
53
Posted 26/11/2014 at 21:50:02
Cheers Barry. Fingers crossed he'll be okay for a while. His movement in and around the box is very clever.
Sam Hoare
54
Posted 27/11/2014 at 00:08:26
Paul/Wayne, I think the change of mentality and the higher points totals are obviously good signs but they are ultimately only stepping stones.
For me, significant progress means winning a cup or getting top 4. Ideally on a regular basis. These were the things that we were mostly unable to do under Moyes. All the other stuff is just foreplay and as the missus will tell you... I'm not that bothered.
Of course that won't stop me being on here and analysing it all till i'm blue in the face but that's just because I need my fix!
Bill Gall
55
Posted 27/11/2014 at 03:13:43
I do not understand what a player who has been out injured for the length of time Kone has can offer the team with just 45 min in a competitive match.
Paul Andrews
56
Posted 27/11/2014 at 06:26:23
Fair enough, Sam, but surely the points total last season was progress? A total that 9 out of 10 seasons would have seen us qualify for CL with that amount. Just our luck to hit 72 points in a freak season.
You're right though – we desperately need a trophy.
Tough game tonight, Wolfsburg are a very good side. A point would be a massive result for us.
Pete Edwards
57
Posted 27/11/2014 at 07:18:49
Sam you're obviously not doing it right!!
Ciaran Duff
58
Posted 27/11/2014 at 08:01:39
Bill,
I don't think Kone would be expected to play and unlikely to come off the bench. The fact that he is in the squad is just an indication that he is part way back on his journey to full fitness. All of the others left behind are clearly still injured.
Laurie Hartley
59
Posted 27/11/2014 at 08:02:16
Sam, foreplay aside, fickle as I am, I have to say I am much more satisfied as an Evertonian these days. That is because, unlike his predecessor, Roberto Martinez seems to believe that we can compete at the top level.
We have been clobbered by injuries this season but, when you look at the number of young and younger players in the squad, and the talent coming though from the academy, I see a bright future. I just wish Samuel Eto'o was a couple of years younger. I love watching this guy play for us.
From what I've seen of Wolfsburg, De Bruin is the player that makes them tick. He seems to operate mostly on the right-hand side of the park (our left) so I would definitely start Hibbert and Besic.
I have got a good feeling about this one – I think we are going to really turn up.
COYB!!
Peter Murray
60
Posted 27/11/2014 at 09:15:33
http://www.zeit.de/news/2014-11/26/fussball-wolfsburg-gegen-Everton-ohne-guilavogui---hecking-mahnt-zu-geduld-26185604
The German press confirms that Rogriguez and Vieira both play but Guilavogui misses out.
It concentrates on Wolfsburg's approach to the game, wanting revenge but "no gung-ho stuff – just patience" (Keinen Hurrah – Stil, sondern Geduld).
Not much comment about Everton apart from Roberto waxing lyrical about the opponents who "next year will play in the Champions League" (Wolfgang wird nachstes Jahr in der Champions League Spielen).
James Lauwervine
61
Posted 27/11/2014 at 09:57:16
I'm hoping it's:
Howard
Coleman, Jagielka, Distin, Garbutt
McCarthy, Osman
Mirallas, Eto'o, Barkley
Lukaku
I thought Eto'o was excellent when he came on on Saturday and brilliant against Burnley a few weeks back. Give him the 'behind the striker' role, I say. Barkley on the left is not ideal, maybe McGeady instead.
Not an easy one for RM but that's why he's paid the big bucks.
Kevin Gillen
62
Posted 27/11/2014 at 10:23:17
We stand to learn so much more about our team today. If Garbutt is no better than an out-of-position Hibbert (no criticism intended for Tony) then there must be big question marks over him ever being good enough.
Also, I expect Kone to get some game time. I always liked Kone at Wigan and he has had some dreadful bad luck whilst with us. He could make a big impact if he is fully fit. If he isn't going to be fully fit one has to question what is he doing on the payroll. Also Besic – he has played in the World Cup, if he isn't good enough to do a professional job tonight someone hasn't done their homework properly.
I do also think that question marks should be asked about Pienaar and Gibson. I think they are both class acts when fully fit and have enjoyed every minute of them in a blue shirt but they are expensive players if they can't get off the physio's bench.
Derek Knox
63
Posted 27/11/2014 at 10:46:51
James (#61),
With you there as regards Sammy playing in the slot, given licence to go left or right to assist or receive, I think that is his favourite role, and what a class acquisition he is. I just wish Rom had his control and ball-dribbling skills, then he really would be vying for the best in the world.
Kevin (#62), Good point you make regarding Garbutt, it must be really disheartening for these youngsters to make (or not make) the bench, and be overlooked by an out-of-position Hibbo. I am not a great fan of Hibbo really, but do admit he always gives his all for the cause.
I do not like to see him go past the halfway line, though, whether that be at right or left back position. I think he should be used when we are down to bare bones, but not to oust younger quicker players who are left-sided anyway.
I think with the correct team selection tonight, we can either draw or possibly sneak a win, it's just getting that blend (injuries permitting) right on the night!
COYB
Peter Cummings
64
Posted 27/11/2014 at 12:06:21
Given our present injury situation a point from Wolfsburg would be a major achievement.
Tom Bowers
65
Posted 27/11/2014 at 11:55:47
Even with the players unavailable, RM still has many options but the rule of thumb is to go with the experience in a game like this away from home. Granted they can still clinch a place in the knockout stage, if not today then in the final game against Krasnodar, but why not wrap it up today?
The problem is the tackling by the midfield players he has available, of which only McCarthy is noteworthy. Besic is still a little rough around the edges. Mirallas, Osman, Barkley & Co are not the best so it may make sense to go with an attacking formation rather than try to sit back. I would personally start Eto'o and McGeady today at the expense of some others.
We know Wolfsburg can be dangerous on attack but they are also very suspect on defence and may be surprised if Everton come at them from the outset. Having said all that, the chances are RM will set up to park the bus and go for that one point at least.
Brian Waring
66
Posted 27/11/2014 at 12:18:13
The biggest dilemma for Martinez is trying to fit Eto'o and Barkley into the starting 11. Barkley does all his best work behind Lukaku, but he's been pushed out wide lately, and he's looked piss poor.
Mike Oates
67
Posted 27/11/2014 at 12:21:10
I suspect Martinez will want to give McCarthy a rest and save him for Sunday, particularly after his hamstring injury 2 weeks ago. He'll also play Hibbert at left back to shackle De Bruyne with support from Besic. So the team I guess is:
Howard
Coleman Jagielka Distin Hibbert
Osman Besic
McGeady Eto'o Mirallas
Lukaku
With Barkley and Kone given run-outs.
Dave Pritchard
68
Posted 27/11/2014 at 12:26:18
Kevin (#62). I would think that Kone will have to stay on the payroll until his contract runs out, whether he is fit or not. Same for Pienaar and Gibson. Unlikely that any club is going to buy them if they are not fit enough to play. Having said that, we did buy Gibbo when we knew his injury record.
Geoff Evans
69
Posted 27/11/2014 at 12:19:48
Spare a thought tonight for Kone. He's had awful luck since we signed him. His mind must be full of self doubt after so long out. Every movement is going to be a test and challenge.
Believe me, most footballers just want to do what they do best and play football.

Phil Walling
70
Posted 27/11/2014 at 12:44:02
You can't help feeling sorry for him picking up all that dough, it must be a struggle to know what to do with it when you spend so much time sitting on your arse!
But he had such problems before coming to England so he'll have developed a strategy to cope.
I wonder if we shall ever see him in serious action?
Geoff Evans
71
Posted 27/11/2014 at 12:52:22
If he's always had injury issues that you point out, then we should be questioning the wisdom of buying him and giving him a long term contract.
Whose idea was that then?
Liam Reilly
72
Posted 27/11/2014 at 12:20:55
If we set out for a draw it will be very painful to watch for 90 minutes.
I was listening to a very interesting interview with John Giles (played for Man Utd and 'Dirty' Leeds in the '60s and '70s) and he was talking about Don Revie. Revie he said; believed football should be kept simple, so he would always trust in his players; send them out to just play football and spend very little time on the opposition. These days; with one, two or sometimes even three defensive midfielders, that has just got lost.
I would rather go after them and lose than sit back and defend for 90 minutes.
Ensuing discussion moved to The Game forum – Mods
Bill Gall
73
Posted 27/11/2014 at 13:37:52
Ciaran (#58),
I hope you are not saying that Everton are going to have a player on the bench just as a spectator? It seems a waste to me as I thought the bench was there in case of injuries or for changing tactics.
Helen Mallon
74
Posted 27/11/2014 at 13:48:29
Kone starts tonight!
Dave Pritchard
75
Posted 27/11/2014 at 13:46:08
Phil, your frustration with Kone's injury is shared by us all but I do not believe he wanted to be injured so that he can sit around all day doing nothing. He is an Everton player (OK, I use the word 'player' loosely at the moment) though and we must hope he can start to give us some payback for the time and money we've spent on him.
Brian Harrison
76
Posted 27/11/2014 at 13:47:50
No doubt it must be hard for a player to have missed as much football as Kone, and especially at 31. Does anybody think he could prove his fitness to persuade the Ivory Coast to select him for the upcoming ACON tournament?
Tim Greeley
77
Posted 27/11/2014 at 12:43:21
I'd feel for Besic if he doesn't start today in his actual home country. Ossie ain't playing 3 in 8 days so I'd rather he get saved for Spurs. Give Besic a ride!
I can't make my mind up on leftback though.......
Dave Pritchard
78
Posted 27/11/2014 at 13:54:19
Brian, if he proves his fitness in the next month or so, I would hope that he would not want to go to ACON and play for us instead.
Mike Childs
79
Posted 27/11/2014 at 14:09:00
Last time I had to tape the game for viewing later was against Lille @ Goodison. Hopefully today's game will be just as fruitful. Not having control of the remote when visiting means I'm stuck watching Passball aka the No Fun League.
David Donnellan
80
Posted 27/11/2014 at 16:03:47
Much to my annoyance I am going to miss a large chunk of tonight's game on ITV4. Does anyone know if they replay the game on ITV player? If so, what time is it usually available? Thanks in advance.
James Morgan
81
Posted 27/11/2014 at 16:15:17
David, ITV 4 plus 1.
---
Add Your Comments
In order to post a comment, you need to be logged in as a registered user of the site.
Or Sign up as a ToffeeWeb Member — it's free, takes just a few minutes and will allow you to post your comments on articles and Talking Points submissions across the site.
© ToffeeWeb