Tottenham Hotspur vs Everton
Match Preview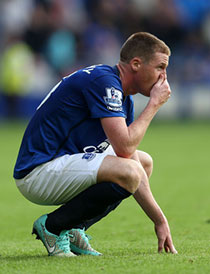 James McCarthy: His hamstring will be assessed but he is a big doubt for the trip to Spurs
Fresh from another excellent outing in the Europa League, Everton are on the road again on the domestic front this weekend with a trip to Tottenham Hotspur. The Blues' 2-0 win at Wolfsburg means that they have secured qualification to the next round as winners of Group H and can now focus on continuing what is now a five-match unbeaten run in the Premier League as they try and get back amongst the top four or five in the table.
The two teams come into the match side by side in the standings on 17 points and with, perhaps, a greater sense of urgency given the small gap that has opened up between them and the top four in the Premier League after the Saturday programme. Wins for Arsenal and Manchester United mean that
As has so often been the case this season, injuries and questions over personnel availability dominate the thinking for Roberto Martinez as he plans his squad for the visit to White Hart Lane. The recurrence of James McCarthy's hamstring injury in Germany adds more pressure on that key defensive midfield area of the field where Darron Gibson is again likely to be ruled out and Gareth Barry will undergo a fitness assessment before before any decisions are made. McCarthy, too, will be assessed but he is unlikely to play.
Thankfully, Leon Osman proved to be an able deputy for Barry in a demanding contest against West Ham last weekend and Muhamed Besic put in another accomplished display in Wolfsburg but Martinez will be praying to the football gods that no more injuries strike the defensive half of his side because the squad's depth is really being tested coming into another busy period of the campaign.
While McCarthy will almost certainly be ruled out, Leighton Baines and Steven Naismith were given a chance of featuring by the Catalan in his press conference yesterday, although the manager may have pause for thought after seeing the Irishman limp out of the action at the Volkswagen arena. Both players remained on Merseyside to continue their recovery from slight hamstring strains so remain in the doubtful category but Luke Garbutt's encouraging outing on Thursday combined with the apparent fitness of Arouna Kone mean that Everton won't be too stretched if neither are passed fit.
Also undergoing a late test will be Steven Pienaar, who has been unable to get into any kind of rhythm this season thanks to a succession of niggly complaints, but Bryan Oviedo's increasingly concerning absence continues with Martinez confirming he won't be involved this weekend. Seamus Coleman is in line for a recall after being rested in the Europa League.
Both sides were in action on Thursday night and are, theoretically, at the mercy of the dreaded Europa League hangover, although Spurs didn't travel and have the advantage of playing at home again in this one so Everton's task is by no means small. The form of Kevin Mirallas and Romelu Lukaku up front and Phil Jagielka and Sylvain Distin at the back, the keys to victory in Wolfsburg, mean that the Blues will go into the game in confident mood, though, as they look to exploit the uncertainty that currently prevails at White Hart Lane.
Maurico Pochettino's men won last time out thanks to a red card for Hull City's Gaston Ramirez that turned the game in their favour and eventually allowed them to win with a very late goal by Christian Eriksen. That echoed another poor away display by the North Londoners at Aston Villa in which they profited from Christan Benteke's second-half dismissal to go on and win 2-1. Sandwiched in between was a demoralising 2-1 home reverse to Stoke that will give the Blues cause for hope.
In addition to Kyle Walker's suspension, Pochettino also has his own share of injury concerns with Emanuel Edebayor, Nacer Chadli, Etienne Capoue, Andros Townsend and Danny Rose all doubtful.
Everton haven't won on Tottenham's turf in six attempts now in all competitions so a victory in this one would be a tremendous boon. It would represent some ground gained not only on the teams above them but also their record in corresponding fixtures last season — the defeat Martinez suffered here in 2013-14 was a cruel one but his players will have to be a bit more adventurous than they were that day. On the evidence of their impressive away performance in Germany, they're well equipped to do so.
Kick off: 4pm
Referee: Michael Oliver
Full coverage: ToffeeWeb Match Reports
Reader Comments (53)
Note: the following content is not moderated or vetted by the site owners at the time of submission. Comments are the responsibility of the poster. Disclaimer
Michael Carr
1
Posted 29/11/2014 at 20:13:47
My lineup against Spurs would be -
Lukaku
Mirallas Barkley McGeady
Barry Besic
Baines Distin Jagielka Hibbert
Howard
Spurs didn't look great in their Europa League game the other night, we're neck and neck with them in the League (us having a superior goal difference).
Wins against them and Hull on Wednesday night and we'll be well up there amongst the top 6 hopefully. COYB
Trevor Lynes
2
Posted 29/11/2014 at 20:36:30
Yes the trip abroad will be a factor, IMO. Chelsea looked very slow in their build up this evening against Sunderland and never created a clear chance which is not like them. The game in Germany very probably affected their performance and as you say, Spurs played at home so should be fresher than us.
I will really be disappointed if we fail to win; however, as Spurs have been very lack-lustre so far. I just hope that Lukaku can get us in front as it will be very difficult if they score first.
Let's hope that we can get some of our injured players fit soon as we have lots of games coming up.
Kunal Desai
3
Posted 29/11/2014 at 20:44:45
Lets hope a few are back for this. Perhaps Baines, Coleman, Barkley and Naismith all starting. Barry on the bench. Spurs aren't great, Eriksson needs watching. The key to winning this will be having a few of the injured starting.
Jim Bennings
4
Posted 29/11/2014 at 20:44:23
Just what is the score with Bryan Oviedo and this supposedly simple operation he was having to remove some screws?
Why were we told he wouldn't miss any matches when he has not even figured since that almost gloriously repeated cameo at Old Trafford on October 4?
Gibson still sidelined two weeks after picking up a "minor knock".
Tough game tomorrow possibly made tougher in many ways with the fact Spurs have lost their last FOUR home games, add that to the fact White Hart Lane is in general pretty much a graveyard ground for Everton – we have won just THREE times there since 1985 –unbelievably, all in a row and all under David Moyes.
You just can't really see us winning there tomorrow can you? Even though we had that quite fantastic win in Germany. Simple fact is Spurs away is just one of those places where we self destruct and have stupid amounts of bad luck.
Colin Glassar
5
Posted 29/11/2014 at 20:59:17
You can never see us winning anywhere, Jim.
Oviedo had his screws removed which means he underwent an operation, which means he needs to heal, which means he will be back once his holes close and he can start training again.
Jim Bennings
6
Posted 29/11/2014 at 20:56:41
Kunal, this may sound totally weird here but do you reckon we should stick with Tony Hibbert at right back and perhaps even Garbutt ahead of Bainsey?
I know the thought to most fans would be it's absurd but I just think after such a fantastic and complete performance on Thursday, that maybe those lads deserve to keep their places?
I also don't think Coleman has really got up to full speed yet since he has returned from injury. I have been not so much disappointed but, just think he's not been the same rocket-fuelled player of last season due of course to missing games.
Baines also for me, has underperformed lately, I think Baines at times can become a bit too predictable in bis way of playing, the same type of crosses, the reluctance to mix it up and cut inside on his weaker foot and vary things slightly.
I just thought Garbutt looked so assured and frankly so ready... Ready to start showing he is not just some understudy kid anymore.
The only way we are ever going to fulfill the potential of players like Garbutt is reward good performances by playing them regularly.
Jim Bennings
7
Posted 29/11/2014 at 21:06:48
Fair enough Colin but why were we told at the time that he wouldn't miss more than 7-10 days?
It's not that I can't see us winning anywhere, I'm just stating what we know already about Everton and White Hart Lane this last 30 years.
For the record, I have seen Spurs a few times, I don't rate them highly and don't think they've been the same team of the Harry Redknapp days and the Bale era.
It's a game we can win but let's see by 6pm tomorrow evening.
Bill Gall
8
Posted 29/11/2014 at 21:11:32
With another game coming up on Wednesday against Hull, I hope the manager does not rush the injured players back as over the last couple of games their replacements have performed okay.
Everyone is going to have injuries in their team and I like the Everton attitude of not complaining and the players that are picked just roll up their sleeves and get on with it.
Kunal Desai
9
Posted 29/11/2014 at 21:08:04
Jim, I think Martinez will rotate the side around. I think he could play Hibbert if he decides to go three at the back and maybe deploys Baines and Coleman as five in midfield.
I'm not sure just how much the exertions of Thursday night took out of some of the players and that's why I think he'll change it around tomorrow. Looks highly likely that we'll be without both McCarthy and Barry which could mean Besic, Barkley and Osman in the middle. Having said that, it's important Martinez doesn't take a risk with any players that are rated 50/50 with another important game against Hull on Wednesday.
Jim Bennings
10
Posted 29/11/2014 at 21:23:09
I'd have to agree with that, Kunal.
I wouldn't be taking any risks with 50-50 rated lads, we kind of did that with McCarthy and look what happened.
I agree in your first post, Eriksson is a big threat, especially from set-pieces. On occasions, we do still struggle a bit defending set-pieces but some of Eriksson's are totally impossible to defend.
Ernie Baywood
11
Posted 29/11/2014 at 21:28:56
Why do people think they deserve to know every little detail about every niggle in the squad? Along with an estimated return date. Just let the players get on with their recuperation. I'm sure Bobby has better things to do than spend his days delivering status updates to us.

Brian Waring
12
Posted 29/11/2014 at 21:47:45
"Everything that we do as a team is for our fans. We all work hard to make our fans proud and to make great memories together."
I love Martinez, and want to have his babies!
Steve Lindley
13
Posted 29/11/2014 at 21:38:25
El Rob's 'Plan B' strategy against the Wolfs has pundits scratching their heads as to how effective we can be, even with a depleted first team. Opposition managers will be doing the same, thinking "What's he going to throw at us next.... and how?"
The kids are learning and feeding off the seniors which breeds confidence into the whole squad. Great times to be an Everton player and it will repay fans due to the support we give to the lads. We are the 12th man... home and away and EFC acknowledges that.
Did anyone make it home after the last game or are we all camped out at Heathrow destined for White Hart Lane tomorrow?
Jim Bennings
14
Posted 29/11/2014 at 21:55:15
Fucking hell, Brian, it's you writing on all those gents toilet doors of every public shithouse, isn't it?
Ernie we don't need to know everything but let's be honest, the fans are the only people who actually pay their own money in this ever-growing business that is football.
We pay our way so we'd like to have as accurate as is possible updates which, fair enough, we usually do... but still...
Dave Lynch
15
Posted 29/11/2014 at 22:27:31
I predicted a twatting by Wolfsburg and we all know what happened there.
So I'm predicting a massive twatting by Spurs.
Iain Love
16
Posted 29/11/2014 at 22:42:29
Watching the two Euro games back to back it seemed obvious to me that if we employ the same tactics again we win again.
Erickson is a top player but is he better than De Bruyne and Perisic is better than Soldado.
I fully expect a win tomorrow and my only worry would be a red card for Besic.
Sam Hoare
17
Posted 29/11/2014 at 23:05:59
Big chance to underline our top 4 challenger credentials.
This is the poorest Spurs team for a while and if we had our full compliment I would be very confident. As it is, I think it will be a close game and would bet 1-1. Hopefully we can edge it... or wallop them 4-0 and go 6th on goal difference over Arsenal.
James Stewart
18
Posted 30/11/2014 at 00:33:43
Spurs are a woeful team considering the amount of money they have spent. We have to be beating them tomorrow if we are serious about a top 4 challenge.
Kieran Riding
20
Posted 30/11/2014 at 02:49:19
http://www.Evertonarentwe.com/Everton-songs/2014/11/29/song-weve-got-diamond-called-ross-barkley/
David Hallwood
21
Posted 30/11/2014 at 02:17:56
I must admit I can't stand Spurs largely on account of their delusional supporters who think that they're a big club despite the fact that they last won the league in black and white. But even worse is the abuse they heap on us (probably because we're rivals for best of the rest).
My, how things have changed in six months, because on their websites hardly any of them are going for a Spurs win. IMHO, this is a game that, if we turn up, we'll win.
Despite having 5-7 players doubtful, we've got decent cover with Besic and Garbutt looking more than useful against a good Wolfsburg side.
Everton to win by two clear goals and Ross to find last year's form playing behind Lukaku.
Matt Traynor
22
Posted 30/11/2014 at 03:16:16
David #21, with the exception about winning the league in B&W, they could arguably say the same about us!
During my London exile, I went to WHL many times, often with Spurs supporting colleagues which makes a difference, but never any bother, even when having to go in the home end one time. (They did get me tickets on the back row of the upper tier to make it less easy to spot me if we scored – "Mick Madar!!!")
I see far more similarities between Everton and Spurs than differences, but maybe that is a reason for dislike for some?
Ajay Gopal
23
Posted 30/11/2014 at 04:52:51
Undoubtedly, Martinez would have closely watched the boys in training, so he will know best. But it is fun to play 'Team Prediction', so here goes:
Assuming the following players are unavailable: Stones, Alcaraz, Barry, Naismith, Oviedo, Pienaar, & McCarthy, then my team would be:
Howard
Coleman Jagielka Distin Hibbert
Besic Baines
Atsu Barkley Osman
Lukaku
Baines playing the Barry role if he is fit. However, if Baines is still not fit, Osman takes his place and we play McGeady/Mirallas on the wings.
Eto'o (age), Mirallas (just coming off an injury), McGeady (did a lot of running on Thursday), Garbutt (keep fresh for Hull on Wednesday), should all be rested and allowed to freshen up. Kone, Browning and Robles make up the subs bench.
Atsu has shown signs of settling down to the pace and intensity of the Premier League and he will cause a few problems on the wings.
For Hull on Wednesday:
Howard
Coleman Jagielka Distin Garbutt
Besic Barry/Gibson
Mirallas Barkley McGeady
Lukaku
Paul Andrews
24
Posted 30/11/2014 at 08:27:04
Spurs are improving.
Ericsson is top class.
Let's hope the players choose the way we play today and employ the right tactics
Ernie Baywood
25
Posted 30/11/2014 at 08:27:34
Matt#22 - I've also found Spurs supporters fairly decent. With the exception of being cockneys. They seem to have that same gallows humour about them.
All the smart money would be on a draw in this one but I'm going to say we'll get up by the odd goal in three. Could be a cracking game.
Phil Traynor
27
Posted 30/11/2014 at 09:36:01
Lyndon, just to clarify : Kyle Walker is injured, he's not suspended, Kyle Naughton is suspended. Spurs have been very poor so far this season. I'm looking forward to Everton dominating this game and taking all 3 points. COYB!!!
Anthony Flack
29
Posted 30/11/2014 at 09:56:06
Anyone describing Spurs fans as fairly decent has a short memory. Remember Elland Road semi...
On the way home I got chinned at some M1 services heading back to London as a few miles earlier it seems I aggravated a coach load of Spurs fans by standing out of my sunroof with massive flag and some friendly hand gestures...unfortunately they stopped for a piss stop same time as me
Horrible, but could not spoil a memorable day.
Ian Bennett
30
Posted 30/11/2014 at 10:04:59
Really tough game after Thursday, and another on Wednesday.
I'd go:-
Howard
Coleman
Browning (not sure he can play again)
Jags
Baines if fit or Hibbert
Besic
Osman
Barry if fit
Barkley
Mirallas
Lukaku

Ray Roche
31
Posted 30/11/2014 at 09:52:38
I read an article in The Times today that states that Baines plays central mid field in training. Martinez has said that he sees that as Baines eventual position, even taking him to Germany to watch Lahm play. Interesting.
John Crawley
32
Posted 30/11/2014 at 10:42:15
Ray thanks,Interesting info on Baines. Since Martinez first made that comment I've been looking closely at the way Baines plays and I've no doubt he could play that role. I can't seem him doing it for another year or so though.
Oscar Huglin
33
Posted 30/11/2014 at 10:47:01
I'm very excited about today. Hopefully the away support will respond to Spurs' rousing "Oh, When The Saints" rip-off as they usually do, and we can push on for a win that will put us 2 points of 4th.
We seem to have picked a good time to play Spurs and Hull, as they have both looked pretty dire recently.
Let's just hope there's no European hangover.
COYB!
IMWT!
Mike Childs
34
Posted 30/11/2014 at 10:49:30
Hopping for a breakout game for Ross. He has to realize despite all the glowing praise RM throws at him only results on the pitch are going to guarantee him playing time. Romu took a nice step forward at Wolfburg hopefully he doesn't take two backwards steps today.
Even my favorite whipping boy Mr. Howard has looked more relaxed and sure.
Dave Pritchard
36
Posted 30/11/2014 at 11:19:04
If fit enough then Mirallas must start.
Would be nice to see Barkley have a good game. He still makes wrong decisions, mainly not getting his head up and passing at the right time, but he offers things that others don't. He has had quite a lot of games now and it is about time he showed more intelligence (in the football sense).
Anthony Flack
38
Posted 30/11/2014 at 11:41:33
For me
Howard
Coleman
Baines / Garbutt
Jags
Distin
Besic
Osman
Barkley
Mirralles
Lukaku
Eto
That side will give Spurs something to think about. 2 wingbacks with Barkley, Eto and Mirralles mixing it up behind Lukaku
Paul Andrews
39
Posted 30/11/2014 at 12:10:40
That will do me, Anthony, goals in that side.
Important we score first then play counter-attack today.
Sue Brown
40
Posted 30/11/2014 at 12:11:10
Agree Eriksson is the threat today but I'm sure Besic can take care of him like he did with Bale in the Wales/Bosnia game. Still the worry of the inevitable red card though one day.
Geoff Evans
41
Posted 30/11/2014 at 12:27:46
Same team that finished Thursday are good enough against this lot.
Denis Richardson
42
Posted 30/11/2014 at 13:31:59
Play strongest team (with 100% fit players) and worry about Hull on Weds.
Would play Besic and Ossie in the middle with Mirallas, Barkley and McGeady in midfield. Hold Eto'o back for the 2nd half. Coleman and Baines to come back if both 100%, otherwise Hibbo/Garbutt.
Spurs have been playing shite recently and fluking wins (usually by getting a guy sent off – Besic beware!). If we take the attack to them and play solid at the back we should be ok.
Henrik Lyngsie
43
Posted 30/11/2014 at 13:51:37
Dear all,
A short Scandinavian grammar lesson. The Danish Spurs player is called Eriksen, while the former Swedish coach for the English national team is called Eriksson. Many Scandinavian family names ends on sen/son and it originally meant son of Erik in this case. However, in Denmark we use 'sen' and in Sweden they use 'son'. Christian Eriksen is Danish and we are very proud of him. Although today I hope he will make three own goals and be substituted in the first half...
Ian Glassey
44
Posted 30/11/2014 at 13:50:35
If fit, Naismith has to play. I would go:
Howard
Coleman, Jagielka, Distin, Baines
Besic, Osman, Eto'o, Naismith, Mirallas
Lukaku.
Bring Barkley and McGeady on after 70 mins.
Harold Matthews
45
Posted 30/11/2014 at 13:54:20
Decent team Anthony, but who will assist Besic in winning the ball in midfield and protecting the back four? Howard could be in for a very busy afternoon.
Let's hope one or two lads return from the sick list and Barkley finds a bit of form. Lukaku is looking fitter every week and will be difficult to contain if he gets near their goal with the ball on his left foot.
Fingers crossed we have no more injuries.
Harold Matthews
46
Posted 30/11/2014 at 14:28:48
Nice one Henrik. I'm a big fan of your crime dramas.
Henrik Lyngsie
47
Posted 30/11/2014 at 14:40:24
Thank you, Harold.
Mike Allison
48
Posted 30/11/2014 at 14:42:36
Why does Naismith have to play? I don't want to criticise him as he's done well this season but it's getting to the point where he seems to get picked whether he deserves it or not.
He's also been run into the ground this season, hence the injury. I'd pick Barkley and Eto'o ahead of him at the moment.
Henrik, some people on ToffeeWeb still don't spell Joe Royle (Royal) correctly, and sometimes Ross Barkley (Barclay). Whether it's ignorance, laziness or auto-correct I don't know, but I wouldn't worry too much about it. Always good to have some input from elsewhere though, so thanks.
Karl Jones
49
Posted 30/11/2014 at 14:51:07
Hopefully Michael Oliver will have a good game today. Last season the ref cost us a point with that awful free kick which should have been given for a foul on Osman. He allowed it to be taken ten yards from where the foul was commited and before Everton were ready.
Hope he's better than the idiot reffing the Southampton/City game.
Ray Roche
50
Posted 30/11/2014 at 15:07:22
24 Howard
23 Coleman
06 Jagielka
15 Distin
03 Baines
20 Barkley
17 Besic
18 Barry
11 Mirallas
05 Eto'o
10 Lukaku
Subs
Robles
02 Hibbert
07 McGeady
19 Atsu
21 Osman
22 Pienaar
29 Garbutt
Peter Bell
51
Posted 30/11/2014 at 15:08:31
Top-notch line up, that!!!
Paul Andrews
52
Posted 30/11/2014 at 15:07:57
Very positive side picked by the boss.
Phil Walling
53
Posted 30/11/2014 at 15:11:46
I expect Barkley to show up today and hope Pienaar can last 70mins at least.
Shall also be keeping an eye on the efficacy of our corners given that Garbutt showed them all how to do it !
James Marshall
54
Posted 30/11/2014 at 15:13:29
My thoughts are: I hope Ross plays centrally of the three, Barkley, Eto'o and Mirallas with Lukaku up top – or with Eto'o up top and Lukaku on the right.
Ross has to play through the middle.
James Marshall
55
Posted 30/11/2014 at 15:15:29
Phil - why do you hope Pienaar lasts 70 minutes? He's on the bench. You want someone to get injured after 20?
Peter Bell
58
Posted 30/11/2014 at 15:17:30
Pienaar is on the bench, Phil is on the sherry I think!
Geoff Evans
59
Posted 30/11/2014 at 15:20:37
Just seen the team. Too strong for Spurs, easy win.
James Marshall
60
Posted 30/11/2014 at 15:18:25
City hammering saints with 10 men. This is a massive game today.
---
Add Your Comments
In order to post a comment, you need to be logged in as a registered user of the site.
Or Sign up as a ToffeeWeb Member — it's free, takes just a few minutes and will allow you to post your comments on articles and Talking Points submissions across the site.
© ToffeeWeb