Everton vs Hull City
Match Preview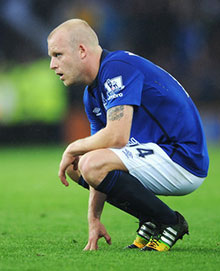 Steven Naismith will undergo a late assessment on his hamstring
With two contrasting away fixtures behind them to close out November, Everton return to Goodison Park for their third game in six days as a busy December programme begins with the visit of Hull City and Nikica Jelavic's return to his old stomping ground.
Marching on in the Europe League, Roberto Martinez's side won handsomely in Wolfsburg last Thursday to book their passage to the next phase of that competition but followed it up with a 2-1 defeat at Tottenham on Sunday, a result symptomatic of the Blues' stop-start Premier League campaign this season.
Much credence is lent to the notion of the European hangover and a cursory glance at a scoreline which favoured the team that played at home in the Europa League and not the one that travelled to Germany would seem to support it. But Everton's performance at White Hart Lane seemed to owe less to fatigue and more to a paucity of invention and tempo — even when they were in the ascendancy, it was a pedestrian display until the final 10 minutes when looming defeat demanded some belated urgency that was too little, too late.
The upshot of giving up the platform established by Kevin Mirallas' beautiful 15th-minute strike was that the Toffees failed to gain ground on the pack of clubs chasing leaders Chelsea for a place in the Champions League; indeed, the Blues fell further behind after Tuesday evening's results which dropped them into the bottom half of the table.
All of which makes a response against a struggling Hull team — the Humbersiders fell into the bottom three thanks to Burnley's draw against Newcastle — an absolute must lest the uphill climb facing Martinez morph into something more mountainous by the end of the year. Since earning creditable draws at Arsenal and Liverpool in October, Steve Bruce's men lost all four of their matches last month, scoring just once in the process. They looked on course for victory against Spurs 10 days ago until Gaston Ramirez's sending off completely shifted the momentum of the game and they followed that defeat with a 3-0 drubbing at Old Trafford so will likely travel to Merseyside with morale at a low ebb.
They should be no match for an Everton team that, James McCarthy, Steven Naismith, Darron Gibson, Antolin Alcaraz and John Stones aside, is gradually getting some of its walking wounded back to provide more competition for places. The latter two are out until the end of the month at the earliest while McCarthy will be given more time to sort out his hamstring issue and Naismith has been given an outside chance of making the squad for this one. Martinez told the media on Tuesday that he will wait until the last second before making a decision on the Scot whose movement and running was missed on Sunday.
Should he miss out, the manager at least has options in that part of the field, with Ross Barkley, Aiden McGeady and Samuel Eto'o all vying for spots and Mirallas able to be pushed into a forward role if need be, particularly if Steven Pienaar is fit to line up on the left flank.
It's in central midfield where he may have pause for deliberation. Gareth Barry played at White Hart Lane but looked rusty after his layoff with an ankle injury and playing against the Tigers would put him at risk of picking up the fifth booking that would rule him out of the visit to Manchester City on Saturday. Martinez could conceivably deploy Leon Osman, who filled in well in the defensive midfield against West Ham, alongside Muhamed Besic and rest Barry or get very creative and move Leighton Baines inside now that Bryan Oviedo appears to be fit again and Luke Garbutt showed his capabilities against Wolfsburg.
Everton will start the evening some eight points off the coveted fourth spot in the Premier League — closer to the relegation zone than Europe — but there are points on offer that the Blues should claim easily in this and the other forthcoming home games against QPR and Stoke. There is little margin for the kind of errors they committed against Crystal Palace and Swansea if they are serious about pushing for the top four or five in the League.
Referee: Robert Madley
Kick off: 7:45pm
Full coverage: ToffeeWeb Match Reports
Reader Comments (97)
Note: the following content is not moderated or vetted by the site owners at the time of submission. Comments are the responsibility of the poster. Disclaimer
James Stewart
1
Posted 03/12/2014 at 00:28:54
A must-win considering the results tonight. Simple as that.
I would go:
Howard (really don't want to pick him but no-one else)
Coleman Jagielka Browning Baines
Osman Barry
Mirallas Barkley Pienaar
Lukaku
Phil Walling
2
Posted 03/12/2014 at 00:48:01
First name on the teamsheet should be Ossie' s. We totally lack urgency and creativity without him.
James Marshall
3
Posted 03/12/2014 at 01:02:26
We won't make the top four, but we won't get relegated either. I have a feeling top 8 is going to be about our limit this year.
Mark Andersson
4
Posted 03/12/2014 at 01:12:09
The way this season's going who would bet on the blues wining any game. When teams are there for the taking we drop points, and we rise to the challenge when playing the big clubs.
The crowd will have a big impact on the game, so it's important that the team get off to a good start and keep the fans happy. No prediction from me it's any one's guess which team shows up for the fight.
James Flynn
5
Posted 03/12/2014 at 01:31:40
Phil - Buddy boy, you're too much.
I agree, mind.
Christopher Kelly
6
Posted 03/12/2014 at 01:34:50
But Champions League is in our future with a Europa League victory!
Phil, I want what you're smoking. Shit must cost a fortune...
Gary Russell
7
Posted 03/12/2014 at 01:39:27
So Southampton to win 0 - 2 at the Emirates tonight and we have Hull off 4 - 0 then we go back to 7th. Sorted!!! 8- )
Dave Hall
8
Posted 03/12/2014 at 03:19:24
Great work, Chris Kelly.
Harold Matthews
9
Posted 03/12/2014 at 03:30:05
On paper it should be easy but we're a bit inconsistent at the moment and Hull will be fighting for every ball. In the recent International Robertson not only helped to shut down Coleman and McGeady but he managed to burst through and score a goal.
Their big lads will be dangerous at set-pieces and we'll need to be at our best to win.
Paul Ferry
10
Posted 03/12/2014 at 04:17:06
Classic us that we slip up against Allam's Tigers but it won't happen. A comfy two goal cushion. 3-1 rather than 2-0 because of hiccups in defence and between the sticks.
Jimmy Martin; Coleman, Jagielka, Distin (I'd rather have Ty), Baines (leaning towards Garbutt with each passing week); Besic (and it will be) Barry (could/ought to be Osman); Mirallas, Pienaar (Bryan would be better if ready) Barkley (IN THE MIDDLE), and Lukaku, the best 21-year-old centre-forward in the Premier lLeague.
Subs: Robles, Garbutt, Browning, Osman, Oviedo? Eto'o, Kone?
Hull bought well in the window and their fans have all the right in the world to be disappointed. They will fire one day soon. But not tomorrow.
COYB
Dick Fearon
11
Posted 03/12/2014 at 04:06:40
If Bruce tells his team to play an open attacking game against us, it would be tantamount to suicide. We can expect he will probably do as sides much better than Hull have been successful with.
So far, Roberto has not found an answer to opponents that only make a token effort in the midfield to concentrate on packing their defence. Jags and Co and their uncontested tecka deep in our own half would bring a smile to Bruce's ugly mug. It certainly does nothing for any attacking ideas we may have.
As proven so often in previous games the biggest danger to our own goal is when our attack battering itself senseless against a brick wall becomes more and more desperate and forgets defensive duties.
That is when opponents play long balls into wide open spaces in our defensive zones. Pushing too many players forward may appear great yet it is also our biggest weakness.
Darryl Ritchie
12
Posted 03/12/2014 at 06:01:58
Not too sure who RM will select, but I truly believe it shouldn't be either Eto'o or Barry. Last Sunday, Samuel looked like he's in need of a break. He just wasn't as sharp as he usually is. Barry looked as if he was running with lead weights around his ankles. Maybe his injury is not quite ready yet.
Both of them, it could be argued, are very large part of the engine that makes us go, but it could also be said, that when they are unable to play at 100%, they bring the level of play of the entire team down.
Maybe a few days rest will see them ready to go... maybe not.
Ian Bennett
13
Posted 03/12/2014 at 07:26:12
Howard
Baines
Coleman
Jagielka
Browning or Hibbert
Osman
Barry
Mirallas
Barkley
McGeady or Pienaar
Lukaku
Tony Abrahams
14
Posted 03/12/2014 at 07:21:41
I think Barry needs to play and train because he had those same lead weights on at Leicester when the season started. it's now December, and the team still haven't got going for me.
It's probably the first time since Moyes left, that I'm not really that bothered about going the match. Of course, I will be there and hope for a good performance. Results matter most, but it's also an entertainment business.
Nothing wrong with possession football, I love it, but we just don't seem to be a team with much purpose lately. Let's go for goals Roberto, there's enough talent in the squad to do so!
Jim Bennings
15
Posted 03/12/2014 at 08:12:09
Feels like every game is a must-win lately.
We really have to start winning our home matches, the next three starting tonight are Hull, QPR and Stoke, we must win all of these because away from home we have struggled for wins, we have Man City away Saturday and Southampton away before Christmas.
Play your strongest team, Roberto, and put a rocket up Baines, Coleman and Barkley and let them know their places are NOT guaranteed just by name.
We could have made a statement on Sunday at Spurs by keeping Hibbert and Garbutt as fullbacks but we caved in to go back to the big names despite them being below par this season.
Colin Metcalfe
17
Posted 03/12/2014 at 08:13:02
I have missed the last two games through work. Having seen the result the result against Wolfsburg, I was pleasantly surprised, so I had high hopes for the Spurs game but, in typical Everton fashion, they pressed the self-destruct button and by all accounts didn't turn up! Absolutely gutted when I got to my hotel and saw the score and was more depressed when I read about our performance.
So the question is: Which Everton will turn up? Our Jekyll-and-Hyde season should see us win handsomely; however, I am fast losing confidence with this Everton side and also in RM's selections and decisions during games .
Martinez has done well to avoid criticism from the large majority of the fans and from the national press but other teams have sussed Everton out and he doesn't seem to have a Plan B and his motivation skills seem none existent. His smooth talking post-match comments are just not washing anymore – I would have more respect if he said: "I got the selection wrong today and I accept the blame" – but we continually get Mr positive and how unlucky we were.
Very frustrating season so far; hopefully if we can get some players back from injury, it's not too late to aim for a top four finish but we desperately need consistency and it can start with a good win against Hull tonight!
Kunal Desai
18
Posted 03/12/2014 at 08:56:47
Soldado scored on Sunday. Bet your bottom dollar Jelavic will score tonight as well.
Neil Wood
19
Posted 03/12/2014 at 09:25:48
A must-win for tonight. I watched the U21s the other night and wasn't overly impressed with the future! McAleny looked good and perhaps deserves a chance at Premier League football. He's 22 years old and really needs to grasp any opportunity he is given.
Strangely I often feel that players like McAleny play better against better opposition and raise their game. Tonight, a Lukaku hat-trick would be the best medicine for Spurs and I feel we need something like that to reignite us.
Howard
Coleman Jagielka Browning Baines
Besic Barry
Mirallas Barkley McGeady
Lukaku
Baines and Coleman need to show up tonight.
Anyone up for a beer pre-match!!!!
COYB
Dave Pritchard
20
Posted 03/12/2014 at 09:26:32
I should be confident about a win tonight but am not.
We must start getting the ball in front of Lukaku. He is great when running towards goal with the ball, like against West Ham, Wolfsburg and Palace, but not very good at all when he is getting it fed to him when he comes back towards the half-way line, like in most of the other games this season.
If fit enough, I would like to see Pienaar start. I know he has been disappointing when seen this season but he gives us a link between midfield and attack that we so often lack, like at Spurs last Sunday.
Sue Brown
21
Posted 03/12/2014 at 10:01:50
Kunal (#18) – spot on, it's a cert!
Milos Milenkovic
22
Posted 03/12/2014 at 10:16:13
This is our best squad for 25 years. It's also third best squad in the Premier League, after Chelsea and Man City. We have so many options that nobody knows our best 11. Personally, I would like to see the game with:
1. Only one defensive midfielder;
2. Mirallas as a second striker alongside Lukaku.
Anyhow, Everton is very strong, it looks like atmosphere in the team is great, we only need to be more direct going forward.
Jim Bennings
23
Posted 03/12/2014 at 10:45:43
We know for sure that Jelavic will be pumped up on his first return to Goodison. Let's give him a great ovation then hope he has a shite night.
I really liked the lad's attitude when he was here and memories of thinking we had a potentially devastating striker in those early months are always fondly looked back on.
John Malone
24
Posted 03/12/2014 at 10:46:30
Howard
Coleman Jagielka Distin Baines
Barry Besic
Osman Barkley Mirallas
Lukaku
Subs: Eto'o, Oviedo, Kone, Browning, McGeady, Robles
We need Ossie's ability to unlock the door – his lack of legs shouldn't be too much of an issue against Hull!
Jeff Beaumont
25
Posted 03/12/2014 at 10:38:22
I can't understand this clamour for Browning. He was skinned alive in the Under-21s, yellow carded & should have had a second one for the penalty challenge that wasn't given for some reason.
Phil Walling
26
Posted 03/12/2014 at 10:33:14
I was going to let others respond to the claims of Milos above but 'couldn't hold me water'!
Of course anyone is entitled to hold a view and long may it be so. But it is all a matter of opinion and 'best' is a subjective description which varies according to whether one is talking of skill, fitness, drive, dedication et al.
The purpose of a league table is to determine which club can show the 'best 'of all these qualities once every team has played the others home and away. It may not be perfect in that no allowance can be made for injuries, referees, and old-fashioned bad luck. But, like democracy, it's the best system we can come up with.
After a third of the season, this squad demonstrates that it is 'about average' if one accepts the game is all about goals rather than the manager's revisionist concept of 'possession stats'. Potentiality may indicate it will finish higher by the close but, like so much in life, that's just guesswork.
So, in truth, it will only be 'best for 25 years' if it finishes higher than Moyes's 4th – then, and only then, will I agree it is the third 'best' in the Premier League!
Dave Pritchard
27
Posted 03/12/2014 at 11:08:15
At the moment, we are the 11th best team in the league. A win tonight and we'll probably be the 8th best. Simplistic view of course. Last season though it is fair to say we were the 5th best team in the league.
Tony Abrahams
28
Posted 03/12/2014 at 11:45:21
Number 26 on the thread this week is, It's Black And White, Don't Try To Hide It!
So our third best squad in the last 25 years made absolute cunts of us all Phil, one night in Bucharest?
Harold Matthews
29
Posted 03/12/2014 at 11:24:20
After watching the U21s passing sideways and back, I think Roberto should review his system. Everyone has sussed it out and if midfielders lose possession when our fullbacks are out of position, we are at the mercy of quick direct attackers, as Chelsea, Palace, Spurs and others have already demonstrated. Thank God Hull have sold Long.
Brian Harrison
30
Posted 03/12/2014 at 11:37:52
Obviously off to the game tonight, but where has all the enthusiasm I felt in the October/November period of last year gone? I think the home game against Liverpool was a prime example: we tore into them from the first whistle and overall looked the better side, not forgetting they still had Suarez.
But now, we don't seem to want to go at teams; our passing has become slow which just about every fan comments on, and we don't seem to want to play the ball quickly out of defence. What has changed? Why are we now so cautious and still being opened up at the back.
So please, RM, we have some very good players – let them show Hull tonight just how good... let them off their cautious lease and play some adventurous football.
Denis Richardson
31
Posted 03/12/2014 at 12:08:33
Barry really was off the pace on Sunday so am not sure if I'd start him. I cannot however see RM not starting him. Coleman and Baines will also hopefully be a bit sharper after Sunday.
One thing we must do is not start Eto'o and Barkley. With a tough game against Man City to follow, I'd start with Ross and bring on Sam around the hour mark, depending on how it's going.
Loads of games this month so we need to use the squad wisely.
Tony J Williams
32
Posted 03/12/2014 at 12:27:11
Brian, hopefully the ponderous passing will change when Stones comes back into the side (If Booby picks him). He is one of the players who actually wants to move forward with the ball instead of the safe tippy-tappy-across-the-back shite.
It also means that Barry/McCarthy no longer need to drop back so deep to accept the pass.
We need to play with no fear – we ARE better than them.
Conn Prosser
33
Posted 03/12/2014 at 12:22:02
Interesting that Mirallas's goal came from the left side. I'm not advocating that he start there but his celebration with Martinez indicates that, like Lukaku against Arsenal, this drifting into unfamiliar places is something that was talked about in training. I would like to see more of that.
If the system is suitably fluid enough to allow players to pop up in different areas, it could have more goals in it and go some way to keeping the opponents guessing. This tactic could be the embryo of the illusive Plan B.
Assault on Europe. Pepper on the Premier League. Let's hope we grind some chunks out with a win tonight. (I wouldn't say No to Osman in the middle either.)
Tom Bowers
34
Posted 03/12/2014 at 12:16:12
Why on earth are some people beefing about Howard? He is the least of Everton's problems. Nuff said.
Yes, with current form, Ossie should start. I haven't seen him play so well for a long time.
Barry's return is also crucial and after Sunday's game he should be sharper for today.
Hull, like Leicester, are the bottom feeders and ordinarily would be easy like the Foxes were yesterday for RS. However, all games are different and Everton's home form hasn't been great.
Hull will park the bus I fear so it's crucial to score early and, if not, for them to be patient and not fall asleep when Hull occasionally break.
Andrew Clare
35
Posted 03/12/2014 at 12:46:35
Tonight will be all about breaking through two banks of four as are most EPL games. Running off the ball, speed, getting into the box, getting to the by-line, individual skill and picking the right pass are essential to break down a team deploying these tactics.
Tony Marsh
36
Posted 03/12/2014 at 12:49:36
Harold @29... The passing game we play is not supposed to end up going sideways and back – it's the players who are not quick enough, either in the brain or with the feet, to get it away and forwards fast enough.
It is easy to see what Martinez is trying to achieve – it's just a fact that most of the players we have don't have the ability to utilise the gameplan in the correct manner. There is always a half-second too long on the ball or an extra touch and we break down.
I don't think it is our manager's intention to have his players shuffle the ball sideways. As I say, it's the lack of ability to get the job done. In my humble opinion, of course.
Paul Taylor
37
Posted 03/12/2014 at 13:02:39
One of those games where we could give them a good hammering or lose with Jelavic scoring to make it worse.
I'm going for a 1-1 draw...
James Joseph
38
Posted 03/12/2014 at 13:03:48
Tomorrow is the anniversary of our historic victory at Old Trafford, a result that gave everyone a boost and seemed to confirm that this was an Everton re-invigorated under a bright, positive manager.
This season, though, Europa League results apart, we seem to be drifting and Roberto's methods, much praised last year, are coming in for increasing criticism.
Therefore, for me, not only is tonight a must-win game, but Saturday's visit to Manchester needs a similar result to that attained at Old Trafford 12 months ago to reinforce that this is an Everton team who can go to any ground with the belief that they can win.
John Malone
39
Posted 03/12/2014 at 13:12:11
Conn @33,
Mirallas's preferred position has always been on the left side it's where he plays for Belgium and he has previously stated he prefers to play on the left wing. I suspect the only reason he's played on the right for so long was the good relationship between Pienaar and Baines, but it's plain to see Mirallas is much more of a threat cutting inside on his right foot; he started the season playing there and playing well.
Paul Andrews
40
Posted 03/12/2014 at 13:59:24
One stat that is undeniable: Martinez achieved our highest points total ever in the Prem last year. So it is without question our best squad in 22 years.
I think I am right in saying we finished with 11 points more than Moyes side that finished 4th, with a negative goal difference, in a freak year.
Paul Andrews
41
Posted 03/12/2014 at 14:08:22
We have had a lot of comments, admittedly after poor results, criticising the manager's team selection.
It would be a good idea if his critics posted their starting 11 before kick-off tonight.
Bill Gall
42
Posted 03/12/2014 at 14:16:23
On one hand, some people are saying Barry was not up to pace on Sunday and needs more playing time... and, on the other hand, other people say he should not play to night because of his performance on Sunday (confusing).
As far as team selection against Hull, the playing of Lukaku and Eto'o together has not worked out and I do not think Naismith should be risked and end up the same as McCarthy. The team that I think should play tonight is the same back 5 as Sunday with Besic, Barkley & Barry as the three busy bees in midfield and have Osman playing behind Lukaku and Mirallas.
All the the Everton team need is to quicken up their passing and attack before the opposition get everyone behind the ball. (Easier said than done!)
My reason for Barkley to be in midfield is simply that at some time the manager has got to define what Barkley's best position is and just leave him there instead of moving him around. To me with his pace size and strength, he is ideal to tackle and bring the ball forward and also can score.
Phil Walling
43
Posted 03/12/2014 at 14:37:53
Whilst I hate to think what Tony Marsh would have said about OFM had he made us suffer this PAATB rather than his favoured KITAP1, but inflicting a new culture on our veteran defenders was always going to be an adventure!
Martinez brought Alcaraz with him to show them how to do it but he, too, looks well past his best so hasn't been much help.
I mustn't mention the last club he inflicted the philosophy on but, being well past its sell-by date, it was sussed by other managers with most regrettable consequences.
Let's hope that old dogs can learn new tricks... and quickly!
Jimmy Kelly
44
Posted 03/12/2014 at 14:58:52
Paul (41), that would be great for people – like you, I assume – who are desperate to say 'I told you so', but surely you realise that it's not that easy?
When I saw the team on Sunday, I was reasonably happy. However, after 10 minutes it seemed quite clear that neither Eto'o or Barry were even close to being fit. So I went from being quite happy to very unhappy. Not because I'm fickle, but because I now had a better idea of the adequacy of the team we'd put out.
Paul Andrews
45
Posted 03/12/2014 at 15:05:11
Jimmy,
You assume wrongly.
My post was aimed at people who,with the benefit of hindsight, criticise the manager's team selection.
Hopefully they will let us know their team selection before kick-off.
Phil Walling
46
Posted 03/12/2014 at 15:10:03
Hey, Paul, the manager is paid a huge salary to select the right team. On the other hand, many on here pay huge amounts of their salary to have the right to comment if he cocks up that selection!
Brian Furey
47
Posted 03/12/2014 at 15:16:05
As usual, a lot of overreaction after the Spurs defeat and so it feeds into a negative build up to the game tonight. We never do well in London, even when we play well like we did v Arsenal last year.
I do have to agree with the style RM is persisting with is causing us problems both at the back giving away possession which leads to goals but also it's not playing to our strengths going forward. Surely he knows himself Lukaku needs early balls to run onto and we have loads of good ball players now fit to hit him such passes. I am glad to see him and Mirallas playing well off each other and hopefully Kevin can stay fit over Christmas but I fear not.
Barkley to me is still trying to do too much and needs to beat a man, pass and go for the return rather than beat four men.
We are all guilty of this but when you look at him and hear him talk, it really is hard to believe Luka is 21. He does annoy me a lot with his lack of work ethic but then v Wolfsburg he was awesome and worked really hard.
2-0 tonight with McGeady getting one.
Dan Hollingworth
48
Posted 03/12/2014 at 15:19:28
Whilst I agree, Naismith does work hard, and is a better-than-okay player, he is not the answer. We need to start playing with two natural wingers again and Barkley behind Rom; this worked so well last year. This square-pegs-in-round-holes mentality from Roberto needs to stop.
Stop playing players because they did well for you at the start of the season and pick our best team. Two holding, two wingers, and Ross behind Rom. I know injuries have limited the luxury of doing this most times throughout this season so far. But everyone is back now, so play the balanced side that got results last year.
I can see why fans love him because of his work rate, but Naismith in there is not our best option, Ross is!
Also, I don't know what Stevie P has done in the last few weeks, but he seams to be getting less and less playing time? He is great on the ball and is one of the few who can actually create something, plus I think Baines is missing him. This would put Super Kev back on the right and would allow Coleman to start to flourish again.
Mike Allison
49
Posted 03/12/2014 at 15:25:56
It's rare that this happens on ToffeeWeb, but I agree with every single words of Dan's post (#48). I want to see Pienaar, Barkley and Mirallas behind Lukaku tonight and I'm convinced we'll tear them apart if we get it.
Brian Furey
50
Posted 03/12/2014 at 15:25:35
Just checking my stats from BBC website: In September, we only had one home league game which we lost 2-3 to Palace.
In October, we only had one home league game which we won 3-0 to Villa.
In November, we had two home league games: Drew 0-0 with Swansea and won 2-1 v West Ham.
I think people need to calm down again and enjoy watching us play football and score loads of goals. We are joint 3rd top scorers so far.
Milos Milenkovic
51
Posted 03/12/2014 at 15:04:55
Phil, I really do believe that we are in the middle (first third) of a big season. Start was poor, but my optimism is based on the quality of the players we have. With that goes the ambition, which for the first time seems high. Hunger and self-confidence must be greater, but we are growing and there are two great Cups and many league games to enjoy in front of us.
Conor McCourt
52
Posted 03/12/2014 at 15:15:14
I agree with Paul that there is a lot of unfair criticism aimed at Roberto, especially after the Spurs defeat. The whole team were jaded and it along with the Palace defeat were the two poorest performances of the season.
People arguing that Ossie would have made a difference or Garbutt or that Barkley was played in the wrong position maybe making valid points but none would have ensured 3 points for us at the Lane. We were lethargic all over and not just in moving the ball as some have pointed out but had no energy or spark or bite.
Our only chance of winning that game was to hang on to the lead until half-time and get their crowd on their back but Howard's gift change all that and it was game over from then.
I feel we will get a reaction tonight and he will play a similar team and let them make amends for Sunday as I couldn't name one player that played well. I think we will win well tonight. COYB

Brian Waring
53
Posted 03/12/2014 at 15:28:06
Bruce will defend with two banks of 4, let us have the ball in our own half and, once we cross the half-way line, they will be in our faces closing us down and then breaking at pace. We'll continue to labour getting forward, taking about 1 million passes before we get anywhere near their penalty box, only to then give the ball away.
By the way, Martinez lad, fucking please, please, please don't play Ross out wide because it never worked first time and hasn't worked since.
Martin Farrington
54
Posted 03/12/2014 at 15:19:28
I wish I wasn't – but I'm kind of dreading tonight, perhaps over worrying that it's going to be another Crystal Palace style slip-up. With last night's results, this is a must-win if we are to keep in touch and also rise above the RS.
I'm concerned with the amount of first teamers not fully fit / carrying injuries. They need resting, especially with Man City looming. We cannot afford to worsen existing problems. This is particularly important as mentioned by others, we have no strength in depth.
Our U21s have no-one significant RM can call upon despite his pre-season promise of several being given opportunities. How can he, when clearly (vs Sunderland U21s) most choked?
Coupled with RM's pre-season comments re Luke Garbutt and Tyias Browning ("I consider these two first-team players even though they haven't played that much.") appear to have been more hopefully than realistic.
Hull have lost all four games in November and haven't won on the road since their opening day fixture at QPR. Let's hope they don't fix that jinx tonight... COYB
Joe O'Brien
55
Posted 03/12/2014 at 15:42:09
Again another must-win game. It will be a major bonus if Pienaar is fit so Barkley can move back to the centre, where he should stay – no more of this rubbish of playing him out right. With Kev out right and big Rom up front, we should win this comfortably.
I haven't an issue with RM's style of possession football as long as we step it up a bit. This style of play with pace would have a lot of teams in trouble. With the way the results went last night, this is a must 3 points. COYB
Jimmy Kelly
56
Posted 03/12/2014 at 15:52:00
OK Paul, you may not wish to say 'I told you so', but you do wish to say 'look, you would have picked the same team so stop moaning'.
The point is, we don't have the same information as the manager before the game. I would have picked Barry for the game on Sunday if he was fully fit, but he wasn't. If I put my team up here before the game tonight he would be in it, but if after 5 minutes he looked slower than my 89-year-old nan, like he did at the Lane then I would have changed my mind.
The same thing could be said about dozens of players this season. I have been very worried by the fact players appear to be rushed back into the side way before they are ready.
Michael Kenrick
58
Posted 03/12/2014 at 15:56:43
The point you seem to be missing, Paul, with your somewhat infantile 'challenge', is that we as fans don't know how fit our players are... whereas the manger does. Or at least he bloody well ought to!
As many have intimated, the lethargy we demonstrated after capitulating from a brilliant one-goal early lead on Sunday, with what was arguably one of the strongest attacking line-ups on paper, was due in part to Martinez selecting unfit players.
Yes, some people like to pick the team, and many like to retrospectively tear apart the selection – both activities, if you analyze them for one second, have no merit or purpose in affecting the outcome or influencing the man who really matters – the manager. But neither are going to stop any time soon.
Christopher Wallace
59
Posted 03/12/2014 at 16:12:13
Dan 48
Naismith is the most likely to play a wideman into a position where he can cross the ball, and also the most likely to get on the end of and convert a ball into the box.
If you want to exploit the wide areas, Naisy in the hole is a must... in my opinion anyway.
Christopher Wallace
60
Posted 03/12/2014 at 16:20:20
Quite a few posters calling for Browning tonight.
I'm certainly not writing the boy off after one poor showing for the U21s on Monday, but surely Distin is a better option at present. Browning look shaky other night and got away with what looked like a stone-wall penalty against him.
Dave Lynch
61
Posted 03/12/2014 at 16:15:32
As mentioned on this thread by a number of people, they will defend with 2 solid banks and will be difficult to break down.
This is where Roberto fails in his system, he is not adaptable and we will pass it sideways and back all night whilst they frustrate the life out of us and we frustrate the life out of the fans.
Not looking forward to this one bit, the only time we ever look effective going forward is when teams come to play an open game.
Good stat on the radio this morning in that if all games had finished at half-time this season, we would be 2nd; we have lost half-time leads in 6 of our matches this season.
Lenny Kingman
62
Posted 03/12/2014 at 16:16:48
Speaking from a statistical point of view there have been 6 home games with 12 goals for and 12 goals against. So 2-2 it is.
Hull do not look likely to score two this evening but like Soldado hadn't scored for yonks and then turns up trumps against the Blues I suppose Hull could find something too.
Conor McCourt
63
Posted 03/12/2014 at 16:07:07
I don't understand this focus on the manager making a mistake playing Barry. Besic was poorer on the day and he was not the only one who looked slow as Distin, Besic and Barkley looked lethargic all game and none of those had fitness concerns.
I think the manager had to start Barry as Gibson and Mac were both out so the only alternative was Osman and he would have got totally over-run in there and his better performances have all come playing in the hole.
People are slating Roberto for putting players in the wrong position but to some degree this has been forced upon him with Pienaar and Mirallas injuries and Atsu not producing.
He inherited 3 players in Naismith, Barkley and Osman who all prefer to play in the hole and he signed a striker in Eto'o who has always led the line but for us seems happier playing behind as well. If it was me, I would cash in on Naismith's fine form and use the money to either buy Delboy or put towards another striker like Benteke.
Brent Stephens
65
Posted 03/12/2014 at 16:32:36
Conor #63 Besic slow? lethargic? He's got a motor like McCarthy and pace like a whippet. I think some people don't see the amount of running put in by some players.
And Osman would have got over-run as DM? Like his previous game in that position?
Paul Andrews
67
Posted 03/12/2014 at 16:43:26
On the contrary Michael,he picked an unbalanced side on Sunday
Conor McCourt
68
Posted 03/12/2014 at 16:37:09
I never said in general but if you don't think we got over-run in midfield on Sunday Brent then you were watching a different game than me.
As for Osman, he has done really well of late but he has always played better off the front and playing in Europe is much more technical than the frantic pace spurs played at on Sunday. There is a reason why both Moyes and Roberto, who both clearly have a soft spot for Ossie, have preferred not to play him in the defensive role.
Jay Harris
70
Posted 03/12/2014 at 16:51:34
Conor the reason we got "over ran" as you put it is not due to Besic but more to do with the managers propensity for playing too many "forward" players at the expense of weakening the MF.
This is particularly evident when you have 2 attacking full backs into the bargain.
Eto, Mirallas , Lukaku, Mcgeady and Barkley and Ossie are all attack minded players who don't defend well at all.
So to only play 2 "real" MF players when other teams are playing 4 or 5 means the link that is so vital to getting attacking full backs forward is not there and the opposition find it easy to put pressure on the ball and find space behind.
This is not Spain it is England where the work rate is higher and therefore the need for workhorses in MF is more of an issue.
We only have McCarthy and Besic (and did have Fellaini) whose can get up and down the pitch consistently for 90 minutes. Barry gets away with it because of his experience and reading of the game but doesn't have the engine he once had.
Brent Stephens
71
Posted 03/12/2014 at 17:00:52
Conor #63, yes I think I was watching a different game. Most on here thought Besic had a good game, so they watched a similar game to one of us.
I don't think our problem was so much our midfield being over-run (neither goal conceded came from being over-run in midfield - both errors) as our inability to move forward at pace and penetrate their defence.
Max Wilson
72
Posted 03/12/2014 at 17:09:39
Dans the man. Found myself agreeing with most of what he says.No-one has selected our best forward however- Thats Eto,o .God it must be that Chang shite- addles the brain after a while. COYB
Conor McCourt
73
Posted 03/12/2014 at 17:05:02
I totally disagree Jay as we,ve been playing those players since Roberto came and it hasn't served him badly over the last year and a half or so. Some on here argue he is too defensively minded.
As I said in my initial post it was just a poor jaded performance which is best forgotten and I would like to see the same team tonight as I feel they will make amends tonight. We hadn't lost since Utd and hope we can put on another similar run.
Paul Andrews
75
Posted 03/12/2014 at 17:20:54
Jay,
Spot on.
An unbalanced side.
Ray Said
76
Posted 03/12/2014 at 17:20:01
I agree with Jay Harris. Not enough balance between attack and midfield especially with two attacking fullbacks. Assuming all were fit I would keep both attacking full backs to provide width then go with three proper midfielders (Barry, Besic and Mc Carthy, 1 driving from midfield/linking play ( Naismith or Barkley) and Lukaku up top with Mirallas or E' too in support
Steve Guy
77
Posted 03/12/2014 at 17:28:59
We are beaten before a ball is kicked if you read a lot of the posts on here. We were actually 8 games unbeaten before Sunday but you wouldn't know it ........
Mark Tanton
78
Posted 03/12/2014 at 17:31:34
Besic has taken some stick unfairly here - who else in the middle of the pitch was looking to move the ball forward and get up the field? Besic made some errors because he took risks while others seemed content to make the easy ball and get off the hook.
Why the Hell does Baines now stop and stand still with the ball? I honestly cannot recall seeing a Spurs player doing that, but Baines did it every single time he was in possession.
Jay Harris
79
Posted 03/12/2014 at 17:26:00
Conor
we have not had the same players since he came.
McGeady and Eto and Atsu are all additions made and we have lost Delefeu.
In addition Naismith and Lukaku were holding the ball up better last season whereas this season they are getting caught on the ball more which then puts pressure on our MF.
Jay Harris
80
Posted 03/12/2014 at 17:43:18
Steve
we might have been 8 games unbeaten but how many did we actually win.
We used to be a team that recovered from a losing position now we are a team that throws away a winning position.
Paul Andrews
81
Posted 03/12/2014 at 17:53:23
For what it's worth.
Howard
Coleman
Jags
Distin
Baines
Besic
Barry
McCarthy ( if fit)
Mirallas
Lukaku
Barkley
4-3-3
Conor Waters
82
Posted 03/12/2014 at 17:49:34
One thing is for certain with Everton, expect the unexpected.
Any Hull player who hasn't scored in a decade can be guaranteed to end his drought tonight.
All our set piece deliveries will be appalling.
If he plays, Gaz Barry will be booked. If he doesn't, Besic will.
Howard, Distin and Jagielka will get in a defensive muddle at least twice, leading to a goal conceded or heart failure for the crowd.
Lukaku will not win and/or compete for an aerial challenge.
McGeady will dazzle then frustrate.
That is all.
Denis Richardson
83
Posted 03/12/2014 at 17:57:31
For what its worth, I'd start the same team as Sunday but would drop Eto to the bench and have an AM of Mirallas, Barkley and one of McGeady/Pienaar/Oviedo. CM I'd play Besic with Osman.
Barry needs games to get back to form but I'm not sure he should play 3 games in 7 days having just come back from injury and would save him for City.
Naismith shouldn't be rushed back, we have enough games coming up.
Colin Glassar
84
Posted 03/12/2014 at 18:01:47
Who will win tho Conor? Can I put some money on your predictions?
Conor Waters
86
Posted 03/12/2014 at 18:08:04
Col, all those predictions are odds on, so nothing much to be gained! In terms of a score, I'll go with a 3-1 win, after going 1-0 down to a Steve Bruce header...
Eddie Dunn
87
Posted 03/12/2014 at 17:45:43
Mark- you're spot-on mate, Besic was proactive and the odd error was because he was trying the early pass, or a difficult through ball. At least he tried - the rest seemed to be receiving, then pausing, looking around and playing safe. Perhaps a lack of confidence, but this was after coming home from a good result in Europe, so surely their tales should have been up!
Pundits are always saying that it is very hard to up the tempo of a game, once you have established your pattern. Maybe that is what happened at Spurs. It seemed to take till the last ten minutes for us to speed it up a bit.
And tonight for the record, my team is as follows.
Howard, Coleman, Distan,Jags, Baines,
Besic, Barkley, Barry,Nais(if fit, in the hole) Miralas, Lukaku.( If no Nais, Then Barkley in the hole, and Ossie in Midfield).
Paul Andrews
88
Posted 03/12/2014 at 18:14:21
Thanks for your team selections lads.
It was certainly not an infantile challenge as mentioned earlier.
Anyway,off to the game lets hope for 3 points and a clean sheet.
Brent Stephens
89
Posted 03/12/2014 at 18:20:09
Ian Linn
90
Posted 03/12/2014 at 18:20:26
A must win game tonight
Colin Glassar
91
Posted 03/12/2014 at 18:26:24
2-0. Expect Hull to defend deep and be negative.
Harold Matthews
92
Posted 03/12/2014 at 17:50:11
Tony M @36. Well spotted Tony. That half second delay has bothered me all season. Too many people needing time to think. Quality players do it off the cuff automatically. Baines and Pienaar stuff. Teams like Bayern do it all over the pitch. Okay, we don't have their quality but a touch more urgency and intelligence would not go amiss.
Colin Glassar
95
Posted 03/12/2014 at 18:49:05
Tony, Harold, Martinez spent a large part of the game screaming "quicker, quicker". I don't think he sends out the players to dawdle on the ball. Last season, same players, we played with a much quicker tempo.
Jon Cox
97
Posted 03/12/2014 at 17:57:41
Conor, so it's 4-0 to Everton then?
Darren Hind
98
Posted 03/12/2014 at 18:11:29
"One stat thats undeniable: Martinez achieved our high points total ever in the prem last year"
I've read enough I'm going the match.
Hopefully the players who have spent their entire careers operating at a level that was miles above the manager will start to contribute a little too.
They could have done it without him... but could he have ever done it if he hadn't inherited them?
Max Murphy
99
Posted 03/12/2014 at 19:02:40
Groundhog Day - again. Tonight, a draw, or grind out a narrow win, followed by a crushing defeat on Saturday. But Roberto will give his customary positive spin. Yawn.

Colin Glassar
100
Posted 03/12/2014 at 19:15:16
Love the optimism on here. Yawn.
Jay Harris
101
Posted 03/12/2014 at 21:47:02
Still optimistic Col?
Paul Andrews
102
Posted 03/12/2014 at 22:11:47
If we win it's nothing to do with the manager.
If we lose it's the managers fault. :-)
Chris Leyland
103
Posted 03/12/2014 at 22:16:17
Paul Andrews:
Equally:
If we win it is all to do with the manager. If we lose it is not the the manager's fault.
Chris Leyland
104
Posted 03/12/2014 at 22:18:07
Colin, aside from making the last 32 of the European equivalent of the Carling Cup, what else should we be optimistic about?
Paul Andrews
105
Posted 03/12/2014 at 22:19:36
I haven't seen that one Chris.
Who posted that ?
Chris Leyland
106
Posted 03/12/2014 at 22:20:29
Paul, me! As football fans we are a fickle bunch and I count myself amongst the most fickle. But I'm in the middle ground as in, if we lose it is the manager's fault but if win it is the manager's credit. Otherwise, why have a manager at all?
Paul Andrews
107
Posted 03/12/2014 at 22:52:33
Not everyone thinks the same Chris.
See Darren's post at 98.
There is no logic in his posts re the subject in my opinion.
---
Add Your Comments
In order to post a comment, you need to be logged in as a registered user of the site.
Or Sign up as a ToffeeWeb Member — it's free, takes just a few minutes and will allow you to post your comments on articles and Talking Points submissions across the site.
© ToffeeWeb