Newcastle United vs Everton
Match Preview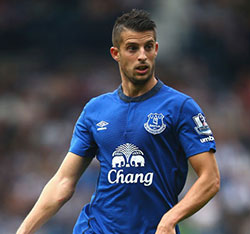 Kevin Mirallas is one of four players who picked up knocks against Stoke and are doubts for the Newcastle trip
With their form testing the bounds of crisis, Everton face consecutive away matches that will put Roberto Martinez and his players to a severe test as they struggle to salvage their Premier League campaign at the halfway point.
With the Boxing Day defeat against Stoke deepening the gloom at Goodison and throwing up more questions than answers, the Blues first travel to St James's Park, the scene of one of Martinez's greatest triumphs. Epitomising the Catalan's Sin Miedo ethos and the masterful counter-attacking strategy that served his side so well at times last season, Everton demolished the Barcodes 3-0 on their own turf.
That performance and the Ross Barkley goal that lit it up seem a world away from the crippled confidence and blunted attack currently plagueing the Toffees and there is no question that Martinez needs to find a cure for the malaise in short order.
He admitted as much after the Stoke loss, suggesting that Everton are at a "pivotal moment" in their season but his erring on the side of blaming ill-fortune and poor officiating in that game rather than getting to the root of deeper-lying issues is leaving many supporters craving more of a reaction and more fire from the manager.
Martinez's quest for a first away win in the Premier League since late September has been made harder by injuries to Tim Howard, captain Phil Jagielka, John Stones and Kevin Mirallas, with the first two the least likely to be involved against Newcastle after being withdrawn at half time on Friday. Stones suffered a knock to the same ankle that had kept him out for three months prior to the Stoke game and Mirallas went down again after Charlie Adam raked his studs down his heel; both will be assessed before the team is named.
Steven Naismith, meanwhile, is suspended, after picking up a fifth booking, forcing at least one change in attack where Barkley could be re-deployed in his preferred central role. Whether Martinez feels the need for further personnel changes remains to be seen but the likes of Steven Pienaar, Aiden McGeady and Arouna Kone are all waiting in the wings should he be moved to do so.
Newcastle, who have lapsed back into their own run of bad results after putting together an impressive run that had them briefly in the top four, will be missing Tim Krul and Rob Eiliott, and have doubts over Mehdi Abeid and Siem de Jong. Cheick Tiote is available again, though, after serving his own ban.
Given the talent that exists in the Blues' squad, the "R" word should be unthinkable — and remains an unlikely threat — but in order to avoid getting dragged into an unwanted fight that no one ever foresaw as possible at the start of the season, Everton are going to need to find a way of winning, particularly when they're not expected to.
That same talent in the team should be enough to beat a faltering Newcastle under Alan Pardew's erratic leadership if Martinez can find the motivation in his players and the spark in his own management to pull out a result. The evidence of the past week suggests it will be a tall order but it's soon going to be now or never. A pivotal moment, indeed.
Referee: Craig Pawson
Kick off: 4.15pm
Full coverage: ToffeeWeb Match Reports
Reader Comments (67)
Note: the following content is not moderated or vetted by the site owners at the time of submission. Comments are the responsibility of the poster. Disclaimer
Darryl Ritchie
1
Posted 28/12/2014 at 06:46:20
As much as I like RM, it's time to put up or shut up. All talk of 4th is rubbish. I'd happily settle for "seventhish". Time to throttle back the positivity in the press conferences, and instill a little positivity on the pitch. Hopefully, onwards and upwards.
What's Pawson like as ref?

Jamie Crowley
2
Posted 28/12/2014 at 07:00:55
All this talk of Martinez getting the sack is absurd in my opinion.
What's even more absurd is talk of a relegation fight. We won't be in a relegation battle.
Things are pretty shit at the moment no doubt. But sackings and relegation? No.
Tomorrow scares the life out of me because if we lose the knives will come out in full force.
Please, please go straight at them and don't fucking willy around Everton.
I don't have a lot of confidence in tomorrow's game. Frightening because the atmosphere and mood will be toxic if we lose.
Ian McDowell
3
Posted 28/12/2014 at 07:07:50
Missing a few players today by the sound of it but that may give a chance to Kone, Pienaar, & Alcaraz, McGeady. Robles starting is the one giving me concerns. Not confident at all about today; I've got the same feeling I had prior to the Stoke game.
Give us some festive cheer Roberto. COYB!!!!!
John Maxwell
4
Posted 28/12/2014 at 07:20:12
Kone and Lukaku up front please.
Jim Bennings
5
Posted 28/12/2014 at 07:42:17
Blues...
Passion passion passion passion!!
That's the minimum requirements out there today.
Don't spoil the fan's long arduous trip like the one endured at Southampton.
Martinez..you have got to get them whipped up for this today, there has been way too many meek surrender jobs this season, the last two lacked so much fight and charge it was a major worry, even in the dying embers of Boxing Day, where was the cavalry charge to try and stop Stoke winning at Goodison??
I don't want Martinez sacked but I'm afraid only the upcoming month of football results are going to evidently decide whether he is going to be under intolerable pressure..
I don't want him to go yet but as many people have pointed out, there's only so much dross you can put up with..
If you can't motivate the players, and let's be honest, we know this current crop can't motivate themselves, spineless and frankly characterless, then Martinez may well feel himself like he wants to leave.
At the moment though Bobby, you need to get this fucking bunch playing with a bit of fire in their bellies, dig in to get some wins then we can start worrying more about the style afterwards, I think most Everton fans just want to see some "productive" football to win games rather than seeing our defence passing it amongst themselves.
David Harrison
8
Posted 28/12/2014 at 08:23:41
KITAP1...please!!
Derek Knox
9
Posted 28/12/2014 at 08:51:56
I wasn't impressed that much with the display against Stoke on Friday, although there did seem to be a marginal improvement. However this was totally nullified by the referee, whose decisions were baffling to say the least, and definitely changed the game.
Today's game sees us depleted in terms of injury and suspensions, so it will either be a chance for the peripheral players to step up and play well, or suffer another defeat. The latter would dent confidence even more than it is at present.
I know Tim has made some howlers this season, but the very thought of El Teflon playing the whole game, does not bode well. Just hope (as every week) they prove us wrong, somehow I can't see it, although Newcastle are going through a sticky patch too.
COYB
Gavin McGarvey
10
Posted 28/12/2014 at 09:29:29
I'm hoping that Martinez starts to turn things round today. I hope he sets the team up to work hard, defend and hit Newcastle on the break. Play 5 in midfield with two of them playing wide and two tackling and giving the ball to the attackers. He needs to get the team staying compact and try to catch Newcastle cold.
I really hope he goes back to getting the fundamentals right because I believe there is more than enough talent in the team to beat almost all the teams in the league, and more than enough to make life difficult for Newcastle this afternoon. It really is ridiculous that it is us worrying about other teams this seasons rather than getting our football right and them worrying about us.
COYB
Sean Roberts
11
Posted 28/12/2014 at 10:02:25
Really hoping for a big improvement from us today, apart from last season St James park is not one of our favourite grounds but I do feel we have to get something from the game.
My biggest worry today though has to be that they have cheick tiote back in their side and to me he seems to have more fight in his belly than the whole of our team put together and on paper this looks like it is going to be a battle.
C'mon blues give us some much needed and overdue festive cheer please !!!
Andrew Clare
12
Posted 28/12/2014 at 10:08:08
I hate to say this but on current form we will lose 3-0.
Then more rumours will appear regarding RM's future.
I hope that I am completely wrong and things start to improve.
Unfortunately I haven't seen one sign of improvement in our performances in fact they seem to be getting progressively worse with each game.
John Malone
13
Posted 28/12/2014 at 09:38:48
Got to to start Kone and Lukaku and go for it!
Enough of the passing it in front of teams and not creating anything, put the two wrecking balls up top and play into them get some decent crosses in and score some goals!!!

Nick Entwistle
15
Posted 28/12/2014 at 10:15:11
'Given the talent that exists in the Blues' squad, the "R" word should be unthinkable...'
I don't believe we will get near relegation, but we have to accept other teams' squads have caught up due to a mix of playing the transfer market better and the age to our own players - and that RM doesn't play in a way that gets the most out of Baines and Coleman.
Win or lose, it'll be a tasty encounter today.
Nev Renshaw
16
Posted 28/12/2014 at 10:19:05
It's all about morale at the moment.We've got decent players,we just need a leader on the pitch to put some fire and belief in the lads' bellys.Oh for someone like big Dunc.
Norman Merrill
18
Posted 28/12/2014 at 10:24:30
Today, the Blues really have to be up for it, regardless of what team he puts out.
I'm hoping he finds a place for Besic, & the team give the travelling fans, a performance, to be proud of.after such a long journey.

Gerry Quinn
19
Posted 28/12/2014 at 10:36:55
I'm hoping I bring Everton luck today by ignoring them totally (well almost completely) by spending time travelling to the Texans football game in Houston. Here's praying it works...
Tony Twist
20
Posted 28/12/2014 at 10:39:31
I can see us getting creamed today. Have no faith in this manager but miracles can happen. As regards relegation it's a possibility but there might be 3 teams as inconsistent as us so we might be alright. In forty odd years of supporting the blues, this is the side that disappoints the most.
I will be standing tall and proud as the sole Evertonian visiting a house full of man u. supporters. If only the team could match that attitude. Draws are no good, a win is the only option today. COYB.

Mike Keating
21
Posted 28/12/2014 at 10:49:48
Type or paste your comment here. PLEASE capitalise initial letters of proper names and use proper grammar. No txt-speak; all-lowercase posts are likely to be deleted
Brian Garside
22
Posted 28/12/2014 at 10:45:22
Besic must start beside McCarthy. He should have played against Stoke C and the pace and skill povided by Oviedo will be needed.
Karl Jones
23
Posted 28/12/2014 at 10:49:35
As Newcastle have lost their last four games, I think we all know what will happen this afternoon. It would be astonishing if Everton could get anything from this game. The fight and determination needed to win games like this just isn't there at the moment.
Ste Traverse
24
Posted 28/12/2014 at 10:46:34
Given they are on a 4 game losing run, we couldn't have a worse opponent than the Geordies today.
We know how charitable we always seem to be when we come across teams in shit form (Southampton just recently), or players who ain't scored for ages (Zamora netted his first of the season against us a few weeks ago).
With our stubborn manager, injuries, poor form and Newcastle's shit form, I'm expecting the worst today.
Jon Withey
25
Posted 28/12/2014 at 10:48:38
Far too much 'should' recently. There is just no point in judging this team on last season - they haven't been that team.
And based on this season, I don't agree that we 'should' beat Newcastle away or 'should' avoid relegation.
Mike Keating
27
Posted 28/12/2014 at 10:54:44
What I wanted to say was that I think being forced to play Robles may be a perverse blessing; he either proves he is Howard's successor or makes it clear that he isn't in which case RM has to do something about our future keeper e.g. The lad at Cardiff
Tony Twist
29
Posted 28/12/2014 at 10:58:04
My team today would have to be Robles (if Howard is injured), Coleman, Stones, Barry, Garbutt, Mirallas, McCarthy, Besic, Baines, Lukaku, Kone. Good old fashioned 4-4-2 formation, if Lukaku not getting his finger out then swap him for Eto, same formation. I am sure Martinez is thinking the very same for today!
Paul Dark
30
Posted 28/12/2014 at 11:10:48
I'd be surprised to see RM change much today - other than what he is forced to.
It's a really disappointing season. Manager (and players) have let us down.
It's a shame that RM is beginning to a give both positive mental attitude and the passing game a bad name.
His team selections have been poor and his formations and substitutions likewise. Kenwright needs to ask pertinent questions, including why players are consistently (and quite gratuitously) being played out of position and brought back much too soon after injury.
A draw is the very best we can hope for, I fear - I hope I'm wrong.
COYB!
Paul Dark
31
Posted 28/12/2014 at 11:18:19
In case you're reading this Roberto: in addition to all my other excellent and incisive comments ( ;-) ), could you please avoid any/all of the Frightful Four today at any cost: Robles, Alcatraz, Osman and McGeady.
Robert Pierpoint
32
Posted 28/12/2014 at 11:19:36
Although I don't expect it today, I think the personnel available to us means that we should be considering three at the back. Mirallas aside, we have nothing on the flanks but two attacking fullbacks. It would also allow Barkley to play centrally.
I would be going: Robles, stones, alcaraz, Barry, Coleman and Baines as wing backs. Besic, McCarthy and Barkley in midfield with Mirallas and Lukaku up front.
Although players like Naismith have done a good job this season, it is imperative that the attacking side of this team is built around Barkley and Lukaku. These are our best players. If you spend 30m on a striker, then you simply have to set your team up to play to his strengths, regardless of other players.
Mark Taylor
33
Posted 28/12/2014 at 11:28:47
With 2 games in barely 2 days, I suspect tactics will be less important than making sure we have a few fresh legs in the team. For that reason, I would expect to see Besic, Garbutt, Osman, Kone and McGeady play a part. I'd also like to see Oviedo, but apparently Martinez has somehow fallen out with him.
Allan Board
34
Posted 28/12/2014 at 11:31:37
I would just like to say "good luck" to Everton Football Club and its fabulous band of Travelling Fans today. Have safe journeys and I hope you see a performance that matches your commitment to Everton as you are fully deserving. As for the manager/players,fuck you,grow up or ill buy you all a "comfort blanket" to suck on! This institution and its fans deserve better-where have all the leaders of men gone eh?
Raymond Fox
35
Posted 28/12/2014 at 11:29:11
Paul 30, do you ever say anything positive about Everton, I cant remember anything on here, even when we were challenging for top 4 last season!
The manager has to make do with the squad that's fit or not suspended, I don't see any Aquero's, Van Persie's etc on our bench that he can call on.
We need to get behind the team, I'm sure the manager and players are
well aware now of what's going wrong, and need all the support they can get especially at home to put it right, we don't want to make them dreading playing at Goodison.
Eric Holland
36
Posted 28/12/2014 at 11:35:07
Paul I think we might see at least 3 of them starting today, only going one way this game 2-0 to the bar-codes OG and dodgy penalty.
No faith in this team or manager at all.
Jamie Barlow
37
Posted 28/12/2014 at 11:46:09
You'd stick with the usual shite would you Paul@31? Same shite don't give a fuck players as have played all season. We need to mix it up. We need players like McGeady who will lose the ball but can also make things happen. Unlike the boring pass, pass, pass drones that seem to play every week no matter how poor they are.
Change it up Bobby.
Tony Dove
38
Posted 28/12/2014 at 11:41:56
There are unlikely to be any proper excuses if we don't get a result today.
We are much stronger on paper than Newcastle and they are one of the few teams playing worse than us. We may have a reserve goalkeeper today but theirs is only just out of nappies.
I think the world of Barkley but he and a few others including Coleman and Lukaku have got to get stuck in today.
Dave Lynch
39
Posted 28/12/2014 at 12:02:45
Tiote (spelling?) and Besic will be a tasty affair if they both play.
Tiote is a red card waiting to happen and Mo likes a tackle, so I'm looking forward to that one if it happens.
My fear is, if we concede early then it will be a mauling as our confidence is so fragile at present.
Paul Dark
40
Posted 28/12/2014 at 12:12:23
Raymond 35: You need to read my posts ... carefully.
COYB!
Joe Foster
41
Posted 28/12/2014 at 12:13:46
Did not sleep well last night thinking about today so woke up a bit angry. Had time to calm down now and will be starting to drink shortly so COYB.
Anthony Jones
42
Posted 28/12/2014 at 12:14:53
Kone was very impressive against Krasnodar. Time to change it up, Roberto (I won't hold my breath).
Gary Heywood
43
Posted 28/12/2014 at 10:29:14
Everton can win this game easily but...
Stop playing the sideways passing tactics until the opponents have organised their defence and then try to get through it. Only Messi, Maradonna class can play and win that type of football. Stop the bad defending. Stop crosses, Baines and Coleman weak at Southampton. Clear corners, Lukaku and central defenders weak at Southampton. Don't play to Lukaku's feet when back to goal, he can't keep it. Use Eto'o for this. I think Baines should be dropped today.
The pass sidewaws football has to have a goal threat or its just play to lose. So...
Everton need to play around defences so always look to bring attacking full backs and wingers into play who can play a good pass and cross into the box. The Mirallas/Lukaku goal against Newcastle last season. Baines/Eto'o against Burnley this season. Coleman/Mirallas, ManU last season, Oveido/Naismith Norwich at home.
Everton need to be a shooting within range much more. Eto'o at Burnley, Barkley against QPR.
Everton need to be good at taking corners. Garbutt at Wolfsburg. and converting them, Jagielka.
Everton need to be good at free kicks. Barkley/Mirallas.
Everton need to play at speed on the breakaway. Lukaku/Mirallas at Wolfsburg. Barkley away at Newcastle last season.
Barkley is a fantastic attacking weapon. He can run from deep with the ball. Barkley/Lukaku away at Arsenal last season. He should have plenty options to play angled through balls into the box. This is how you get the goal threat from Lukaku,Barkley/Naismith ,Man C at home last season. He can shoot, Man C at home last season. He can take a ball into the penalty area and score himself, Newcastle at home last season.
Everton need an intensity too win the ball back from back to front. Mcarthy at Man U last season.
My team for today is:
Robles
Coleman, Jagielka,Stones,Garbutt
Mirallas,Mcarthy,Barkley, Oviedo
Lukaku,Eto'o

Raymond Fox
45
Posted 28/12/2014 at 12:19:01
Paul 40, where I don't see any positive or encouraging comments.
Your not counting COYB as a comment are you?
Andrew Ellams
46
Posted 28/12/2014 at 12:24:16
If after these comments he puts the same players out playing the same snail paced possession football and the inevitable result happens then surely he has nowhere to turn and be at the end of the road at Everton
Paul Dark
47
Posted 28/12/2014 at 12:25:43
Raymond - Thank you for your opinion. Best not to respond to me, mate. I use this board as means to express my opinion as articulately and cogently as I can. I'm sorry that my comments do not meet with your approval - but they weren't really formed with that in mind.
Personally, I'm much more interested in Everton and fellow posters' views than in dissing others on here.
Over and out (to you).
COYB!
Raymond Fox
48
Posted 28/12/2014 at 12:34:46
Fair enough Paul, I'm sure we both care about Everton, were just coming at it from different directions.
Lets leave it at that.
Dave Abrahams
50
Posted 28/12/2014 at 12:43:31
I'd love an Everton supporter to give the team talk today, they would know how we all feel about the club.
I'd nominate Jim Bennings as first choice, he comes across as a really passionate Blue,or maybe Sean (fuck off)Kelly he'd really wind them up and get going, they would be frightened to come back in the dressing room if they performed like they have for a lot of this season.
Ste Traverse
51
Posted 28/12/2014 at 12:51:56
Raymond #40
I wish people would stop posting 'COYB' at the end of their posts! It's so cheesy and annoying.
Anto Byrne
53
Posted 28/12/2014 at 12:41:56
I saw the Newcastle and Chelsea game where the blues had an amazing 70% of the possession. Newcastle defence is a bit shakey but rode their luck.
If we persist with the ticky tacky stuff, it's probably gonna end goal less. I just hope Joel stands up and takes his chance. Hoping for a 1-0 and strong defensive display.
Craig Mills
54
Posted 28/12/2014 at 13:12:53
Ste, how about IMWT........
Dave Pritchard
55
Posted 28/12/2014 at 13:27:17
Paul (31) I think you are being unfair by mentioning the 4 players that you have. When you look at how the team has been playing you could have included Coleman, Baines, Lukaku, Eto'o etc etc.
Mark Frere
56
Posted 28/12/2014 at 13:28:48
3-5-2 for me today and assuming none of the injured are ready to return I would go:
Robles
Distin Alcaraz Barry
Coleman Besic Barkley McCarthy Garbutt
Kone Lukaku
I really think Lukaku will benefit from having a strike partner like Kone alongside him.
Colin Grierson
57
Posted 28/12/2014 at 13:40:28
Those who doubt Osman's value to our team (IMO) have no clue about football. Without him we look devoid of attacking ideas.
Derek Dolan
58
Posted 28/12/2014 at 13:49:18
Colin Grierson; I completely agree. Anyone who's played or coached will understand and appreciate Osman's clever use of space and tactical mind.
Peter Murray
59
Posted 28/12/2014 at 13:39:35
Gary (#43):
Good points. But don't you think the key one is that, when you create chances, score them!
Mirallas and Barry both missed sitters. Martinez is not wrong (penalty denied, the ref bottling it on a clear red card decision, goal effort kicked off the line, Charlie Adam... well... just being Charlie Adam).
The reality is that we should have stuck the ball in the net at least twice.
Raymond Fox
60
Posted 28/12/2014 at 13:45:18
After criticising Paul, I am afraid I'm going to stick a little negativity in myself. The betting makes Newcastle very slight favs with draw the most likely result according to the bookies. Lawro has us down to win 2-0 (I think he must have been at the brandy) his guest opponent has us winning 1-3!
The state we're in at the moment, I'd take a draw willingly, because confidence must be very low + our injuries and illness. I'd be ecstatic if we win, away games are always difficult – it doesn't matter who your playing.
It would also be nice to get a decision or two for a change, although we can't even get them at Goodison now!
Harold Matthews
62
Posted 28/12/2014 at 14:08:23
Should be a decent game. Lukaku may find the space he needs to charge forward and hit the net. Ameobi and Sissoko will cause problems but we can win this one.
Ian McDowell
63
Posted 28/12/2014 at 14:18:20
Newcastle have only lost twice at home this season and have won 4 of their last 6 at home. We desperately need something today to stop the slide.
Interesting to hear Mark Bright on 909 talk about Palace. He was saying how Palace always had a great atmosphere and the fans always got behind the team no matter what. Then v Southampton the crowd was very quiet all game with a rather resigned feeling of defeat, sound familiar?
I am very much behind Roberto but that's what Goodison has been like on my last few visits.
Raymond Fox
65
Posted 28/12/2014 at 14:11:34
Another agreeing with Colin, we desperately need a playmaker in the middle of the field. It's our biggest priority this January – the team's crying out for a quality midfielder to link the back to the forwards; Osman has the skill but is past his best now.
I don't just mean we need a good midfielder – I mean a real top quality one... Now, whether we could afford him or find him is open to serious doubt!
Helen Mallon
66
Posted 28/12/2014 at 14:26:17
My team:
Robles,
Hibbert, Stones, Alcaraz, Baines
Coleman, McCarthy, Barkley, Mirallas
Kone, Lukaku.
We need to defend well.
Daniel Joseph
67
Posted 28/12/2014 at 14:20:50
Stanek
Coleman Stones Alcaraz Garbutt
McCarthy
McGeady Barkley Mirallas
Eto'o
Kone
Needs a shake up
Ian McDowell
69
Posted 28/12/2014 at 14:33:35
I don't think we need another playmaker or midfield player; Barkley Osman, Pienaar, Gibson, Besic, Barry, & McCarthy is plenty of cover.
With 28 goals conceded (the 4th worst defensive record in the league), and 13 conceded at home (the joint worst record), it's plainly obvious where the problem is: CB and/or GK.
We need a CB like John Terry who can win headers so we can defend our 6-yard box since we have a GK who refuses to come off his line. The main reason we are in 12th is simple, we cannot defend.
Helen Mallon
70
Posted 28/12/2014 at 14:38:39
I like that team, Daniel.
Ian McDowell
71
Posted 28/12/2014 at 14:45:59
Watching Southampton v Chelsea. Love the way Southampton press the opposition when they lose possession. Got the crowd right up for it and behind them.
Martin Berry
72
Posted 28/12/2014 at 14:50:24
Great goal from Hazard
Helen Mallon
73
Posted 28/12/2014 at 14:52:19
Raymond fox, we have a play maker he just needs to be played in the centre of midfield ROSS BARKLEY. The lad is a genius play him there and you will see.
Al Reddish
74
Posted 28/12/2014 at 14:55:58
Would anyone be in favour of 3 at the back with Baines and Coleman as wing backs? Man. Utd have gone down this route, and while their defence is as dodgy as ours, their forward play is up there with the best in the League.
Brent Stephens
75
Posted 28/12/2014 at 14:57:10
Fool that I am, I am now wiping the slate (for a couple of hours) in terms of recent games, and hope to see one or more of:
- players picked only if form dictates (with a chance to others not yet having being given their chance);
- players picked in positions that suit (them not RM);
- tactics which involve pressing the opposition high up the pitch when they have the ball; and getting up quick from our back third to our top third; our two up front (yes) being able to play facing the goal with balls coming in from wide;
- passion (including you, Ross - don't just stop when you've lost the ball);
- above all - LET THEM PLAY INTUITIVELY.

Robert Pierpoint
76
Posted 28/12/2014 at 15:04:13
Al, I said the same in an earlier post on this thread. I think because of our lack of wide men (Mirallas aside) it is the only option. I also think that the most important thing for this team to do is to play to the strengths of our two best attacking players, Lukaku and Barkley. This will surely allow this.
Al Reddish
77
Posted 28/12/2014 at 15:10:38
Sorry Robert. That's what I was thinking. It would suit more the two holding midfielders and as you say, give someone like Ross more freedom to press forward. We would need Lukaku to be more pro active though. He never busts a gut to get onto the end of a cross and attack the ball. He seems to just want it played to him so he can hit it first time without having to run.
Raymond Fox
79
Posted 28/12/2014 at 15:11:11
Helen, Barkley at the moment is not a playmaker he's more of a solo goal scorer not a provider, although he has had his moments.
I'm thinking more along the lines of a Mata, Silva type of player, although I'm aware we couldn't afford anyone of quite that class.
Al Reddish
81
Posted 28/12/2014 at 15:34:53
Everton XI (to face Newcastle): Joel, Coleman, Distin, Alcaraz, Garbutt, Baines, Barry (C), McCarthy, McGeady, Eto'o, Kone.
Everton substitutes: Griffiths, Oviedo, Lukaku, Mirallas, Besic, Barkley, Browning.

---
Add Your Comments
In order to post a comment, you need to be logged in as a registered user of the site.
Or Sign up as a ToffeeWeb Member — it's free, takes just a few minutes and will allow you to post your comments on articles and Talking Points submissions across the site.
© ToffeeWeb