Martinez's praise for goal hero Lukaku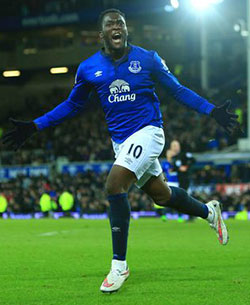 Roberto Martinez was singing the praises of his record signing after his injury-time goal in last night's draw with West Ham, a moment the manager feels could be a turning point.
The Blues were heading out of the FA Cup on the back of what would have been a fifth successive defeat in all competitions until their late pressure told. Persistence from substitute Aiden McGeady led to Bryan Oviedo firing in a low cross that Romelu Lukaku finished in expert fashion to force a replay at Upton Park next week.
Martinez is hoping that the Belgian's crucial strike can help kickstart his team's flagging season during which they have massively under-performed based on his first year in charge.
"I am pleased with the character and our never-give-up attitude. It could easily be a turning point in our season," Martinez after the thrilling finale.
"That could really get us out of the moment we have. When you get into that wrong dynamic when everything that can goes wrong and you can feel sorry for yourself, I don't think the players accepted that.
"It felt like a win going into the dressing room. Many people would say you don't want an extra game. We embrace it. To still be involved in the FA Cup is a real positive. It is a bit of a snowball reaction when you get good results, you get confidence and get better."
Martinez reserved special praise for Lukaku whose hunger was evident all evening in what many fans felt was his best performance of the season, certainly since the home win over Lille in the Europa League.
The 21 year-old striker had what appeared from television replays to be a perfectly valid goal disallowed by referee Anthony Taylor but eventually got his reward almost two minutes into stoppage time.
"His attitude was perfect," Martinez effused. "Romelu at his best will change games. We carry a different threat with him.
"I was really pleased with his attitude showing real responsibility and maturity. In a period like ours you have two options, you can shy away and hide or you can take responsibility. Five defeats would have been very damaging but you always get an opportunity to win the next game."
Reader Comments (12)
Note: the following content is not moderated or vetted by the site owners at the time of submission. Comments are the responsibility of the poster. Disclaimer
Russell Smith
2
Posted 07/01/2015 at 22:53:20
Lukaku played better because the ball was played forward quicker for him to run onto, or to allow him to roll his defender, unlike much of the season when it has been played to him at snail's pace when he is running back towards his own players.
The main problem is our glaring lack of width. On at least four occasions last night we had Besic, Barkley, Naismith and then Eto'o playing pitta patta in a 3m space going nowhere with not even the hint of a "give and go". There was no way of pulling defenders out of position because we had no width and all these players want to be in the same position.
For all his failings McGeady has to be played on one side with Mirallas on the other. If either of these two are not performing replace them with Kone who has both the speed and know how to play in an wider attacking position. Only one of Barkley, Naismith or Eto should play behind Lakaku with the others being on the bench to make a like for like substitution.
Besic and McCarthy should be the holding midfield players with Barry used to cover injuries to these two, or again as a like for like sub. With Distins injury the back four will pick itself assuming Baines is fit.

With a little more of the effort and fight we saw last night we may at least give City a game next week.
Colin Glassar
3
Posted 08/01/2015 at 00:13:22
Not much to add to that Russell. Quicken the pace, feed Lukaku and tighten up the defence and we should be ok.
Neil Pickering
5
Posted 08/01/2015 at 07:29:35
FFS the lad had one decent game! I wish the manager wouldn't give out his praise so liberally, I don't think it helps the players at all. What he should have said is " Yes Lukaku did well, but he needs to maintain that level of performance if he wants to stay in the team". Too much Carrot again and not enough Stick!
Phil Walling
6
Posted 08/01/2015 at 08:46:24
Great summary and formation suggestions by Russell @2 above. I'm sure most Evertonians would agree and it's not rocket science.
But will Roberto agree? I suspect not. Expect the usual muddle against City on Saturday.
Tony Waring
7
Posted 08/01/2015 at 09:44:54
"One decent game" : yes Neil that's because the team played to his strengths. For most of this season he has had his back to the opposition goal and frequently has to retreat even further to pick up the ball. No wonder he has had a poor season thus far. Let's hope we learn the lesson. The guy can score goals; if his teammates make the bullets he is capable of firing them - with accuracy.
Brent Stephens
8
Posted 08/01/2015 at 10:07:47
Tony #6 - agree - play to Rom's strengths and we get a performance like Tuesday's. Jeez, I've gone all anticipatory about the Citeh game!
Peter Roberts
10
Posted 08/01/2015 at 11:00:23
What is playing to Rom's strengths exactly?
For me, it's understanding "his mentality and ego". The lad has come out and said he realised he needed to do something after being dropped for 2 games??? 㿼k a week and he says this.
We are dealing with an overindulged brat here who has had 1 good game and taken a pot shot at his manager by trying to blame style of play. Absolute nonsense – it's him and his application, nothing else.
Mike Childs
11
Posted 08/01/2015 at 12:59:40
Touché, Peter Roberts.
Joe Clitherow
12
Posted 08/01/2015 at 13:07:27
Or alternatively he is a top young footballer with a proven goal scoring record who was bought for a club record fee expecting the team which had previously played to his obvious talents would continue to do so instead of trying to turn him into a latterday Lee Chapman (who?). Reminiscent of Ian Rush (spit) going to Juventus and having the same thing done to him.
You pay your money and take your choice.
Overindulged brat is a bit unnecessary though, because they all are. A bit of ego and arrogance within reason is something very positive in a footballer in my opinion.
David Harrison
13
Posted 08/01/2015 at 15:49:14
Yes Joe. I've never understood the bashing Lukaku's had. It's not his fault the fee was 㿈m and anyway that's what a proven goalscorer costs, with Bony about to join Man City for 㿊m. He's still our top scorer despite the pit a pat shite we've been playing for most of the season, which has hardly given him a sight of goal.
He isn't perfect but he's about the best that we are likely to see for a while and most of us were chuffed when he did sign. Get behind the lad & pray that Roberto has seen the error of his ways
Paul Dark
14
Posted 08/01/2015 at 18:34:32
The players had to tell Roberto ...
Peter Murray
16
Posted 08/01/2015 at 22:52:39
Lukaku, like Barkley, is in Premier League terms still a relatively young lad with vast potential. He will make mistakes and go through bad patches. That's not the problem. The issue is whether he will see that as an ongoing part of his development and learn from it.
He showed against West Ham that he is doing that. Like Barkley, whenever he moves, he is now taking 2 or 3 defenders with him. Could just be that the two of them will link up against Man City and set the headlines screaming.
---
Add Your Comments
In order to post a comment, you need to be logged in as a registered user of the site.
Or Sign up as a ToffeeWeb Member — it's free, takes just a few minutes and will allow you to post your comments on articles and Talking Points submissions across the site.
© ToffeeWeb