Martinez looking for derby springboard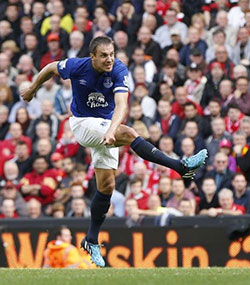 Phil Jagielka's stunning equaliser earned a draw in the reverse fixture last September
Roberto Martinez is hoping to oversee a victory in the Merseyside derby that can help revitalise the Toffees' season.
While the media fawns over what will likely be the last appearance in this fixture for the opposition captain, the Everton boss is only concerned about improving his own team's recent record in the Premier League.
Last weekend's important win at Crystal Palace was the Blues' first since mid-December but it represented the latest positive step forward since the New Year's Day debacle at Hull City.
Aside from the defeat on penalties against West Ham in the FA Cup, Everton are unbeaten since losing 2-0 at the KC Stadium in dismal fashion and come into the Goodison derby in positive mood.
"There is going to be a lot of talk about Gerrard but the only thing that matters to us is to try to use this as a springboard for our season,' Martinez said.
"We picked up a very important win last weekend. The derby comes at the perfect moment for us. It can kick-start our season after the good moment we are sharing."
The Catalan has overseen two draws and one sound defeat against the reds since taking over from David Moyes 20 months ago but he isn't interested in past results or the fact that the Blues haven't won this game since 2009.
"If you want to grow as a team you need a strong rival and a strong rivalry," he continued. "We had that last season. I'm not too concerned about the record for the last 20 years. I'm more concerned about what the record is going to be in the next 20 years."
Reader Comments (32)
Note: the following content is not moderated or vetted by the site owners at the time of submission. Comments are the responsibility of the poster. Disclaimer
Colin Glassar
1
Posted 05/02/2015 at 23:46:37
A win and no guard of honour for St. Creasehead would be just the tonic.
Teddy Bertin
2
Posted 06/02/2015 at 01:49:21
I see Martinez has been asked more pointless questions and is now outrageously claiming that Besic has the attributes to be a 'proper, proper Everton player'. How dare he! Is he suggesting that Alcaraz and Atsu aren't proper Everton players? He should resign after saying that #propergate2
James Flynn
3
Posted 06/02/2015 at 02:33:34
Teddy, I was having a last look-in before I took my old bones to bed.
So, consider your hook bitten. What the fuck are you talking about?
Darryl Ritchie
4
Posted 06/02/2015 at 06:37:08
A win would be monstrously huge. A draw would be an acceptable result. Unfortunately, a loss is the most logical outcome, based on the two sides' recent form.
But, then again, if the Blues play the way we all know them capable of, you never know. It would be great to knock a little smugness out of Rogers... and give Creasehead a proper send-off.
COYB

Tony Hill
5
Posted 06/02/2015 at 07:15:25
I rather like these words from RM, including the dismissal of The Blessed Steven as being of any interest to us. No evidence of a guard of honour there. That's the sort of sharpness we need. I like the last couple of sentences too.
Teddy Bertin
6
Posted 06/02/2015 at 08:00:02
James, I was sarcastically referring to the outrage on here and the calls for Martinez to resign over his "proper Evertonians" comments.
What Martinez meant by 'proper' caused a big debate on ToffeeWeb but he used the word twice to describe Besic yesterday and it's gone completely unreported and unmentioned. Obviously just another word meaninglessly overused by Martinez yet some on here wanted him lynched for it.
Colin Glassar
7
Posted 06/02/2015 at 08:57:22
Heart says win, head says draw. Neither team will want to lose this one but I've got a sneaky feeling a last minute goal might ruin St Stephen's ascension into heaven.
Scott Hamilton
8
Posted 06/02/2015 at 09:08:20
Steven Gerrard's face looks like he can permanently smell a fart. Well let's give him a proper reason to wince tomorrow. "Dogs of War" all the way...
Sam Hoare
9
Posted 06/02/2015 at 09:15:12
Depressing that local pride is the only thing at stake. Not that it's a small thing of course but even if we do win we'll remain rooted in 12th, staring agonisingly up the table. Imagine it effects the players as well when the RS are playing for top 4 and we are aiming at mid table mediocrity. My interest in football in general has waned considerably since December.
Jim Bennings
10
Posted 06/02/2015 at 09:19:09
Three derby wins since 1999...
THREE....in how many? I have lost count but it must be close to 30 yes? A draw acceptable but I want to WIN.
Play the game sensibly, defend deep so not to get ripped apart by the pace and interchanging movement of the Liverpool attack.
But most importantly play the game with a friggin tempo Everton.
James Hughes
11
Posted 06/02/2015 at 09:30:11
I now live 'Dahn Sarf' my cab driver the other day is a RS, he was telling me the derby is not important and Manure or Chelski are bigger games. I was lost for words.
Just shows they have no pedigree and even though he isn't scouse, no sense of local pride.
Andrew Ellams
12
Posted 06/02/2015 at 09:41:58
James, that's because the God he worships that is Sky Sports tells him so. Why the hell are they a big game for Chelsea? Not exactly direct competition for them.. Another doctor been handing out the deludemol tablets.
Neil Wood
13
Posted 06/02/2015 at 09:41:34
Long shot boys (and girls!!) but spare ticket anyone?
I have been away with work and had no means of purchase for the last few weeks. Gutted.
On another note, I can see a 2-1 win and Lennon scoring the winner, running to the TV camera and grinning like a Cheshire Cat to react to the "miserable" tag he recieved on Twitter.
Tony Hill
14
Posted 06/02/2015 at 09:42:28
I think tomorrow is about more than local pride for us. If we win then it could be the basis for a league run to get us well into the top 10 (as well as gathering confidence for next season, not to mention place money) and it could be a platform for a serious go at the EL. If the players show good attitude for the rest of the season and we restore stability, with some measure of success, then we can regroup in the summer and 2014-15 won't have been disastrous.
Lose, of course, especially if we lose badly and we are right back in the manure as is RM. We keep saying that games are pivotal but I really think tomorrow is a Big derby.
Tommy Coleman
15
Posted 06/02/2015 at 10:09:34
You'd think Gerrard was Pele the way the media are drooling over him.
Let's batter them and spoil the "Gerrard Derby"!!
Kevin Rowlands
16
Posted 06/02/2015 at 10:04:11
Well we certainly can't use fatigue as an excuse, last 2 weeks RS have played 4 games including an extra time, us 1 game. We need to be all over them from the first whistle.
I've got a good feeling about tomorrow. On another note please someone tell me that guard of honor rumor for the slippy twat is false.
Andrew Ellams
17
Posted 06/02/2015 at 10:17:36
If the guard of honour thing is true, I hope blues will be turning their back on it.
Tony Abrahams
18
Posted 06/02/2015 at 10:18:20
James if you read post ten, you will realise how easy it is for "The Phoney Fuckers" to say this. Those bastards hate losing to Everton more than anyone, it just doesn't happen enough.
I will take a draw tomorrow, but only if we can knock them out of Europe. Imagine the snide comments about The Europa League if we did that?
Bad losers though, generally make great winners and I don't think we have had a proper bad loser in our squad since Peter Reid left Everton.

Ant Summers
19
Posted 06/02/2015 at 10:25:09
I sent an email to EFC, regarding this nonsense of a guard of honour. I pointed out that given the time of the KO, fuelled with beer or not, there will be thousands of supporters including myself who will be making themselves vocal.
It could lead to unrest in the ground. Its up to EFC not SKY, for the health and safety of all supporters in the ground, don't allow this to happen, it will backfire, a massive own goal before the game even starts.
Yet to receive a response.
Anthony Flack
20
Posted 06/02/2015 at 10:41:44
Firing squad, now that would get the crowd going. Surely the guard of honour is a bad joke...
Kevin Rowlands
21
Posted 06/02/2015 at 10:42:05
Nice one, Ant. Guard of honor, my arse. The prick has spent years winding up Evertonians with his actions and words, he has zero respect for our club. I'll be fucking furious if it happens. We need to make his last league derby a miserable one with a solid win and leave him with a bad memory of it.
Eugene Ruane
22
Posted 06/02/2015 at 10:40:27
Guard of honour?
Here's a list of Liverpool players I've seen who deserved a guard of honour at Goodison.
1) Ian Callaghan
2) And er...
3) That's it.
I hope Rom score the winner 7 minutes into added time and his goal celebration is to put the ball at his feet, then allow himself to 'robbed' of it by Naismith who sets off for goal with it. Then Rom gives chase but does a dead funny and exaggerated slip letting Naismith score.
Then as we're running back for the kick off, every single one of them does a big mad slip.
Final whistle goes and a guard of piss-taking is formed to send that thug on his way.
Jamie Barlow
23
Posted 06/02/2015 at 11:07:47
Ant, you should have emailed the police instead.
Denis Richardson
24
Posted 06/02/2015 at 11:39:02
Is this guard of honour thing a piss take or for real?
Kevin Tully
25
Posted 06/02/2015 at 11:51:24
Ray Roche
26
Posted 06/02/2015 at 11:56:18
Kevin#16,
That's the trouble,see Kev, we'll be rusty...
Phil Walling
27
Posted 06/02/2015 at 13:08:30
Not Billy Liddell, Ruane?
Phil Walling
28
Posted 06/02/2015 at 13:12:04
Let's face it, we have been crap in far too many of these games in the last 30 years. Shameful, really!
John Daley
29
Posted 06/02/2015 at 13:25:42
In my dreams this whole guard of honour thing goes ahead and an awed hush descends upon Goodison as the 'legendary' Stevie G strolls out onto the pitch, flanked by both sets of players, and proceeds to do this:
Cue the biggest fucking cheer you've ever heard.
Spencer Ramsay
30
Posted 06/02/2015 at 13:40:30
Neil at 13 - ha ha that would be nice to see.....but given Lennons goals per game record previously, I'd suggest there's more chance of you seeing that 'ticket' you're after than him scoring the winner!
Eugene at 22 - LOL - Better check my smalls....I think a bit of wee just came out!!!
This guard of honour thing has got luvvie Kenwright written all over it!!
Neil Wood
31
Posted 06/02/2015 at 18:11:10
Ha, Thanks for the confidence boost Spencer!!!!!
Mike Childs
32
Posted 07/02/2015 at 03:27:35
All I can say is unless RM has an epithamy or receives divine intervention he watches the next 19 years on a Telly or teaching his version of football in another country preferably Russia for the cold.
---
Add Your Comments
In order to post a comment, you need to be logged in as a registered user of the site.
Or Sign up as a ToffeeWeb Member — it's free, takes just a few minutes and will allow you to post your comments on articles and Talking Points submissions across the site.
© ToffeeWeb