Everton vs Leicester City
Match Preview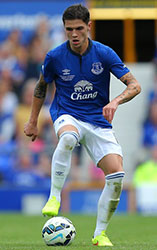 With Gareth Barry suspended, Muhamed Besic is likely to go straight back into the starting XI
Buoyed by their handsome win in Switzerland, Everton return to the business of the Premier League hoping to carry their impressive European form to the domestic front when they face Leicester City on Sunday.
The Blues put four past Young Boys in the Stade de Suisse on Thursday evening, with Romelu Lukaku becoming the first Everton player to score a hat-trick away from home since Nick Barmby's three goals at West Ham in April 2000, and will now be hoping their exploits on Continent leave less of a hangover and provide more of a shot in the arm to their Premier League form.
Just two wins in their last 12 games have left Everton rooted in the wrong half of the table but the visit to Goodison Park of the bottom club offers an opportunity to start building the kind of momentum needed to bridge the yawning gap between their current 12th-place berth and the European qualification places.
While he was likely to make changes to the starting XI regardless, injuries and Gareth Barry's enforced absence will force Roberto Martinez's hand this weekend. Barry picked up a red card in the defeat at Chelsea and will serve a one-match suspension, paving the way for Muhamed Besic to return to the starting XI after watching the win in Bern from the bench.
Despite taking a knock that left him prone in the centre circle as Everton counter-attacked to score their fourth goal, James McCarthy suffered no ill effects from the Young Boys game but Bryan Oviedo felt a tweak in his hamstring and probably won't be risked.
Leighton Baines will be assessed for his fitness after missing the last three games through injury but Luke Garbutt will be a willing and able replacement after coming on as a substitute for the last half an hour on Thursday and almost laying on a fourth goal for Lukaku with his first real involvement.
Elsewhere in the side, Steven Naismith took a couple of knocks that may affect Martinez's thinking when it comes to the forward line while Aaron Lennon is back in contention after being cup-tied on Thursday and Arouna Kone should also return to the squad. Aiden McGeady is almost certain to be ruled out as he recovers from bruising to his knee while Tony Hibbert, Leon Osman and Steven Pienaar are all continuing their recoveries from their respective injuries.
Bottom the pile they may be, but Leicester will come to Merseyside full of fight if their last League outing at the Emirates is any indication. The Foxes ran the Gunners very close in a narrow 2-1 defeat and pushed Arsene Wenger's side offenisively to the last minute, with new signing Andrej Kramaric grabbing his first goal.
They're fighting for their top-flight survival and will be no pushovers but the fact that they have the third-worst goal difference in the division and have only won four times all season (twice on the road) means that there will be plenty of weaknesses for the Blues to exploit.
Nigel Pearson will likely be without Chris Wood, the man who grabbed the late equaliser the last time these two sides met back in August, and Kasper Schmeichel but Roberto Huth is available again after being cup-tied for the FA Cup last weekend.
Much will depend on whether Martinez can coax some of the tempo, urgency and guile that was on display against Young Boys to the Premier League where defences tend to lie deeper and play more in a more compact fashion.
And with six goals in his last eight games in all competitions, Lukaku is demonstrating that he will score goals if the service is there.
Kick off: 2:05pm
Referee: Phil Dowd
Reader Comments (114)
Note: the following content is not moderated or vetted by the site owners at the time of submission. Comments are the responsibility of the poster. Disclaimer
James Flynn
1
Posted 21/02/2015 at 01:19:30
Be fun to watch McCarthy-Besic handling mid-field responsibilities.
If, at this point in the season, Leicester comes looking for a point, they deserve to go back down.
Phil Sammon
2
Posted 21/02/2015 at 01:31:00
I hope Barry's contract doesn't stipulate that he has to play every game, even when suspended.
Ross Hutchinson
3
Posted 21/02/2015 at 01:30:46
I also hope the Besic/McCarthy partnership is going to be as good as we all think it will be.
3 points has to be a definite in this fixture. Hopefully keep the momentum going from midweek.
Anyway the Everton shirt in this lot is pure class: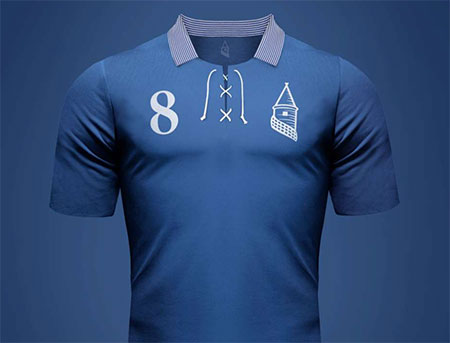 Mark Andersson
4
Posted 21/02/2015 at 02:24:25
Let's hope we get off to a good start and get the crowd onside and Lukaku stays onside to smash more goals in.
James Flynn
5
Posted 21/02/2015 at 02:49:04
If at this point Leicester doesn't understand they have to cast their fate to the wind, they shouldn't have tried to get into the Prem anyway. If they don't play a pressing, attacking game on Sunday, shame on them.
They'll be thrashed doing so, but I'll respect them for attacking.
Douglas McClenaghan
6
Posted 21/02/2015 at 04:36:02
Nice shirt, Ross, though I'd have like Nil Satis on there somewhere.
Paul Ferry
7
Posted 21/02/2015 at 04:34:11
80 per cent of Toffeewebbers cannot be wrong; it's Besic and Macca in the middle!
Learn from Thursday, Bobby, and you are clearly smart and a student of the game: let Barkley roam free in the hole and Rom will prosper.
Width! Lennon and one other.
Tell Jags and John it's okay to play it long then and now.
Tell Howard that Joel is a tad – an inch – behind him in the pecking order.
Play Garbutt!
Howard; Coleman, Jagielka, Stones, Garbutt; McCarthy, Besic; Lennon, Mirallas, Barkley; Lukaku – hat-trick hero, worth every penny.
Everton 3 Leicester 0
Eric Myles
8
Posted 21/02/2015 at 04:45:58
Some classy shirts there, not sure I'd want to walk around in one with NOB written on it though.
Kunal Desai
9
Posted 21/02/2015 at 07:29:28
Over two months now since a home win. We need to bring back Fortress Goodison, how it was in previous seasons and give the opposition or nothing to take back. I want us to go back to those tough-nut days not softy eggs.
Dermot O'Brien
10
Posted 21/02/2015 at 07:39:29
Buoyed by their handsome win in Switzerland, Everton return to the business of the Premier League expecting to just turn up and get the three points...
Joe Foster
11
Posted 21/02/2015 at 07:39:54
I think this will be a tough enough game and probably a draw. We won't get the same space like we did Thursday.
Gavin McGarvey
12
Posted 21/02/2015 at 07:34:10
For some reason, I don't think Martinez will play Mirallas and McGeady or Mirallas and Lennon. I think he'll shoehorn in Naismith, if he's going to play Barkley. Also, if Oviedo is fit, then he seems to be ahead in the pecking order at Goodison.
I would personally like to see Garbutt again and would put Oviedo ahead of him. Perhaps: Howard; Coleman, Jagielka, Stones, Garbutt; Mirallas, McCarthy, Besic, Oviedo; Barkley; Lukaku.
Though, as I say, I think Martinez will play Naismith instead of Garbutt and have Oviedo at left back.
Gavin McGarvey
13
Posted 21/02/2015 at 08:01:51
And regarding the result? Joe's right imo about predicting a tough game. We should have enough to beat Leicester as they are one of the poorer teams in the division. That being said, we've struggled to break teams down and given away stupid goals, so we will need to see a significantly improved performance if we are to produce anything like a comfortable win. Well, fingers crossed, COYB.
Pablo Connelly
14
Posted 21/02/2015 at 08:06:34
We have waited too long to see the Besic/Mccarthy partnership, and I don't think the wait is over as I think Roberto will see Gibson as the more 'Barry'-like replacement for Barry and Besic will find himself on the bench.
Tony Rutherford
15
Posted 21/02/2015 at 08:14:33
Pablo, there'll be ructions if he doesn't play Besic and McCarthy – especially if we don't get the three points!
Aidy Dews
16
Posted 21/02/2015 at 08:35:16
This game will be a different kettle of fish than Thursday! Leicester won't give us the space we got against Young Boys, they'll get 11 men behind the ball, suffocate space and force us to play with our backs to goal, play backwards and square balls... so patience will be the key Sunday!
Matt Traynor
17
Posted 21/02/2015 at 08:50:33
It's a shocker that it's been almost 15 years since an Everton player scored a hat-trick away from home. Shows the paucity of really talented strikers we've had (or held on to) down the years.
I was at that game at the Boleyn Ground. Heady days indeed. Joe Max Moore got the other goal, and Barmby was flying high in the minds of Evertonians, with our Chairman the main cheerleader for getting him into the England squad, whereupon of course he was got at and engineered his "dream move" across the park. With Rooney following a similar path 4 years later, Evertonians have rightly been suspicious of any of our players getting into the England reckoning (with the possible exception of Osman).
Anyway, this game is a must-win. If we can't break down teams like Leicester at home, then we deserve to be where we are and Martinez deserves to be looking for employment come the summer.
Dave Abrahams
18
Posted 21/02/2015 at 08:55:31
Leicester City will attack, that's a certainty; they attacked at Anfield and were unlucky to lose. They have played on the front foot every time I have seen them; this could and should help us.
I think if we score first we will win; I'm hoping Thursday's win will give us the confidence to turn our season round.
Mark Frere
19
Posted 21/02/2015 at 08:39:50
Really looking forward to the Besic/McCarthy partnership. It has the potential to be every bit as good as the Fellaini/Rodwell axis a few years ago.
Andrew Clare
20
Posted 21/02/2015 at 09:21:10
As long as we win the Europa League, I don't care where we finish... as long as it's out of the relegation zone.

Tony Hill
21
Posted 21/02/2015 at 09:39:22
I feel a lot more confident after Thursday. Besic must play. My one continuing worry is Howard, I'm afraid that he's always a risk for us.
Ian Bennett
22
Posted 21/02/2015 at 10:00:22
Paul Ferry's side plus Baines if fit.
Jon Withey
23
Posted 21/02/2015 at 10:46:25
If league form is anything to go by, it's another draw!
We need to win this as much as them though.
Karl Graham
24
Posted 21/02/2015 at 12:25:14
Howard
Coleman Stones Jagielka Baines
Besic McCarthy
Lennon Naismith Mirallas
Lukaku
Robles Alcaraz Oviedo Gibson Atsu Barkley Kone
If that team can't beat Leicester at home, there is something seriously wrong. We need to take the game to them and attack like we did on Thursday. Anything other than a win tomorrow and we are right in the soup.
James Martin
25
Posted 21/02/2015 at 12:45:37
Mark, is that a joke? The Fellaini - Rodwell axis was awful. Two players with no footballing brain between them who couldn't pick a forward pass if they played 10 games in a row. Hopefully Besic and McCarthy (if that is what Roberto goes with) will be nothing like that. It will be good to see us playing without Barry anyway.
Ajay Gopal
26
Posted 21/02/2015 at 13:29:21
Karl (24), your team, but wouldn't play Mirallas – he has gone downhill since the West Ham game and his head has clearly been turned. Barkley in place of Mirallas with Naismith out wide.
Howard
Coleman Jagielka Stones Garbutt
Besic McCarthy
Lennon Barkley Naismith
Lukaku
Subs: Robles, Alcaraz, Oviedo/Baines, Gibson, Atsu, Mirallas, Kone.
Mark Frere
27
Posted 21/02/2015 at 13:42:30
Yes, it was a joke, James, but I remember people eagerly anticipating a good partnership before they were paired together. When it actually happened, they were atrocious... Rodwell a static sideways passing crab and Fellaini with no positional sense to play holding midfielder and no creativity.
I have much higher hopes for the McCarthy/Besic axis... but even if the pair are a massive success tomorrow, I have no doubt Barry will walk straight back into the team, sadly.
Colin Glassar
28
Posted 21/02/2015 at 13:51:50
This is the team that I think will start tomorrow:.
Howard
Coleman Stones Jagielka Garbutt
Besic McCarthy
Lennon Barkley Baines.
Lukaku
Subs: Robles Distin Mirallas Naismith Kone Gibson Atsu
I don't think Oviedo, Osman or Pienaar will be fit enough to be risked.
Ajay Gopal
29
Posted 21/02/2015 at 13:45:39
Well done, lads! Surely we will have our own Harry Kane soon.
Peter Bell
30
Posted 21/02/2015 at 14:04:31
Colin, what makes you think he will bring Distin back into the frame at the expense of Alcaraz?
Derek Knox
31
Posted 21/02/2015 at 13:58:19
Paul Ferry @ 7
Good philosophy there, mate, I also like your proposed team with Garbutt on from the start (assuming Oviedo has picked up a hamstring tweak). Although I don't think it's merely a foregone conclusion, that a win will automatically follow the brilliant midweek performance. I have always thought (from what I have seen of Leicester) that they are only a player or two short of being a decent side.
Especially with survival being high on their list, they could be the 'wounded tiger' and should be given that sort of respect.
I hope complacency, and the wrong team selection, does not get in the way of another home win.
COYB
Mark Frere
32
Posted 21/02/2015 at 14:17:17
Whishful thinking there, Colin. If Baines is fit, he will be playing LB instead of Garbutt.
I find it hard to swallow that Garbutt will be leaving in the summer. There's no way he will sign a new contract while being 3rd choice LB – a real travesty because he's young, has a terrific left peg and looks a real prospect.
I wouldn't mind Astu starting tomorrow, his confidence will be high after shining at African Cup of Nations.
Jamie Barlow
33
Posted 21/02/2015 at 14:21:01
Baines should start ahead of Garbutt.
Mark Frere
34
Posted 21/02/2015 at 14:28:10
Why Jamie? I've seen nothing this season that warrants Baines being first choice LB. When Garbutt's played, his set-pieces and crossing has been far superior to Baines's. Most importantly though, Garbutt is young and should be our future. I would gladly see Baines play the rest of his career in midfield to make way for young Luke.
Colin Glassar
35
Posted 21/02/2015 at 14:35:38
Peter, I just think he will rest Alcaraz after his cameo on Thursday.
And yes, I know Baines (if fit) will start at LB but I would like to see Bainsey move into MF, in place of Barry, and Oviedo and Garbutt fight over the LB slot.
Jamie Barlow
36
Posted 21/02/2015 at 14:38:13
2 goals and 9 assists.
Jamie Barlow
37
Posted 21/02/2015 at 14:41:46
If Baines goes into midfield, it won't be in place of Barry. Barry will play every minute possible this season. Either Besic or McCarthy will make way.
Mark Frere
38
Posted 21/02/2015 at 14:43:14
I'm not a fan of stats, Jamie. I prefer to rely on the evidence of my own eyes. If you want to rely on stats, look at G Barry's – his stats this season are superior to McCarthy's and Besic's.
Baines will be reaching the twilight of his career and will need replacing. We have a very talented young player in Garbutt and he will walk if not given the opportunities he deserves.
Steve Brown
39
Posted 21/02/2015 at 14:53:00
Not sure why Oviedo should be dropped. He was superb down the left during the week.
Ajay Gopal
40
Posted 21/02/2015 at 14:52:04
Everton should come up with a strategy to retain Luke Garbutt long term. Given that Baines is our immediate first-choice left-back and Oviedo has also performed when played in that position, we have an embarrassment of riches in that position.
What I think Martinez should do is sign up Garbutt on a long-term contract and then loan him out for a full season at one of the top/mid-table German or Spanish teams like Wolfsburg or Real Sociedad. (I know Wolfsburg are 2nd in the Bundesliga right now.) This way, Luke gets to develop his ability in a top league playing regular football and Everton don't lose an excellent future prospect.
Whatever happens, I don't want us to lose out on this lad – he is going to be special. A long term back 4 of Coleman, Stones, Galloway/Browning, Garbutt sounds very, very exciting.
Jamie Barlow
41
Posted 21/02/2015 at 14:52:48
You might not be a fan but you can't ignore the fact that Baines has had either an assist or scored a goal in over 35% of our goals.
You said you've seen "nothing" to warrant Baines being first choice.
I've seen Garbutt play well when he's played and put in a few good balls but not enough to take the place of the best left back in the league.
Phil Walling
42
Posted 21/02/2015 at 15:06:38
Not much to stay for in reality. Third choice at 22 so ought to be a bit more ambitious than that.
Colin Glassar
43
Posted 21/02/2015 at 15:12:02
Ajay and Jamie, I agree with you both and don't forget Oviedo. I think all three can play in the same team (LB, LM and LW) but we'd have to sacrifice one of either Besic, Barry or Macca.
My option is Garbutt LB, Baines LM and Oviedo LW.
Ross Edwards
44
Posted 21/02/2015 at 15:34:37
Need to win this. The likes of Hull and Villa are closing in as they're winning right now.
Kevin Tully
45
Posted 21/02/2015 at 15:33:07
Quite simply, we need our midfield to start contributing to our goal tally. Relying on our two full backs to supplement the main striker is a flawed game plan. We've all enjoyed watching Baines and Coleman maraud down the flanks, but stop that threat, and you stop Everton. Barkley and Mirallas (or his replacement) should be getting into double figures.
Lukaku will guarantee 15-20 League goals a season, so if we can get some support around him, any forward thinking midfielder should be able to find a bit of space.
Why we always struggle to find a consistency in our scoring always baffles me. A certain club across the park seem to find prolific strikers one after the other. List every RS striker since the 70s and they have this uncanny knack of unearthing players who are able put the ball in the back of the net.
Our leading scorers over the past 20 years have struggled to get into double figures. Take a look here ; Everton Goalscorers
Jay Harris
46
Posted 21/02/2015 at 15:41:03
We just need to worry about ourselves and our results and look up the table.
I'm still not convinced that Nais and Barkley should be in the same team.
I would much sooner see strength in MF with Lukaku and Mirallas or Lennon up front with a MF of McCarthy, Besic, Barkley and Oviedo (if fit) or Baines with Garbutt at LB if Oviedo baby is not fit.
It will be tight but if we don't allow a pressing game against us and show strength in midfield we should be looking at 3 points.
Ian Burns
47
Posted 21/02/2015 at 17:00:11
On another thread I reported that I had just been speaking to a friend of mine who is a Leicester supporter who is going to the game tomorrow. He says he is expecting a draw and may even sneak it and that is the general feeling amongst his friends, also going to the game.
Of course I told him to piss off but it just shows that nobody fears us it seems so we need to be on our mettle tomorrow. It is not going to be the walkover some people are expecting on the back of that magnificent win on Thursday.
Mike Childs
48
Posted 21/02/2015 at 16:57:55
I cannot believe that we are worried about this game. Why? Robles 3 clean sheets, Mr USA 2 games a goal in each. The only reason we will continue to struggle is the fact that the coach plays the old boys.
John Malone
49
Posted 21/02/2015 at 17:03:20
Garbutt does look a prospect, but there is a lot more involved in being a top left back than a decent cross and being able to pass to a blue shirt.
I like everyone else don't want to see him leave but from what I've heard the club have offered him two very good long term deals with improvements and bonuses for first team starts but the lad wants 㿊k a week when he's not a first team regular. If he was that good he would be forcing Baines and Oviedo out of the way and leaving the manager no choice.
If he won't sign a reasonable deal then say goodbye, Baines is still our best left back and Oviedo has done well for us and will only get better with time.
Mike Childs
50
Posted 21/02/2015 at 17:28:19
I don't think you can make that claim John, ie, The manger and his boys Howard and Barry.
Mike Hughes
51
Posted 21/02/2015 at 17:32:57
Great chance for us to open up a bit of a gap tomorrow. 3 points, lads. By hook or by crook.
We can't take things for granted – just look at the Chelsea result today.

Sam Hoare
52
Posted 21/02/2015 at 17:37:44
I'd like to see:
Howard
Coleman Stones Jagielka Garbutt
Besic McCarthy
Lennon Barkley Mirallas
Lukaku
With Osman, Naismith and Kone coming on if they park the bus and we can't open them up.
Mike Hughes
53
Posted 21/02/2015 at 17:41:58
Sam - if they do park the bus (I don't think they will - they'll have a go and are not bad coming forward) I hope he makes substitutions on 60 mins rather than 75 minutes. Give them a chance.
Mind you, Lukaku should be full of confidence.
2-0 to us.

Tom Bowers
54
Posted 21/02/2015 at 18:26:59
All games can be difficult, just look at Chelski today. I am sure the Foxes will be tough especially if they play the big 3 central defenders Huth, Morgan and Upson. The trick to beat them is to keep the ball on the floor and limit the chances they may want from dead ball situations as the Blues are very suspect in the air at the back.
The starting eleven is anybody's guess these but it seems for sure Besic will replace Barry and Lennon may replace Mirallas who looks out of form. The usual tactics apply and that is be patient and keep it tight in the midfield.
Fraser Auld
55
Posted 21/02/2015 at 18:24:46
That team looks good to me, Sam. I'd be happy if we set up with that tomorrow – hope he doesn't start Naismith on the left instead of Mirallas!
John Keating
56
Posted 21/02/2015 at 20:06:23
From now to the end of the season obviously we have to play our strongest team. However, I would like Martinez to put one youngster (Ryan Ledson, Galloway, Kenny etc) on the bench each game.
If, and it's a big 'if', we are ever in a position to give them even 5 minutes, then do so. Just being on the bench will do wonders for these kids.
Denis Richardson
57
Posted 21/02/2015 at 20:08:06
With two tough away games in the league after this game, a win against Leicester is simply a must. Otherwise we run the risk of still being sucked into the relegation fight.
Leicester have got fight but they're really not a great side, hopefully we can score early to settle the nerves and force them to attack more, which will play to our strengths.
I would like to see Garbutt start if Baines isn't 100%. Besic and McCarthy in the middle is a must/given, and up front Barkley seemed to work really well in the hole against YBs so I would play him there with Lennon out wide. I wouldn't like to see Naismith shoehorned out wide so I would go with Mirallas on the other flank. Hopefully the likes of Pienaar and Osman have enough in the tank for the bench.
Lennon, Barkley and Mirallas behind Lukaku must surely be enough to see off the Leicester defence. Pace, guile and for once proper width on either side.
Howard
Coleman, Stones, Jagielka, Garbutt
Besic, McCarthy
Lennon, Barkley, Mirallas
Lukaku
Everton 3 Leicester 0 (here's hoping)
Michael Penn
58
Posted 21/02/2015 at 20:15:46
Denis @57 I agree with your team selection and playing Garbutt at LB. We're in a strange position where injuries to one of our left backs actually creates essential opportunities for others and keeps Baines, Oviedo and Garbutt all happy. Whether that can persist in the long run, I don't know. I'm worried that we won't be able to hang on to all three.
Dave Lynch
59
Posted 21/02/2015 at 20:21:08
John.
A decent cross and being able to pass to a blue shirt is what's been lacking for the best part of the season for fucks sake.
Garbutt from what I've seen is very near the finished article, better footballer than Baines and a lot younger.
Is it any wonder we have an ageing squad when we sell our best young talent? It would be criminal to let the lad go and I would rather see Baines go than him tbh. It's no coincidence the shite are sniffing round him either, they know what a player he is... and will be.
Mike Childs
60
Posted 21/02/2015 at 20:29:53
I just want to know if all you folks posting lineups are choosing Howard because you prefer him or because you know RM will choose him?
Myself Robles by a landslide. He has more heart than Howard has ever displayed.
Mark Frere
61
Posted 21/02/2015 at 20:33:07
Couldn't agree more, Dave, and if its only 㿊k a week he wants then I say bite his hand off. It will cost a lot more money to replace Baines in the long run when father time finally catches up with him. Just look how much money Man Utd spent buying Luke Shaw. There's nothing to suggest Garbutt can't be just as good.
Tony Hill
62
Posted 21/02/2015 at 20:56:19
Mike 61, not because of heart – I greatly respect Tim as a fine Blue and I am hugely grateful for his service – but because I think he is now past his best and that Robles, given encouragement, could become a very sound keeper for us and save us a lot of money by stepping up to the mark.
I suspect, in fact, that Robles may be installed as our keeper next season and that Tim will move on.
But I think all Evertonians are grateful for what Howard has offered to the club and I for one would be delighted if he were to become an ambassador for us in your country (I think you are American?) in due course. I feel we've failed to capitalise on the Howard effect in the US after the World Cup.
John Malone
63
Posted 21/02/2015 at 21:01:56
Fuckin ell... are you guys the same people who said Shane Duffy was the new Dave Watson after a couple of decent cameos!?
Garbutt's played about 200 mins in a senior Everton shirt – does anyone know if he can throw a tackle in, win a header, or actually defend against decent opposition?
Now don't get me wrong: I'm not saying he doesn't look a top prospect; I've fancied him since day one – his left foot and temperament on the pitch have impressed me no end. I definitely don't want to see him leave, but to hold the club to ransom before he's even established himself as a first team player is taking the piss!
It's a tricky one for the club and the player. If it wasn't for Oviedo, he would be on the bench every week and playing a lot more but, like I said earlier, if he was that good in training he would be pushing Baines or Oviedo out the way!

Laurie Hartley
64
Posted 21/02/2015 at 21:29:56
Baines had to wait a long time for his first team spot (and made a point of saying so a couple of months ago).
Oviedo seems to have the right attitude – Garbutt should take a leaf out of his book.
Must win against Leicester – complacency can bring you undone.
Up the Blues.
Andy Crooks
65
Posted 21/02/2015 at 21:35:00
John, in what way is Garbutt holding the club to ransom?
John Malone
66
Posted 21/02/2015 at 21:45:22
Andy, It's just hearsay but from a good source who works at Finch Farm that he's been offered two contracts with much improved terms on a long-term deal but he wants 㿊k plus.
Anichebe was a fully fledged first team squad member when his contract talks stalled and a figure of 㿊k was bandied around and he got booed by the Goodison crowd... so what makes Garbutt thinks he deserves ٟ.5 million a year to fill in now and again?
Michael Penn
67
Posted 21/02/2015 at 21:58:15
Of the three left backs, Oviedo is probably best placed to be turned into a LM and become a Pienaar replacement. But that still leaves the England senior and England Under-21 left-backs fighting for one spot.
Can Martinez then turn Baines into a Lahm-esque central midfield playmaker and keep all three? I'd love it if that happened, but realistically one will probably want to leave at some point.
John Gee
68
Posted 21/02/2015 at 22:07:25
Garbutt isn't holding the club to ransom. His bargaining position peaked 6 months before the end of his contract. If he was going to sign it would have been then. He didn't, which is a clear indication he's leaving.
I don't see why we should drop our most reliable player for a guy who has decided to leave. Oviedo at left-midfield is a good shout. But I can see him wanting to go in the summer too. He's an international left-back.
Dave Abrahams
69
Posted 21/02/2015 at 22:06:32
Dave Lynch(59) yes I' ve heard Liverpool are interested in Garbutt and maybe they have discretely let him know how much their offer is.
All clubs tap players up and their agents keep them notified, it's possible that's what is happening here... It wouldn't be the first time: it went that way with Barmby.
Derek Thomas
70
Posted 21/02/2015 at 22:35:21
Considering some of the amounts reputedly already paid over 3 or 4 years to 2, 3, 4 or 5 players of 30+ years, 㿊k for a decent and soon maybe very good 21-year-old seems a no-brainer to me!
Harold Matthews
71
Posted 21/02/2015 at 22:31:04
Nice shirt, Ross. That's the colour we wore when I was a kid.
Mike Corcoran
72
Posted 21/02/2015 at 22:42:21
Ivanovich all over that game today. Hard done twice but can you stay on the pitch after grabbing at the refs cards?
Michael Penn
73
Posted 21/02/2015 at 22:48:50
Mike @72. Chelsea's antics are infuriating. Always surrounding the ref, intimidating him and acting like the victims. How can you stay on the pitch after grabbing the ref's card?! In my view, there should be a rule that only the captain can approach the ref. That would soon stop Chelsea's behaviour.
Steve Carse
74
Posted 21/02/2015 at 23:24:08
Just one request – should we not take all 3 points tomorrow, can we ban any posts that put it down to having played in Bern on Thursday?
Henrik Lyngsie
75
Posted 21/02/2015 at 23:27:07
We need a bit of creativity from our defensive midfielders. I would play Barkley next to McCarthy. We don't need to very defensive midfielders like Besic and McCarthy at home against Leicester.
Nicky Styles
76
Posted 21/02/2015 at 23:39:13
@Ross Hutchinson #3
Absolutely gorgeous! And I so wish that simple Rupert's Tower was our official crest. So much better than that crap the fans 'voted' for.
Michael Kenrick
77
Posted 22/02/2015 at 00:22:38
Steve, don't forget the plastic pitch... and Stones may have his confidence shot after that red card.
Paul Smith
78
Posted 22/02/2015 at 00:31:54
Don't think Garbutt is nowhere near a better footballer than Baines. He's showed some promise yes, and we should try to keep him, apart from that, I think he's being handled well.
Going with Mr Glassers team. Except I'd stick Oviedo in there (if fit). He looks to be regaining some form after that horrific injury.
Jim Knightley
80
Posted 22/02/2015 at 03:32:13
It's going to be tough... Leicester were fantastic in their last away game against Arsenal, and we're coming off the back of a European away game; Chelski demonstrated the difficulties in that respect this week. But we are superior in practically every area to Leicester, and are the home team, so we must win this.
We must be wary of the counter attack though, and we need to move the ball quickly like we did in mid-week, or we will have a frustrating day. Hopefully that game will give us some confidence, and we can start to find some form.
Brian Porter
81
Posted 22/02/2015 at 06:04:09
I think Lennon should start in place of Mirallas, with Kev coming on as an impact sub. Why sign Lennon on loan, pay his wages and then not use him? He's fresh and ready to show us what he can do.
Also, Atsu deserves more than a five-minute sub appearance after his recent showing at international level. People say he's done nothing since joining us, but Martinez hasn't exactly given him many opportunities has he? Another case of why sign a loanee and then not use them?
As for Garbutt, good, yes, but he can't expect to displace two international left backs on the back of a few decent showings that have mostly come in sub appearances.
And, no way should Gibson start in place of Besic. Mo is one of the finds of the season, perhaps the one really good thing Martinez has done for us this year. He should start with McCarthy, and these two should be a first choice pairing by next season. We can win today, but don't be over confident or we could come unstuck!
Rick Tarleton
82
Posted 22/02/2015 at 06:51:16
Besic and McCarthy ought to be the defensive midfielders. Barry is naturally a player on the left, which neither of the other two are, nevertheless surely one of them (Besic?) can adjust.
Living near Leicester, their supporters fancy this match and if Nugent plays, he'll be fired up.
Peter Barry
83
Posted 22/02/2015 at 07:00:10
I was pleasantly surprised by the win on Thursday so now all that's needed is to take all that energy and put it on display in the Prem and we should soon be safe.
Wayne Smyth
84
Posted 22/02/2015 at 08:01:28
Paul (#78), I don't think Garbutt is currently a better footballer than Baines either. However, Baines has been living off his reputation for the last few years if you ask me. His performances have been mostly average. His loss of form happened after he signed his contract when Utd were sniffing.
How many corners fail to beat the first man? He rarely gets forward as much as he used to as well. There is no reason a rookie left back like Garbutt should be looking far more dangerous in the opposition third than Baines.
As John Malone mentioned, we need to see more of Garbutt's defensive side to determine if he has that in his locker too, but I'd be surprised if someone who has played left back at many levels, including regularly in the lower leagues and at international level, is unable to defend to a reasonable standard.
I for one will be gutted if Garbutt fails to sign. He's a quality up and coming youngster who I'm sure will be fighting with Luke Shaw for the England left back slot in 3 or 4 years time. A club like ours needs to hold onto and develop this kind of talent. Browning is another such player who hasn't got the game time I think his ability deserves.
Derek Thomas
85
Posted 22/02/2015 at 08:19:50
Wayne (#84), Yes, Baines has been living off his reputation for 2-3 years. or so, but ask yourself how, where and when has Pienaar been playing for those 2-3 years?
No excellent or even semi-decent Pienaar = no excellent Baines... always had been, always will be.
Wayne Smyth
86
Posted 22/02/2015 at 08:31:19
Derek, how does Pienaar's absence explain why Baines cannot take a decent corner?
It doesn't even really mitigate why Baines seems to get forward less, although it might indicate why the forward play he does contribute to is perhaps not as successful as it was.
We've only seen Garbutt in short cameos, but the quality of his delivery just seems consistently superb and consistently better than Baines. The ball he put in for Lukaku in Bern that was 2 yards out from the goal is a prime example.
Denis Richardson
87
Posted 22/02/2015 at 08:44:18
Derek, Pienaar's absence is hardly a decent excuse for Baines's form going downhill. Effectively you're saying Baines is not great without Pienaar – which would actually back up the argument that Garbutt should start ahead of him...
Personally, I think we should go all out to keep all three LBs and try to use at least two of them as LMs once in a while so they can all get regular games (just like Coleman did at RM when he first came). Baines is still the best of the three imo but he's also now 30 whilst the other two are much younger. Martinez needs to manage them well enough so as to keep them relatively happy.
Given we've been trying to shoehorn the likes of Eto'o, Naismith and Barkley into the wide AM positions all season, I'm really surprised by how little we're used any of our LBs at LM this season – especially when we've been crying out for pace, width and decent delivery into the box from the flanks.
I hope we keep Garbutt as he looks like he's got great potential and a great temperament. It would be a real cock-up by the club if he went at the end of the season because of an extra 㾶k a week or so. Granted he's not played that much but his potential deserves it. We'll also never know if he can make it if he's not getting regular game time.
If the likes of Shaw are going for 㿇M(!) we shouldn't be arsing around over an extra 㾶k/week or whatever he's asking for. It will cost us a hell of a lot more to replace him.
I hope he starts today, Baines can use the practical dead rubber of YBs to get some match fitness back.
Roy Steel
88
Posted 22/02/2015 at 09:45:32
Rm should give young Garbutt a new contract ASAP, no doubt the money daft people will be watching developments waiting to pounce, so get your finger out, Bobby.
If you play Gibson ahead of Besic then you deserve all the flak that your surely going to get. I am a Martinez man, I was desperate for him to come to us, I thought he was going to the Redshite and couldnt sleep worrying about it. So RM, please keep the positive play going and bring back the School of Science ethic, and remember we are Everton.
Ernie Baywood
89
Posted 22/02/2015 at 10:06:28
It's not as simple as saying that no Pienaar means no Baines. I'd say Baines would excel with any smart, ball playing player ahead of him.
We just haven't had many of them. Who have we tried there in Pienaar's absence?
When Baines doesn't have that player he's still a top player. We just judge him against a different standard to others based on his phenomenal (note: using the word appropriately here) over many years. For a while there he was almost a one man team – from left back!
Garbutt looks good but he hasn't put anything like a performance that would match Baines' average offering.
Andrew Clare
90
Posted 22/02/2015 at 10:08:42
These games are always difficult no matter where you are in the league. Just this week Roma (2nd in Serie A) failed to beat Parma (bottom of Serie A), it was 0-0. Yesterday, Barcelona lost to Malaga 0-1.
It is not going to be easy but if Leicester do not park the bus we will win.
Looking forward to seeing Besic and McCarthy together and Lennon on the wing.
COYB!
Phil Walling
91
Posted 22/02/2015 at 10:15:38
No Ossie, no Hibbo, so all let's get onto Bainesy! Why don't people focus on the real reason for our sad and sorry season. And that has links with Wigan, too !
Graham Mockford
92
Posted 22/02/2015 at 10:10:26
Derek #85
This will be the Leighton Baines who has been living of his reputation for 2-3 years whilst during the same period has scored 19 goals and contributed 26 assists. The most of any defender in Europe.
Bobby Thomas
93
Posted 22/02/2015 at 10:20:55
Baines doesn't have in Pienaar the narrow mid, link playing, combination midfielder in front of him anymore, with whom he played for years and built up a great understanding. An essential player for any overlapping full back.
Instead he has tended to have wingers, who indulge in much less combination play. McGeady, for example, is more of an individualist.
As for defensively, well, we are just not what we were individually or collectively.
I don't know who Baines prefers playing for, Moyes or Martinez. But my personal viewpoint is that Moyes was the better manager for him as a player.
Andrew Laird
94
Posted 22/02/2015 at 10:19:31
Phil #91, do you work in the marketing department at "Visit Wigan"? Do you receive a box full of rugby balls every time you mention the town?
Do you ever write a post without thinking how your out-of-date band poster above your headboard and life itself would be more bearable if Richard Ashcroft had not left The Verve?

Eric Holland
95
Posted 22/02/2015 at 10:41:01
Well said, Mr Mockford.
Darren Hind
96
Posted 22/02/2015 at 10:30:17
"His (Baines's) loss of form happened after he signed a contract when Man Utd were sniffing."
Nothing to do with the fact that he's now told to sit in his own half waiting for Jagielka or Spoonfeet to give him a bobbler to deal with. Even Miserable Moyes afforded one of the worlds finest attacking full backs the freedom to do what he does best.
I'm staggered by the amount of people who are discussing which "Two" should play defensive mid. We're at home to the Premier Leagues whipping boys FFS.
Martinez has a lot to answer for.
Christy Ring
97
Posted 22/02/2015 at 10:26:45
I think Baines is low in confidence for awhile now, even his body language when talking a peno and that was before his miss at Man Utd, his pen against Sunderland somehow went in, and let's be honest the Baines of last season wouldn't have let Mirallas take the ball off him for the penalty against WBA. He's not being helped by Bob picking players out of position to play on the left wing who don't support or trackback to help out like Pienaar used to do.
Kevin Elliott
98
Posted 22/02/2015 at 11:03:25
Derek. 70.
Bang on mate.
It ain't rocket science.

Phil Walling
99
Posted 22/02/2015 at 11:00:21
Can somebody please remind me how many Premier League games this wonder kid has actually started? He may show promise and deserve selection over the manager's preferred SECOND choice but how people can prefer him to Baines astounds me.
Probably another who is a better player when he's not actually playing!
James Hughes
100
Posted 22/02/2015 at 11:09:55
Well Graham at least he's not having a go at Barkley, it's Leighton's turn today, Nais. tomorrow.
I am not sure what will happen today as I though YB would be closer than it was. If that ref is available, apart from the sending off I thought he was generous. Another day and 2 would be ruled out for offside and the 4th brought back cos Macca is on the floor injured.
COYB
Kevin Elliott
101
Posted 22/02/2015 at 11:12:09
Phil. 99.
I seem to remember people asking similar questions about John Stones being preferred by some to Jagielka..
Mark Fitzgerald
102
Posted 22/02/2015 at 11:06:35
Echoing a lot of the earlier comments but here's my perspective; I think the GK role is still worth debate as Robles appeared to improve with every performance and I thought he was unlucky to lose his place. In the back-line it's just LB in question. Think I'd like to see young Garbutt get the start today. Still a fan of Baines and interested in Colin's suggestion of a LM role for him. Center mid surely has to be Mo/Macca, uproar I'd imagine if this is not the case. I hope they are outstanding together. Out wide we have a number of options Baines?, Mirallas, Lennon, Astu, Oviedo. Think I'd try Lennon & Atsu, pure pace either side - still a bit ticked off with Mirallas. Rom up front obviously and Barkley with the free role behind him. Whatever line-up, today is not just a must-win but an opportunity for another convincing win. Will build confidence for a good PL finish and that Europa League run - only four more teams to beat lads.
Clive Lewis
103
Posted 22/02/2015 at 11:26:14
Leicester will probably play 5 at the back. It might be difficult to break down. I would watch Krameric because he is a real talent. Talk about Harry Kane this guy looks as good. I think we should have enough Simpson and Koncheski are terrible so we need to exploit the wings, with that said we need Mirallis and please no Mcg
Link
eady.
Phil Walling
104
Posted 22/02/2015 at 11:38:19
To back up my belief that our victory today is a given, I have just staked 20 notes to win 16. For those with lesser faith in Everton, the draw is available at 13/5 whilst Leicester is showing at 4/1.
Place yer bets now !
Matt Bridges
105
Posted 22/02/2015 at 11:30:58
I will lose all faith in Bob is if he doesn't play McCarthy and Besic in the CDM roles. Someone mentioned earlier that we shouldn't be having a debate who plays in the central defensive roles (that's off memory and might not be 100% correct).
I think its more of a case that McCarthy is the best we have in that role and Besic has shown great potential and I personally adore the fact the he will put I tackle in, in the 4th minute of a game and get booked.
As for Barry, I can only imagine I speak for most when I say it just gives me headaches when game after game he loses the ball in a completely unnecessary position and just bringing down the player nearest him, instead of running a bit.
He's the premier leagues most booked player for a reason...
Now Gibson, with injuries and general lack of game time I would be gutted if he got the nod ahead of Mo (I'm not entertaining the fact it could be Mo & Gibson).
Kelvin Thomas
106
Posted 22/02/2015 at 11:51:42
No need for a team talk today Roberto! Show them the
Kelvin Thomas
107
Posted 22/02/2015 at 11:53:21
'We were chosen' video! Reduced me to tears twice this morning!
Class!
Jim Knightley
108
Posted 22/02/2015 at 11:14:23
Baines is not getting forward as much, seemingly, because of the shit storm in front of him, and the lack of midfielders who 1) can spot a pass 2) who will play a pass, rather than running with the ball or shooting. As Ernie and others have said in reply, it's not about Pienaar, it's about having the right kind of midfielder in front of him. One of the primary reasons we need to buy the 'right' kind of midfielder in the summer, is not only because it would benefit Baines, but because our team is crying out or a passer. McGeady, Atsu, Mirallas and Lenoon are all direct, and all to obvious, as are Barkley and Naismith. None of those players passes the ball quickly, or is creatively incisive enough. Our tactics have been terrible this season, and we've been well below par, but even with that, we'd be far higher in this league with a fit and younger version of Pienaar in the team (or the Arteta pre-injury).
One thing I'd say about Baines too: He has 8 assists and 2 goals in the Premier League this season, and 11 assists and 3 goals in 30 games in all competitions. That is absurd. To put that into context: Only Di Maria and Fabregas have provided more assists than Baines, and cost almost 100million between them, and both play in midfield. Mark, Dave etc... your criticism of Baines is well wide of the mark. He has been ropey with some of his deliveries...but he is still contributing uniquely in terms of his attacking contribution in a stuttering team. This love for Garbutt borders on the absurd. He looks good, he has potential, but why on earth would he start above Baines? Garbutt is being over-hyped him, massively, and part of it is because we fear him leaving. If he had a 5 year contract we wouldn't be wrangling for him to start, and if he wants to be a success at this club then he needs to wait his turn. If Garbutt played now, especially in a team playing like we are, he would have some good games and some bad ones, because of his level of experience and problems in his game. He would impress going forward, but he would lack defensively. He is not near Baines in terms of quality, and he will probably never get near Baines. I want him to stay at the club too because he 'could' become a superb player, just as Barkley 'could' become a superb player too. But I do not want to see Baines and Oviedo moved about using fantasy football tactics just to accommodate him because we fear him signing from Liverpool, where he would sit behind a very good and younger Moreno, instead of Baines and Oviedo.

Phil Walling
109
Posted 22/02/2015 at 12:05:51
Same here, Kelvin. Have just put it on the order of service for my funeral. Says it all !
Derek Knox
110
Posted 22/02/2015 at 12:29:08
Phil@ 109
Would it be in Wigan by any chance Phil? :-)
Brian Garside
111
Posted 22/02/2015 at 12:37:02
If there is one game we can start without Naismith, this must be it. Isn't time for him to have a rest?

Paul Andrews
112
Posted 22/02/2015 at 12:46:33
There is no problem with playing a 4-2-3-1 system. It is the way you deploy the system that counts. This seasons champions play two defensive midfielders.
Dave Lynch
113
Posted 22/02/2015 at 13:31:31
Why is Garbutt being overhyped?
Why do we always talk our young talent down?
I have always thought Sterling was overhyped but you don't hear the other lot talking him down, quite the opposite.
Mark Andersson
114
Posted 22/02/2015 at 12:56:06
Staying up to watch it live here in Oz, staying sober too. Let's hope it's worth it.
Phil Walling
115
Posted 22/02/2015 at 13:45:50
Ormskirk, Derek. I'll let you have the date nearer the time !
---
Add Your Comments
In order to post a comment, you need to be logged in as a registered user of the site.
Or Sign up as a ToffeeWeb Member — it's free, takes just a few minutes and will allow you to post your comments on articles and Talking Points submissions across the site.
© ToffeeWeb