Everton vs BSC Young Boys
Europa League Preview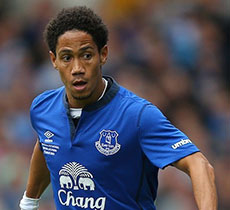 Steven Pienaar and Leon Osman will be assessed for the possibility of making a long-awaited return to action
Having done the hard part in some style last week in Switzerland, Everton return to Goodison Park for what should be the formality of a second leg against Young Boys.
The Blues bring home a 4-1 lead from the first leg and, should they need them to come into play, four away goals while the Swiss side will likely come to Merseyside having thrown any caution to the wind in the hope of rescuing the tie.
Roberto Martinez has to balance avoiding complacency with the need to prepare for the trip to Arsenal on Sunday, so while there could be changes — one of them enforced at the back by John Stones's suspension — he will likely keep the core of his recent starting XI intact.
Sylvain Distin is fit again and available and will vie with Antolin Alcaraz for a place in defence alongside Phil Jagielka. Meanwhile, Martinez has already hinted that Tim Howard will continue in goal despite his nightmare against Leicester and the opportunity to offer more experience to Joel Robles.
Bryan Oviedo tweaked a hamstring in Bern last week and joins Tony Hibbert and Aiden McGeady on the injured list and Aaron Lennon is cup-tied having already played in the competition for Tottenham, while Christian Atsu is ruled out with a virus.
On the big plus side, Leon Osman and Steven Pienaar are both finally in contention for some playing time, with the latter and Kevin Mirallas really the only players capable of adding real width in Atsu and McGeady's absence.
Up front, both Steven Naismith and Romelu Lukaku could do with a rest if the manager decides to start with Arouna Kone, while a low-pressure game could be the ideal forum for Ross Barkley to express himself and regain some composure in front of the home fans.
A three-goal lead should be unassailable but a professional performance aimed at winning this game to help build confidence ahead of the trip to the Emirates is still in order.
Kick off: 8.05pm
Referee:S. Johannesson (Swe)
Quotes sourced from ToffeeWeb Match Reports
Reader Comments (70)
Note: the following content is not moderated or vetted by the site owners at the time of submission. Comments are the responsibility of the poster. Disclaimer
Colin Glassar
1
Posted 26/02/2015 at 07:44:06
Formality? Nothing seems to be a 'formality' with Everton this season. I think it will be a nervy score draw with the Goodison faithful becoming uncomfortable after the 7th minute.
Ian Jones
2
Posted 26/02/2015 at 07:52:15
Colin. Why wait until the 7th minute. Many of us are already uncomfortable with 12 hours to go!
On a serious note. I think we can score a few but as you say a draw would be good. Win even better especially with the Arsenal game coming up. Arsenal looked poor last night apparently. Didn't see the game. Could be an opportune moment to sneak a victory at Emirates.
James Marshall
3
Posted 26/02/2015 at 08:04:24
Young Boys will come to score goals, which is basically what they tried to do in the first leg, and we battered them - they should be ripe for us on the break tonight which will suit us. Ross and Rom both need open spaces to play in, and run at defences so with YB pushing up to get the goals they need, we should put it to bed.
That said, they do have goals in their lineup and we have goals to give away in ours!
Colin Glassar
4
Posted 26/02/2015 at 08:08:24
Like Lyndon, I'd like to see Lukaku and Nessie rested. I'm not sure if GP is the best place for Ross right now so I'd go with Kone up top on his own. 4-5-1 keep it tight.
Ross Edwards
5
Posted 26/02/2015 at 09:18:38
Can't see us losing tonight. If we somehow lose a 4-1 aggregate lead at home Martinez has to go in the summer.
Peter Barry
6
Posted 26/02/2015 at 09:25:00
If Everton blow this tonight will the die hards finally turn against Roberto.
John Malone
7
Posted 26/02/2015 at 09:47:00
Just hope the crowd don't lose it if we concede an early goal and pass the fear and tension onto the pitch!
Leave the negativity and pessimism at home and get behind your so called beloved team until the final whistle blows!
I hope he plays the same line up as last week, keeps it tight for first fifteen then start playing them off the park an get the killer goals needed.
I see this tie as far from over with the chances they missed and the current home form it could be a very difficult game!
Harold Matthews
8
Posted 26/02/2015 at 09:50:06
They had not awakened from their mid-winter break when we hammered them in the first leg. We should still win easily but they will be much sharper this time. Even so, I'll be very disappointed if he doesn't rest 3 or 4 of the regulars.
Ray Roche
9
Posted 26/02/2015 at 10:21:15
If they score an early goal it'll be a very uncomfortable evening for us, both on the pitch and in the stands. Hoarau looked a good player and if Alcaraz plays I can see him getting a lesson.
I'd like to see Kone get a game, Martinez tells us what a good player he is yet doesn't play him even when he's fit. Martinez must be getting a cut from Kone's salary to put him on the bench.
Andrew Ellams
10
Posted 26/02/2015 at 10:35:28
They need to go for it which should open them up and make it a lot easier for us. I expect another comfortable win tonight and then fingers crossed for a kind draw tomorrow. Will be getting my Besiktas shirt out tonight as well and be hoping they do the business over the RS
John Malone
11
Posted 26/02/2015 at 10:34:16
Strongest eleven every game can't understand why any players would need to be rested unless injured or until tie is over in last 20 mins, they can rest on there days off!
Brian Harrison
12
Posted 26/02/2015 at 10:41:16
Well it just shows how low our confidence is as some are saying if they score early it will be a nervy night. For Gods sake we have a 3 goal advantage and we are playing at home. Anything other than a comfortable passage into the next round is unthinkable surely, I have no time for RM but surely even he cant mess this up.
But should the unthinkable happen then I think BK will need to give Delta taxis a ring, and book a one way cab for RM.
Mike Keating
13
Posted 26/02/2015 at 10:45:43
Garbutt at LB and Baines in midfield with Kone and Barkley up front. Pity Atsu is out.
Andrew Ellams
14
Posted 26/02/2015 at 10:56:52
if we lose 3-0 tonight we still win on away goals. If they lose by more and lose the tie then not only should Martinez be sacked but also the players, the board, the tea lady, the kit man and whoever sweeps up the stadium when everybody's gone home. And if I have missed anybody off that list they should be sacked too.
Jonathan Benn
15
Posted 26/02/2015 at 10:53:43
I think we should start the game with as strong a line-up as possible. Score early, get the crown on side and then make changes at half time. The lack of available width at the minute is a bit of a concern, but we can fudge it.
Would look to play Barkley deeper, Naismith where he is at his best, behind the striker and Baines on the left of an attacking 3. He won't cut inside at all and will give Lukaku the best chance to make up for Sunday early.
Howard
Coleman, Alcaraz, Jakielka, Garbutt
McCarthy, Barkley, Naismith
Mirallas, Lukaku, Baines
But what do I know?

Jim Knightley
16
Posted 26/02/2015 at 11:13:56
I know we are rightly pessimistic..and I've been as loud as anyone in recent weeks: But there is not a chance of us going out. We've lost 1 in 6 league games in a run which includes City, Liverpool and Chelski. We've been shit generally, but we are not going to collapse against an attacking team which will leave alot of space to play in between. I think we will rest several players, and win the game and the tie. I'd recommend placing an over 2.5 goals bet on this one. I never considered playing Lukaku after last Thursday's match..but now I'm wondering whether playing in front of the Goodison crowd might be good for him, in a game where I think he will get the chances to make up for the misses on Thursday. He may well be feeling tired, but tiredness is not his problem at the moment, but confidence. Both him and Barkley could find some in a game which they will both get chances to do what they are good at. I'd definitely play two wide men today, and I'd like to see some of Pienaar and Osman, and Garbutt and Robles start.
Alan Bodell
17
Posted 26/02/2015 at 11:20:18
Great chance to 'rest' Lukaku and let Kone show him what a strikers' role truly is and I don't want to ring any alarms here but 10 yrs. ago AC Milan won their 1st. leg 4-1 against Deportivo and managed to lose the 2nd. 4-0 so until we bundle 2 into their net I will not be in total relax mode.
This will be make or break for Tim Howard tonight because whoever plays in our goal will surely get a serious workout, if he plays a blinder then he has some future here but I wouldn't bet on him having a blinder.
Clive Mitchell
19
Posted 26/02/2015 at 11:35:43
This match doesn't matter. Howard; Browning Alcaraz Distin Garbutt; Gibson Barry; Mirallas Barkley/Naismith Lukaku/Kone Oviedo/Pienaar/Osman. That rests Coleman, Jagielka, Stones, Baines, McCarthy, Besic, Lukaku for 30 minutes, same for Barkley, Naismith. Have to maximise chances of at least one point over next two games.
Eric Myles
20
Posted 26/02/2015 at 11:52:16
Anyone got any streams for tonight?
David Hallwood
21
Posted 26/02/2015 at 11:43:44
I'd rest 3-4 but keep it tight, either 4-5-1 or 4-3-3, with run outs for kone, garbutt and Gibson and mcgeady to manage the refreshments main stand
Phil Walling
22
Posted 26/02/2015 at 11:49:20
Martinez should and will want to win this one as he is in need of all the good fortune he can get.
Even though the focus should be on banishing all talk of relegation, the manager's credibility is being challenged and defeat tonight will add to the clamour for his removal.
My forecast is for a 2-0 victory to be followed by a surprise win on Sunday. Who says I can't be positive ?
Alan Bodell
23
Posted 26/02/2015 at 11:54:43
If young Ross gets a game I hope he doesn't try and get even with their man that almost needlessly took his head off when he was on the ground.
But I really hope he does but that the 5 officials and multi tv.s don't spot it.
Kev Wood
24
Posted 26/02/2015 at 12:06:29
Might be getting a bit over-excited but hoping to enjoy a great European night at Goodison tonight, with the Old Lady rocking. There's a good chance we may be able to be 'Singing The Blues' (C'mon Besiktas- for one evening only!). Also looking forward to a determined effort at Arsenal on Sunday- they will be in turmoil after last night's home defeat. Sent Roberto a Latin dictionary- Nil Satis Nisi Optimum- hope he reads and learns from it!
John Audsley
25
Posted 26/02/2015 at 12:18:15
Martinez needs a home win.
Kone to start and Gibson to get 30 minutes.
I would like to see both Kone and Lukaku up front but that will never happen.
Paul Burns
26
Posted 26/02/2015 at 12:26:11
ALL Everton games matter. We should go for the throat right from the off and set a good early tempo, this team is not capable of sitting on a lead.
David Graves
27
Posted 26/02/2015 at 12:38:07
I don't get it when it's suggested that the match doesn't matter and that half the team should be rested.
If I'm committing my hard pressed time and hard earned money then surely the least I can expect is a strong team and a convincing win.
Dave Abrahams
28
Posted 26/02/2015 at 12:53:57
Phil (22) do you believe your forecast, I hope you are correct. Might have a nibble at that.
Kevin Rowlands
29
Posted 26/02/2015 at 12:51:18
With two more away league games to come in the next six days I'd be very suprised if some of the regulars aren't rested, makes the decision to play Howard even more baffling, if he is you No1 surely you'd want him fresh for Arsenal/Stoke? They have to score at least 4 tonight so they won't be parking the bus, I expect us to keep it tight and hit them on the break.
Brian Harrison
30
Posted 26/02/2015 at 13:26:31
Phil 22
You have obviously got access to some illegal drugs, stop now before they damage your health. A surprise win on Sunday more like a miracle, as after last nights debacle they will be wanting to get a good result. And when your looking for a good result who better to play than Everton.
David Hallwood
31
Posted 26/02/2015 at 13:41:52
Dave(#28)&phil(#22), only if Howard's not playing; because he's incapable of keeping a clean sheet.

Dave Lynch
32
Posted 26/02/2015 at 14:17:06
Surely we can't throw away a 4 goal lead, can we?
That's what in effect we have, 2-0 to them at half time and i'll be bricking it.
If I was their manager and watched us on Sunday I would fancy having half a chance on that display.
Dave Abrahams
34
Posted 26/02/2015 at 14:22:02
I hope they have a good win tonight just for the sake of confidence, Sunday is much more important so I hope he rests two or three players.
Nicholas Randall
35
Posted 26/02/2015 at 14:24:05
The match is live on ITV from 7.45pm until 10.10pm.
Tony J Williams
36
Posted 26/02/2015 at 14:36:49
Not going, 㿈 - cheeky barstewards
Seriously considering not watching it on telly either
Funny that the posters in the Lower Gwladys for the home leg had Stones on them.....doh!
Kevin Tully
37
Posted 26/02/2015 at 14:38:29
I think he'll rest McCarthy for Sunday, possibly give Garbutt a run out as well seeing as Baines is just returning from an injury. Kone may start in place of Lukaku, with Mirallas and Pienaar / Osman either side. Barkley in his rightful no.10 role.
Looking forward to an open game really, they'll be looking for an early goal so I expect Barkley to be given the freedom of Goodison tonight.
Derek Knox
38
Posted 26/02/2015 at 14:50:11
Phil@ 22
Yes, you are being positive there mate, I just hope the same positivity is present with the team, and they don't fall into the 'complacency trap' thinking that they only have to turn up and go through the motions.
I am looking forward to this one all the same, and even moreso to the game at the Arse on Sunday, I hope they defend like that against us, but there again we have to score and not concede, which may not be that easy!
COYB
Darryl Ritchie
39
Posted 26/02/2015 at 15:42:32
The focus probably will be on defence. I wouldn't be surprised at a 0-0 result. If we can keep them under 3 goals, we move on.
Not very exciting, but realistic.
James Marshall
42
Posted 26/02/2015 at 16:39:48
0-0? Really? The game at their place was wide open and they come to us 3 goals down so I fail to see any reason it'll be tight.
YB have to score so they have no choice but to go out all guns blazing which suits us nicely on the break.
I reckon it'll be another high scoring game, which sadly I won't be watching as it isn't on until 4am here.
James Hughes
43
Posted 26/02/2015 at 16:54:21
Is it too early to start on the beer ?
Dreading this but will watch anyway, hoping to be pleasantly surprised like last week
Darryl Ritchie
44
Posted 26/02/2015 at 16:57:52
Ok James 3-3 then. As long as they don't score 3 more than us, the result we be the same, we move on.
Still, I would sure like to see a bit discipline at the back. Different game, different circumstances require different approaches.
Mick MacManus
45
Posted 26/02/2015 at 16:55:32
Not overly confident tonight despite the advantage we have. If they press us high up the pitch and we panic in possession then there'll be trouble. Howard can't put a fingernail wrong tonight or he'll feel the fan's wrath.
Jay Harris
46
Posted 26/02/2015 at 16:00:20
I think Lukaku, Naismith, Pienaar and Besic are only one yellow away from a ban in the next game should we get through.
Pointless trying to pick the side because who can read RM's mind these days.
Only certainties are Howard, Barry and Jags.
We should be comfortable tonight but any wobbles will be severely punished.
I just hope we "manage" the game and do not go gungho like against Chelsea.
A 3-6 result would be impossible to conceive wouldn't it?
Victor Jones
47
Posted 26/02/2015 at 17:02:15
Surely Mr. Martinez and Everton will not make a pigs ear of this game tonight. Just play safe and tight. No need for any stupid philosophy. No need to make statements. Just get safely into the next round.
I know that I am asking alot here, but could Mr. Martinez also keep one eye on the Arsenal game. And could Everton just for once this season surprise us all, and actually produce two consecutive good performances. I know that is maybe asking too much. But you never know.
Was it an Everton supporter who first coined the phrase, "pigs might fly". It must have been. And he is still waiting. COYBs.
Steve Guy
48
Posted 26/02/2015 at 17:12:58
A team in crisis ? A Goalkeeper who leaks goals like a sieve ? Wins as scarce as rocking horse doo doo ? Televised to millions on National TV ?
What could possibly go wrong .....?
Jamie Barlow
49
Posted 26/02/2015 at 17:22:49
I can't see why some are worried. They need to score 4 without reply so will have to go for it. No sitting deep and trying to keep it tight which our clueless lot struggle with. Exactly what we want.
A rare as rocking horse shit win at Goosison tonight.
Declan Brown
50
Posted 26/02/2015 at 17:34:35
I wouldn't be panicking at this tonight. We, due to our 4 away goals are literally starting this 4 goals up (3-0 won't be enough for them).
I would be tempted to play Lukaku and Barkley and tell them to go for it, use this to get some confidence back, I understand the crowd being on their back and how that might affect them, but tonight try to give our boys a free pass on the negativity until half time at least. If either of the two score let them know how pleased we are. The boost in player confidence may help us in the coming weeks.
This should be a confidence booster for us, we're in a very strong position, let's worry about who we get in the next round and Arsenal on Sunday until the time when that actually comes.
Tonight, I'm going to try and enjoy it safe in the knowledge they need 4 without reply at our place. I know about the nerves, but I just can't see it. It's a free pass, Roberto get the shackles off and tell the players to enjoy it and maybe their confidence will return.
Roberto Birquet
51
Posted 26/02/2015 at 17:34:38
Peter Barry 6
They won't, and no.
Whatever the reason, we are better in Europe this season and won't mess up tonight. 0-4? Won't happen.
And RM has bought an extra season from last year.
He needs to make his own team now. Lot of old guard will go. And some others, eg Mirallas.
Hopefully, a new goalie and at least one CB. Then remake the attack. Make Europa League yer swan songs, I hope
Graham Holliday
52
Posted 26/02/2015 at 17:36:36
Just watched the interview with RM on EvertonTV. Firstly, I have always really liked him as a man, and still have some dwindling faith in him as a manager, but was really annoyed when he was asked about lack of wide players he responded that they've always been flexible in the way they play.
If there's one thing they've not been it's flexible. Same players regardless of form, always Barkley or Naismith shunted out looking uncomfortable on the left and no forward passing or 'verticality in the play' as the football hipsters refer to it.
Anyway, trying to read between the lines of the interview, it sounded like he's going to start Alcaraz and possibly Kone, with maybe a bit of rotation with two away games coming up.
My guess is the team will be:
GK: Howard
RB: Coleman
LB: Baines
CB: Alcaraz
CB: Jagielka
CM: Barry
CM: Gibson
RM: Mirallas
AM: Osman
LM: Mirallas
CF: Kone
Subs: Robles, Browning, Garbutt, Besic, McCarthy, Naismith, Lukaku
Nowhere near what I'd be going for but at a guess!
Tony Draper
53
Posted 26/02/2015 at 18:03:54
Graham @ 52
Personally, I think I'd want the security of a couple of Mirallas' on the bench, actually make that three.
Tony Draper
54
Posted 26/02/2015 at 18:12:00
Graham @52
Forgive my cheek.
I pretty much agree, and I'm sure that like me there is a place somewhere for maybe Barks or 'Nuts (if they're fit for selction.....)
Helen Mallon
55
Posted 26/02/2015 at 18:13:35
I think this will be the team.
Gk. Howard
Lcb. Distin
Mcb.jags
Rcb. Alcaraz
Wl. Mirallis
Cm. Barry
Cm. Besic
Cm. Kaman
Wl. Coleman
Fwd. Ross
Fwd. Kone
Helen Mallon
56
Posted 26/02/2015 at 18:23:31
Changed my mind change Ross and Mirallis have Osman on bench and stick Garbut wide left
Denis Richardson
58
Posted 26/02/2015 at 18:22:36
I can't really get excited about this game, the great feeling from the win last Thursday was completely wiped out by the performance and result against Leicester. I fully expect us to qualify for the next round given they need to score 4 goals to have a chance.
Hopefully some new faces will get a run out at least and a few will be rested with the trip to Arsenal in mind. Don't want to change the starting XI too much but some of the likes of Garbutt, Osman, Pienaar, Gibson, Hibbo, Atsu, Kone and Alcaraz should be getting some playing time here. Mirralas should also get a few minutes given he only came on for the last 5 on Sunday.
Will be interesting to see the line up.
Will Firstbrook
59
Posted 26/02/2015 at 18:38:03
Mirralas and Lukaku to start according to O'Keefe
Roberto Birquet
60
Posted 26/02/2015 at 18:36:08
Lot of faith in Mirallas, Graham. Literally asking him to do two men's jobs. Is he up to it?
Brin Williams
62
Posted 26/02/2015 at 18:44:03
No live Forum tonight?
Graham Holliday
63
Posted 26/02/2015 at 18:40:13
Absolutely ludicrous. Ignore me!
Victor Jones
65
Posted 26/02/2015 at 18:32:29
Not going to guess the team, but I hope that Martinez fields a reasonably strong team. I am sure that we will go safely through. But take no chances. I don't believe that players need rest all the bloody time. Testing players never seems to work at Everton anyway. Lets beat YBs tonight and get some momentum going into the weekend.
IMO Martinez went overboard with his squad rotation in the defeat to that Russian team. Did the youngsters really learn anything from a defeat? I believe that you learn more from playing alongside seasoned professionals. And actually winning football matches. So I wouldn't mind seeing Garbutt and maybe the under used Browning get a run out. But that is it. And it doesn't matter if Alcatraz gets a game. We all know what he brings to the party.
Anyhow, the moment of truth is closing in. Enjoy the match. I have a feeling that there will be goals. I fancy us to open them up. But also for us to concede. 3-2 to us. COYBs
Michael Winstanley
68
Posted 26/02/2015 at 19:00:07
Everton (to face Young Boys): Howard, Garbutt, Alcaraz, Jagielka (c), Coleman, Gibson, Barry, McCarthy, Mirallas, Naismith, Lukaku.
Everton subs: Joel, Baines, Kone, Besic, Osman, Barkley, Browning.
David Barks
70
Posted 26/02/2015 at 19:00:54
Victor,
Did the youngsters really learn anything from a defeat? Absolutely! In everyday life and business it's the defeats and failures where you learn and grow. I learned more during 2 years of a business that ultimately failed than in the 7 years of working at a successful business. Every failure is a learning experience. If you don't get punished for your mistakes, you ignore them and in time the damage is far worse. That's why it's so important to play young players, give them experience, and have them learn. That's how you grow, by falling down and getting back up.
Jay Wood
71
Posted 26/02/2015 at 19:04:48
I hope Ossie gets some game time
Brian Garside
72
Posted 26/02/2015 at 19:04:11
Why Alcaraz instead of Browning? Give the boys a chance RM. Sound familjer?
Will Firstbrook
73
Posted 26/02/2015 at 19:05:27
Who is playing the other wing? Gibson????
Will Firstbrook
75
Posted 26/02/2015 at 19:08:10
4-3-3 I guess
Duncan McDine
77
Posted 26/02/2015 at 19:08:40
That line up shows exactly where Roberto's priorities lie this season.
Dick Brady
78
Posted 26/02/2015 at 19:12:57
Luke Garbutt starting tonight? That's good news.
Mike Childs
79
Posted 26/02/2015 at 19:13:02
Helen # 69 which game was that this season?
Jim Bennings
81
Posted 26/02/2015 at 19:13:09
No Kone again???
Why spend so much time bigging this fella up only to snub him completely?
I'm shocked by the decision not to bring Robles in also.
Roberto seems obsessed with having three midfielders of the same ilk in the central midfield.
Good to see Osman back fit though.
Colin Glassar
83
Posted 26/02/2015 at 19:18:45
Robles we all knew wouldn't play but I'm surprised Lukaku starts and not Kone. Nessie is another player I would've rested as both are certs to start on Sunday.
Mike Childs
84
Posted 26/02/2015 at 19:25:51
I can't believe after all we've been through this year with the Buffon at the touch line anyone is surprised by his selection.
---
Add Your Comments
In order to post a comment, you need to be logged in as a registered user of the site.
Or Sign up as a ToffeeWeb Member — it's free, takes just a few minutes and will allow you to post your comments on articles and Talking Points submissions across the site.
© ToffeeWeb